Ok, we see you there looking at the screen and thinking: 💭 What do Fintech companies do, and how can Fintech ads examples help MY business? 🤔
We're not surprised! Only 14 percent of Americans have heard about Fintech companies, and have a clear idea of them.
What if we tell you Digital Payments, or Alternative Financing or Personal Finance? And what about Bitcoin? Ok, now you got it!
FinTech is a new industry that uses technology to improve activities in finance. It is mainly composed of small start-up companies which develop innovative technological solutions for online and mobile payments, alternative finance and financial management.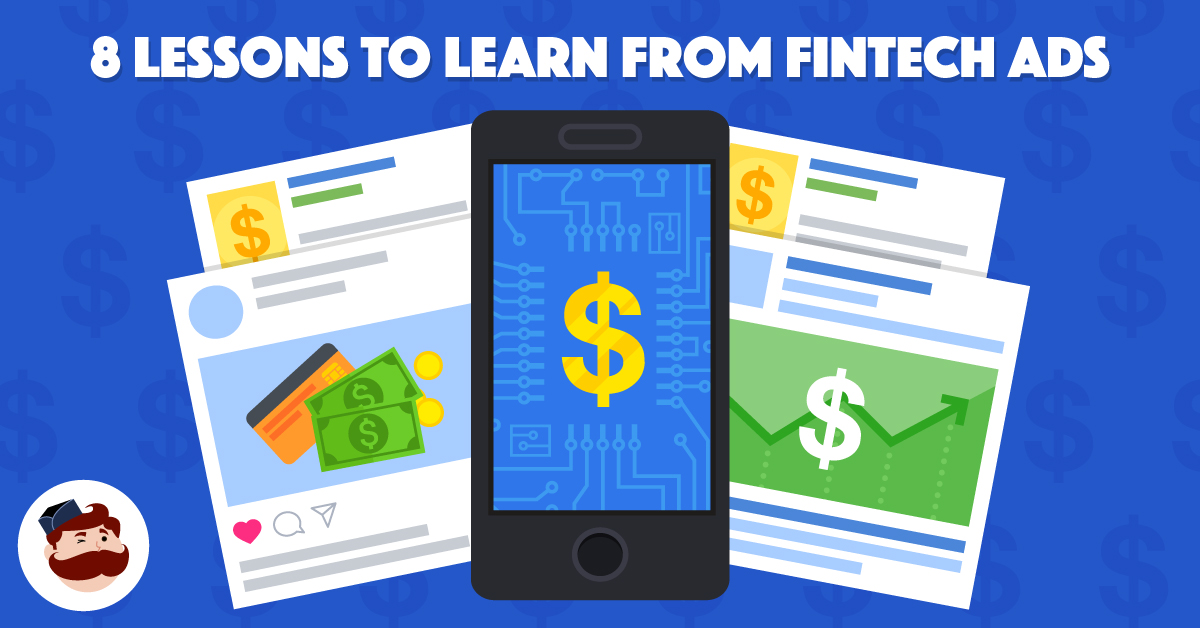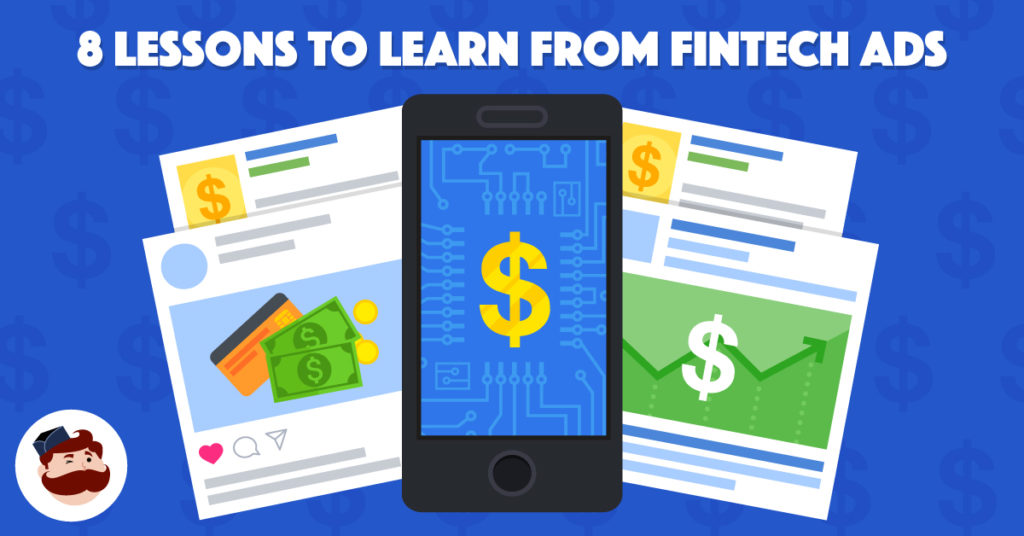 With a strong financial backing and often wealthier-than-average customers — these companies have healthy ad budgets and are able to hire top creative talent for innovative, well-researched campaigns that drive results!
Here are some examples of the best FinTech ads we found with takeaways for every marketer that want to stand out from the crowd.
Read on for more!
While many marketers might not immediately look to the finance industry for creative inspiration — words like "old-fashioned" and "formal" often come to mind instead — with a growing need to attract younger and more diverse audiences, several Fintech firms and startups are publishing cutting-edge Facebook ads, Instagram ads, and Google ads that marketers in all industries can learn from.
Companies like Ellevest (focused on women's financial health) and Betterment (helping retirees and millenials focus on long-term goals) are publishing ads that are pushing the envelope and delivering solid results.
No matter what industry or demographic you are targeting, the tactics that many of these companies employ are highly applicable across a range of Facebook ads, Instagram ads, and Google ads.
We selected the ones that have the best takeaways, ideas that you can apply to your campaigns right now!
Fintech ads on Facebook
Facebook advertising continues to be one of the most powerful ways to reach audiences. With over 1 billion daily active users, Facebook ads let you target specific audiences to maximize click-through rates.
Here are examples of fintech companies that have crafted smart Facebook ads to reach their desired users.
1. Wealthsimple
Wealthsimple is a Canadian online investment-management service that specifically targets millennials—a key customer segment for Wealthsimple and also the largest Facebook demographic.
Many millenials find themselves juggling multiple responsibilities, so Wealthsimple helps by offering features such as
quick and simple onboarding,
automatic rebalancing, and
instant dividend reinvesting.
This way, young customers don't have to worry about managing their portfolio on their own.
Some of Wealthsimple's key Facebook ads and much of its social media content showcase influencers talking about their experiences with investing.
The Facebook ad below, featuring the young star Alex Karpovsky from the popular show Girls, which also starred millenial icon Lena Dunham, is an example of this approach.

Advertising tip: With thousands of influencers on Facebook to choose from, find the ones that your target audience relates to. Choose an influencer whose followers consist of your target audience.
Go one step further and, like Wealthsimple, have the influencer talk about their personal experience. That makes the ad more believable vs. just another famous person promoting something for cash.
2. Ellevest
Ellevest is a money-management start-up that specifically targets women. The company was born out of a need to make investing more accessible to women because traditional investment options often don't cater to their unique needs (e.g., salary disparities compared to men over time).
Ellevest's ads work because the company isn't afraid to push the envelope and be a little controversial.
For example, their Trump ads were traditional in that they were large posters in kiosks and phone booths in New York, but the ads were very popular and well received by the public.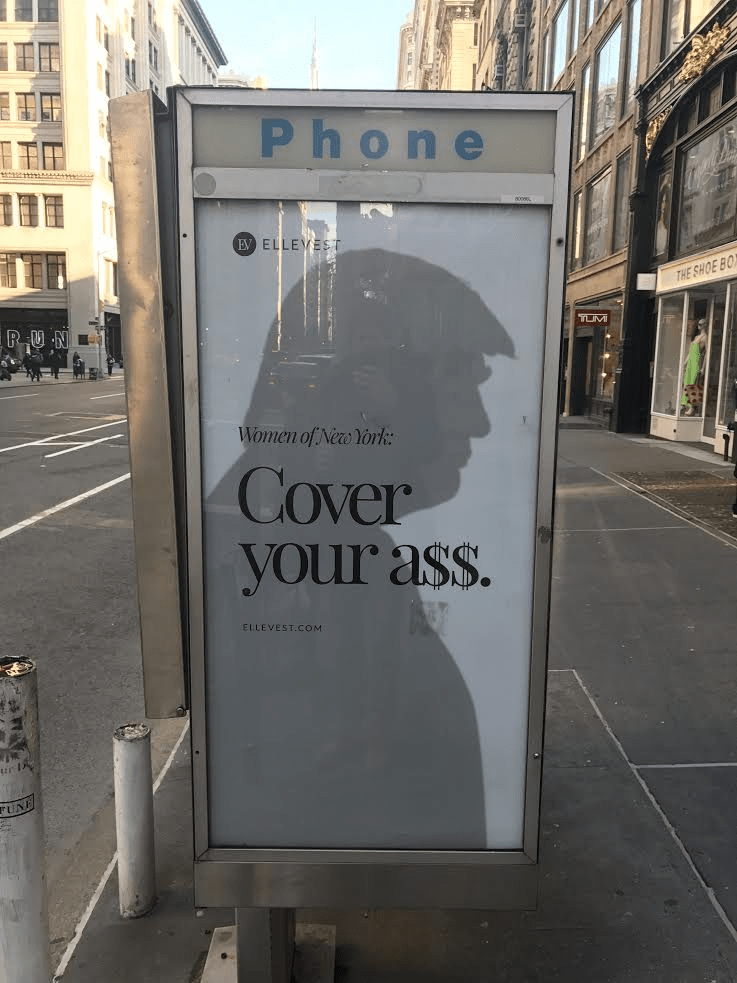 [Source]
Many women showed their support by posting selfies in front of the ads to Instagram.
An online campaign Ellevest ran centered on the phrase "Invest like a woman." Ellevest used this ad campaign as a way to empower users and get them to look at investments differently.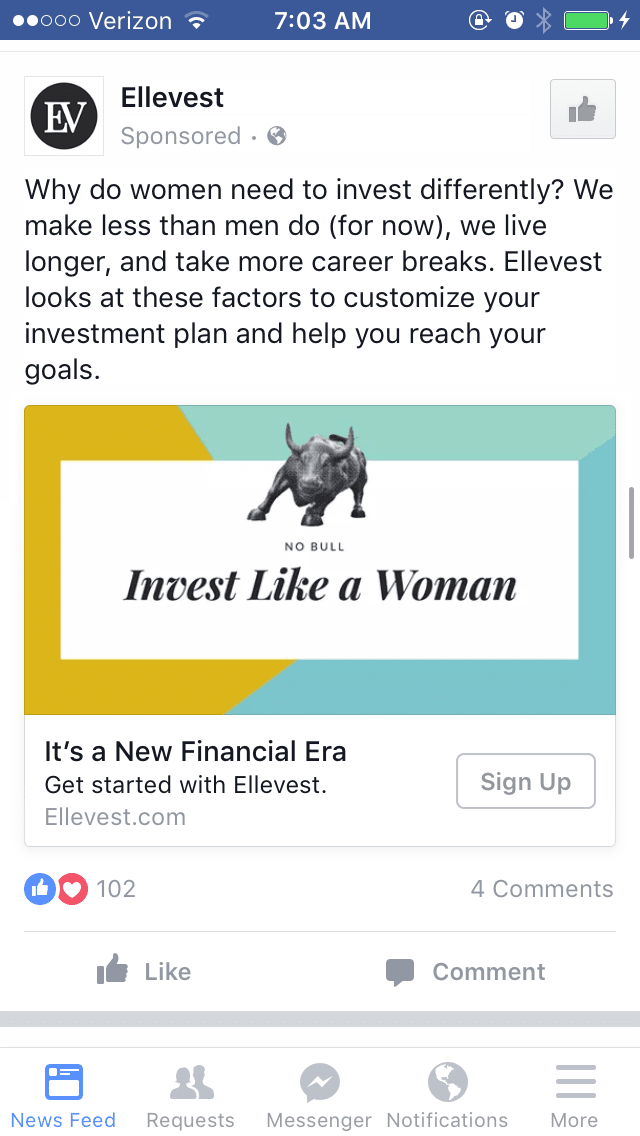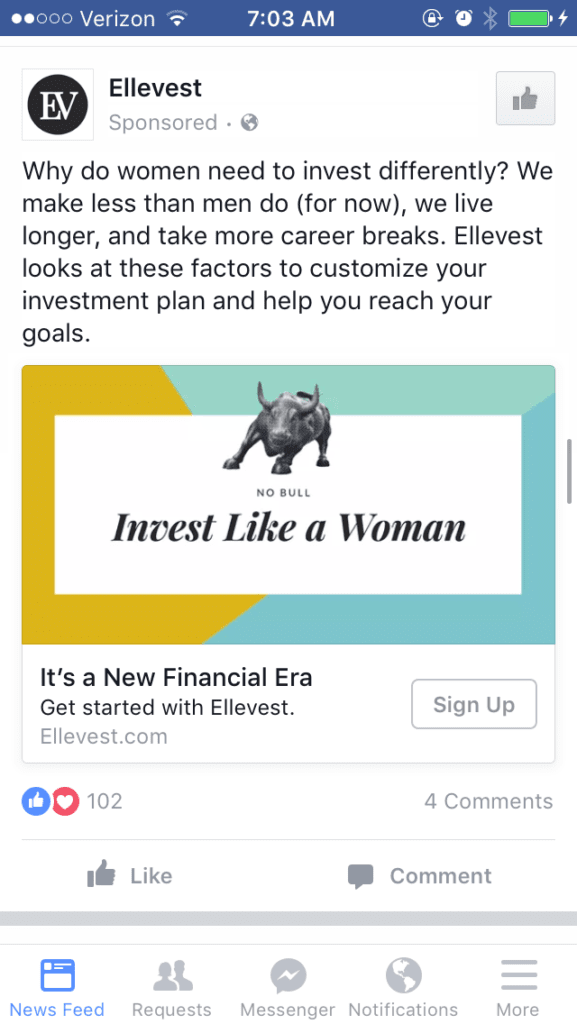 [Source]
Advertising tip: Speak to specific pain points in your Facebook ad description to connect with your target audience. This is your chance to show them why you're the best option. Explain why your product is different from anything else and what your audience stands to gain by using it. Offer a solution to their pain point.
3. Betterment
Betterment is an online investment company. One of the main areas they focus on is helping customers manage their investments based on their long-term goals.
This Facebook ad is geared toward Betterment's audience, because it explains investing in simple terms for people who are not financial professionals. Plus, this particular video ad brings a humorous, lighthearted approach to technical concepts, which a range of users can appreciate and benefit from.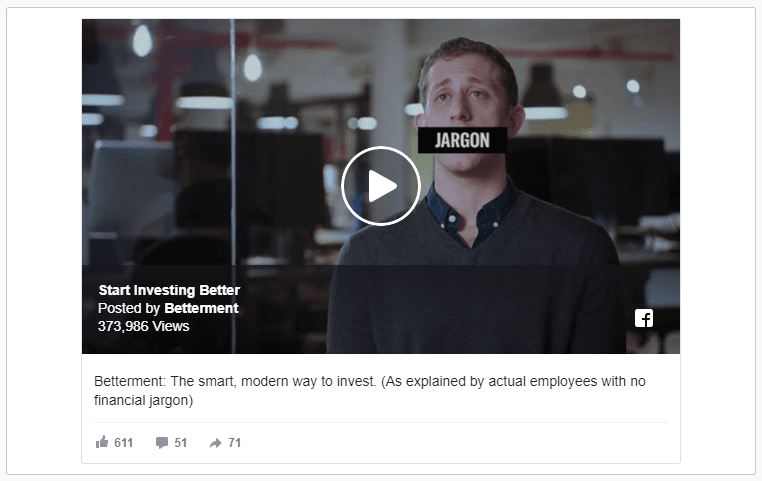 Advertising tip: The better you know your audience, the better your chances of figuring out what type of content truly engages them. The key is to have fun with your Facebook ad, specifically when product or service details are complicated, to get your audience's attention and encourage them to click through to find out more.
4. Wealthfront
Wealthfront is an automated investment service. The idea of starting an investment portfolio is intimidating to a lot of people. In fact, many don't bother investing at all. Wealthfront makes investing easy by coming up with a custom plan for each customer and showing them how easy it is to manage with available resources.
This particular Facebook ad from Wealthfront uses social proof in the form of a partnership with Business Insider. Business Insider offers readers insights into topics such as finance, tech, and strategy, so highlighting the fact that Business Insider spent time using the tool piques audience interest.
The Facebook ad also explains that it's powered by AI, something that increasingly resonates with consumers — to encourage click-throughs.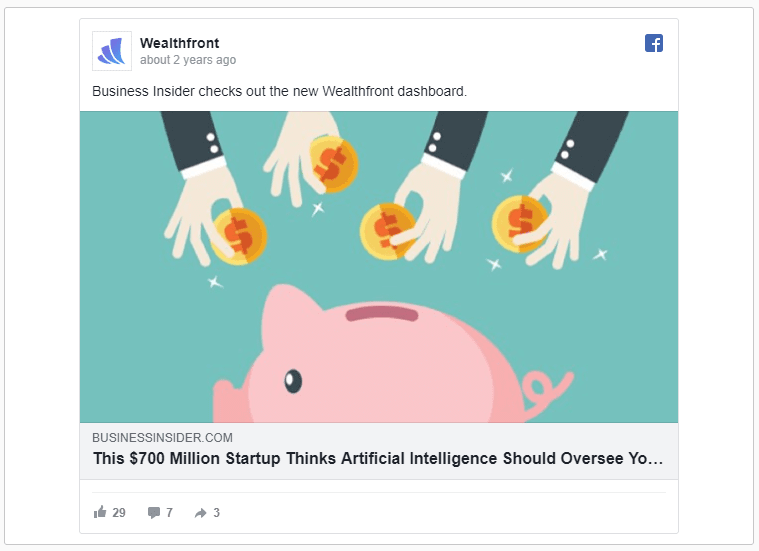 Advertising tip: Keep your Facebook ads simple. Like the example above, yours don't need long descriptions. Know your target audience, and focus on ideas that speak to their interests and relate to their needs to minimize fluff. That way, you're more likely to get their attention so that they click on the ad.
Fintech ads on Instagram
People are flocking to this platform with over 500 million daily active users.
This number continues to grow as Instagram adds more features — for example, IGTV and adding hashtags to bios — to keep users on the platform longer.
The following Instagram ads are creative and strategic in their approach to targeting and the type of content they use.
5. Coinbase
65% of Americans are visual learners, so using your ads to show rather than tell why your product is the best choice can go a long way.
Coinbase exemplifies this. They're a digital currency exchange and wallet that makes it easy to buy and sell Bitcoin, Bitcoin Cash, Ethereum, Ethereum Classic, and Litecoin. The company uses images in effective ways to illustrate abstract concepts.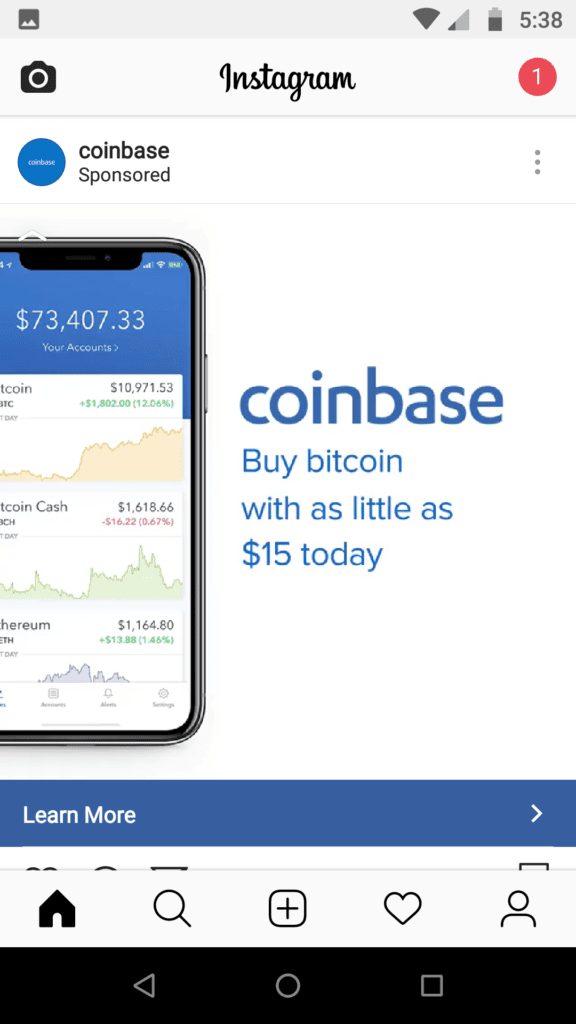 This ad uses a snapshot of the app to give the audience an idea of how the app looks and works, piquing their interest. This way, leads have a visual idea of what to expect before they download the app.
Even if your product deals with complex information, by offering visuals of the app early in the sales funnel, you can help to minimize concerns leads might have about using it. There's always going to be a learning curve with a new product, but the earlier leads feel comfortable with it, the better your chances are of making a sale.
Advertising tip: Show images of your product working in your ads. Compared with ads that just try to sell something, give your audience a sneak peek of how the product looks and feels.
6. Aspiration
Aspiration is an online financial company that helps users manage their banking, investment, retirement, and charitable needs. It offers lots of educational content to help inform customers.
Aspiration runs ads on Instagram to reach a cross-section of their target audience. Because their user base is so diverse, it makes sense that Aspiration would use a platform that is popular with a wide array of users.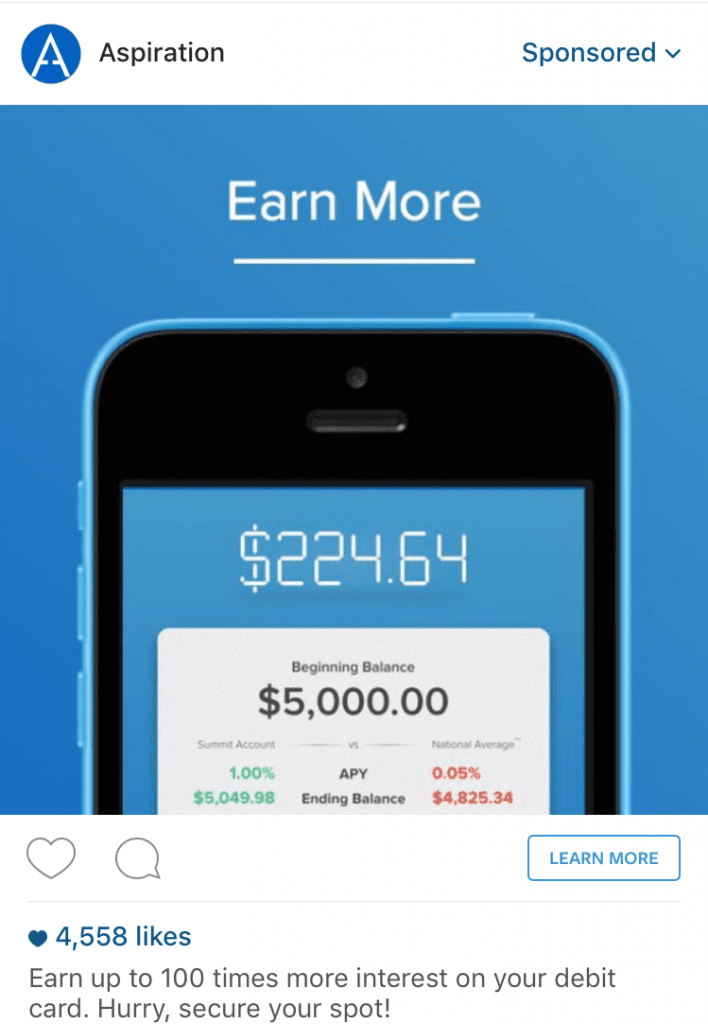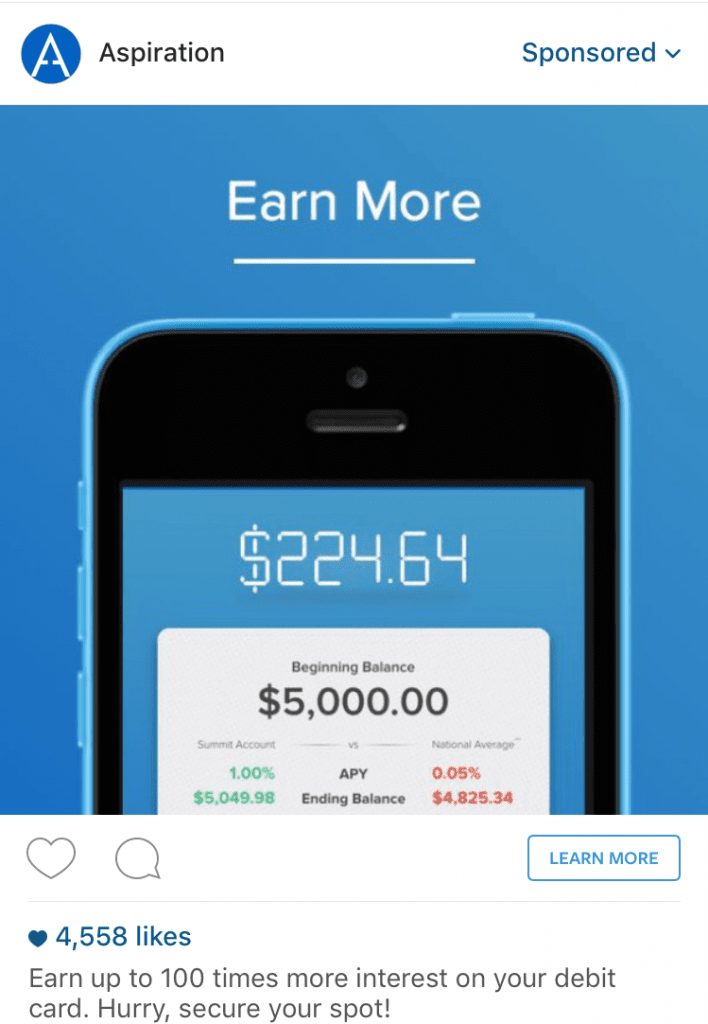 [Source]
What's great about this ad is that it shows the audience how the app works and what customers have to do to save. The ad showcases simple information to get the audience excited about how easy it is to see results.
Advertising tip: Use your ad to show an example of your product working in real time. Show a starting point and what users stand to gain at the end. For example, it could be more savings, more experience, or something else related to the problem users are trying to solve. Your product offers a solution, so use your ad to show that solution happening!
Fintech ads on Google Ads
The fact that people use Google as a verb speaks to how widespread use of the platform is. To cater to user needs, Google continues to add more-specialized features to its suite of products. For example, with Google ads, users can create, analyze, and share their reports faster with the help of Google Sheets.
Here's a look at how Fintech companies use Google ads to extend their reach.
7. Square Cash
Square Cash, also referred to as Cash App, is a mobile payment service that allows users to send each other cash through the app. Square Cash is still a relatively new service but already boasts 7 million users on the platform.
Rather than run ads specifically for Cash App, Square runs ads that are more general and focus on their core products — the Square Reader, Square Stand, and Square Register.


This approach works because it gets leads to the site and then shows them all of the software products the company offers, which includes Cash App. Leads are sold on the main products, and then the app is presented as an additional feature that benefits users.
Advertising tip: If you already have a strong, established product, lead with that in your ads. This draws in new leads who, depending on the stage of the sales funnel they're in, will be receptive to learning more about additional products you offer. The goal is to get the attention of leads in the consideration and evaluation stage of the buying funnel and then show them what else you offer.
8. TransferWise
TransferWise is a money-transfer service. It allows users to send money to or receive money from anywhere in the world. With over 3 billion users to date, TransferWise has figured out a way to make international money transfers "cheap, fair, and simple."
A recent Google ad that TransferWise ran mentioned three key features that matter to their audience:
International money transfers
Low fees
Transfers available in major currencies
In addition to these features, the ad also promotes TransferWise's referral program.

This approach works because not only do the featured highlights encourage the audience to click-through and learn more, but the ad also gives the audience a bonus. Users get to experience all of the relevant features and they can earn extra money by telling a few friends and family members about TransferWise.
Advertising tip: Use your ads to focus on the benefits to customers. Something like a referral program allows you to stand out from the competition and offers extra value. Whatever you offer that's different or more developed than the competition, use that in ads to differentiate yourself.
Ready to Put Some Fintech Ads in Your Own Ads?
Finance isn't necessarily a fun, hot topic people rush to talk about. Plus, people don't give finance a second thought unless there's a specific reason to. But marketers should pay attention to these rising companies given their powerful abilities to create top-notch ads.
Regardless of the industry you work in, many of these Fintech startups show how you can keep your customers top of mind by using Facebook ads, Instagram ads, and Google ads — platforms that almost all users are comfortable with — to showcase your product in a fun and relatable format.
Try testing different combinations of social media ads for even greater reach. For example, use Facebook ads for one type of customer segment and Instagram ads for another to make sure the right people view your product (and convert).
It's always important to proactively try new tactics and present the information in a fun way for the best results.