In June 2017, Facebook introduced a new type of audience – value-based Lookalike Audiences.
The new audience type lets advertisers reach people similar to high-ROI clients, leading to better campaign results at a lower cost.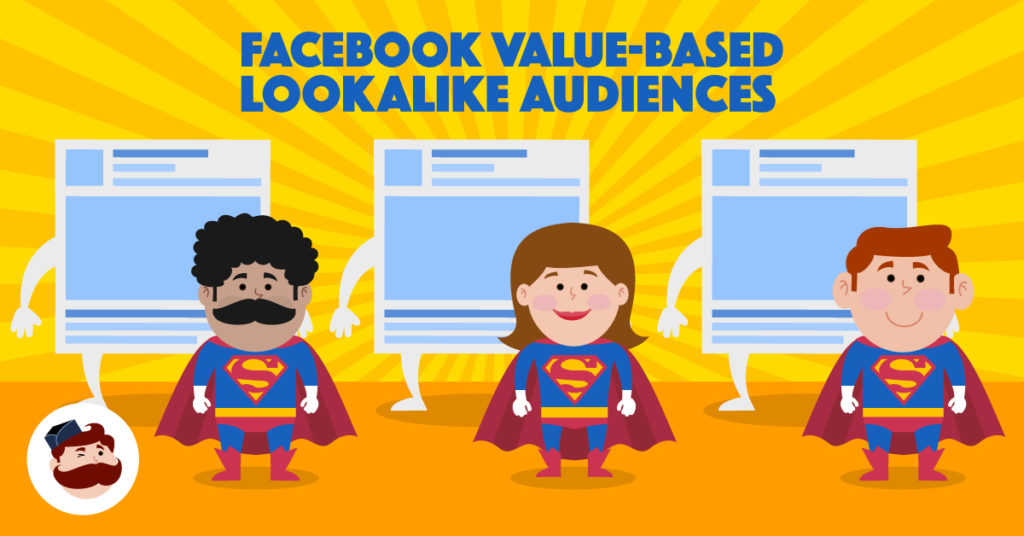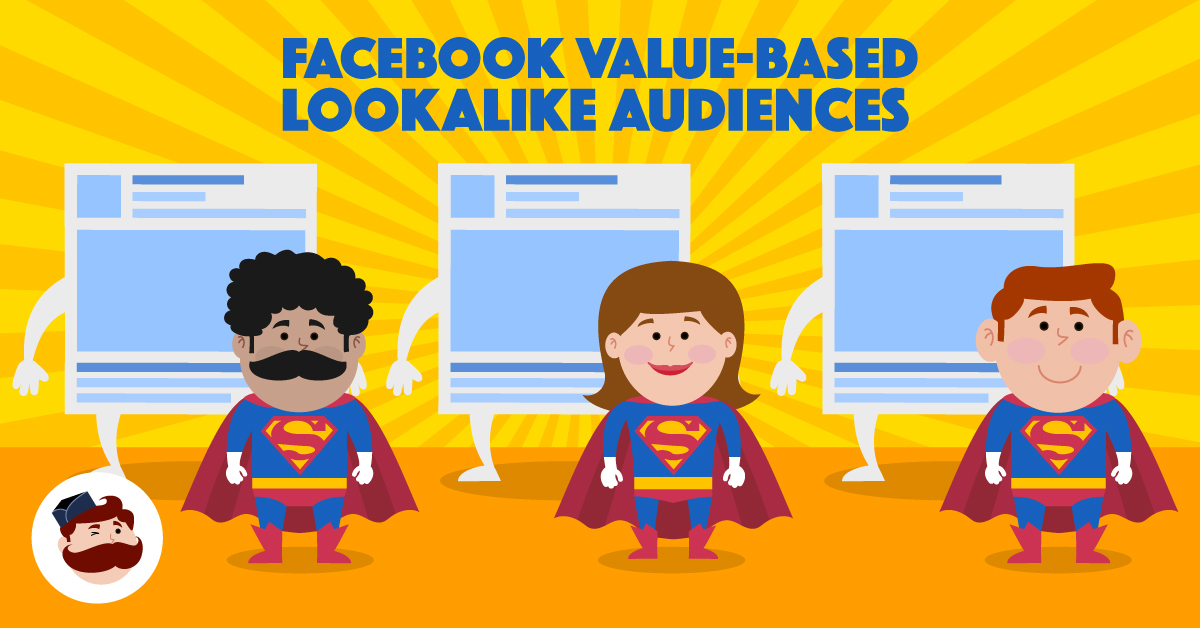 While this new audience type is not yet rolled out to all Facebook Ads Manager accounts, you should be prepared once you'll get the new feature.
That's why we created this guide to answer your most burning questions about the new value-based Lookalike Audiences:
What is a value-based Lookalike Audience?
Why do you need to create value-based Lookalike Audiences?
How can you get started with creating these new audiences?
What types of Facebook ad campaigns will benefit the most of targeting this new audience type?
Hint: The new Facebook value-based audiences are totally awesome and there's so much value waiting to be untapped.
Ready to learn more about the new audiences and beat your competition to the Facebook ads race?
In this case, read on!
How Do the Value-based Lookalike Audiences Work?
The new Facebook value-based Lookalike Audiences have a simple goal: to help you reach more people who resemble your current high-value customers.
According to Facebook, value-based Lookalikes are an enhancement of Lookalike Audiences. You can use them to include an arbitrary, numeric value for each person.
By telling Facebook how much your current customers are worth to you business in terms of the LTV (Lifetime Value), their smart algorithms can help you find more people similar to your customer base.
How to Create Value-based Lookalike Audiences?
You can create this type of audience in the Facebook Business Manager, just like all the other Facebook audiences (Saved, Custom, and Lookalike Audiences).
To set up a value-based Lookalike Audience, follow these steps:


Note: All the screenshots of the value-based audience setup were taken Social Pro Daily reader Chris Ruberg, digital marketing specialist at Affinitiv.
Step 1: Create a Custom Audience with a customer value data column
Go to your Facebook Audiences page
Click the "Create Audience" dropdown and select "Custom Audience"
Select "Add customers with current and predictive value attached
Accept Facebook's Value-based Lookalikes Terms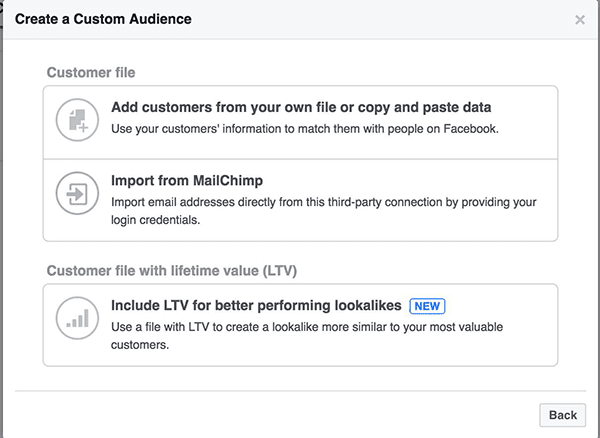 Step 2: Upload your customer file
Choose whether you'll upload your customer file as a file (.txt or .csv) or copy and paste it
If you choose to upload, click on "Upload File" and select your customer file. If you choose to copy and paste, do so in the "Paste your content here" field
Give your audience a name
Click "Next"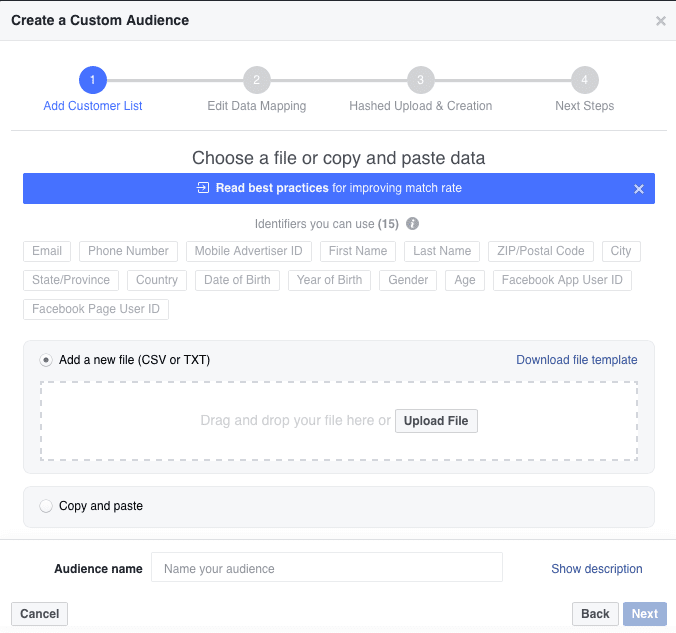 Step 3: Select the customer value column for your Custom Audience
Click on the "Select value" column dropdown
Select the column in your uploaded list that you want Facebook to use for customer value
Click on "Next"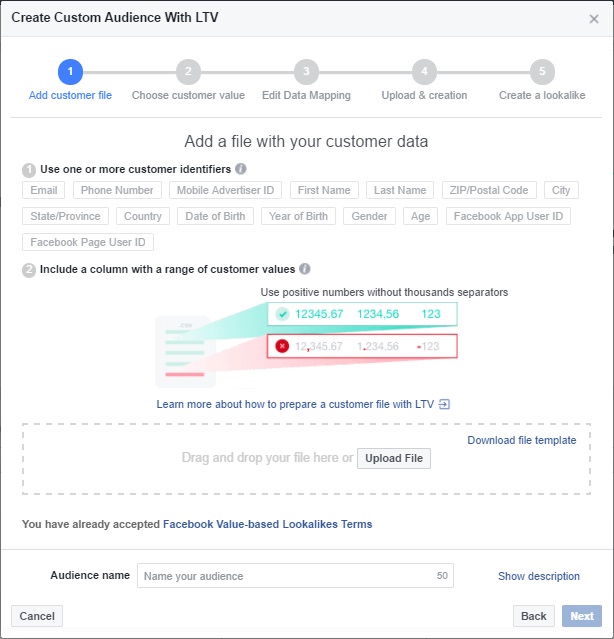 Important! In order for Facebook to understand the data in your uploaded customer file, follow all the best practices explained in this guide by Facebook, including:
Include a full range of customers, from low to high value. This way, Facebook's algorithms get more data to differentiate good customers from bad ones
Use dollar values only and avoid using other numeric values such as rankings or ratings
Don't use negative values to signify undesirable customers as Facebook won't count those
Use a single currency throughout your columns to avoid any confusion about your data
Once you've selected the customer value column and everything's looking good, save the new Custom Audience.
Step 4: Create a Lookalike Audience out of your Custom Audience
Let's slow down for a moment to explain how Facebook Lookalike Audiences work.
A Lookalike Audience is always based on a previously created Facebook Custom Audience. So in order to set up a new Lookalike Audience, you first need a Custom Audience that will become the "seed audience."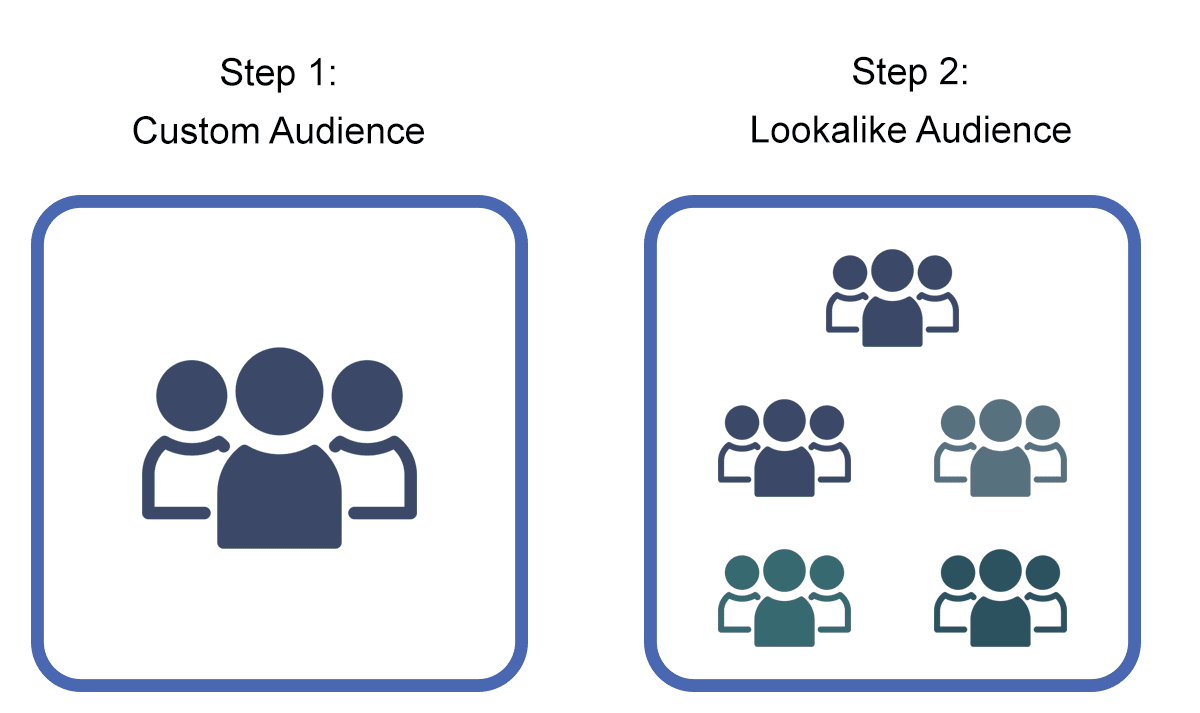 Facebook's algorithms will try to find the people who are most similar to the people in your Custom Audience.
To create a value-based Lookalike Audience:
Go to your Facebook Audiences page
Click the "Create Audience" drop-down
Select "Lookalike Audience"
For your source, choose the Custom Audience with a value column you created
Choose the country where you'd like to find a similar set of people
Choose your desired audience size with the slider
Click on "Create Audience"
Once you've created the new value-based Lookalike Audience, you can start using it in your Facebook ad campaigns to reach high-potential leads.
Where Do You Get Your Customer's Lifetime Values?
One of the hardest parts of creating a value-based Lookalike Audience is creating the seed customer file that includes each of your current customers' value.
Usually, businesses use CRM software to track every customer's Lifetime Value or purchase history.
I'd recommend that you try to set up a partly automated value calculation system rather than measuring and inserting every customer's value one-by-one. (It could take hours!)
How to Use Value-Based Lookalike Audiences?
The application of value-based Lookalike Audiences is somewhat different from the regular Lookalikes.
While the Lookalike Audiences could be targeted with offers that apply from the top to the bottom of your Facebook marketing funnel, the value-based audiences should mainly be targeted with bottom-of-the-funnel offers such as:
Free product trial
Discount offer for subscription
"Buy now" offers
Remember that Facebook is optimizing your ad delivery to reach people who are most likely to be valuable customers in the long term.
This means that when using the value-based Lookalikes, you'll have a better chance to get long-term customers and repeat purchases.
Up next, we'll share with you five types of Facebook promotions that you can target on this new type of Facebook audience.
Value-based Lookalike Audience Idea #1:
Offer a Free Trial / Product Samples
One of the biggest Facebook ad mistakes is to make the wrong offer to a wrong audience at the wrong time.
That's why, you should always try to match your offer with the target audience's interests and expectations.
Or let Facebook's algorithms do the matching for you!
When optimizing your Facebook campaign's audience to reach people most similar to your high-LTV users, you can offer them sales-oriented deals.
For example, you could create an ad campaign promoting a free product trial like Hootsuite.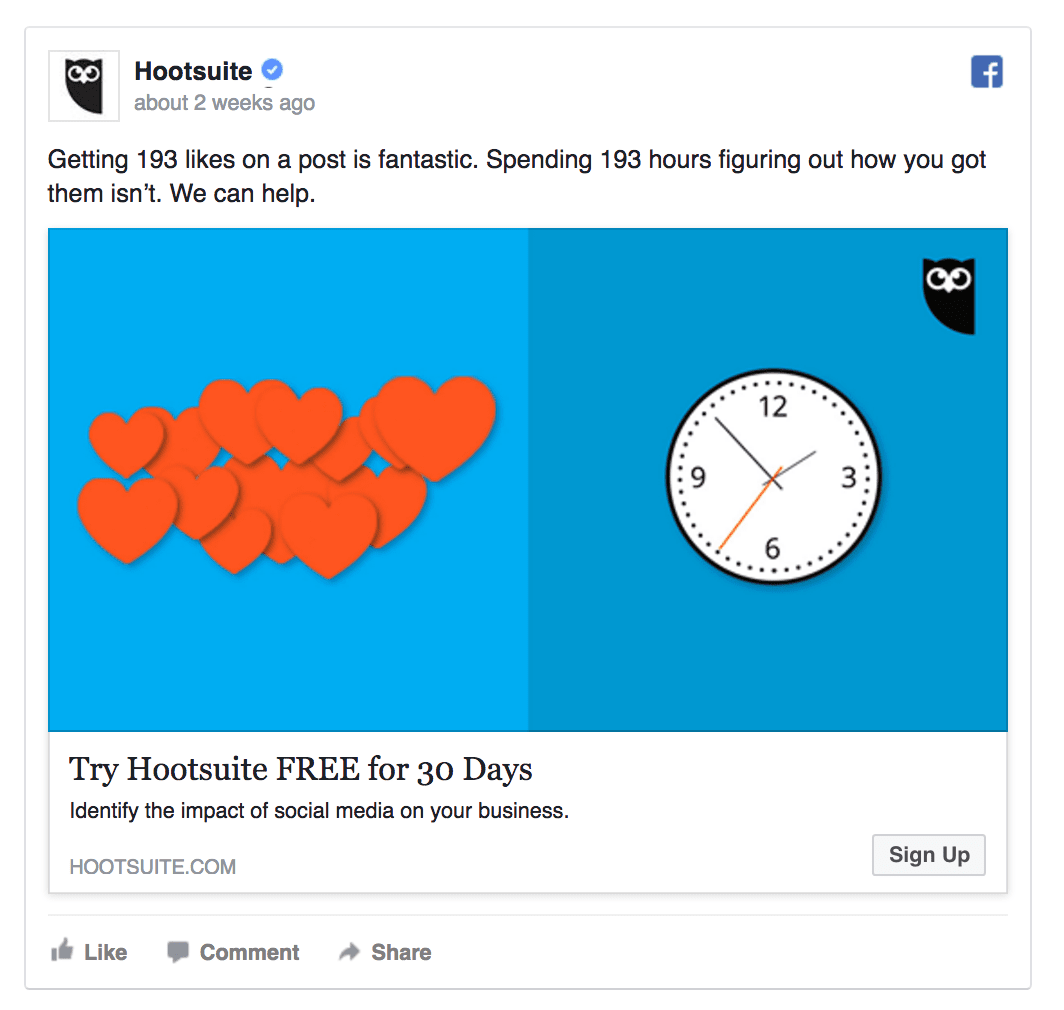 Totango analyzed the Free Trial, Freemium and Pricing models of SaaS products. Out of 550 vendors …
44% offer a Free Online Trial
41% offer a 30-day free trial
18% offer a 2-week free trial
Giving away free trial periods or free office tours is a fairly low-cost way to delight your prospects and make them more interested in your product.
Tip: If you don't have a product that enables free trial periods, you can offer people free product samples.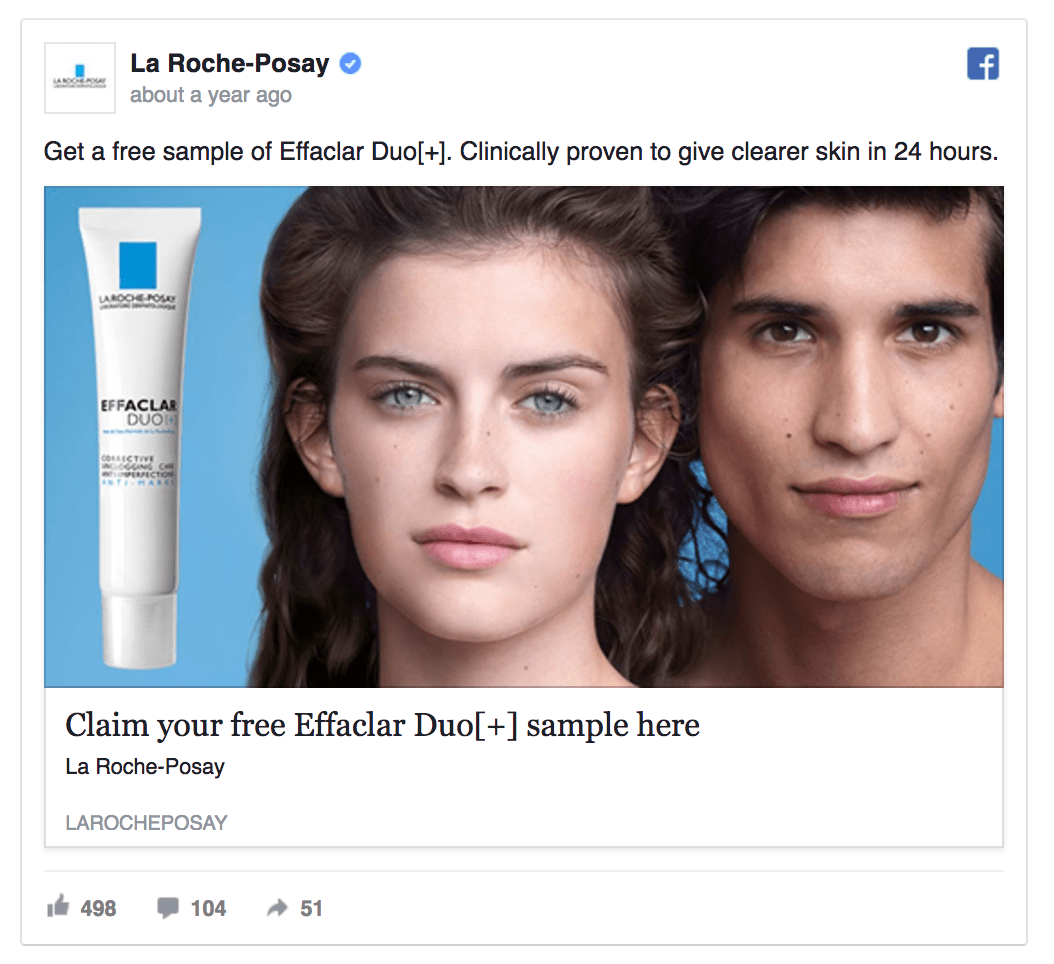 Value-based Lookalike Audience Idea #2:
Ask People to Make a Purchase
Another way to quickly convert high-potential Facebook audiences into customers is to showcase your product and drive more traffic to your online store.
For example, Soylent's advertising their product in different flavours and using a "Shop Now" call-to-action button to indicate that by clicking on the ad, the person can make a purchase.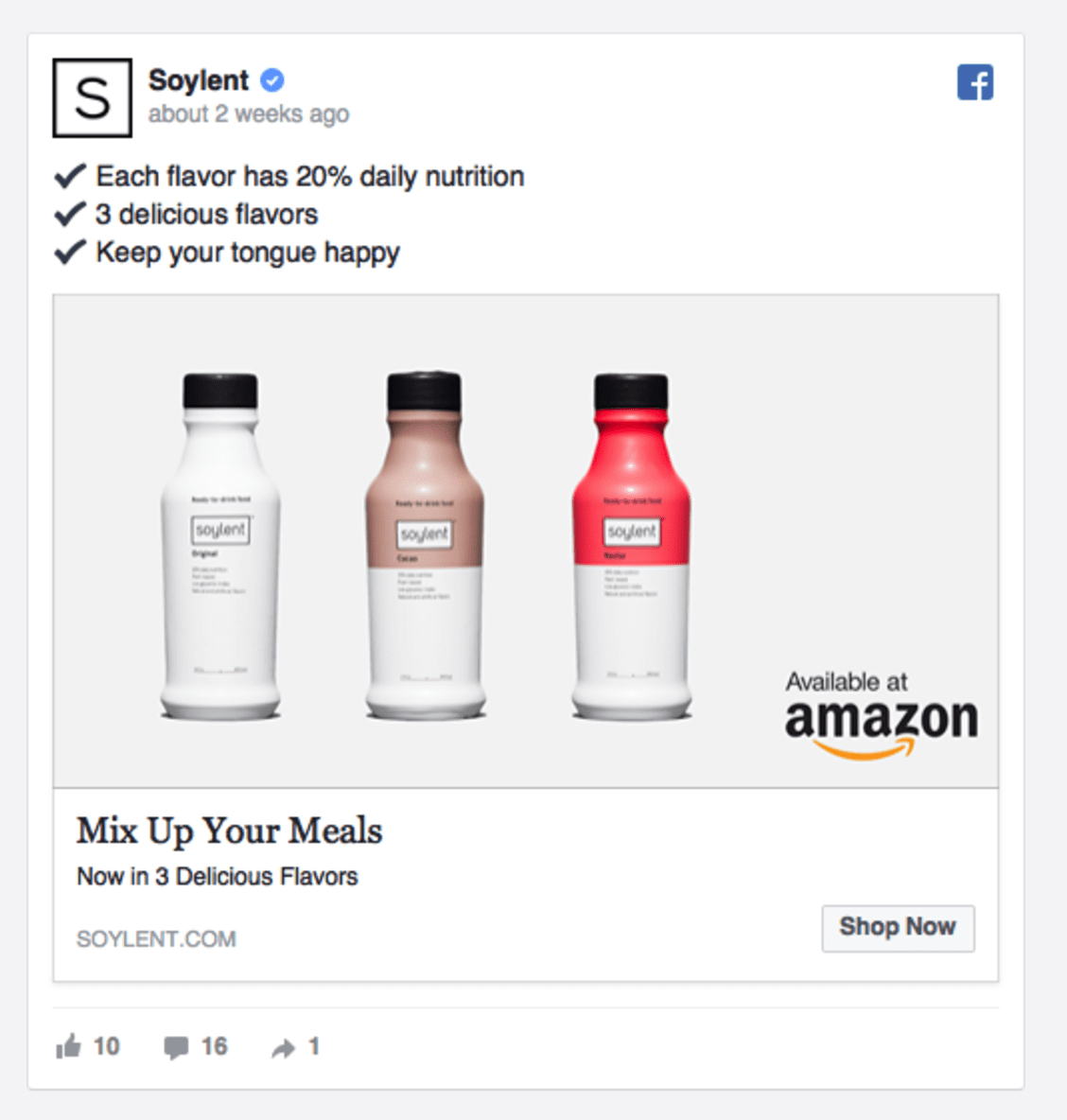 Best practices for creating a sales-oriented Facebook ads campaign:
Showcase the product on sales in the ad image
Use a CTA button that indicated people can buy (e.g. "Shop Now")
Target a value-based Lookalike Audience
Choose the "Conversions" campaign objective
Value-based Lookalike Audience Idea #3:
Create a Lead Ads Campaign
If you can't get the members of your value-based Lookalike Audience to make a purchase right away, you could at least enter them into your marketing funnel.
One way to get people's contact details (and enter them into your email marketing funnel) is gated content that you can promote with Facebook Lead Ads.
Here's how a Facebook Lead Ad looks like.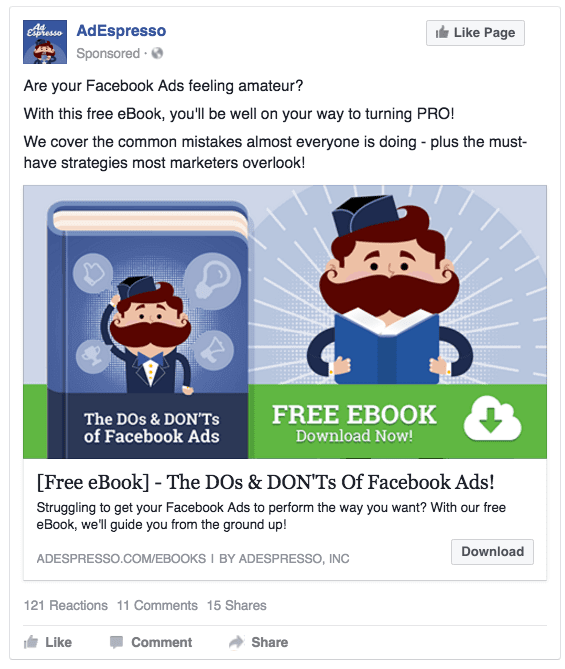 As someone clicks on the ad, a new pop-up window will appear where they can enter the required contact details in exchange for the content.

There are many different types of content and offers that can be included in a Lead Ads campaign:
eBook – offer people a free eBook in exchange for their contact details
Webinar – let people sign up for an upcoming webinar
Report – white papers, industry benchmarks, fascinating survey results, etc.
Free demo – ask people to sign up for demos without leaving Facebook's platform
Newsletter – ask people to sign up for a weekly email newsletter (it must be super relevant to them)
Once a person converts on your Facebook Lead Ad, you can insert their email into a lead nurturing email marketing campaign.
Value-based Lookalike Audience Idea #4:
Make a Discount Offer
When marketing to Facebook value-added Lookalike Audiences, you're basically targeting cold leads who are potentially interested in your product.
Asking the people who've never heard of your product before to "Make a purchase now!" might be too big an ask.
However, you can make your offer more attractive by including a discount. Even better if the discount is limited to a short time period, helping to create a sense of urgency.
For example, HubSpot's Facebook ad offers a limited-time 20% discount.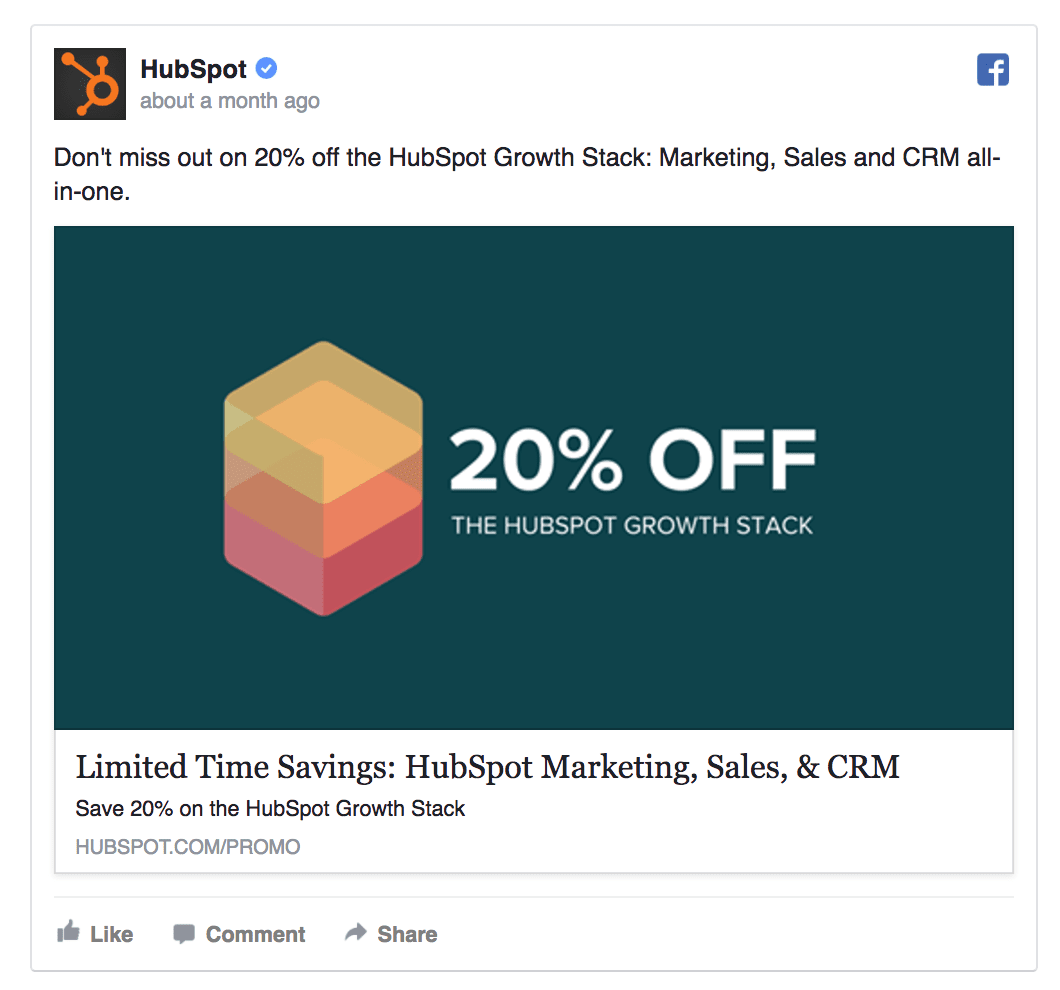 Tip: Try offering a free extra such as free shipping. When the online store 2BigFeet introduced free shipping for orders over $100, their conversions went up 50%.
Value-based Lookalike Audience Idea #5:
Run a Brand Awareness Campaign
While Facebook recommends that you use value-based Lookalike Audiences to create bottom-of-the-funnel campaigns, you should still test various options.
That's why, I'd suggest that you try targeting a value-based Lookalike Audience with the same offer you'd target on regular cold leads.
If you're unsure what to offer in your brand awareness campaigns, here are two simple ideas:
Promote your blog articles, infographics, and guides
Simply introduce your product's features to spark curiosity
For example, Eventbrite's Facebook ad is promoting a guide on social media advertising.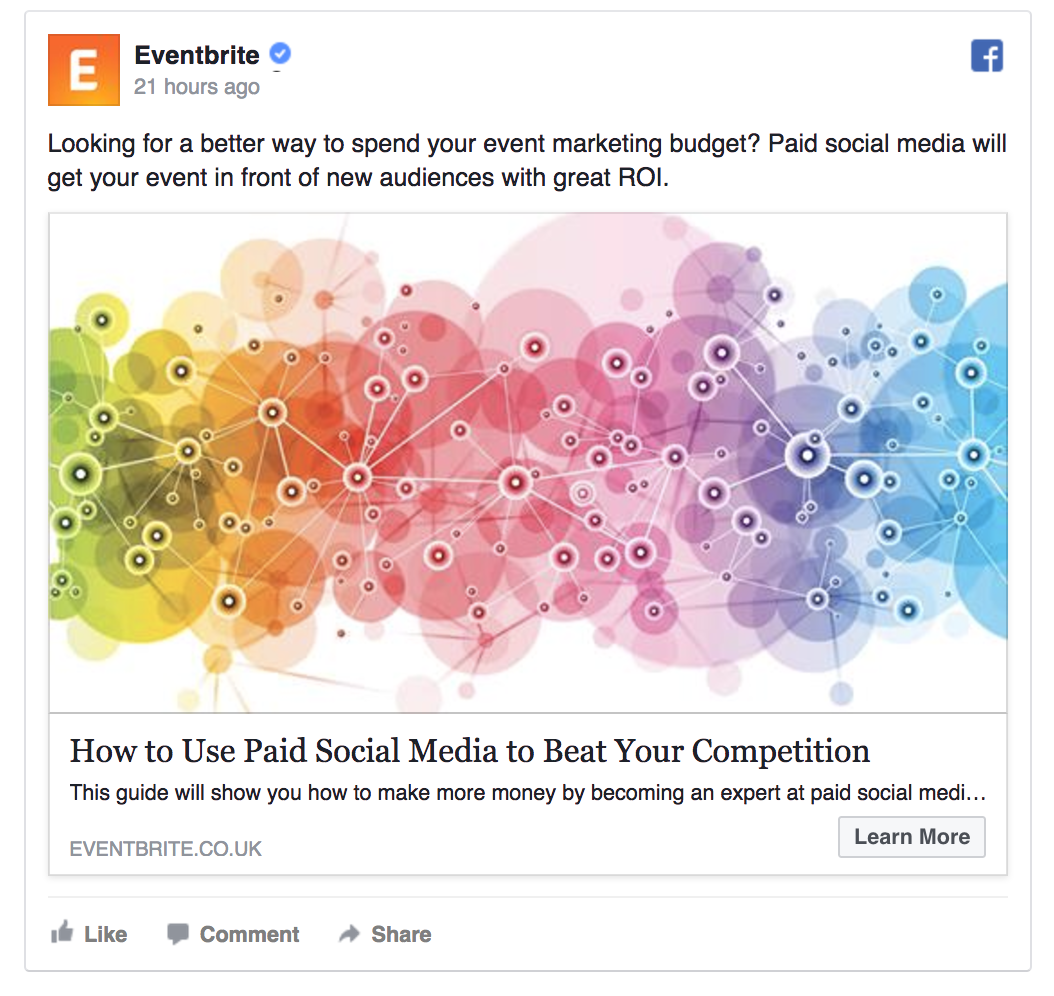 Make sure that your brand awareness campaign is easy to notice in the news feed. One of the easiest ways to get your ads noticed is to use a colorful Facebook ad image.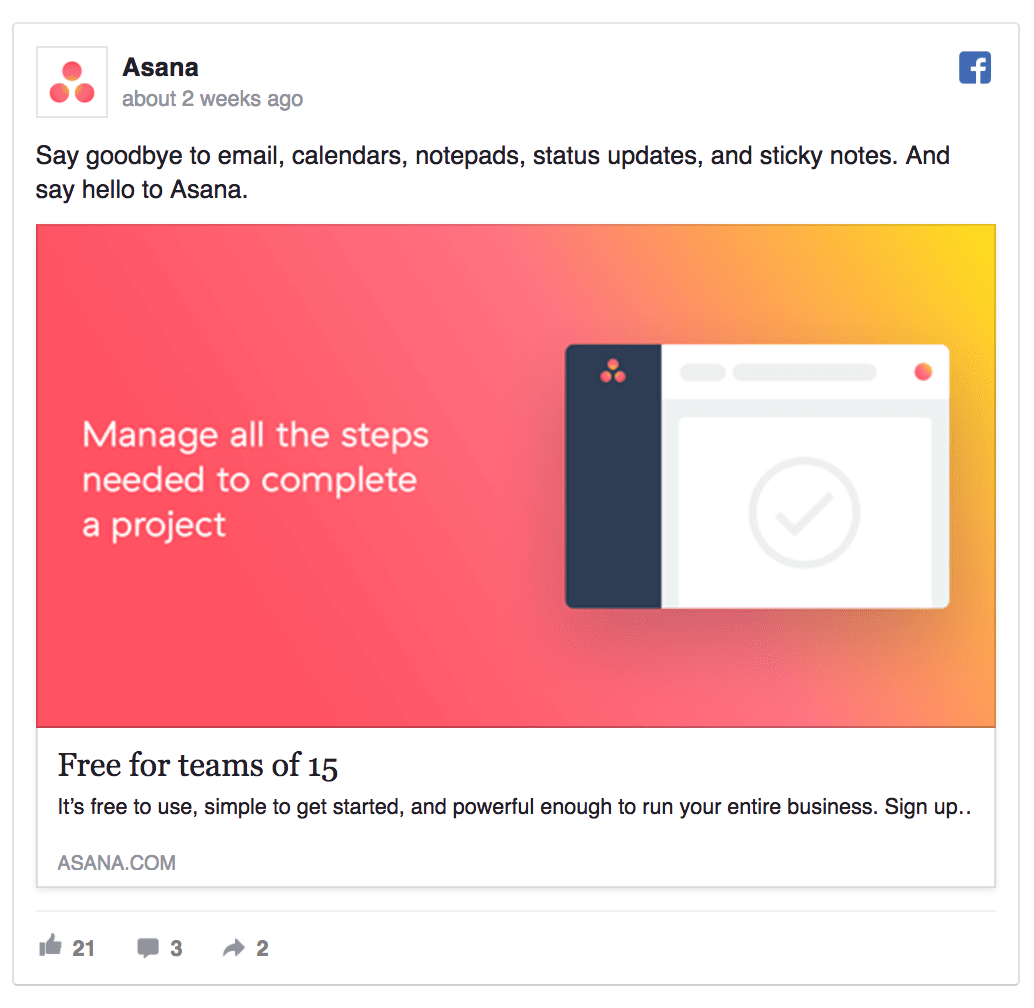 Tip: When setting up a Facebook brand awareness campaign, select the "Brand Awareness" campaign objective.
This way, you'll be letting Facebook's algorithms know that you're interested in reaching people more likely to pay attention to your ads.
Conclusion
The new value-based Lookalike Audiences aren't yet rolled out worldwide. However, they're going to be a part of our Facebook ad campaigns in the near future.
You can check whether you have the new feature by going to your Facebook Audiences page and make sure whether you're able to create a Custom Audience based on a customer file with LTV.
In the meantime, while you're waiting for the new audience to be made available, read our top-rated guide on 9 Facebook Audiences With Extremely High ROI.