Facebook contests are a great way to interact with your audience, bring attention to your brand, and create some organic engagement.
More than 80 percent of marketers believe that contests and other forms of interactive content have the power to capture viewers' attention better than static posts.
A single Facebook contest has the power to boost your business in a multitude of ways.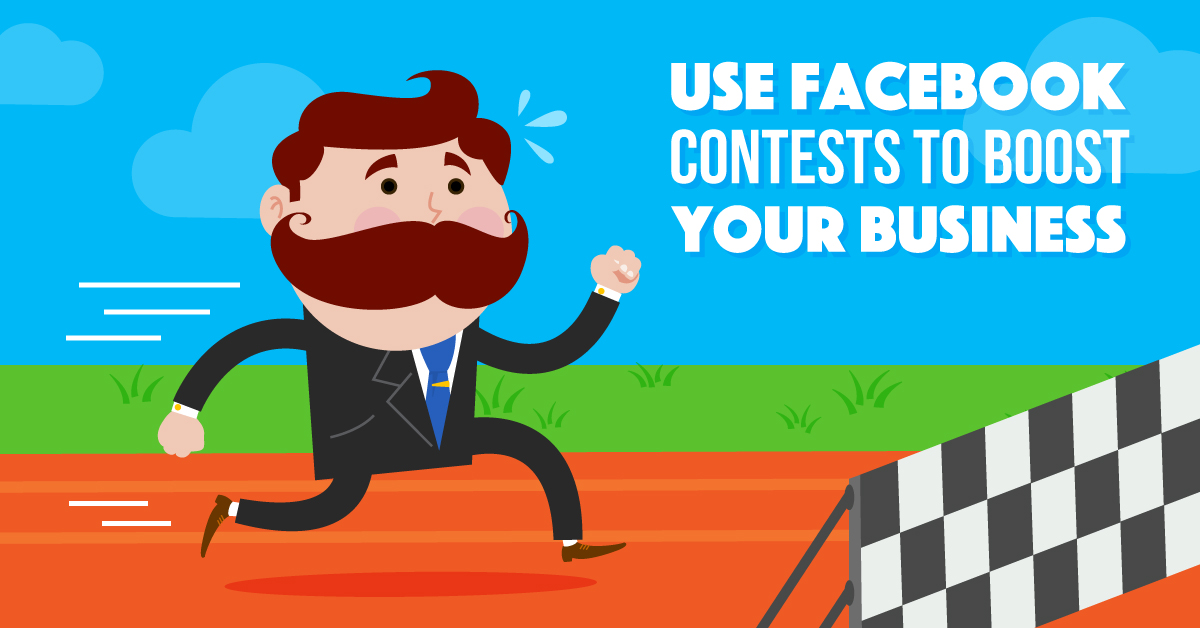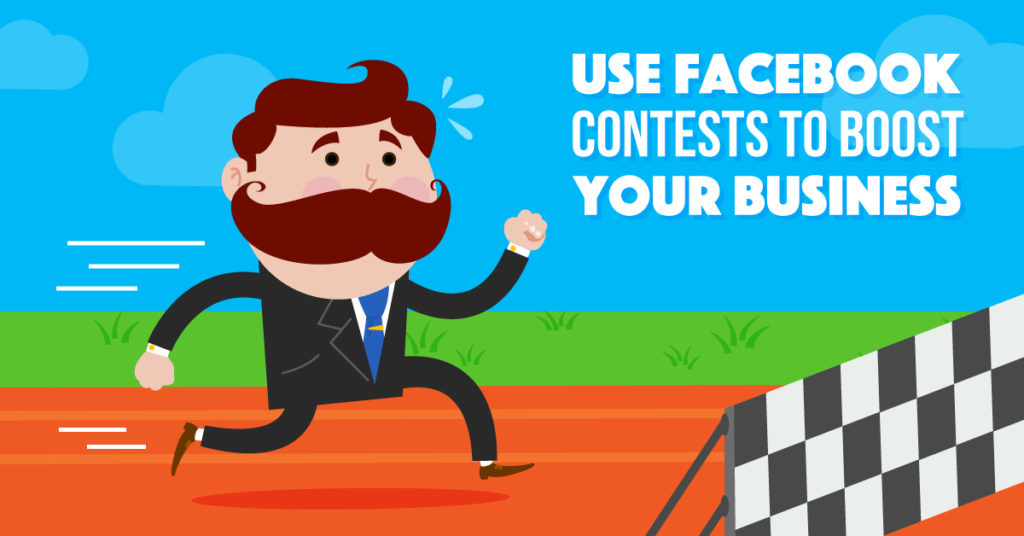 In this post, we'll break down the basics of Facebook contests, including what to think through before getting started and how to develop specific strategies to help you throughout.
We'll also provide examples to help you brainstorm your own targeted and creative Facebook contests ideas.
Are you ready to win?

The chance to quickly answer a few questions, work through a short puzzle, or create a caption for an extraordinary image in exchange for a reward is tantalizing to many viewers as they scroll through their otherwise constant streams.
There are five main reasons to opt for a Facebook contest:
In addition, there are many avenues for making your Facebook contests creative and distinct from the rest of the content in your users' feeds.
Read on to figure out how!
The Basics of Facebook Contests
If you've never created a Facebook contest, you might think it's simple:
You just announce it, include a link, and track submissions.
But there are several other steps that can be critical to the contest's deployment and ultimate success:
Once you have the right tools in place, the fun begins!
4 Smart Strategies to Create Facebook Contests in 2018
It's time to get creative with unique content that truly speaks to your target audience, casts your brand in the best possible light, and propels your company's growth in new ways.
1. Work With User-Generated Content (UGC)
Put out a call for original photos, multimedia designs, or anecdotes to draw out the creative talent in your community. Highlighting user-generated content can make your followers feel proud of their work, unearth less active audience members, generate more shares, and shed new light on your brand.
For some stunning examples of raw UGC, look no further than GoPro: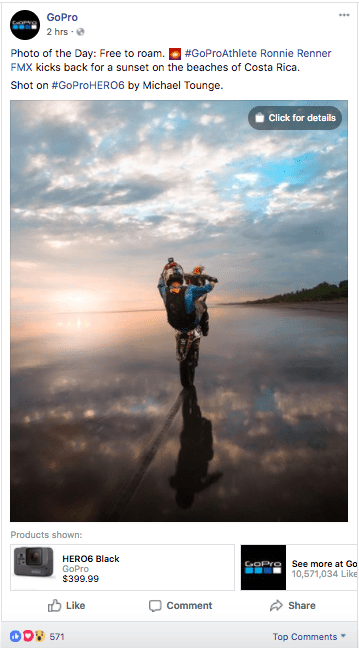 GoPro has a treasure trove of images and videos from its dedicated users, but if you're not a company that's dedicated to portable cameras, have no fear! Your audience still has a wealth of talent that can be highly valuable.
You can bring these latent ideas to light through your Facebook contest.
Retailers, in particular, have a lot to gain from Facebook contests that rely on UGC.
Studies show that viewers who interact with retailers' UGC are 97 percent more likely to convert than those who do not interact.
IKEA's Soft Toy Drawing Competition is a great example of UGC in action: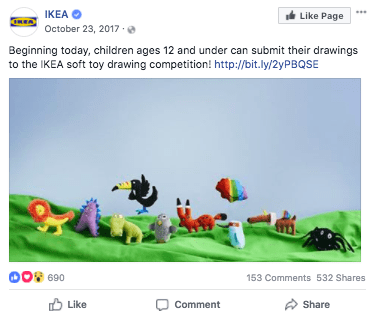 IKEA's competition not only generated a lot of user engagement (690 Likes, 153 comments, and 532 shares) but also resulted in five new product designs for IKEA's 2018 SAGOSKATT limited-edition toy collection.
Pro Tip: Targeting children in a contest can increase your reach since parents and guardians are usually involved as well.
Let's take a look at another smart example. Starbucks was able to tap into its creative side through its White Cup Contest: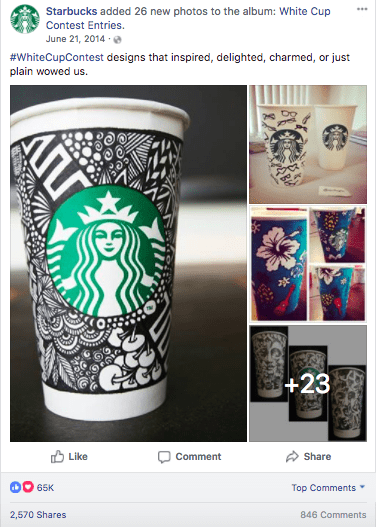 Even within the food and beverage sector, Starbucks doesn't have a reputation as one of the most creative and innovative brands.
Working with user-generated content in this Facebook contest allowed the company to create myriad designs that "inspired, delighted, charmed" and "wowed" their internal team as well as their followers, evidenced by 65K Likes, 2,570 shares, and 846 comments.
Facebook contests that center on user-generated content have enormous potential to engage customers in a new way, over and above simply liking, commenting, and/or sharing your post. Your followers will create rather than consume your content.
UGC Facebook contests can inspire your audience, build a highly active community, diversify your brand, and deliver low-cost designs for upcoming products.
2. Incorporate Hashtags
Add hashtags to your contest to multiply its reach across Facebook, Instagram, Twitter, Pinterest, and Google+.
Hashtags are a great tool in a contest with a limited time frame. When well crafted, hashtags have the power to quickly make your followers feel more engaged with a wider community.
Hashtags open up avenues that allow your users to share their work, see others' amazing content, spur valuable conversations—and it's all associated with your brand.
Hashtags also have the power to attract new members to your contest and brand.
For example, during the World Wildlife Fund's 2017 Wildlife Photo Contest, dedicated follower duane_larson brought in an additional 500 Instagram Likes: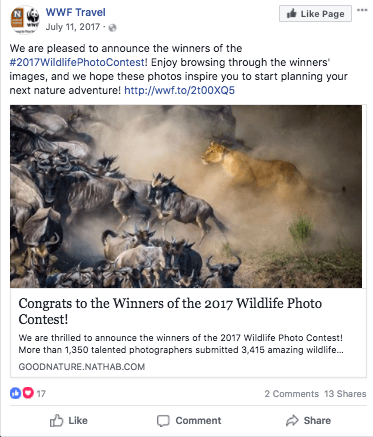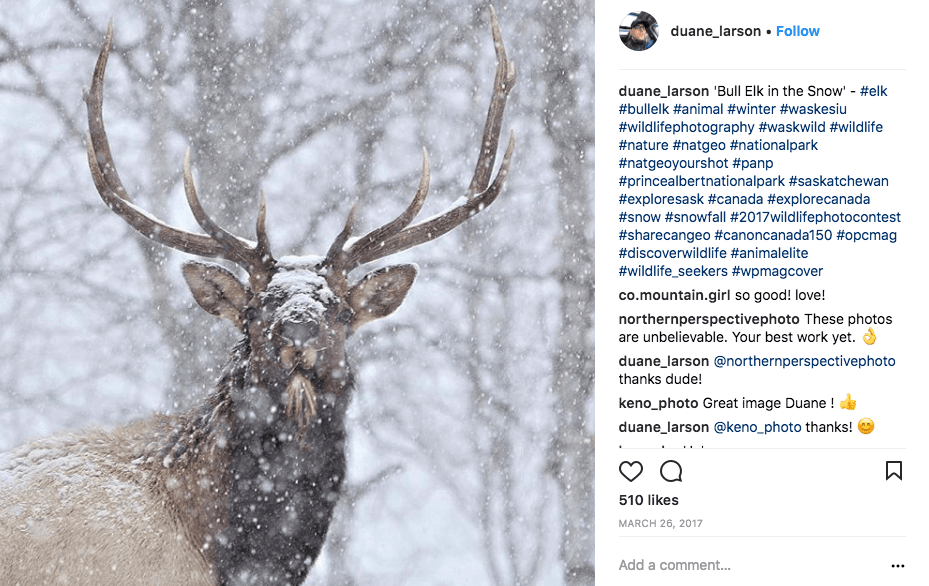 These Likes were via duane_larson's own network. While some of them might have already overlapped with WWF's target audience through a shared interest in wildlife and photography, others might have come from outside WWF's scope.
Without an additional Instagram push, WWF saw 130 additional posts that used the hashtag #2017WildlifePhotoContest. At no extra cost to WWF, individuals and small businesses shared their best photos on the additional platform and encouraged others to do the same.
WWF racked up a grand total of 3,145 shots from 1,350 photographers during the one-month time frame.
Pro Tip: While you might be tempted to dash off the first catchy hashtag that comes to mind, doing a bit of research can help you craft an extraordinary hashtag that drives your specific business goals and avoids some embarrassing marketing mistakes.
Here's some best practices to follow:
Keep it brief yet unique. Do a quick check of Facebook and other social media platforms to make sure your hashtag is specific enough that it doesn't interfere with another hashtag on the same topic (and avoids misunderstandings, like #LoveDP).
Try to evoke an emotional reaction. If you spend time truly understanding your audience and craft a hashtag that speaks to them, you will have an edge over 80 percent of your competitors. (For example, #walkforlife gained enormous traction among many breast cancer survivors and their supporters.)
Make it catchy. Don't overcomplicate your hashtag to the point where your followers won't be motivated to share it (as with Greyhound's #FOMOOGLF—"fear of missing out on Greyhound low fares"). Make it memorable, and easy for users to type and send.
Although hashtags might be less common on Facebook than they are on Instagram and Twitter, plenty of users still use them to search for content and trends, so it's essential that yours catches their eye.
Do it right and your message could go viral!
3. Employ Search-and-Reward Tactics
Asking viewers to spot something hidden in your contest's main image in exchange for a reward creates a strong positive feedback loop.
You can deliver more information about your brand and product(s) while viewers spend more time with the photo. In addition, once viewers succeed in finding the hidden object(s), they are more likely to follow through on the next step to claim their prize.
This creates even more potential for you to achieve contest goals, such as new accounts or increased website traffic.
Below, Staples hides a custom pen among examples of the print and marketing materials it provides for businesses: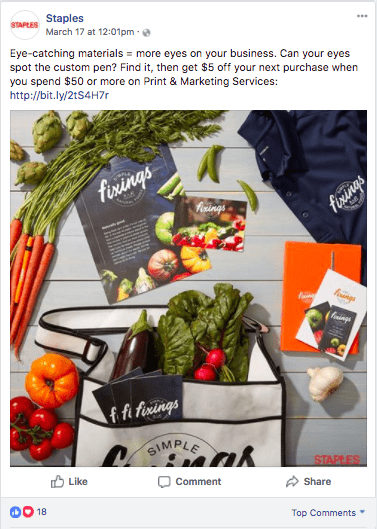 While searching for the pen, viewers see colorful brochures, business cards, custom T-shirts, tote bags, monogrammed notebooks—all of the fixings that Staples offers, the breadth of which viewers might not have known.
Pro Tip: Primary colors, like the red of the tomatoes, strike a visceral chord among viewers and help them connect with an image more deeply.
M&M's also uses the search tactic in the animated contest below: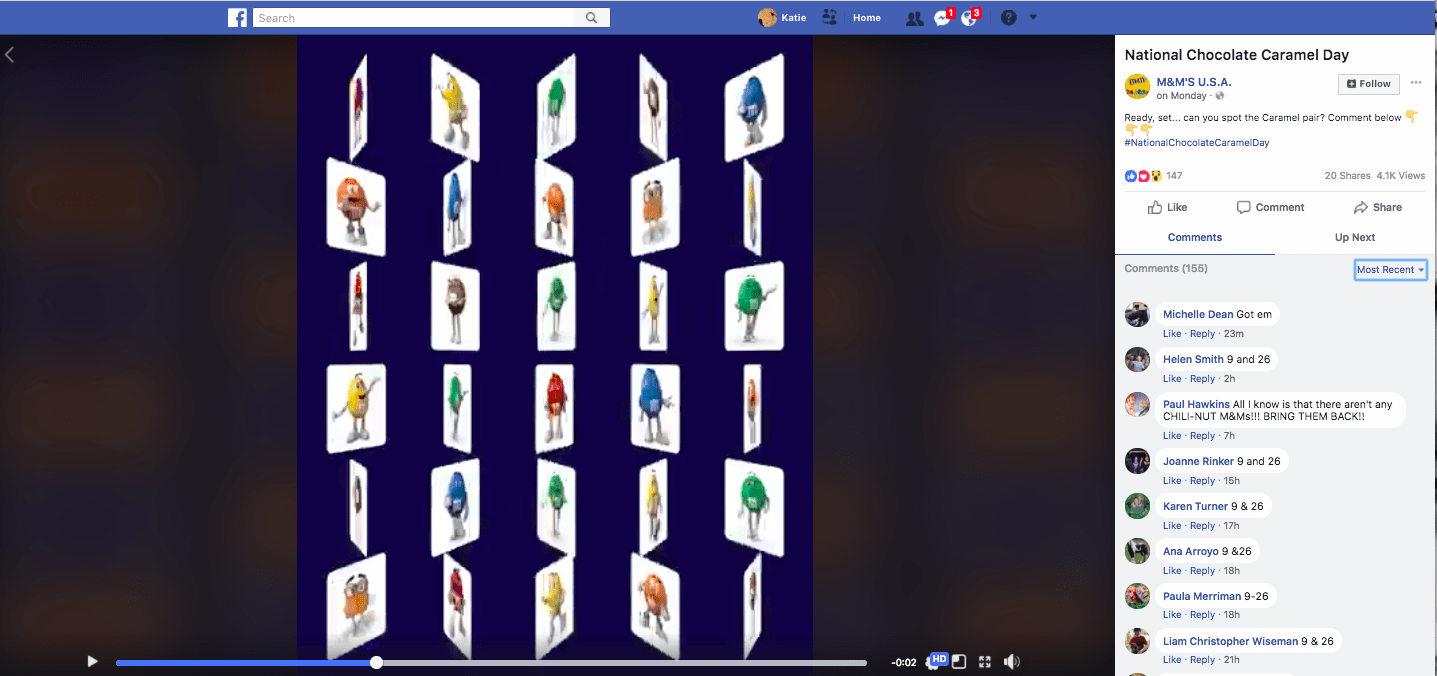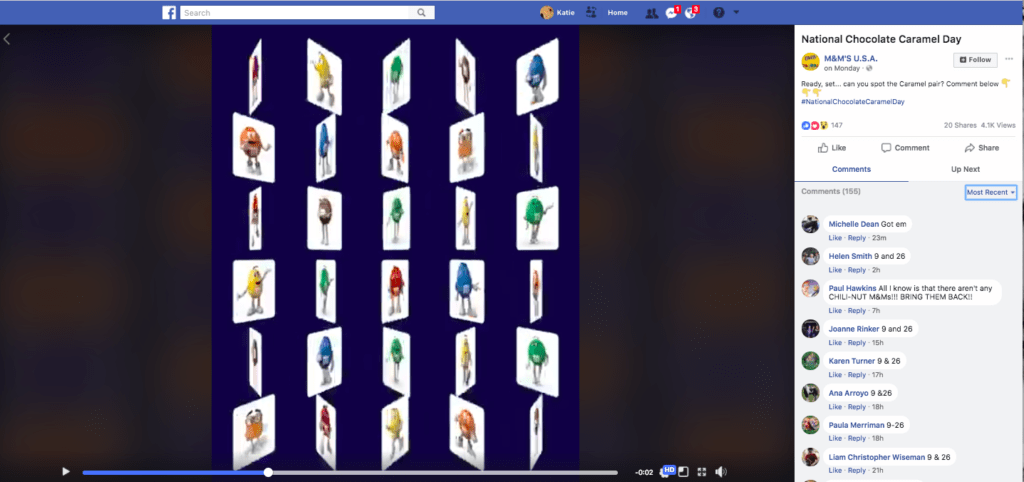 The animation adds an extra layer of urgency.
The cards flip constantly, prompting viewers to stay glued to the post. Along the way, they get an introduction to the new product: the caramel M&M's. Viewers rapidly comment with their answers.
In three days, this contest generated 155 comments, 147 reactions, 20 shares, and 4.1K views.
Search-and-reward contests are great ways to help your audience learn about your new products and even prompt click-throughs to your site to claim rewards.
In addition, the contest's real-time nature propels viewers to act quickly, making this a great tactic for achieving results in a short time.
4. Manage the Risk of Fraudulent Entrants
Managing risk is fundamental to growing your business.
With Facebook contests, take every precaution you can to secure your company against fake accounts and users just looking to claim your prizes.
Unfortunately, scammers have lots of methods to exploit your contest for their individual gain.
AI has made it more efficient to create near-perfect photographs of humans; it can be difficult to distinguish between real and fraudulent entries. In addition, entire Facebook communities are devoted to sharing votes (all you have to do is search for "Contest").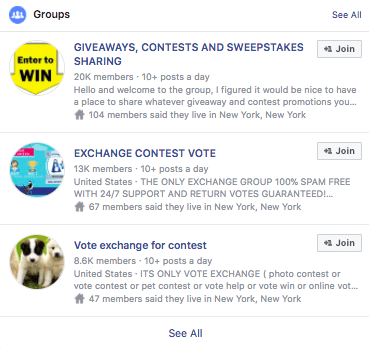 With so many resources available to those who scam the system, it can be tough to make sure dishonest users don't derail the main goal of your contest: supporting and growing your community of real customers.
Although Facebook's guidelines for promotions have recently been updated in an effort to make contests tighter, there are a few additional steps your team can take to make sure your contest remains safe:
Stay focused on modest prizes that appeal to your target audience. For example, if you're a cosmetics company, consider offering a high-quality gift package comprising a handful of your best products, as opposed to offering something more extravagant, such as a lifetime supply of blush.
If you're deciding to run ads simultaneously with your contest, a Facebook ads manager can help ensure that you target your specific audience. If you simply publish general updates about the sweepstakes on your company's Facebook page, you could capture a swath of users who aren't in it for the right reasons.
Again, consider using an app to create your contest that deters fraudulent users. Look for apps that enable multifactor authentication and other identity screens. Some apps may also offer more advanced options for tracking user behavior during the contest.For example, ShortStack is one option that is able to verify the accounts signing up to participate.
While no contest is immune to vote sharing and entries from multiple and/or fake accounts, the above steps can reduce your exposure to scammers, legitimize your brand, and clarify your rules.
Once you secure these pillars, you are primed to lock in great results!
Final Thoughts
Facebook contests are a great way to boost your business by engaging your followers in new and creative ways.
You can highlight user-generated content and spark new connections among audience members.
Your users will spend more time on your posts if you employ search-and-reward tactics, and it's easy to amplify all of your results by adding hashtags.
Remember to secure your contest against user fraud and you will have the stage for growth in the year to come!
What do you think? Have you ever used Facebook contests to boost your business? Did it work? Let us know in the comments!