With increased scrutiny into how Facebook monitors and reviews the content that users and advertisers promote on their platform, Facebook ad guidelines are more strict than ever before.
As a result, you need a solid grasp of what is allowed, as well as what isn't, to ensure your ads get approved.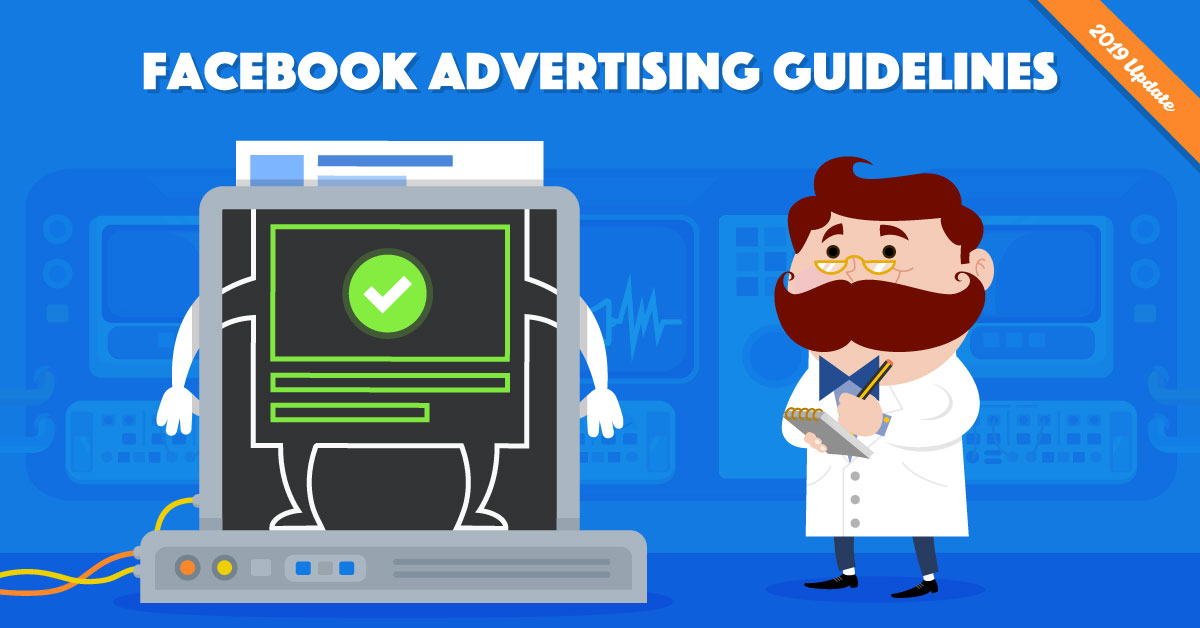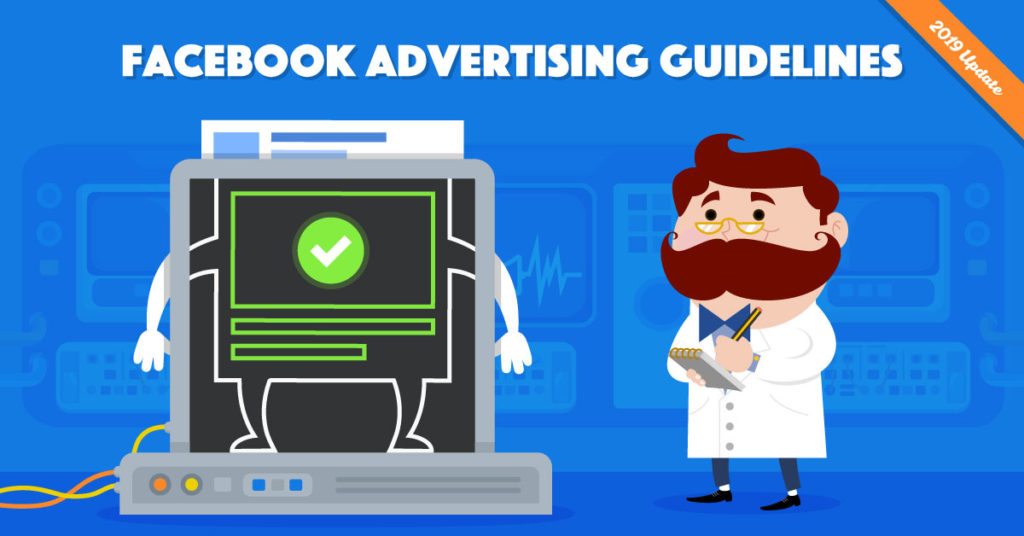 Don't let a lackluster understanding of Facebook's current advertising guidelines result in disapproved ads and more work for you.
Read through our advertising guidelines for Facebook in 2019 below!
Facebook Ads That Are NOT Allowed:
There are certain types of content that Facebook will not accept on their platform outright.
If you're selling any of the following products, or providing any of these services, you won't be able to advertise on their platform.
Facebook does not allow sexually suggestive or sexually explicit material on their platform. This includes nudity, implied nudity, content that alludes to sexual activity, excessive visible skin, or images focused on individual body parts.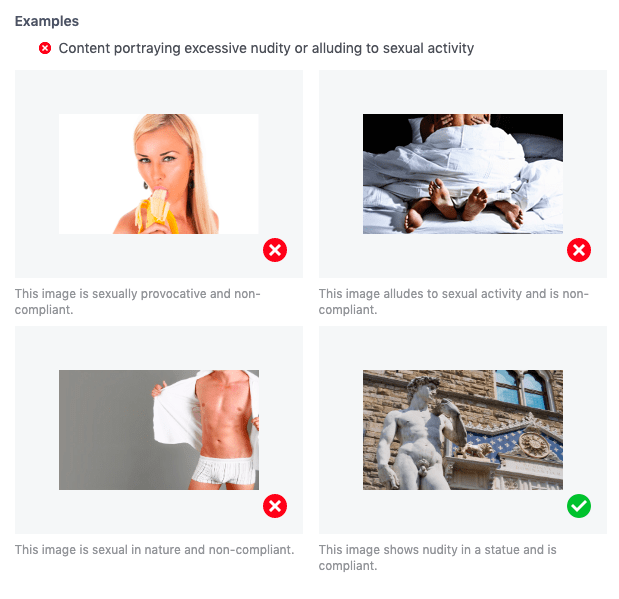 Example sourced from Facebook's Prohibited Content Guidelines.
Hate speech and harassment

 
Any ads using hate speech or harassing language are grounds for an outright ban from Facebook. This includes any ad that discriminates or encourages discrimination against a person based on their race, ethnicity, color, national origin, religion, age, sex, sexual orientation, gender identity, family status, disability, medical or genetic condition.
You cannot reference any illegal or illicit substances in your Facebook ads.
Only pre-approved pharmacies and drug companies can run ads on Facebook.
With the rise of medical marijuana and the legal cannabis industry, Facebook has relaxed its position on allowing some relevant businesses with a gray verification badge. However, their ad policy still prohibits ads that "promote the sale or use of illegal, prescription, or recreational drugs."
Facebook will allow only ads for alcohol to strict age-restricted audiences in countries where it is legal.
Facebook only allows ads for online gambling in countries where it is legal.
Tobacco products and related paraphernalia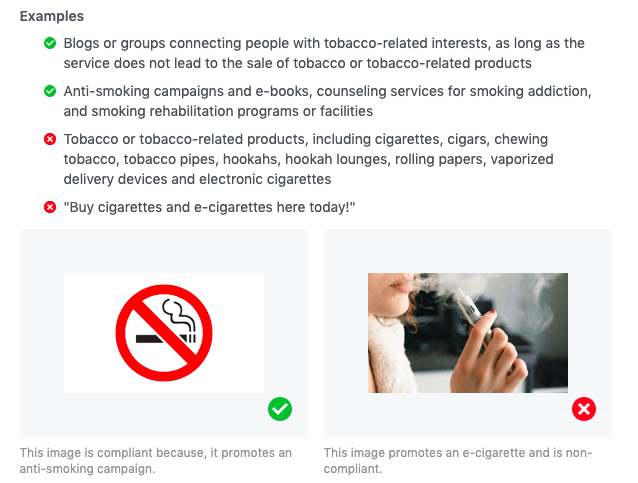 Example sourced from Facebook's Prohibited Content Guidelines.
Dating websites and adult friend finders

Weapons, ammunition, and explosives

Promoting or facilitating an illegal activity
Image Guidelines
The images you use have a direct impact on whether or not Facebook approves your ads. Creating images that follow these guidelines will ensure that you're not putting your ads at risk and generating extra work for your team when they need to be redone.
Do not include more than 20% text in any image

.
This does not refer to the headline or body content of your ads, it only applies to text that is applied over the image itself.
Ad image examples via Facebook Business Help Center.
Do not show sexually suggestive or sexually explicit material
Just like the general content rules, the images you use in your ads cannot show nudity, implied nudity, sexual activity, excessive amounts of skin, or focus on individual body parts.
Do not promote sensational content
You cannot use images that may shock or scare Facebook users. This includes images of abuse, gore, violence, or the threat of violence.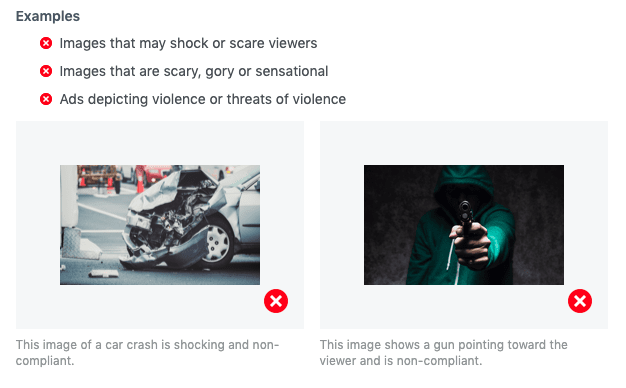 Example sourced from Facebook's Prohibited Content Guidelines.
Do not include nonexistent functionality

 
This refers to check boxes, play buttons, multiple choice options, or notifications that do not work. If your image includes this, it will be disapproved.
The technical specifications of your image have an impact on its approval as well. Make sure that images of any size are uploaded at the highest resolution possible.
Images should have a

minimum height and width of 600 pixels

.

The file must be either a

JPG or PNG

.

The image ratio must be

9:16 to 16:9

.

The

aspect ratio tolerance is 3%

.

Text in your images

cannot exceed 125 characters

.
Some of these also change when your image includes a hyperlink:
Image ratio:

1.91:1 to 1:1

Headlines with

more than 25 characters

may be truncated.

Link

descriptions

over 30 characters

may also be truncated.
With the rising popularity of Facebook Video Ads, it's important to note that these guidelines extend to those as well. Video ads also have an added consideration for Disruptive Content and Entertainment Related Restrictions. Your videos cannot include content that is disruptive to the user, like flashing screens or loud noises. Any ads related to media, such as video games, TV, or movies, can only target 18+ audiences if they depict scenes with mature content.
Written Copy Guidelines
Compelling copy is the most important part of your Facebook ads — nail it and users are more likely to convert. When you create this copy, it needs to align with Facebook's restricted and prohibited content guidelines and be 100% relevant to the product or service you're offering and the audience being targeted.
You need to follow Facebook's Community Standards at all times and make sure your ads include:
Accurate portrayals of your brand

 
The ads you create must speak accurately and honestly about the product, service, company, or brand being advertised.
Information relevant to the rest of the ad
The copy you include must be relevant to the image in your ad, as well as the landing page the ad directs users to after clicking.
Targeting Guidelines
When you're serving ads to a particular audience, you need to make sure they're relevant to their interests — not only for better conversion rates, but to ensure that you're in line with Facebook's targeting guidelines. If you're targeting the wrong audience, or serving them information that is intentionally misleading, your ads will be disapproved.
Be careful that your ads don't engage in:
You cannot use ads to harass or discriminate against Facebook users. For example, only advertising apartment rentals to people who identify as white, or promoting deceptive statements around loan or debt forgiveness are not permissible. Any antagonistic or disparaging language will also cause your ads to be disapproved.
This builds on Facebook's anti-discrimination practices by proactively disapproving any ads that target groups or individuals on the basis of race, color, religion, sex, disability, family status or national origin. Advertisers who create ads that target any of the categories listed above will be considered predatory and, therefore, disapproved.
Be careful what information you request via lead ads
You cannot request information about someone's political affiliation, race, color, religion, sex, disability, family status or national origin.
There are also things to consider when using:
Creating custom audiences is one of the best tools you have as a Facebook advertiser. As regulations on the use of customer data continue to expand, any audience you build needs to comply with Facebook's Customer Audience Terms.
This is especially important for EU advertisers, who have more stringent data collection policies to follow.
Product specific targeting
Any advertisers that promote products such as alcohol or online gambling need to ensure that the correct country and age restrictions are set. Skipping this step will cause your ads to be disapproved.
Landing Page Best Practices
Facebook's review process extends past the ads you create directly on your service.
They check all landing pages connected to your ads as well.
Ad review process example via Facebook Advertising Policy.
Make sure your landing page is relevant
If the content on your landing page is not relevant to the content of your ad, it will not be accepted.
Ensure a good user experience
Landing pages linked to your Facebook ads must have a good user experience. This means that the site is fully functional, free of spyware/malware, or any other software that results in a deceptive user experience.
Your landing page must include the following to be compliant with Facebook's guidelines: a privacy policy, clearly indicated pricing and billing where appropriate, an unchecked opt-in box, and information on how to cancel.
And there you have it: a rundown of Facebook's advertising guidelines that will help you get your ads approved quickly and easily.
Just follow these rules and you'll be serving ads to potential customers in no time.
If you have any questions, leave a comment below or tweet us @AdEspresso and we'll be happy to answer them!