During February and March, mass gatherings started to be canceled in the UK due to the spread of COVID-19, this meant that trade shows were canceled which are usually an important way to secure orders from retailers for the coming season.
As March progressed, non-essential bricks and mortar retailers had to close due to a stay-at-home order put in place by the UK government, meaning retailers also canceled their top-up orders.
This was the scenario faced by UK based wholesale brand AURA QUE, which imports ethically handmade goods from Nepal.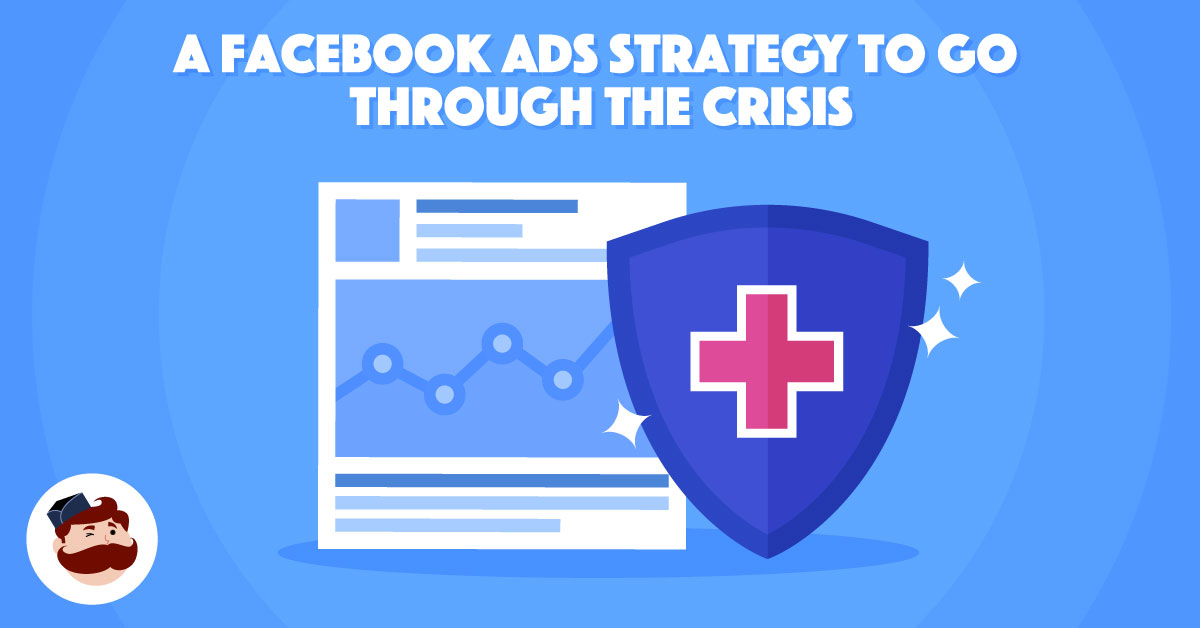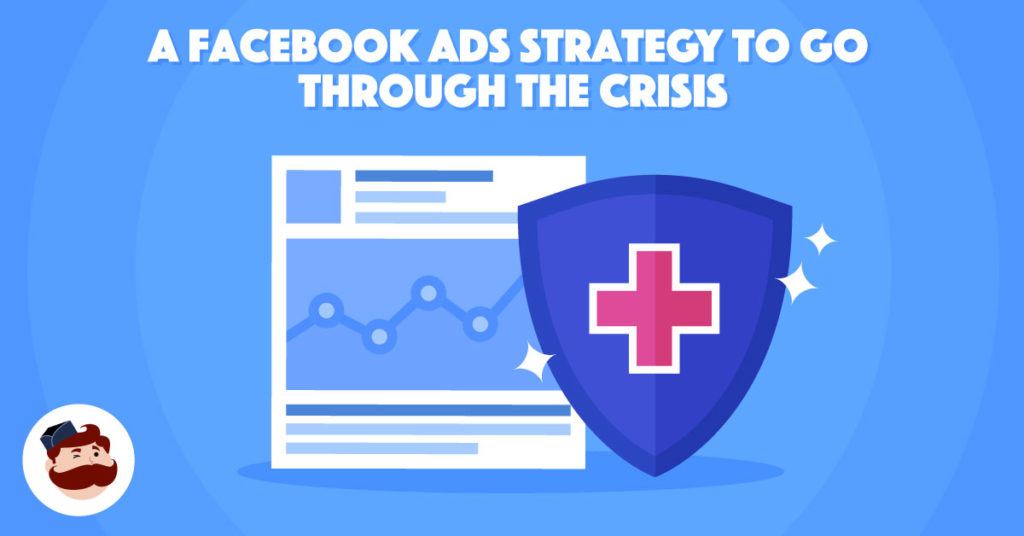 Faced with a 96% reduction in revenue within a month, AURA QUE had to reinvent itself, and quickly.
Due to how rapidly you can scale with Facebook Ads, revenue levels soon returned to normal after the switch from wholesale to retail. 
Read on to see the strategies they used to achieve this.
Facebook Ads during COVID-19 – AdEspresso Task Force at Work
While this article will show you how we helped one company switched from local to online sales to reduce the effects of the pandemic on its business, there's many other strategies you can (and should!) use while managing Facebook Ads during COVID-19 (and any other emergency).
To learn how to create the proper messaging during a time of crisis, check out the AdEspresso Office Hours video below.
Now, back to the article!
About AURA QUE
AURA QUE was founded by UK based designer Laura Queening (from which the AURA QUE name was taken).
With a background in fashion design, when Laura was working as a voluntary English teacher in rural Nepal she had the idea to collaborate with producer groups in Kathmandu to bring unique designs and ethically produced products from Nepal to the UK market.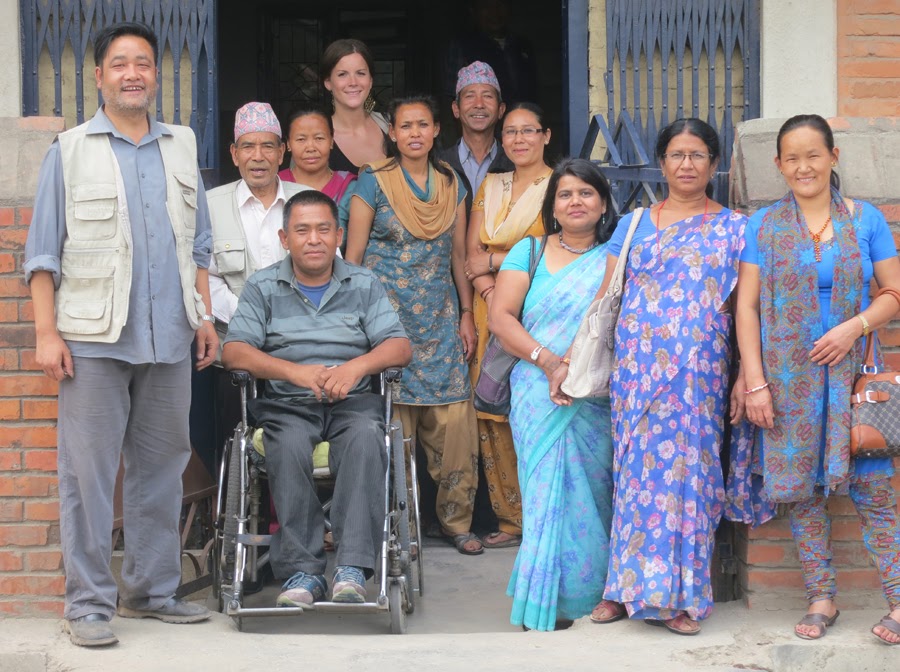 Once imported, many of the items are then sold through a network of independent boutiques across the UK. Popular items include bags, purses, scarves, and slippers.
The Challenge
Across the world, many countries are implementing stay-at-home orders to a greater or lesser extent in order to restrict movement and slow the spread of the COVID-19 virus.
This has led to sudden and dramatic changes for bricks and mortar retail stores, many of which have had to close unless they are mainly selling essential items such as groceries.
If retail stores are not trading, this also impacts the wholesalers that supply them.
To make matters worse, the trade shows where retailers place their orders for the next quarter have been canceled, resulting in empty wholesale order books for the foreseeable future.
With a sudden 96% drop in wholesale orders, AURA QUE had to quickly reinvent itself.
Following the advice of Paul Fairbrother, our Head of Education, they switched to a direct-to-consumer eCommerce strategy and used Facebook Ads to drive traffic.
And it worked! Here's their story.
The Opportunity
AURA QUE already had in place a fully functional Shopify store, which was being used as a catalog for the wholesale side of the business and also took a small number of retail orders.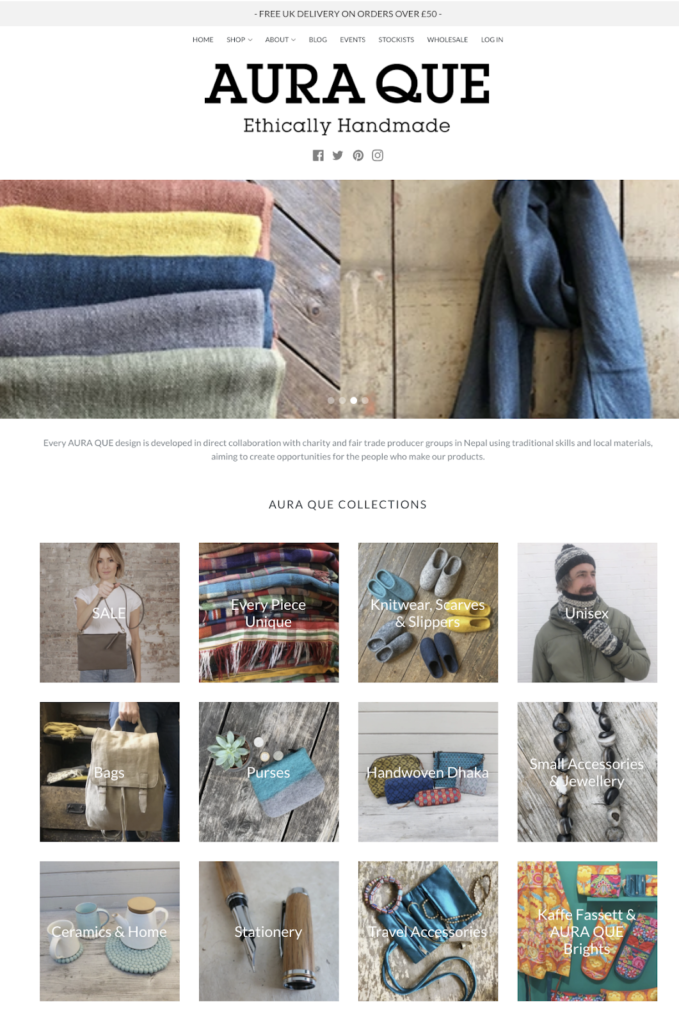 Shopify collaborates closely with Facebook, which means everything required to run ads such as Facebook pixel tracking and product catalogs was already in place.
Along with the website, a Facebook page and Instagram account were already being used for organic posting and some low budget ads were already being run for brand awareness, this made the switch to purchase orientated ads very quick and easy.
Selecting Which Products To Advertise
The objective was to maximize sales as quickly as possible, which meant there wouldn't be time to test ad campaigns for each of the hundreds of products listed on the website.
Instead, we had to make educated guesses about what products to promote first.
The first range that had the maximum chance of success was items of clothing designed to be worn around the house.
These eco felt slippers were a natural fit for that category: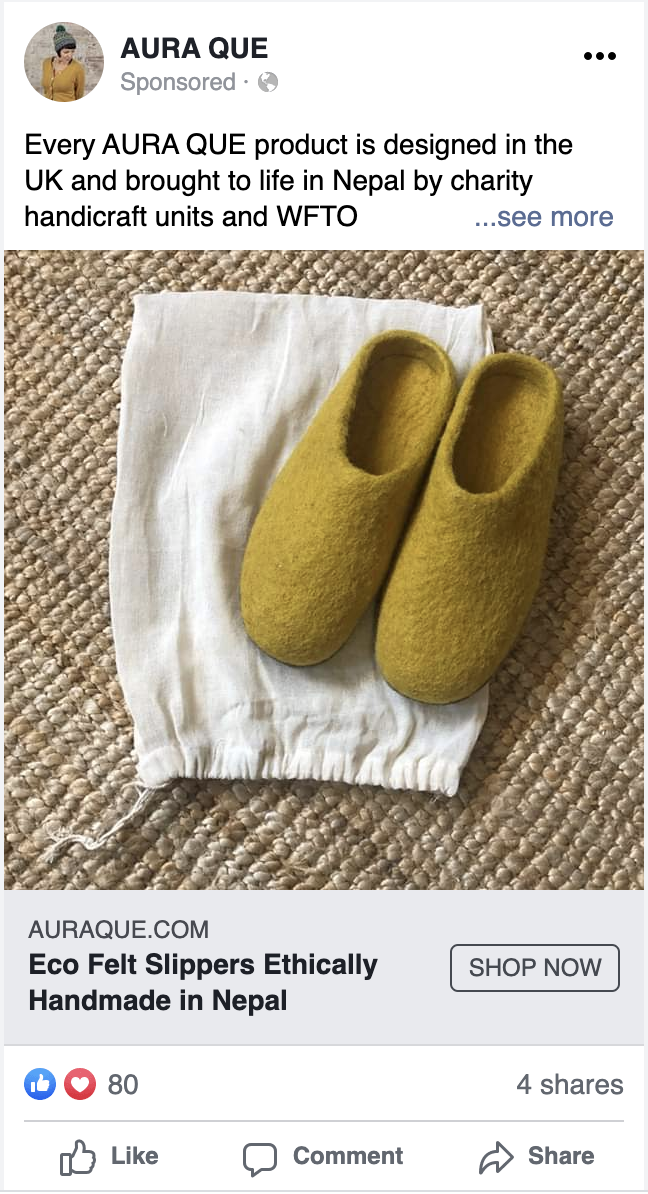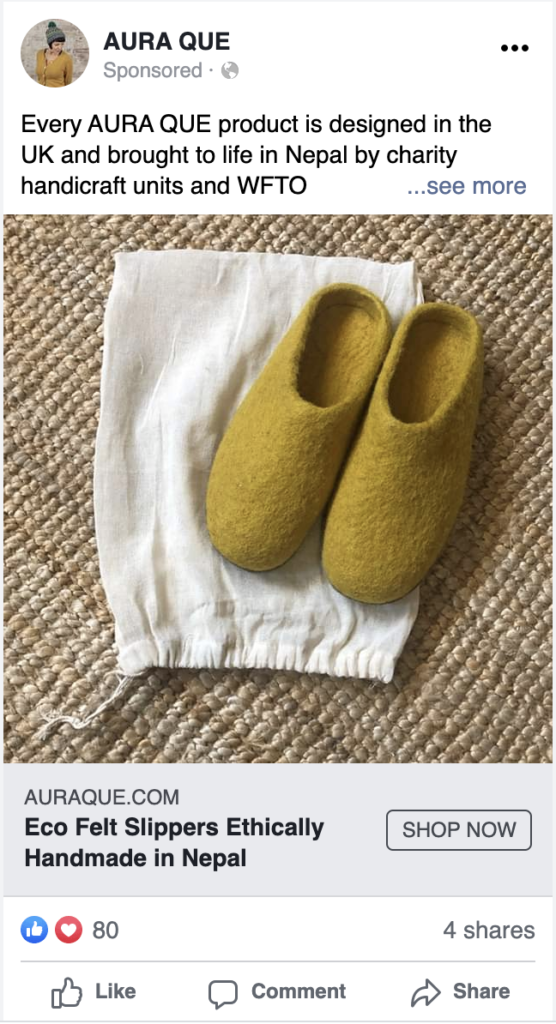 Similarly, homewares were a logical choice to promote.
With families turning to traditional home activities such as baking, these colorful oven gloves by renowned designer Kaffe Fassett quickly became a bestseller: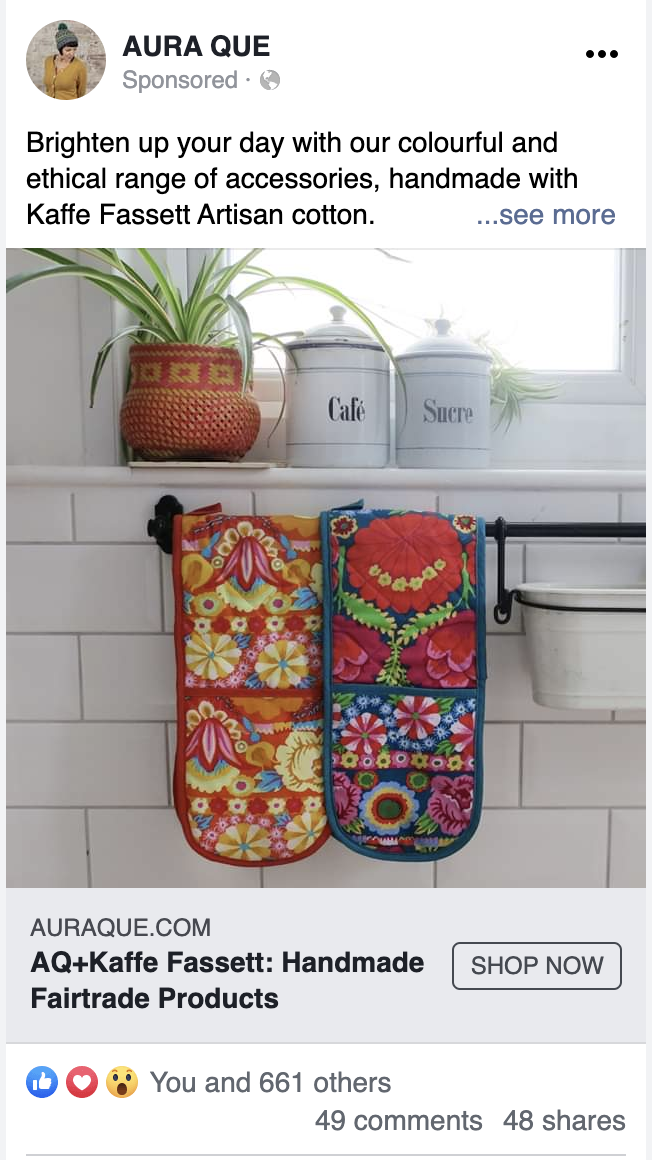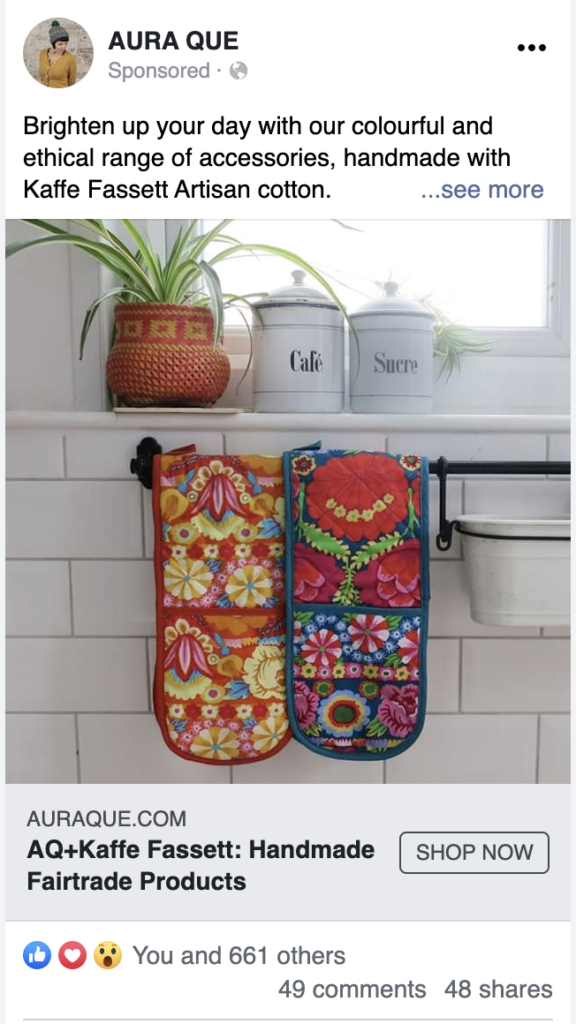 As restrictions on outdoor activities in the UK increased due to COVID-19, sales of homewares increased and purchases of items intended to be used outside the home decreased.
For example, sales of this bag reduced when the shelter-at-home order was implemented: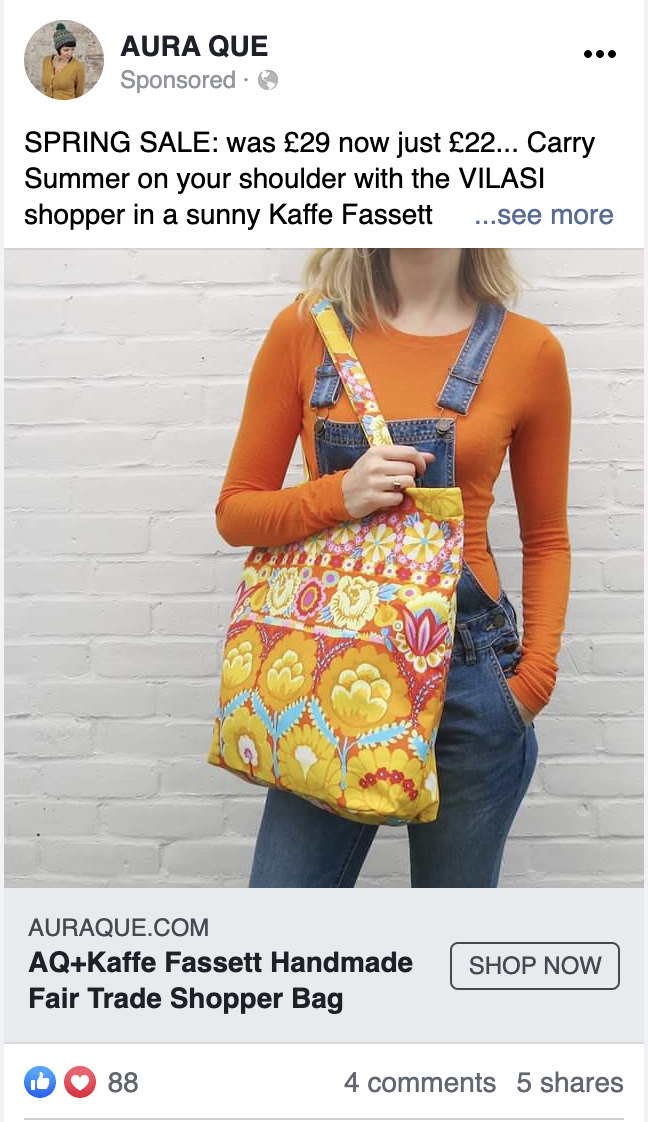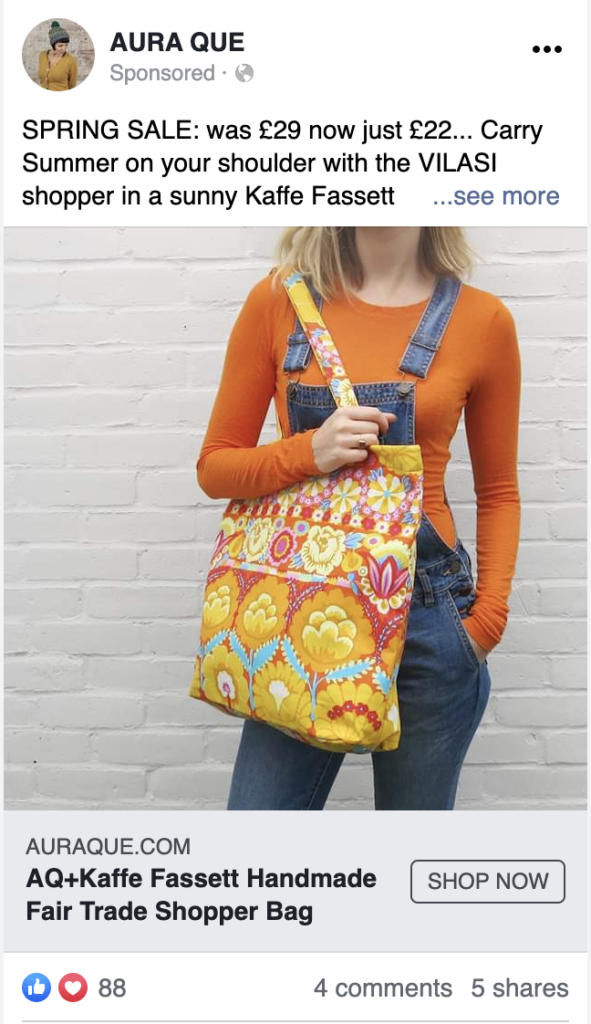 Remarketing With Dynamic Product Ads
Facebook ads are perfect for generating lots of website traffic and product views, but not everyone buys immediately. Remarketing ads give prospective customers a reminder to come back and complete their purchase.
In the spirit of creating highly effective ads as quickly as possible, dynamic product ads were a natural fit so that Facebook users would see the exact same product they viewed on the website. A range of Shopify apps is available to automatically sync the website product catalog to Facebook.
Offering a coupon code is useful when remarketing to incentivize prospects to come back and complete their order, so a 10% off coupon code was generated: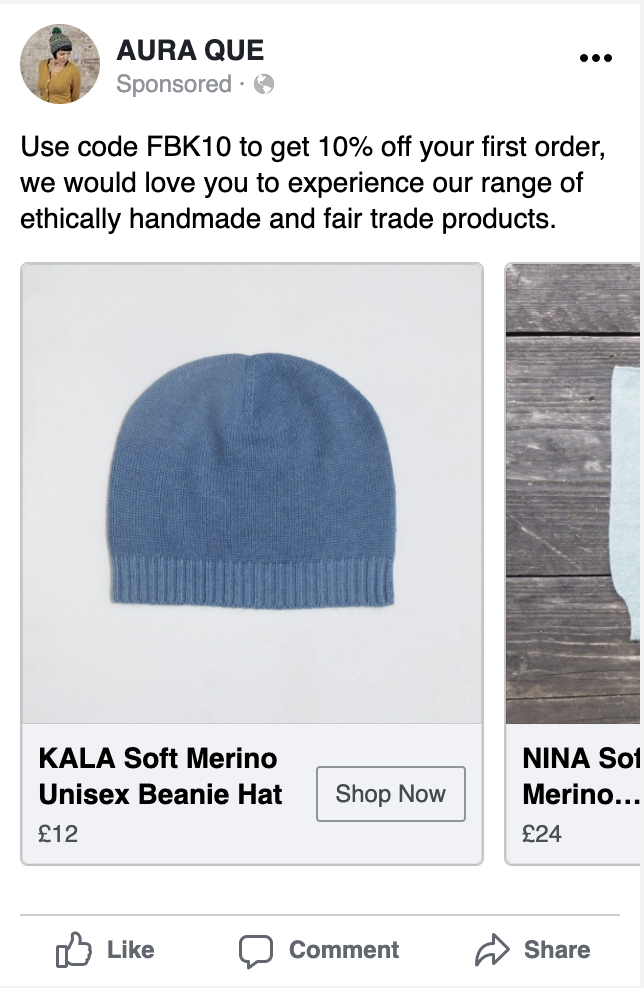 Audiences
What audiences should you use for the first cold traffic campaigns? In general lookalike audiences perform well, this is where a good quality seed audience is used by Facebook to create a much larger audience of people that are similar to the seed audience.
In this case, there were enough email addresses of previous purchasers to use as a seed audience. These were imported into Facebook from Mailchimp using a sync tool so that the seed audience was automatically kept up to date, to do this check out AdEspresso's data sync tool.
Audience research suggested females aged 30+ would be the best fit, and by layering this with a lookalike audience of previous purchasers we had a high-quality audience ready to be used within minutes.
Aim For 100 Purchases
The ultimate aim was to be able to drive enough sales to access a value-based lookalike audience. Value-based lookalikes are very effective as they consider recency and frequency of the purchases as well as the value of each order:


To work they require 100 purchases in the last 60 days.
So, our objective was to start with a lookalike audience of purchaser email addresses, drive 100 purchases then quickly switch to value-based lookalikes.
Keep Your Customers Updated
With events changing so quickly during this COVID-19 crisis, customers might be unsure of whether or not they will receive their order. AURA QUE kept their customers informed via social media channels, and also went the extra mile by offering a range of discounted items for anyone who had less money to spend: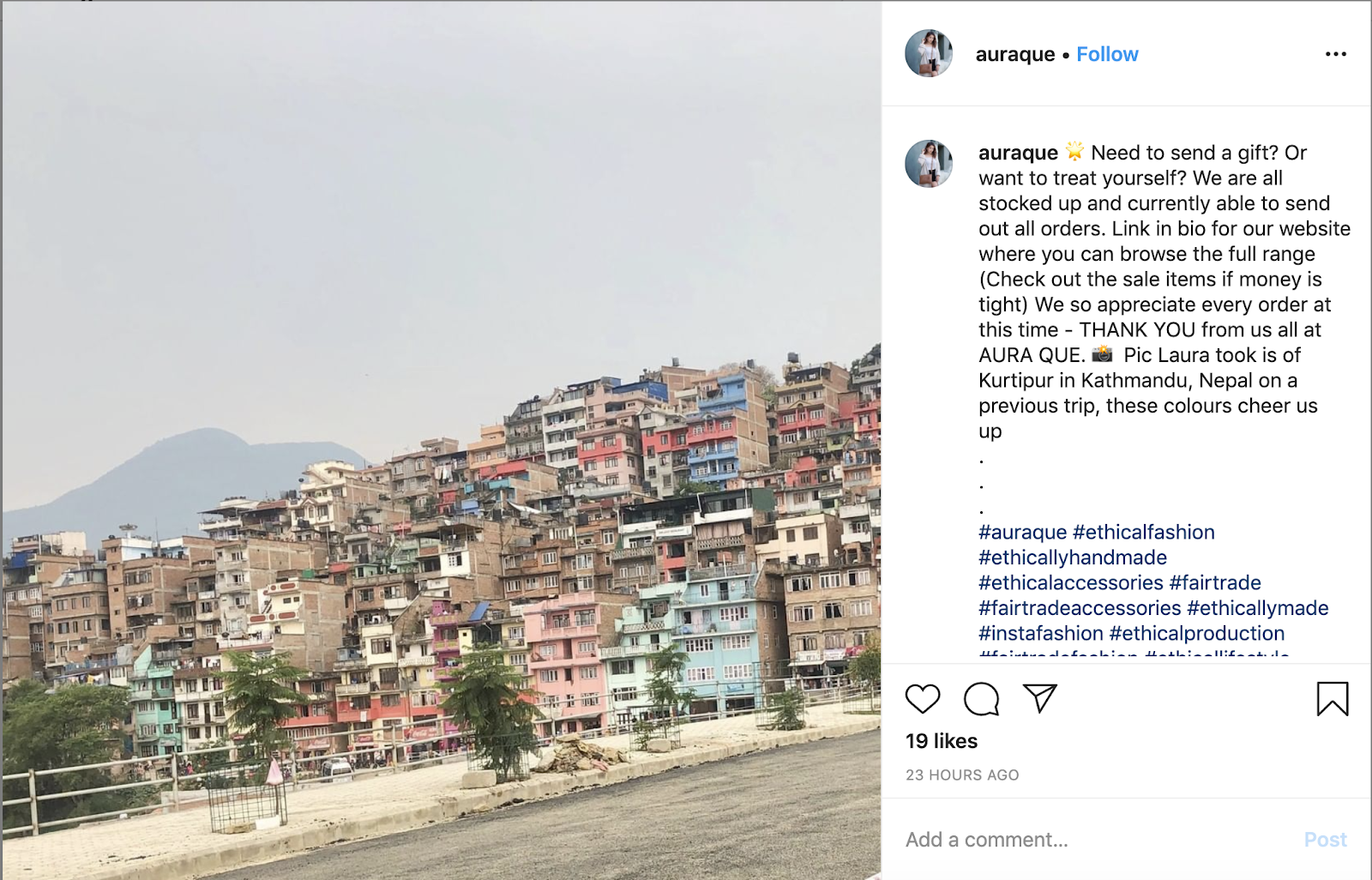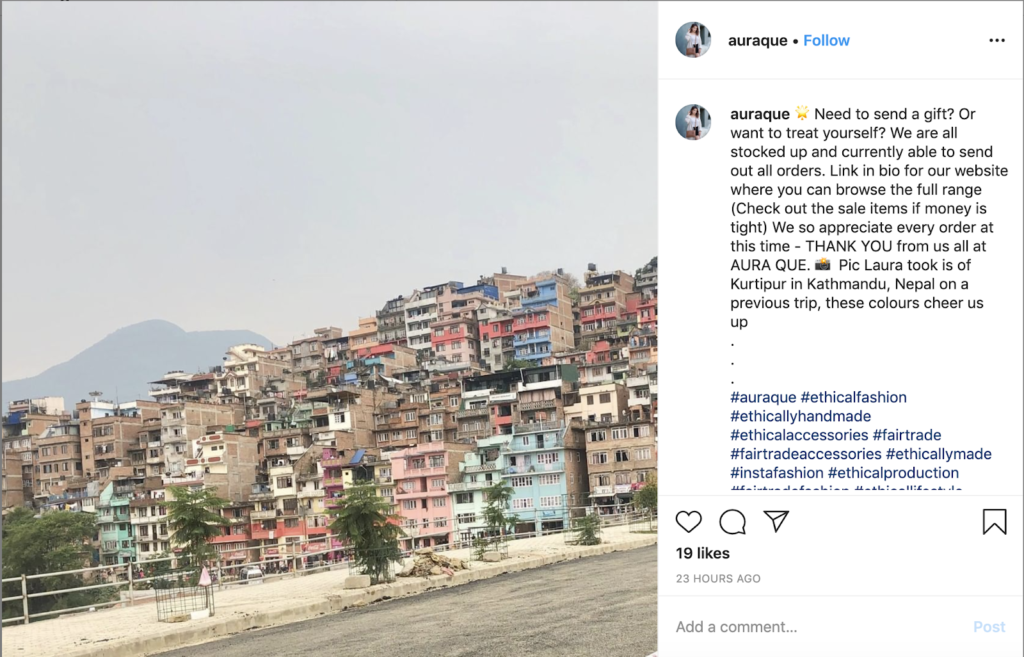 Results
Within a month it was possible to build up direct to consumer sales to a level to equal the revenue lost from the wholesale channel.
Obviously money had to be invested in ad spend, but on the other hand, attending trade shows to attract wholesale orders also requires money and is much more time-consuming.
Some other Top-of-the-Funnel benefits were also observed when running purchase ads:
A tenfold increase in website traffic
An incredible 320 times increase in Facebook post impressions
15% increase in Facebook page likes
An increase in email subscribers
Key Takeaways
From time to time, unexpected events will occur that will impact your business, thankfully most are less severe than COVID-19. For instance, a competitor may suddenly appear that has copied your best selling product while undercutting you on price.
Your business strategy may need to pivot within a matter of days, but this will only work if you can immediately build audiences and drive traffic to your new product or service.
This is where Facebook Ads can help you to rapidly transition your strategy:
Identify current trends, for AURA QUE this meant promoting homewares and clothing worn around the house once a stay-at-home order was issued
Use off the peg tools such as Shopify or similar eCommerce websites which allow you to take orders on your website in next to no time
Upload email lists of previous leads or purchases to create high-quality lookalike audiences that can be used within minutes
For eCommerce, keep going until you reach 100 sales within the last 60 days and then switch to value-based lookalikes
Remarketing is essential, a campaign using dynamic product ads and a coupon code is highly effective and can be set up immediately once your product catalog is synced to Facebook
All in all, one of the most important things you can do is to connect and empathize with your customers during this time.
Being overly sales-y or showing that your organization is attempting to profit off of the situation will inevitably lead to hard feelings and lower brand reputation.
In addition, ensure you are accurately stating your delivery times and being upfront on how your business is responding to COVID-19.
What do you think? Which Facebook ads strategies are you adopting to keep your business safe in these dire times? Leave us a message and let us know!