When it comes to Facebook ads bidding, marketers have two options: to use automatic bidding or manually set a custom bid.
This leaves marketers wondering whether they should set a manual bid or let Facebook decide what's the optimal cost-per-action.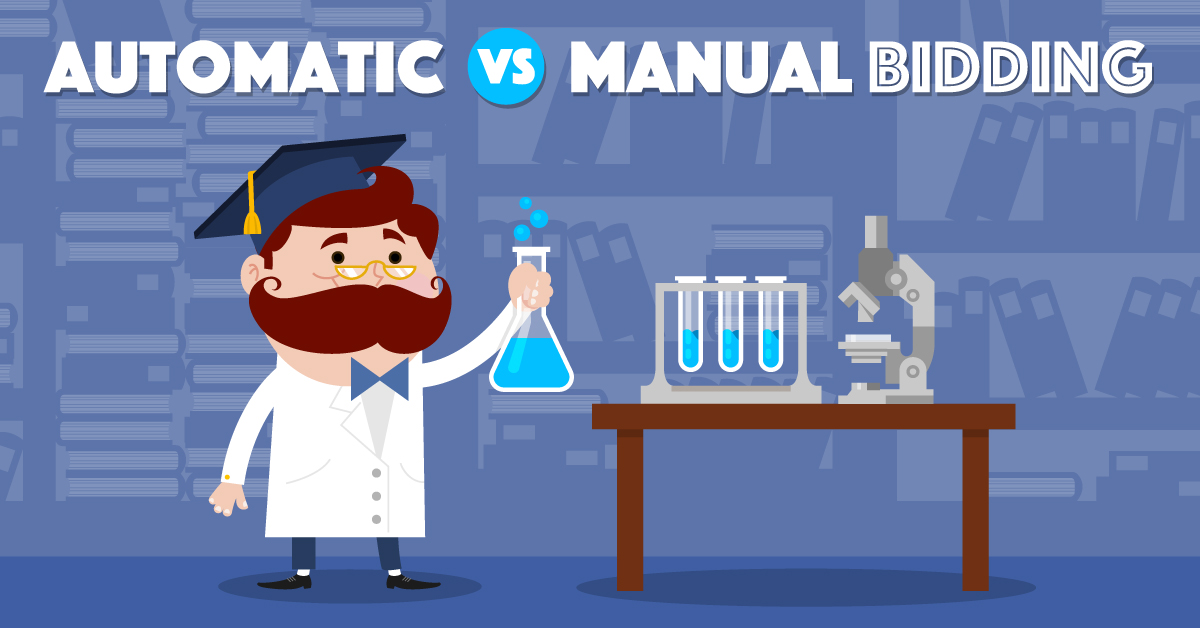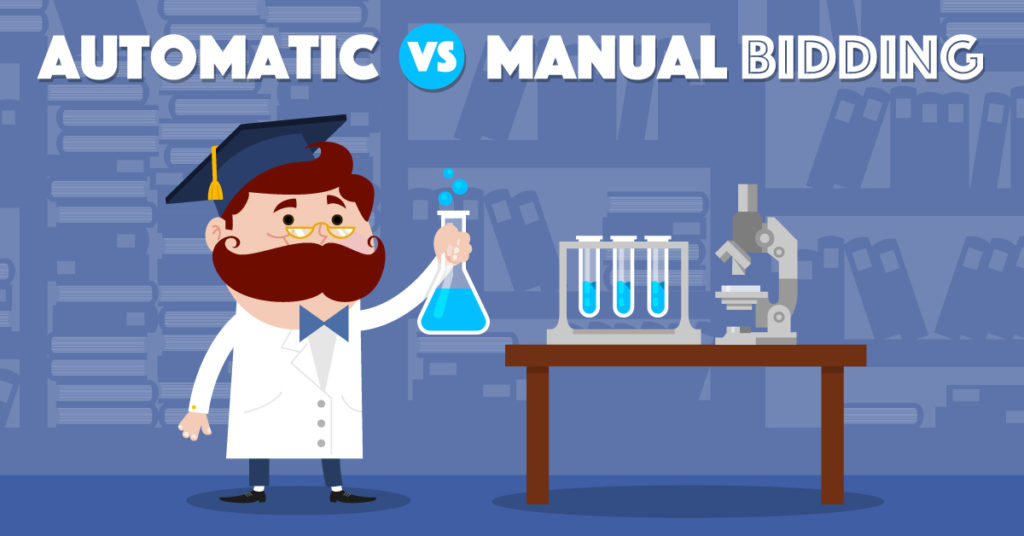 To date, there has been no case study on whether you'll get cheaper results when using automatic bids or manual bids. And here in AdEpsresso, we don't like to see the questions about Facebook advertising remain unanswered.
That's why we set up a Facebook ads experiment to see which one brings better results: automatic bidding or manual bidding.
Hypothesis and Experiment Set Up
Facebook has said that even if you place a high manual bid, you will only be charged as much as is needed to win the bidding auction.
In theory, even if you bid $15 per ad click, if you need to spend $2 to win the ad auction, Facebook will only charge you $2.
However, we were a bit skeptical about this.
We hypothesized that using an automatic bid would deliver lower cost-per-results compared to a high manual bid.
Were we right or way too skeptical? Read on to find out!
Campaign Set Up
Following a hunch, we set up two Facebook ad campaigns promoting a downloadable report on Facebook Ads Cost Benchmarks in 2016.
We created two 3-week Facebook ad campaigns using AdEspresso to see which bidding method results in the highest advertising ROI.
To keep our experiment results from becoming skewed, we only tested the bidding method and kept all the other campaign element (ad copy, images, audiences) unchanged.
Here's what our Facebook ad looked like: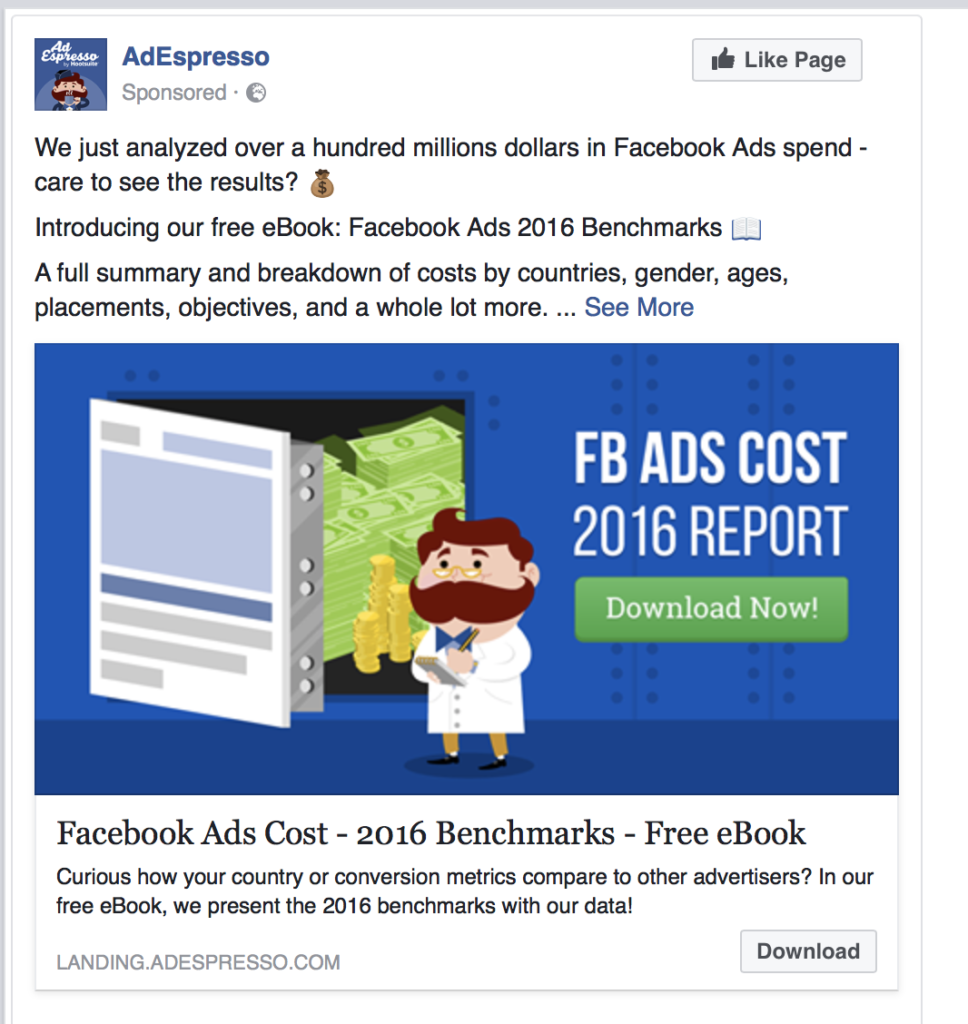 To set up the campaigns, we used the best Facebook ads tool in the world – AdEspresso. It made the campaign tracking and reporting incredibly simple.
The ad campaign with the automatic bid remained unchanged throughout the campaign. However, we made some weekly edits to the second campaign's bids that led to some fascinating discoveries.
Budget
Both campaigns had the daily budget of $40 and ran for three weeks, the total experiment budget being around $2,000.

Bidding
Bidding methods were THE most important part of this Facebook ads experiment.
We optimized our ad delivery for offline conversions (eBook download) and set one campaign's bidding manually while leaving the other campaign's bids automated.
Here's how the automated bidding set up looked like:

For the second campaign, we set the custom bid that we changed every week:
Week 1: The lowest custom bid set to what we ideally wanted to pay for an eBook download: $1.50
Week 2: The custom bid 10x higher than the previous week custom bid: $15.00
Week 3: The custom bid changed to match the CPAs of the automatic bid campaign: $3.50
We were most interested in seeing how the change in custom bids would affect the cost-per-result and ad delivery. The campaign using automatic bids served as a benchmark to measure against.
Placement
Our Facebook ads were displayed across three placements: Facebook Desktop Newsfeed, Mobile News Feed, and the Right-hand Column.
Audience
As our advertising goal was to get new leads by getting people to download our eBook, we targeted a wide interest-based audience.
We created a Facebook Saved Audience of millions of people to let Facebook work its auto-optimization magic to bring us most conversions.
We figured that people interested in marketing would also be interested in our Facebook Ads Cost report.

Naturally, we excluded the Custom Audiences of people who were already our leads or customers.
As mentioned before, we used a single audience variation for both campaigns and resisted testing other ad elements such as audience interests or ad placement.
The results:
We won't keep you waiting any longer. Here's what we found!
By changing the custom bid weekly, we discovered that our Facebook ad bids had a huge effect on the ad results (and costs).
We changed the bids following this pattern:
Week 1: The lowest custom bid suggested by Facebook: $1.50
Week 2: The custom bid 10x higher than the previous week custom bid: $15.00
Week 3: The custom bid changed to match the CPAs of the automatic bid campaign: $3.50

Here's the timeline of our first campaign using the automatic bid where Facebook chooses what to spend.
If you count out the irregularity around June 19 (we're still unsure what exactly happened -it happened in both campaigns at the same time), the cost-per-click and cost-per-conversion remained stable throughout the campaign.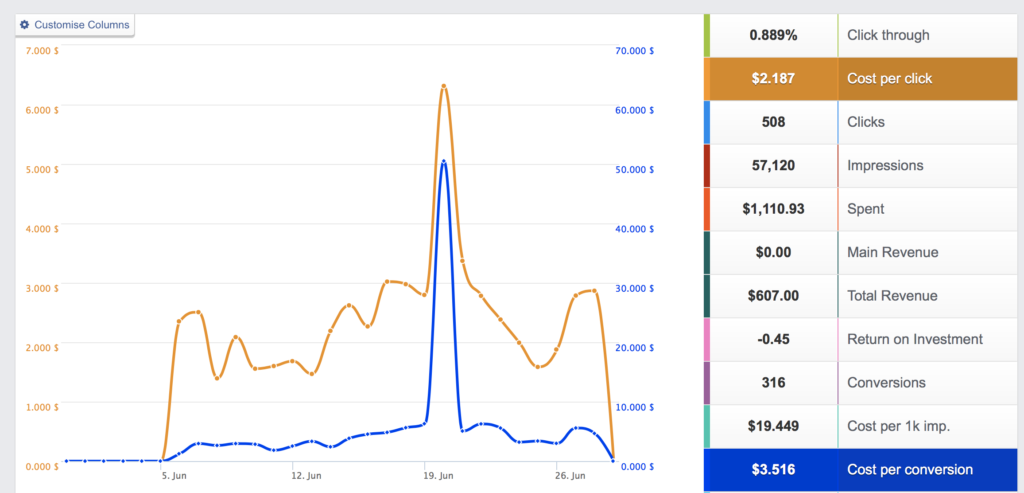 However, things got interesting when analyzing the custom bid campaign, where we chose what to spend manually.
Take a look at the campaign report of our Facebook campaign with custom bids:


Changing the manual bid had a great effect both on cost-per-click and cost-per-conversion.
Here's a more in-depth overview of our findings:
Spend and Total Conversions:



CPC and CPA: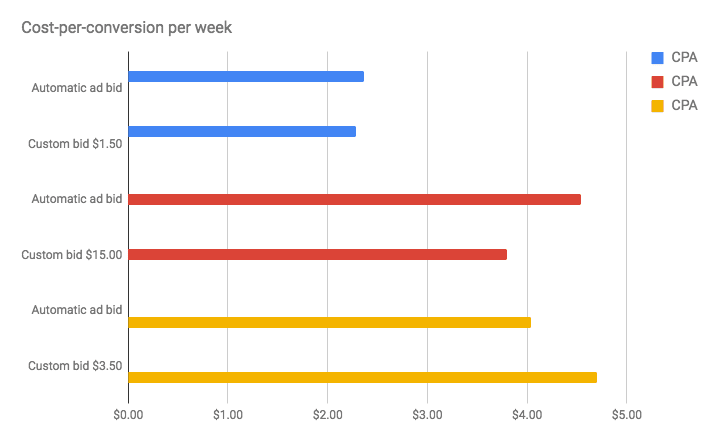 As you can see, the average cost-per-conversion on week 1 and week 2 was a bit lower for the ad campaign with a custom bid, however, there's a key caveat to Week 1.  Facebook only spent 4% of the budget allotted to it when we tried to "low ball" our bids to the price we truly wanted to pay for the custom bid campaign!
However, of equal surprise, when we told Facebook they could spend up to 15 dollars per conversion (10X what we *wanted* to pay) – we actually got CHEAPER conversions than the automatic bid campaign!
In total, the ad campaign with automatic bids delivered 321 conversions for $1,110 (avg. CPA $3.46) while the custom bids campaign resulted in 179 conversions for $724 (avg. CPA $4.05).
When comparing the average costs per campaign, the Facebook ads campaign using automatic bidding outperformed the manual bids by 15% – but when looking at just the week of 10X custom bids, the custom bid campaign outperformed the automatic campaign by 16%.
However, using the automatic bidding guaranteed a stable ad delivery.
TL;DR
If the analysis was a bit too complex, here are all the key takeaways of our Facebook ads bidding experiment:
Don't try to "low ball" and use a low manual bid. While it results in a lower CPC and CPA compared to automatic bid, you'll get very few conversions as delivery is often severely restricted as Facebook will only deliver your ads to a very small audience (those that would convert at the cost you set).
"Overly" high custom bids might actually get you more success – it guarantees that Facebook will deliver your ads to many people – sometimes with a higher CPC and CPA compared to automatic bids or sometimes (in our experiment) with a surprisingly lower CPA. At the very least, it seems you are guaranteed more conversions when bidding much higher than what you'd actually want to pay – it seems Facebook doesn't go anywhere near your bid amount. Our "biggest" week we bid 15 dollars for a CPA, but our actual average CPA for that week was only $3.80.
In conclusion, we can say this:
If you're unsure of which bidding method to use, selecting the automatic bid is the smartest choice – Facebook's auto-optimization algorithms are really good at their jobs. 😉
If you'd like to test this out yourself, try a custom campaign and "10X"ing your bids! We can't guarantee it will work as good as it worked out for us though – watch your CPA to make sure it doesn't go too high!
We were positively surprised to see that the high manual bid did not make us lose tons of money. Instead, it helped us accelerate our ad delivery and get more conversions at a cheaper price than when using the automatic bids.