When creating a new ad campaign on Facebook one of the many things to decide on is what optimization to use for your ad delivery.
Should you go for Conversions? Landing Page Views? Link clicks?
That's what we've been wondering too…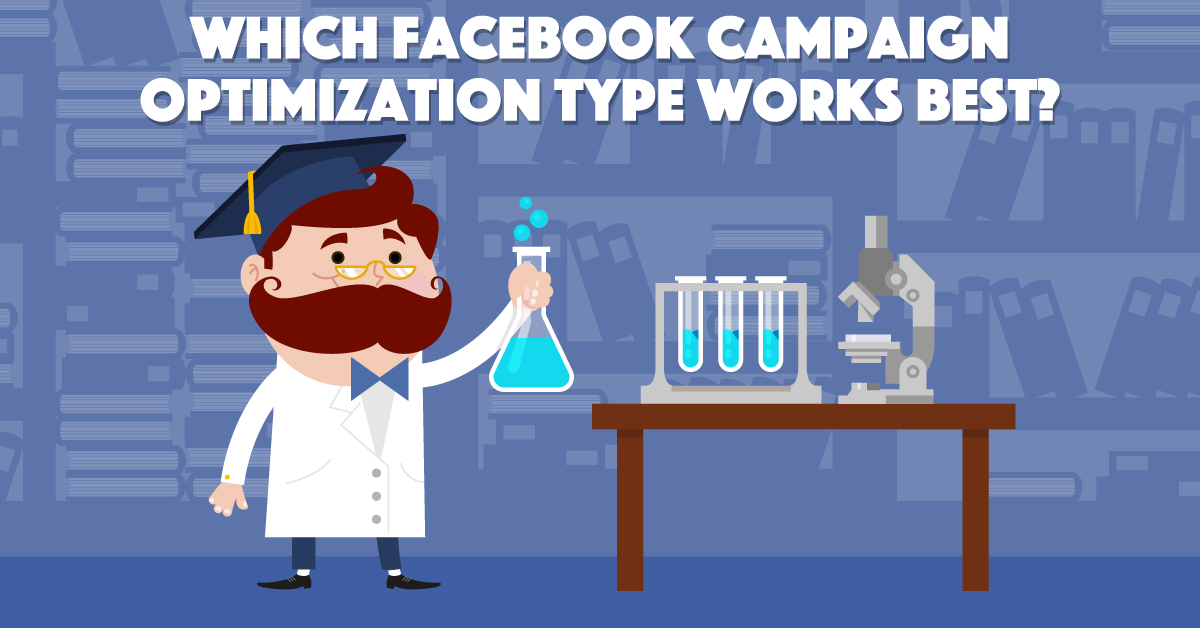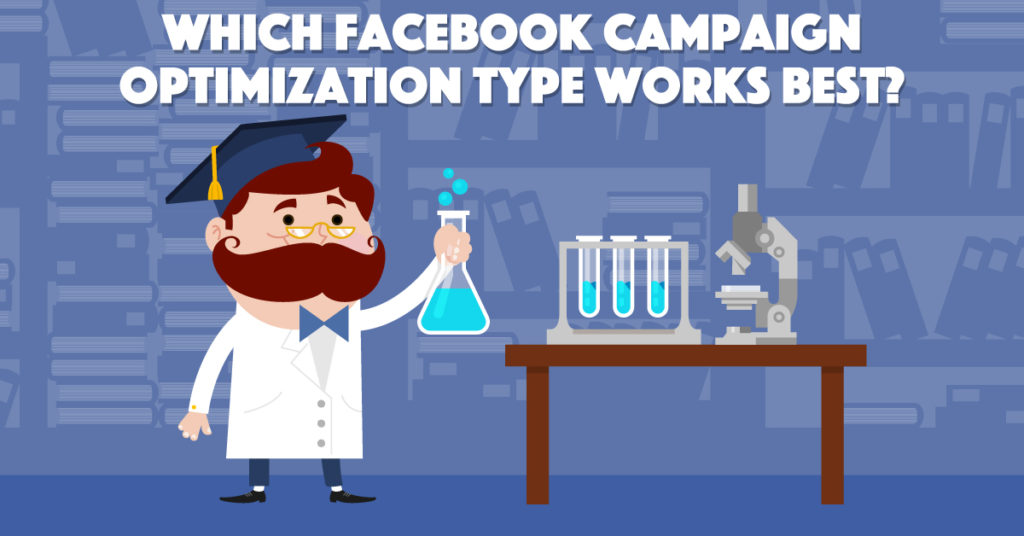 Here at AdEspresso, when we have a question we must get an answer, you know that!
What's the best way to find a "scientific" answer? To put some money and run an experiment.  
Don't reach for your wallet yet. It's our treat!
Yes, we put $1,000 of our own ad budget into this experiment (so you don't have to) to test the different optimization types.
The starting question is: does your optimization choice really make a difference to the results?
And the answer is… There's only one way to know, read this article!
If you'd like to see us go through the campaign in detail please watch the video below, otherwise carry on reading, you'll find a full description of the experiment we ran. 
Which Facebook Campaign Optimization type should you pick?
We set up the experiment by picking four of the most widely used optimization types:
Conversions
Link Clicks
Engagement
Reach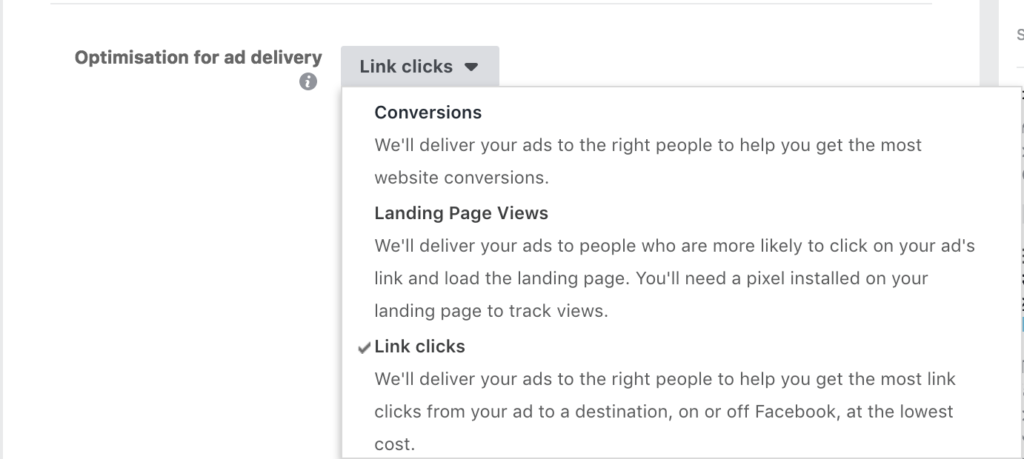 For the test we decided to use an Ebook about Facebook Custom Audiences as a lead magnet, this should give us leads at a reasonable CPA so that we will have enough conversion data to analyze.
Here's the advert we used: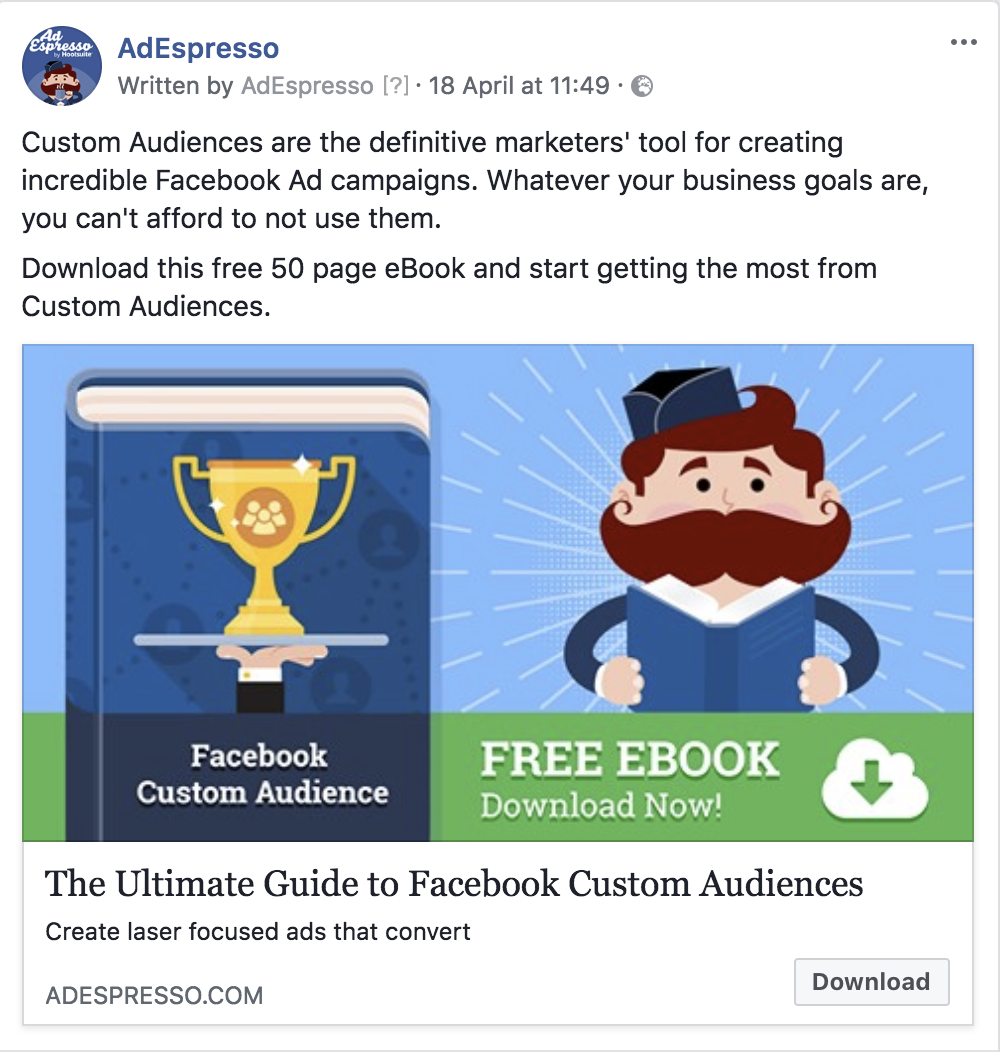 When clicked on, this took users to a landing page: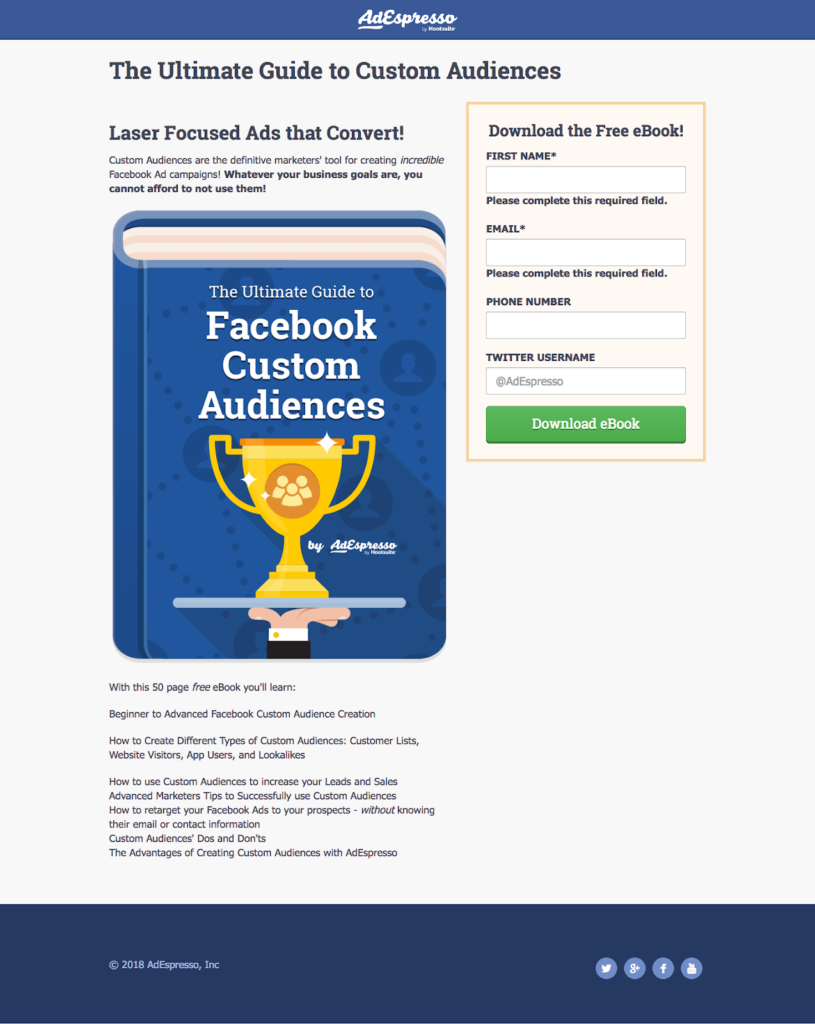 When the form was filled in this, in turn, took users through to a thank you page where we could fire the Lead pixel event.
It was this Lead event that we tracked as a conversion: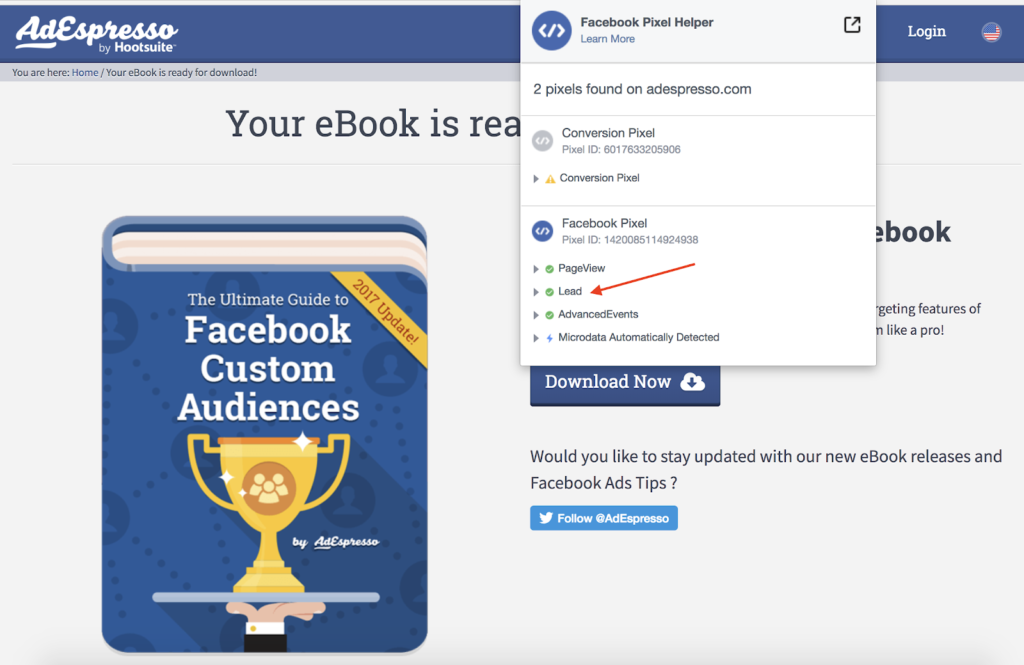 Hypothesis
We thought that the optimization type would influence six key metrics:
CTR – click-through rate
CPC – cost per click
CPA – cost per lead
CPM – cost per 1,000 impressions
Engagement
Relevance score
Our expectations were:
Optimize for conversions: this would get the lowest CPA
Optimize for link clicks: this would have the best CTR and CPC
Optimize for engagement: the number of likes, comments and shares would be high at the expense of clicks and leads
Optimize for reach: the lowest CPM
Were our assumptions correct? 
To be a true experiment three things are important; the campaigns must be given enough budget, they must be given enough time and all variables must be kept to a minimum.
Here's the setup we used:
One campaign per optimization i.e. four campaigns in total
$250 per campaign, each run over 7 days
One ad and adset per campaign
Audience: US 1% Lookalike of existing AdEspresso customers
Placement: mobile only
Results
We used the AdEspresso "compare" option to extract the data from the four campaigns: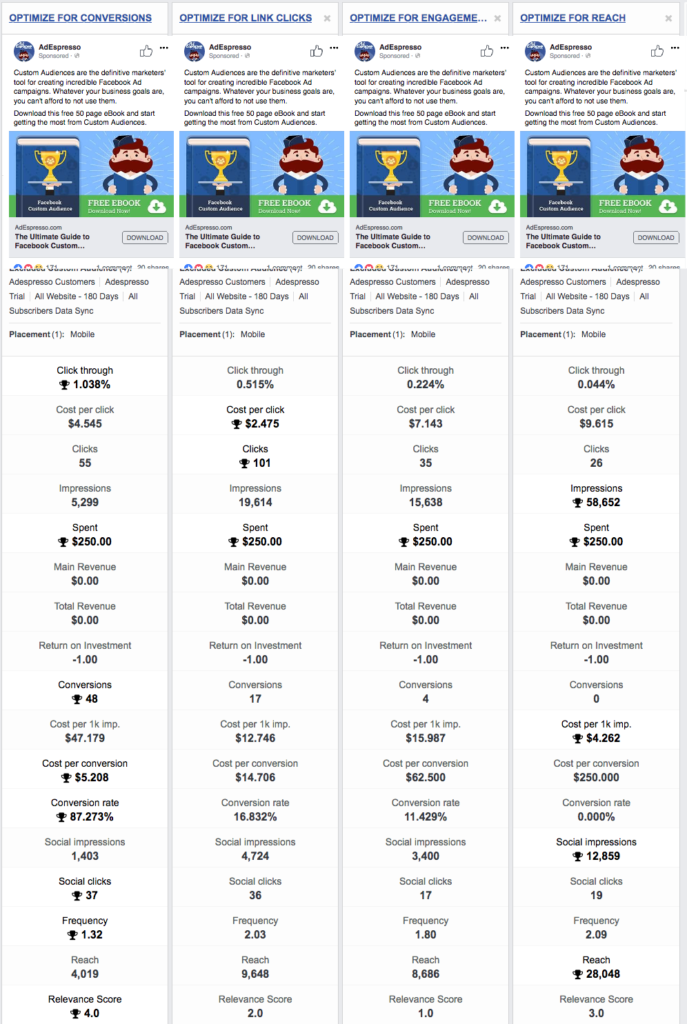 Let's summarize these results: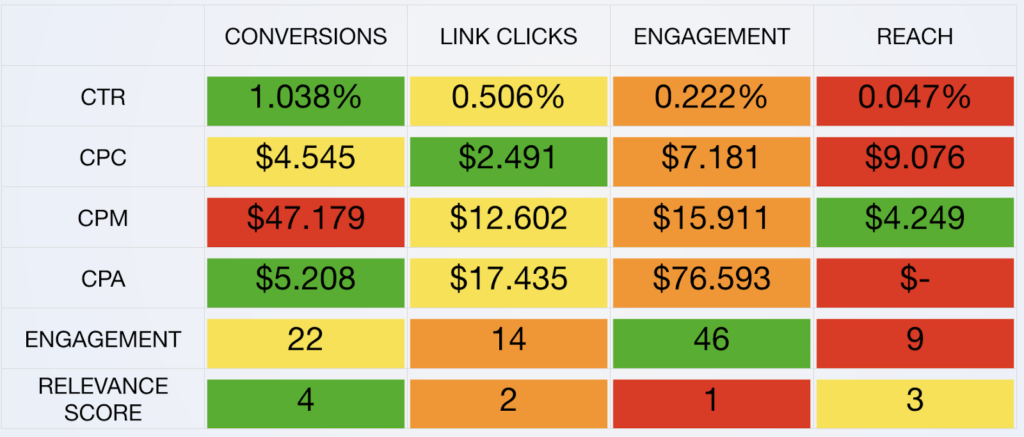 From the results summary, we can see that each optimization is working well.
Conversion optimization gets the most leads

Link clicks has the lowest CPC

Engagement gets the most interaction with the post 

Reach has the lowest CPM
This is good news for advertisers as it means the Facebook algorithm is consistently achieving the objectives we set it.
One thing that did surprise us was that optimizing for conversions had a higher CTR than optimizing for link clicks.
To understand the reason why, we need to look at the CPM.
When optimizing for conversions the CPM is very high, meaning the algorithm is focusing on a small but high-quality audience of people that take action.
Conclusions
There are four main things this experiment taught us:
1) Optimization makes a HUGE difference
We saw over a 10 times difference in cost per thousand impressions and cost per lead.
It's fair to say that optimization selection has one of the biggest influences on the outcome of any campaign.
2) For performance marketers (those getting leads or sales) pixel tracking is essential
Some advertisers haven't used pixel tracking in the hope that driving the maximum amount of traffic using link click optimization would work by sheer volume of numbers.
This is not the case.
3) You must have a clear goal for your campaign before running it
So many campaigns fail because the advertiser doesn't know what they actually want from the campaign!
Do you want leads, website traffic, engagement or maximum reach? Decide on your goal before even creating the ads if you want to achieve success.
4) You can't have your cake and eat it
It's not possible to get high marks for all metrics in one campaign. For example, if you want a high volume of leads you should expect the reach to be much lower.
Focus on your main goal and don't worry if secondary metrics underperform.
What do you think? Did you get the same results with your campaigns? Which kind of answers do you want us to find for you?