If you're not going to work on your eCommerce SEO, you can be quickly out of business.
Think of it this way…
If you have no site traffic, you'll make no sales. And if you're not making any sales, you'll be shutting down soon.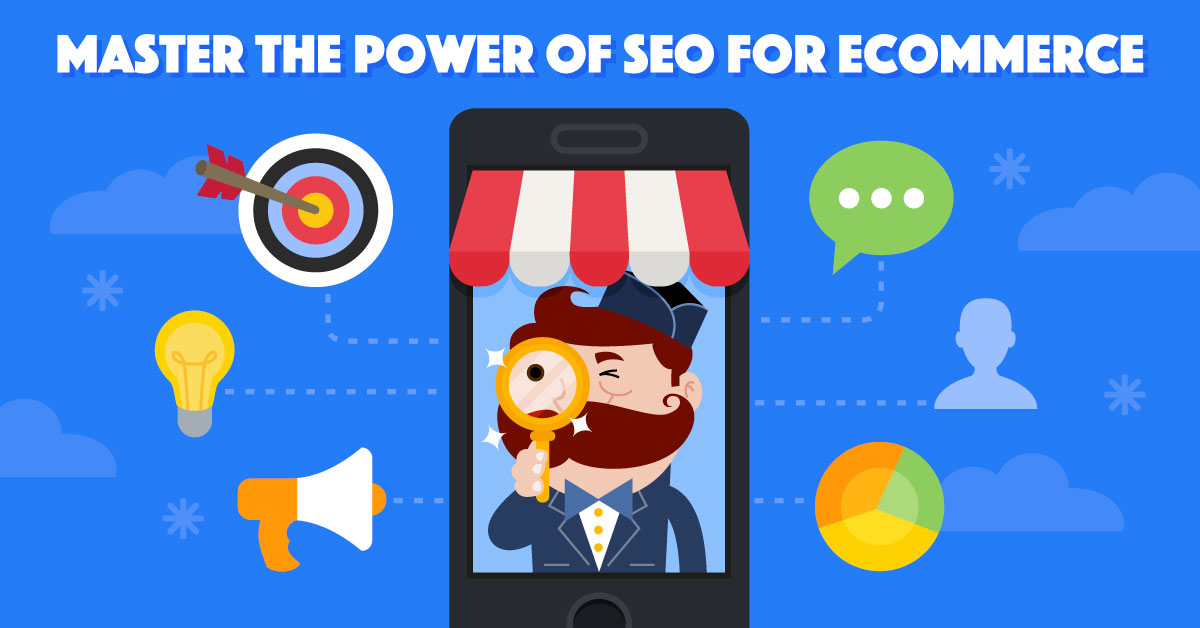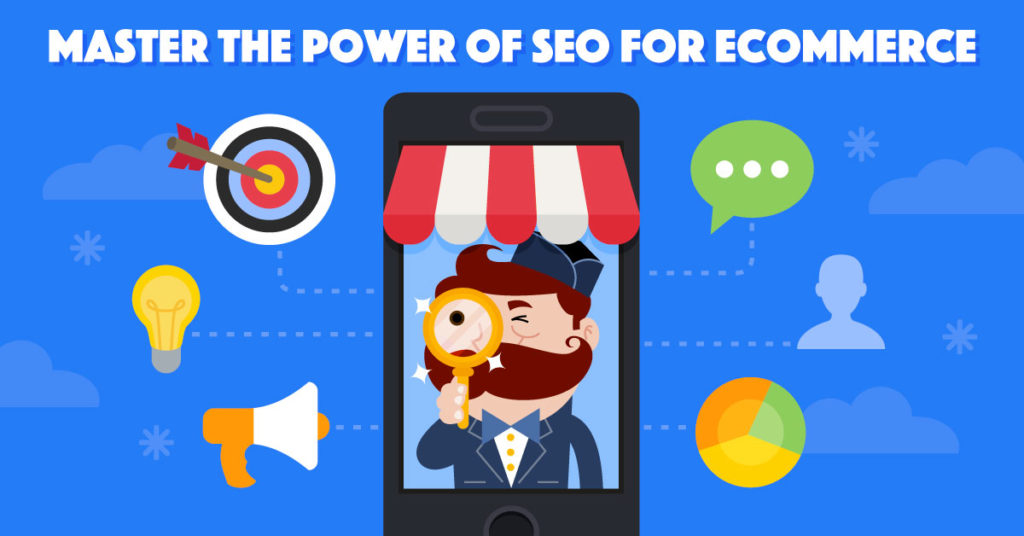 That's why every eCommerce entrepreneur should master the power of eCommerce SEO.
This guide to mastering SEO for eCommerce, will teach you how to conduct an SEO audit and undergo keyword research so you can boost your results and grow your traffic, revenue, and sales.
Let's get started!
Why You Need To Take eCommerce SEO Seriously
If you want to make more sales, you need to invest in SEO.
Why?
Because 37.5% of all traffic to eCommerce sites comes from search engines and 44% of people who are online shopping, start their journey with a Google Search.
When it comes to eCommerce SEO, you need to think beyond traffic numbers.
That's because…traffic doesn't always equal sales.
You want qualified traffic (people who are ready to buy and take action in the purchasing process), and you want to funnel this traffic into your store.
If you can rank for one keyword (e.g., high-quality diamond rings), you can funnel qualified traffic into your website and make sales off this term.
Rank for many keywords, and you'll be making many more sales.
Complete An Ecommerce SEO Audit
To begin, let's identify existing on-site problems that are hurting your overall SEO score.
Common Problems
Common problems include having a website that has:
Duplicate content
Low word count
Missing alt tags and broken images
Broken internal and external links
You can use tools like Screaming Frog or SEMRush to see if you have any common SEO problems. I'll show you how to use them below.
Website Speed
Did you know that your site's speed impacts search rankings for eCommerce websites?
A slow website lowers your search engine ranking, and it also reduces your conversions.
GT Metrix
If you want to check your site speed, go to GTMetrix. Enter your website in the search bar and run the test.


If you're scoring below an A, you can (should, actually) improve your SEO game. Make sure you scroll down below Performance Scores, to see a list of recommendations you can implement right away.


Site Structure
Your eCommerce website structure shouldn't be complicated.
Here, the simpler the website structure, the better.
For example, your homepage should be separate from your product categories. You should list your products under these categories…and it should only take visitors three clicks to reach any product from the original homepage.
This simple structure makes it easy for search engines to crawl through. It also simplifies the purchasing journey for your customers.
SEO Audit Tools
Below are two popular SEO tools you can use to audit your eCommerce site.
Screaming Frog
First, download Screaming Frog (free up to 500 URLs).
Enter your website URL and hit 'Start.'


Once the crawl is complete, export the data and filter by 'HTML.'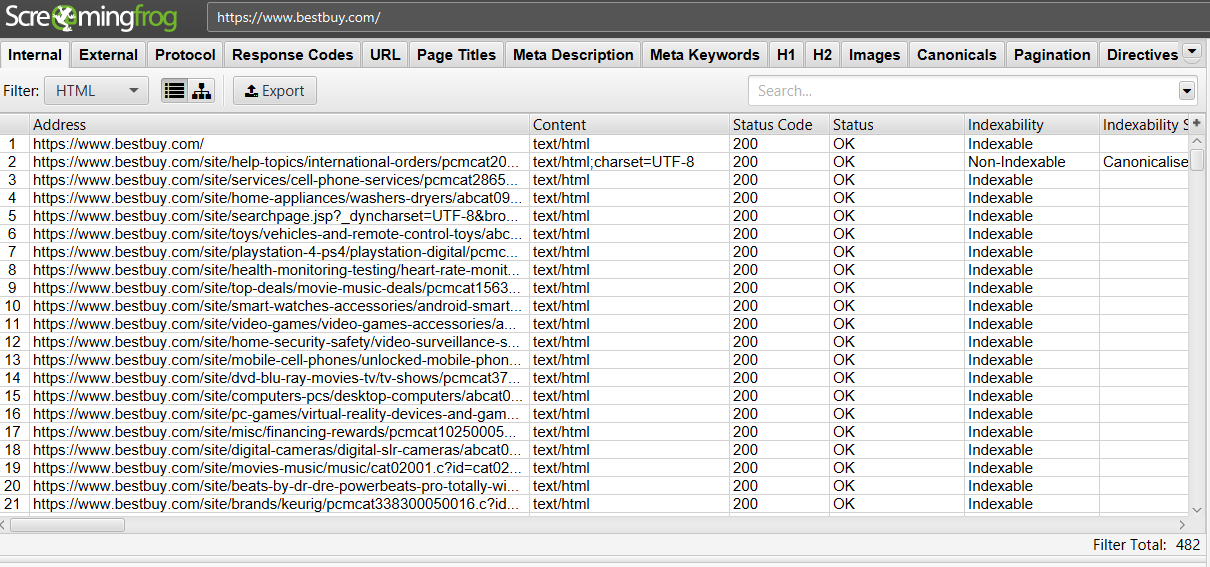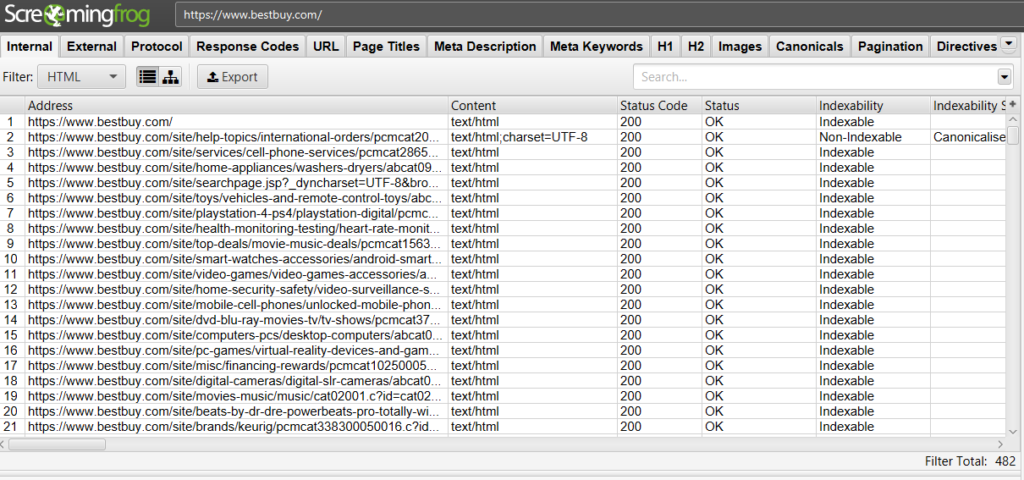 If you toggle the second tab, you can identify a number of SEO problems like
Canonical tags:
Duplicate content
…and many more.
Ahrefs
Create a 'New Project' on Ahrefs.
Fill in the blanks, then click on 'Create Project.'
It only takes a few seconds for Ahrefs to begin crawling and you'll immediately get a real-time crawl log and an overview of your site.
Ahrefs will monitor the 100+ most common SEO issues. They're grouped into reports and you can find on the left-hand menu.
Ecommerce SEO Keyword Research
If you want to attract qualified traffic, you need to know which keywords to choose.
What All Ecommerce Keywords Must Have
Below, I'll show you how to find, analyze, and optimize your eCommerce SEO keywords with the four factors you must pay attention to when researching keywords.
If there aren't enough people searching for your keywords, you might not make any sales. You need to find a keyword with a decent search volume. However, search volume depends on your niche. As a benchmark, take other high-traffic keywords into account.
Remember, the goal is to attract qualified traffic (visitors at the action stage) in the purchasing journey.
You want to purchase keywords like discount, buy now, free shipping, discount, or deal.
You should always optimize your eCommerce store for keywords that are relevant to the products that you're selling. A great way to start is to look at the top 10 results for a keyword.
Do the sites in the top 10 positions sell similar products? If so, the keyword is relevant.
You need to see who your competitors are and whether you can rank for that keyword. If you're competing against pages with high levels of authority (e.g. Amazon, Macys, Apple) you should go for longer-tail keywords instead.
Keyword Research Tools
Ahrefs and SEMrush are one of the best SEO suites in the market. They're also extremely useful at finding long-tail keywords (which make up approximately 70% of searches!)
Ahrefs
Search for keywords in 'Keywords Explorer.'
You will see the difficulty of the keyword.
Look at the 'URL rating' for other websites that rank for the same term.
SEMrush
Search for the keyword on SEMRush.
Click on 'Keyword Difficulty' on the left menu.
The keyword difficulty shows you hard it would be to outrank your competitors. The higher the percentage, the more effort it requires to outrank them.
Scroll down and click on 'Difficulty.'


Here, you can prioritize low difficulty keywords because they're much easier to rank for and adjust your SEO strategy.
On-Page SEO For Your eCommerce Store
Here are on-page SEO elements to take into account if you want to improve your ecommerce SEO rank for target keywords.
Title Tag
Make sure you add a target keyword in the Title Tag. This will not only help boost your SEO but can drive visitors to your site.
For example, if you're selling snowboards:
For a Category Page: The Best Snowboards For 2020.
For a Product Page: Snowboard Pro X435: The Best Snowboard for Speed.
Meta Description
Adding keywords into your meta description can boost click-through rates. To include your keywords, I recommend you mention the problem, explain your solution, and motivate people to click.
Product Description
Here, highlight how your customers can benefit from your products. The description allows your customers to know more about the product you're selling.
For example, DeLonghi, the Italian house appliances company has 4 tabs on the product. These include the overview, key features, detail, specifications, frequently asked questions, manuals & support.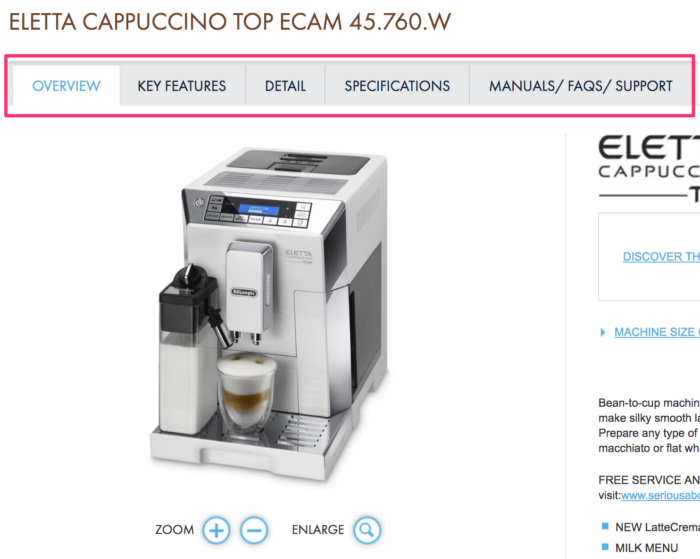 Images
Did you know that people use Google Images to find products as well? Make sure you optimize all your product images if you want to boost your sales.
To start, make the file name fit the product name (snowboardW345.jpg) and add a relevant alt-tag and optimize the size of the images for the web (decreasing size to reduce load times).
Provide high-quality images so your customers can see your products better.
For example, ASOS.com shows you their products on a real-life model. They have great lighting and feature many images of the products at different angles.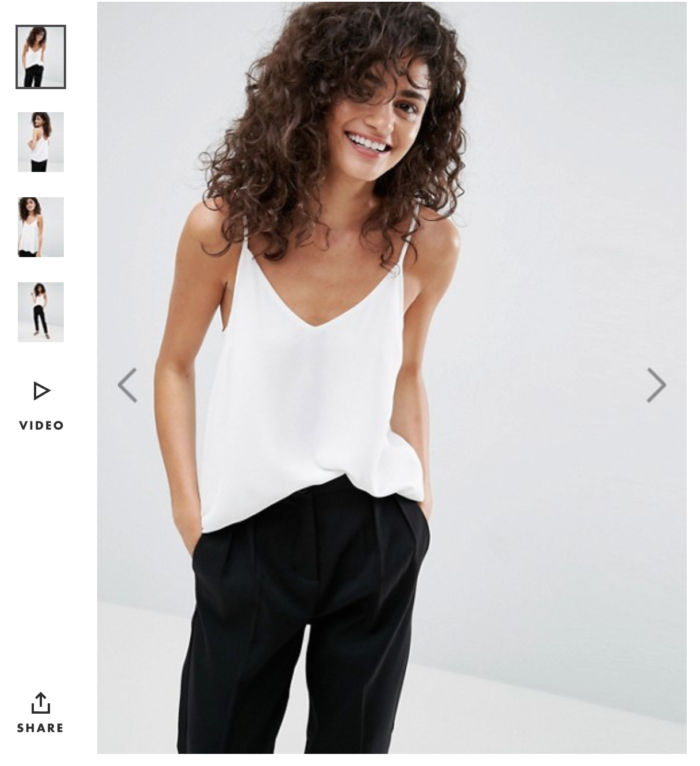 Microdata
You can also include schema.org microdata which includes additional information to your product page descriptions. Including data like pricing, delivery time, reviews, are a great way to stand out.
Internal Links
When you internally link content together, you can establish your anchor text. You can do this by recommending other products (like Amazon did here!)

Testimonials
Testimonials are a fantastic way to enhance trust and boost your conversion rates.
For example, here's Benefit Cosmetics and an example of a testimonial for their products.

Link Building
While you can use most link building strategies when implementing SEO for eCommerce sites, here are 3 of my favorites…
Competitor Backlink Analysis
If you want to steal your competitor's backlinks:
Find the keywords you want to rank for.
Enter the keyword on Google
Make a list of the URLs of the first 10 organic results on an excel sheet.
Enter your competitor's URLs on Ahrefs.
Find all the backlinks that point to these competitors and see how many you need to outcompete them.
Go for the most valuable links by sorting the list of backlinks by their Domain Rating (DR).
Discover how they originally got the backlink.
Replicate your competitor's process.
Broken Link Building
To earn backlinks via broken links:
Search for broken links
Offer your content as a replacement
Your link is placed on their site
Rinse and repeat the process
It's as simple as that. You can use backlink checker tools like Ahrefs to make this process easy.
Event Link Building
To earn backlink via local, national or international events you can either host your own event and have a third-party event website link back or sponsor an event and obtain a link as a sponsor.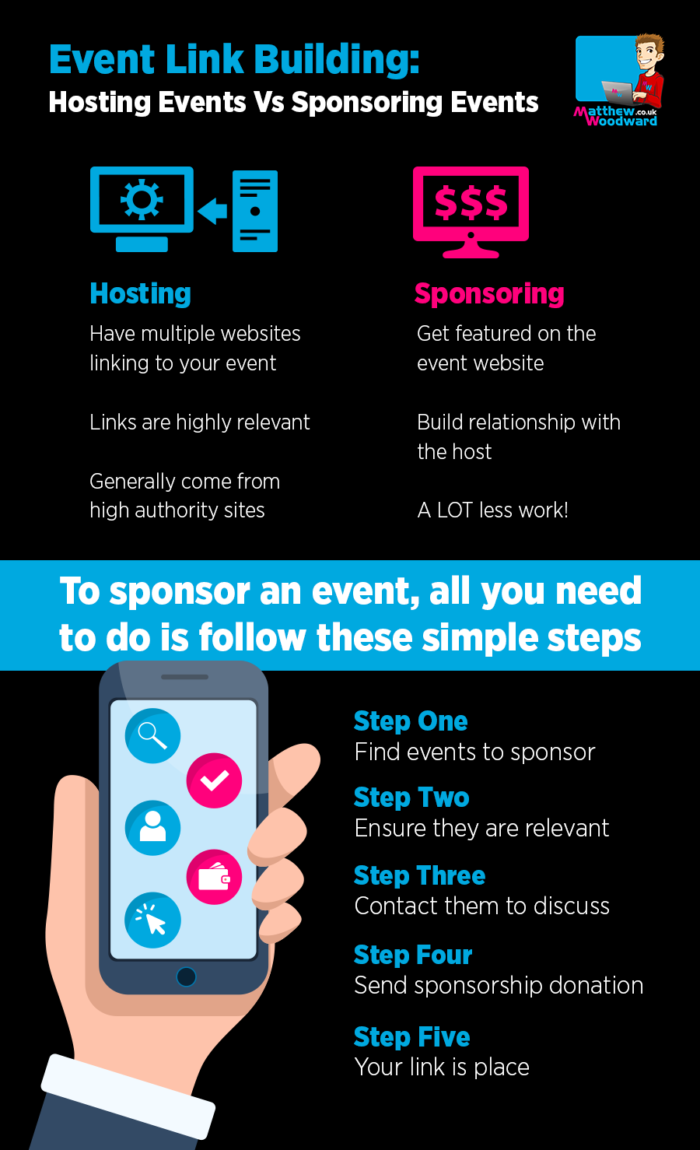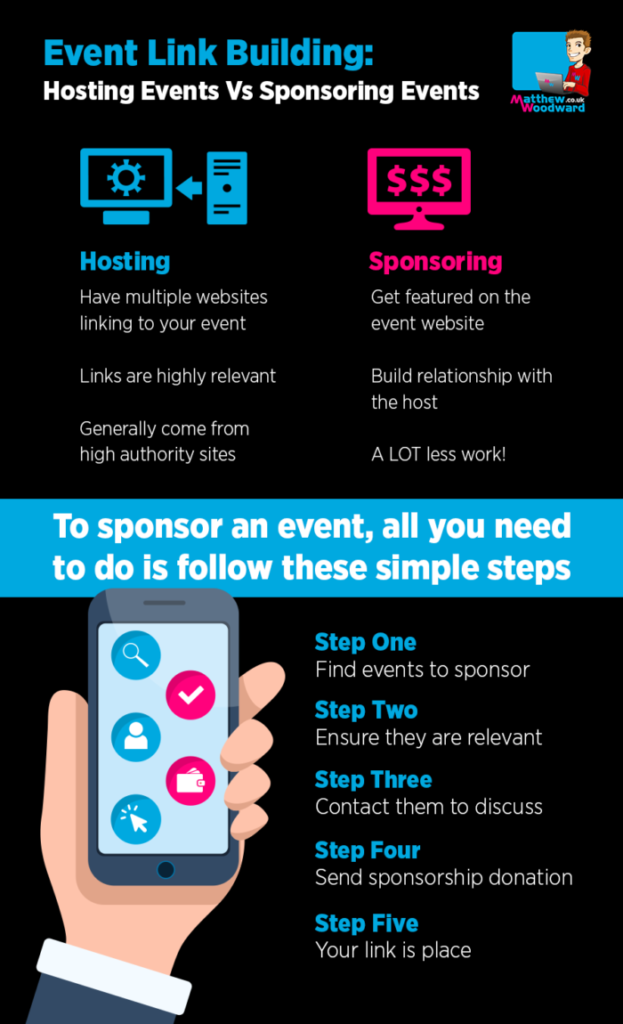 Conclusion
If you're wondering when you should master your SEO for eCommerce, the time is now.
I'm not going to lie to you.
SEO takes effort, time, and work. It isn't the path of least resistance and it's going to take a lot of optimizing and link building to rank on the top charts of Google.
But if you use the lessons in this guide, you'll be on the pathway to most profit.
SEO is a worthwhile investment that will change your business forever.
What are you waiting for…
Get started today!
If you have any questions feel free to reach out to us in the comments below
Matthew Woodward began sharing his SEO and internet marketing knowledge back in 2012 through his award-winning blog. Since then he has helped thousands of site owners drive huge amounts of traffic to their websites and achieve the marketing goals. You can get in touch with Matthew Facebook, Twitter, LinkedIn, and you can also visit his Youtube channel and his website.