So, you want to reach a broader target audience and have decided to give digital advertising a try. Great! But, where do you get started? Which one -of the several digital advertising platforms- should you pick?
Is there one platform that will work better for your industry or your audience?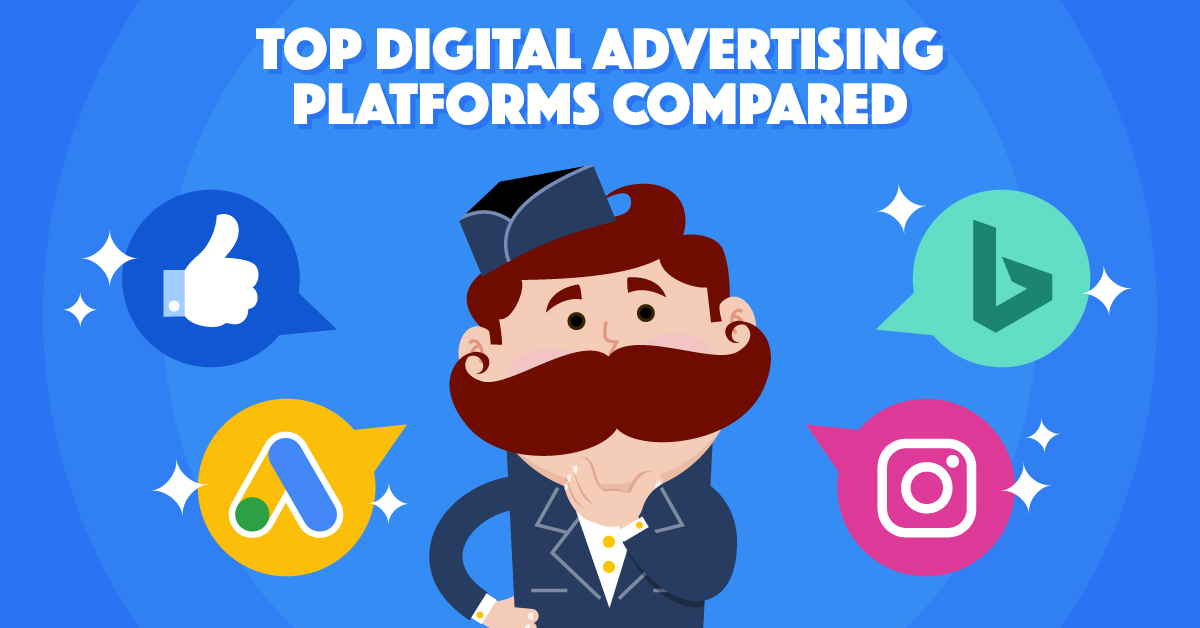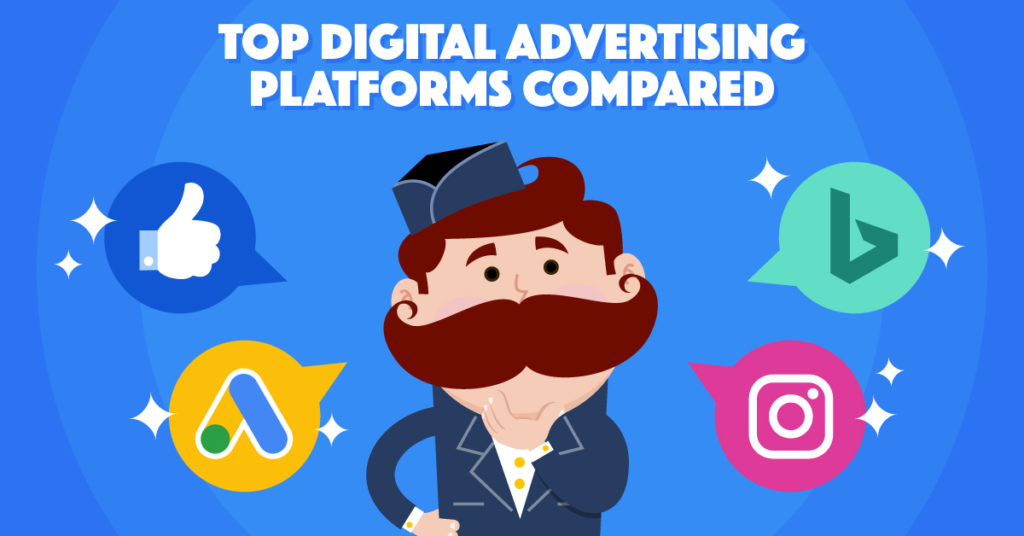 There are dozens of digital advertising platforms — and some are less than stellar. How do you know which platform will offer the biggest bang for your buck?
Well, that's what we are going to cover today.
Breaking Down the Top 4 Digital Advertising Platforms
So, which digital advertising platform is the best fit for promoting your business?
Well, it depends on several factors, including who your audience is, where they get their social media fix, and whether you need a super user-friendly advertising platform or are willing to dive in and learn.
To make the decisions easier, we are going to compare and contrast the top four digital advertising platforms based on reach, how easy they are to use, and the types of ads you can create.
And, to save you time, we've summarized some primary takeaways in an easy-to-understand table below:
Platform
Name 

Percentage of Total Digital Ad Revenue

Ease of Use 

Pros 

Cons

Google

38.2%
Difficult for beginners, medium for digital marketers
Wide reach, detailed targeting
Steep learning curve

Microsoft Advertising

4.1%
Easy
Very easy to use; it allows to import info from Google
Limited ad formats,
less reach

Facebook

21.8%
Difficult for beginners
(but the Guided Creation is easy to use)
Wide reach (includes Instagram).
Extremely detailed targeting
Lower buyer intent than Google

Twitter

6.3%
Medium difficulty
Detailed targeting,
low cost-per-click
Less reach,
ads only show up on Twitter
Sources: eMarketer and Statista
For a detailed breakdown of each digital advertising platform, read on!
Google Ads (Formerly Google Adwords) 
Google is the largest search engine in the world, with more than 90% of the search engine market share. The platform is so popular it has become a verb — as in, "Just Google it."
When it comes to picking a digital advertising platform, Google Ads, the advertising arm of the search engine giant, is a top contender.
While it's hard to tell the exact extent of Google Ads reach, you can expect to reach around 90% of all internet users across its multiple ad platforms.
Google also offers a ton of advanced and AI-powered features such as real-time bidding, dynamic ads, and automated bidding.
Here is what you need to know about advertising on Google.
Where Do Your Ads Show?
Google Ads show up in Google search results as well as on partner websites (including YouTube and big names like The Weather Channel). Where your ad will show up depends on the type of ad campaign you create, which include:
Search Network campaigns:
Show up in the search results

Show up in partner sites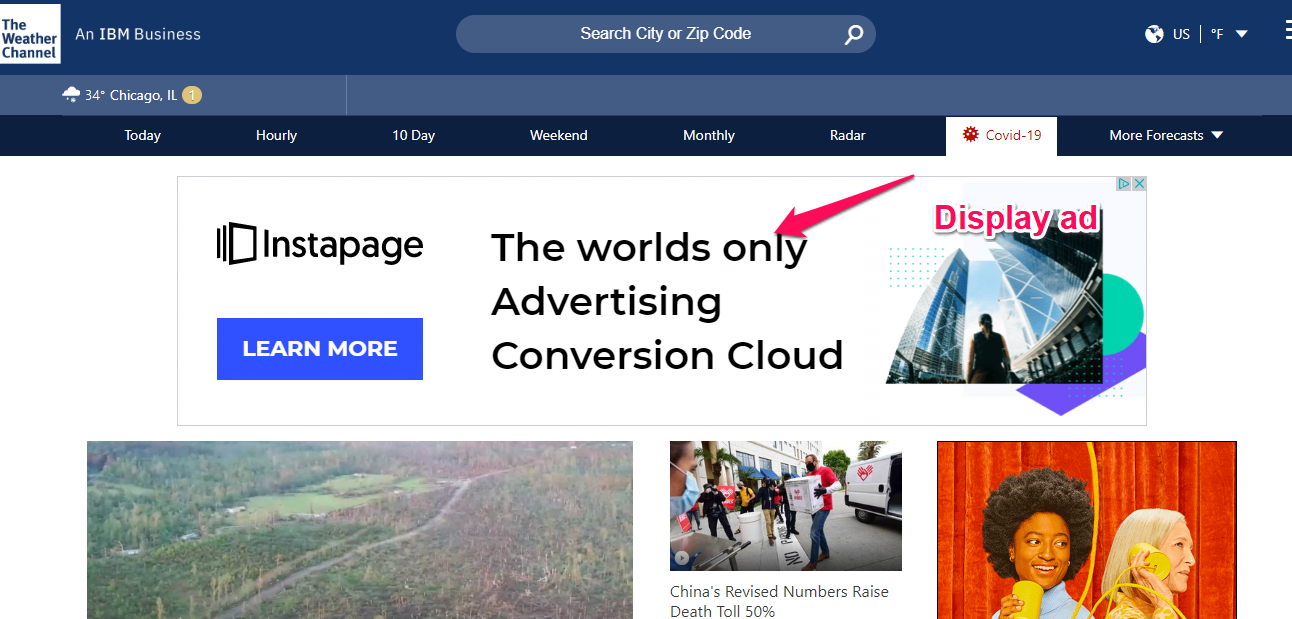 Ads that show up for intent-based searches, such as "buy shoes online" with prices and additional information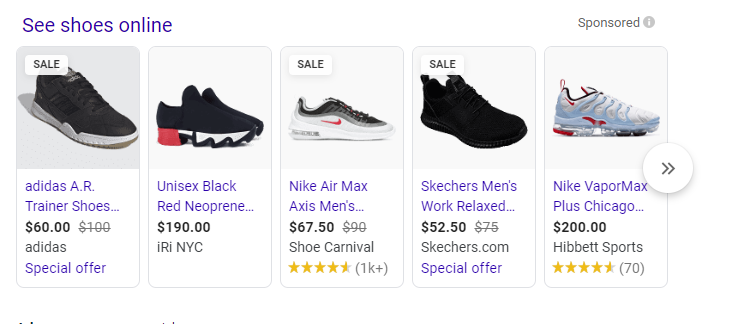 Video ads that show up on YouTube and include skippable in-stream ads, non-skippable in-stream ads, video discovery ads, out-stream ads, and bumper ads, like this SquareSpace ad at the beginning of a YouTube video: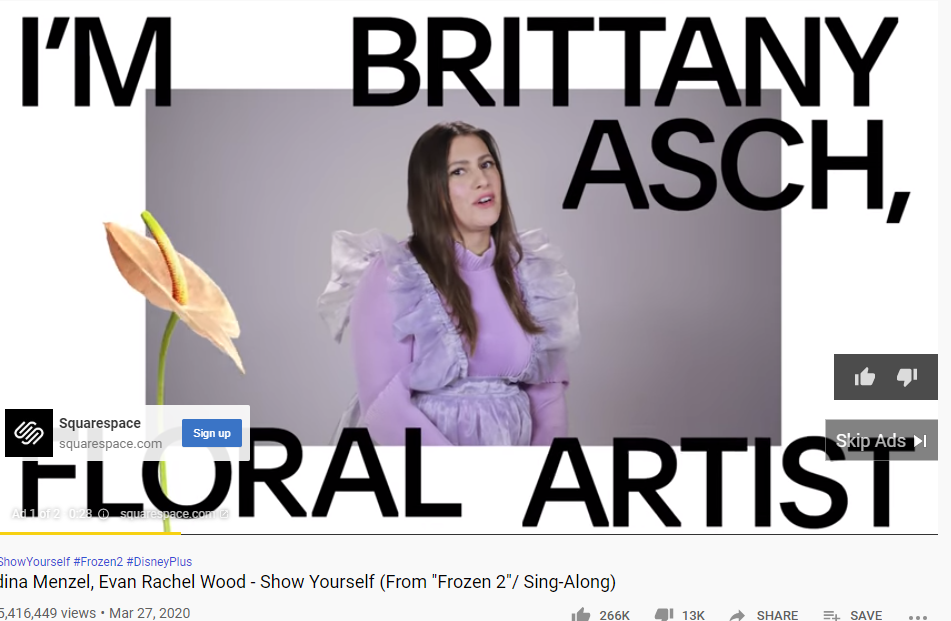 Advertisements for apps, which can appear across Search, Google Play, YouTube, and Google Display ads network sit
Google Ads Formats 
Google offers more ad formats than just about any other digital marketing platform.
Ad format options include:
Text-only ads:
Only words, but can be used with ad extensions to provide additional information such as a phone number.
Responsive ads:
Ads that automatically adjust their size and format to fit any available ad space, including as native ads.
Images:
Image only ads that appear as banner ads or in sidebars.
Video ads:
Delivers a more engaging ad experience.
Call Only Ads:
Short, word-based ads that highlight your business's phone number and prompt users to tap to call.
For a full list of all the available ad formats, check out this list in Google Ads help. 
Google Ads Targeting Options 
Google offers a massive amount of targeting options that allow you to limit the reach of your ad to extremely specific audiences. For example, if you own a bike shop, you might want to target people who are into biking and live within 10 miles of your shop.
A few of the target audience options include:
Age
Location
Gender
Income level
Parental status
Interests
Proximity to your business
Google also offers retargeting options, which allow you to target people who have taken a specific action, such as visiting your website or adding an item to their digital cart but not completing the purchase.
Ease of Use 
Google Ads is complex to use, mostly because it offers an incredibly wide range of options — which means you can create highly targeted ads. This is good for ensuring you don't waste ad spend, but can be a bit overwhelming for beginners.
What Types of Businesses Should Use Google Ads? 
All types of businesses can benefit from using Google Ads due to its wide reach. However, it is best suited for those with some tech skills, have a solid understanding of digital advertising, or are willing to learn.
Microsoft Advertising (Formerly Bing Ads)
Bing is Microsoft's search engine. Despite Microsoft's domination in the hardware and software areas, their search engine has never quite reached the same massive audience as Google.
Does that mean it isn't worth advertising on Microsoft? Not at all. In fact, Microsoft says their ads connect with an audience that performs nearly 6 billion searches a month.
Where Do Your Ads Show? 
Ads created within Microsoft's ad platform will show up on sites across the internet, including on search sites like Bing, AOL, and Yahoo, as well as partner sites like MSN.
Ads may also display on smartphones and tablets, and can be limited to specific locations or users who speak a particular language.
Microsoft Ad Formats 
According to Microsoft's advertising page, you can create seven different types of ads for Bing and the Microsoft Advertising platform, including:
have a headline, text, and URL.
adjust your ad in response to a search query. These ads are currently only available in the US, UK, and parts of the EU.
are native ads that display within articles on partner sites.
are ads designed with touch-based computer use in mind. They often include a preview of your landing page.
Microsoft tested video ad extension a few years ago; it does not appear to be an option currently.
However, you can use ad extensions, such as call extensions, to add functionality to your ads.
Targeting Options 
Microsoft Advertising offers advertisers a range of targeting options, including language, location, time, gender, age, and device.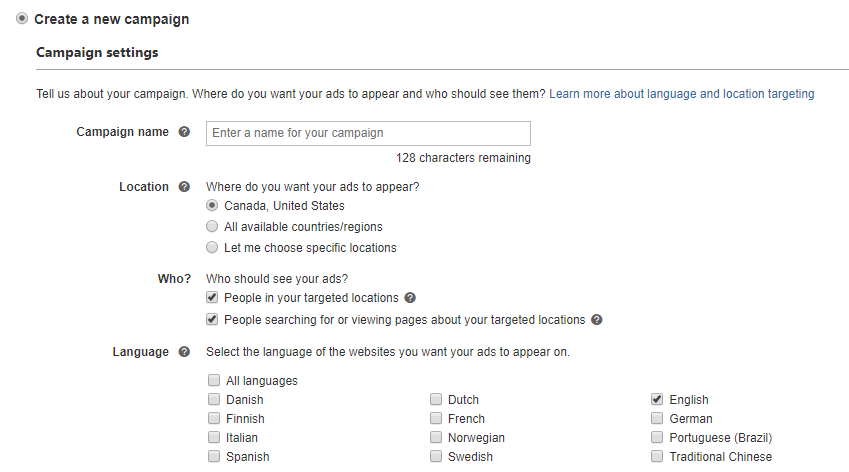 While their targeting options are far more limited than Google's ad target options, there is still plenty of flexibility.
Who Should Use Microsoft Ads? 
Smaller advertisers with audiences more likely to use Bing as a search engine or large advertisers who are already leveraging Google Ads and want to extend their reach further.
Microsoft actually makes it easy to launch ads if you already have Google Ads by importing your information from Google to Microsoft:

Facebook Ads (and Instagram) 
Facebook is the largest social media platform in the world, with more than 1.6 billion daily active users.
With such a wide reach, the social media platform is an ideal digital advertising platform for companies that want to reach a wide range of audiences, including those who use mobile devices.
Where Do Your Ads Show? 
Facebook ads can show up in a variety of places, based on the type of campaign you create, including in-feed ads, like this one: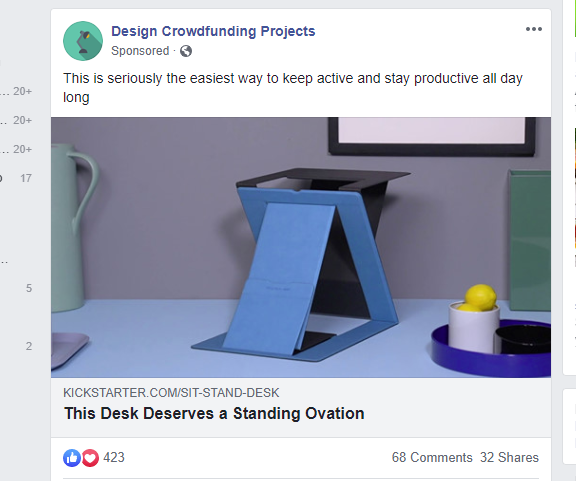 Ads may also be displayed in the sidebar of Facebook users' feed, like this one: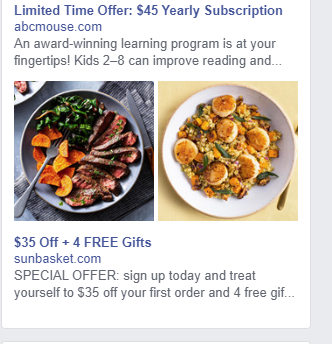 Other locations Facebook ads can be displayed include Instagram feed, Facebook Marketplace, Messenger Inbox, and Instagram's explore option.
Facebook Ads Formats 
Facebook has the widest range of ad formats of any of the major digital advertising platforms. Options include:
An image of your product or related to your service, along with the text.
Engaging video formats of up to 15 seconds allow you to show off your product in a unique way.
Showcase up to 10 different images or videos in one ad, each image can use its own link.
Increase the reach of a regular Facebook post by paying to reach a wider audience.
A full-screen ad that launches when a user taps to click on one of your ads. It can be used with video, image, or carousel ads.
Targeting Options 
The easiest way to increase advertising ROI is to limit who can see your ad by selecting targeting options within Facebook.
Facebook advertising audience targeting options include:
Age
Gender
Location
Income
Parental status
Homeownership status
Interests
Connections
Where they work
Specific actions users have taken, through retargeting
Companies looking to explore mobile advertising options can also use Facebook to show ads specifically to mobile users.
Who Should Use Facebook Ads? 
Any company can and should use the Facebook digital advertising platform — for brand awareness at the very least. The Guided Creation feature is beginner friendly and the platform gives your business access to a massive audience.
Twitter Ads
According to Oberlo, more than 145 million people use Twitter every day to follow their favorite brands, stars, learn about the news, and engage in conversations about topics relevant to them.
Twitter users tend to skew a bit older, with more than 60% of all Twitter users falling between the ages of 35 and 65.
Twitter Ads also has a variety of targeting options that make it a really interesting option for digital advertisers, such as hashtag promotions, which allow you to promote a tweet only to people who have shown interest in a specific hashtag.
These targeting options allow companies to spend their dollars much more carefully on Twitter –and often reach a lot more people for far less money than on Facebook and Google.
Where Do Your Ads Show? 
Twitter ads only show up on Twitter.
Unlike Google and Microsoft, your ads won't show up on partner sites. And, unlike Facebook, you won't gain access to Instagram users, either.
Twitter ads show up within Twitter users' feeds as promoted posts, which look like this: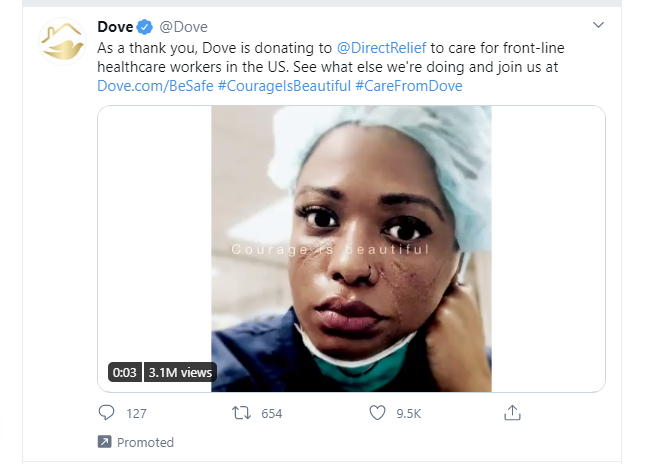 You can also promote your account as a whole, which will help it show up in "Who to follow" lists with a "Promoted" tag, like this:

Twitter Ad Formats 
If you are interested in promoting on Twitter, you have a variety of options for ad formats, including:
Promoted text
Promoted image
GIF
Poll
Promote your account as a whole
Videos
Cards, which highlight specific page with a CTA
Unlike Google, you won't be able to promote your phone number to encourage calls, and there is no multi-image option like Facebook's carousel option.
Targeting Options 
You might have noticed that we spent a lot of time covering what Twitter can't do. So why, you might ask, did Twitter make it on the list of the top digital advertising platforms?
Don't worry; Twitter is on this list for a reason.
And it all comes down to targeting.
Unlike other platforms that mostly have the same demographic targeting options, Twitter allows advertisers to really dig into who they want to target based on how people use Twitter.
For example, you can target based on:
Age and gender
Brands or people users follow (so you could target people who follow your competition, for example)
Interests
Those who watch a specific TV show
Users from your CRM data
Users who have engaged in conversation about a specific topic
Users who follow you or have liked a tweet
Twitter also allows brands to reach specific audiences using their Promoted Trends and First View reach options. These are premium options, but allow you to show up in top trends or as the first thing users see when they login to Twitter.
Promoted Trends and First View are ideal choices for advertisers looking to expand brand awareness.
Who should use Twitter ads? 
Brands that have a wide audience base on Twitter and are looking for a way to make the most out of their advertising dollars.
Which Digital Advertising Platform Comes Out on Top? 
The reality is, there is no one right digital advertising platform for every business.
The right one will depend based on your brand, your target audience, and your digital marketing goals.
If your goal is to increase sales, then Facebook or Google will likely be the most effective advertising platform.
If your brand has a large Twitter following and wants to increase brand awareness, Twitter can help you reach your goals.
If you're already crushing Google Ads and are looking for a new avenue for growth, Microsoft Ads may be the right ad platform for your business.
Start by creating ads on the platform that seems to be the best fit for your brand based on the information we've provided.
Once you feel comfortable with one platform, test another. You might be surprised by the results!