Back in 2007, when Chis Messina first proposed using the # symbol as a way to organize discussions on Twitter, no one could have imagined how powerful and popular Twitter Hashtags would be.
Today, Twitter hashtags are ubiquitous. Every brand, advertiser, and marketer on Twitter amends their tweets with hashtags.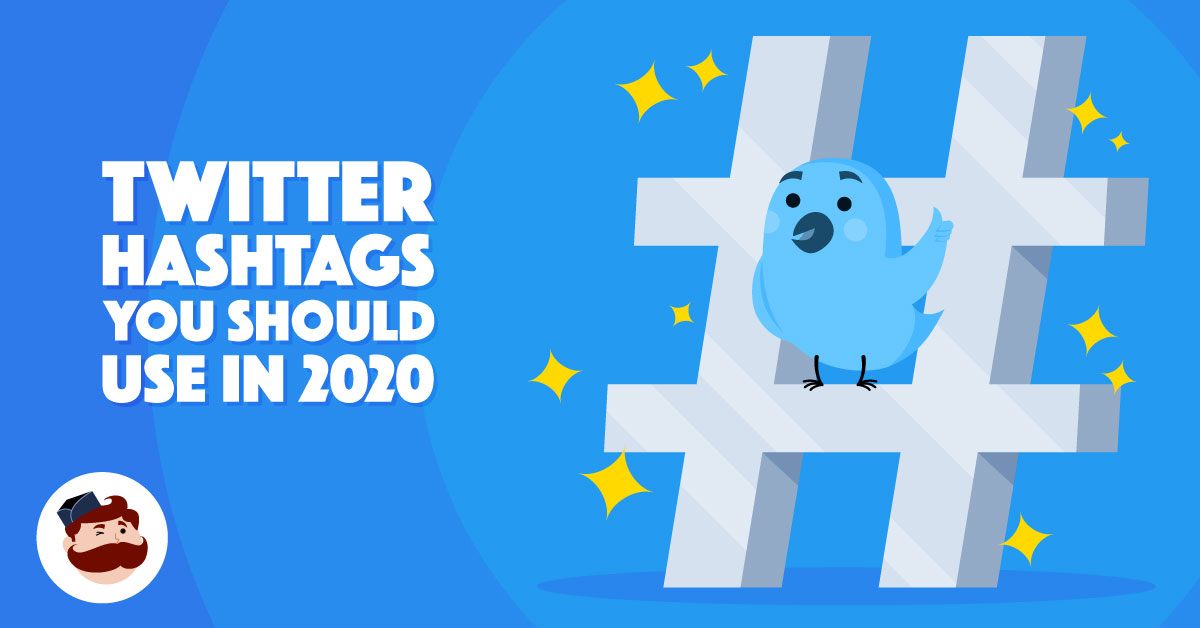 And they're much more than an organizational device—hashtags are one of the best tools you have for targeting specific Twitter users.
To help you level up your marketing in 2020, we've put together a list of the top Twitter hashtags to use for every day of the week. Let's dive in!
When you add a hashtag to a tweet, you're increasing the potential of your content being seen by an interested audience.
Including hashtags in your Twitter content boosts awareness of your brand and has the potential to drive a 1,065% increase in engagement, according to this study.
The same research shows that tweets with #ico (aka Initial Coin Offering, the cryptocurrency industry's equivalent to an Initial Public Offering, IPO), the most popular hashtag at the time of the study, had an average of 19.8 interactions. That's a 12X increase over tweets with no hashtags, which only averaged 1.7 interactions per tweet.
Finding the best way to incorporate hashtags into your 2020 Twitter content is crucial. To help your creative juices flow, we created this list.
Each hashtag has a popularity score of 50 or more according to the free Twitter analytics tool Hashtagify, so you know they're used and seen frequently.
Monday Twitter Hashtags
At the beginning of the week, provide motivational hashtags that help your target audience get over the listlessness that's associated with Mondays.
#MondayMotivation
#MondayMotivation is a very beneficial hashtag to use when you want to connect with a larger audience. It helps you start out your week on the right foot. Here's an example from HubSpot:
HubSpot uses the #MondayMotivation hashtag to share powerful insights from popular business author Adam Grant regarding the power of data in the decision-making process. By asking a question in their tweet, HubSpot encourages their audience to join in on the conversation and start the week off strong by focusing on data.
Profiling someone in your tweet also helps boost the potential audience, as now the tweet will be seen by anyone following the person you cover, plus anyone looking for #MondayMotivation.
#MondayMorning
Use this hashtag to amp up your audience, or as a way to commiserate about how hard it is to get motivated early in the week. Take this tweet from Good Morning America:
Waking up on #MondayMorning like… pic.twitter.com/S2KwHtm0RZ

— Good Morning America (@GMA) December 2, 2019
Example #MondayMorning tweet from Good Morning America.
This tweet references how hard it can be to get up and prepare for the upcoming work week. While Good Morning America isn't really promoting their brand in this tweet, they're still connecting with their audience through the funny GIF.
#MondayMood
Include #MondayMood in your tweets to tap into your audience's shared workforce experiences. Linus Tech Tips, for example, takes a humorous approach to the hashtag by using it to share office struggles.
With a reference to Garfield's famed love of lasagna and hatred of Mondays, this tweet is a fun example of how humor can elicit a response for your audience. The comments section is filled with other Twitter users sharing their Monday troubles and laughing with one another.
Using this Twitter hashtag, Linus Tech Tips was able to showcase their personality and engage their audience.
Tuesday Twitter Hashtags
Tuesdays are one of the best times to post on Twitter for B2C brands. Take advantage of the day by using these popular hashtags to showcase your brand or products.
#TuesdayThoughts
Share your ideas about the usefulness of your product with the #TuesdayThoughts hashtag, like Safal does in this tweet:
As their #TuesdayThought, the brand shares creative ideas for using their frozen sweet corn product. They also encourage engagement by inviting their audience to comment with their own ideas of using the veggie.
#TuesdayTip
#TuesdayTip is the hashtag to use when you want to provide valuable advice to your audience. Use it to share some wisdom from your brand, provide a general industry tip, or talk about how your product can help solve a problem your audience might have.
This example from Pixar studios continues the motivational theme we saw with the Monday hashtags by sharing some advice from one of their chief employees.
This tweet showcases the knowledge of Pixar's team and speaks to their ethos as a brand. For a brand that's as well-known as Pixar, it makes them feel inspirational and a bit more human. And, it gives them an opportunity to feature one of their movies in the image.
#TravelTuesday
#TravelTuesday is one of the more specific daily hashtags we've seen so far. It only works if your company is in or around the travel industry. In our example, GoPro uses an image one of their customers captured using their GoPro camera.
Featuring an actual customer's photo heightens the social proof of this tweet because users can see the kind of photos they'll be able to take by using a GoPro camera. Using a travel-based hashtag also taps into GoPro's core value proposition—a reliable camera for adventurous travelers.
These Tuesday hashtags are more brand-focused than Monday ones. Use them to feature your product and highlight its value.
Wednesday Twitter Hashtags
Hump day! It's mid-workweek, and many people are already thinking about how much longer it will be to the weekend. Remember this when you're thinking about Wednesday Twitter hashtags and try to connect with your audience on an emotional level.
#WednesdayWisdom
Use this hashtag to provide guidance to your audience about your product, your industry, or even a personal topic. This helps you share knowledge with potential customers.
This example from Penguin is right on target. It is in line with their brand as a book publisher by highlighting a poet and writing, all while providing useful advice.
The tweet is so powerful that it didn't need an image. With just the inspirational quote alone, the tweet received over 50 retweets and 150 likes.
#WinItWednesday
Use the #WinItWednesday hashtag to get retweets and new followers as part of a giveaway for your brand. Take this example from UK brand, Claudi & Fin.
This tweet is a simple giveaway. In it, Claudi & Fin provide a quick overview of what people can win and how they can participate. For a brand with just over 6K followers, they've received over 400 likes and comments, which is a significant increase over their regular content. That's only helped by the fact that the tweet went out as the holiday season was beginning in earnest.
Whether it was by providing guidance or running a contest, both of these Wednesday Twitter hashtags helped the brands connect with their audience.
Thursday Twitter Hashtags
As the week winds to a close, it's important to keep users interested in what your brand has to say. Twitter users are winding down their responsibilities and getting ready to plan for weekend, so you need to make sure your content stands out.
#tbt
Almost everyone has heard of the "Throwback Thursday" hashtag, which is why its popularity score is the highest on this list. Use #tbt to talk through your company history, show off old photos of your team, or tell a story about the growth of your brand.
Here's a great example from Google Drive:
With the image of floppy disks, this tweet highlights how storage and file organization (a topic near and dear to Google's heart) has changed over time.
#ThursdayThoughts
The #ThursdayThoughts hashtag is a chance to provide guidance on current trends in the industry. It can also be a hashtag to use when you want to be introspective and share personal thoughts, like this tweet from Samaritans.
Some people might be feeling the burnout of working through their week on Thursday, so it's the right time for Samaritans to get their message out about mental health.
These two Thursday Twitter hashtags let you show the more personal side of your brand. Use them to foster emotional connections with your audience and build those relationships.
Friday Twitter Hashtags
It's the end of the work week! Time to have fun with the hashtags you're using. Ring in the weekend with a little bit of levity.
#FridayFeeling
Fridays are days for wrapping up projects and looking forward to the next work week. HubSpot does an excellent job of encapsulating this idea with their #FridayFollowing tweet.
End the week on a high note, and set yourself up for another great week on Monday! #FridayFeeling pic.twitter.com/9GB2h1gDJr

— HubSpot (@HubSpot) January 18, 2019
HubSpot #FridayFeeling tweet.
As a marketing automation platform, talking about wrapping up the week and planning for Monday is great advice that's core to what HubSpot's product offers. But that doesn't mean they can't have fun with the GIF they use.
#fbf
This hashtag stands for #FlashbackFriday and functions in much the same way as #tbt. Use it to talk through the history of your brand or highlight a previous project, like Disney did in their #fbf tweet about Darkwing Duck.
Let's get dangerous! Sing-a-long to the original #DarkwingDuck theme song this #FlashbackFriday. 🎵 Retweet and tag a friend who knows all the words! #FBF pic.twitter.com/TL0a6gaym0

— Disney TVA (@DisneyTVA) November 29, 2019
#FBF tweet from Disney TVA.
If we consider that Disney has just released their new streaming service, which includes Darkwing Duck, this example does an excellent job of highlighting content that was successful for their brand in the past. Think of this when you want to use hashtags to boost awareness of a product release.
#Friday
Use this simple, straightforward hashtag to talk about how you're wrapping up the week. Take this example from productivity tool, Trello.
👋🏽 Drag and drop that last task to 'DONE' like#Friday pic.twitter.com/wFfBtPw8ws

— Trello (@trello) October 11, 2019
#Friday hashtag example via Trello.
This tweet pokes fun at Trello's product, which helps you manage projects by dragging tasks along a pipeline. It includes a funny GIF that's just perfect for a Friday afternoon.
Friday Twitter hashtags are all about wrapping up the work week on a high note. When you're thinking about how to use these hashtags, it's important to think about how to make them engaging to an audience that's gearing up for the weekend.
Saturday Twitter Hashtags
It's the weekend! Time to relax and engage with your audience on a personal level. Saturday is your opportunity to feature lighthearted content about your brand that's not heavily product-focused.
#ShoutoutSaturday
#ShoutoutSaturday is one of the best hashtags for encouraging engagement with your followers. Use it to shower praise on one of your customers or employees, like the global poverty initiative ONE does in this tweet.
ONE features an image of their team and thanks everyone in their audience who participates in their programs. It's a simple reminder of how important their followers' support is to their cause.
#WeekendVibes
The #WeekendVibes hashtag is all about promoting a specific mood or emotion with your content. This tweet from the Dallas-Fort Worth Airport is a fine example.
The purpose of this tweet is to show off a pretty sunset at the airport. While it features the airport in the image, it's not the focus—DFW Airport shares this image with its audience to show them how beautiful the view is from their airport.
Sunday Twitter Hashtags
For the end of the weekend, Sunday hashtags should be lighthearted and relaxed. Help everyone savor their last day of rest before having to go back to work with these hashtags.
#SundayFunday
#SundayFunday is one of the more popular Sunday hashtags, add it to a tweet when you're doing something out of the ordinary with your brand. Our example comes from a research laboratory at the University of Edinburgh.
Our newest lab member is eager to impress. 👀🦄 #SundayFunday pic.twitter.com/lBzhWrzYxG

— Schnaufer Lab (@LabSchnaufer) December 1, 2019
#SundayFunday example from Schnaufer Lab.
While it hints at what they do in the laboratory, this tweet is really just about having fun with the audience. As you're thinking about your social media strategy, remember that sometimes showing your fun-loving side is just as important as promoting your brand.
#LazySunday
Speak directly to your audience and encourage them to put in some time for rest and relaxation with this Sunday hashtag, like in this example from Bumblebee Conservation Trust.
Feeling bee-autiful this Sunday morning ✨#sundayfunday #lazysunday #weekend pic.twitter.com/liYBp30YXY

— BBCT (@BumblebeeTrust) December 1, 2019
#LazySunday example via BBCT.
With this video and the "bee" pun, BBCT's tweet is content that's relevant to their mission without being too serious.
Use Sunday hashtags to give your audience a dose of positivity before they head into their workweek.
Use Twitter Hashtags to Reach Your Target Audience
As you're planning for 2020, it's important to put together a strategy for how you'll incorporate hashtags into your Twitter content.
Use these Twitter hashtags to boost the quality of your content and get your tweets in front of your target audience every day of the week.
We want to know! What hashtags do you use during the week? Are there any we missed that you've found success with? Tell us in the comments!