Copywriting and content marketing are both a combination of creativity and science.
You need to choose the exact right words to have a strong-sounding cadence and an immediate appeal to readers, or else they might gloss over it.
Using just the right adjectives can make a difference. Is your product "glamorous" or "sleek," for example? At the same time, you also need to be using correct grammar, strong syntax, and a lot of strategy to shape why you're writing and how it will get users to click.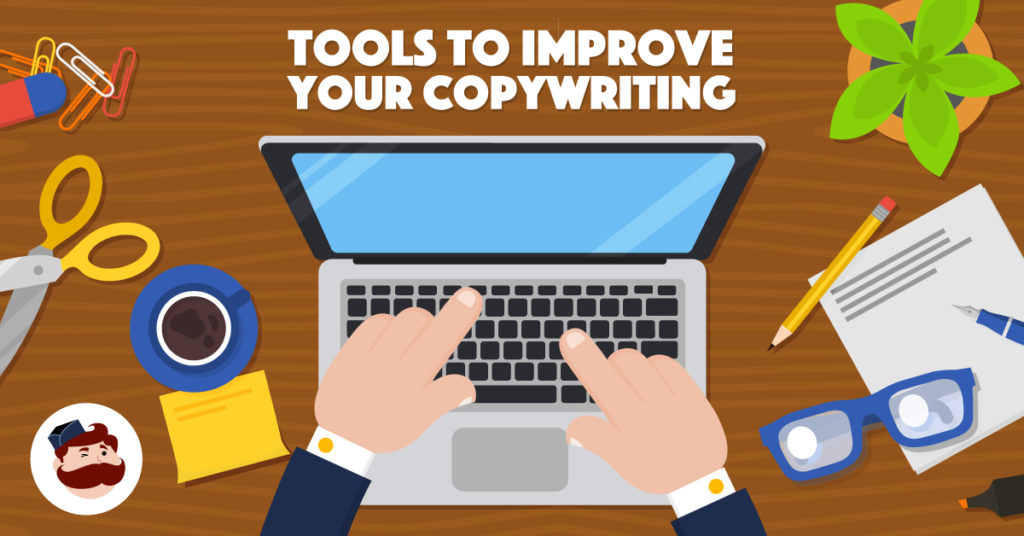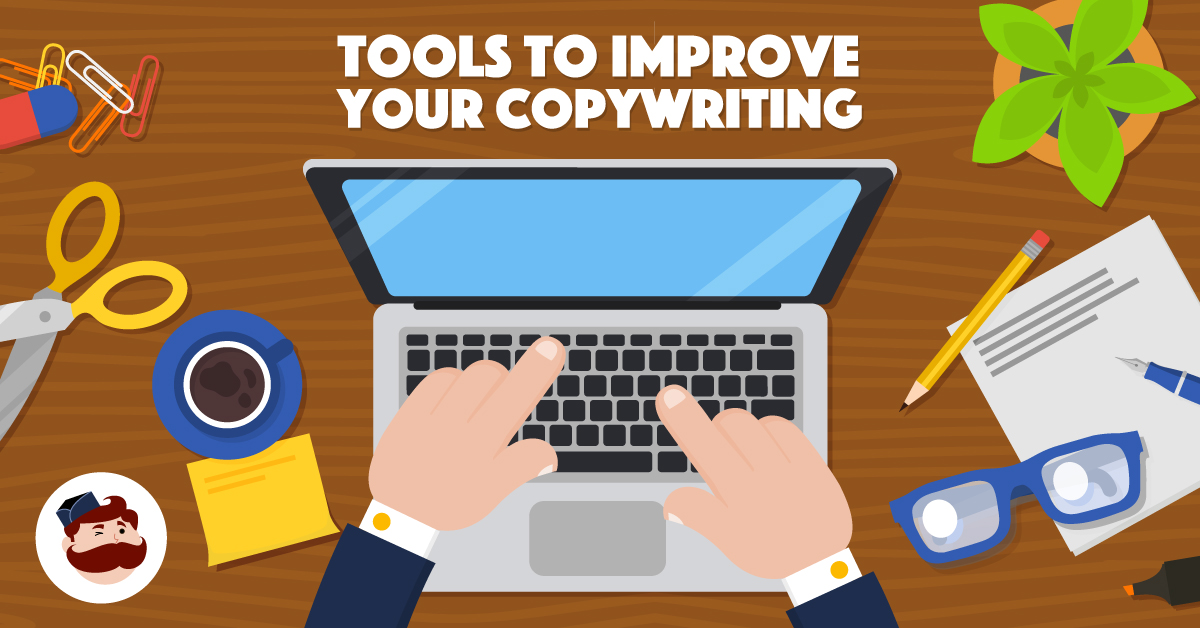 If you want to take on some of the email copy or blogging yourself, there are several tools that you can use to improve the quality of your writing and writing strategy.
This will help you get better responses from both readers and Google, getting you more traffic and more results.
In this post, I'm going to go over my five favorite copywriting tools that my fellow copywriters and I use to clean up our copy and content quickly to improve its readability.
1. Yoast SEO
When I'm hired for a new content marketing project, one of the first things that I ask is if they have Yoast SEO. If they don't, I recommend that they get it.
Yoast SEO is a WordPress plugin that helps you improve both SEO and readability.
Most people utilize Yoast because it helps you optimize your posts for keywords and improve your SEO score. It allows you to set your target keyword, enter a meta description and page slug, and then it evaluates everything on the page to let you know how your post is holding up. It takes into consideration your text, how often you're using the keyword, alt image tags, your headline, inbound links, outbound links, images, and more. And then– even better– it will tell you what you're doing well and how you can improve. Since keywords are an essential part of copywriting, this is important.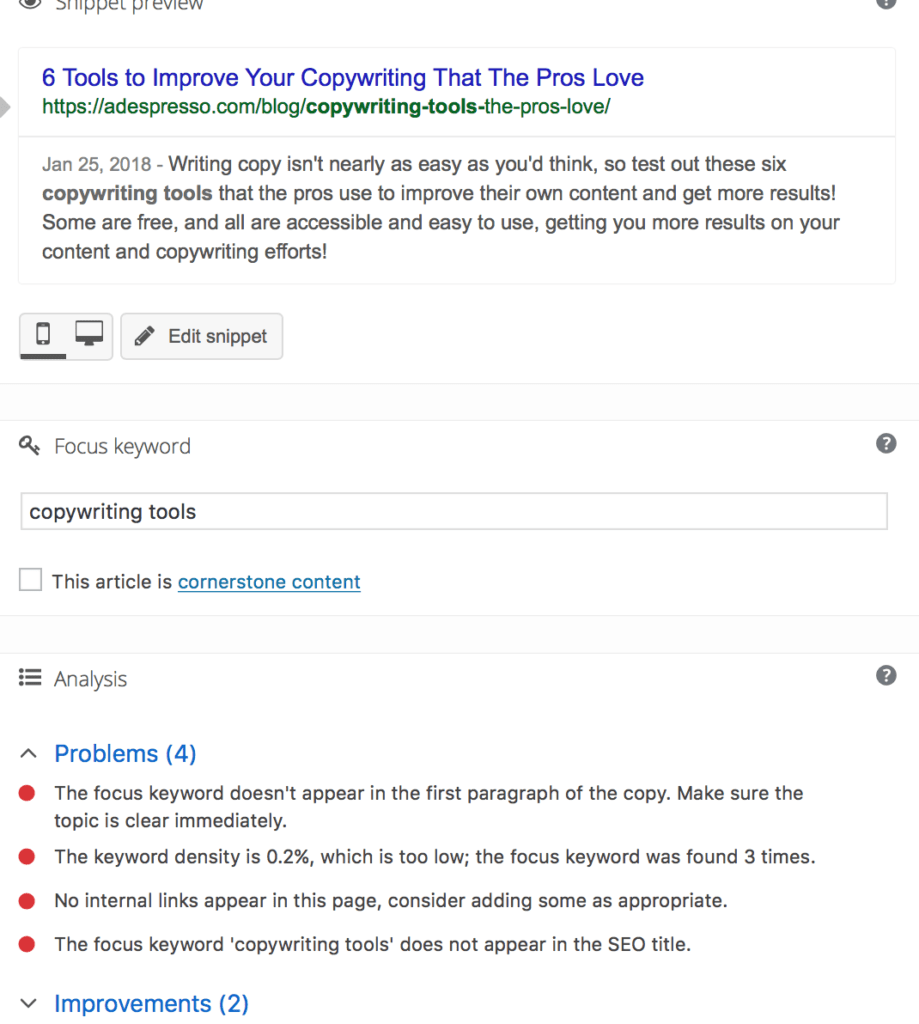 A lot of people ignore the readability tab on Yoast SEO, but you shouldn't.
I've found that posts with an orange or green ranking get significantly more organic traffic (about 24%) than those with the red-level ranking.
They'll tell you if your sentences are too long, there's too much passive voice, the text isn't broken down enough. Since most adults read at a 7th-9th-grade reading level, that's important.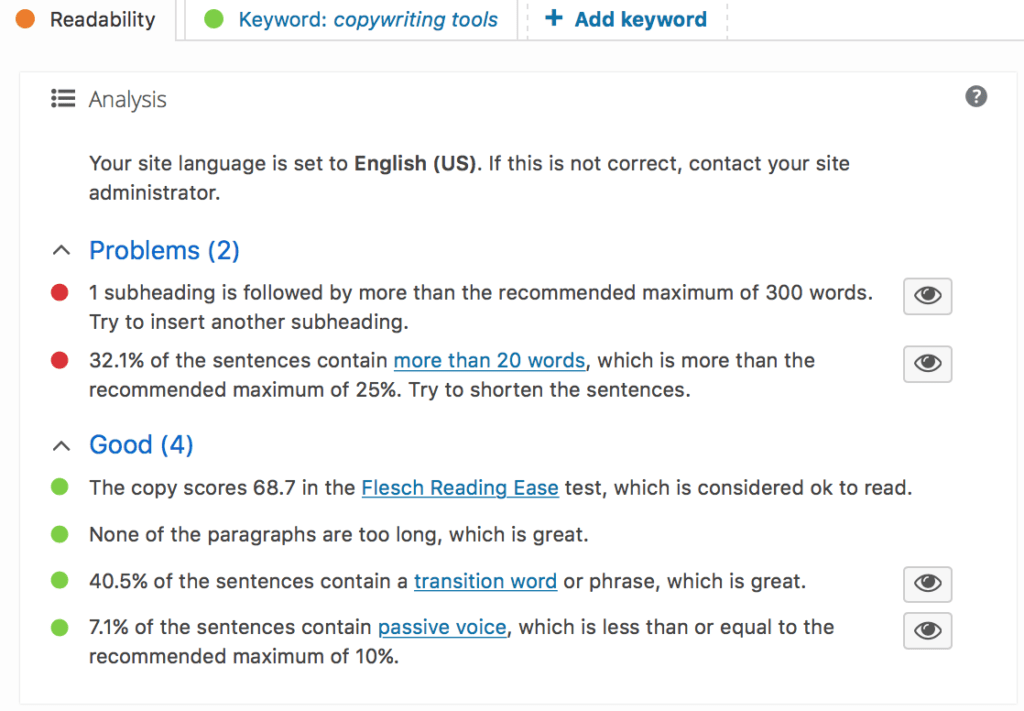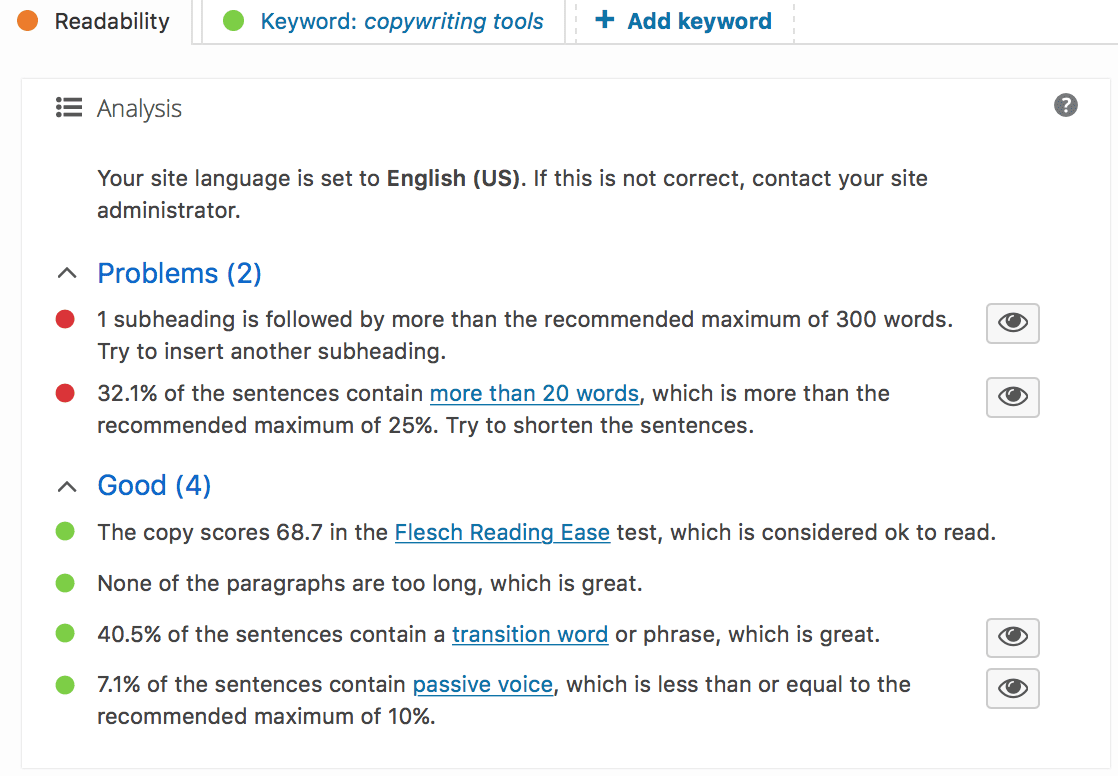 When I was writing this post, I asked a lot of my copywriter and content marketer friends what tools they use. I don't have other experts weighing in on every tool on this list, but quite a few of them had good things to say about Yoast.
Dorri Olds, who has had an immensely successful career as a journalist and content writer, said she always uses Yoast on every post:
Yoast SEO analyzes every post I write. I receive alerts if I've written over ten percent of my post in the passive voice. Included in the alert is an explanation to write in a more active voice. Another great feature is the Flesch reading ease score. This lets you know if your text is difficult to read. This score is vital for search engine optimization (SEO). Here's why, viewers on the web have the attention span of a gnat – me included. If I'm looking for something and land on a site with language that is too technical, I jump right off. That's recorded as bounce rate because the viewer didn't stay on the page long enough for it to even count as a visit."
Lauren Sarah Cocking, another freelance writer who gets between 75-80% of her blog traffic coming organically through Google search, had similar thoughts:
I use it as a plugin for my blog. For me personally, it works as a super quick and easy reminder to get those SEO friendly keywords in and is great for optimizing my post once I've found the keyword I want to target… It's low effort, but high impact and can help with pretty much anything once you've figured out the basics of keyword writing. However, even if you're a newbie it gives you pointers in the right direction to write searchable content."
So Yoast SEO is great to help with readability in WordPress… but what if you don't have WordPress? Or what if you're writing an email campaign, or an ebook?
Hemingway is a great solution. It's a free tool that you can use online, though there's also now a desktop app you can use.
You enter your text and format it exactly as you would online, and like Yoast, it'll flag all the areas where your writing can be improved.
They'll highlight where the text needs improvement, flagging down things like sentences that need to be shorter, passive sentences that need to be made active, and even phrases that have simpler alternatives that can lower the reading level.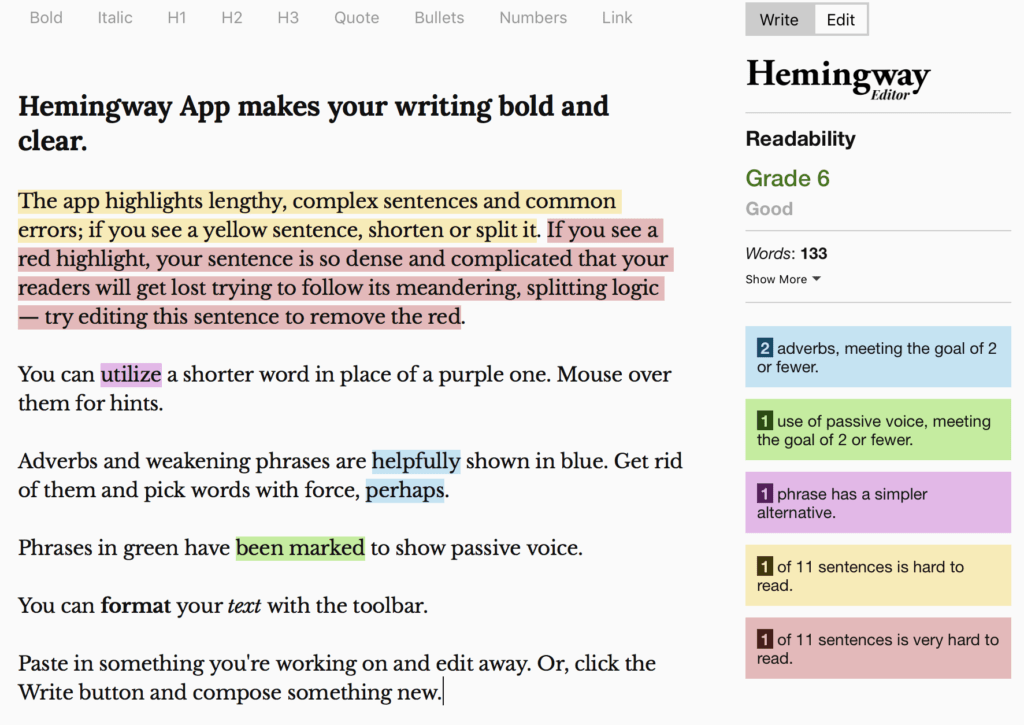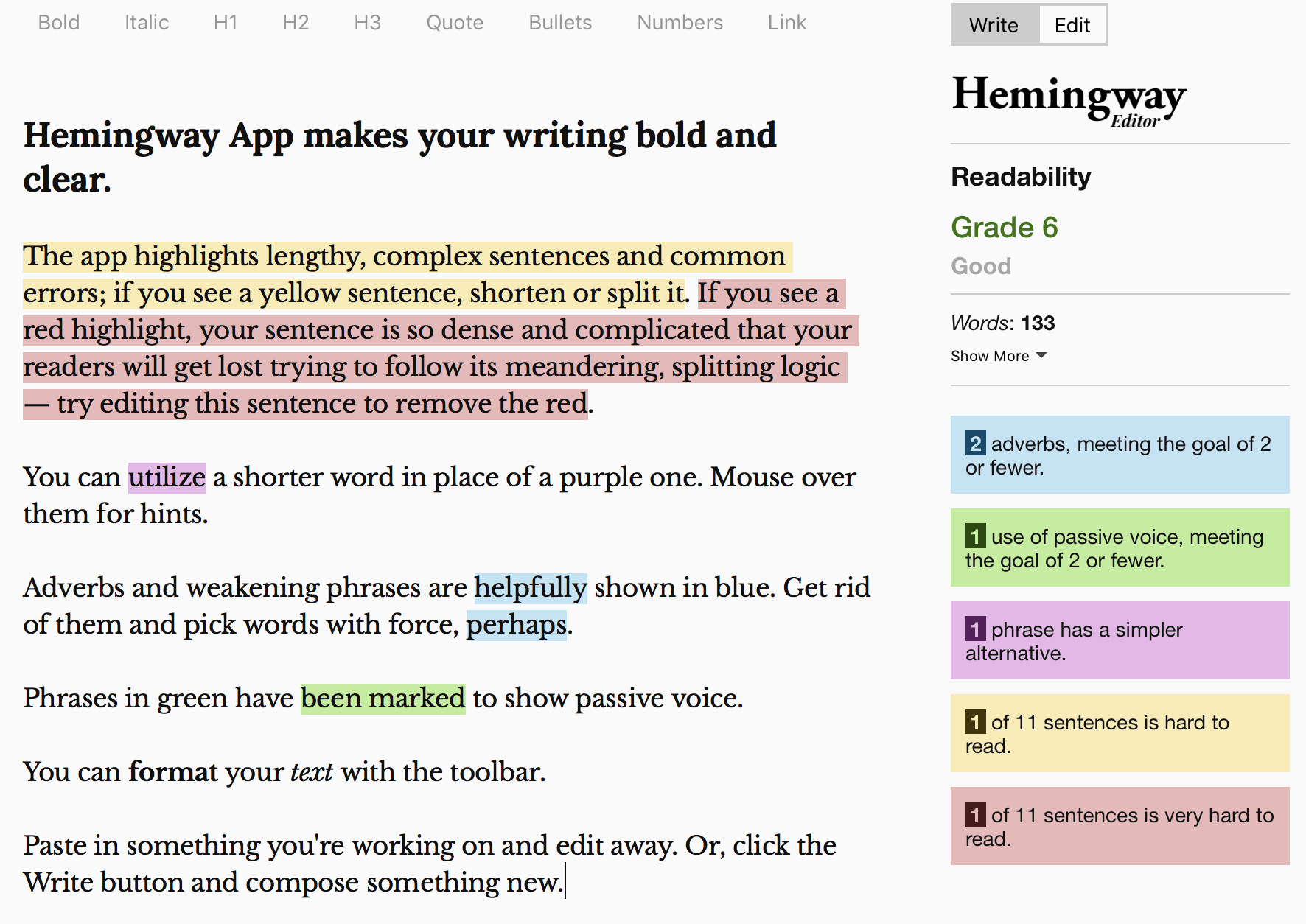 Erik Deckers has been a professional copywriter and content marketer for many years (along with being an award-winning humor writer), and is the one who introduced me to the Hemingway app about a year ago. Here's what he had to say:
I've always tried to emulate Ernest Hemingway's writing style — short, punchy, simple language — but I was never sure how well I was doing. I started using the Hemingway app and paid close attention to reading level, use of adverbs, and the complexity of my sentences. It has helped me improve my writing and trim it down to the bare bones."
3. Word Counter
Word Counter is a tool I just recently found out about several months ago after stumbling on it. It's another free tool that's accessible online that you copy and paste the text into before you let it do its work.
This tool has several great features, including the ability to:
Counting words and characters
Showing you the top 10 keywords they'd recommend based on how often they appear in the text
Demonstrating keyword density
While I don't think I'd recommend this tool to help you with keywords (that's where Yoast comes on), I like that this tool will show me if there's certain words or phrases that I'm just plain using too often.
It can be difficult in some posts to find suitable synonyms, but if you're having words be flagged are repetitive that have nothing to do with the main subject of the post, it's time to get on thesaurus.com and shake it up a bit.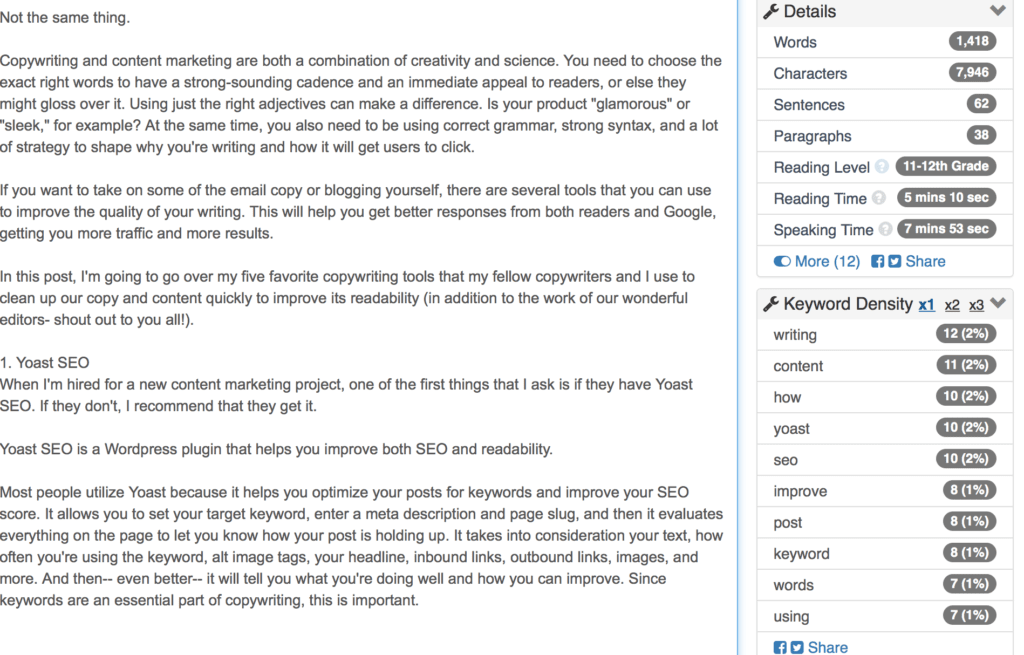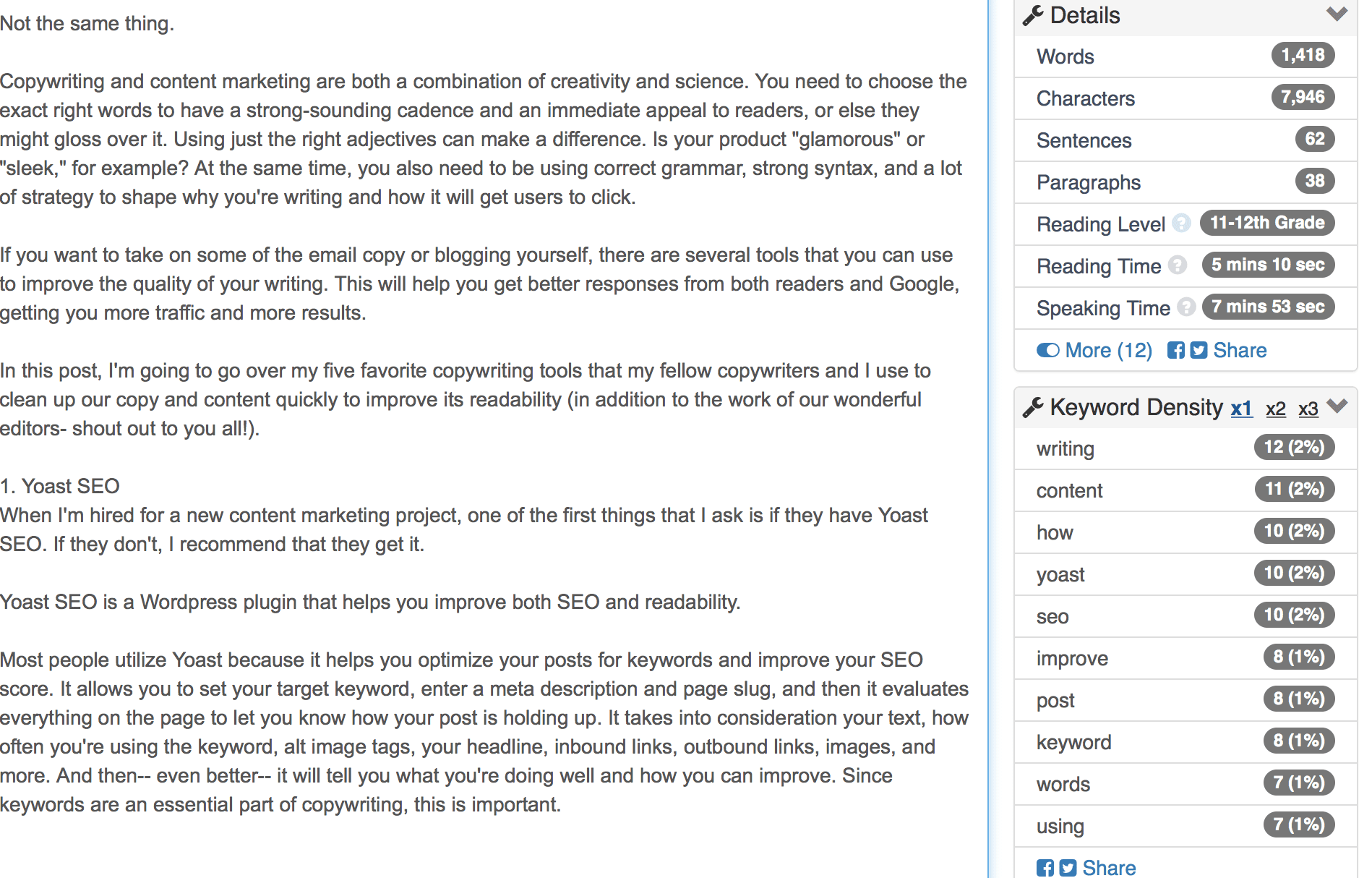 I'll use this tool from time to time to see if I have any new words or phrases that I'm prone to overuse (a lot of writers do) so I can weed them out quickly.
4. CoSchedule's Headline Analyzer
I struggle with headlines. I'm not going to lie about that. I can write an entire post in a shorter amount of time than it takes me to generate headlines, which is a shame, because headlines are really, really important.
Without a good headline, you won't get people to click.
CoSchedule's headline analyzer has been a lifesaver for me. It's built into CoSchedule automatically, but it's also available for people to use here.
It will give you a score that evaluates you on how common the headline is, how emotional it is, and how much power it has behind it. They'll also look at the word and character count, and put all the data together to let you know how strong it is.
I'm a big fan of this one, and so is the professional copywriter and editor Haley Walden. Here's what she had to say:
I love using CoSchedule's headline analyzer because it gives me tips and feedback on how to make my headlines stronger and more clickable.
I especially love the downloadable Power Words attachment, and use it regularly to help me create compelling headlines for my clients."
5. Unsuck It
This is a cool one that. If you're in a technical field and struggle to break down esoteric business jargon into writing that your audience can easily read and understand, you're in trouble. There's where Unsuck It comes in.


While this tool isn't a miracle worker, it's a good place to start.
You enter in the jargon that you need to be translated, and Unsuck It will jump into action, either defining the jargon or giving you synonyms (along with a few jokes thrown in).
Even if you don't find the words you're quite looking for on here, it can give you a good starting place that you can then take to Thesaurus, but it gives you a better idea of how to translate some of the phrases if they can't provide a suitable alternative themselves.
Final Thoughts
Copywriting and content marketing can be difficult, and hiring a pro can be expensive.
These five copywriting tools make it easier to craft copy that your audience will respond to, both on your blog and in your advertising campaigns.
It is important to remember, though, that while these tools can help you improve the quality of your writing quickly and effortlessly, they can't help you much with your writing strategy outside of keyword optimization.
It's up to you to optimize your copy and content for results, like including CTAs in the posts or adding lead sign-ups in the widgets next to your content.
This is just as important as the actual writing itself if you want to see results.
What do you think? How do you improve your writing? Which copywriting tools do you use to give your content a boost? Share your favorites in the comments below! 
SaveSave
SaveSave
SaveSave
SaveSave