It's easy to write off Microsoft Advertising (f.k.a. Bing Ads) in favor of Google Ads when you're planning a new ad campaign.
But before you say "bye" to Bing, you might want to consider this: while Google is the world's most widely used search engine, people still make over 12 billion searches with Bing monthly. And these users are unique. Approximately 38% of them earn $100,000 or more annually, 33% have a Bachelor's degree, and the majority are aged 24 or over.
But that's not all. Currently, Bing Ads reaches 44 million desktop users that Google Ads doesn't. This tells marketers something crucial: when you ignore Bing Ads, you limit your marketing reach.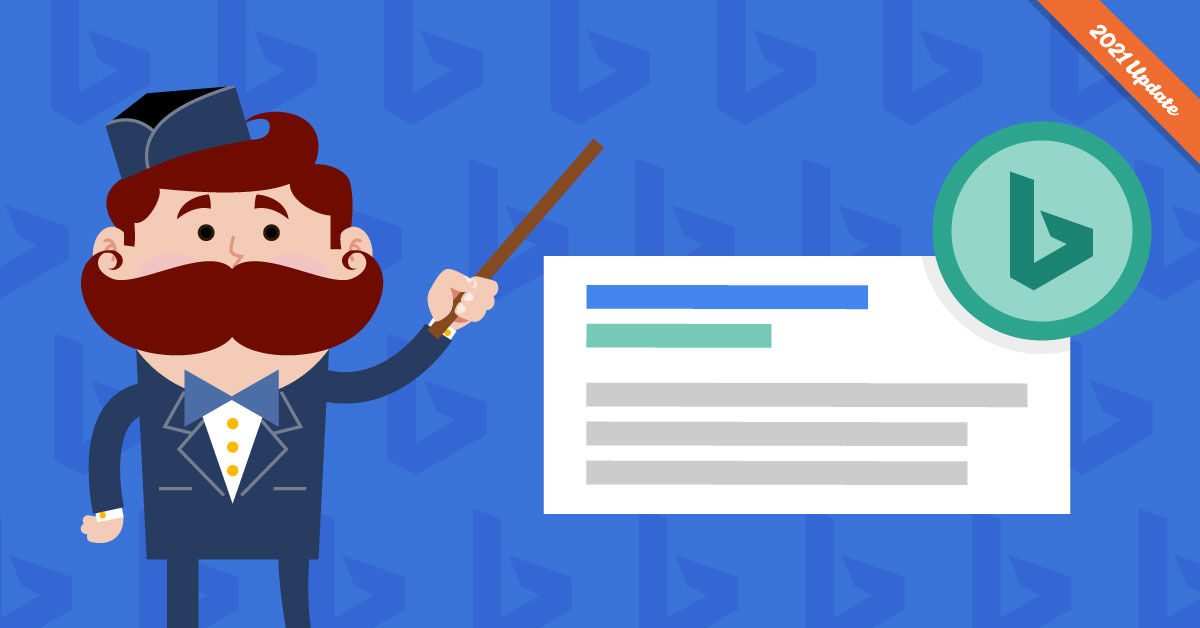 So what should you do? Read on to find out.
In this article, we'll tell you everything you need to know about Microsoft Advertising, including what types of ads Bing offers in 2021, how to set up a Bing Ads campaign, and how Bing Ads compare to Google Ads.
What is Microsoft Advertising (formerly Bing Ads)?
Microsoft Advertising is an internet marketing service that lets brands advertise their products, services, websites, and stores in search results on the Bing platform. It's a form of search marketing — specifically, Pay-Per-Click (PPC) advertising that presents people with sponsored listings alongside organic search results.
You may have heard people refer to Bing Ads as "Microsoft Advertising" or "Microsoft Bing Ads." Microsoft rebranded Bing Ads to Microsoft Advertising in April 2019—though many digital marketers still use the terms interchangeably.
Microsoft Advertising essentially works like this:
Internet users search for a term, e.g., "black leggings."
Microsoft presents the internet user with both organic search results and ads for black leggings sold online.
The internet user clicks on an ad and purchases a pair of leggings (at least, that's the goal).
Microsoft explains this process: "customers search… customers see your ad… customers contact you."
In short, PPC advertising on Bing is:
Budget-friendly. Bing Ads will let you set a maximum daily spend to control your costs.
Cost-efficient. Bing Ads will only charge you for the advertisements users click on (meaning you only pay for leads).
Flexible. You can spend anything from a few dollars to thousands a day on ads.
Targeted. Microsoft Advertising uses keyword and audience targeting to make sure your ads only appear in search results related to your product, service, or brand.
Types of Bing Ads
While all PPC ads may look the same to the untrained eye, Bing Ads offers many different types of ads suited to different campaigns, companies, and internet users.
These ads include:
Expanded text ads
Expanded text ads are the typical PPC ad you find in search results. These ads include three key components:
A title
The ad text
The URL of the page you are advertising (NOTE: If your URL is messy or confusing, Bing Ads will let you show a display URL like www.leggingsco.com/leggings instead of www.leggingsco.com/leggings/black.html).
Expanded text ads sit naturally within search results. This makes them perfect for businesses that want to drive traffic to their website or eCommerce store.
Expanded text ads look like this:

App install ads
App install ads look very similar to expanded text ads, but instead of linking to a website, they direct customers to Google Play or the Apple App Store. These ads include:
A title
Ad text
A button to download the app (Bing Ads will detect the type of phone the internet user is searching from and present the appropriate link)
App install ads are only available on iPhones and Android devices. They are also only suited to brands marketing an app.
App install ads look like this:

Dynamic search ads
Dynamic search ads are expanded text ads that target niche search results by matching your web pages with search results for similar products or related keywords. Sometimes, Bing Ads will also generate a custom ad to best match the search intent.
Dynamic search ads include:
Dynamic search ads are best suited for brands with an extensive product range or brands that don't want to manually do keyword research, and choose their target keywords and negative keywords.
Dynamic search ads look like this: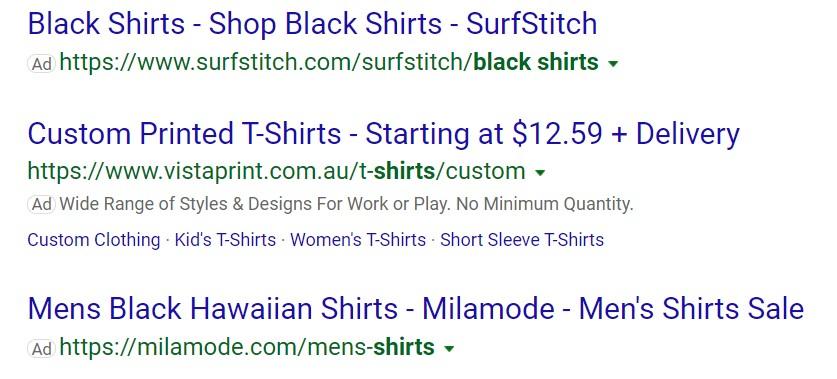 Smart search ads
Bing displays smart search ads in the startup bar on Windows computers when someone uses the bar to start a Bing search. These ads include:
A snapshot of your landing page (when possible)
A title
Ad text
Links to associated web pages (like your contact page)
Smart search ads are suited to brands looking to market products, web pages, or stores. However, they are currently only available in the United States, the United Kingdom, France, Germany, and Canada.
Smart search ads look like this: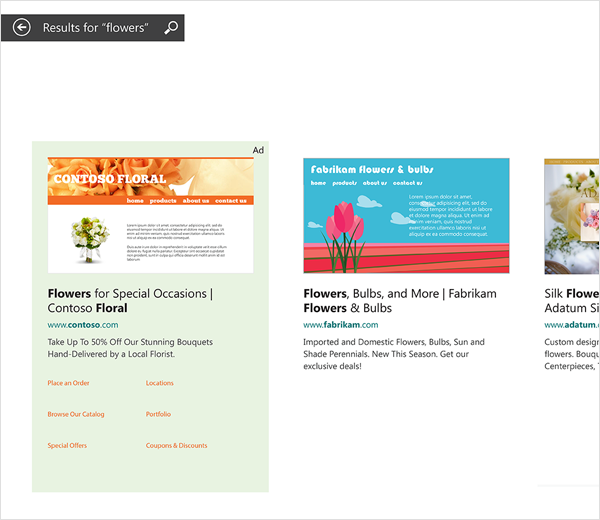 Source: Microsoft
Multimedia ads
Multimedia ads use pictures and other visuals (like infographics) to compel users to click on them. Multimedia ads include:
An image
A title
Ad copy
A link to the sponsored webpage
A call to action (CTA) button with text like "View now" or "Shop now"
Multimedia ads are best suited to brands with a bigger budget, as Microsoft recommends brands customize their ads with 4 descriptions, 15 headlines, and 16 images. Bing Ads mixes and matches these elements to create targeted ads for specific search results.
Multimedia ads look like this: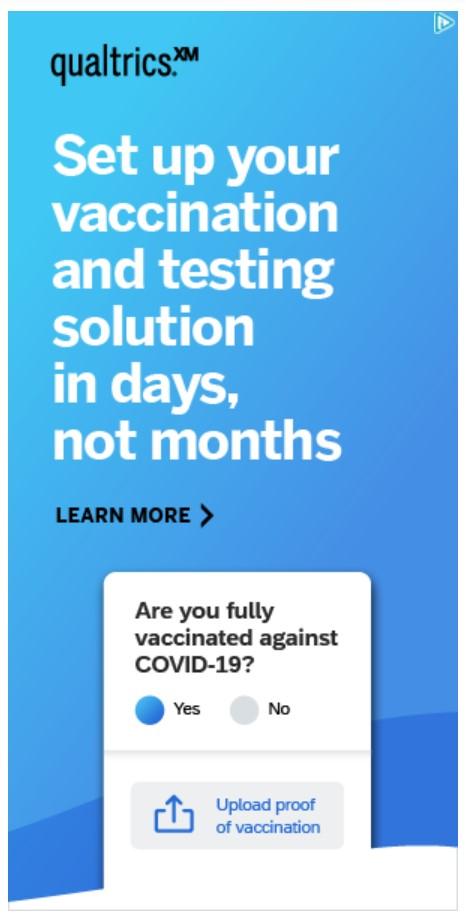 Product ads
Product ads are sponsored product listings that Bing Ads displays to users searching for related products. For example, Bing Ads would show someone searching for "indoor shoes" product ads for slippers and sandals. Product ads include:
A title
The price of the product (and any current sales discounts)
The merchant
A picture of the product
Product ads are perfect for ecommerce brands.
Product ads look like this:

Responsive search ads
Bing Ads generates responsive search ads for you using the suggestions you provide. To set up responsive search ads, you create up to 4 pieces of ad copy and 15 headlines. Bing will then mix and match these to create targeted ads. Once Bing has run these ads, it will rank their performance and prioritize the top-performers.
Responsible search ads include:
A title
Ad text
A URL to your webpage
These ads are best perfect for new users who want to make use of the Microsoft Advertising automated ad optimization.
Responsive search ads look like expanded text ads as shown below: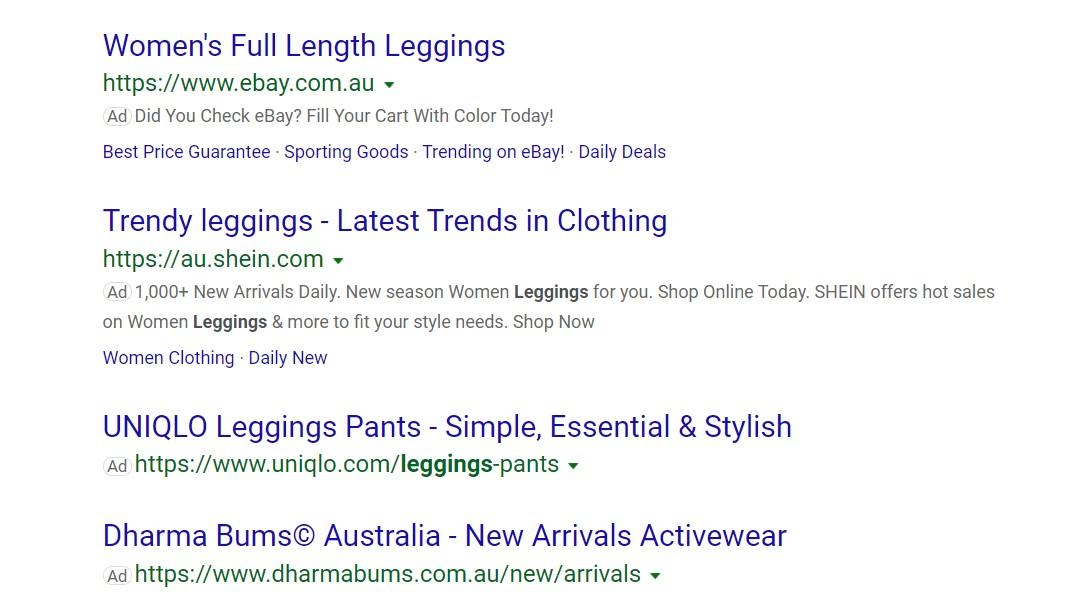 Microsoft audience ads
Microsoft audience ads are native advertisements Bing places on articles published by websites in the Microsoft Audience Network. Audience ads fit into the content of a page and include:
A title
An image
Ad text
A link to your page
Bing Ads uses Artificial Intelligence (AI) and Machine Learning (ML) to target audience ads based on consumer intent signals. It analyses users' search history, current browsing session data, and demographic information to understand these signals.
Microsoft audience ads are suited for most brands. They look like this:

How to set up a Bing Ads Campaign
So how do you get from the Bing ads login page to a fully-fledged advertising campaign? In this section, we'll walk you through the process of setting up a Bing Ads campaign in 7 easy steps.
1. Understand the fundamentals of Microsoft Advertising
Before you get started with Bing Ads, it's crucial to understand how the service works. While we covered the basics of PPC marketing earlier in this article, there are a few extra things to know. That includes:
Where are Bing Ads displayed?
Bing displays ads across the Microsoft Search Network. This network includes bing.com, yahoo.com, aol.com, and websites under the Yahoo and AOL umbrella. The network also includes partner sites and search results displayed on Windows 10, Microsoft Office programs, and Cortana.
How are Bing Ads targeted?
Bing Ads targeting parameters include:
Geographic region
Times of the day and week (keep time zones in mind when setting this up)
Age and gender
Search keywords
How is ad positioning determined?
Bing Ads carefully limits the ad space in its program to ensure it doesn't saturate search results with ads. The ad space you get depends on three things, including:
Bid, i.e. how much you are willing to pay per click and how it compares to competitor's bids
Relevance, i.e. how closely aligned your ad is with the term users search for
Performance, i.e. how well your previous ads have performed, including their Click-Through Rates (CTR)
2. Set up a Bing Ads account
To start your ad campaign, click here and click Sign up now.
Bing Ads will then ask you to verify your email address. Once you've successfully verified your Microsoft Advertising account, you will see this screen: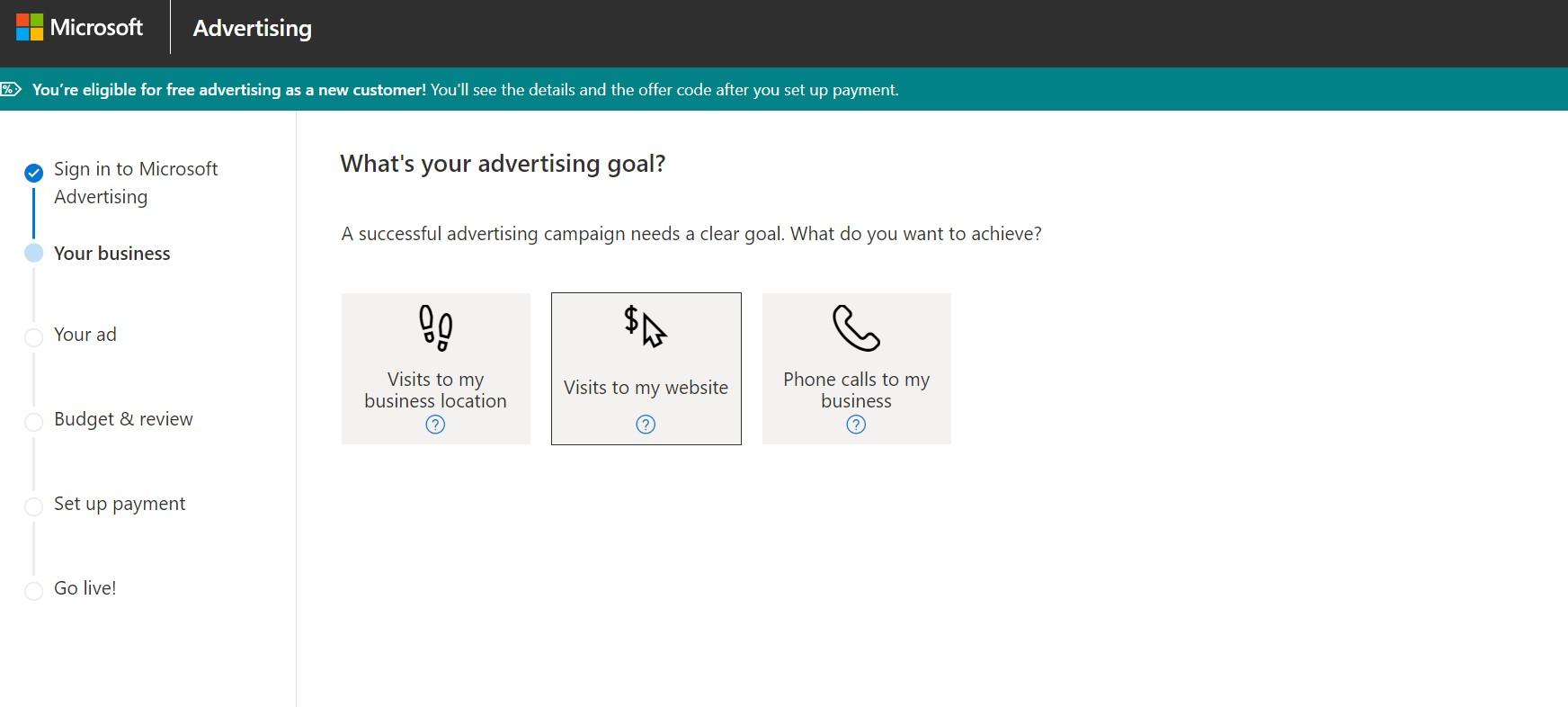 Here, you can either continue to the next step or use Microsoft's live chat or call function to ask any remaining questions you have before continuing.
3. Set your advertising goal
Start your first Bing Ad by selecting one of the three goals provided. You can choose from:
Visits to my business location
Visits to my website
Phone calls to my business
Once you've selected your goal, Microsoft Advertising will ask you for some crucial information, including your business's name and website.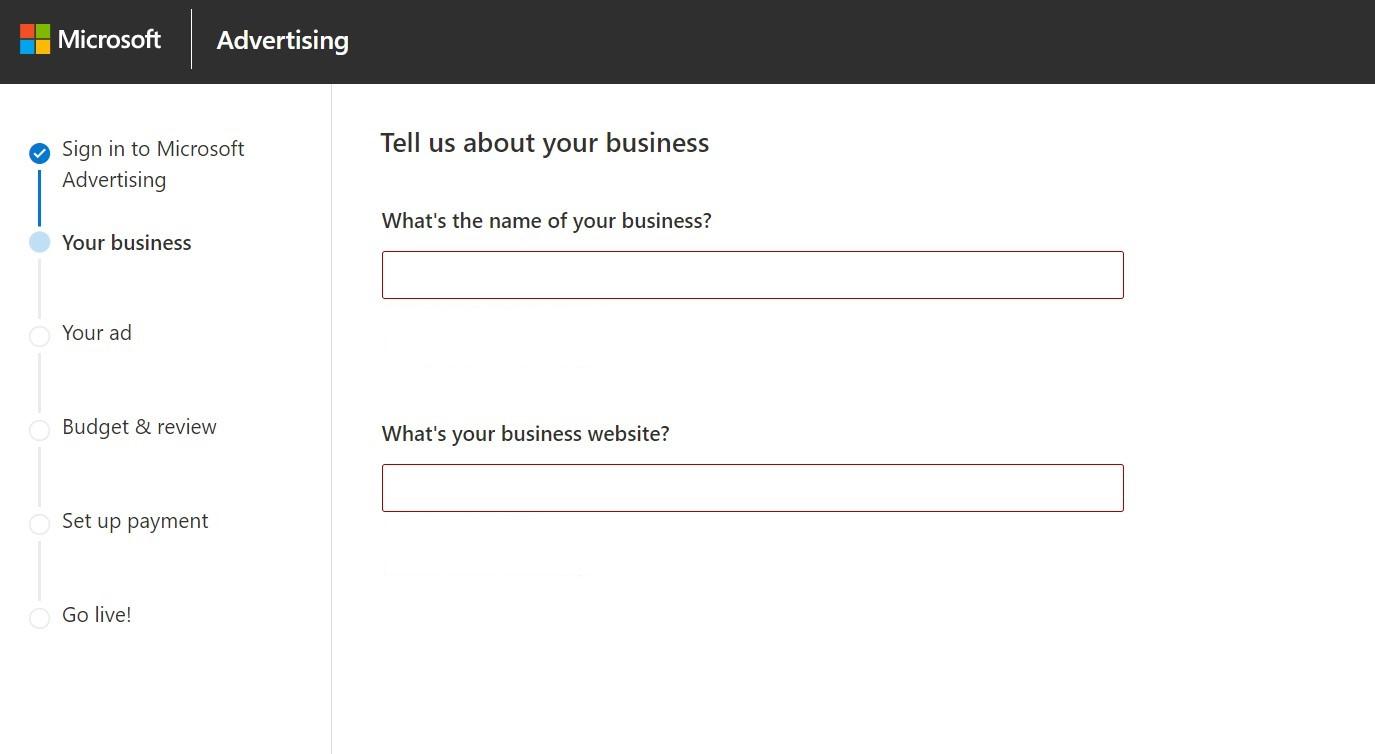 Next, Bing Ads will ask you to define a geographic region to display your ads. You can choose just one location or multiple regions.
Once you select a region, Bing Ads will show you the number of people you could reach within the region. For example, if you choose Sydney (like in the image below), you could reach 782,655 people.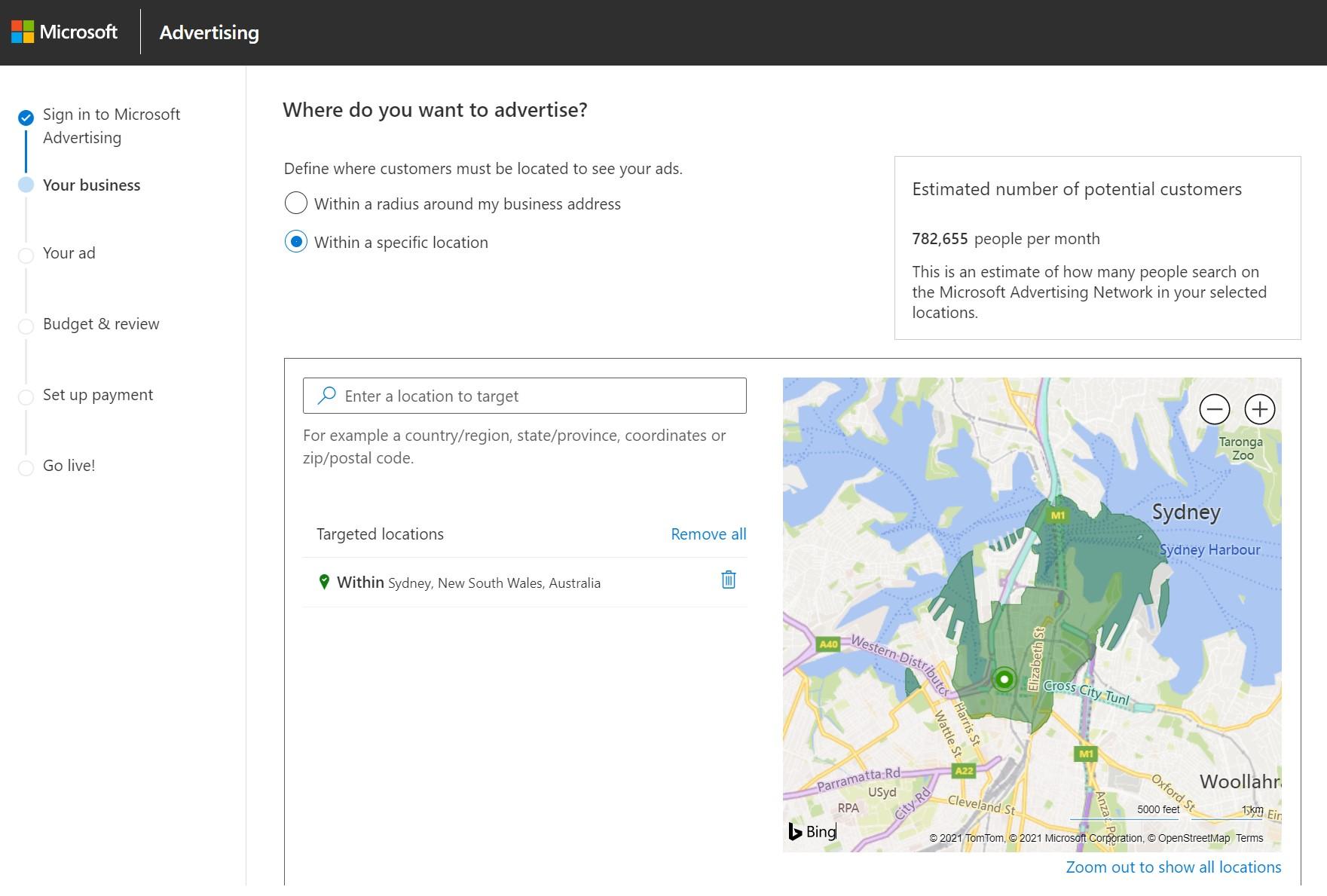 Then, Bing Ads will ask you to set keyword themes for your ads. Keyword themes describe your products and services and help Bing Ads decide which search results are suited to your ads. Ideally, you should enter 3 – 5 keyword themes.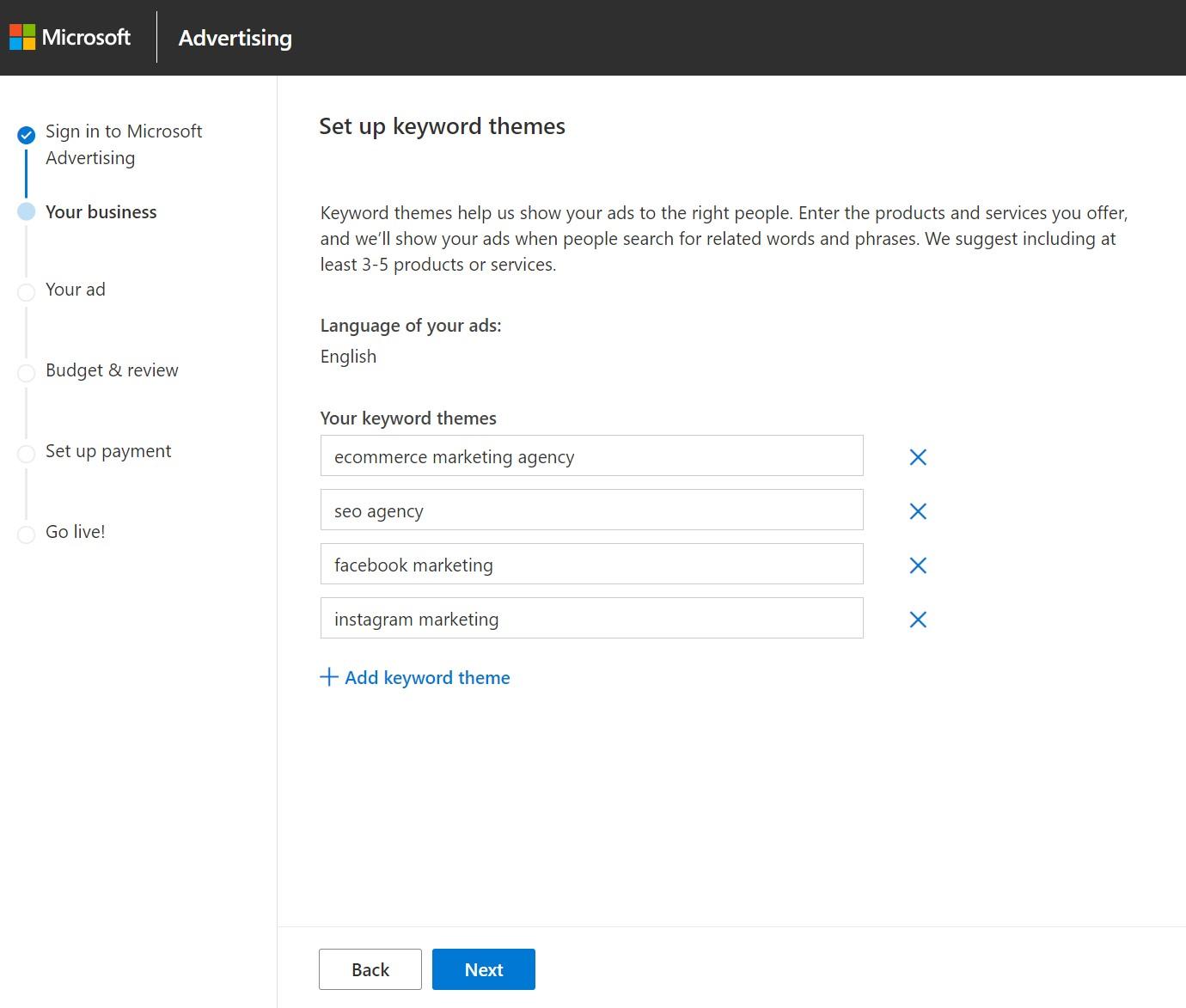 4. Create your first ad
At this stage, Bing Ads will ask you to create your first ad. This first ad includes the following components:
A three-part ad title with 30 characters for each section
A two-part description with 90 characters for each description
A link
After you've filled this information out, your ad might look something like this: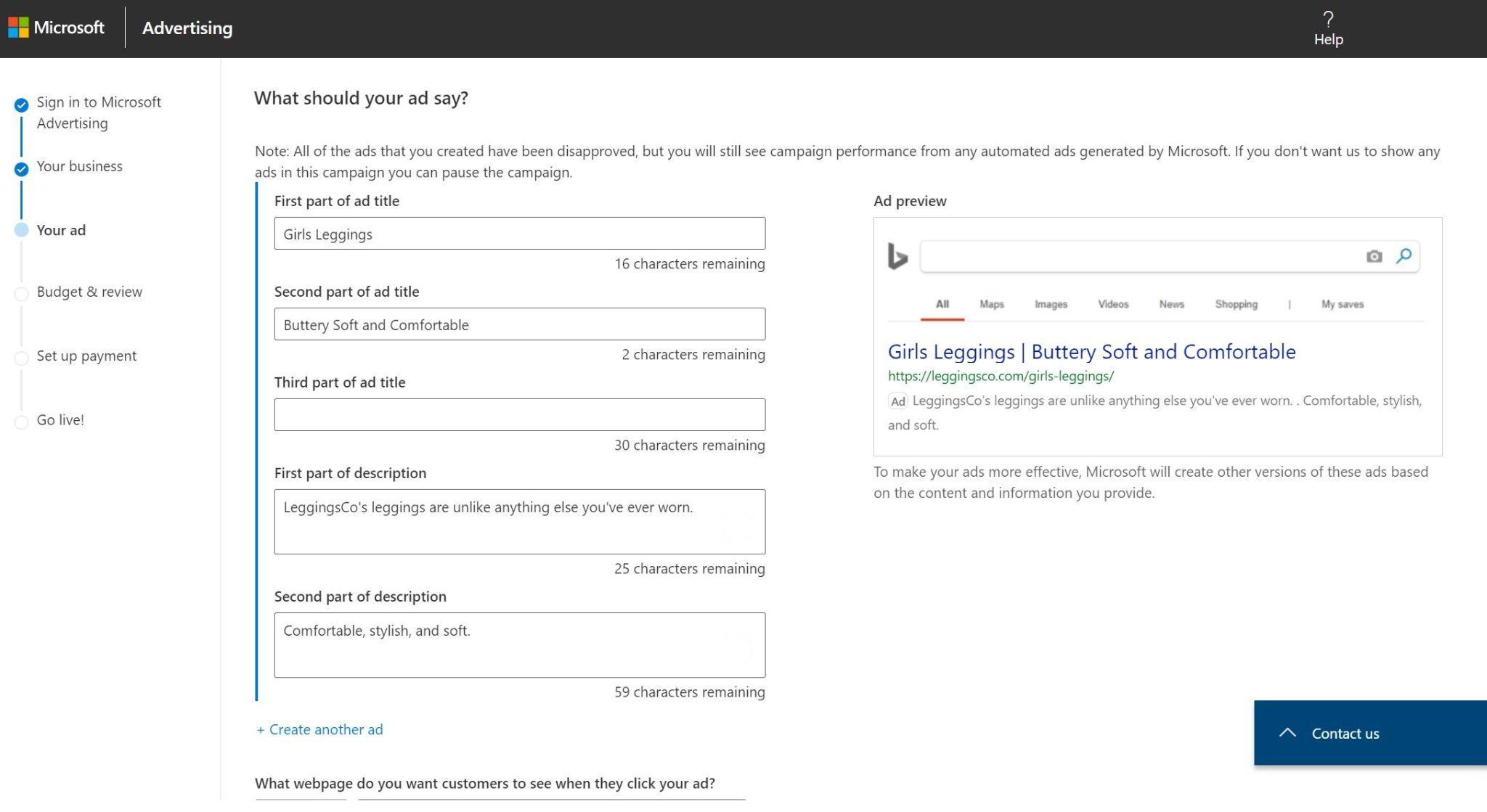 Once you've created your first ad, you can create more by selecting "create another ad" (though don't feel obligated to create all of your ads straight away, as you can create more at any time).
Note: If you want to import ads from Google Ads, Bing Ads will let you do this later. Simply proceed through this step for now.
After you've created your first ad, Bing Ads will ask if you want to include your business phone number. You may choose to enter it or simply leave the field blank if you don't want customers to call you.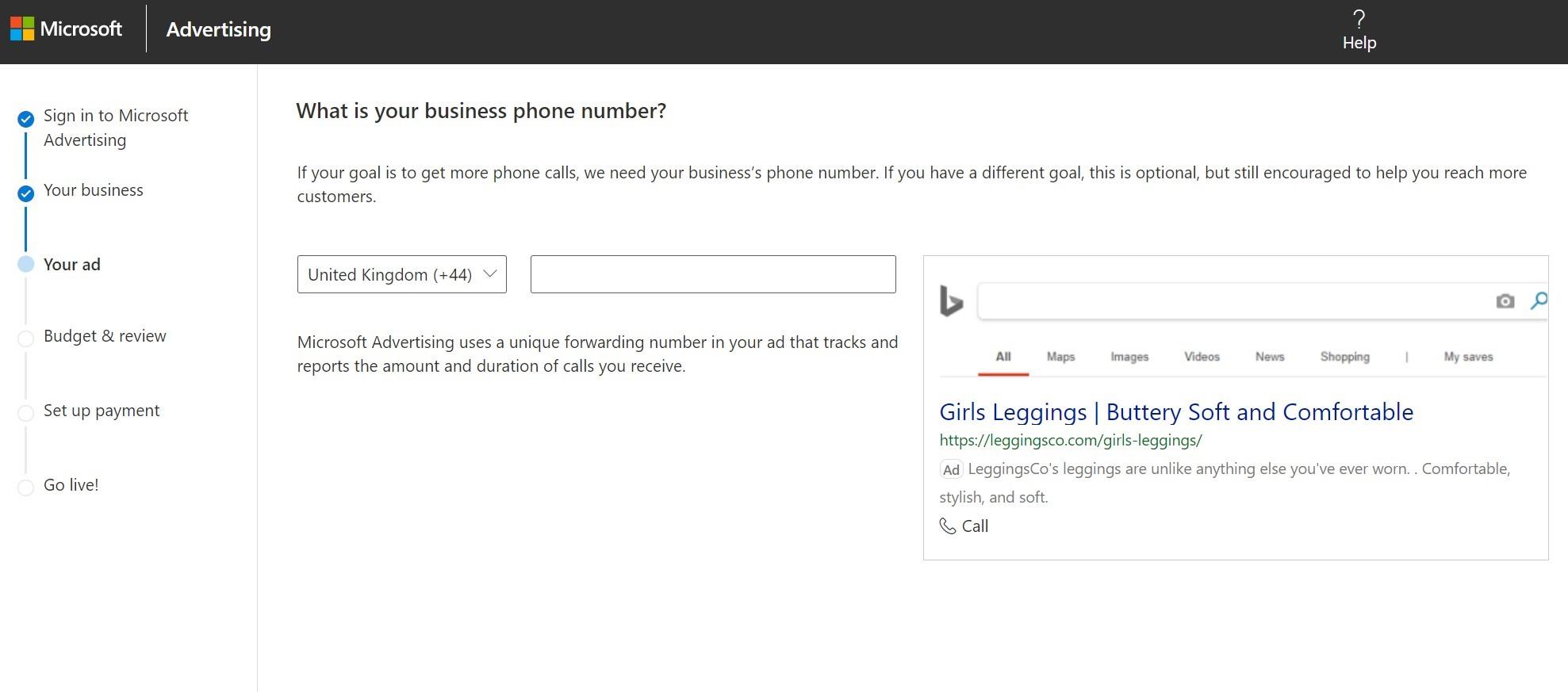 5. Set your budget
Next, you need to set your daily budget. Bing Ads uses your budget to determine how many impressions and clicks your ad will receive. The higher your budget, the bigger your reach.
To set your budget, enter the amount you'd like to spend on Bing Ads daily. You can set your budget in USD, GBP, or AUD.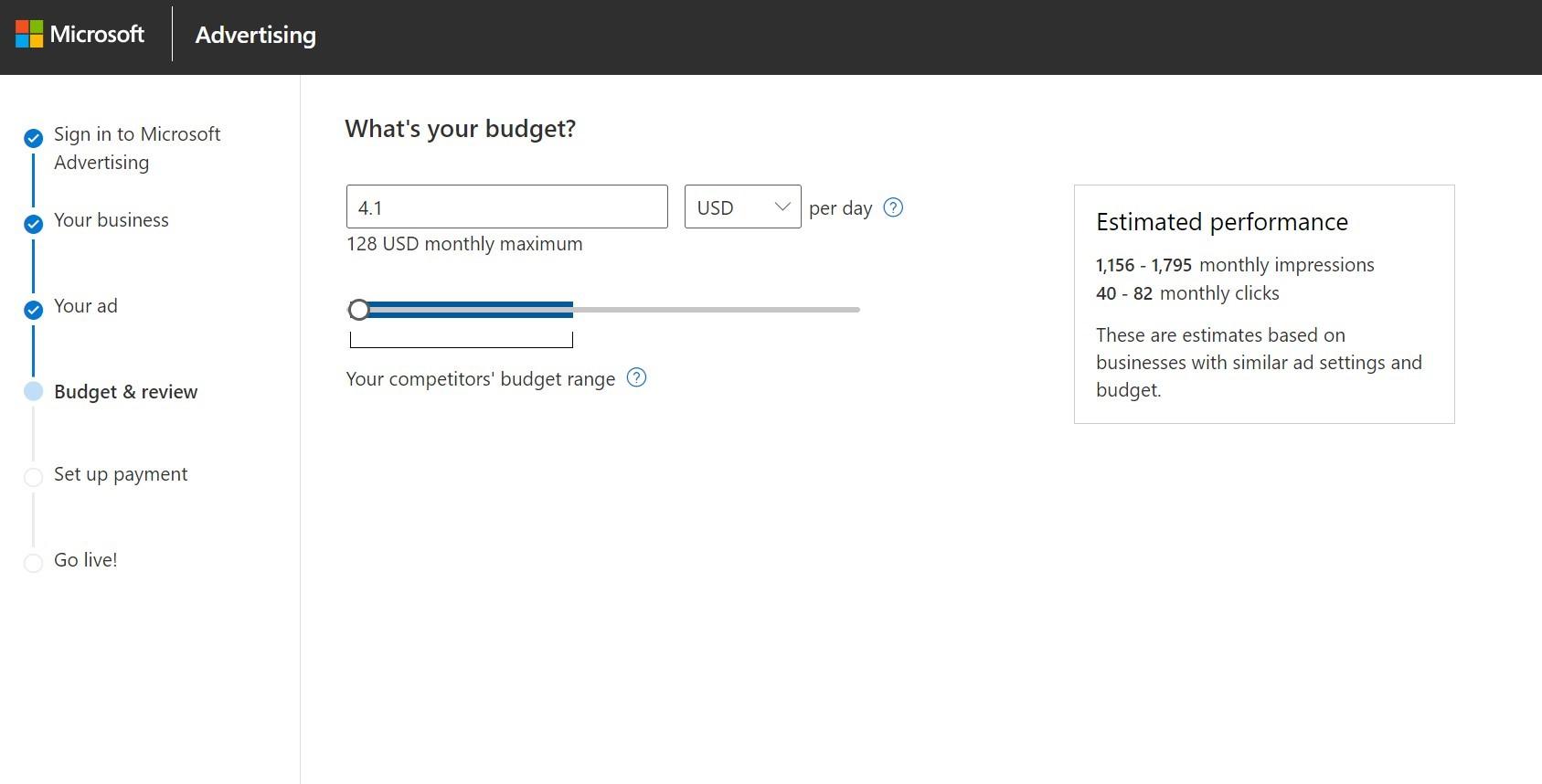 To help you determine your budget, Bing Ads shows you a few critical things, including the budget range of your competitors (so you can out-bid them) and how Microsoft estimates your ads will perform (so you know where your money goes).
Microsoft also shows you your "monthly maximum"—the most Bing Ads will charge you monthly, regardless of daily spending. This figure is crucial because your actual daily ad spend may fall above or below your target spend (depending on performance).
After you've set your budget, Microsoft will confirm your business and payment information. It will also present you with two payment options:
Pre-pay: Where you pay for your ads for the month ahead upfront
Post-pay: Where you pay for your ads at the end of the month
6. Launch your campaign
If you've followed steps one to five, you're ready to launch your first ad and go live. Once you've launched this ad, you can monitor its performance through Microsoft Ads and learn how to optimize your ad by earning a Bing Ads Certificate.
You might also choose to download the Microsoft Advertising Editor (also known as the "Bing Ads Editor" or "Bing Ads Manager"). The editor will help you:
Manage your campaign offline
Import ads from Google ads
Quickly create ads
Research target keywords and their search volumes
Create bulk campaigns
It's available for Windows and Mac computers. You can download it here.
If you have previously used Google Ads, you may also want to import your ads to Bing. To do this, follow these steps.
Click Import and Import from Google Ads.
Sign in to Google and permit Bing Ads to import your ad.
Select the account you want to import the ads from.
Wait for your ads to import and launch them.
Note: If you only want to import particular ads, budgets, or bids, choose Advanced import.
7. Set up a conversion tracking pixel (optional)
If you want to maximize the return on investment (ROI) from your Bing ads, you may want to set up a conversion tracking pixel.
This pixel, also known as the "Universal Event Tracking" (UET) tag, monitors what internet users do on your website after they click your ad — including whether they make a purchase.
To add the pixel, follow these steps:
In the Microsoft Advertising dash board, click Conversion tracking, Get started, and Create UET tag.
Save your tag and copy the code Bing Ads provides.
Paste this code into your site (or use a plugin like Insert Headers and Footers to do it automatically).
Select what data you'd like to track from the list provided.
Verify that your UET tag is working (this could take up to 24 hours).
Bing Ads vs. Google Ads: Which is better for you?
Although comparing Bing Ads to Google Ads is like comparing apples to oranges, it's crucial to understand how they both stack up.
Here are a few ways to compare them:
Market share of search engine traffic (on desktop): Bing has 5.56%, while Google has 87.76% (as of June 2021).
Market share of search engine traffic on all devices: Bing has 2.48%, while Google has 92.03% (as of August 2021).
Percentage of clicks from mobile or tablet devices: 30% of people who clicked on a Bing Ad used a mobile or tablet, compared to 74% for Google Ads.
Looking at this, Google Ads might look like the more prosperous option. But here's the thing: while Google has a larger user base, using Bing Ads allows you to market to unique consumers (in fact, Bing reaches 47 million desktop searches that Google doesn't).
This makes Bing Ads a vital platform for marketers — whether you use it alongside Google Ads or independently.
Why you should use Bing Ads
Disregarding Bing in favor of Google may seem like a good idea now, but it may hurt your business long-term. While Bing isn't everyone's search engine of choice, it has a loyal user base.
And when you disregard Bing in your marketing, you miss out on marketing to these users.
So, to maximize your PPC marketing, follow the steps in this guide to set up a Bing Ads campaign and run it alongside your Google Ads campaign.