More and more people are turning to the internet for health and wellness advice, including products and general information.
Back in 2014, Pew Research Center reported that 93% of Americans have searched for a health-related topic online. Not only do people want information, they also seek connections with others to share experiences around health issues.
Social networks provide a point of contact between these seekers and the healthcare providers and businesses that may have the answers they're looking for.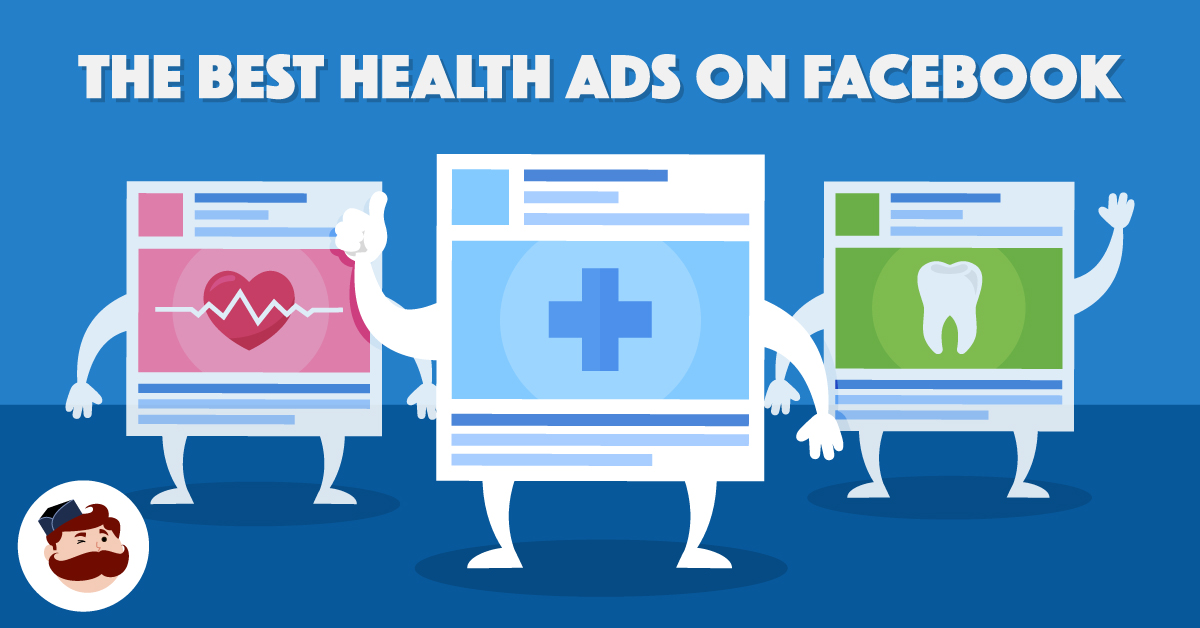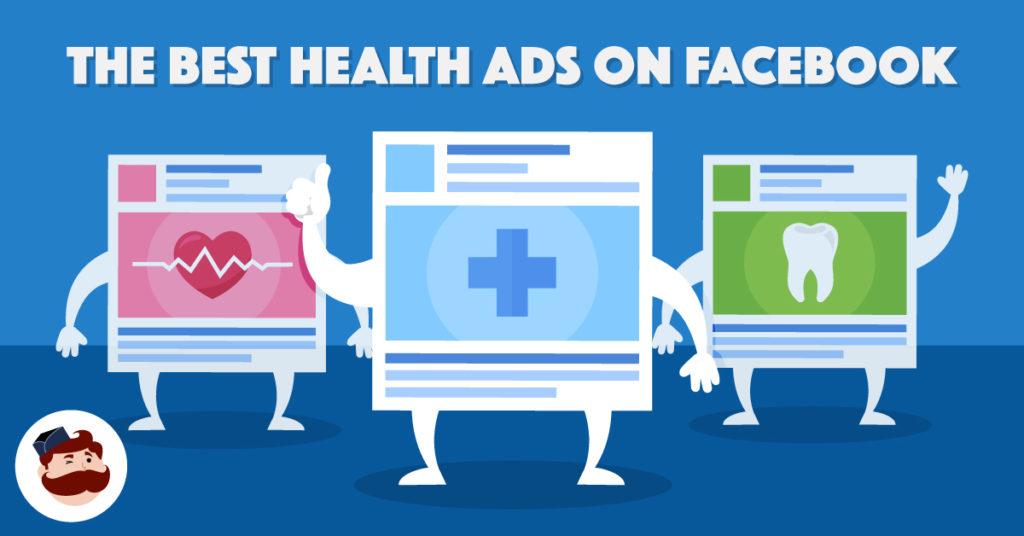 Facebook, the largest social network and the fourth largest ad network on the planet, is a great place for health marketers to reach their ideal customers.
But Facebook ads in this business can be hard to get right, especially the first time (and even the fourth or fifth time).
We've gathered some of the best health ads on Facebook to inspire your own campaigns.
1. PillPack – Leverage a good review
One of the most low-effort, high-value ways to create Facebook ads is to turn content into creative.
If you can get an outlet to blog about you, or a news source to write about you, you essentially get a free piece of collateral to run in your Facebook ads. If members of your target audience respect the publication, they are likely to view the ad as proof of quality.
PillPack used this strategy to great effect, leveraging an article that was written about them in Forbes as part of this ad:
The ad makes use of the authority principle, which explains that we are easily influenced by a person if we think that person is a credible expert or authority on a topic. By borrowing the Forbes name and using it as part of the ad, PillPack gains credibility.
The great thing about using content like this in your Facebook ads is that the brand name or the blog does all the real work. You don't have to come up with a tagline or an angle for your ad because they've already done that, giving you all the social proof that goes along with it for free.
2. Lumosity – Gamify the system
People love online quizzes and tests that help them learn more about themselves. Buzzfeed basically built its entire business off quizzes like, "Which Harry Potter character are you?"
And there's no reason you can't bring these kinds of assets to your Facebook ads either, like Lumosity does to introduce people to their brain-game product: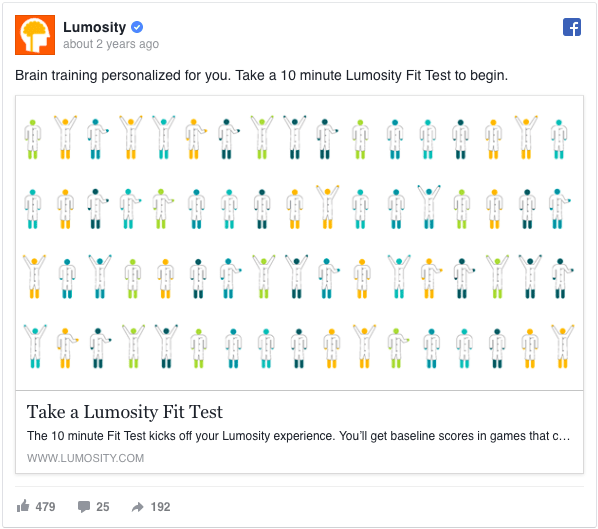 Lumosity is all about making brain health accessible through games, so the free Fit Test is both a compelling and relevant lead generation magnet.
By declaring that the test only takes 10 minutes, they lessen the "ask" of the ad and make it easier for people to click.
The popular post, with 479 likes and 192 shares, is easy to replicate with your own introductory game or quiz.
3. truBrain – Create trust with design
People trust science. Whenever possible, your Facebook health ads should point out the fact that the products they're advertising are backed by and driven by real scientifically-valid claims.
truBrain tells you their product was "designed by neuroscientists" and "crafted with active nootropics and amino acids," but anyone can say that. That's why it is crucial that every part of your ad work together in concert to create that sense of trust and authority.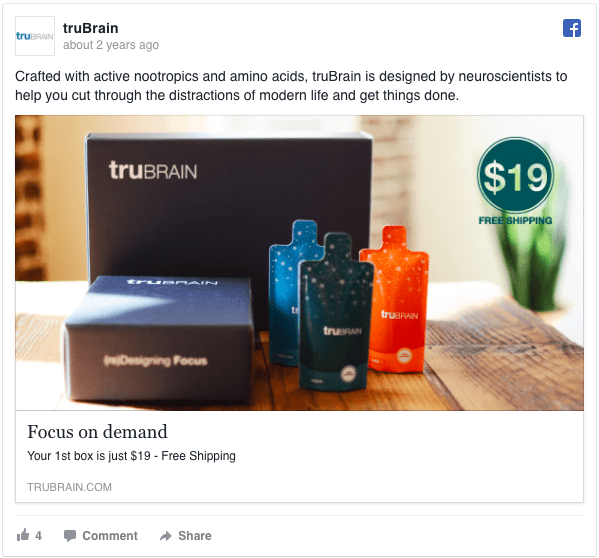 As BJ Fogg found in his experiments into persuasion on the web at Stanford University, design is one of the most important factors influencing whether people trust a website or company.
Good product photography goes a long way. TruBrain's well-lit photo puts a focus on the elegance of the packaging and the unique neuron design on each drink. Its high production value tells you this is a brand you can believe in.
4. DailyBurn – Motivate with just the right amount of FOMO
How to pack a punchy message into a <1-minute video? DailyBurn's video has a high-energy announcer and an upbeat soundtrack.
The video also injects a bit of fear: "If you're not watching DailyBurn365, here's what you're missing!" This particular fear is called Fear of Missing Out, or FOMO.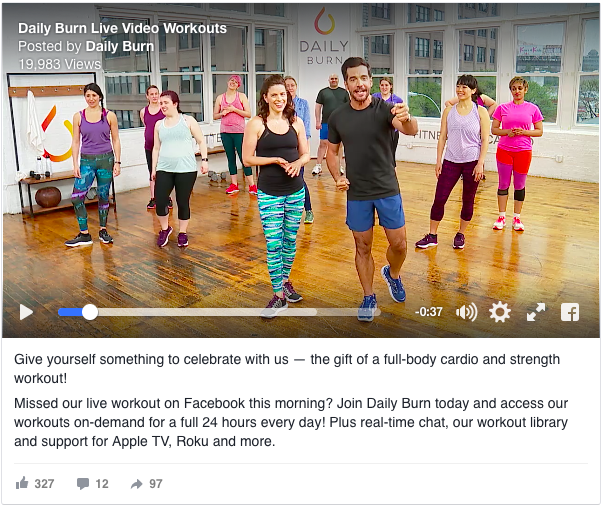 Motivation is a huge part of a successful fitness regimen. DailyBurn wants to help you succeed, and give you "something to celebrate," but first they have to light a fire in you. Hence the language around missing out.
The video also represents the target audience well. It shows action shots of mostly women late twenties and above in age, who are "training for life," rather than elite athletes or supermodels.
If you want customers to take an action, you have to guide them with an understanding hand. DailyBurn handles this delicate balance perfectly.
5. Six Month Smiles – Turn coupon claims into leads
When dentists get new customers, it's usually via word of mouth. Braces manufacturer Six Month Smiles wanted to do something new. They turned to Facebook to drum up new potential dental patients.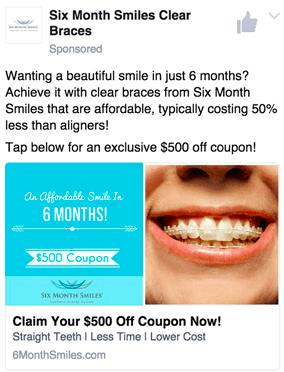 There's a lot going on in this ad, so it can be hard to see the coupon offer in the image, but the headline makes the offer very clear with an enthusiastic call to action.
Though the ad is text-heavy and the images small and crowded, the $500 sounds great. 11,000 people clicked and claimed the deal at a cost of $7 per lead. If you follow the link to the website, you'll see that typically, the service costs around $400/month.
Coupons in Facebook ads are a wonderful lead generator — as long as you've done the math. In 6 Month Smiles' case, they got a great deal and built awareness for their brand.
6. Osteo Bi-Flex – Create genuine customer conversations
To engage customers, try segmenting your audiences and communicating directly with them via comments.
Osteo Bi-Flex makes supplements for people aged 55+ who suffer from joint pain. Their ads are a mix of photo and video. They pulled data from their own customer list to create segments of those who had already purchased, who had purchased competitor products, and those who were generally interested in supplements.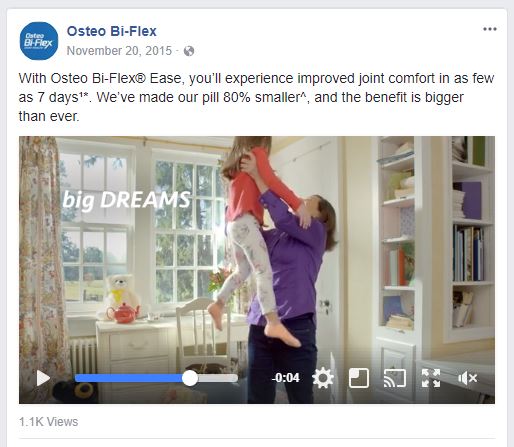 By ensuring their audiences had the problem that Osteo Bi-Flex is looking to solve, they were able to get to the point quickly.
Their video ads were particularly effective with a 10% ad recall lift. The videos show how the product eases everyday tasks like baking and shopping, and how it fits into a typical daily routine for their demographic.
Osteo Bi-Flex also made a point of responding to customer feedback in the comments. Contextual answers at the point of contact create a more helpful conversation.
By taking initial first steps to get to know your customer, you can create a memorable and meaningful connection with them.
7. Project Lean Nation – Let your vertical find you
Project Lean Nation used carousel ads to find out which of their fitness-minded meal plans were most popular.
The photos for each plan type – athlete, organic, men's and women's – were all custom shot for the ad.


The women's plan slide features a woman in workout gear. She's looking down and towards the "Shop Now" call-to-action, leading your eye to follow hers.
The athlete plan shows the meal by itself in a closed to-go container, sitting on a playing field. This suggests it's a convenient option for before or after a workout. It turns out this was the most effective—as it led Project Lean Nation to sign a deal with a professional hockey team.
By developing rich personas and photography to match, you're on your way to meeting your best customers.
8. Pure Protein – Build identities around your product
If your product has multiple use cases, you don't always know which will best engage people—and Facebook ads are a great way to find out.
Pure Protein, in an effort to find potential new customers and re-engage with lapsed buyers, ran a bunch of different Facebook ads catering to these different use-cases of their product. People eat protein bars in all kinds of scenarios — for a pick-me-up during studying, after sports practice, while commuting, as breakfast, etc.
So Pure Protein ran one ad that positioned their product as a treat—next to ice cream, as another kind of sweet flavor to be enjoyed after a meal.
They ran another that showed one in a purse, suggesting its potential as a meal replacement, and another where a bar appeared in the back pocket of a gym bag, driving home the recovery use case: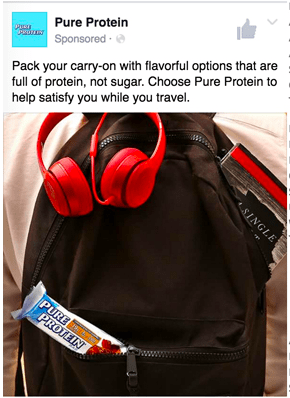 By focusing on the context, Pure Protein invites you to identify with a specific need or a desire embodied in the ad—to connect your own personal experience to something that Pure Protein can help with.
The ad campaign was a success, resulting in a 10% lift in ad recall and bringing in 14.6 million new viewers.
9. Athos – Raise the stakes with data
Fighting for your audience's attention can be as competitive as professional sports—especially when you're selling to athletes, whose livelihoods depend on winning.
In the wearables world, where technological advantages are short-lived and marginal, Athos' apparel is leaps and bounds (and jumpsquats) ahead of limited Apple Watches and Fitbits.
Athos apparel covers the whole body so it can provide measurements specific to certain muscle groups. It then syncs with its sleek app via Bluetooth. Their ad zeroes in on exclusive information that even personal trainers don't have access to. It appeals to both individuals and coaches.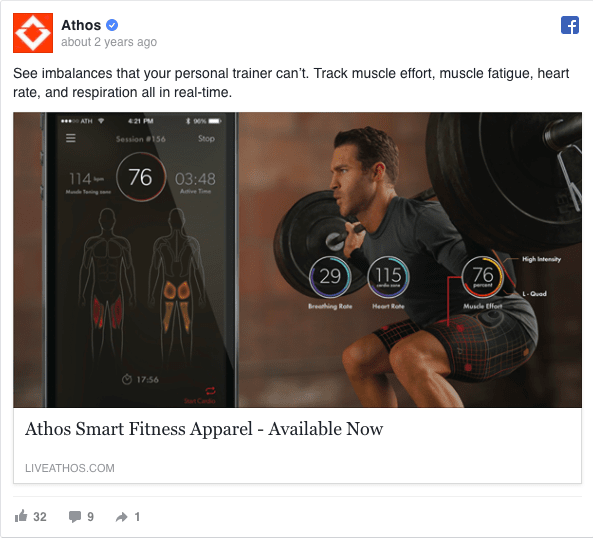 The photo in the ad shows no fewer than six distinct metrics about the glutes and hamstrings as well as overall cardiovascular effort, all measured in real-time.
Athos's value proposition is centered around giving elite athletes performance edge. The high price point is a small sacrifice for the chance to be better than previously thought possible.
By zeroing in on edge, you can capture the attention of customers who may have thought they were at the top of their game.
10. Muscle & Fitness – Give instant value with content
Original content feels like a breath of fresh air in a feed full of marketing jargon.
Muscle & Fitness magazine builds on its brand recognition to deliver a clear message: we're here to help you out, and we're not asking anything in return. The ask still exists, but just comes later, when it's time to subscribe.
This approach builds a powerful sense of trust between customers and your brand.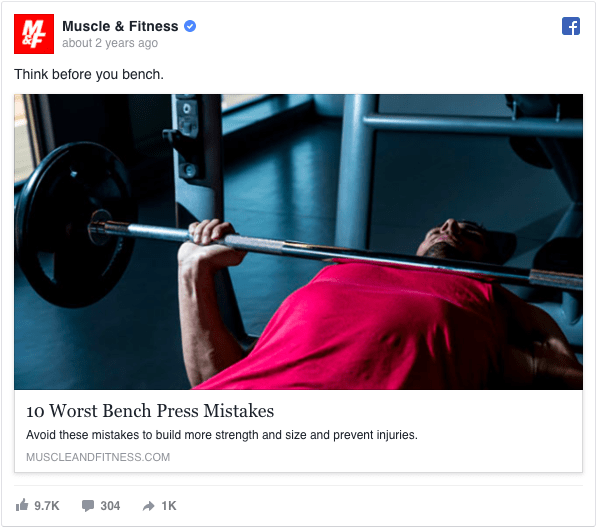 While "Think before you bench" has an element of danger (complemented by the subject's bright red shirt), it's more about creating a sense of suspense around the advice in the article.
With 9.7K likes and 1K shares, this article gained a lot of exposure for a low cost. It is a helpful reminder that when using content to advertise your product on Facebook, you should think about creating something people will actually want to read and share.
11. Healthcare.gov – Create urgency with a ticking clock
Using time-bound offers is one of the best ways to create urgency in your Facebook ads, which can drive your click-through rates through the roof.
There are a handful of great trigger words and phrases that you can use to spur urgency: don't wait, don't miss, last chance being some of the best. This ad from HealthCare.gov uses all of them.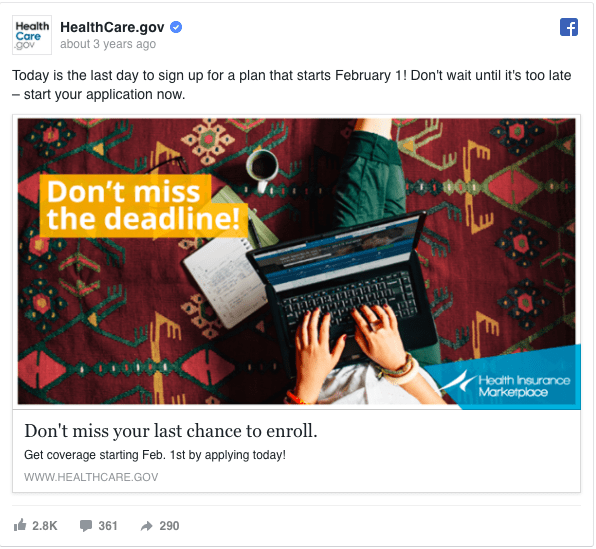 Perhaps audience members had visited healthcare.gov and not enrolled in an insurance plan, or perhaps they had friends who enrolled. With 2.8k likes and 290 shares, it seems like this ad was a helpful wakeup call to people who either didn't know about the deadline or forgot about it.
Your target audience is probably checking Facebook more than their personal calendars. An alert, along with a direct link to the page where the desired action can be completed, lowers most barriers to entry.
12. Kaiser Permanente – Use a #TBT to show longevity
By sharing a bit of your company history, you can prove that you're also planning for the future.
Kaiser Permanente took their 70-year anniversary as an opportunity for self-reflection but also for assuring customers that they plan to adapt to serve their mission.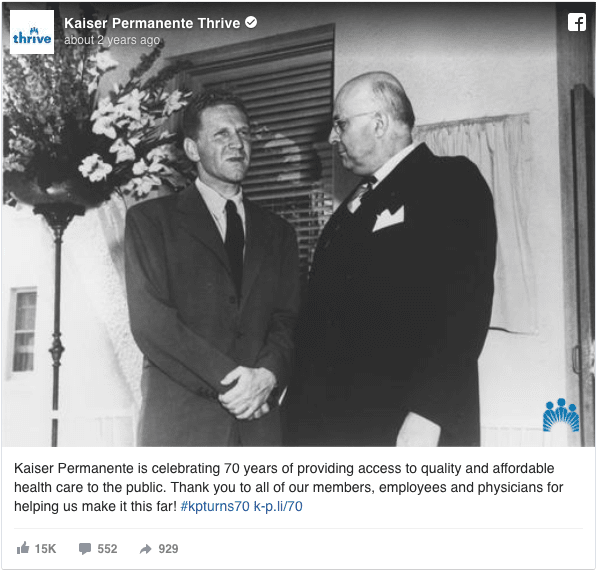 This feel-good vintage photo gathered 15k likes and 929 shares. The linked page bridges the past and future by describing Kaiser's proudest moments. While the overt message is one of gratitude and celebration (who doesn't love quality and affordable healthcare?), the underlying note is about stability.
While health insurance and healthcare access continue to change, Kaiser points out how long they've been around.
Not every ad has to be about selling, and sometimes it's better to tell a story. Even if your company has only been around a few years, you can create trust and goodwill when you invite customers to celebrate milestones with you.
13. Planned Parenthood – Spur people to action with emotion
Contributing to a cause or organization is never about one specific action. For most people, it's about participating in a larger narrative—like womanhood.
As the University of Pennsylvania's Deborah Small says,
The more vivid the story—through narrative or through imagery—the more emotionally arousing. And emotions are what trigger the impetus to help."
The issue of women's health has recently exploded on social media. Both wildly divisive and wildly popular, Planned Parenthood is the famous face of the cause. Their petition against a Texas law is just one of many campaigns.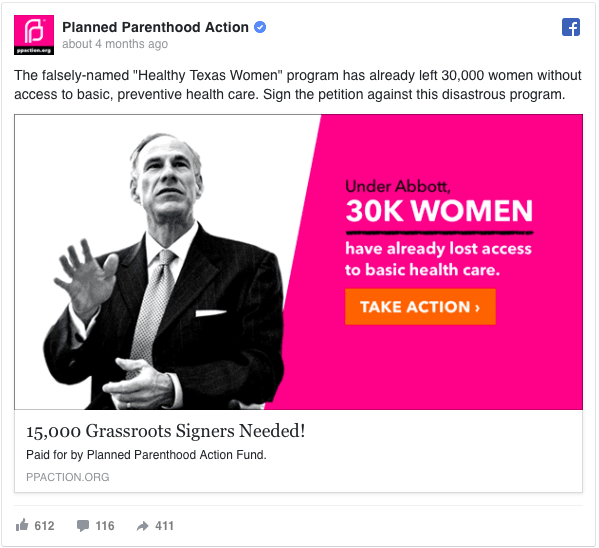 Looking at this ad, one feels sympathy for the 30K people who have been deceived. Their "disastrous" and "falsely-named" nemesis is shown below. The rest of the ad sets up an "us vs. them" heroic quest. Planned Parenthood's pink branding embraces a warm, bold type of womanhood that opposes a monochrome inhumanity.
When advertising a cause, creating this kind of storybook conflict can be a powerful way to stir emotions and get people to listen to what you're doing.
+1. Beardbrand – Assert your authority
If your company prides itself on doing one thing especially well, feel free to highlight your no. 1 status.
Beardbrand declares its confidence with a sparse but effective ad. The rich wood notes and subdued gray gradient in the background imbue a sense of elegance to the ad, giving this little beard oil a patina of something more profound.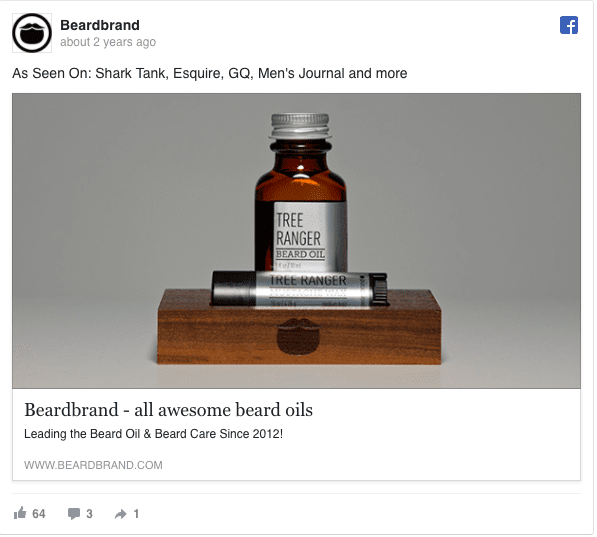 The text of the ad is a smattering of social proof indicators from some very well-known sources: Shark Tank, Esquire, GQ, Men's Journal. The subheader reiterates this boast with: "Leading the Beard Oil & Beard Care Since 2012!" Even the way the product is arranged suggests its supremacy, as it looks something like a number 1: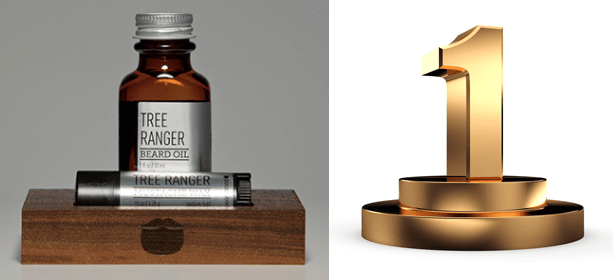 Beardbrand knows their product is niche, but they take great pride in the quality and status of their place in the market.
That's why we included the Beardbrand example as a +1! 🙂 It isn't probably "health" enough, as it can be seen more along the lines of beauty to many readers, but this ad is the embodiment of the Walt Disney quote, "Whatever you do, do it well."
Tell the story you want to tell
Health and wellness is a growing marketing category as more and more consumers want to know how to live healthy lives through food, exercise, and personalized care.
This presents a unique opportunity to brands to truly embrace their inner storytellers. By incorporating your product into a narrative about bettering lives and making a difference, you can reach the people who turned to the internet to find those answers in the first place.
Let's summarize what we've learned about the best health ads on Facebook so you can go out there and make your own

:
Leverage a good review to assert your credibility

Gamify the system with a test that satisfies a thirst for self-knowledge

Create trust with design that evokes scientific roots

Add just the right amount of fear to motivate people without intimidating them

Turn coupon claims into leads by picking the right price

Create genuine customer conversations through comments

Let your vertical find you with choices in a carousel

Build identities around your product with several highly-specific personas

Raise the stakes with data to appeal to elites and aspiring elites

Give instant value with content by sharing an article that actually helps people

Create urgency with time-bound offers

Use a #TBT to show longevity in an ever-changing industry

Spur people to action with emotion through a hero narrative

Assert your authority with status markers and design gravitas
As Facebook finds new ways to present ads, whether through live video or VR, the stories you tell can become more interactive and personalized.
Is your health brand creating innovative ads? Let us know in the comments below!