Photo editing tools are becoming essential as the quality of social media images escalates. Customers want to see ads that are aesthetically pleasing and fit in with the rest of their highly visual feeds.
That means you need to produce high-quality posts for your Facebook and Instagram campaigns.
But what if you don't have an art department or your budget for fancy software tools is minuscule or nonexistent?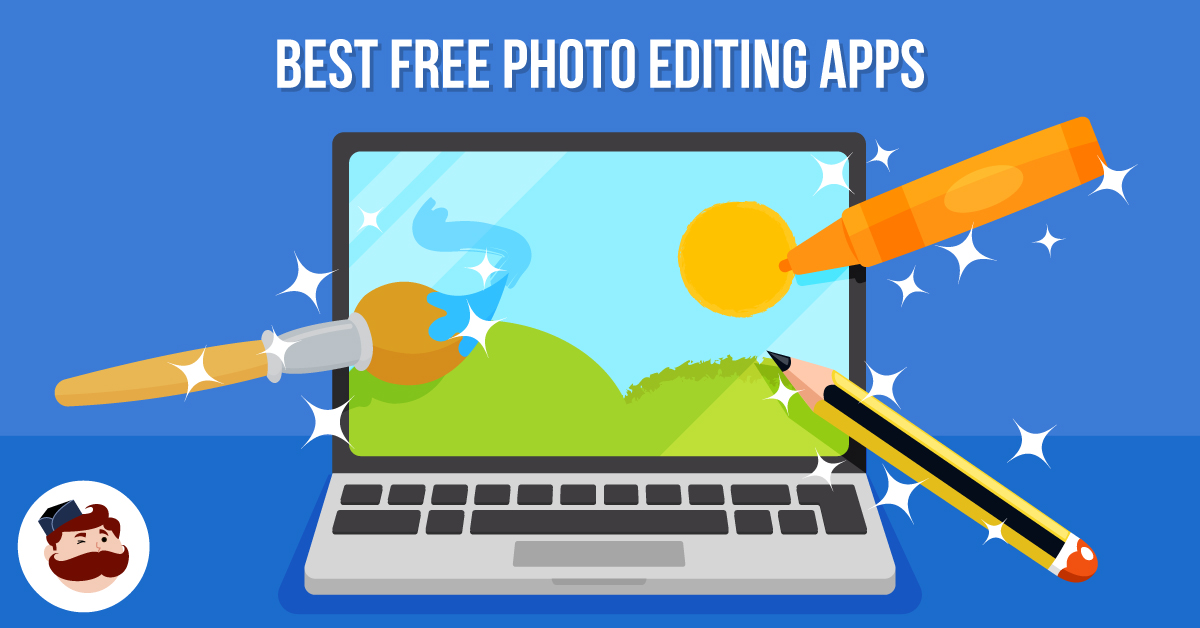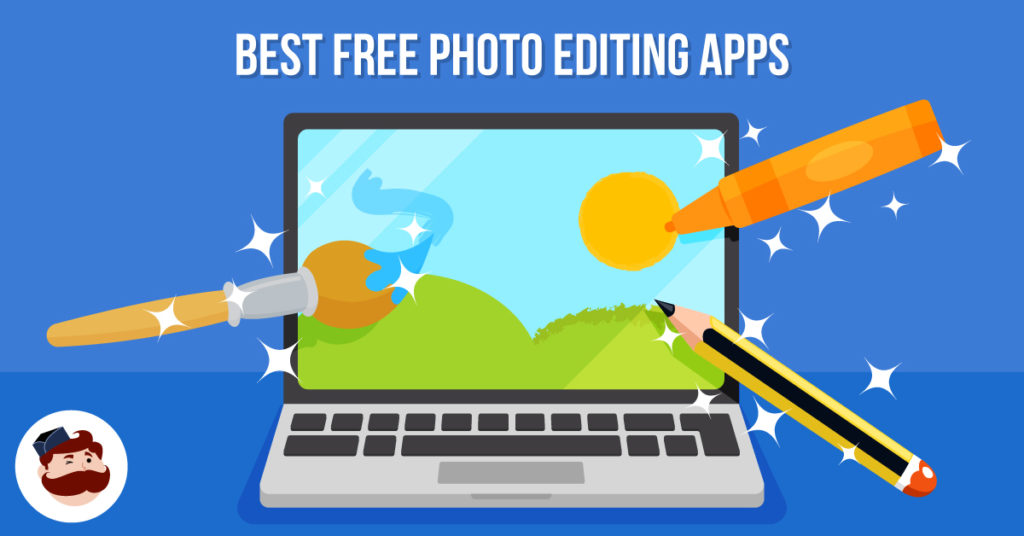 Use free photo editing apps!
We've collected eight of the best free tools to help you convert images to black and white, correct and retouch colors, sharpen specific details, and much more.
Time to get creative!
1. GIMP
Those who love Photoshop will also love the GNU Image Manipulation Program (GIMP). GIMP is an open-source application that relies on volunteer developers to maintain and update it. As a result, it has a current set of professional-level editing and touch-up tools.
In particular, GIMP can be a great tool to use for black-and-white conversions. The platform offers an in-depth tutorial for converting your color images to black and white, along with tutorials for layer masks, basic color curves, and more.
To convert an image to black and white using GIMP's basic desaturate command, users can select from three shades of gray: Lightness, Luminosity, and Average. Each produces a slightly different variation, based on the tones in the original image.

In the first black-and-white adjustment, Lightness, the subject's shirt is relatively flat compared with her skin tones, but it becomes more pronounced, along with her lips, when using Luminosity.
If you're a fashion designer looking to add an extra edge to your social media posts, consider using GIMP's black-and-white editing tool.
Black and white advertising is proven to get viewers to focus on a product's abstract, essential, and defining components, which the jeweler David Yurman succeeds at below: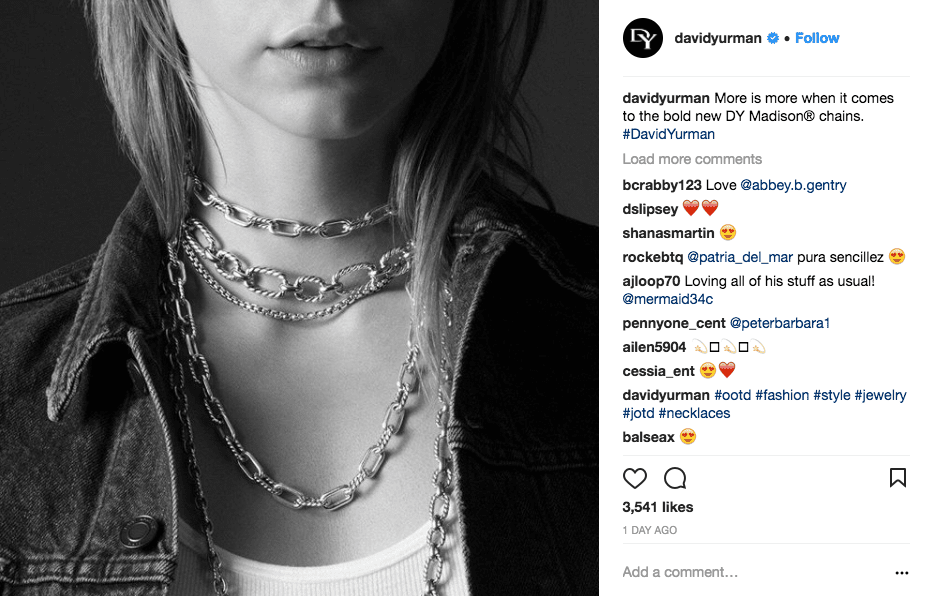 This professional, black and white image underscores the edgy links of the new DY Madison® chains. The lack of color emphasizes how bold these necklaces can be against bare skin and/or paired with a simple tank top and jacket.
Although GIMP is lacking a few of Photoshop's professional features, such as working exclusively in Pantone colors and saving RAW image files, it is perfect for marketers looking to polish their images.
Pro Tip: Making small adjustments will bring your images up to a more professional level.
2. Pixlr
The Pixlr photo editing tool is perfect for marketers looking to make small, creative changes to their photos before publishing.
Pixlr Express offers quick fixes and simple overlays and borders, while Pixlr Editor allows you to work with image layers, color replacements, and object transformations. Both options are free.
For marketers interested in pixelating their images, the app features a pixelate tool, which allows users to transform all or part of an image. Several gaming companies, for example, use pixelated images to capture the virtual feel of their products.
Sega works in a pixelated call-to-action below.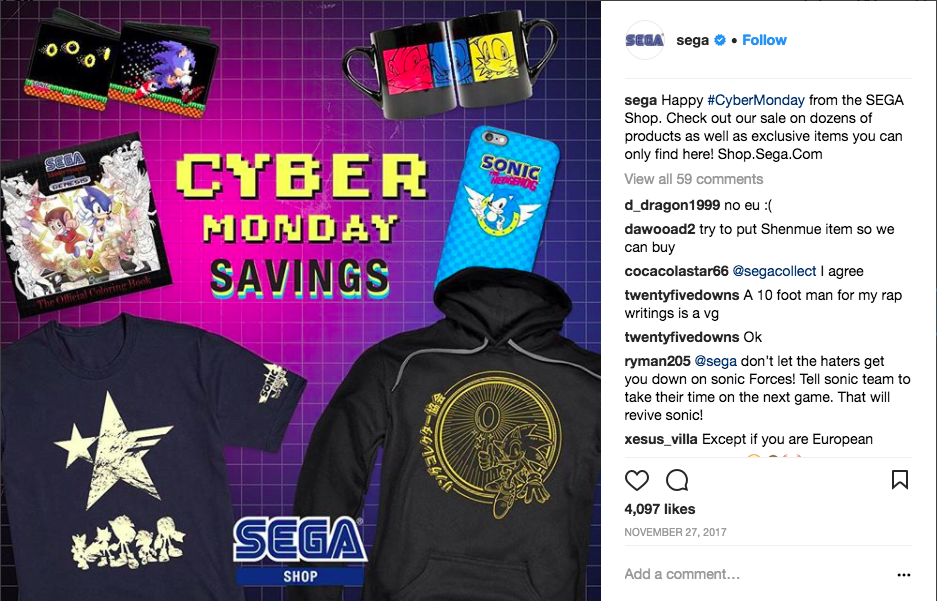 In this ad, Sega is able to evoke a game-like feel with pixelated text, recreating the world of their products and drumming up more excitement for "Cyber Monday Savings."
Pixelation can be a great way to highlight the extent of your creative skills — like the communications agency Vorealia does by re-creating a set of images below: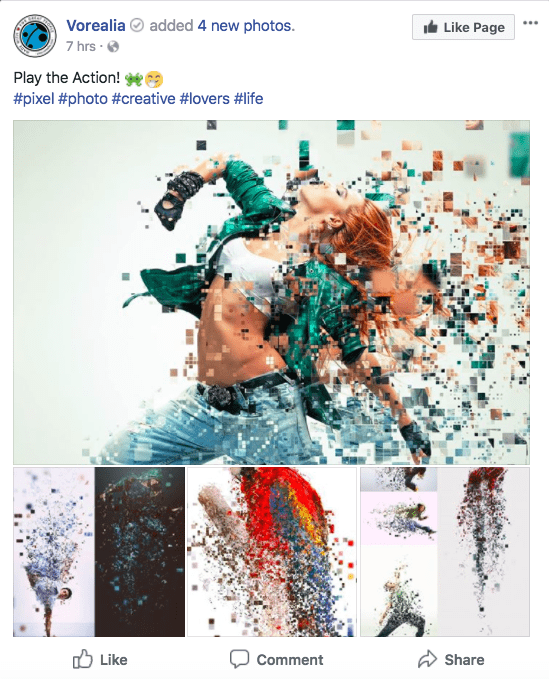 Blasting open these photos with a pixelation tool gives them an added power and dynamism. It's difficult to scroll past these thrilling images. They're effective, enticing to the user's eye, and showcase the agency's impressive creative abilities.
Pro Tip: Using highly stylized elements like pixelation can be a great way to appeal to a niche audience.
3. iPiccy
If you want a more automated photo editing process, take a look at iPiccy.
Instead of manually changing parts of images with wands and other tools in Photoshop, iPiccy allows you to use a set of processes, including fixing, resizing, cropping, rotating, and flipping an image, to instantly edit an entire photo.
Shifting from a bland, hilly landscape on the left to a brilliant lake view on the right can take a matter of seconds with iPiccy's set of effects.
iPiccy's Collage feature can be ideal for marketers looking to showcase a product from several angles. iPiccy makes it simple with a six-step process.
To add a slightly more professional feel, adjust the space between your pictures, the sharpness of photo borders, the resolution, the proportions, and the layout.
iPiccy provides excellent capabilities for photo editors who need to quickly make all-encompassing changes to their images. The vast range of templates and adjustments offered, for example, makes creating a collage user-friendly and fun.
The clothing brand Desigual stitched together a photo-collage to give a fuller view of its prints in action.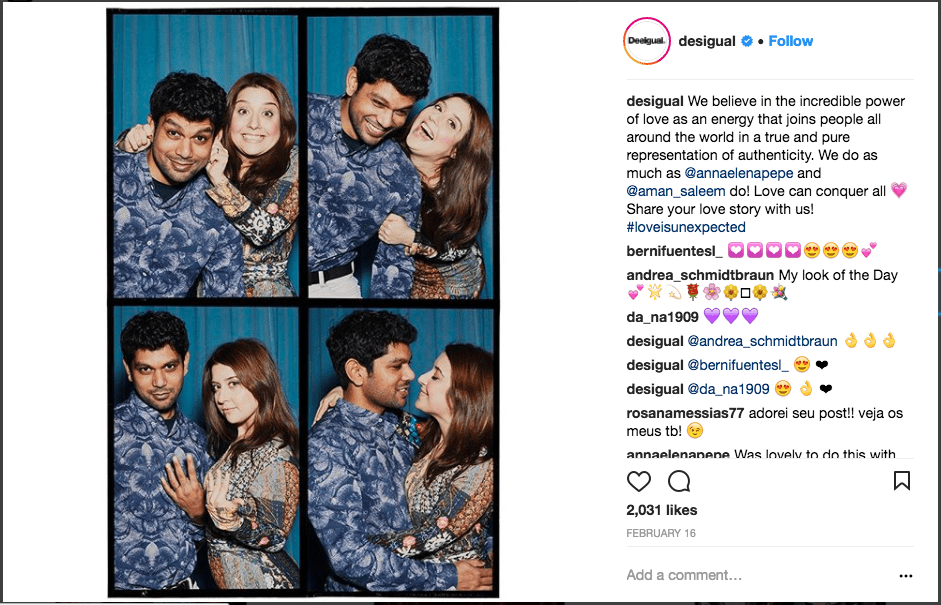 The collage above also gives the viewer the sense that the couple is in a photo booth, adding to the sweet, lighthearted nature of the ad.
Showcasing products or scenes in a photo collage is a great way to give off the vibe that your work is worthy of a 360-degree view.
Pro tip: If you want to show more than a few items, consider a carousel ad. We explained how to do this in our previous post!
4. PicMonkey
PicMonkey is a great photo editing tool for amateur photographers who want to make a few quick adjustments to images.
In addition to adding popular effects like sepia and enhancing portraits with tools like Smooth, Wrinkle Remover, Blemish Fix, and Teeth Whitening, PicMonkey also allows users to add their own stickers, graphics, and logos.
Below is a clip from PicMonkey's tips for using its basic Overlay Tool to add clip art, stickers, and unique text to existing work. Here, the user added a decorative banner over a base image of citrus: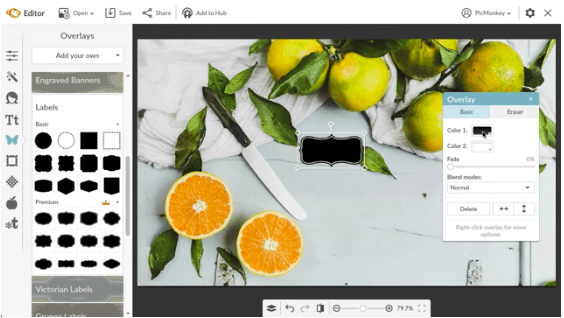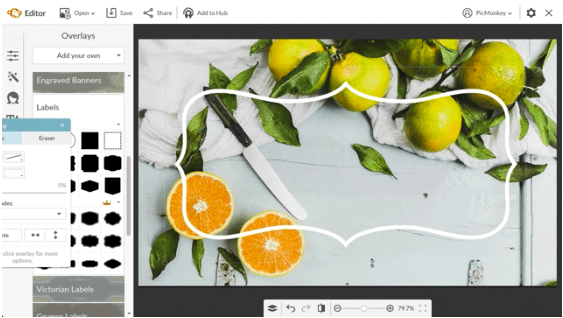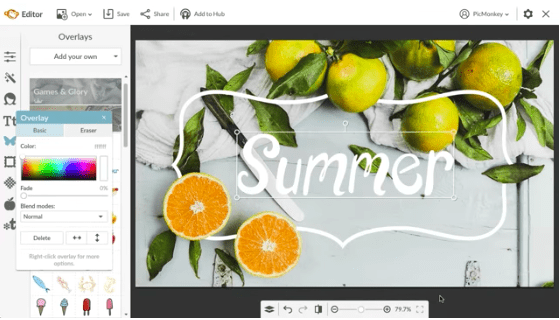 You can even base sales or seasonal campaigns on images, so customers get that flash of excitement whenever they see a familiar backdrop and know everything is 30 percent off.
If you're integrating a call to action on top of an existing image, PicMonkey's unique colors and designs could help you catch your viewer's eye—as with the Dunkin' Donuts example below: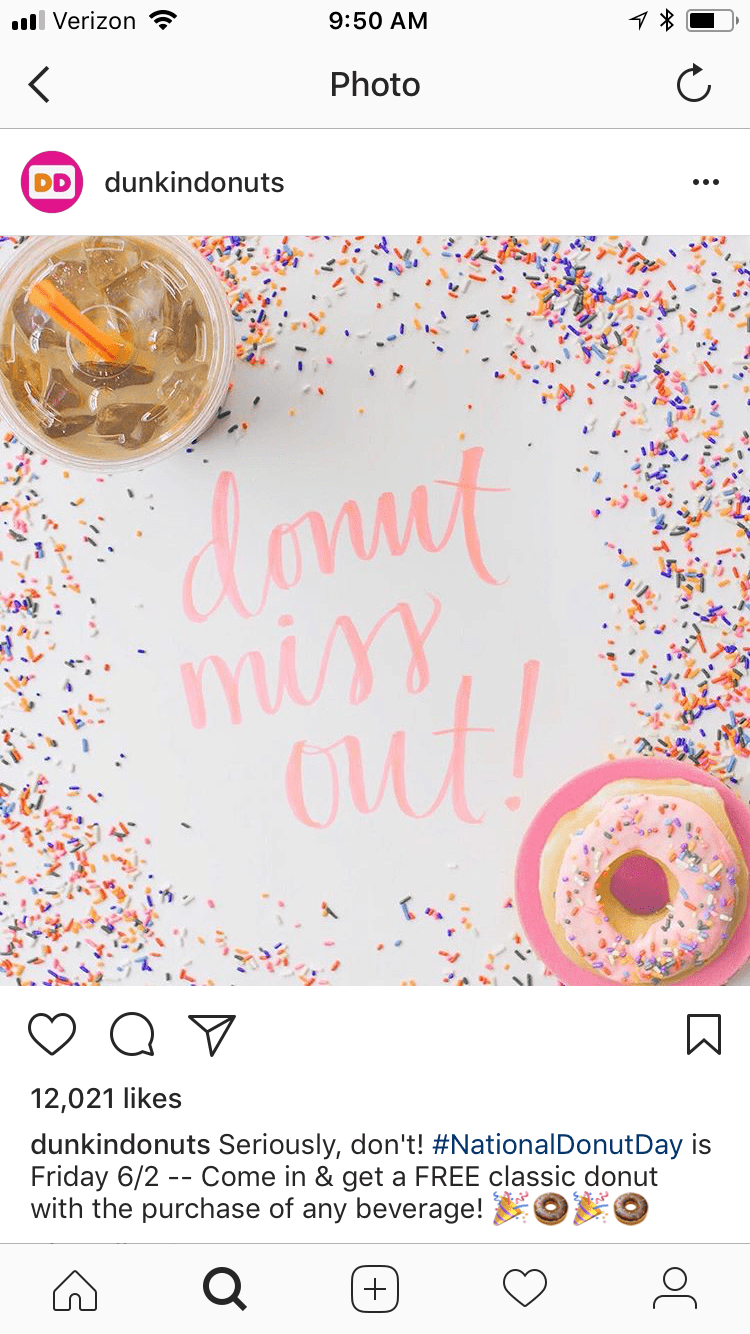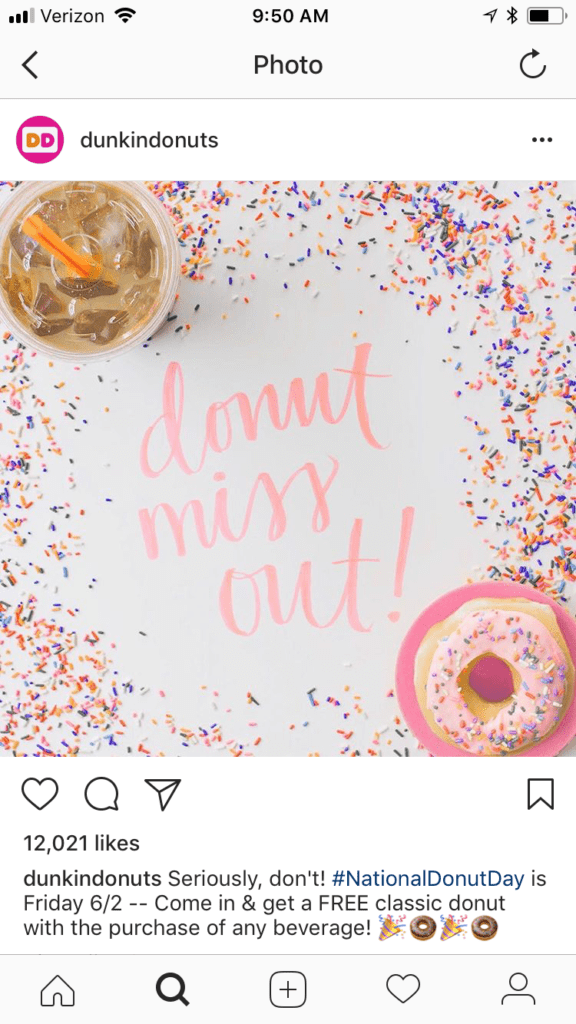 If you're not an advanced photo editor but still want to make small, high-quality tweaks to your social media posts, PicMonkey is a great option, particularly in e-commerce.
Pro tip: The Overlay tool can help you repurpose stock or product photos repeatedly. This tactic will lower your overall spend on ad art and keep your branding strong.
Note: PicMonkey's free seven-day trial is $4/month. If you want to keep it free, however, you can select most of the basic editing options via PicMonkey's website.
5. Vsco
Vsco is best known for its filters or presets, which lots of pro accounts use instead of Instagram's suite of features.
The presets below highlight the range of artistry Vsco can provide.
The additional custom profiles for Canon, Fuji, Leica, Nikon, Olympus, and Sony cameras make Vsco a great tool if you are already working with professional equipment.
If you are a travel company, for example, try a Vsco preset to enhance the depth of natural beauty in your posts, as Utah Unique does below.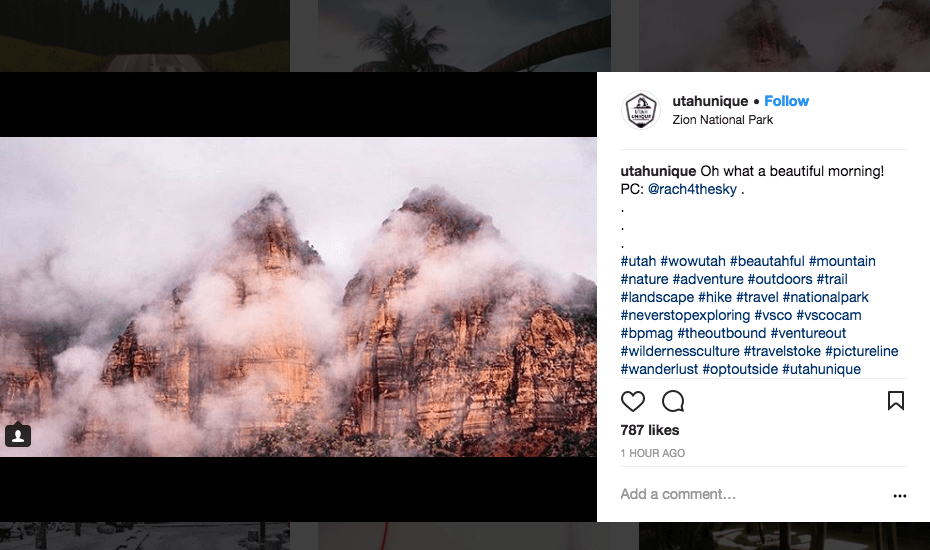 Increasing the saturation of the mountains and honing the edges of the peaks make Zion National Park look even more stunning to viewers planning to book a trip.
Vsco also illustrates additional photo editing tools at the bottom of an image's editing screen for fine-tuning (right screenshot) after selecting a preset (left screenshot).
The myriad tools available for tweaking an image's exposure, contrast, and alignment helped make the doughnut stand out against its backdrop.
Take a cache of RAW photos and use Vsco to create mini masterpieces.
If you need support to get started or you'd like help with sharing your images, Vsco has a loyal community, which any user can join for inspiration.
Pro Tip: Instead of creating new content, use a photo editing tool for remodeling what you already have, making your ad team efficient and keeping costs low.
Although you can download the Vsco app for free, users can also opt for a VSCO X Membership Experience for $19.99 USD/year, which provides access to enhanced tools and community content.
6. PhotoScape X
If you're new to photo editing, PhotoScape X is a great tool that allows you to easily create GIFs and add an extra flair to your feed.
In addition to basic photo editing, PhotoScape X is perfect for creating slideshows and animated GIFs.
The screenshot below, highlights the minutiae an editor can delve into when selecting angles and duration for various animations within the GIF.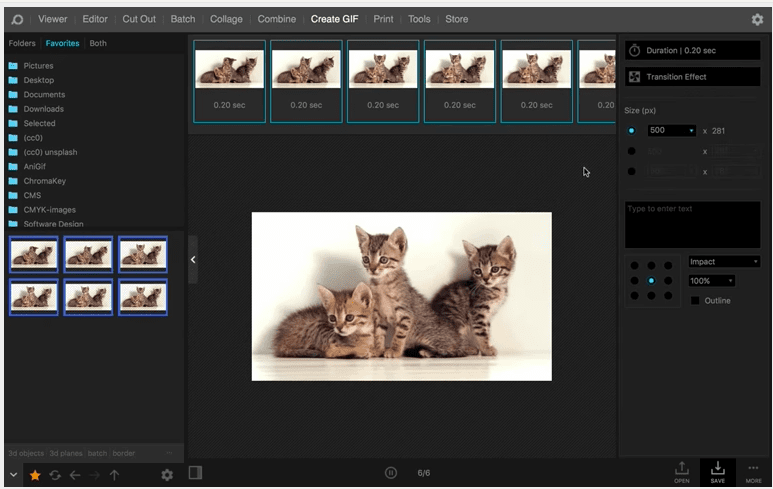 Here, the editor is working on transition effects throughout the GIF, along with setting the exact sizes of his subjects.
Many food businesses use GIFs in crafty ways to whet their followers' appetites like Blue Apron does below: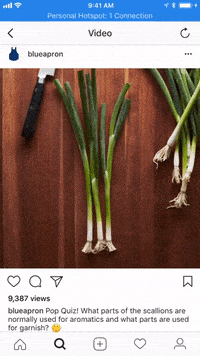 GIFs can rapidly highlight the process of creation, such as the scallion dicing above for one of Blue Apron's home recipes. Because GIFs are more compressed than videos, the likelihood that viewers will watch the entire thing is far greater.
For best results, use a GIF with a file size that is less than 8MB and covers less than 20 percent of the image with text.
Pro Tip: Use GIFs to add a dynamic feel to your ads and catch your followers' attention immediately. But keep in mind that animated ads might increase your costs.
7. Darktable
An open-source photography workflow app, darktable is a virtual lighttable and darkroom for photographers. This photo editing tool allows editors to organize digital negatives, view them through a zoomable lighttable, and develop and enhance RAW images.
Each darktable user's main catalog will appear as below: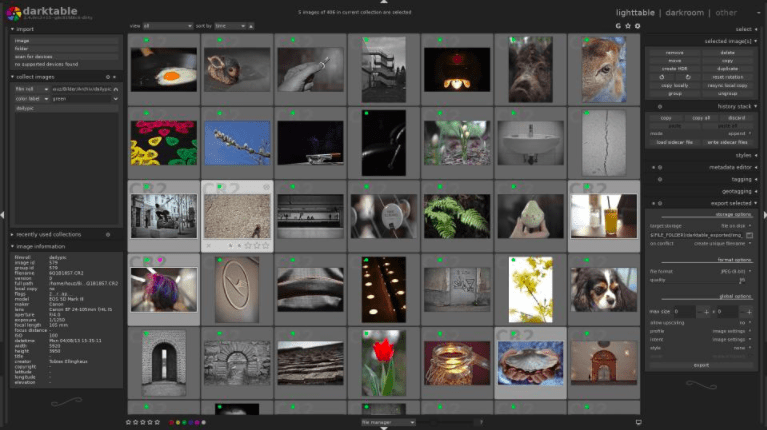 A collection module on the left panel helps organize images according to their attributes, including focal length, exposure, and resolution.
Clicking on an image will open it for editing: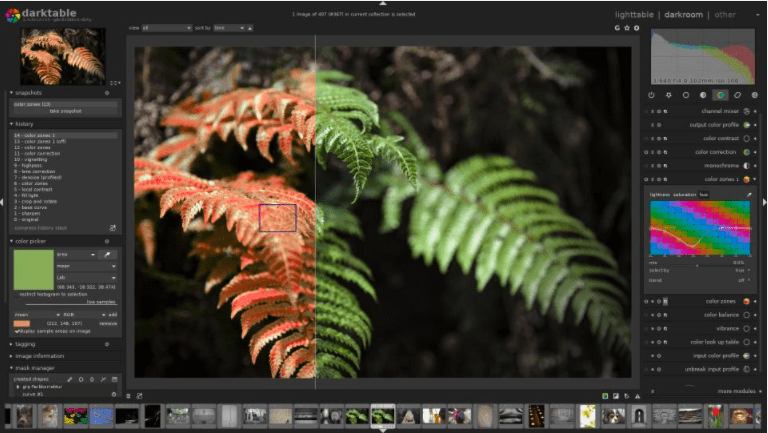 Darkroom mode allows users to see before and after segments of an image—as with the shift from green to orange in the leaf.
If you're making a series of changes to a photo, darktable's platform can be key to ensuring that your edits are fully integrated.
If you're a small creative business, like Lp Alain Photography, darktable can be a fantastic way to show off your most advanced skills.
Using darktable, Lp Alain Photography crafts a stunning, other-worldly setting. Followers gawk at the level of precision and range of hues available with his services. 
While tools like Pixlr, iPiccy, and PicMonkey could be better choices for simpler tasks, like removing red eye from a selfie, darktable is well-suited to marketing teams looking to manage and enhance a large number of images in RAW format.
Pro Tip: Using plenty of high brightness and light in your images is a feature of Instagram Ads best practices. Dartkable is an excellent choice to help marketers achieve this.
Final Thoughts
Photo editing tools are becoming essential as the quality of social media images escalates.
Ensure that your followers notice—and admire—your posts by experimenting with the tools above, all without breaking the bank!
What do you think? Do you use, or plan to test, any of these photo editing apps to improve the image quality of your next Facebook and Instagram ads? Let us know in the comments which one is your favorite!