Expansion in Facebook Video, messaging, and Stories are key for the future of Facebook, CEO Mark Zuckerberg said during Facebook's third-quarter earnings call on October 30 (here's the transcript).
And all the latest updates to the platform point to Facebook Video as TNBT, a priority for Facebook at the moment
In the summer it was Instagram's turn with IGTV, then -just a month ago- Facebook Watch was rolled out worldwide, and today they announced that Facebook is expanding Watch Party to pages and people.
Several case stories prove it with numbers: Video is one of the most monetizable forms of content on Facebook, and using Ad Breaks or Branded Content video views can really bolster your bottom line.
With video being a key element for any successful Facebook advertiser we wanted to answer the question:
Which is the best type of video format to use in your Facebook ads?
So, guess what we did? We invested some money (our own Facebook ads budget, so you don't have to use yours) and run an experiment!
The Best Facebook Video Ad Format – Experiment Setup
This test aimed to test three different videos:
1 – Animation:

2 – Face-to-camera, no captions:
3 – Face-to-camera with captions:
The three different videos were created for us by Edoardo and the team at Combocut, a cool video creation agency. They're based in Milan – just like AdEspresso – so they could film a face to camera video with AdEspresso founder  Massimo Chieruzzi which we then tested with and without captions.
The goal of the ads was to promote a custom audience ebook and get leads.
The cost per lead would be our measure of success.
The ad text and call to action button were selected from our previous $1,000 experiments (where we tested what's the best CTA for your Facebook Ads) and were kept the same in all ads:

Campaign structure:
We used the "one ad per adset" option in AdEspresso to split the ads into separate adsets, allowing us to control the budget that each ad received.
Budget:
Each adset spent approximately $334 throughout 11 days, giving a campaign total of $1,003
Bid strategy:
Lowest cost without bid cap
Placement:
Facebook mobile newsfeed
Audience:
Two lookalike audiences were used in combination:
⇒ a US 1% lookalike based on an audience of leads collected by the Facebook pixel and
⇒ a US 1% lookalike based on our database of current customers.
Current subscribers and anyone visiting our website in the last 180 days were excluded, so that we weren't targeting current leads or anybody in our retargeting funnel.
Optimization:
We optimized for conversions and paid for impressions

The Best Facebook Video Ad Format – Experiment Hypothesis
Around 85% of Facebook video views are played with the sound off so it's essential that the video can tell a story without any sound being required.
Therefore: we predicted that the captioned version of the Face-to-Camera video would perform much better than the one without captions.
Opinions were mixed amongst the AdEspresso team with regards to whether the animation or face to camera video would get the most leads.
This was down to two competing factors:
Animated videos come across as being more "generic".
There are a lot of tools for video creation, many of which use the same set of effects and transitions each time.
Animation can come across as being impersonal and doesn't always capture the attention of the viewer when they're scrolling through their feed.
In the world of digital marketing, many marketers think that personal videos and VSL's – video sales letters – resonate with prospects more than stock video.
However, like any good tactic, it gets overused and this dilutes the impact. Many Facebook users say to themselves "not another sales video" when they are going through their Facebook feed and keep on scrolling.
The Best Facebook Video Ad Format – Experiments Results
We didn't have a firm prediction, so no one could brag about predicting that:
The animated video was the clear winner!
Not only for the Cost per lead, but also for all secondary metrics including cost per click, click through rate and conversion rate.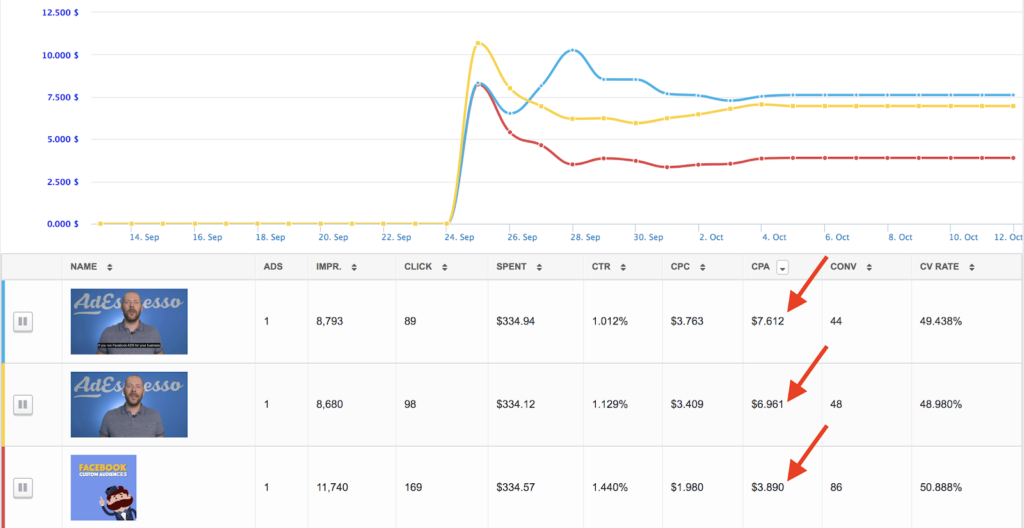 The next best was the version of the face-to-camera video without captions.

The captioned video was the most expensive for leads.
The Best Facebook Video Ad Format – Conclusions
The animated video was 51% of the cost per lead compared to the face to camera version with captions, that's a significant saving on ad budget.
As mentioned in the hypothesis section this might be due to many Facebook users getting fed up with seeing too many face-to-camera marketing videos.
The results might be different for a general consumer audience as face-to-camera isn't used so much in B2C marketing.
Also, the videos featuring Massimo were in landscape format so they wouldn't have taken up so much vertical space on mobile, reducing their impact.
As always with our Experiments, the take-home message is:
"Test everything and never assume you know better than your audience".
From our latest test we can conclude:
Even a simple three video experiment could nearly halve your CPA.
Previous experiments on the ad text and call to action button have seen similar large reductions in cost per lead so several rounds of testing could radically increase the effectiveness of your ads.
Often, even experienced advertisers can't predict the winner.
As we saw in this case where we thought captions would improve performance when it actually increased costs.
Final Thoughts
Custom made animated videos can be an important part of your marketing mix and should definitely be used.
However, they can be expensive and take a while to produce so if you're just starting out you might want to begin with face-to-camera videos.
These can be recorded with most modern smartphones and with some basic editing you could be recording your videos and launching your campaigns on the same day.
Simply put the best marketers are the ones that get started.
Launch with what videos assets you can produce quickly and cheaply then you can test, analyze and refine the assets for each round of campaigns.
Once you have some key learnings from your own experiments and have built up some momentum with your marketing, then it's a good time to invest in more polished animated videos, using a specialist video creation agency.