One of the most exceptional aspects of Facebook Ads is the wide range of features that allow you to connect with users in multiple places and with the goal of driving different types of highly-specific actions. Facebook Messenger Ads are a great example of this.
The Term "Facebook Messenger Ads" describes two different types of ad features; one is an objective, and the second is a placement. Both can be exceptionally valuable, especially when used and optimized correctly.
In this post, we're going to go over why you should be using Facebook's Messenger Ads, how to do so, and look at some examples that you can draw inspiration from.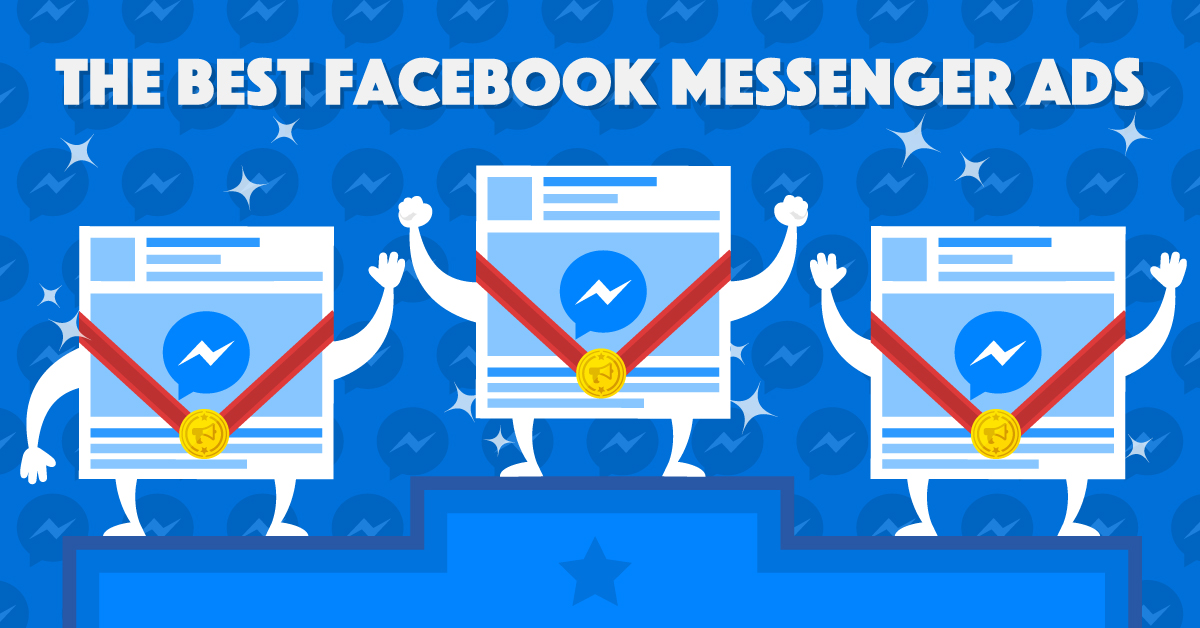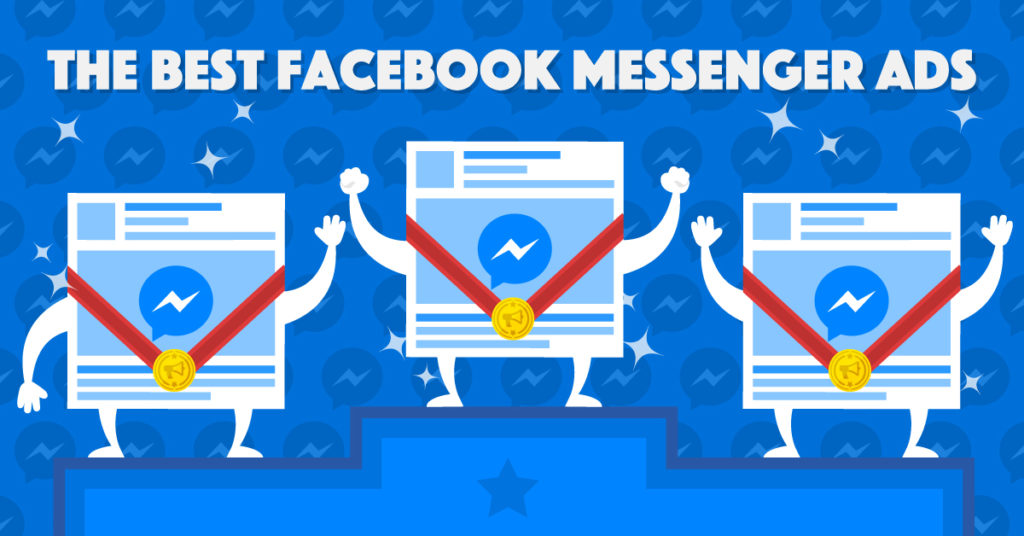 What are Facebook Messenger Ads?
There are two types of Facebook Messenger Ads, and it's important to understand the difference in function of each. While they can have some overlap and similar goals, they ultimately serve two completely different purposes.
Facebook Messenger Ads: Click-to-Message Ads
The first type of Facebook Messenger Ad is the one that has the objective of getting users to send you a private message, which is also called the "click-to-message" ad.
The default CTA will be "Send Message," and instead of being taken to a third-party site or landing page, users will see a prompt to message you when they click.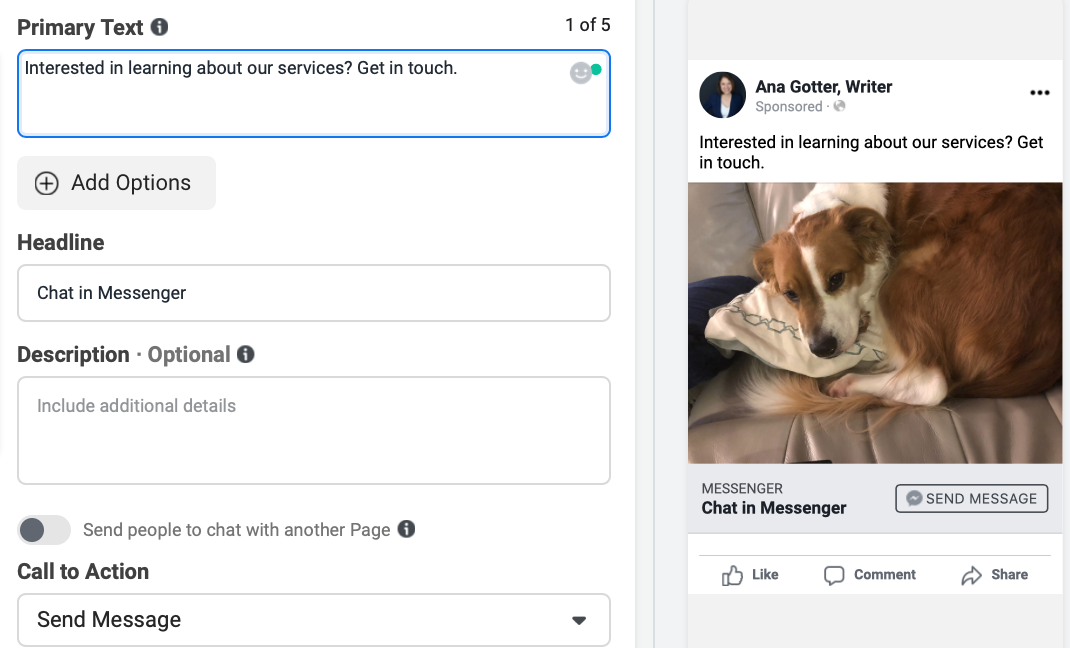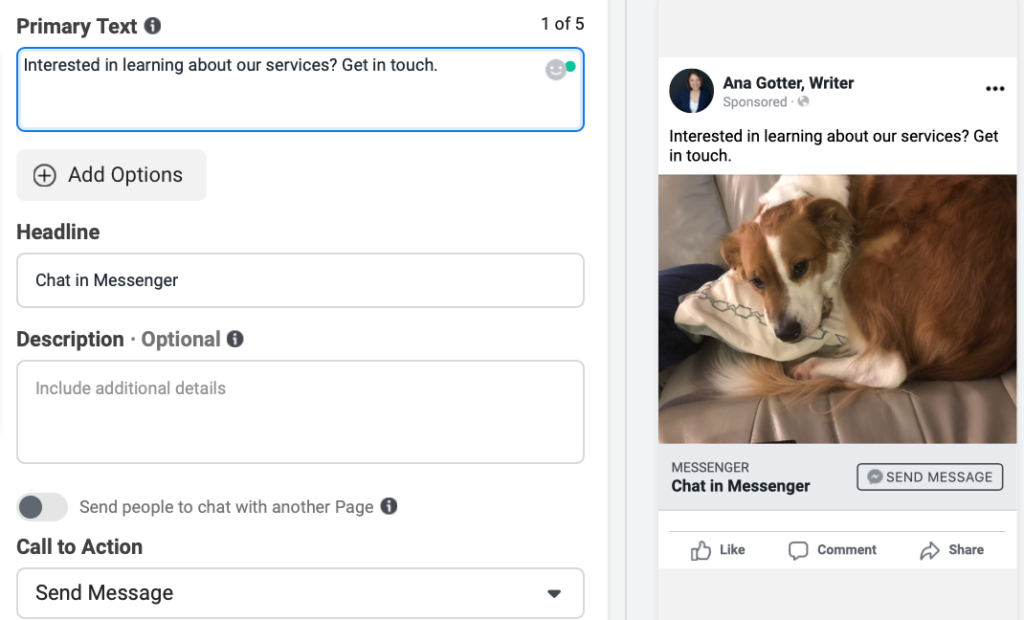 You can choose to have users message you through Facebook Messenger, Instagram Direct, or Whatsapp. The entire purpose of these ads is to generate direct conversations, allowing you to answer questions and nurture potential leads.
Facebook Messenger Ads: The Sponsored Message Placement
The second type of Messenger Ad is the Messenger placement, which will show up as a Sponsored Message.
In this case, advertisers can choose Messenger as a placement where their ad will be displayed.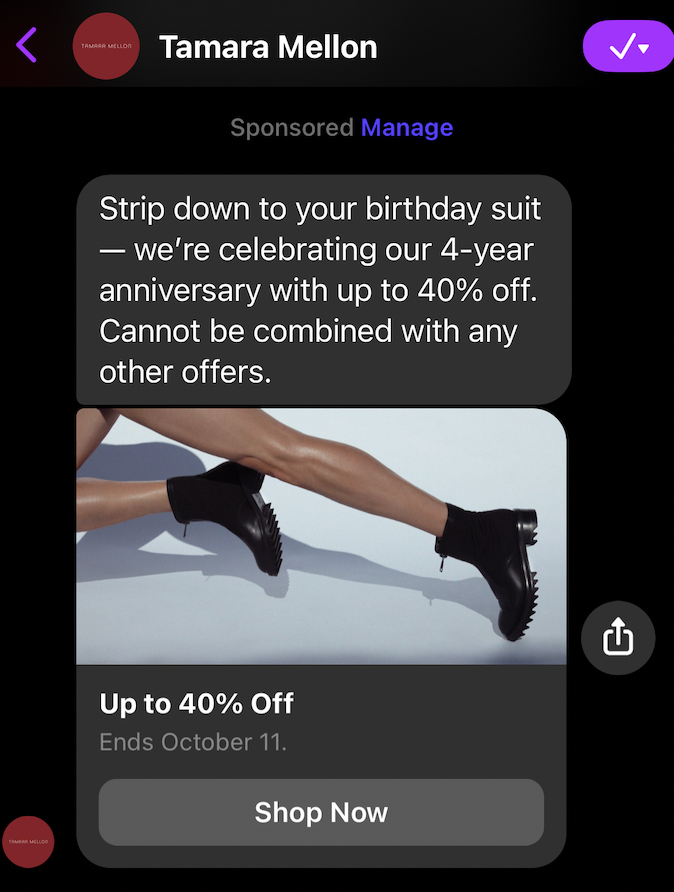 These ads can be exactly the same ones you're running on your audience's newsfeed, but users will see a message from your brand as if it were from a contact. They'll click to open and see it, and then can click on the CTA. They may also message your brand, generating conversation.
Why Use Facebook Messenger Ads? 
There are two types of Messenger Ads that can be used in a number of different ways, but the reality is that both really have many of the same benefits with a main focus on the Messenger platform, including the following:
1. They Stand Out
This is particularly true for the Sponsored Message. Users practically need to pay attention. It's like having an email show up in your inbox. You need to see what it says to clear the notification and satisfy your own curiosity.
In a time when the newsfeed is busier than ever, any small advantage you have in standing out—or skipping the newsfeed altogether—is worth taking.
2. They Focus on Conversation
Opening the door for conversation can be an incredibly powerful selling tool.
Plenty of users may see an ad driving them to "shop now," but they have a few questions or objections they're considering. If, however, you encourage them to get in touch to learn more through Messenger, they're more likely to reach out.
The Sponsored Messages also indirectly lead to an increase in messages, even if it's not the primary focus of the ad. Since that message box is already open, users are more likely to get in touch directly through Messages.
3. They're a New Way to Interact with Your Audience
Not all advertisers are using either kind of Messenger Ads. If you do, you're automatically doing something different and offering an additional way that users can interact with you. And since one-on-one conversations are so crucial in relationship building, that's a major bonus.
How to Set Up Facebook Messenger Ads 
Want to start running Messenger Ads for your business (or your clients' business)? The good news is that both types of Messenger Ads are exceptionally easy to set up. Let's take a look at how to set up each one.
How to Set Up Click-to-Message Messenger Ads
You need to have the "Messages" objective if you want to be able to use the Messenger placement fully, but you also need to have it enabled if you want to drive users to message you from in-feed content, too.
Step 1. Select The "Messages" Objective
To use the Messenger Ad objective, choose the "Messages" campaign objective under "Consideration."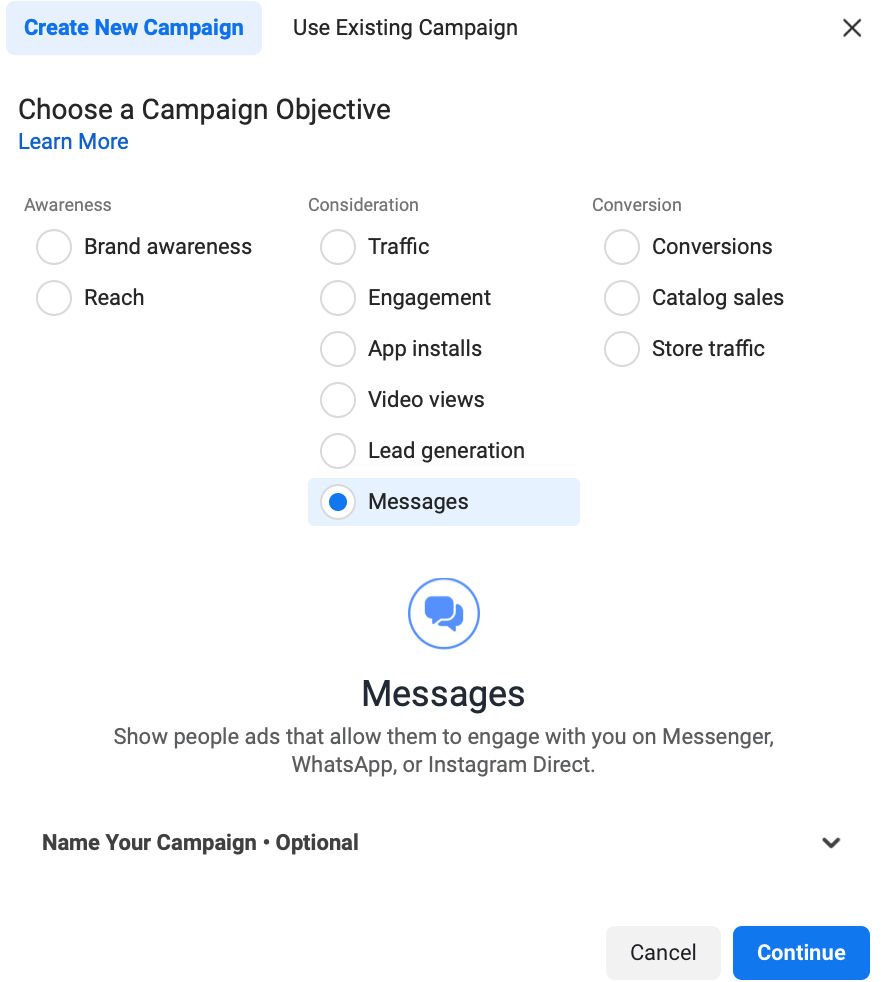 Step 2. Choose Which Messaging Apps to Enable
Go through the ad creation process as you normally would. At the ad set level, you can choose between two options:
"Click to Message," which allows you to create sponsored messages with new customers.
"Sponsored messages," which allow you to reengage existing customers who have messaged you in the past. These are useful for retargeting campaigns.
To create ads that will show up in users' feeds with the CTA for users to send you a message, choose "Click to Message."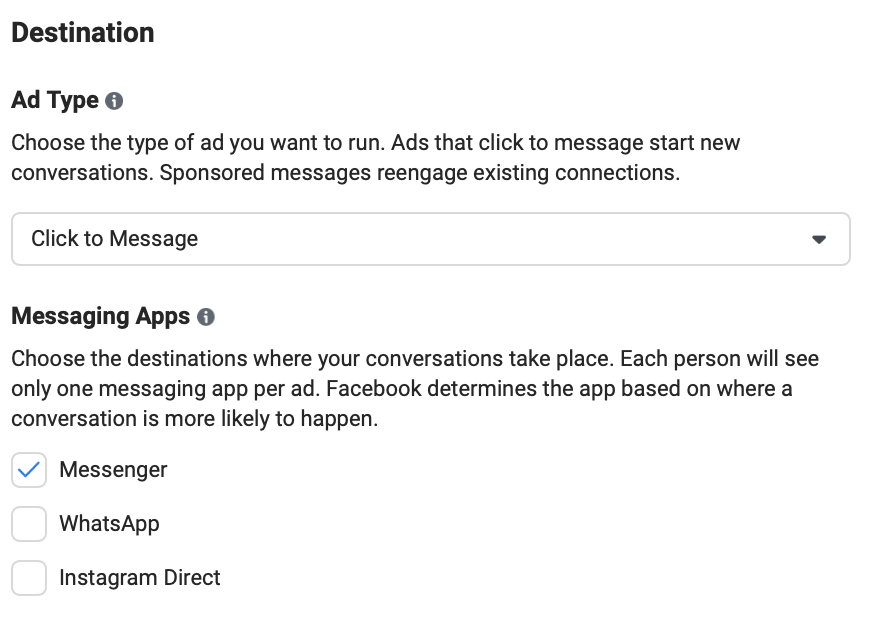 You can then choose which apps you'd like to enable.
If you only have a profile on Messenger and Instagram Direct, for example, you'd want to leave WhatsApp off the list. Facebook will automatically take each user to the app where they're most likely to start a conversation based on their past app usage.
3. Finalize Your Ad & CTA
After choosing these options, it's time to finalize the creative part of your ad.
Choose your visuals as you typically would, and then look at the copy part of the ad. You'll see a default "Chat in Messenger" headline. While you can keep this the same, customize it as you see fit.
If you're using the Messages objective but want to drive other actions, change this as needed.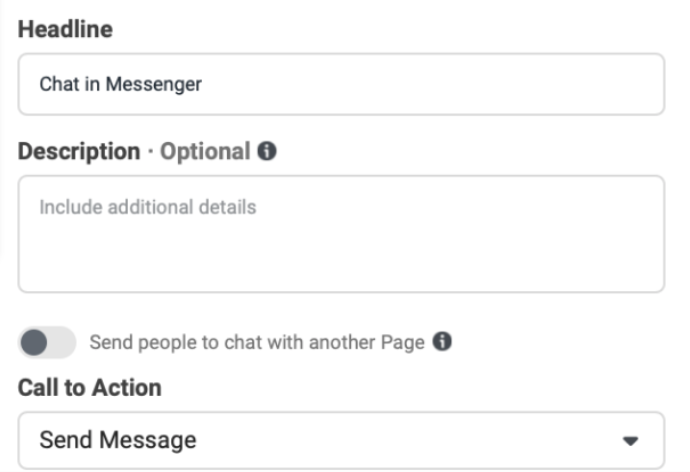 You can then choose if you want to send people to chat with another Page, and customize your call to action.
The default CTA is "Send Message" but you can choose any of the standard CTA options that you would with other campaigns, too. Choose the option that best reflects what you're looking to accomplish.
How to Set Up Sponsored Message Ads
If you want to have your ad appear in Messenger itself, these are the steps you'll want to follow.
1.  Choose The Messages Objective
To use the Facebook Messenger Ad placement, remember to have the Messages objective selected as you can see in the section above. This is currently needed for Messenger Ads, except for Stories Ads that also appear in Messenger.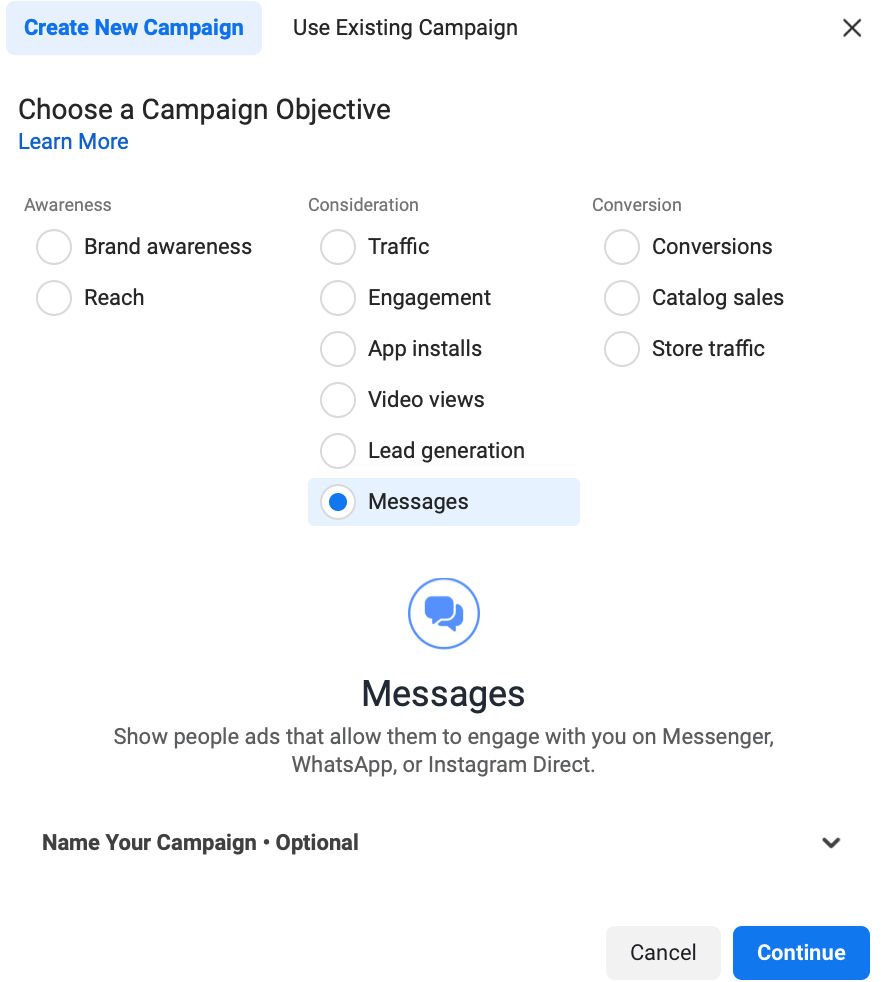 2.  Choose "Sponsored Message" Placement
Here, instead of choosing "Click to Message," you're going to choose "Sponsored Message." This allows you to show up in users' inboxes who you're already connected to on Facebook.

3. Create the Ad & Enter in Quick Replies
For this type of ad, you can include an image or skip it. Standard best practices would be to include an image that would appeal to your target audience.
Once you write the copy, consider adding "quick replies." These are clickable prompts users can click, like "Ask About Admissions" or "Ask About Housing."
They can increase the interaction rate, making your ad more successful. You can also set up Messenger bots with automatic responses for these "quick replies."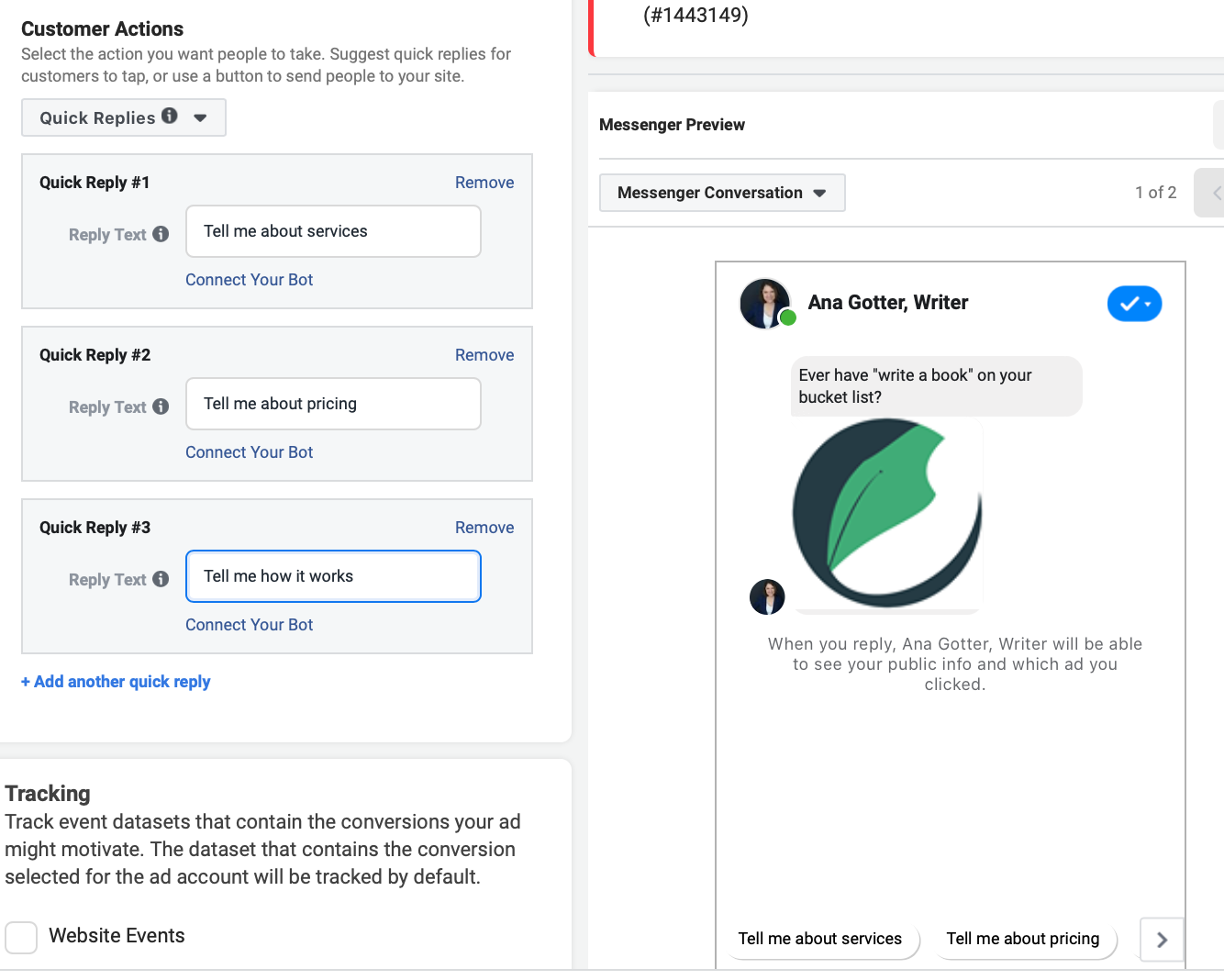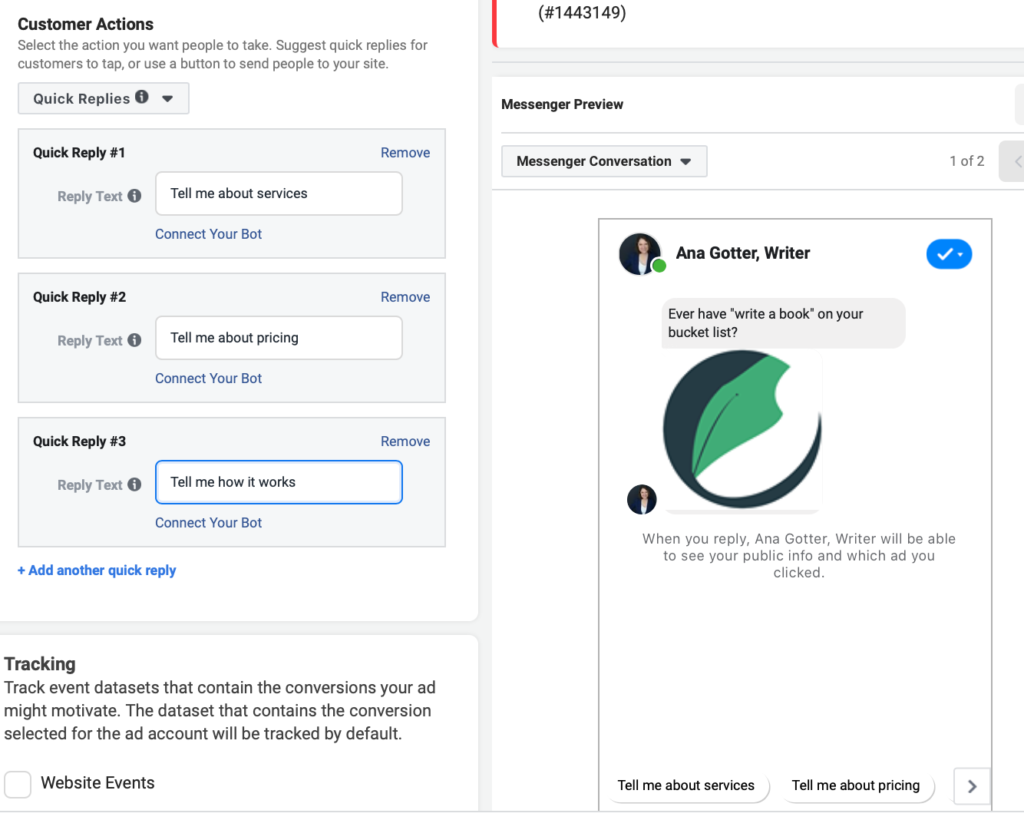 Preview your ad before it's published, but then you can schedule it to run.
3 Effective Facebook Messenger Ads to Inspire You
Messenger Ads aren't the most commonly-used feature on the platform, making them a little more challenging to spot in the wild.
This can make it challenging for brands new to the feature to get ideas for how to use it, so we sourced these three examples of real Messenger Ads to give you some ideas for where to go from here.
1. Tieks by Gavrieli
This is an excellent example of a Sponsored Message (not a click-to-message) Messenger Ad.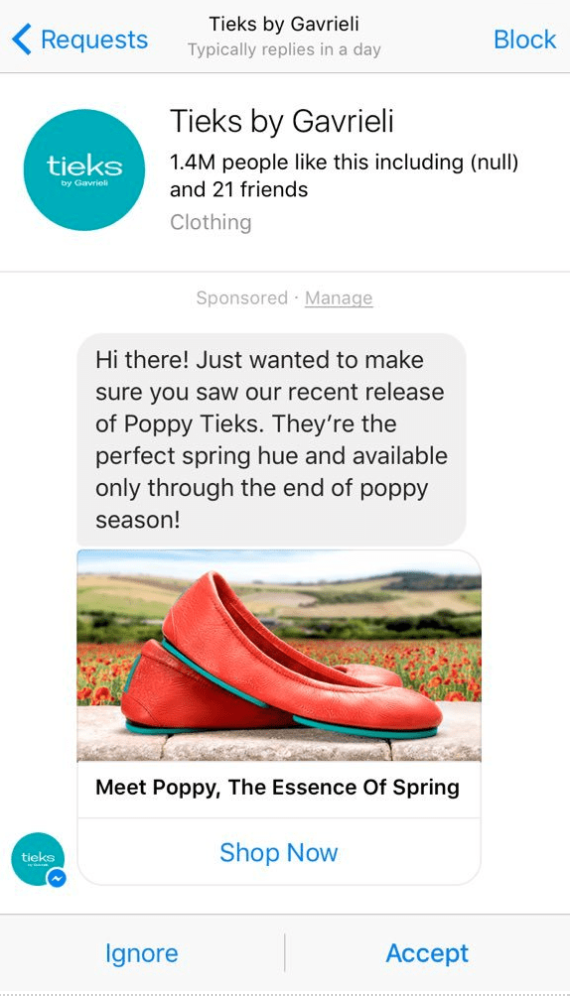 There are a few things that they do well:
The greeting of "Hi there" is warm and conversational, like they were picking up a conversation thread from earlier
The overall tone is also extremely conversational, such as "just wanted to make sure"
They leverage urgency with a limited-edition item, which will increase the likelihood that the user will act now instead of deciding to come back later (and likely forgetting)
This is a great example of how to use a relevant image with a caption, and tying it all together with the copy. It's not too aggressive, but it still is enough to catch the user's interest (and potentially make a sale).
2. Lalo
Lalo sells baby items, and they were featured in a Facebook Ad case study for their genius use of click-to-message ads.
Knowing that new parents are often overwhelmed with trying to find the right products that they need, the brand doesn't just send users to their site to purchase. Instead, they use a Messenger CTA so that the parents could talk to a team member to find the right items that were needed.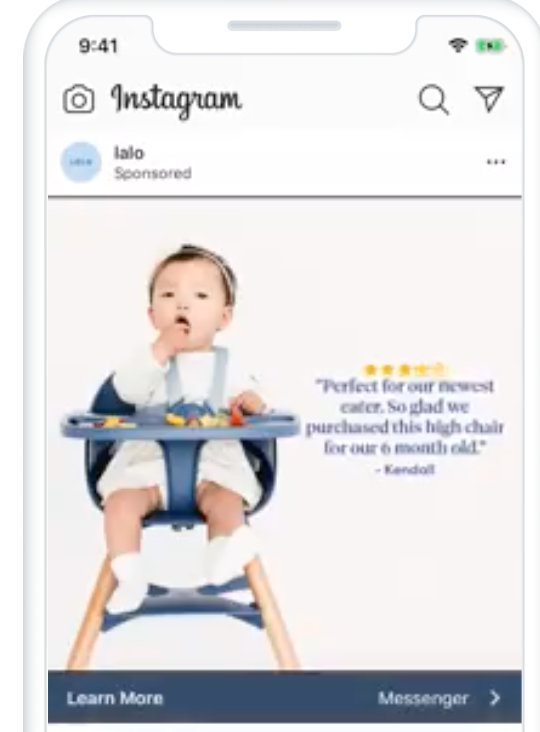 The use of Messenger is what works so well. People coming into a store, after all, are able to work with salespeople to get personal recommendations, but that's often lost online. By sending users to Messenger instead of their shop, parents are given more reassurance and personalized suggestions.
Not only does this help to increase relationship-building, but it's sure to help with conversions, too.
3. MobileMonkey
This ad from MobileMonkey is another example of how to use the "Click to Message" approach well.
In this case, they aren't just offering help for product selection. They're asking users to get in touch on Messenger to sign up for a "Master Class."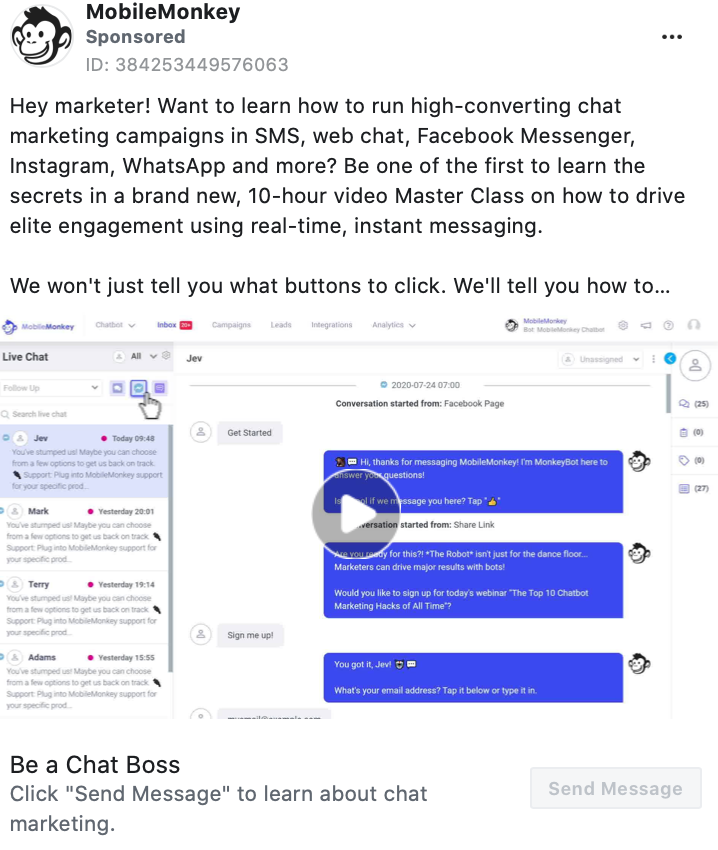 In this case, the ad is designed to generate conversation as a precursor to the actual ask of event sign-up. People get more time to learn about why the product would be so valuable and get excited about participating.
One thing worth nothing; they also use a video as the visual for the ad, showcasing the value of what they have to offer. This is always a great strategy worth testing.
Conclusion
Both Click to Message and Sponsored Message ads have excellent use cases that offer advantages beyond the standard in-feed "shop now" Facebook Ads.
By centering the ads around a conversation between the brand and the user– which both ad types do accomplish– there's more room for relationship-building, overcoming objections, and conveying value.
And remember to make sure that you're using strong social media management software before you start running these ads. Tools like Hootsuite will allow your team to access your Facebook inbox in one place, ensuring that all incoming messages are responded to promptly. The last thing you'd want, after all, is to drop the ball on incoming messages that you worked so hard to get.
What do you think? Have you ever tested out either of the Facebook Messenger Ad options? If so, how did they work for you? Share your thoughts and questions in the comments. below!