Millennial women—one of the top targets for fashion and beauty marketing—are bombarded with Facebook ads.
That's why it's important for your ad to stand out amongst all the faces and color people see in the feeds.
In a fast and fierce beauty market, you can't just rely on an image to carry you through.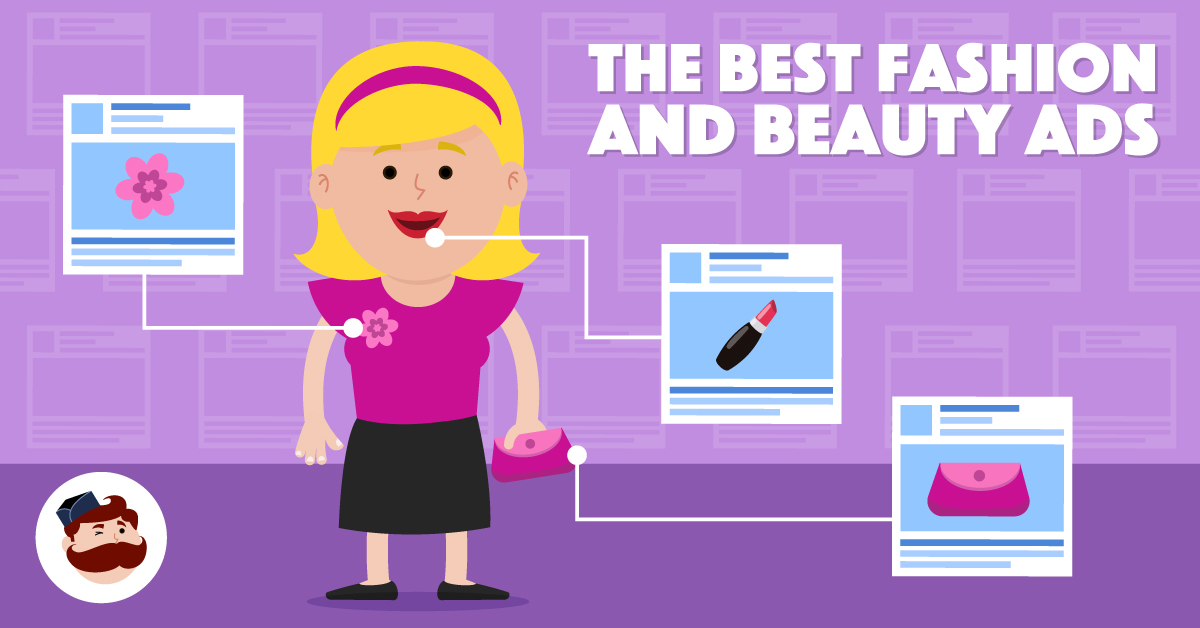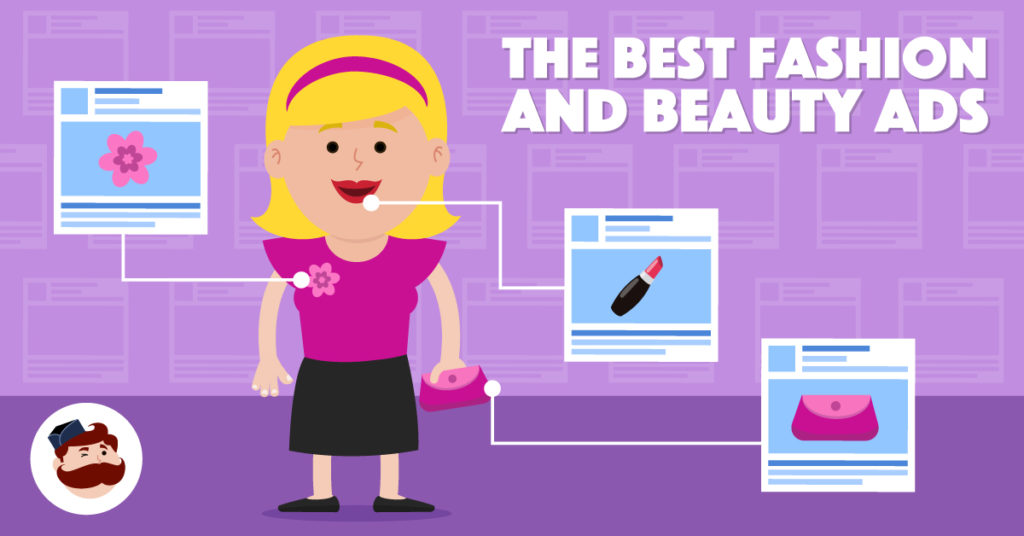 That's where Facebook ad tactics like video and content links become your best friend.
We've cherrypicked the beauty and fashion ads, with high conversion and click-through results.
Let the beauty inspire your campaign!
26 Of The Best Fashion And Beauty Ads
A standout fashion and beauty ad is all about authenticity.
To achieve this, you'll need to strike the right balance of tone, design, and targeting.
These ads strike that balance best.
1. Short Cuts by R29 – Give Instant Value with a DIY Tutorial
Refinery 29 is a lifestyle magazine for women. Short Cuts, R29's "beauty destination," advertises various beauty products in 25-30 second video explainers. Each one is a fast-cut, action-packed tutorial full of great value for watchers.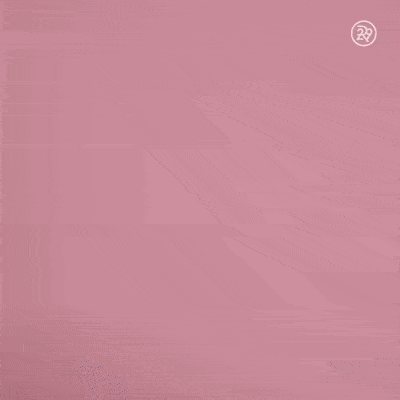 This kind of tutorial is a standout example of great ad content.
It actually teaches you how to make something rather than just selling you another beauty product. That's important because, in this age of lessened organic ad placement, you need to provide real value if you want people to see your brand, click your links, and share you with their friends.
If you do a tutorial, remember to keep it delightful to watch with fast, to-the-point editing and high contrast colors—otherwise, it'll blend in with everything else on their feed.
2. Shop Spring – Ask Your Customers About Their Preferences
Shop Spring, a direct-to-consumer clothing platform, gets to know their potential top-of-funnel customers better just by asking them lots of questions in Messenger.
They created a personal shopping assistant bot to help people find the products they need. The conversation helps Shop Spring understand their customer's needs with more precision. As the product recommendations get more precise, people trust Shop Spring more.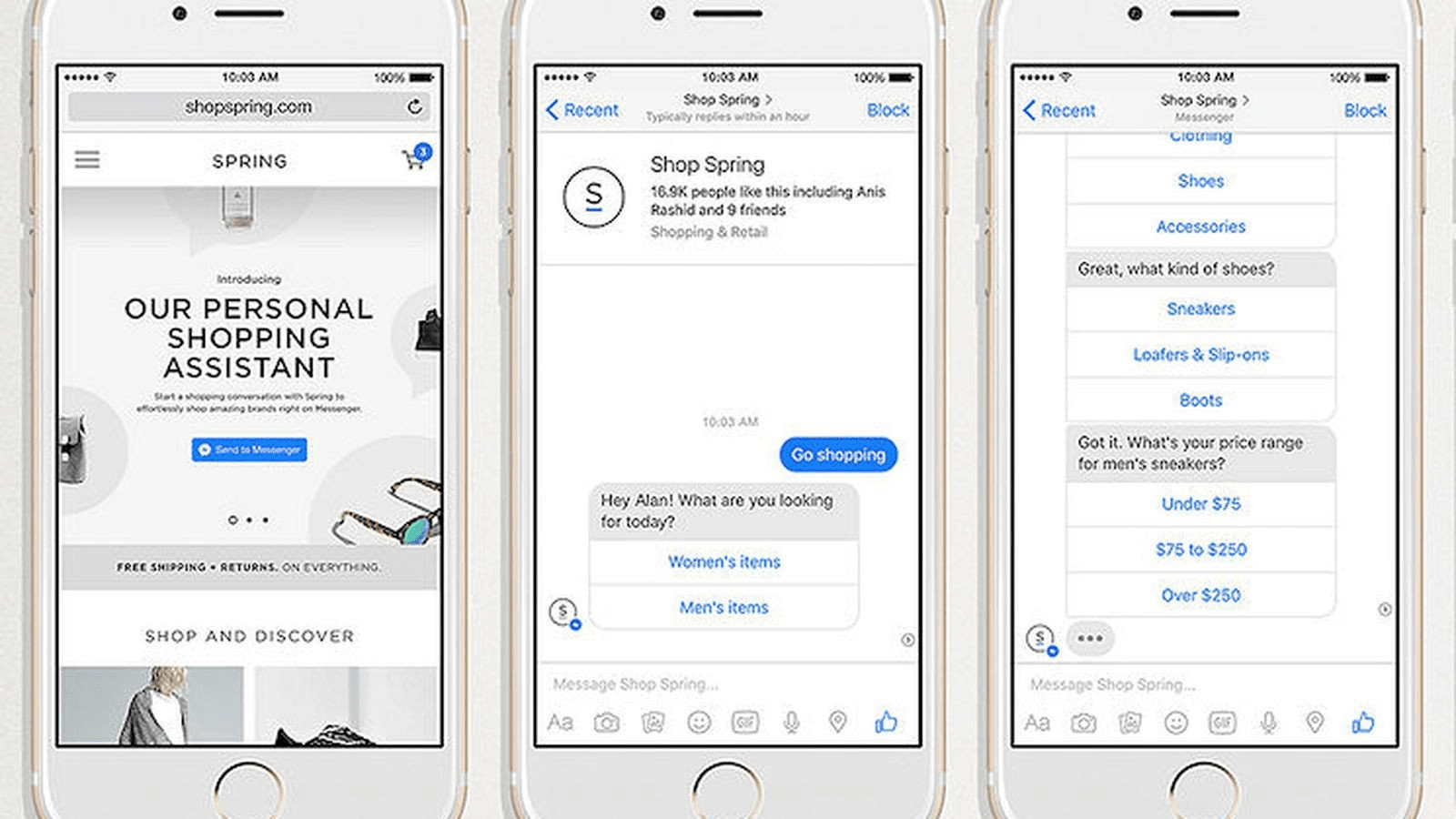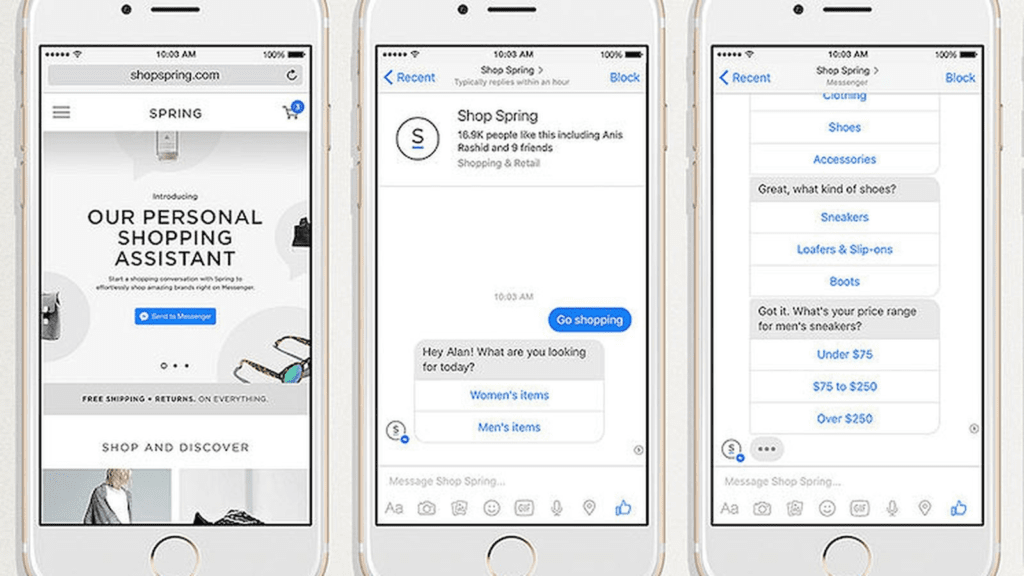 For Messenger ads, you can make the most out of customer conversations by grouping together customers whose product preferences converge. Then target those groups for the ads featuring things they have already expressed interest in.
On the customer's side, a precise understanding of their preferences gives your company more and more credit as their go-to tastemaker.
3. Blenders Eyewear – Make it Insta-worthy
In the barrage of information that people are scrolling through in their feed, a photo that's cool, focused, and balanced is a welcome sight.
Blenders Eyewear sells specialty sunglasses by taking the most popular aspects of the Instagram aesthetic and importing it into their ad.
The image is clean, composed and tinted to emphasize the product and its background. The copy is a succinct and effortless hashtag: #BlendersAreBetter.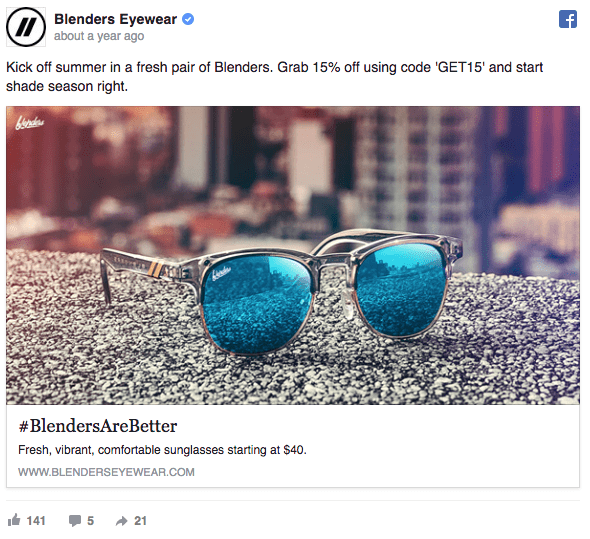 To make your ad stand out to the right audience, borrow an aesthetic from the social media platforms your audience frequents. Whether it borrows from Pinterest, Instagram, Tumblr, or a more niche site, your ad's visual style says a lot about your product. Choose a style and import it into your photo and copy.
4. Cluse – Use Your Customer's Literal Perspective
Good customer support is about seeing from your customer's perspective. You can make your customers feel taken care of even before they convert—just by using their very perspective as a basis for your marketing.
In this ad from Cluse, a women's watch company, you literally get to see the watch as if you were wearing it.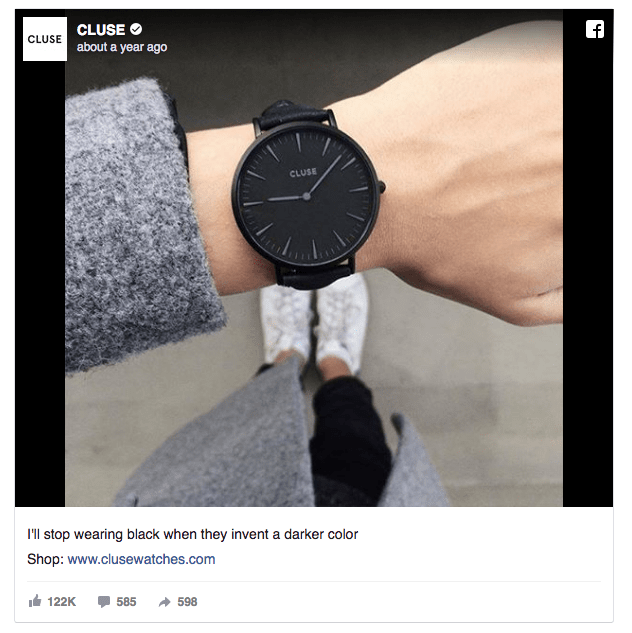 To let your product's functionality shine, photograph exactly as your customer would see it. Keep the product in focus (as Cluse does here), and try to eliminate any distractions in the photograph.
5. TOMS – Inspire People with Your Business Values
TOMS, the giving-based shoe retailer, shows its audience the impact of the company on the world. It does this by crafting videos around its charitable donation model—a pair of shoes given for every pair bought, as well as an array of services like clean water and safe birth services.
Instead of focusing on the shoes themselves, TOMS' ads focus on the people who form a network around the company's giving.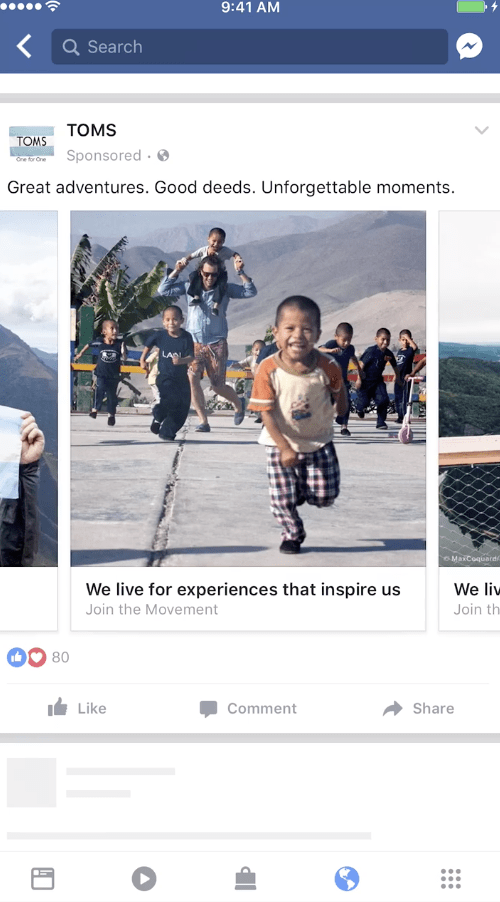 If you have inspiring customer stories around your product, then you can make the most out of this inspiration model by featuring a company value in your ad. The TOMS ad does this subtly through a combination of photo and copy.
6. Birchbox Men – Solve Customer Problems, Right in the Copy
Men comprise half of the users on Facebook, but when it comes to beauty ads, they practically constitute a niche audience. To make an ad that stands out to men, emphasize a good price for functional items.
Birchbox Men advertises its monthly beauty-sample service by addressing a common concern—price—right in its copy.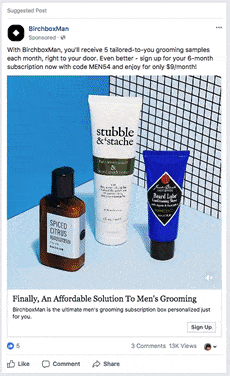 The tone of the ad's copy is spot-on: "Finally, An Affordable Solution to Men's Grooming" rings true in a market that is lower on demand and typically higher on cost than women's products.
For a relative niche audience, address your customer problems within your copy by describing your product as the solution. It's important to get the tone of this right—for men in need of affordable grooming products, it's exasperation.
7. Sephora – Slash Unnecessary Steps to Conversion
Sephora, the makeup giant, uses Facebook Messenger ads to talk directly to customers.
Sephora brought a conversion-likely audience into its store locations by targeting people interested in makeup and cosmetology and offering them an easy way to reserve a makeover. With Messenger ads, Sephora brought interested ad clickers directly into Messenger.
Instead of hoping for people to find a Sephora location and sign up themselves, the Messenger ad did the work for the customers, cutting out 5 steps from the overall booking process.
This direct targeting, combined with Messenger conversations to sign-up for an event, is a powerful strategy for getting customers into your brick-and-mortar store.
Cut all unnecessary steps, like form inputs, and people will be more likely to sign up for promotions, which get them to your product. It's that easy.
8. Michael Kors – Let Influencers Curate Your Products
It's easy to get behind something when someone you trust endorses it. That's the principle behind word-of-mouth marketing. These days, people put their trust in bloggers and tastemakers who sift through the product-dense world and curate what they think is good.
Featuring someone who your audience knows and trusts is a powerful way to structure your ad, because the thing that's being trusted is your product.
Yoyo Cao, a fashion blogger and designer, was featured in Michael Kors' Facebook ads as a tastemaker and as a real-life wearer of the brand's clothing. This ad boosted its street cred by giving a real-life, posh example of its clothing in the fashion world: "Yoyo Cao's New York Fashion Week look is available now!"
By using the Collection Ad format, the Michael Kors ad made it easy for people to satisfy their curiosity about Yoyo Cao's fashion choices, and go straight to the products that made up her outfit.
Turn content into creative by finding a blogger or social media figure that your audience will trust.
The ad should make the most out of connecting that figure with how they use your product in the real world. Be sure that your ad makes it easy for people to click through to find your product pages.
9. Madewell – Make a Memorable Promo Code
In the digital era, people see up to 10,000 brand messages a day. The more unique and hard-hitting your copy, the more likely it is to capture someone's attention.
Madewell, a casual clothing retailer for young women, hits the right copy by baking its brand attitude into its promo code. "NOJOKE" is self-aware with a touch of cute, and the ad illustrates that attitude well with its image of a shyly amused model.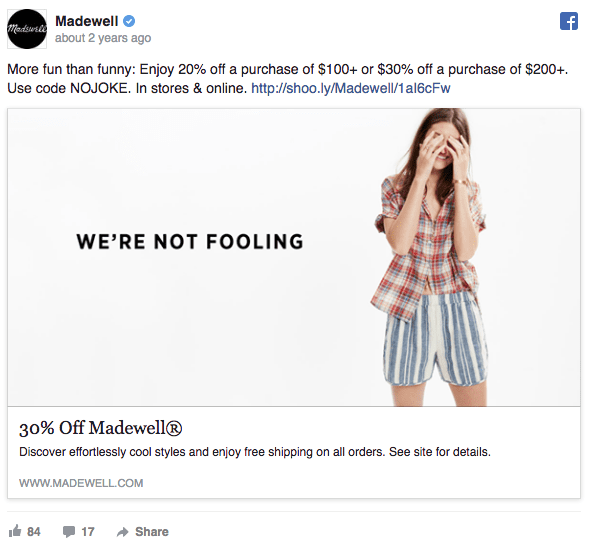 The shorter and sweeter your copy, the more memorable the ad will be. Whether it's a promo code or a hashtag, a memorable takeaway gives your product a boost in your customer's memory.
That way, after all the scrolling, even if someone doesn't click now—it heightens their chance of searching (and finding!) that promotion later.
10. Twinkledeals – Choose Strategic Backgrounds for Your Product
Twinkledeals sells quirky clothes that are often brightly colored and patterned. Bringing out the best in their products required a good grasp of color contrast.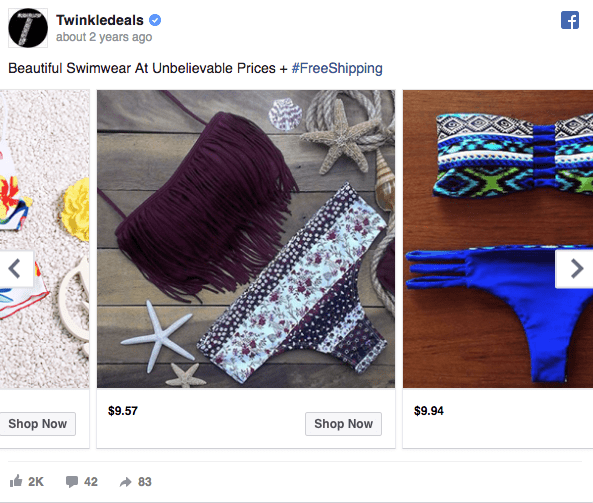 An ad's color can make all the difference in whether or not people notice your product as they're scrolling through their feed.
If your ad heavily features a photo of your product, then highlight your product by choosing a background that contrasts it with color and texture.
11. Grana – Impress with Design and Research
The best content is distinguished by how well it's been researched and synthesized. People gravitate toward companies and labels that hold a similar ethos for their product design.
Grana markets itself as a luxury clothing label for essentials, with an emphasis on sourcing the best material for its clothing. In its ads, Grana puts that research ethos first. The brand elevates a simple cashmere sweater to a responsible, tasteful design choice.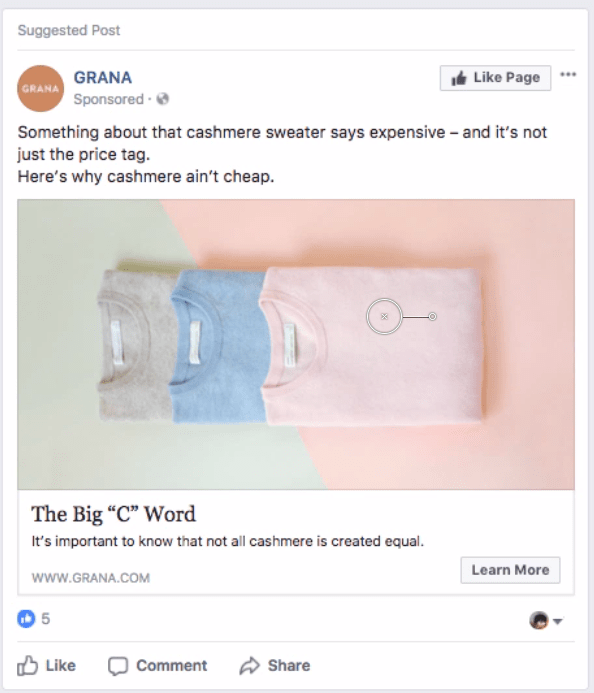 Instead of just expecting customers to take Grana at its word, the label backs up its product with well-researched content.
You can distinguish your ad by giving your customer free knowledge about the world of your product. In Grana's case, it's that "not all cashmere is created equal"—sparking curiosity in people who want to know what makes a good cashmere sweater.
Leading into your product with a piece of knowledge boosts your company's authority and gives it an edge over less-informed competitors.
12. Amazing Lash Studio Eastvale – Get People Involved in Your Launch
If you're set on your business being offline, Facebook ads can help you get hype for your launch.
The Amazing Lash Studio Eastvale gave customers a promotion to use in-studio, as well as the opportunity to become lash models.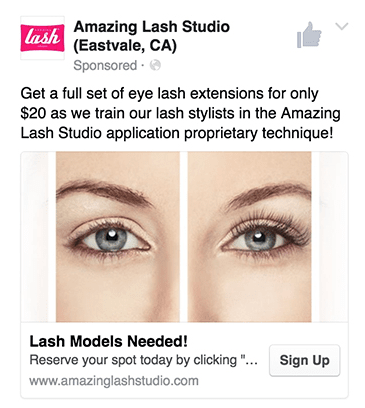 The double incentive draws people to the Amazing Lash Studio by giving them a promotion as well as a chance to model. After receiving their promotion, lash models can essentially advertise the studio's services offline.
You can generate this marketing feedback loop by turning online customer promotions into offline customer ambassadors for your brand.
13. MeUndies – Go Against Your Product's Traditional Narrative
Comfortable underwear is a pretty everyday piece of clothing—boring, even. MeUndies amps up its marketing by featuring its underwear in unconventional situations.
They created a series of video ads that show the underwear in extreme action and adventure. Each video ad inspires customers with a memorable snapshot of how they, too, can have an adventurous lifestyle, just by wearing MeUndies.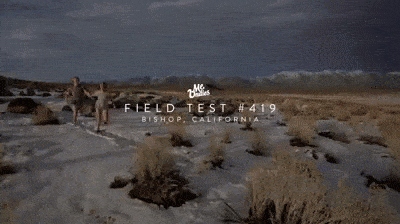 To create an unconventional, standout narrative, know what story is usually told about your product. Is it an everyday, functional thing? Is it more of a specialty item? Whatever the association, build an alternative narrative through image, or better yet, shoot a video of your product in an unconventional context.
This makes your product go against the grain, and there's nothing more attention-grabbing than rebellion.
14. Fabletics – Make Accessible Deals Exclusive
Kate Hudson's activewear and workout clothes label, Fabletics, created an exclusive deal for new VIP members. It wasn't for current members, and it wasn't for the person who clicks randomly because it's Kate Hudson (although she's certainly got star power).
It's for people who need a little boost toward becoming members for the first time.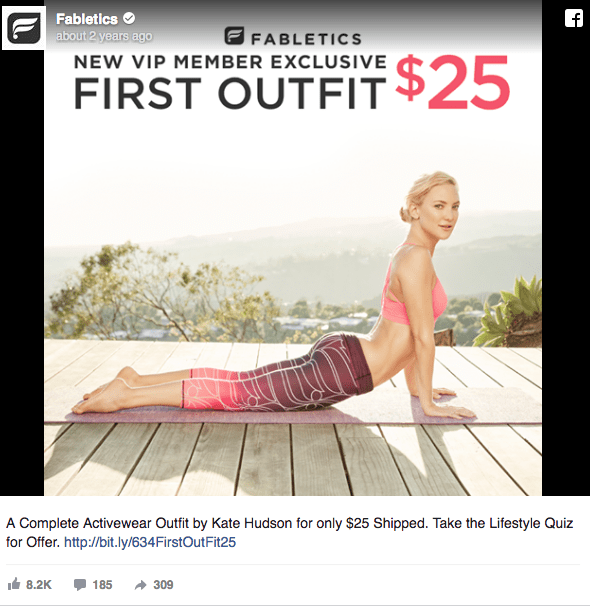 Exclusivity brings people to your site because it implies that with one good deal, there are more to come.
Strike a balance in your ad by getting customers to become members, but with a good entry deal as a clear incentive.
15. Dollar Shave Club – Show Your Product's Luxurious Side
Dollar Shave Club prides itself on affordable shaving gear for men and women. It uses a vision of luxury for everyone—a drink with a gold serving plate and cushion—as a backdrop for its humble razor set.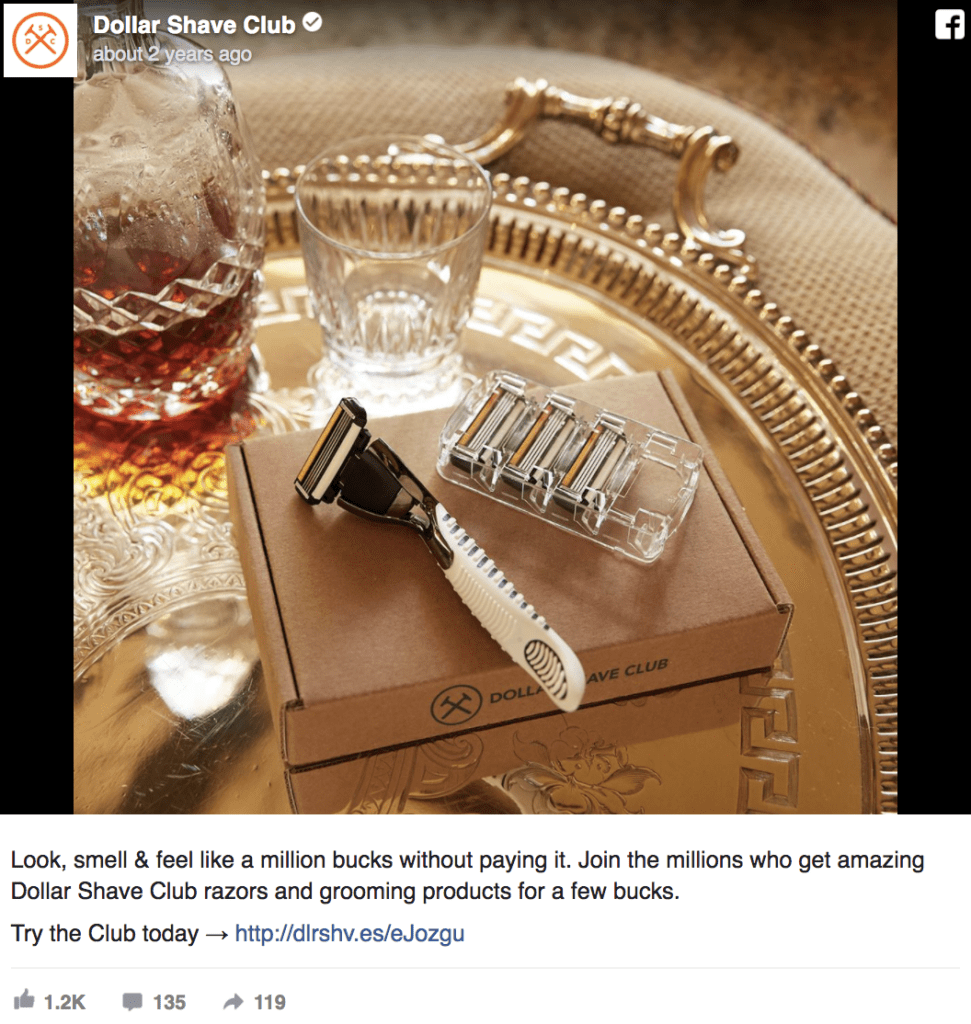 The copy validates the image's message by saying "join the millions" who are already using Dollar Shave Club's affordable razors to achieve high-end results.
Feature your product as part of an aspirational lifestyle. This inspires people to try out your product for the results you've imagined for within your ad.
For the Dollar Shave Club ad, the "try the Club today" link makes it easy for people to do that right away.
16. ModCloth – Retarget Your Customers From Way Back
Seasons change and customers who may come to your site for, say, a winter coat may not think to come back for a swimsuit. But when you sell clothes for all seasons, as ModCloth does, you can make the most of previous customer purchases by retargeting those customers on Facebook.
For ModCloth, a swimsuit makes a splash for customers when summer's right around the corner, and they've trusted ModCloth in the past to get the outfit right.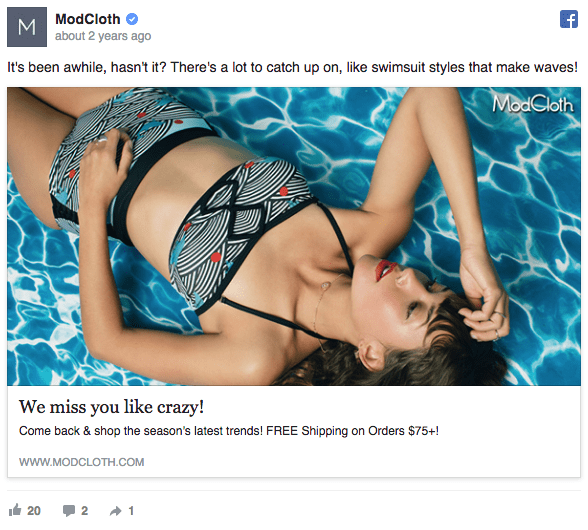 Target previous customers with products they would be interested in based on the season and previous purchases.
This has the effect of making customers return for items they may not have associated with your business. That's where your ad can broaden their horizons—within your site!
17. Levi's – Catch Last-Minute Holiday Shoppers
A lot of people procrastinate when it comes to holiday shopping—billions of dollars of procrastination shopping happen on Christmas Eve alone.
People need to be nudged to do the heavy duty work of shopping for their entire family and circle of friends. That's when denim company Levi's provided the perfect nudge: a discount restricted to one day of the week. #GreenMonday was the exclusive discount day to get Levi's best-known items.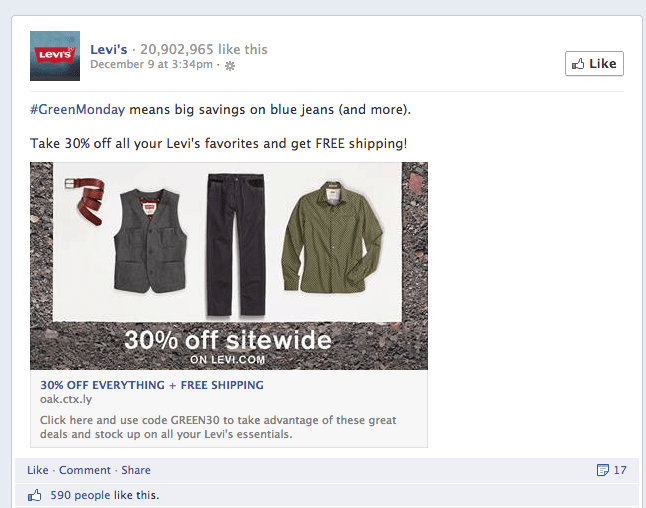 As people scroll through their Facebook feed, you can provide a strategically timed discount to nudge people towards your product as a potential gift.
In Levi's ad, a huge discount and free shipping is a great incentive for last-minute shoppers during the holiday season.
18. Good hYOUman – Connect Your Product to Self-Care
Good hYOUman sells shirts that are made in the U.S.A., and proudly advertises their production practices. The reason why this production stance works for their ads is that they connect an otherwise external fact—U.S. manufactured shirts—with an internal state of mind.
The ad's emphasis is on "comfort that will make you 'FEEL' good on the INSIDE & OUTSIDE." That connection resonates with millennial customers, in particular, who are increasingly drawn to ethical practices (sweatshop-free shirts) and self-care.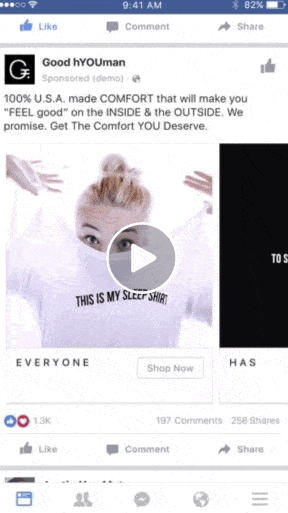 You can use the Carousel ad format to showcase your product, communicate your company's values, and connect the two through copy. When it comes to text, white on black is a standout contrast.
19. Pura Vida Bracelets – Use Multiple Contexts for the Same Product
Carousel ads are great for showing your product in multiple contexts, without the cost of creating a video ad or the time in thinking up an entire campaign.
Pura Vida bracelets used Carousel ads to show their artisan-made bracelets in all their potential.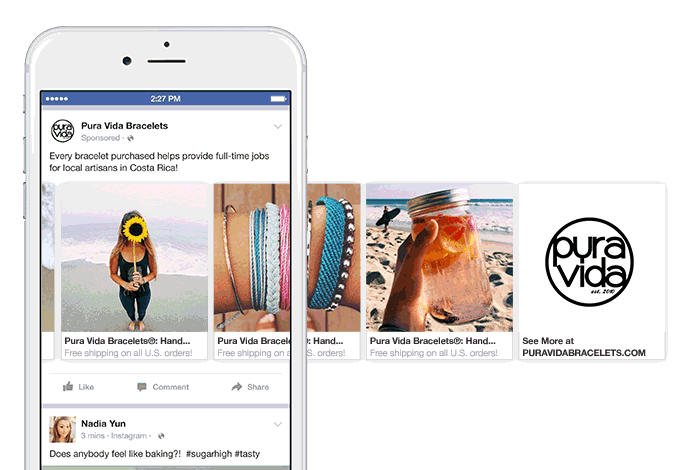 Hold your viewer's attention for longer by providing multiple images for the same product offer.
Each image can appeal to a slightly different audience, but ultimately all of the images should lead to the same offer, whether it's in Messenger or directly to your product page.
20. MM.LaFleur – Use Age-Appropriate Models
Female fashion models are notoriously young, sometimes advertising in their mid-teens, in clothing meant for grown women.
When it comes to businesswear for career women, it makes sense to use models that reflect the age of these women in the actual working world. That's where MM.LaFleur excels, by finding older women of all ethnicities to model their workplace fashions.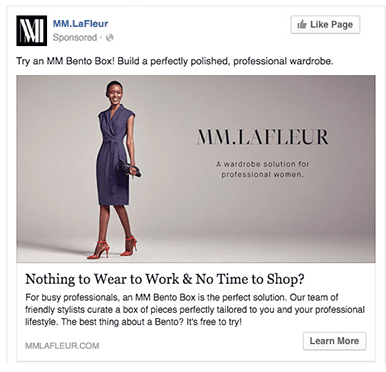 For women's fashion, feature models who your customers can relate to in age.
This helps build brand authority, as customers will see that you prioritize and understand how their clothing needs play out in the real world.
21. Lacoste – Build an Element of Suspense
Most ads out there deploy a kind of direct message to their customers. It gets tiring for people to process every single message thrown at them. Believe it or not, making people wait for your message can be an effective way to cut through the noise.
The sporty French clothing label Lacoste starts off their video ad with perhaps the most delightful suspense of all: unwrapping a gift. A ribbon weaves throughout the video, leading from one item to the next in a landscape of Christmas-y gifts, each Lacoste.
The ad makes their product a delight to behold by leading up to it with beautiful graphics.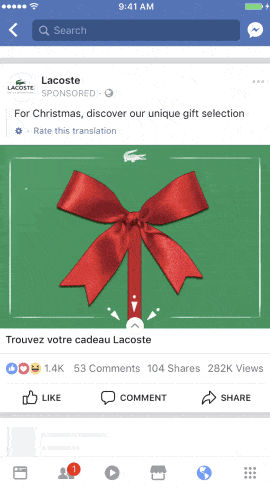 All your ad needs to do is build up to your product in an eye-catching, suspenseful way.
Video ads are a great way to do this, since they're inherently time-based.
22. Glossier – Show Off Your Bestseller List
Customer reviews are people's go-to way to gauge if a product will meet their expectations. Good reviews bring forth customers, who leave even more reviews, and soon people just learn to filter online stores by their top sellers.
The beauty brand Glossier creates an ad with magnetic power by showcasing their makeup bestsellers. Bestselling products are inherent magnets for customer attention, so featuring them in your ad guarantees clickthroughs from people wanting to know how they can get in on the quality satisfaction.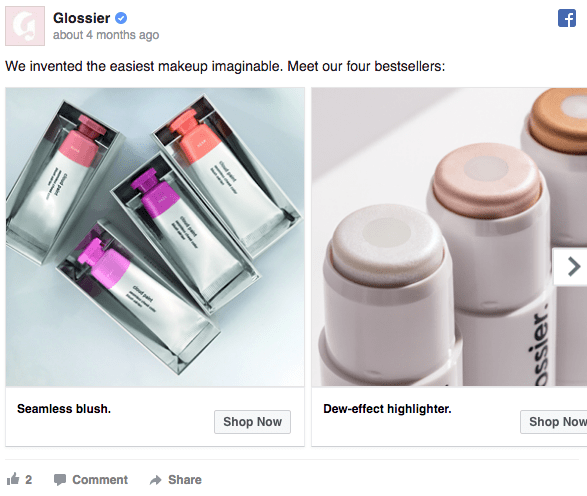 If you've got a lot of enticing bestsellers, you can use Carousel ads to feature them all. Treat your bestsellers with visual attention by using an extreme close-up or a birds-eye view.
23. Everlane – Leverage Data to Assert Dominance
People love a good deal, and a good deal is made even better when you know exactly how much you're saving.
Everlane used their ad as an opportunity to hammer out the competitor with data about how much it really costs to make a piece of clothing. Who wants to pay a 5X markup when you can pay just 2.2X?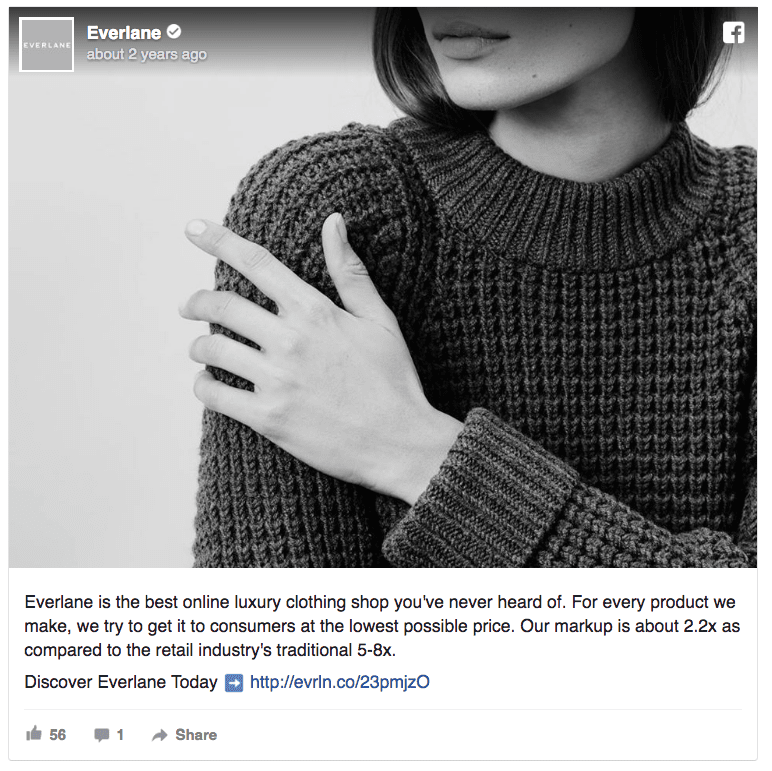 The clothing line bases its entire branding around this idea of "radical transparency." Hard data gives you a convincing edge over your competitors.
The Everlane ad doesn't even need to name them–––it's got insight into the retail industry as a whole.
24. Topman – Demonstrate a Makeover
You know an advertisement is convincing when it conveys a message to people without even seeming like it's an ad.  Topman, a men's streetwear line, used a piece of ironic content to brand themselves as hip and self-aware.
The ad works by using a before-and-after beauty post to grab people's attention and bring them to the Topman blog. The blog, in turn, puts Topman on the map as a knowledge base for all things men's style.
The result? A boost in the brand awareness and street cred.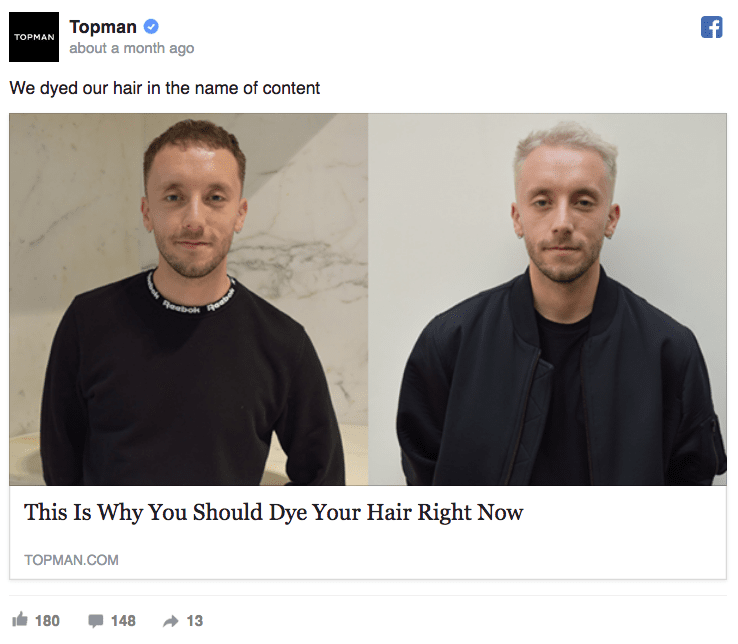 To raise brand awareness, identify the kind of content that your customers typically read, as it relates to your product. Are they tutorials? Listicles? In-depth blog posts? Whatever the content type, you can target and link customers to content that features your product.
25. Sephora part 2 – Get People Together in Real Life
The way makeup looks online can be deceiving, which is why buying makeup in stores is still the go-to, trusted way for people to get the products they need.
At Sephora's brick-and-mortar stores, the beauty giant can more easily upsell their products than in online stores. At the same time, it's easier to convince people a product is right for them when customers can just try it on themselves.
With this dual benefit of selling makeup in store, Sephora created event ads to give people the opportunity to engage with them offline.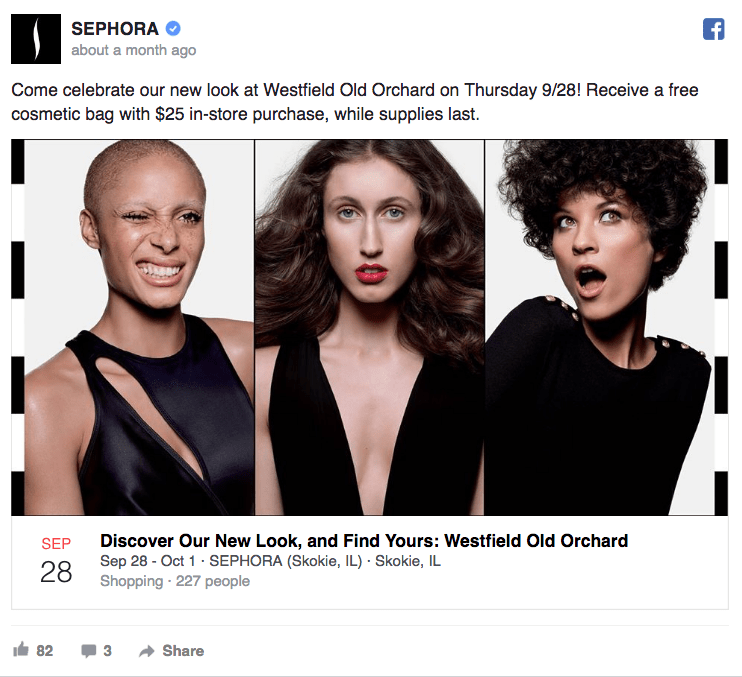 The takeaway here is the promise of free cosmetics. The event ad hits an important pain point in online makeup sales: you have to try a product to know if it works for you. It's an even greater incentive to just go into a store location, when you can take some makeup home to try for free.
26. Little Trendsetter – Direct Customers to Purchase
When it comes to kids' clothing, the most efficient purchase is likely to win out. Busy moms scroll through Facebook for a little respite during their downtime, but the kids are always on their mind.
Little Trendsetter targets mothers, or mothers-to-be, with ads that make purchasing children's clothes a breeze. With cleanly displayed products and a "Shop Now" CTA, Little Trendsetter made a 9.8X return on their ad spend.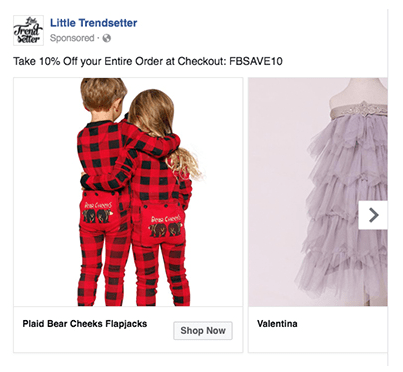 Simplicity never gets old. For customers who need to buy products with ease, pare down your ad to its essentials.
For Little Trendsetter, that meant a "Shop Now" CTA, a discount, and a product picture.
Hit Your Customer's Needs, Dead-On
Beauty and fashion ads are a dime a dozen, but the ones that standout always manage to communicate their understanding of their customer.
Whether it's a practical matter, like needing to try on makeup in store, or a tonal one, like needing self-aware style tutorials, the best ads draw people in with the promise of being a solution to their needs.
There's a multi-billion dollar audience just scrolling through Facebook, so what are you waiting for? Put these strategies to the test and find your ad's "light"!