Google is the top search engine in the world when it comes to researching products and services. Any given customer researches 7-13+ times before becoming a lead or buying a product, making Google the perfect spot to advertise.
But knowing that a given customer takes that many touches to convert, merely running text ads won't get the job done.
Instead, text ads on the search network should serve as the jumping off point for your campaigns.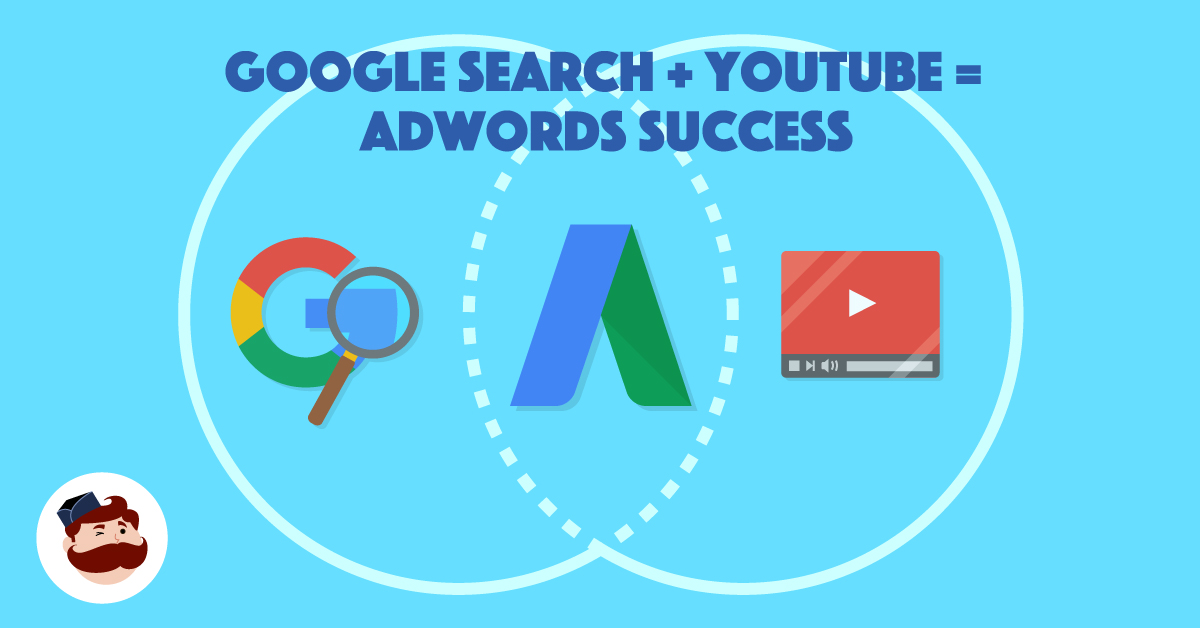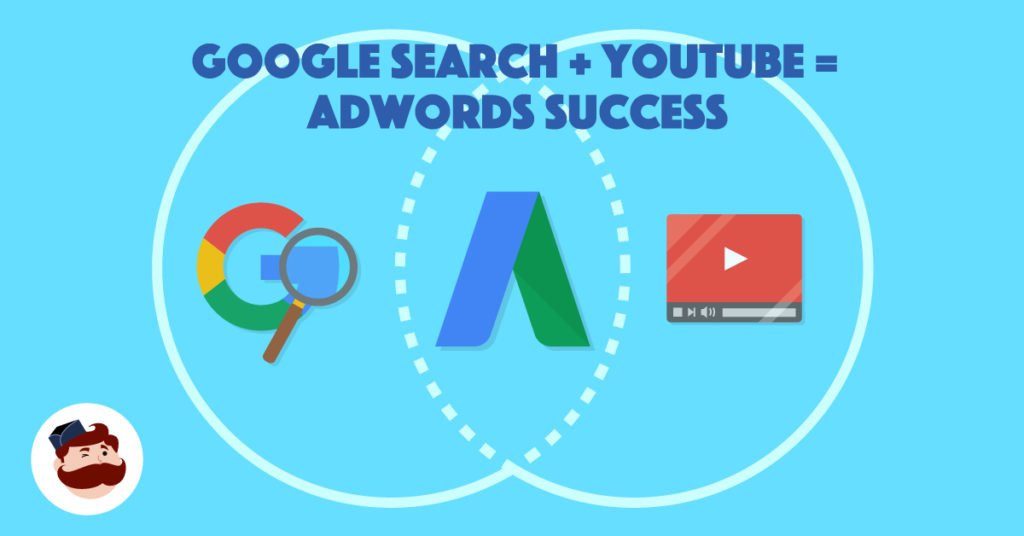 And with new Google AdWords features, you can now combine the power of the search network directly with YouTube advertising.
Here's how (and why) to combine both of these powerful networks for your next AdWords campaign to drive record-breaking results.
Why YouTube Advertising is Worth Your Time and Money
It's no secret that video content is booming. Just take a look at Netflix, YouTube TV, Hulu and countless other video platforms.
People love binge-watching video content more than they do reading.
According to the Washington Post, literary reading is on a sharp decline, dropping to just 43.1% of American adults who read any book, short story, poem or play (including online) in 2015.
That's not good news for written online content.
But the hesitancy to jump into video advertising is simply due to a massive barrier to entry.
It often requires producing expensive video segments that can take weeks if not months to perfect. Let alone brainstorming, planning, and testing.  And each of those little edits and tweaks or mistakes can set you back weeks of hard-fought progress.
Video production isn't easy, and it isn't cheap. Equipment to film and produce on your own can cost thousands of dollars.
The risk is very high.
On the other hand, anyone can fire up a text ad on the AdWords search network in a matter of minutes and instantly pull in traffic. As long as you can type and follow step-by-step guided instructions, you're good to go.
But when you look at the sheer amount of success that YouTube displays, that barrier to entry quickly becomes less of a concern.
According to Google, just product review videos alone on YouTube make up 438 million hours worth of video. Oh, and that's just on mobile, too.
The fact of the matter is, people use YouTube like they use Google: for product/service research.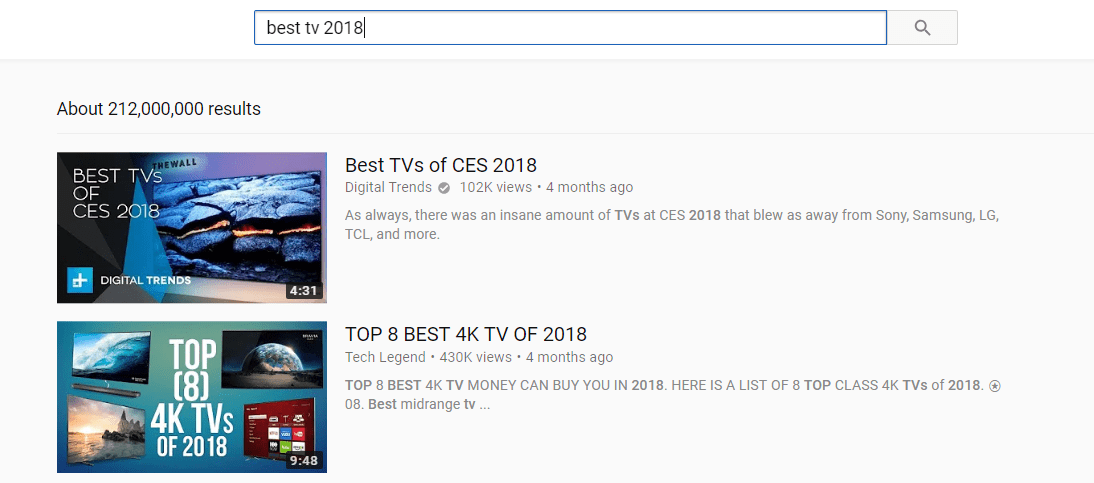 YouTube is a search engine just like Google, except it only displays (obviously) video content. And YouTube is seeing explosive growth.
According to TechCrunch, YouTube currently has 1.5 billion logged in monthly active users on their platform. These video junkies are watching more than one hour of video content per day on their mobile devices alone, not to mention desktop usage.
Yeah, that's a lot of content consumption.
Compare that massive amount of hyper-focused engagement to the fact that only 45% of people read more than 15 seconds of any given online article and you can start to see how compelling YouTube really is for audience targeting.
The engagement on YouTube is unparalleled, and marketers are catching on.
Daisy Jing turned her skincare company into a three million dollar business by monetizing on YouTube and running ads to build her brand. VideoPowerMarketing helped a single client generate over 100 leads weekly on YouTube ads alone.
YouTube ads are powerful tools to grow a business.
Video content is the future of online marketing. But don't take my word for it:
According to a Cisco whitepaper, by 2021, 82% of all online traffic will be for video.
With YouTube skyrocketing its views, audience, and engagement, now is the time to jump aboard.
So, how does it work?
How can you combine the search network and YouTube to find better success than with YouTube ads alone?
With brand-new custom intent audiences for video campaigns.
Custom Intent Audiences: Everything You Need to Know
Just a few months ago in 2018, Google announced the introduction of custom intent audiences for video campaigns on AdWords.
Previously being exclusive to the display network, this new change has the community excited, and for a good reason:
YouTube is exploding.  
These new audience types allow you to reach users on different platforms (like YouTube) by targeting groups that search for specific or related keywords and even direct URL site links.
Google describes this new audience type as a way to
Move undecided customers to action using the persuasive power of video."
For instance, if someone searches for a financial advisor on Google, you can target that person in your audience to showcase a video ad for your financial advisory firm on the next video they watch:
In a case study provided by Google (click on the image above for further details), investment company Betterment utilized these new audience measures to target people searching for that exact keyword.
Using YouTube TrueView ads combined with custom intent, they increased their ROI by 6x when compared to just YouTube ads alone. After running these ad and audience combinations, they produced a 245% increase in branded searches for their company.
Impressive results to say the least.
Google recommends that advertisers use the new TrueView format, too. What is it?
TrueView is Google's new YouTube advertising formats that allow you to reach users more effectively on YouTube.
For example, with in-stream video ads, your ad will show just before the user watches the video that they clicked on, allowing them to visit your site or engage with the ad if they are interested: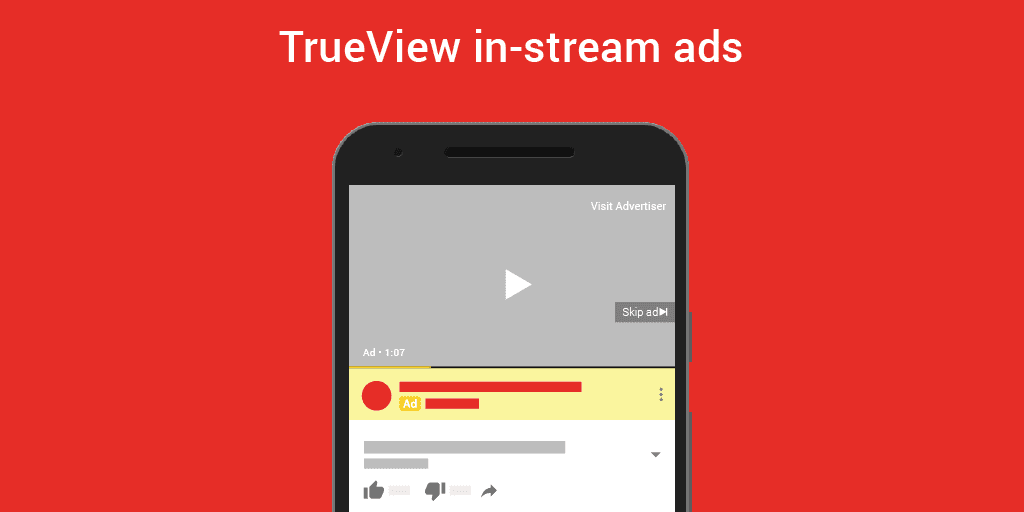 The second format, discovery ads, helps advertisers place their video content on three different pages: search results, watch page and homepage: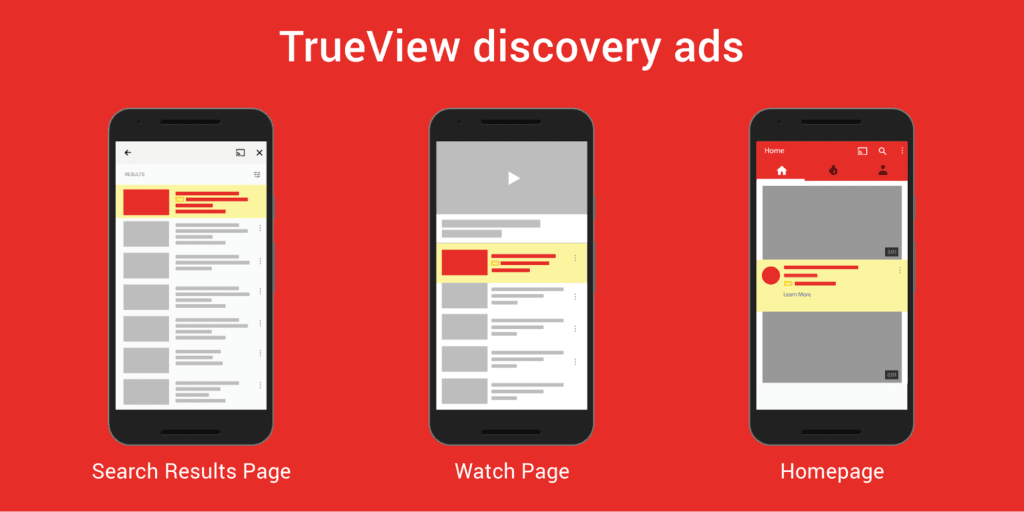 For instance, when you head to YouTube you might see a banner ad directly on the homepage related to your recent search history:

That's TrueView!
So, you might still be wondering:
Why should I use custom intent audiences over any other audience type on video campaigns?
Custom intent audiences work slightly different than current audience types on AdWords for video. They work by targeting standard Google search behavior instead of YouTube behavior.
If someone searches for "SEO guide" on Google but watches a totally random video of cute dogs, you can still show ads to that audience for your SEO company. It's a win-win and provides easy ways to ensure that you are targeting people who have already researched.
It's essentially skipping the first stage of the typical online marketing funnel. You know, the buyer's journey that you've likely become so familiar with:

In the first stage, users become aware of their problems and look up ways to solve them. Targeting them at this stage might prove difficult if your goal is selling a product or service instead of collecting leads.
If you tried to sell to a user in the awareness stage, you'd likely come away with very few conversions.
To bypass this, custom intent audiences ensure that your audience has already conducted searches on your keyword of choice. Meaning they are further down the funnel at the consideration stage, ready and waiting for you to close the deal with a strong value proposition (your video ad).
This allows you for further customization based on individual keywords and frequency, giving you nearly unlimited numbers of campaign options.
Now that you've got the basics down, let's recap:
What is a custom intent audience?

Custom intent audiences are a new way to reach users searching on Google for products or services. They can be developed based on keywords or specific URLs related to your product or service and are great for targeting users who have and are actively researching.

How do you use them?

Currently, Google recommends to combine them with TrueView video ads on YouTube for the best results. If you don't have this targeting option available yet, it will be shortly.
Ready to get started and create your first Google search and YouTube campaign using custom intent?
Let's do it!
How To Setup Your First Google Search and YouTube Campaign on AdWords
Before we jump in, your account may not have access to this audience type yet for video ads (but it is available for everyone on the display network).
Google is still rolling this targeting option out to all users. With that being said, it's time to get started!
To set up a new campaign on AdWords utilizing custom intent and YouTube, you can head to your campaign manager and create a new campaign: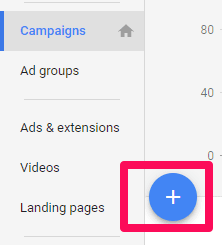 Since you will be running ads on YouTube, select "Video" as your campaign type:


From here, you can select any campaign goal that you want to run.
For example, if you want to generate brand awareness and consideration, you can do that. This means you won't be focused on leads, but rather, selling products.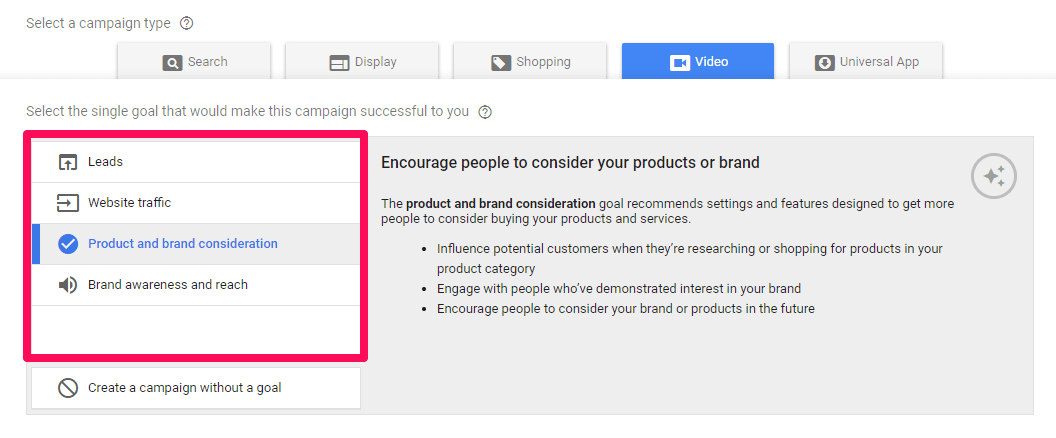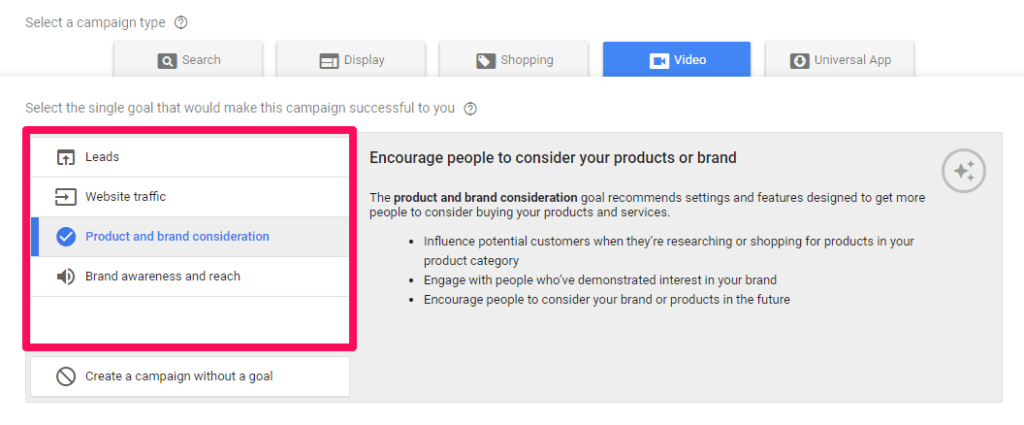 If you aren't sure which goal to pick, simply ask yourself why you are starting the campaign.
Leads

: if you want to collect non-brand aware leads for services, this is a great choice.

Website traffic

: if you just want to generate website traffic or have more generalized goals, pick this.

Product and brand consideration

: these are great options for both brand awareness and directly selling your products with your ads.

Brand awareness and reach

: no ability to sell, only focused on branding.
Depending on your goal type, you can select a campaign subtype: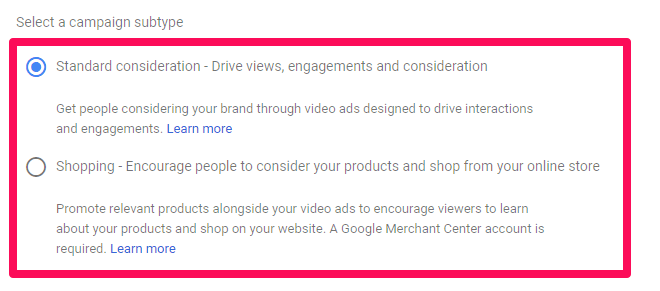 Next, give your new campaign an easily recognizable name that you can add your custom intent audience to:


Under the "Networks" option, ensure that "YouTube videos" is enabled and selected.


Next, be sure to mark any content exclusions where you don't want your ads to show up: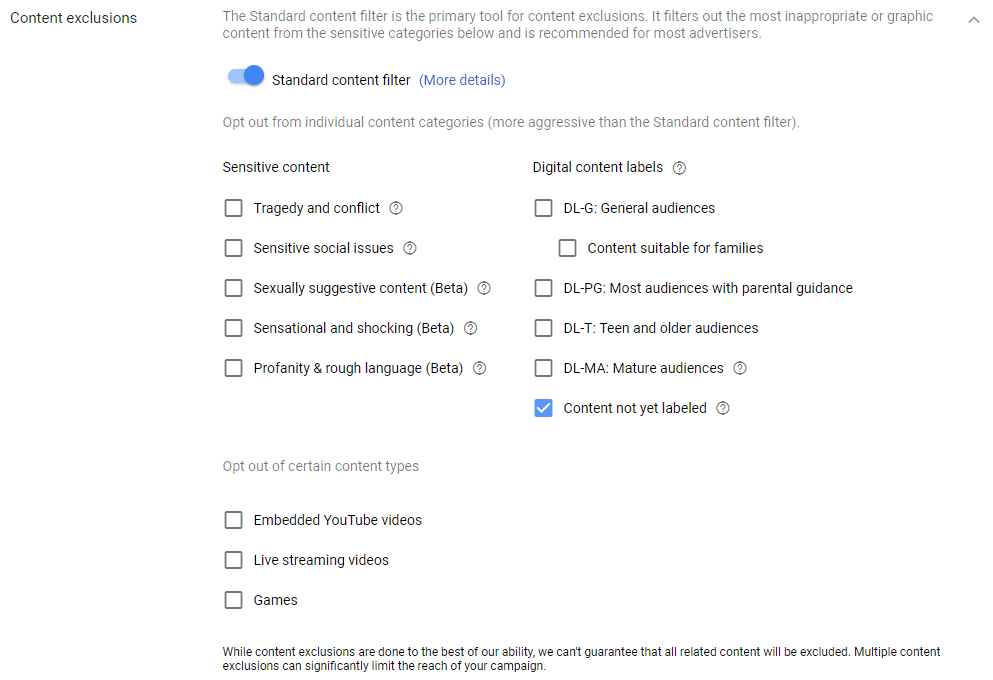 For instance, if you are selling family friendly content, you obviously wouldn't want that on sensitive or mature rated content as it could poorly reflect on your brand and would likely miss your target audience anyway.
Now you can begin to edit your audience:


If you don't see custom intent available, you can save your campaign and head back to the campaigns dashboard and select audiences from the menu:

Then, create a new custom intent audience based on keywords and URLs and assign that back to your new TrueView campaign: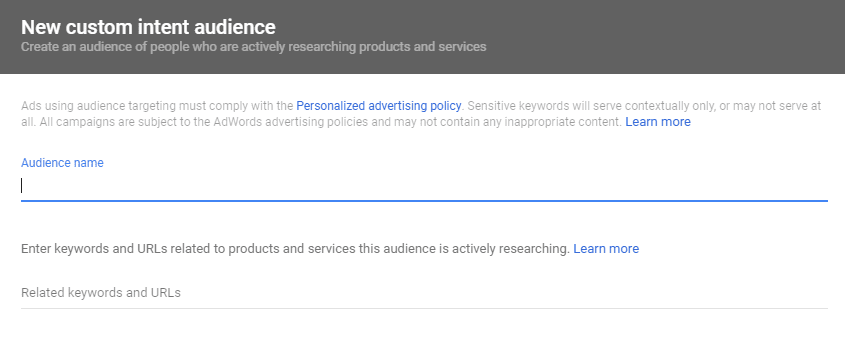 After you've done that, be sure to save your work and give yourself a pat on the back.
With YouTube advertising, you'll have to upload your ads directly to your linked YouTube account on AdWords to use them.
Here's how.
How to Link Your YouTube Account to AdWords To Start Advertising
Advertising on YouTube through AdWords requires you to link accounts. This way, you can easily pull video content directly from your YouTube account to use.
When creating new ads on the AdWords Dashboard, you'll be prompted to select videos from your linked accounts.
If you don't have a linked account, you can follow this quick setup guide:
To get started, head to your dashboard and select the toolbar. Navigate to "Linked accounts."


Next, click "Details."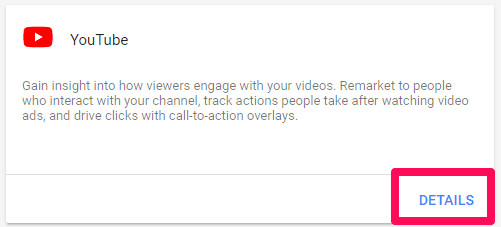 Proceed to "Add Channel," and you can then link your account:

Search for your account using the toolbar and link them with your account username and password if they aren't linked to the same Google account you use for AdWords: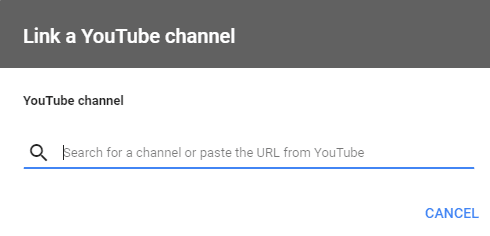 Voila!
That's it.
Now you can take advantage of YouTube advertising with custom intent audiences and bring home the bacon.
Conclusion
Online marketing is rarely a one-step process. If it were, we'd all be out of a job.
You can't turn on a few text ads and expect your ROI to increase 10x over the next year.
Thankfully, AdWords' new features allow advertisers to combine efforts across platforms like the search network and YouTube for maximum impact at every stage of the funnel.
YouTube is seeing explosive growth, and while video content has a higher barrier to entry than text ads, the level of engagement you can expect is unparalleled.
With new custom intent audiences, reaching consumers who have searched on Google for your products and services is easier than ever before.
Custom intent audiences seek to target specific searches based on their funnel (intent) stages for better results.
Set up your first campaign today to start taking advantage of these audiences. Don't let the barrier to entry hold back your advertising potential.