What if I told you that you're using only 30% of your potential Facebook audiences?
When working on some customers' Facebook advertising accounts, I've noticed that marketers mainly use Facebook's Saved audiences as they're the easiest to create. Sounds familiar?
However, focusing your Facebook targeting on location, interests, and demographics isn't often enough to run high-ROI campaigns.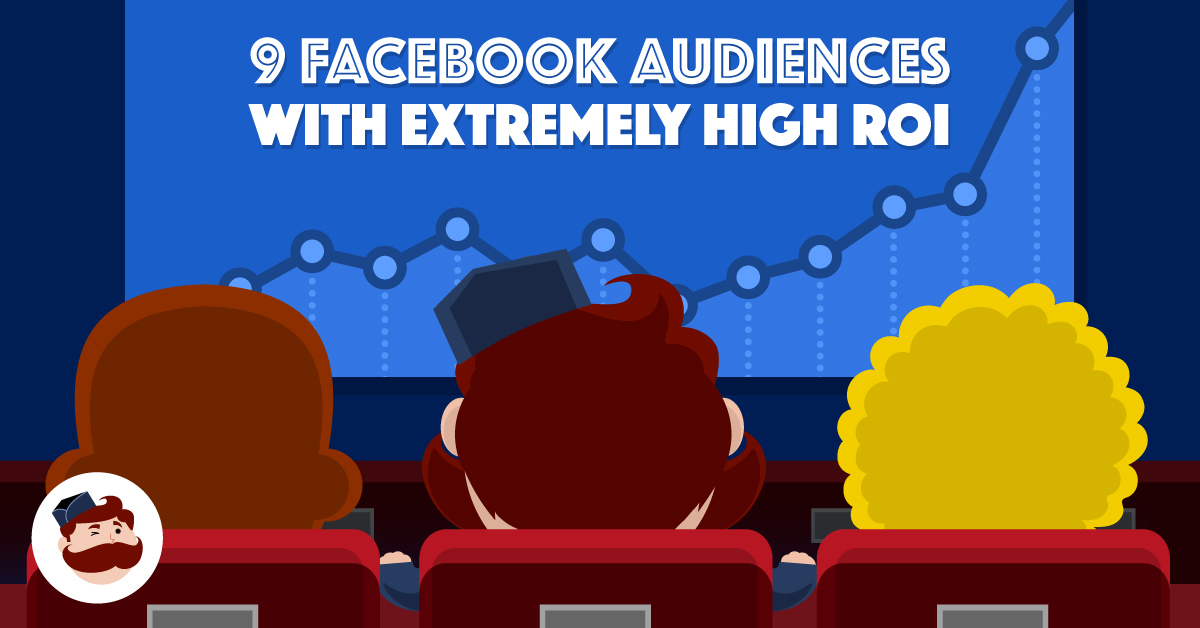 You're missing out big on the sweetest audiences and opportunities.
There's more money to be made with Facebook Custom Audiences and Lookalike Audiences.
In this post, I'm going to show you the audiences that pros use to up their Facebook marketing game.
Ready to get more customers via Facebook advertising?
Thought so!
Facebook audience #1: All your past website visitors
If you could create a single Facebook Custom Audience for maxing out on your Facebook ads results, I'd recommend this one.
People who have previously visited your website are already familiar with your brand, making them more likely to find your offer of interest.
When retargeting past website visitors, your goal should be reminding them of your product. Create ad campaigns that promote your key value proposition, but don't try to be overwhelmingly salesy in this phase.
For example, Freshbooks' Facebook ad says clearly what their product is about, without prompting viewers too aggressively to sign up.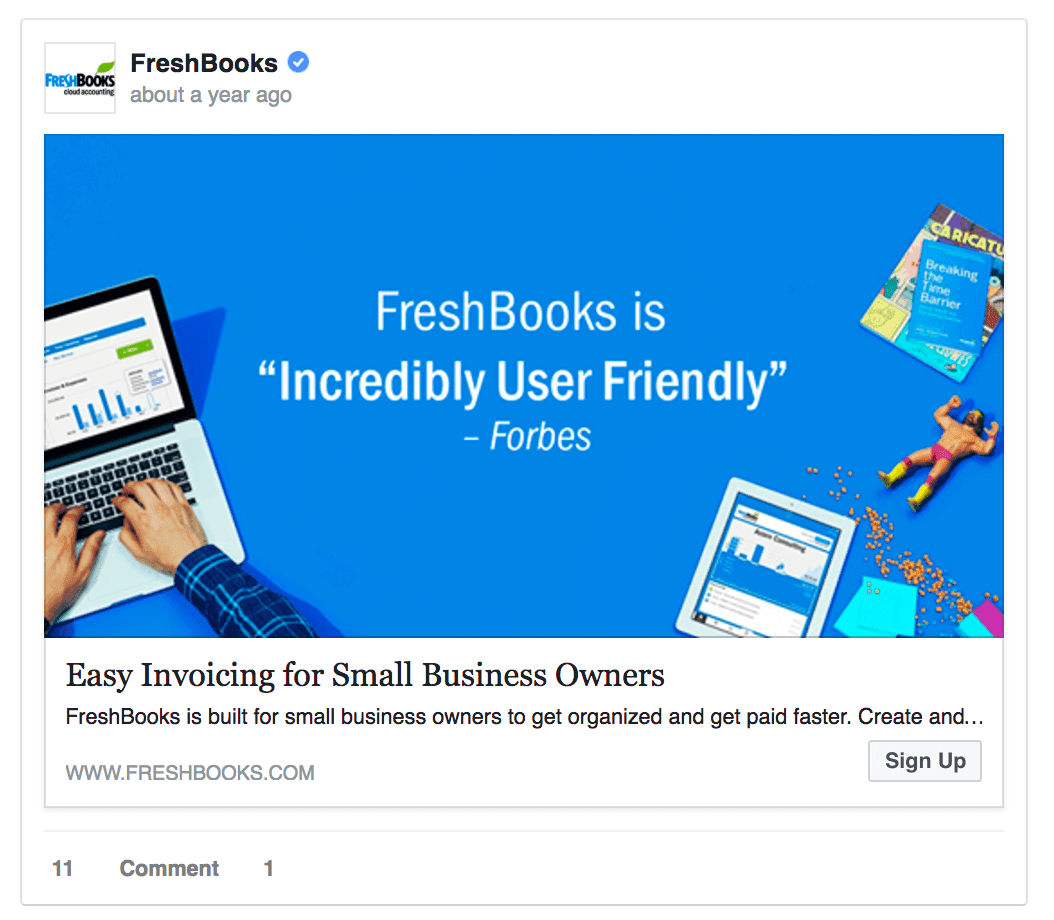 How to create a Facebook audience of your past website visitors:
To create a Custom Audience of all people visiting your website, go to your Audience Manager, select "Custom Audience" and click on "Website Traffic."
You can retarget people who visited your website in the time frame of past 1-180 days.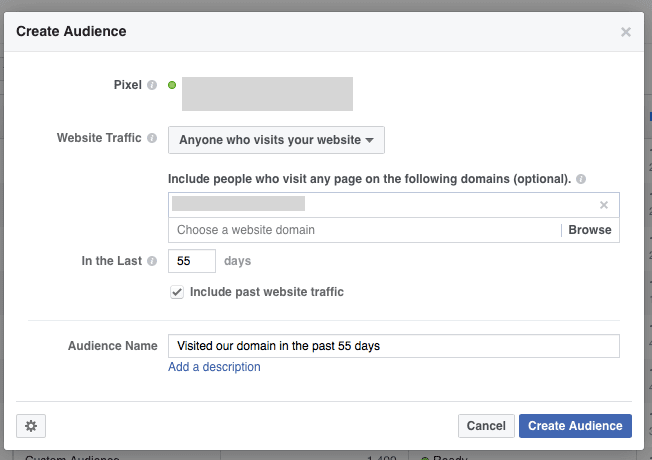 Don't forget that you need to have the Facebook Pixel installed to your website, so that Facebook can track all your website visitors.
Or you could use AdEspresso's new tool Pixel Caffeine to create Custom Audiences in WordPress, and ignore the complex Pixel setup process.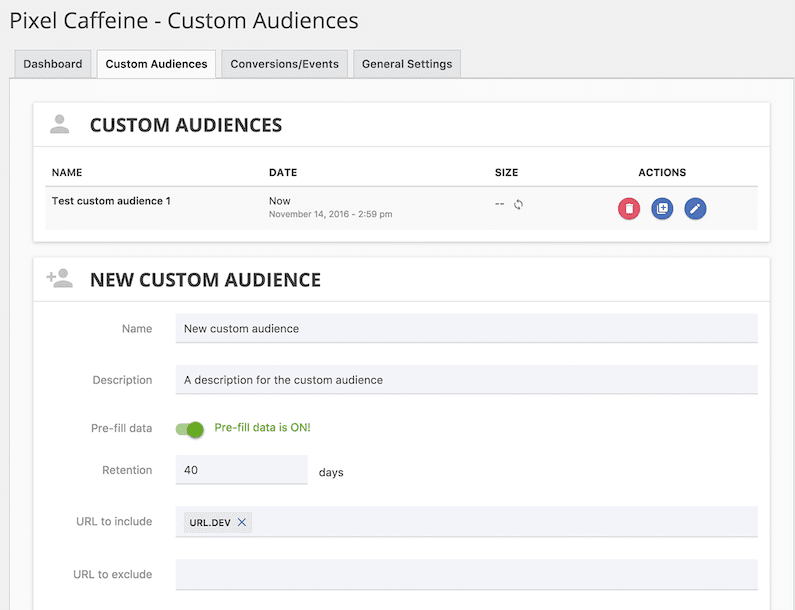 Facebook audience #2: People who have visited your Pricing page
You may not have thought of this before, but once someone checks out your Pricing page, they're at least a bit interested in your offer.
This leaves you with a perfect remarketing campaign opportunity.
You could create a Facebook Custom Audience of all the people who have visited your Pricing page and offer them a small discount – maybe it was the high price that made them leave your site.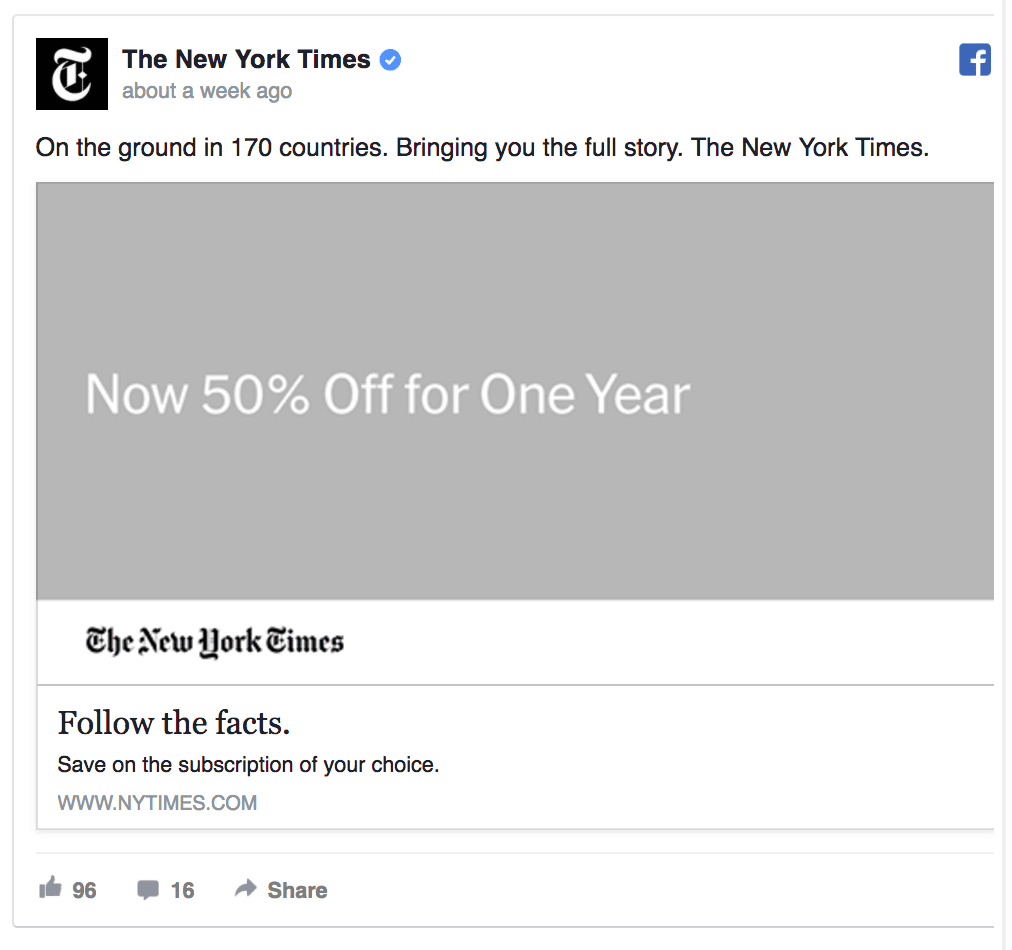 Another tactic you could apply is to give those people a short-term free trial or offer them a product sample.
The New York Times has also tried this method: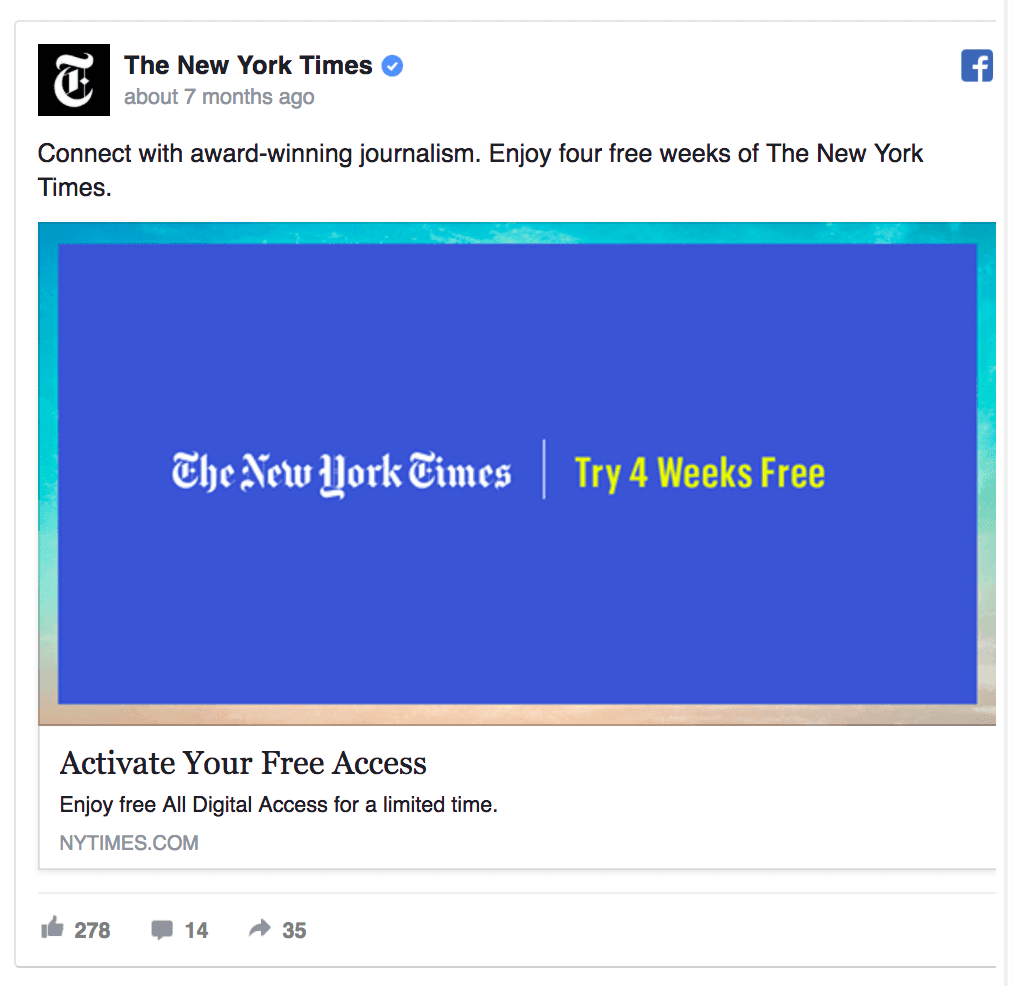 How to create a Facebook audience of Pricing page visitors:
To retarget people who have been on your Pricing page, create a Facebook Custom Audience that's based on website traffic.
Select to target "People who visit specific web pages" and type in your Pricing page's link.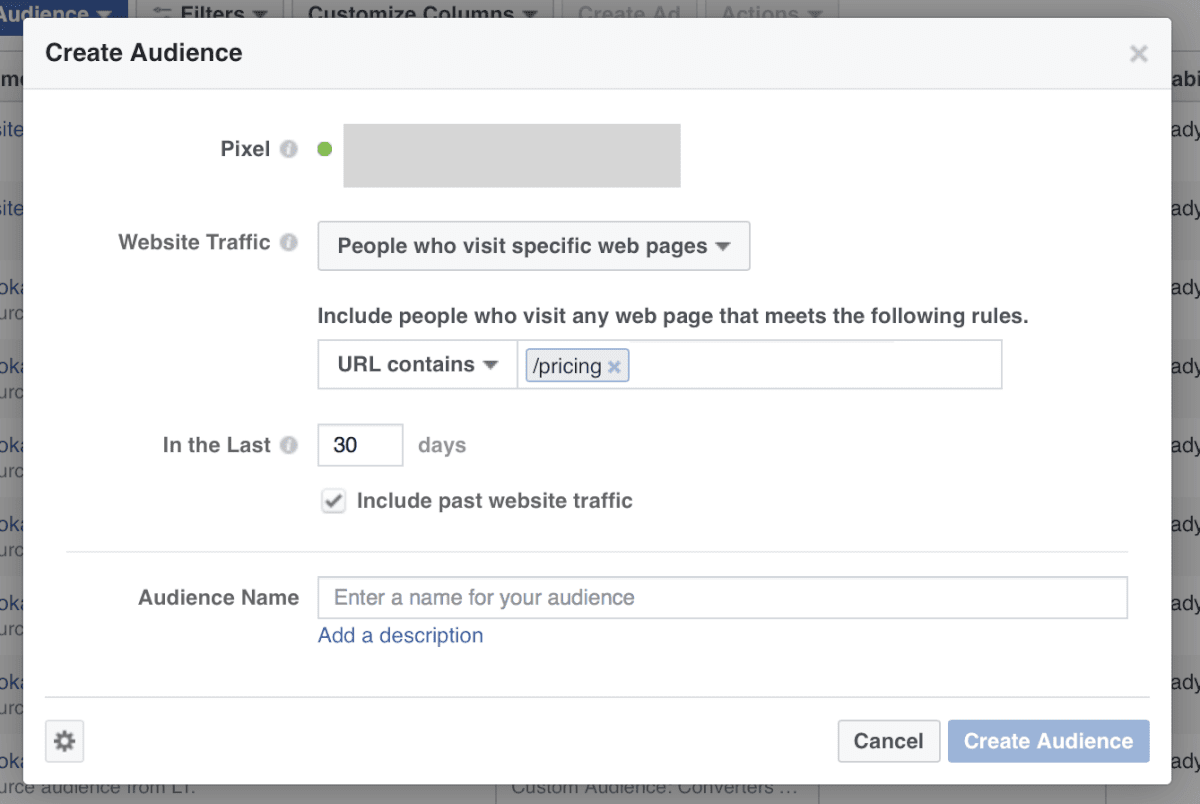 When creating new Custom Audiences, make sure you've ticked the box in front of the "Include past website traffic" option. This way, Facebook will also include people who have visited your site in the past.
Facebook audience #3: Your blog readers
Your blog readers are often your fans, especially those who come back time and time again.
People reading your blog are familiar with your brand and have a high potential of becoming paying customers. All you need to do is nurture these leads with low-threat offers – don't ask them to buy right away.
There's another reason to remarket to your blog readers. According to research by Social@Ogilvy, the organic reach of Facebook posts was between 2% and 6% in February 2014.
This means that whenever you share a blog post on Facebook, it won't reach the people liking your Facebook page.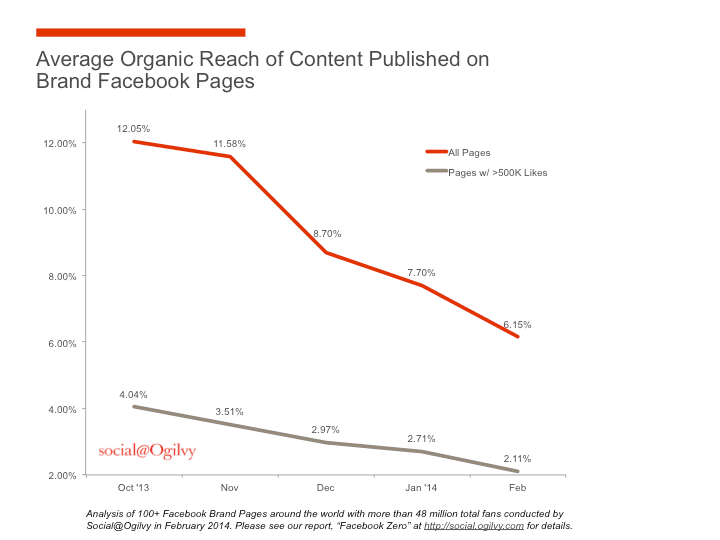 If you want your blog readers to find your Facebook posts, you need to use paid promotion (by boosting posts and promoting your blog content with ads).
For example at Scoro, a startup I'm working with, we always use a paid promotion to ensure our blog articles reach the people who have read our blog in the past 60 days.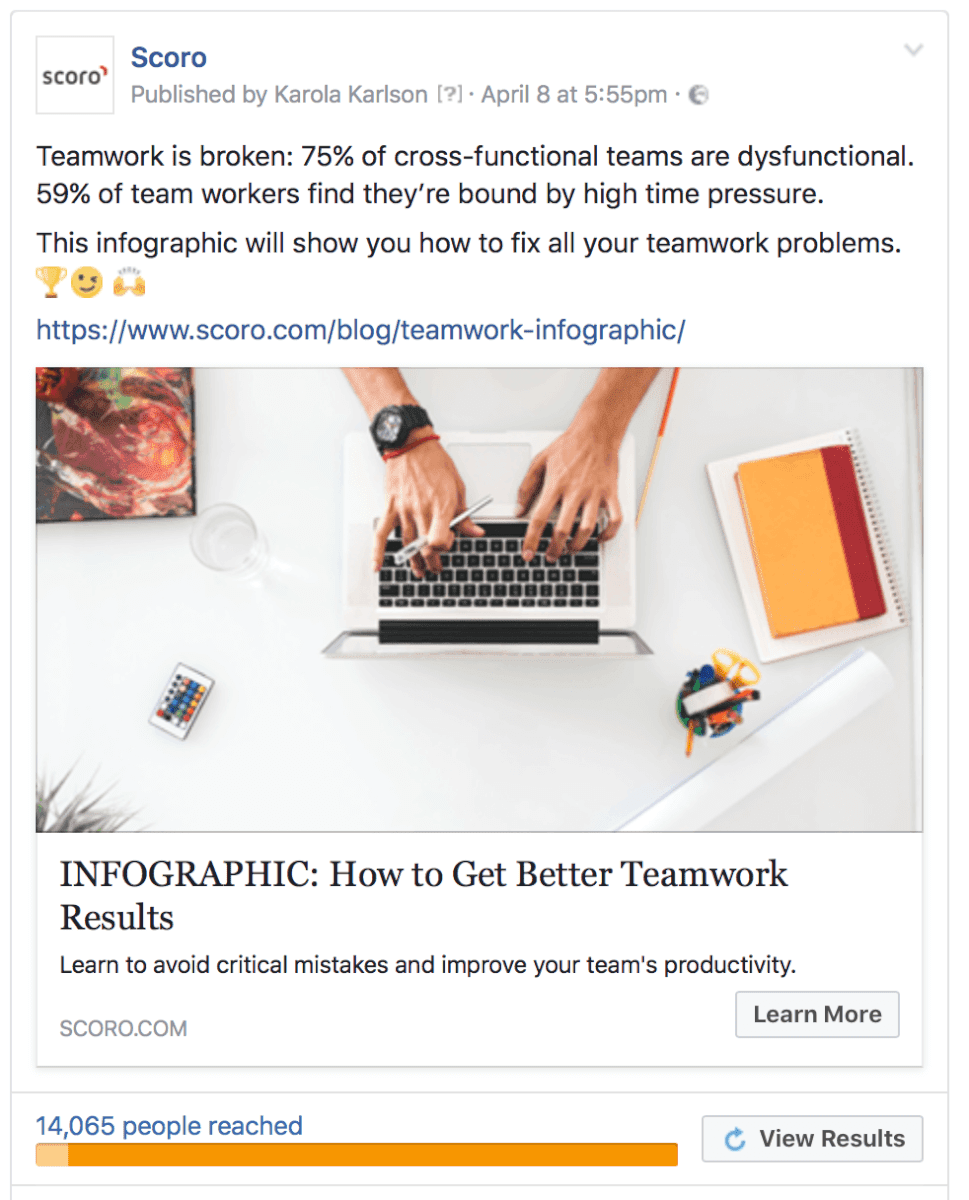 We've seen a lot higher engagement rate and lower cost-per-click by using this tactic.
How to create a Facebook audience of blog readers:
Similarly to the previous two audiences, you need to create a Custom Audience of past website visitors. This time, you're going to type in your blog's URL.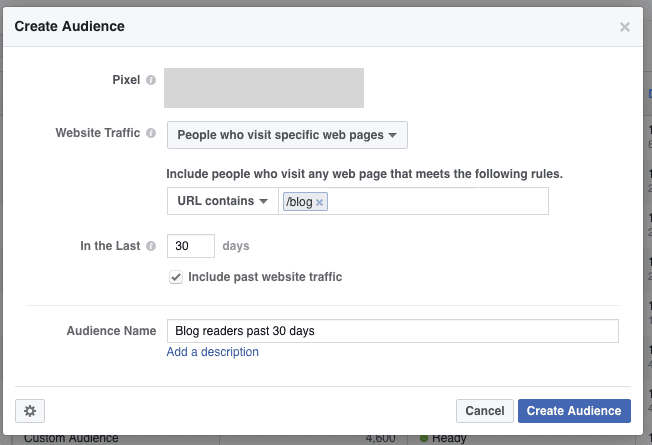 If you've got lots of blog traffic (3,000+ visits per article), you could create Custom Audiences of the people who have read specific articles and advertise to them more articles on related topics.
Facebook audience #4: Specific landing page visitors
Marketers spend thousands and thousands of advertising dollars to get people visit their landing pages.
However, not all landing page visitors convert to customers during their first visit. There's a huge remarketing potential waiting to be used.
According to eMarketer, nearly three out of five U.S. online buyers say they notice ads for products they've previously looked up on other sites.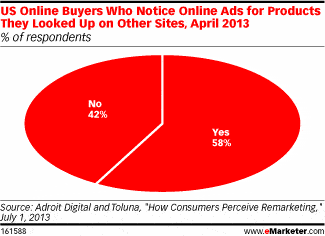 Retargeting people who have visited specific landing pages works mainly for two reasons:
These people are already familiar with your brand
They're interested in a particular product or use case (you'll know what to promote)
When retargeting the people who have visited specific landing pages, you can be more specific with your offer.
For example, MOO's Facebook ad promotes their Luxe business cards. While they also have other types of cards, this ad could be targeted on people who have previously checked out the Luxe cards.

How to create a Facebook audience of landing page visitors:
Using the Facebook Ads Manager, create a Custom Audience of past website visitors and target specific URLs.
Don't forget to exclude people who have been to the landing page but already converted!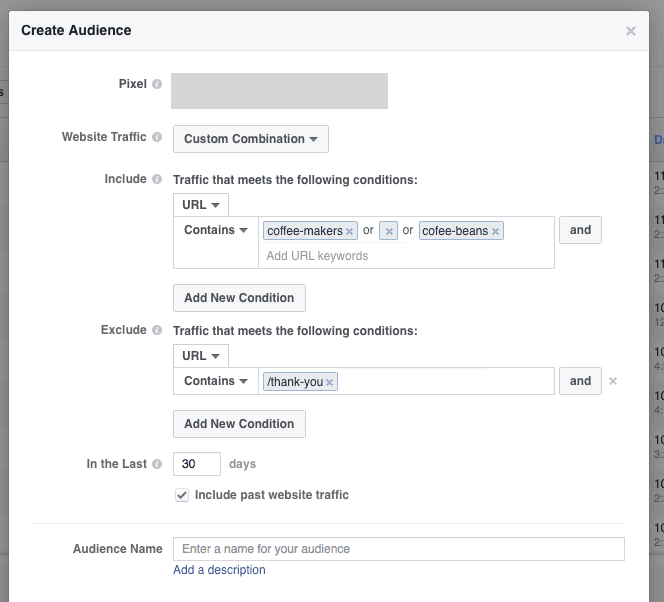 When remarketing to landing page visitors, be super clear about the next step – what action would they take next?
Facebook audience #5: People who abandoned their shopping cart
You were SO close to the finish line, but at the last moment, the buyer changed their mind and decided against purchasing your product…
I know, that feels awful.
But what if you could get that person return to your store and make the purchase after all?
In fact, you can easily do it by creating a Facebook remarketing campaign targeting specifically the shopping cart abandoners.
One way to get the shopping cart abandoners return to your site is offering a nice juicy discount. For example, Udacity's Facebook ad offers a limited-time 30% discount.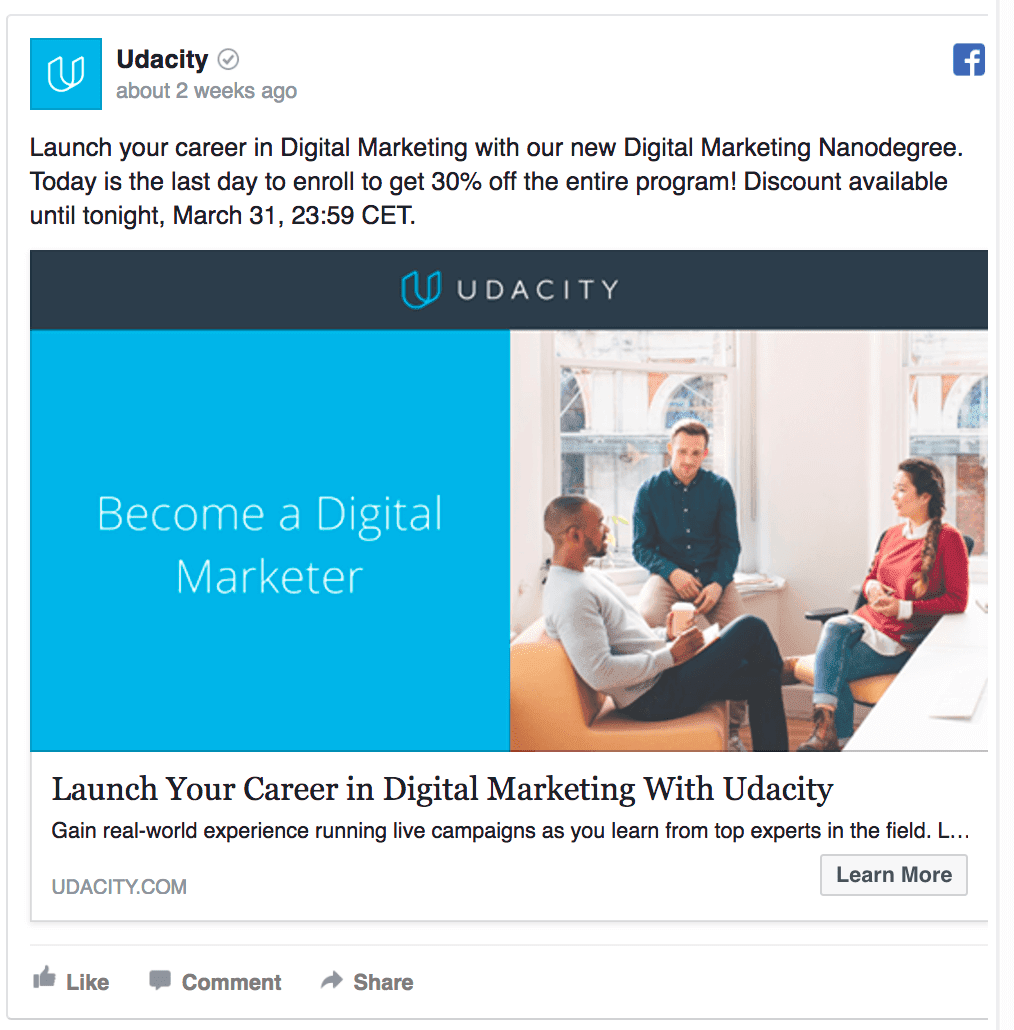 How to create a Facebook audience of cart abandoners:
To compile a Custom Audience of the people who have already added products to their shopping cart and almost made a purchase, follow these guidelines:
Include your Check-out page's URL
Exclude your Thank-you page's URL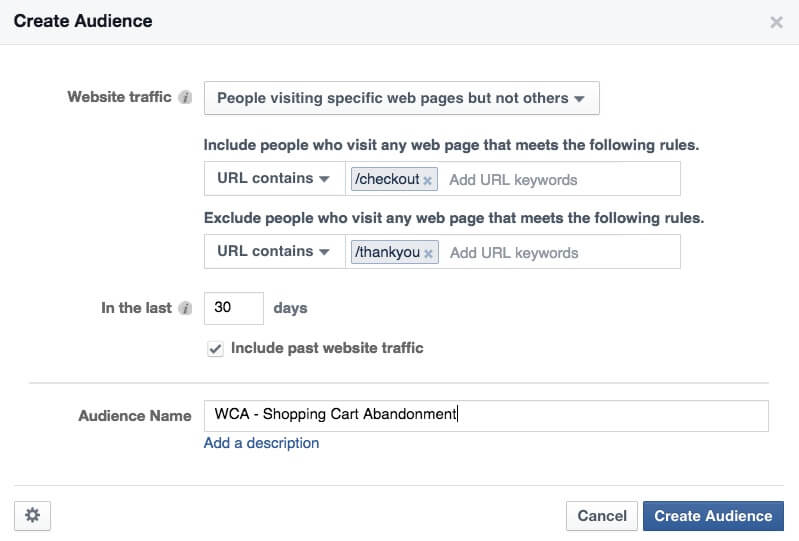 If you don't have such specific URLs for the shopping cart, check-out, and thank-you messages, set up Custom Conversions by using the Facebook Pixel.
Facebook audience #6: People who have already purchased from you
You might be thinking "Why would I want to retarget someone who has already made the purchase?"
Here's why:
Adobe's research found that in the US, 41% of overall revenue comes from repeat customers.
The average revenue per visit for repeat purchasers in the US is 497% higher compared to regular shoppers.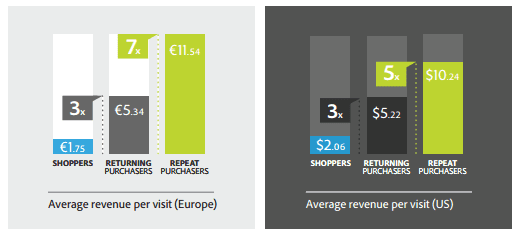 You could use this Facebook audience to upsell or cross-sell. For example, if someone orders a book about coffee from Amazon, they may also be interested in a kettle.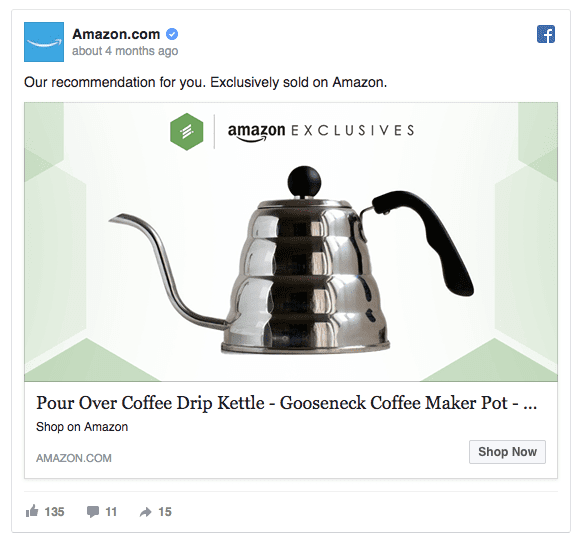 However, selling more to existing customers isn't the only good reason to remarket to past converters. Sometimes, it also make sense to use this tactic for higher engagement and customer success.
For example, AdEspresso often promotes their free eBooks to help customers and prospects become better at Facebook advertising.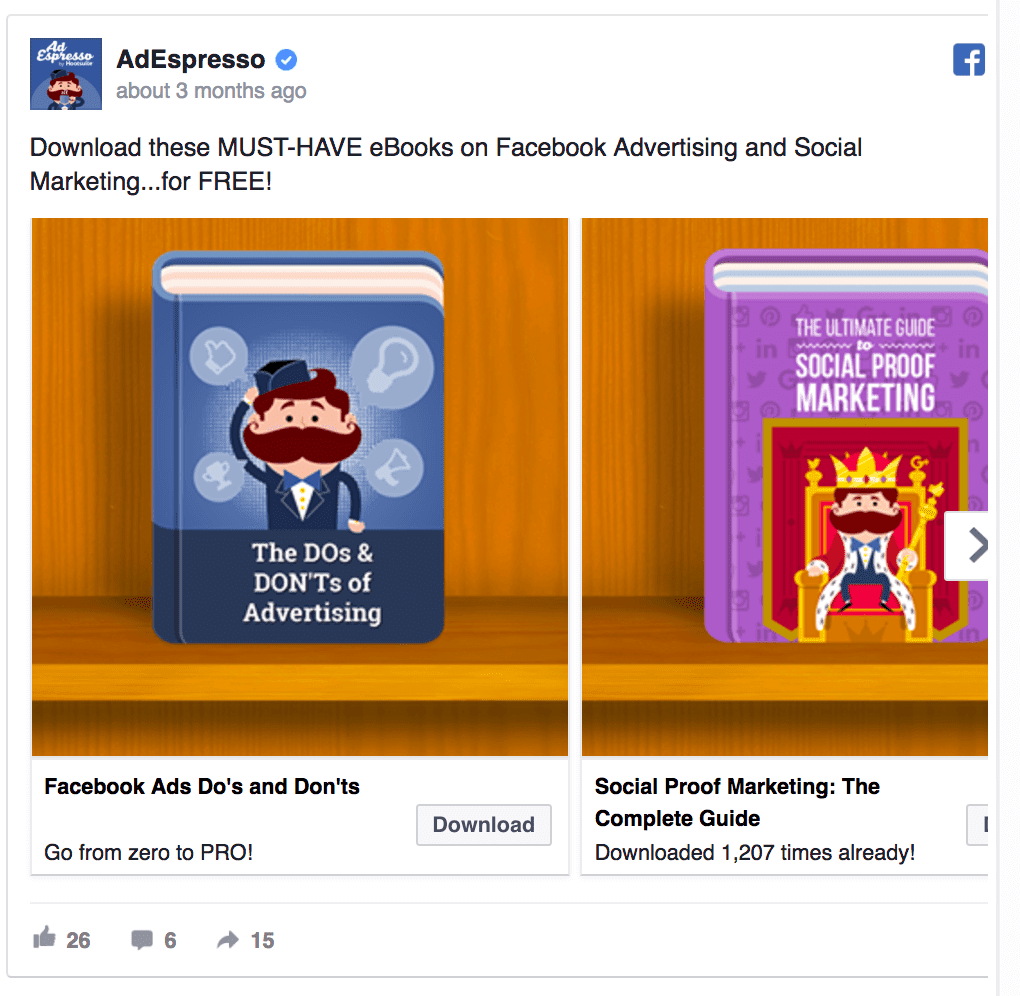 How to create an audience of past converters and paying users:
Head to Facebook's Audience Manager and set up a Custom Audience that targets your Thank-you page's URL.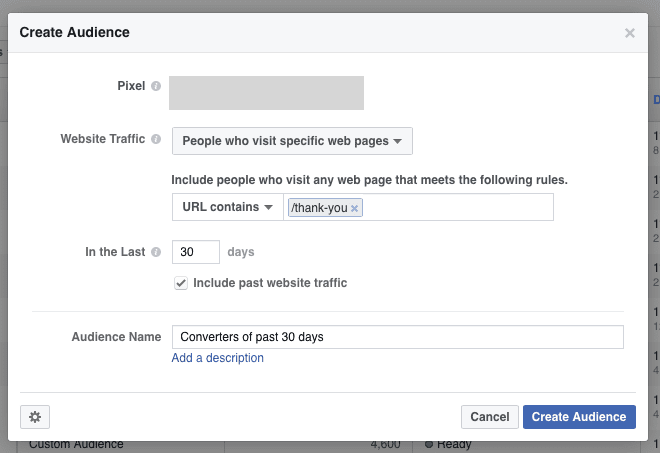 Facebook audience #7: Free trial and freemium users
According to Totango, only 15-20% of your free trial users actually become paying customers.
Even if you're super smart about lead nurturing, you're likely to get 200 paying users out of each 1,000 free trials.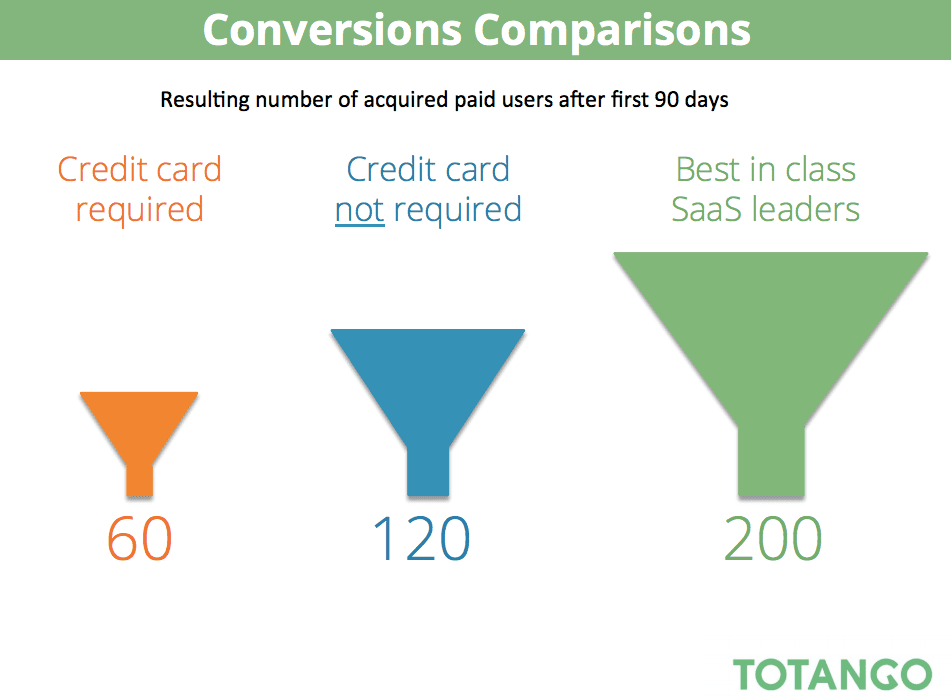 By creating a Facebook Custom Audience of free trial or freemium users, you can remind them of your product and nudge them towards becoming a client.
Some Facebook ad ideas that you could use:
Share facts and numbers about your product's benefits
Share case studies with exciting user stories
Use convincing messages to overcome people's objections
Share "getting started" guides
Promote a free product demo with one of your salespeople
Promote premium features included in the paid version
Here's an example by GetResponse, promoting a paid version of their product: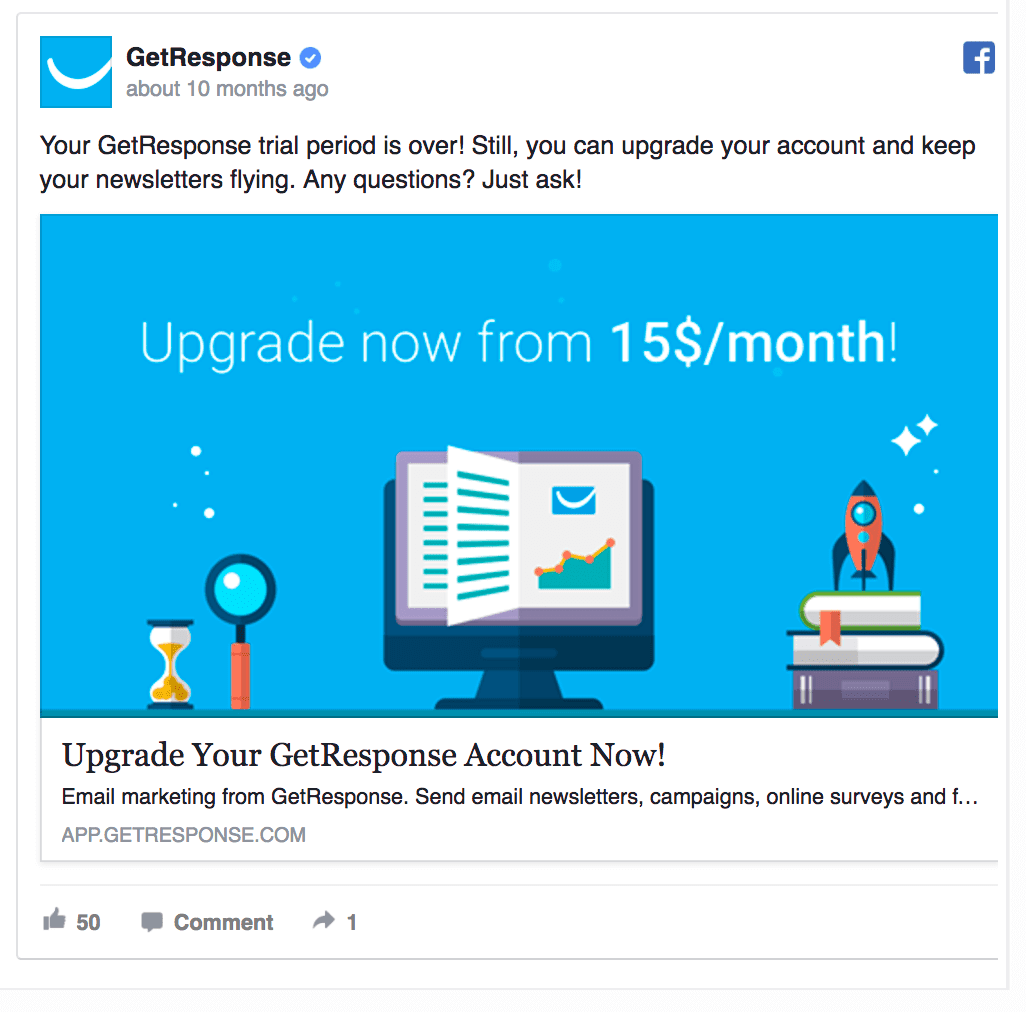 How to create a Facebook audience of your free trial users:
Go to the Facebook Ads Manager and create a Custom Audience of people who have visited your Thank You page or the Free Trial registration confirmation page.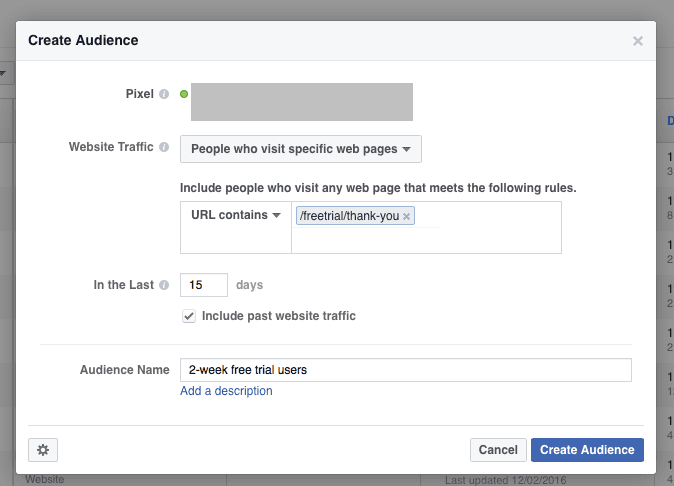 Don't forget to exclude the people who have already converted from free trial users to paying customers.
Facebook audience #8: Lookalike audience from past converters
If you're struggling to create many Custom Audiences due to low website traffic, create Lookalike audiences to expand your ads' reach.
Lookalike audience targeting is based on the idea that people who are most similar to your current paying user group, are also the most likely to convert.
According to Facebook, an online travel site saw 70% lower cost-per-action when targeting Lookalike Audiences. I've also seen it working on many other Facebook advertising campaigns across multiple industries.
You can test two different approaches when targeting Lookalike audiences:
Using low-threat offers such as a free trial offer or promoting blog posts
Asking people to buy or sign up right away
For example, Jobbatical's Facebook ad doesn't ask people to immediately sign up. Instead, it's building brand awareness and making people curious about their product.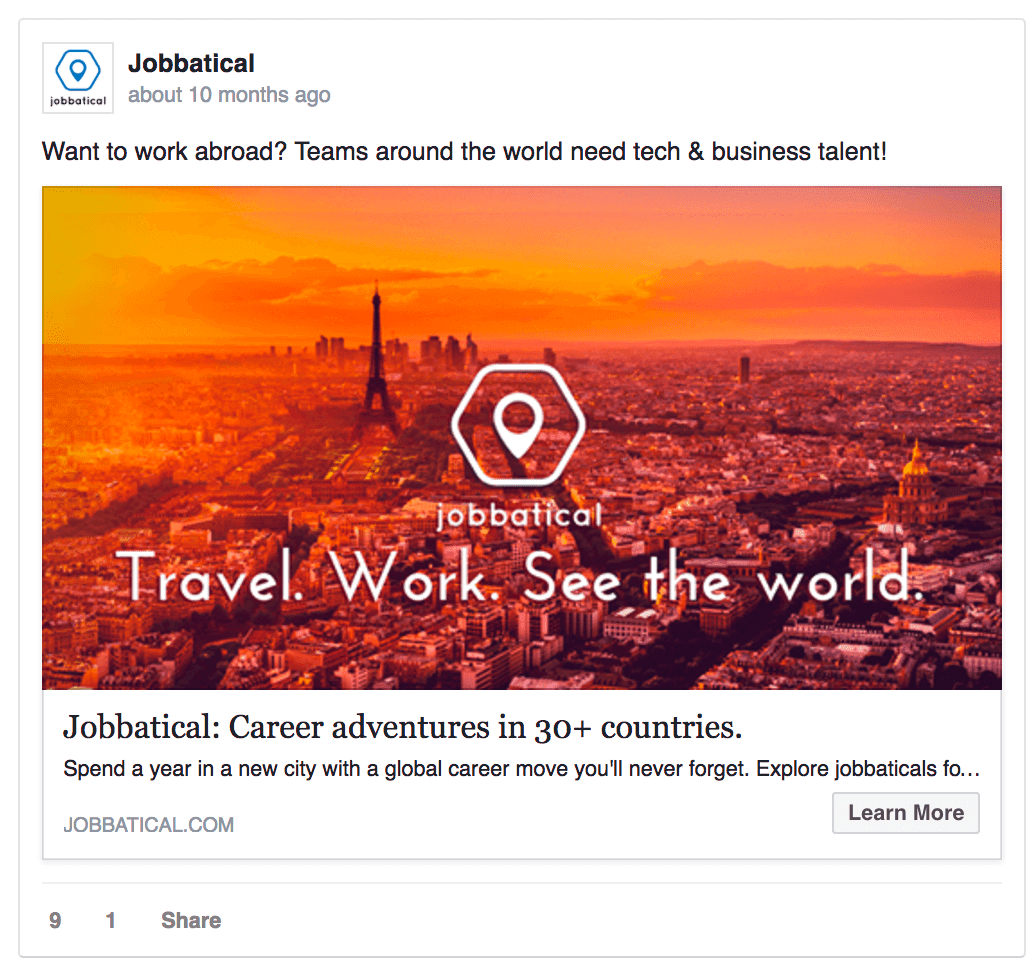 How to create a Facebook Lookalike audience that's similar to your paying customers:
To create a Lookalike audience, you first need a "seed audience" – the audience that Facebook can use to find more similar users.
The first step would be creating a Custom Audience of past converters (see point 6 in this article).
Next, create a Lookalike audience from a Custom Audience. You can choose to target 1%-10% of a country's entire population. If you're targeting a large country like the US, create a 1%-3% Lookalike audience.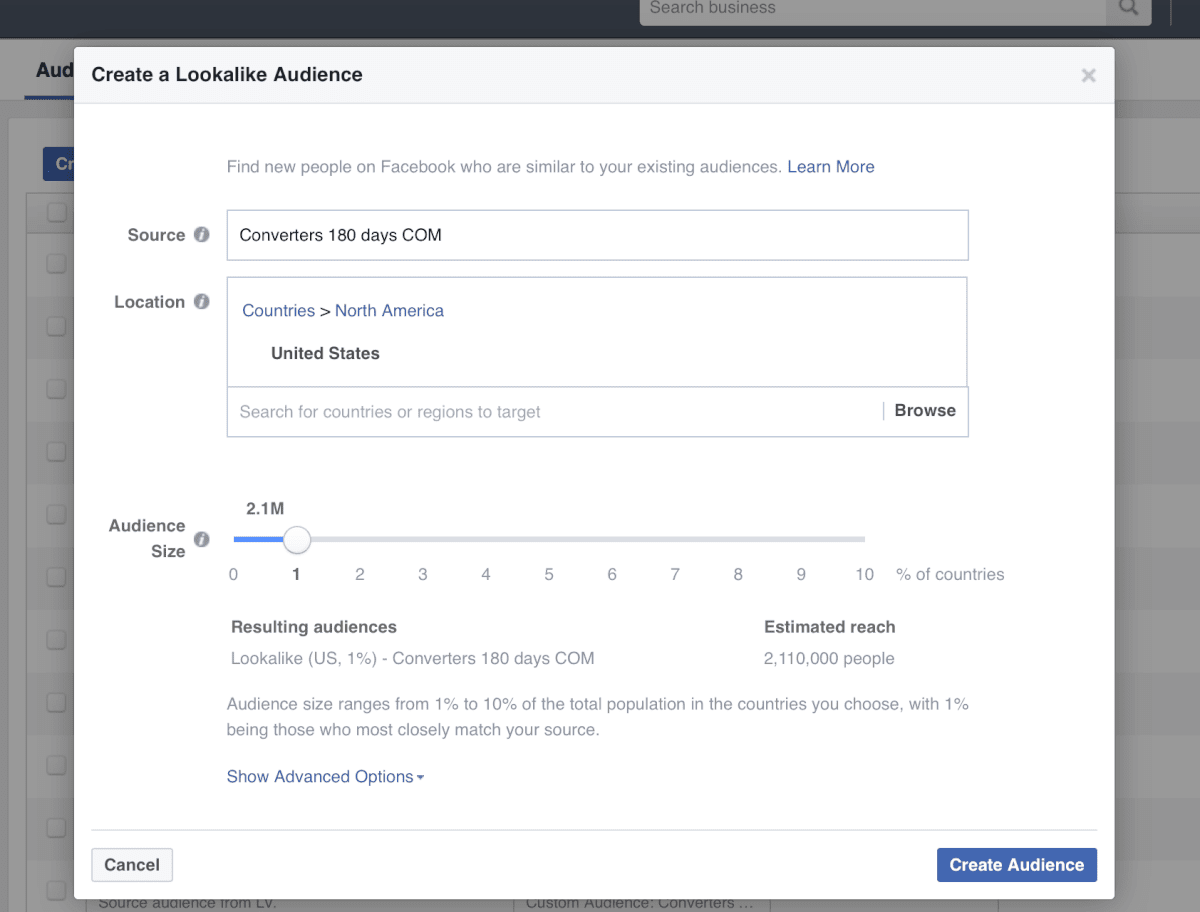 Facebook audience #9: Lookalike audience with specific interests and demographics
As you might have noticed, Lookalike audiences can be very large – e.g. a 1% Lookalike audience of the US population is 2.1 million people.
Unless your Facebook advertising reaches 100k, you won't be able to reach all those people. It would make sense to narrow down your Lookalike audience just a little.
To reach a potential audience, create a fairly large Lookalike audience and then narrow it down by the age range, demographics, and interests.
Let's say you're selling a shaving subscription (e.g. like The Dollar Shave Club) and your main customer group are males between ages 20-35. You could narrow down your Lookalike audience to reach only the people who fit into those two categories.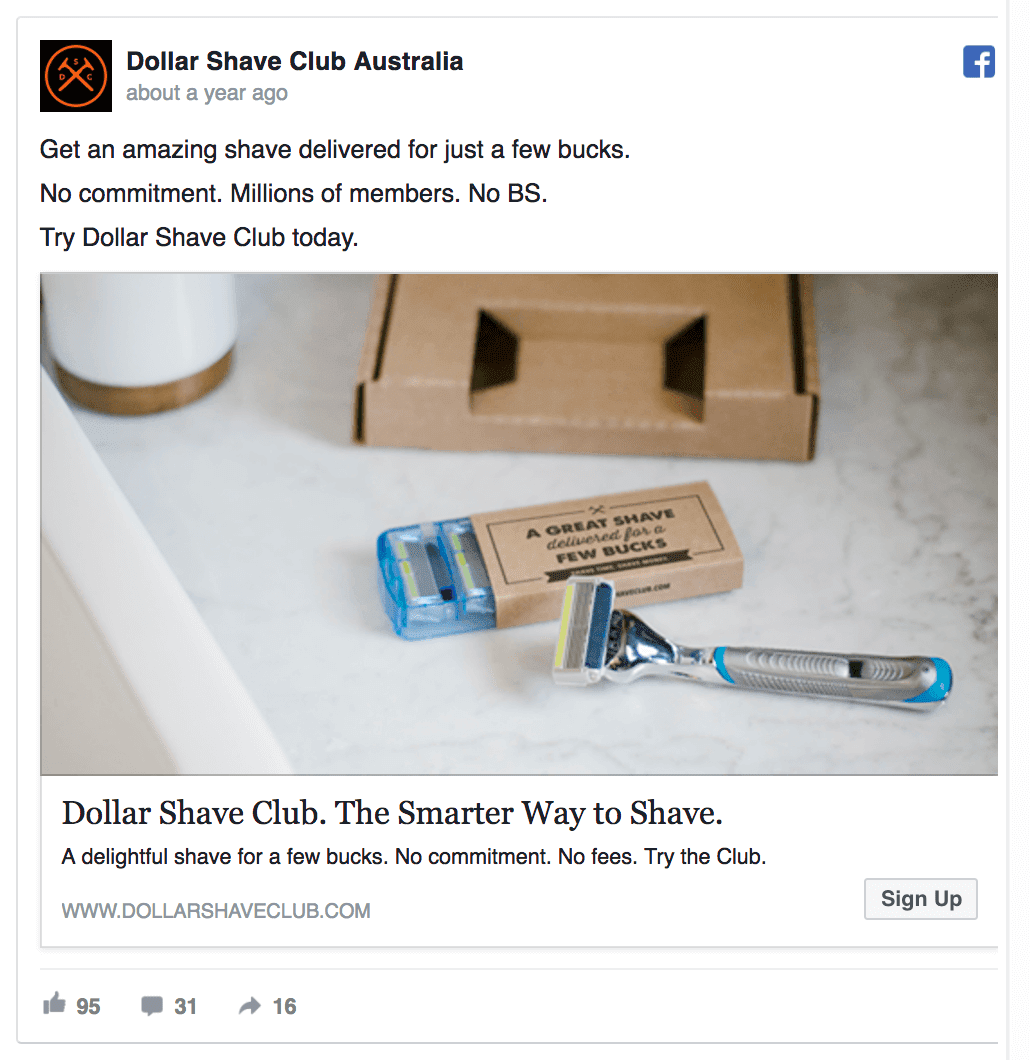 How to create a Lookalike audience that only targets people with specific interests:
In the last point, we created a Lookalike audience out of a Custom Audience.
Now, we're going to create a Facebook Saved Audience out of that Lookalike Audience (I know this sounds meta, but bear with me).
Go to the Facebook Audience Manager and select "Create Audience", then "Saved Audience". You should see a pop-up window like this: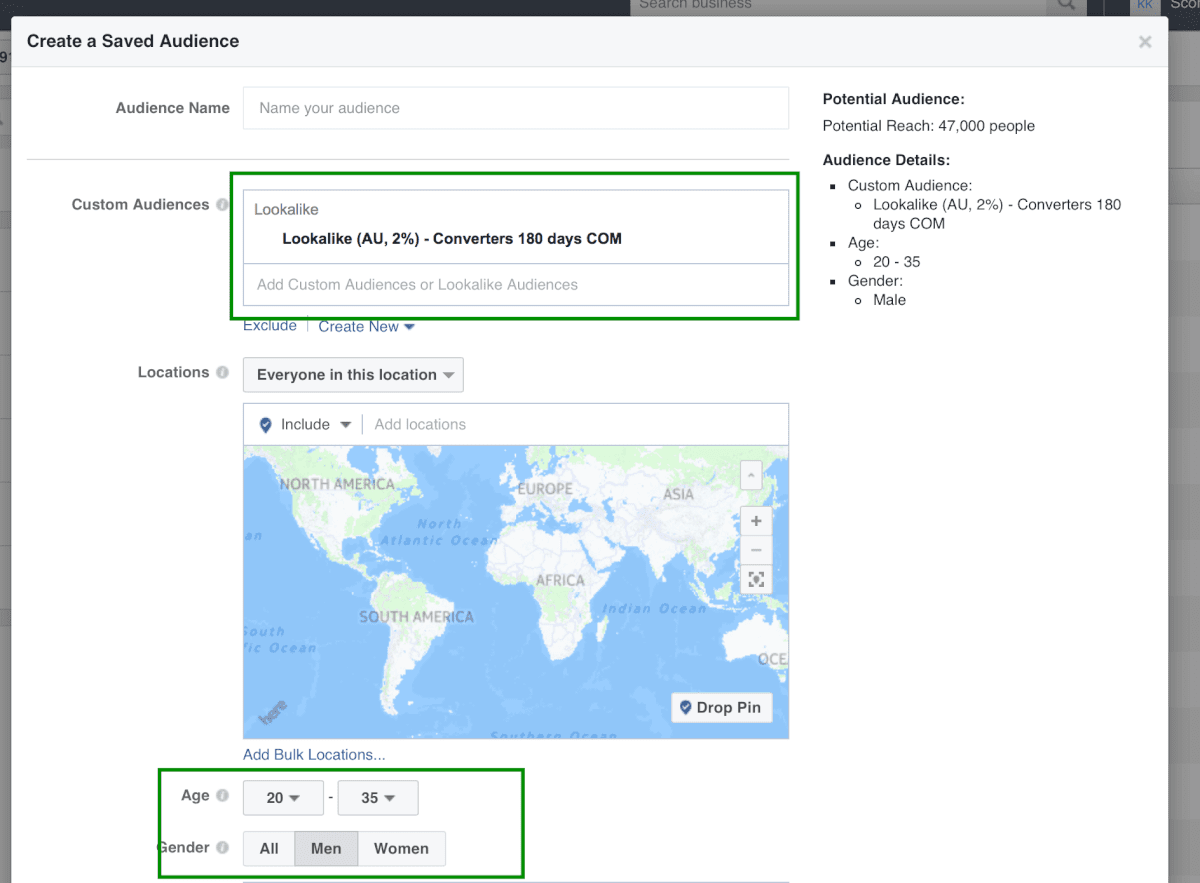 Add the specific interests, age ranges, etc. that you wish to target and you've got a narrowed Lookalike Audience to reach the right Facebook users.
Over to you
Here's a quick recap of all the Facebook audiences mentioned in this article:
What are your high-ROI Facebook audiences? We'd love to hear about them!