Most people think of Facebook ads as a tool for consumer sales and branding, whether it's to sell new shoes, a new speaker system, or a great new app.
But they're just as effective for Business to Business (B2B) marketing.
Facebook's 1.6 billion users include salespeople, managers, and engineers who are just as likely to be interested in a well-targeted, well-designed ad as general consumers. That's why 91 percent of B2B marketers think effective social media marketing creates positive exposure for their businesses.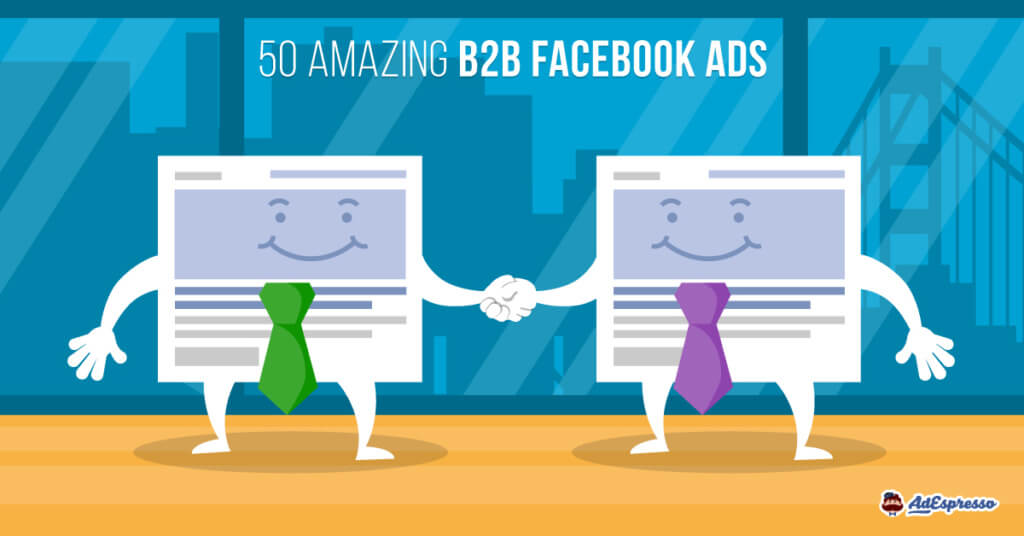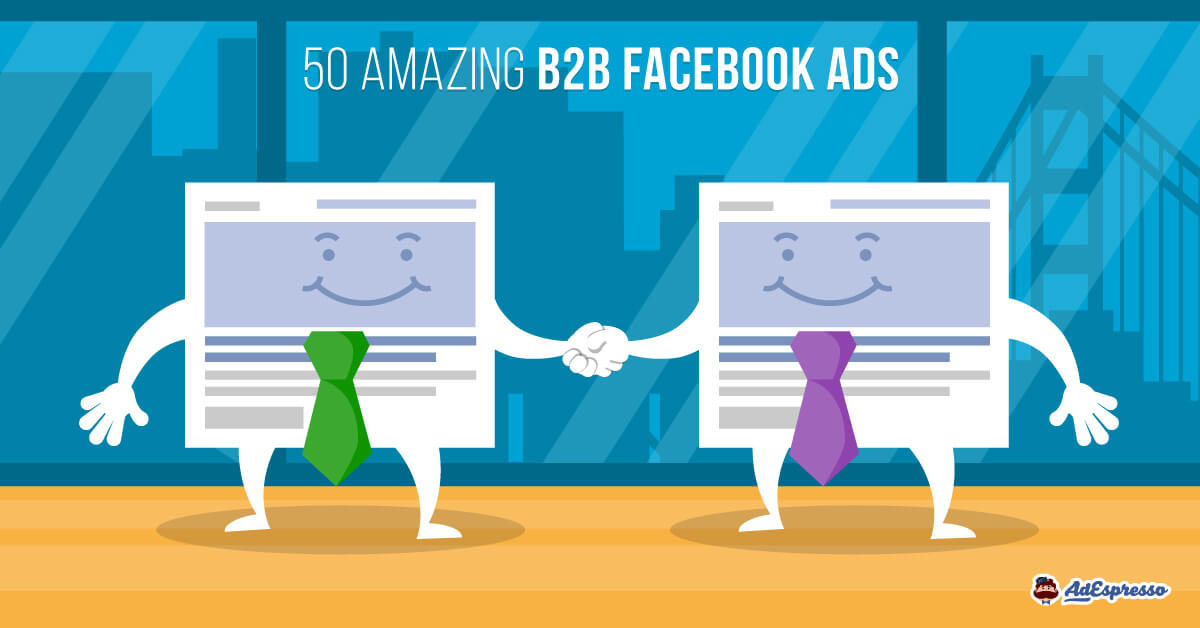 B2B ads can generate awareness for your business, attract people to try your product for the first time, or, like many Business to Consumer (B2C) ads, go straight for a sale.
Here are 50 ads from across the B2B community, aiming for different audiences and objectives, from Awareness, to Sales and Promotion, to Free Trials. And if you want even more, you can find thousands of Facebook ads for every kind of business in our Facebook Ads Gallery.
Whatever your goal, you can use these examples to build and improve your own B2B campaigns to see even greater returns to your own Facebook ads campaigns.
Awareness and Lead Generation
You need to prove that you know what you're talking about before people might take a chance on your product. If you can get people to sign up, whether for a newsletter or email list, you can show how well you know your space and convince people to try your product.
That's why so many B2B companies use Facebook ads to offer up something valuable, for free, that will show they have unique insights the rest of the competition doesn't.
1. InsightSquared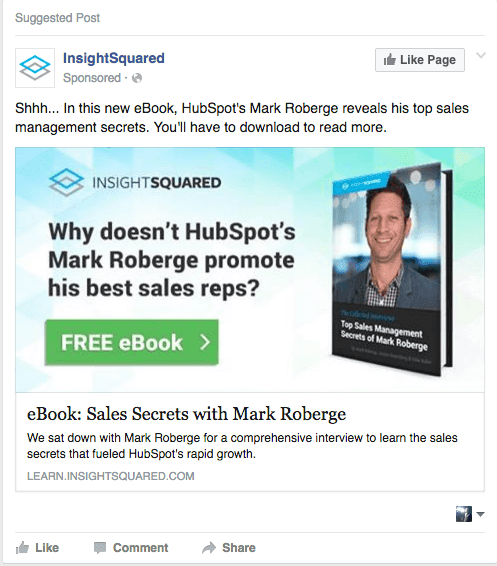 InsightSquared, a sales and marketing analytics platform, does a lot right in this ebook promotion. They make it clear that you're getting something valuable from Mark Roberge, one of the biggest names in SaaS sales, that you can't find anywhere else. The "Free eBook" call-to-action is prominent, but InsightSquared is also smart to use a second call-to-action for page likes.
2. Linked University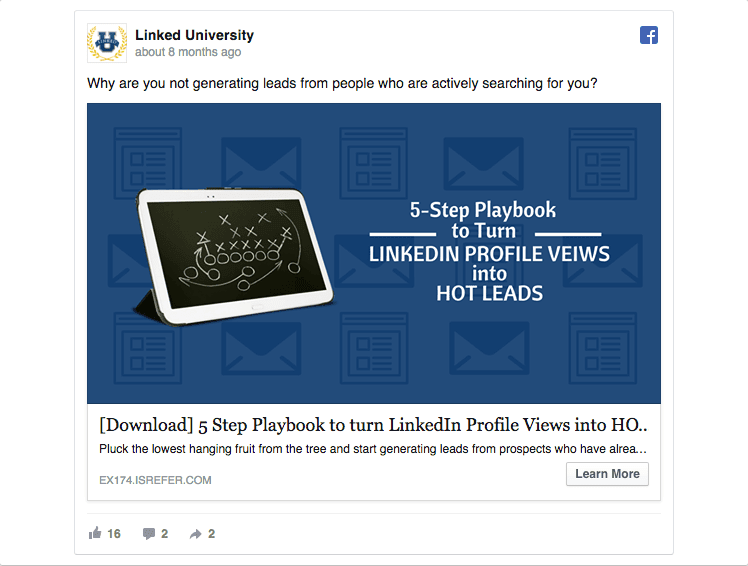 Linked University identifies a common pain point—why aren't you doing more business with people who are actually looking for you? Once they have your attention, Linked University's language is all about how easy it is to turn a problem into a solution.
3. Zillow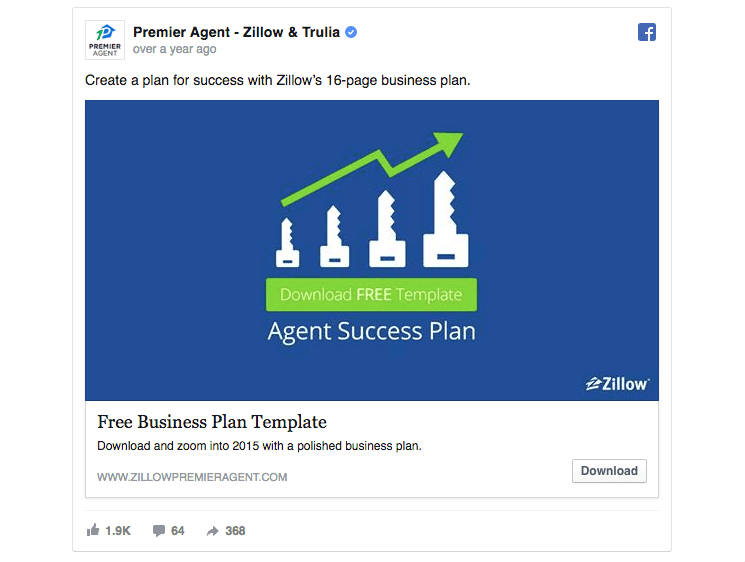 Zillow, a real estate database company, keeps things super simple with this ad for a business plan template. Their text tells you exactly what you're getting, and uses words like "success" and "polished" to drive home its value. This ad was shared over 350 times, showing the power of a clear, straightforward value proposition.
4. Yext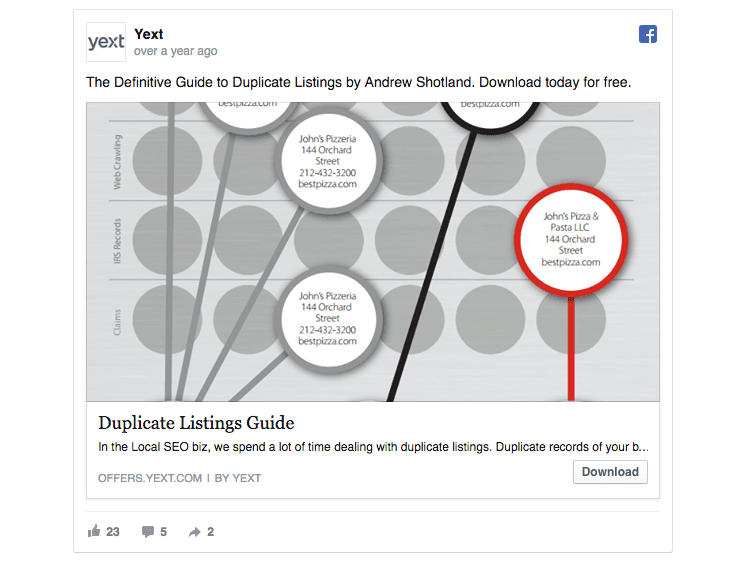 Yext's ebook ad is hyper-focused on SEO experts. If you care about duplicate listings and know who an SEO expert like Andrew Shotland is, you'll be interested. Even though it's pretty technical, the language still comes across as friendly and familiar.
5. Drop Ship Lifestyle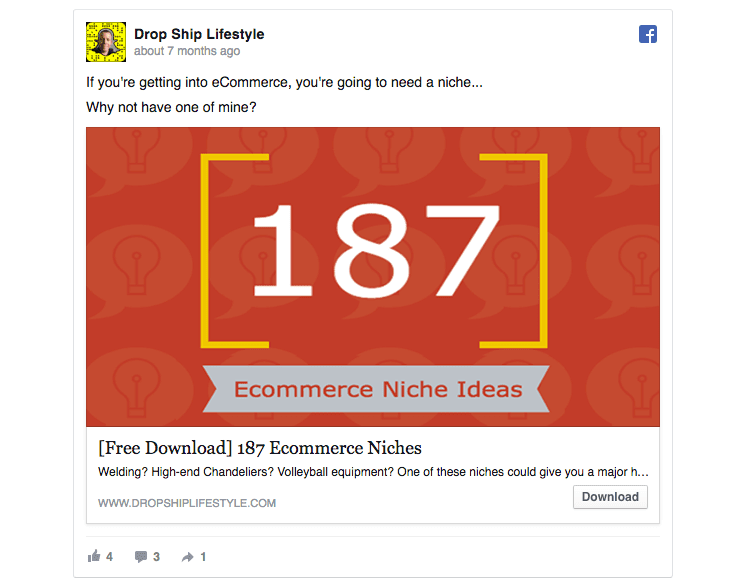 Drop Ship Lifestyle will definitely get your attention with this ad. People love lists, and this one overwhelms you with 187 options for an e-commerce business. Even if you only think a handful of those ideas will be useful, if you're interested in drop shipping then you'll definitely want to click the download call-to-action.
6. Tableau Software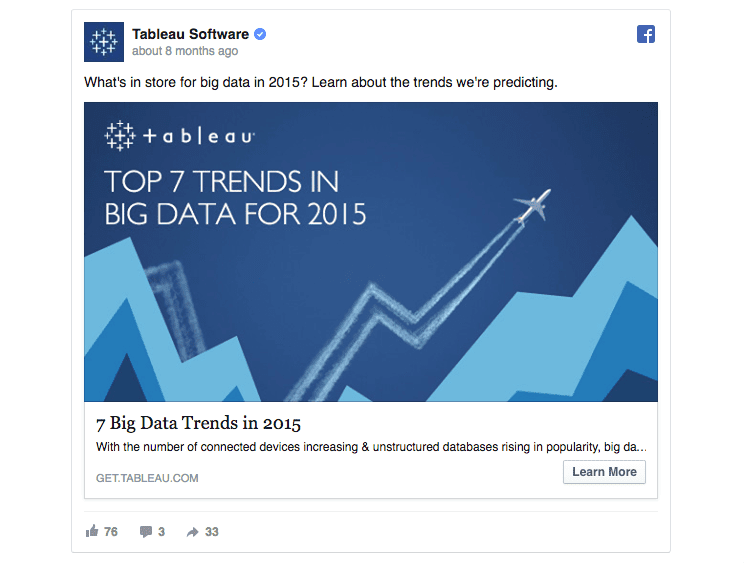 Facebook ads are a great platform to promote posts that establish your company as a thought leader in a field. Tableau timed this ad to capture people's interest in end of the year prediction posts, and show their knowledge of big data trends. The image is all in blue—a smart choice, since it's a color that people associate with competence and authority.
7. Business Insider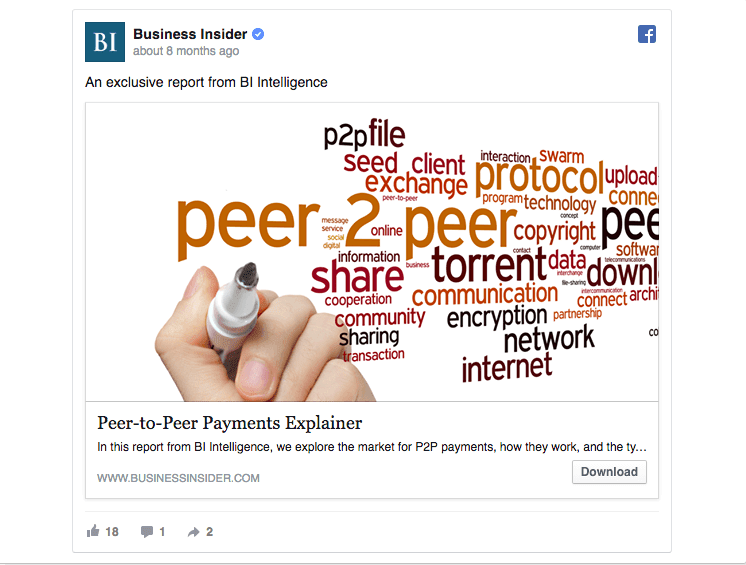 Business Insider Intelligence is a premium research service. They do a great job of getting straight to the point of what they're offering—a peer-to-peer payments explainer—and do a nice job with the headline of an "exclusive report" to grab your attention. The word cloud gives you an idea of all the concepts you might learn about when you download their report.
8. Dropshiphacks.com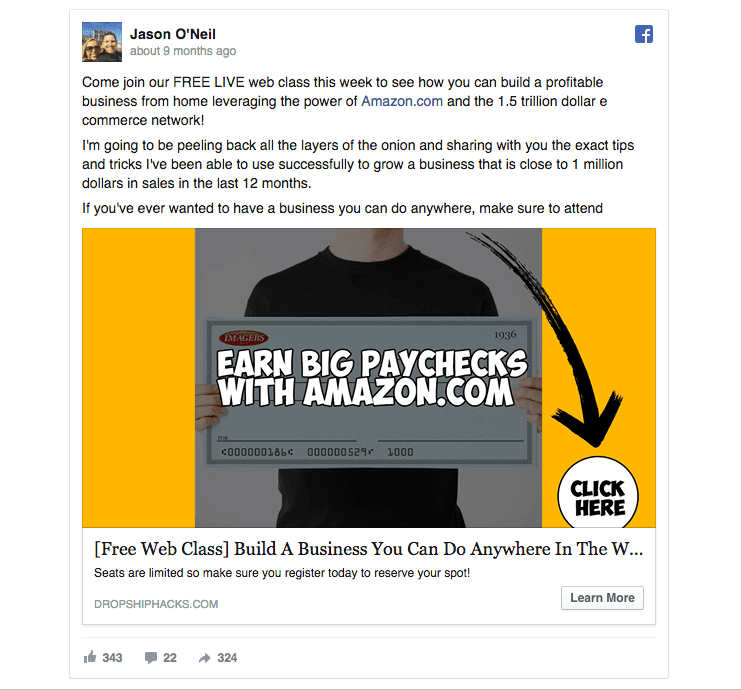 Webinars or classes are a great way to build up leads if you can make it worth people's time. In this case, Jason O'Neil offers some clear value: he grew a business to nearly a million dollars in sales in under a year. In case that's not enough, the language below the image makes it clear that you need to sign up now or lose out, which can trigger loss aversion—that's the psychological term for what you might know as FOMO.
9. Michael Hyatt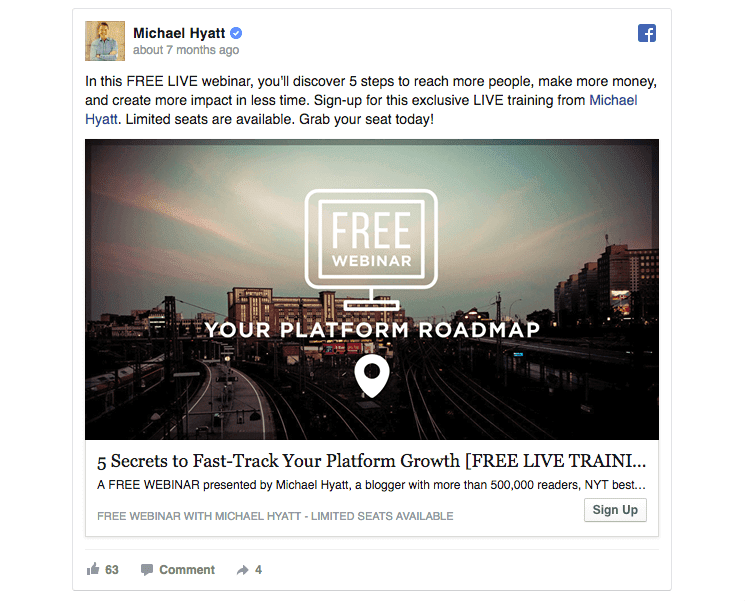 Michael Hyatt is a consultant, blogger, and author who does a great job of filling every space in this ad with relevant information. He does a nice job of demonstrating social proof—he has 500,000 readers, he's a New York Times bestselling author, and seating is limited. The call-to-action caps off this super-actionable ad.
10. SurveyMonkey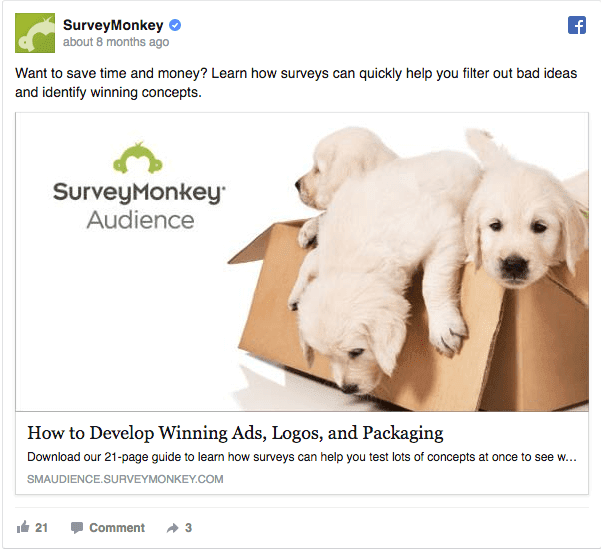 Let's be real—you're going to stop and look at this SurveyMonkey ad because it has a box full of adorable puppies. That outside the box thinking (pun intended) gets people to stop, but once they do the ad gives you plenty of reasons to download their guide: it'll save you time and money by showing you how to develop your ads, logos, and packaging.
11. Glassdoor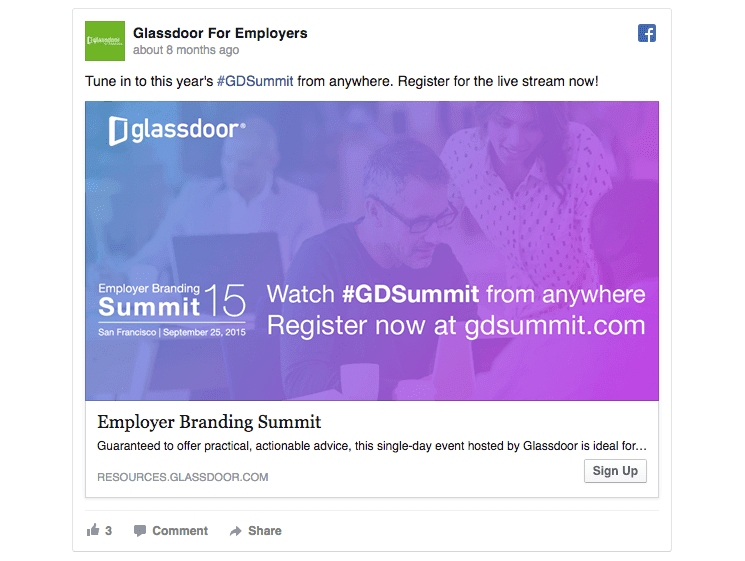 Glassdoor does a great job making it crystal clear you're getting a lot of value without much effort. Their Employer Branding Summit takes place on one day, and you can watch from anywhere, and it's "guaranteed to offer practical, actionable advice." The image does a nice job of fitting in useful information like a hashtag and website while still being aesthetically pleasing and simple.
12. Pardot
Want to know about B2B Email Marketing? Pardot, a Salesforce marketing automation tool, is advertising the holy grail—a complete, guide to email marketing for businesses. In case that seems like too much, they let you know you can start improving your business in just 6 straightforward steps.
13. Sitefinity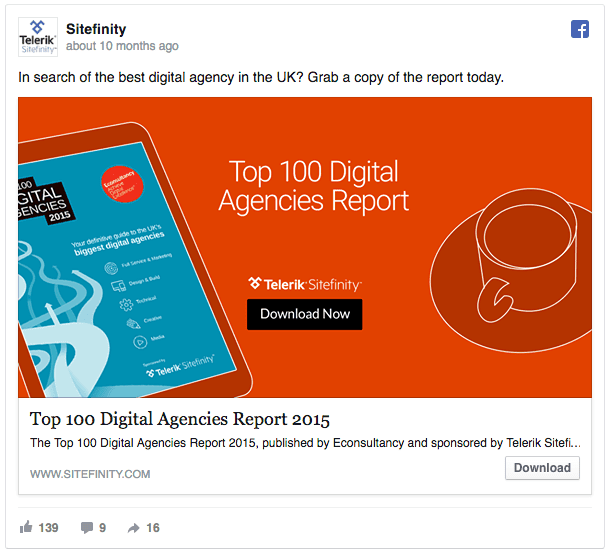 Sitefinity makes it totally clear what you're getting from their report. They know exactly who they're aiming for: people who need digital agencies and are based in the United Kingdom, and they give you a huge list of options to choose from.
14. SumoMe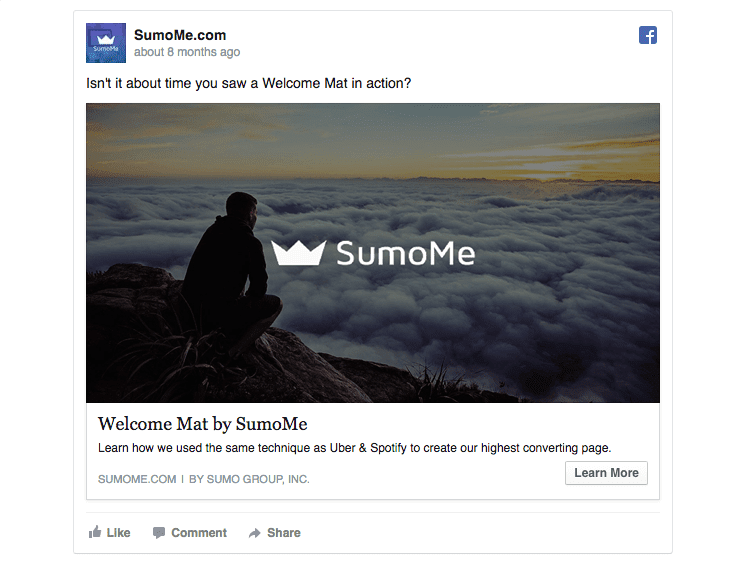 Who doesn't know Uber and Spotify? SumoMe leverages their reputation to draw your interest in their landing page technology—if it worked for unicorn companies, it can work for you. Even better, the image reinforces that idea. There are no graphs or charts here, just someone looking out into the sunset, aspiring to SaaS success.
Product Promotion
Most B2C ads get to the point—they have a product, and they'd like to get you to try it. Plenty of B2B ads work the same way. If you identify the right audience and craft a strong value proposition with a great image, you might be able to target the perfect audience and drive sign-ups right from Facebook to your product.
15. Webydo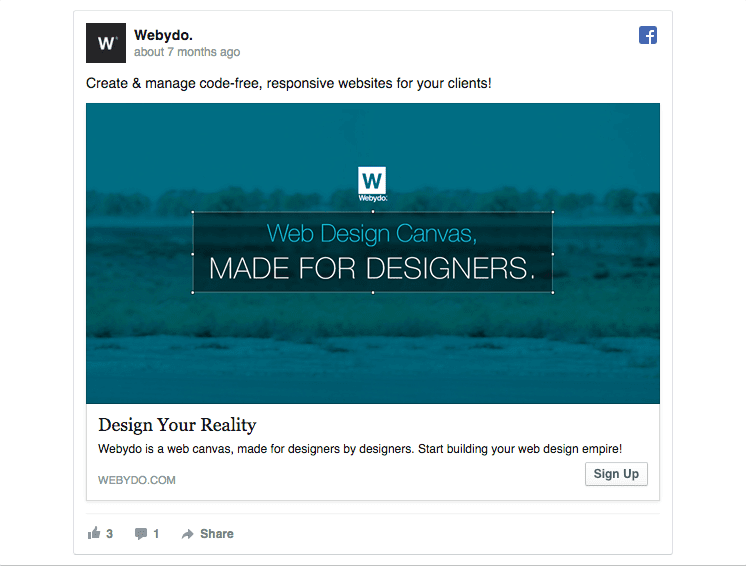 Webydo's ad is effective in two ways. First, they do a great job of establishing value for the user. It's a product made for you, to design your reality. Second, they also make clear exactly what you're getting in the bargain: a code-free, responsive website design platform.
16. DaPulse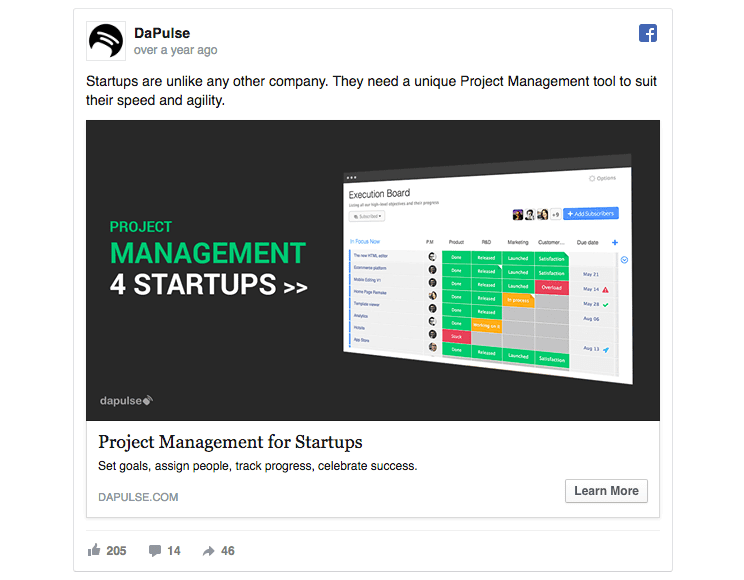 Do you think your startup company stands out from the crowd? DaPulse, a project management platform, agrees. They designed their product precisely for startups, and gear their whole ad to that audience. The ad image, with a shot of their dashboard in action, shows you exactly what sort of interface you'll be working with when you sign up.
17. Domo, Inc.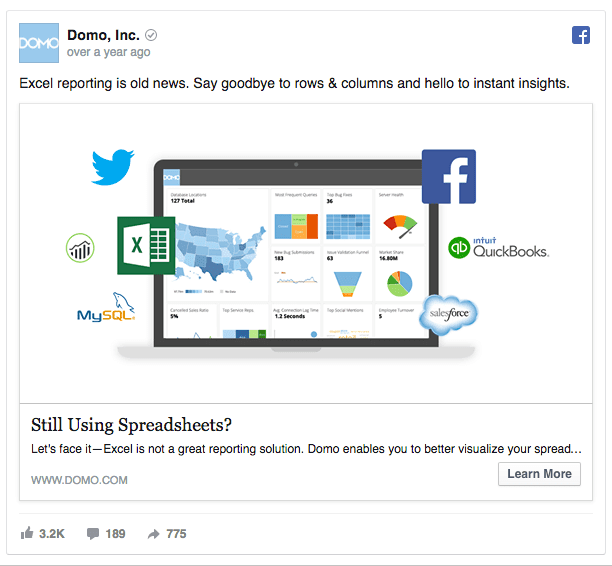 Does your business use QuickBooks, MySQL, or Salesforce? Look at the image, and you know you'll be able to integrate them with Domo. With these companies floating around a beautiful looking dashboard, this ad practically begs you to try out their solution and see how much better it is than Excel.
18. Quip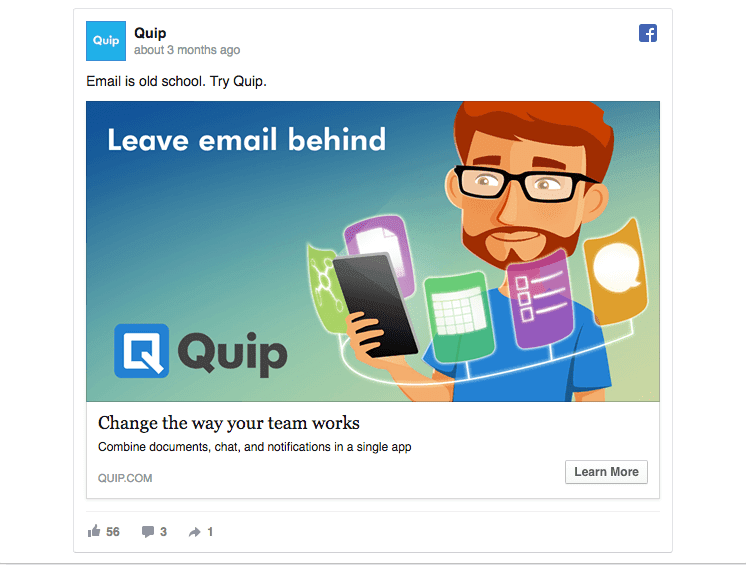 Business to Business doesn't have to feel impersonal. In this ad, the cloud-based work suite Quip puts a human face on their product with a friendly cartoon of a t-shirt wearing, bearded, glasses-wearing guy who probably works in tech or startups, aiming squarely at a particular buyer persona.
19. American Express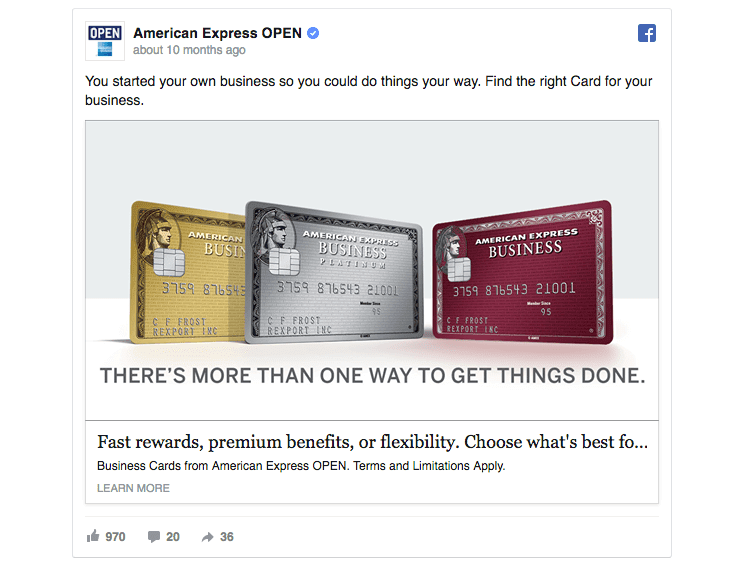 American Express believes they have the right card for whatever kind of business you run. The ad is all about choice, from the 3 cards in the image to the options in the headline—fast rewards, premium benefits, or flexibility. It's consistently on message, but the ad could really seal the deal with a shorter headline and a clear call-to-action.
20. StatusPage.io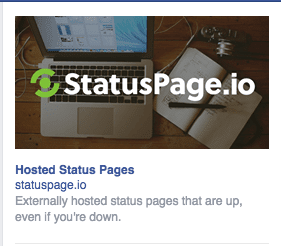 This right-side ad from StatusPage.io, does a lot with a little. The headline gets right to the point by describing their product, and the text below captures the value (up, even when your website's down) in a catchy, clever way. The image is carefully chosen, from the laptop to the Moleskin notebook to the vintage camera, to evoke an adventurous company.
21. Posi Rank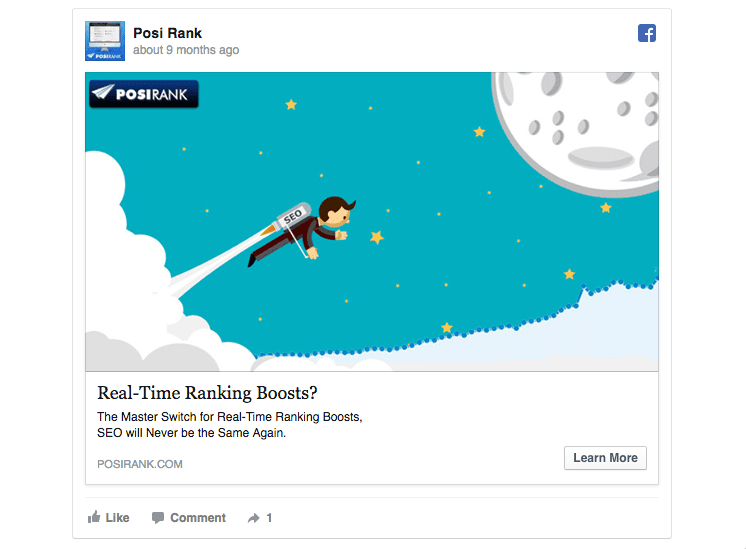 Posi Rank, an SEO reseller, uses some great creative imagery to catch your attention. The rocket-pack wearing businessman is a fun image, but it's nicely matched with a graph that you can imagine represents all the new leads that come from using Posi Rank.
22. Aha Labs Inc.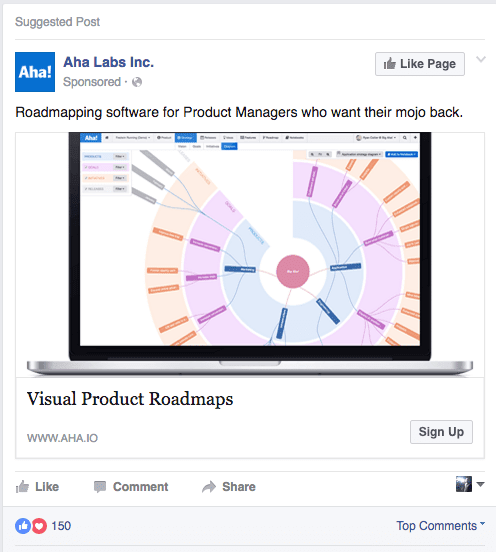 Aha Labs is a product roadmap visualization tool, and they're proud of their visualizations. They keep their ad focused and to the point—no main text, just a headline and above the fold language stating what they do, and let the image do the talking. Check out the comments, and you can see that was a pretty good gamble—people like the way they do their mapping.

23. Asana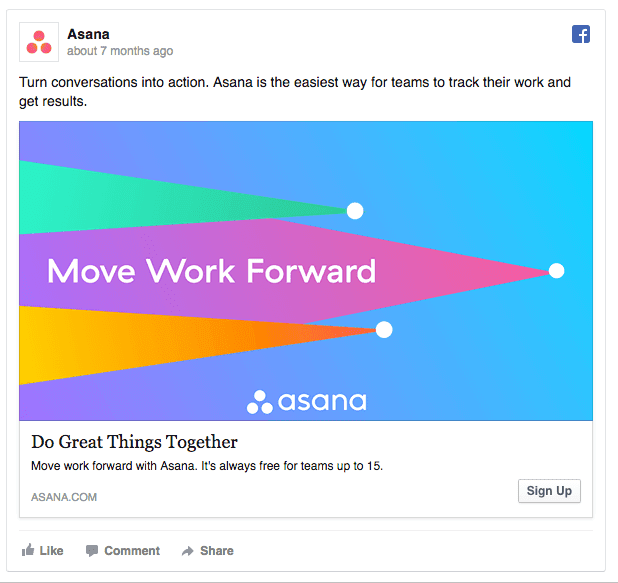 Asana is a popular workflow software platform that is all about making collaboration easier. The text reminds you that it's going to make your team's life easier and get you better results, but the real key to the ad is their image. Following the track of the arrows, you can almost see in your mind's eye how Asana will move your workflow into a more productive future.
24. Template Monster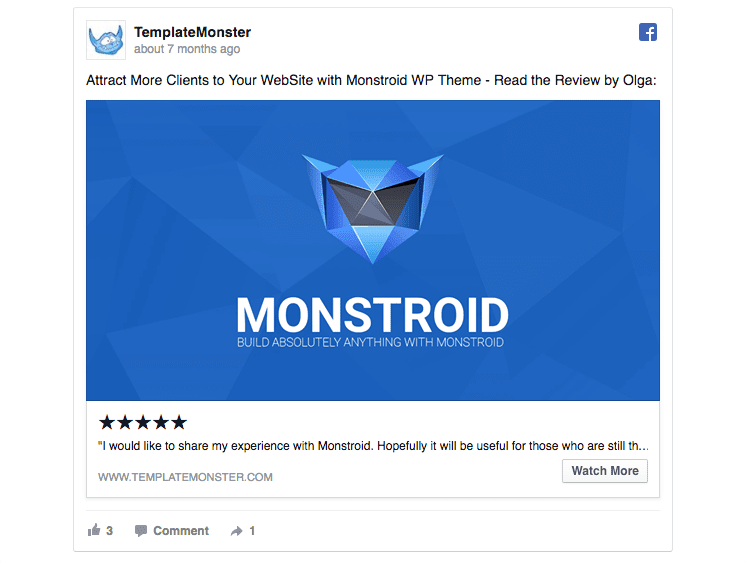 Template Monster doesn't try to prove that they're better than the competition. Instead, they use their ad to deliver social proof from a satisfied customer. It's one thing for a company to tell you they're effective, it's another to hear it straight from another user, a difference that can lead an audience from interest to conversion.
25. Intenta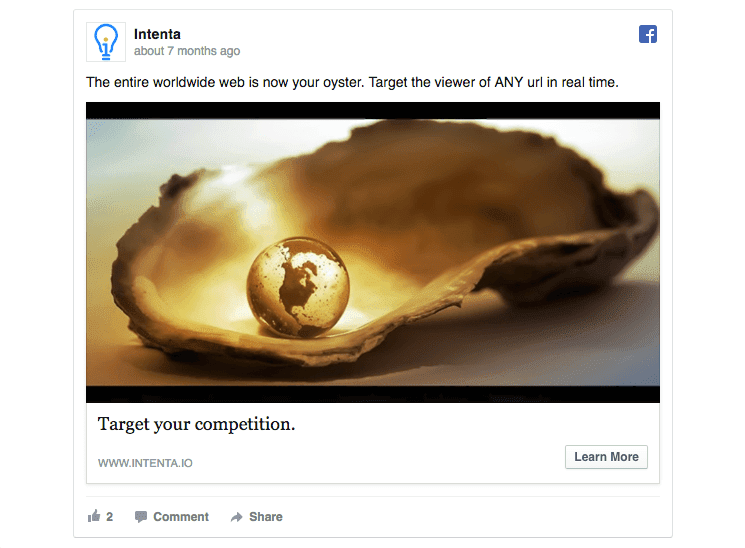 Kudos to Intenta, an automated detection and recognition software company. Their image and text are totally in sync. It's a great image that's definitely going to make you stop and take notice, but a free trial, or added social proof, could seal the deal.
26. CoPromote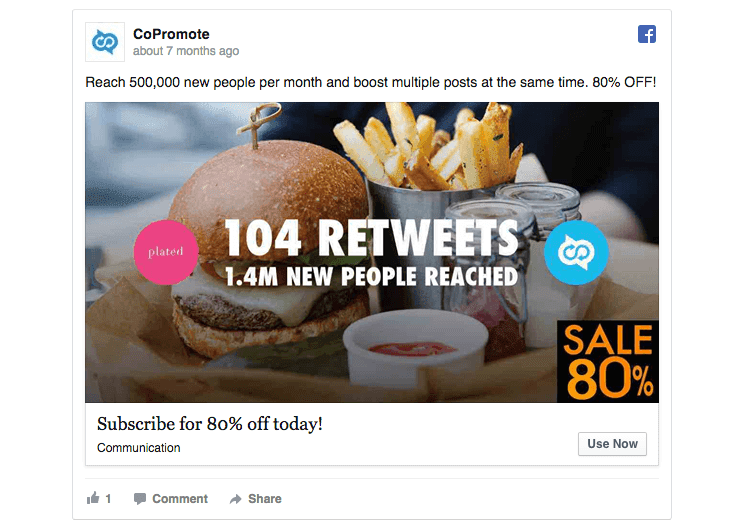 CoPromote's ad image uses its limited text space to provide strong social proof from Plated, one of their clients. And they make their value clear—reach 500,000 new people a month while boosting multiple social media posts. It's also hard to miss the main value of the ad—80% off on new subscriptions.
27. Hoverowl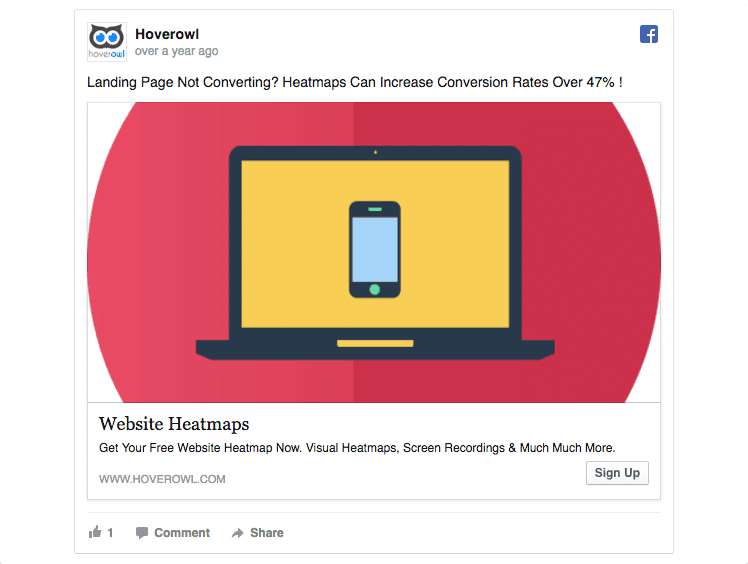 Hoverowl's language gets right to the point. Do you have a problem with your landing page? Use Hoverowl's heatmap technology and you can increase conversions by almost half. For a business struggling with new leads, that's a nice, clear value proposition that might convince you to give them a try.
28. Instapage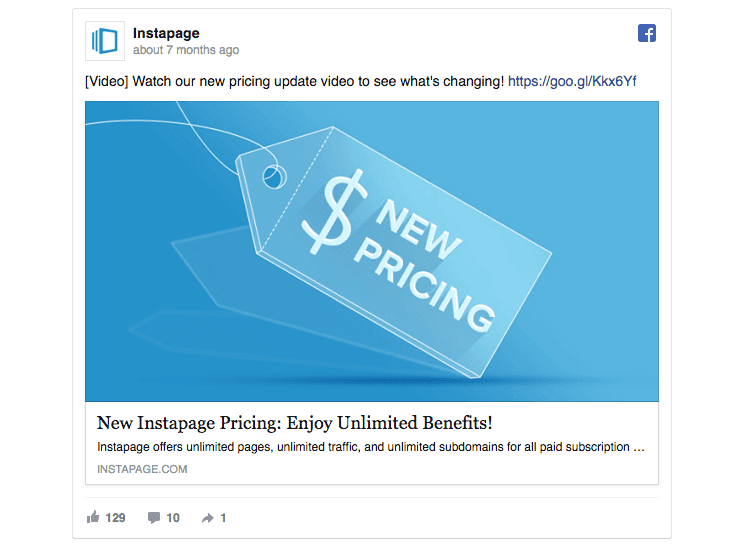 Instapage, a landing page software app, targets existing and former customers with this ad. If you'd tried Instapage before, but didn't find a plan that works for you, this ad might be perfectly placed to make you consider giving them another shot.
29. inVision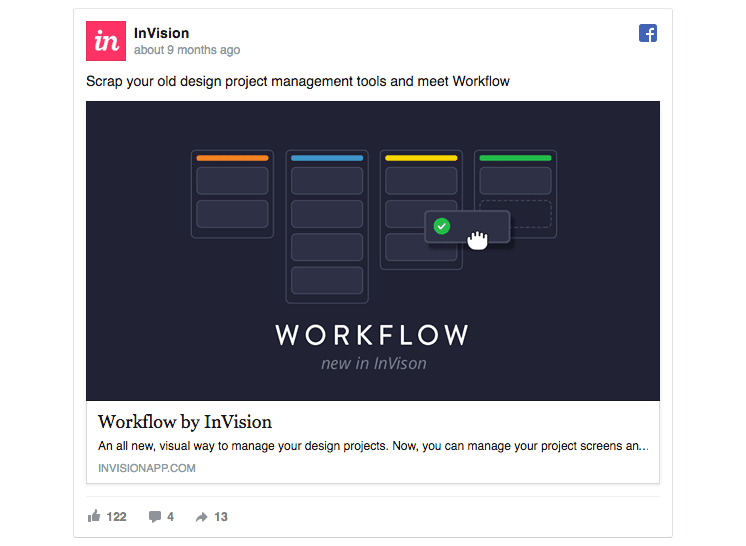 Some B2B companies are direct with their ads, showing you exactly what their product looks like in action. Others go for an abstract concept, or action shot, to evoke an idea of how their product will make you feel. InVision, a web design firm, splits the difference, showing a simple image of their workflow tool. It's a slick, attractive image that's enough to get you to click and learn more.
30. IPInfo.io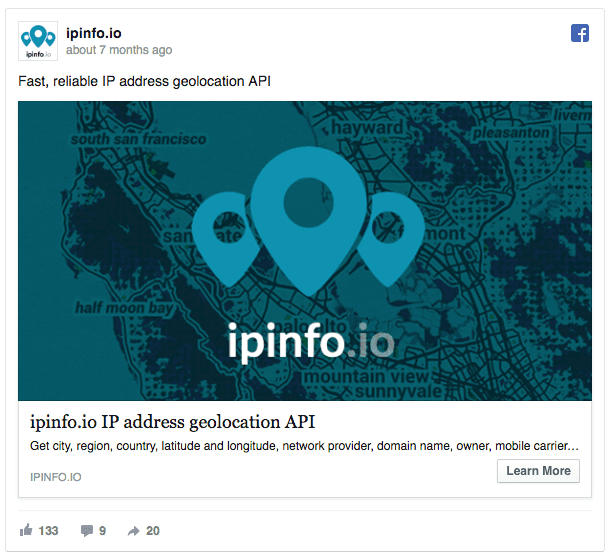 Ipinfo tells you exactly what they do in their text and headline. Being clear and straightforward is always good, but they could seal the deal by showing how they make your company better—easier, faster, more efficient—rather than just relying on feature descriptions alone.
31. NewsWhip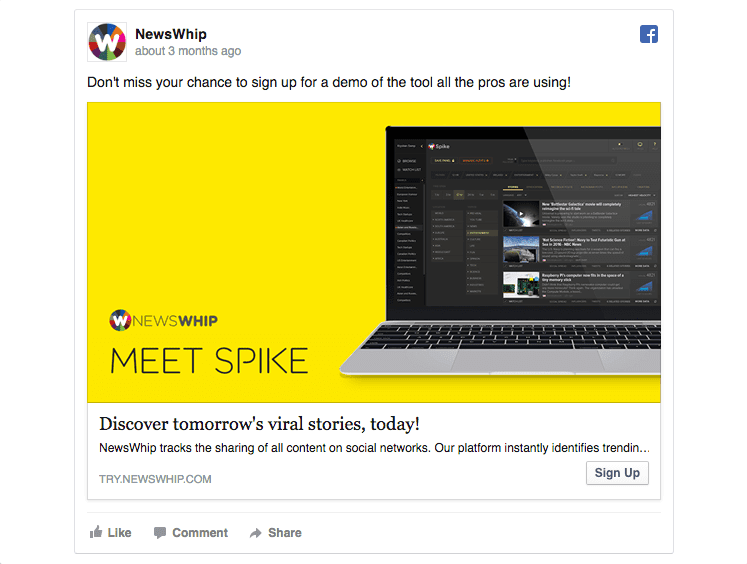 Want to catch the next major news stories before they happen? NewsWhip promises you'll get exactly that—a social media tool to find the best viral stories before they take off. Their image does a nice job of showing the product interface, promising a professional and well-designed experience.
32. No Piracy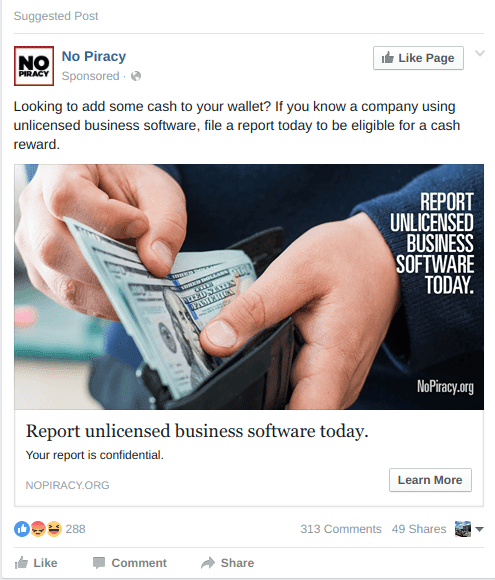 No Piracy is a non-profit, not a business, so maybe this is more of an NP2B scenario. But their ad is directed clearly at businesses and people working in companies, looking for whistleblowers against unlicensed business software. Their language and imagery are nicely aligned to a clear message: report illegal activity, get a cash reward.
33. One Month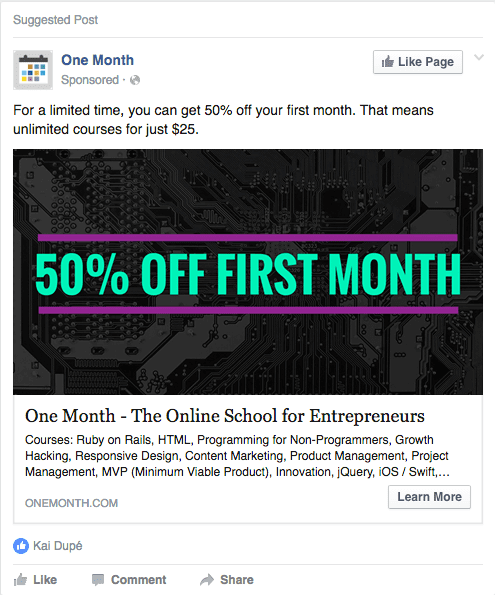 You can try all the clever marketing campaigns in the world, but sometimes what you need is a good sale. One Month, an online learning service for tech entrepreneurs, goes big in this ad, promising 50% off your first month. Usually, less text is better, but in this case, listing out all the courses you can get for just $25 is a strong incentive to give them a try.
34. P1 Port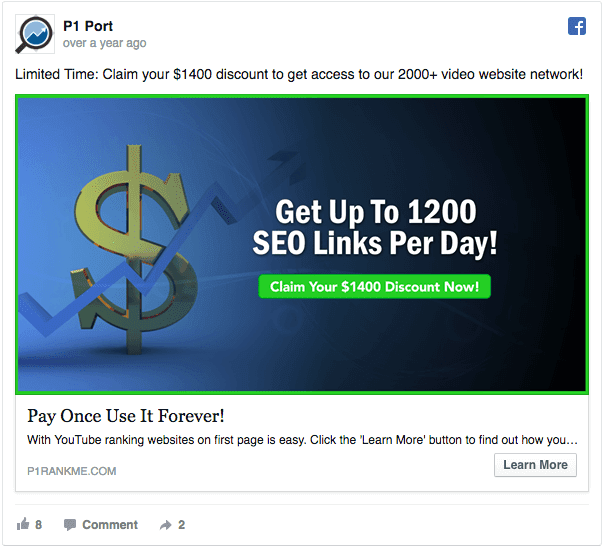 P1 Port, an SEO optimization company, uses big numbers to grab your attention: 1,200 SEO links a day, 2,000 plus videos, and a $1,400 discount. The headline goes even further, telling you all these benefits can be yours for a one-time fee.
35. Smaato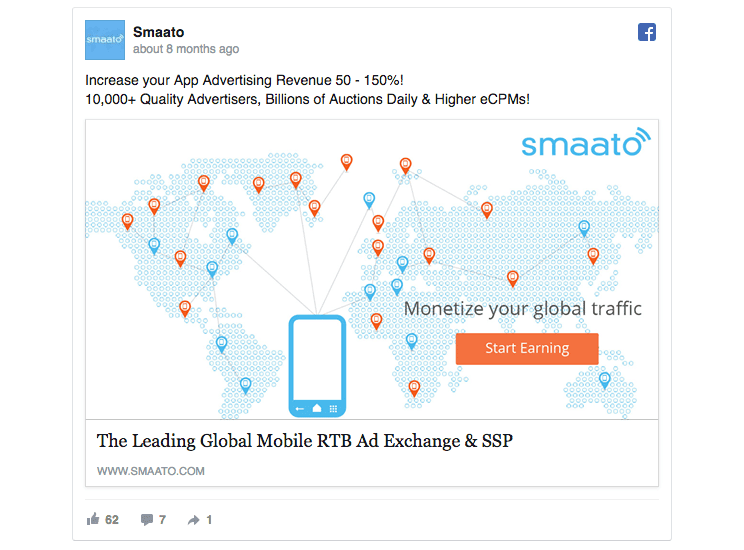 Where can your app reach new advertisers when you use Smaato? Anywhere, as the image suggests. It's an attractive way to drive home their global reach and attract app companies looking to maximize their advertising returns. The language is short and to the point; the only thing missing is a clear call-to-action.
36. SocialBakers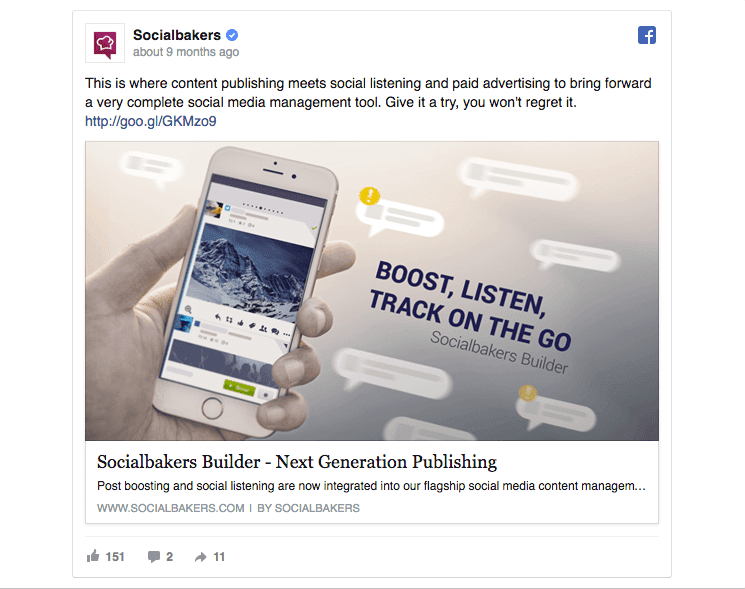 It's not hard to figure out what Socialbakers does if you're in social media marketing. It's an all-in-one social media management system. If you're already familiar with Socialbakers, you're definitely going to be interested in all the new features they've integrated into their social media management software.
37. Square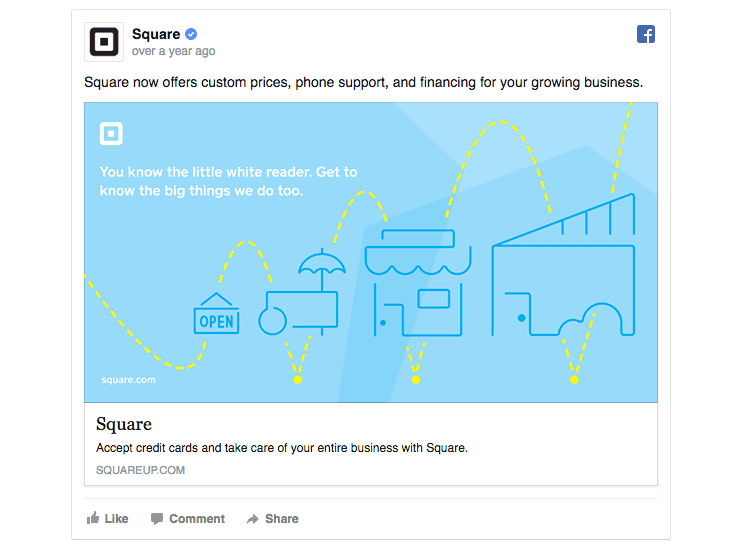 Square gets right in the mindset of their target audience. They know small businesses have big aspirations, and their ad image makes it clear that Square will help you get where you want to go. It's a simple and brilliant image that's perfectly geared toward showing value, not telling about it.
38. Yellowpages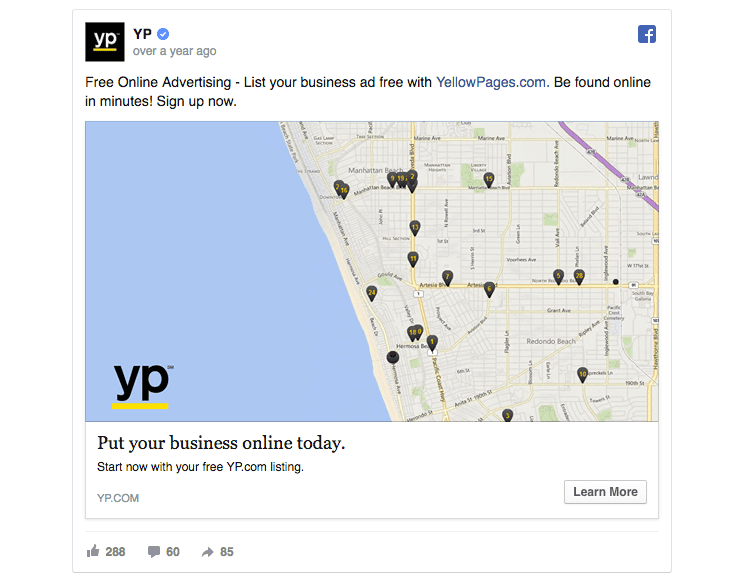 Want people to find your business quickly and easily? YellowPages shows you exactly how your business ads might look when you sign up for their service. If that's not enough, it's free, a fact they manage to fit in 3 times. Maybe that's a bit much, but when you can advertise online in just minutes, for free, it's hard to pass up.
39. Fundera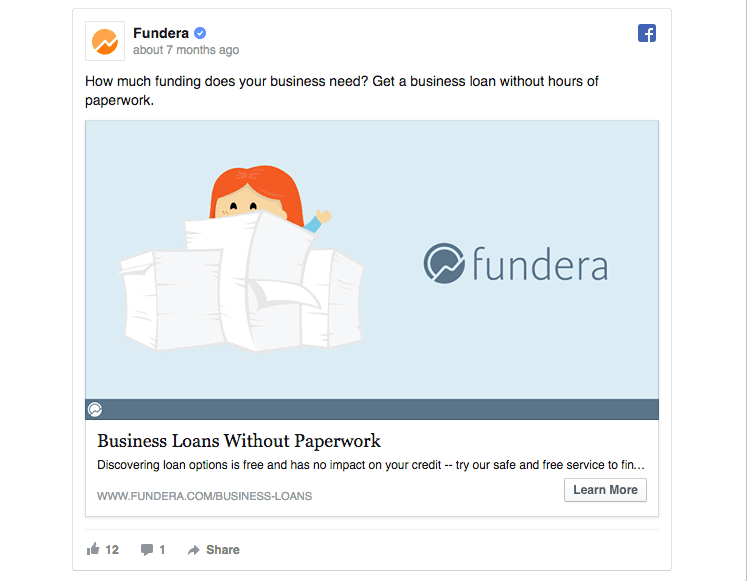 Submitting paperwork for business loans—not fun. Getting a loan and avoiding all that paperwork—a lot more fun. Fundera is a free service that makes it easy for small businesses to find and apply for loans, and it's clear from their ad that there are a couple things you can expect: no paperwork, a free tool, and the answer to some of your pressing business questions.
Free Trials
Most people aren't going to start paying for a product immediately, but hook them with a creative ad and a free trial, and you can bring them into an onboarding process where you have weeks to find the aha! moment that will turn people from casual users into loyal customers.
40. Infusionsoft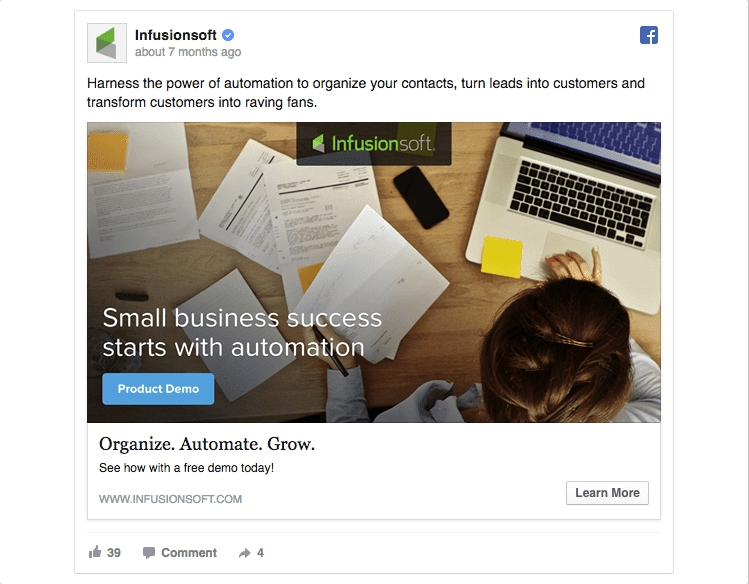 Infusionsoft clearly put some thought into their ad text. The headline is short, sweet, and value driven. Meanwhile, the ad text gives the reader a clear idea of exactly how Infusionsoft can make their company grow. Once you have that image of small business success stuck in your head, it's just one more step to sign up for the free trial.
41. FineReport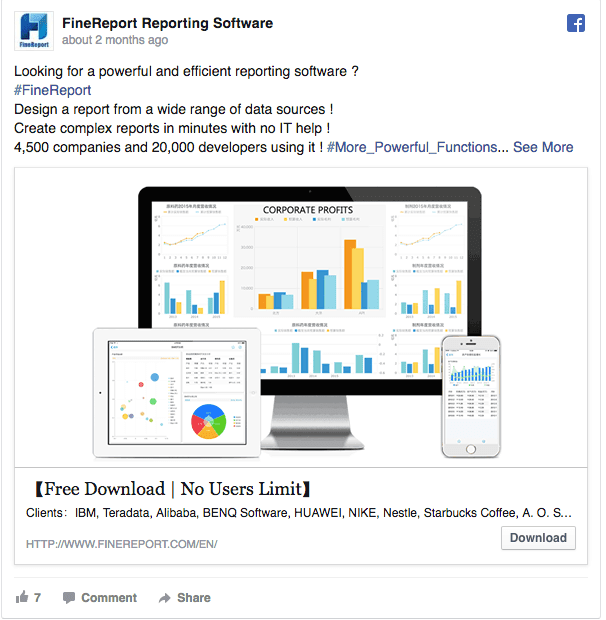 FineReport brings the social proof that comes from their client list: over 4,500 companies, including big shots like IBM, Nike, and Starbucks are using their report software. If it's good enough for some of the biggest names in business, this ad says, it's good enough for your business too.
42. Boomerang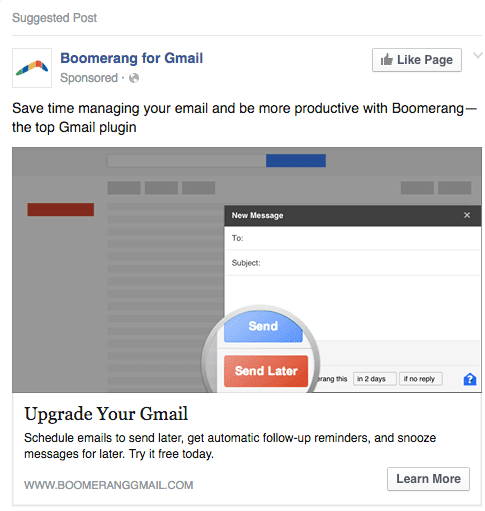 Boomerang knows how time-consuming it can be to deal with email. They want to make your life a little easier, and tell you exactly how: scheduling, follow-ups, and snooze options to give you some control back over your inbox. Their dual calls-to-action increase the odds that even if someone isn't interested in the free trial they might turn into a lead through their website or Facebook page.
43. TrekkSoft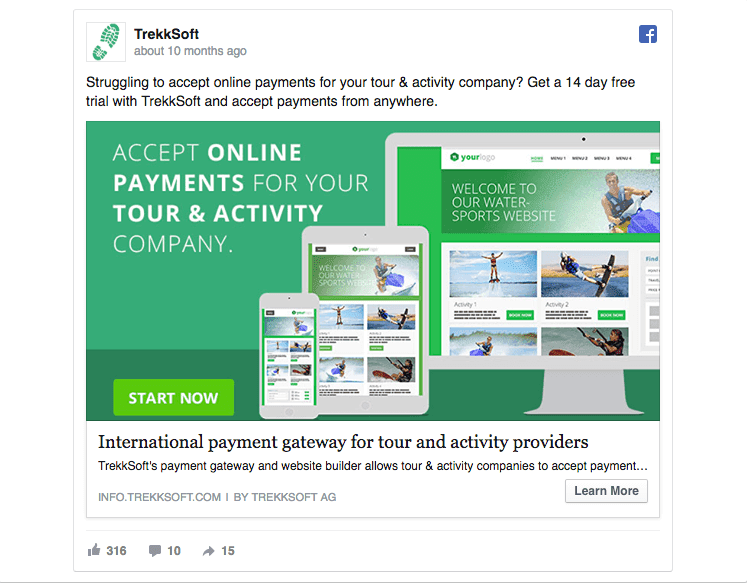 TrekkSoft is appealing to a hyper-specific audience: tour and activity companies. They repeat that phrase in the image, text, and subheader, so you know exactly who they're searching for. If they can effectively target that niche market, they can probably convince those tour guides to sign up for a free trial.
44. WalkMe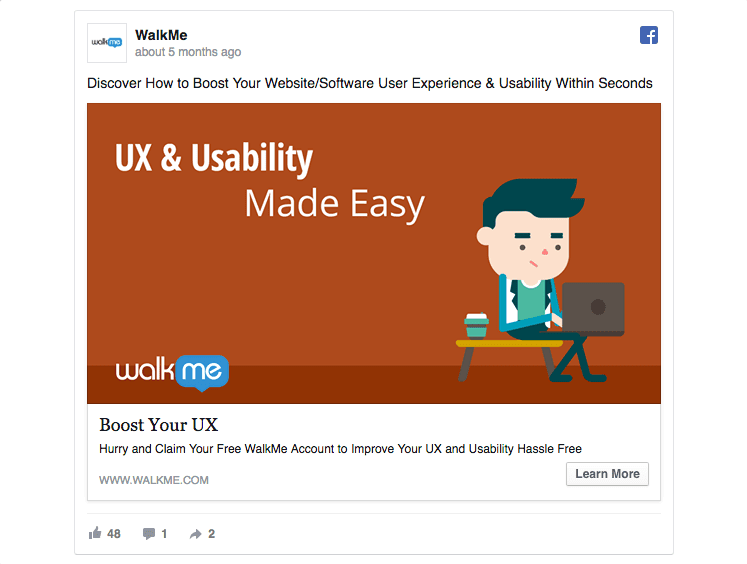 WalkMe, a user experience platform, drives home two key values in their ad: ease and speed. It's easy to make a better experience for your users within seconds if you use their ad. The cartoon image of a guy on his laptop, sipping a coffee, hits right at their target audience of savvy tech businesspeople.
45. Insightly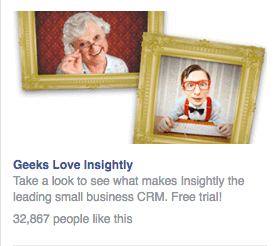 Kudos to Insightly for thinking outside the box. Most B2B ads stick to some tried and true tropes: animated characters, dashboards, upward facing arrows. Insightly, a CRM tool, goes for a different image. It's a gamble to call your audience geeks, but their playful images are disarming enough for people to click through to their free trial landing page.
46. DropBox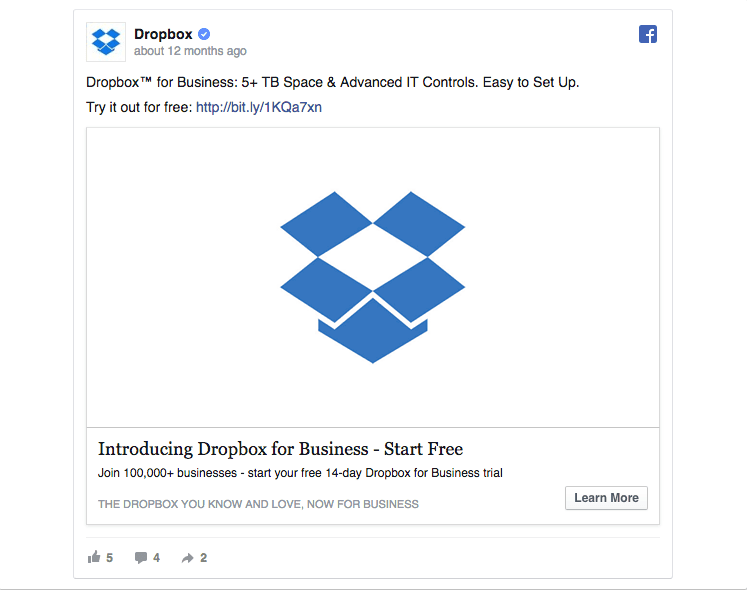 Dropbox doesn't try to reinvent the wheel in this ad. As one of the biggest, original cloud storage companies, they're banking on the huge recognition of their logo to grab your attention. Once you've stopped, they hit you with some big numbers: 5 terabytes of storage, 100,000 current users. It's all about using familiarity to make you take one more step to a free trial.
47. App Annie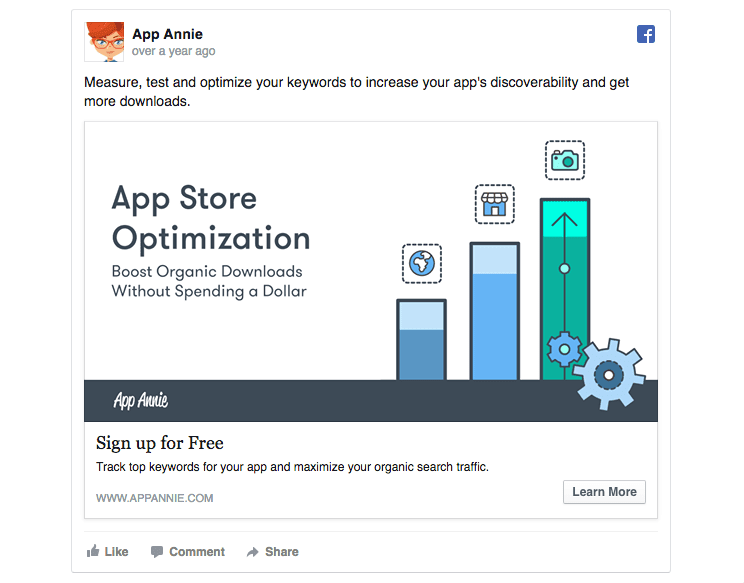 Graphs and charts are a regular theme in B2B ads, but App Annie does a nice job of using creative design to incorporate ideas about lots of different kinds of apps—global, local, or social—that could benefit from their service. They also switch up their language in the ad image to tell you what a free trial gets you—more organic downloads.
48. Hootsuite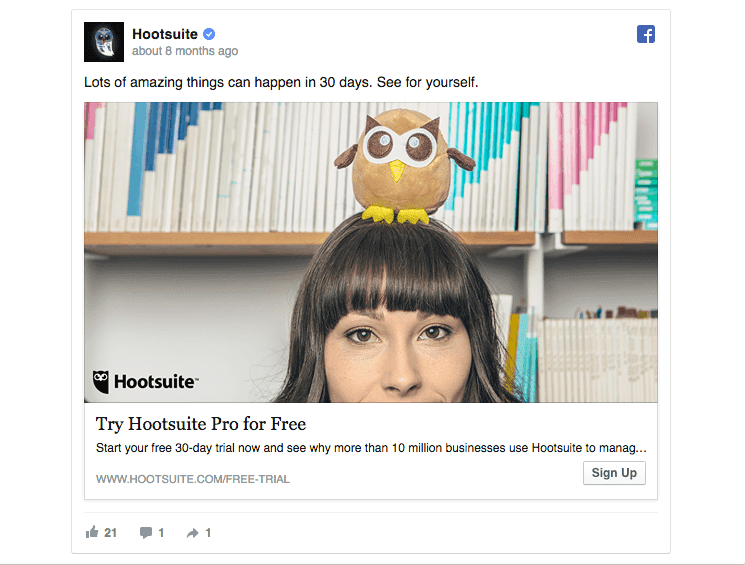 Hootsuite grabs you from the get-go with their mascot. Once you're there, and wondering what kind of office lets people walk around with birds on their heads, they grab you with the potential from a 30-day free trial. "Lots of amazing things can happen," and with a well-chosen call-to-action, you'll probably be tempted to find out what those amazing things are.
49. Pagecloud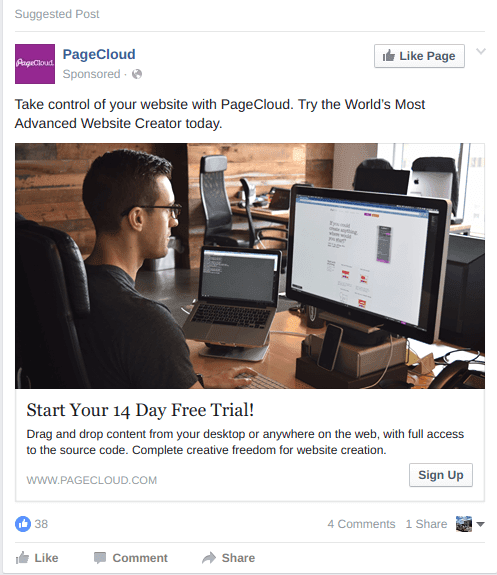 PageCloud, a web editing software, uses every element of the ad to perfection. The above-the-image text gives you a clear sense of value for businesses. The image itself puts you right in the shoes of a tech-savvy businessman. Below the image it lets you know about specific features and their free trial. They wrap up this great ad with a proper sign-up call-to-action.
50. WishLoop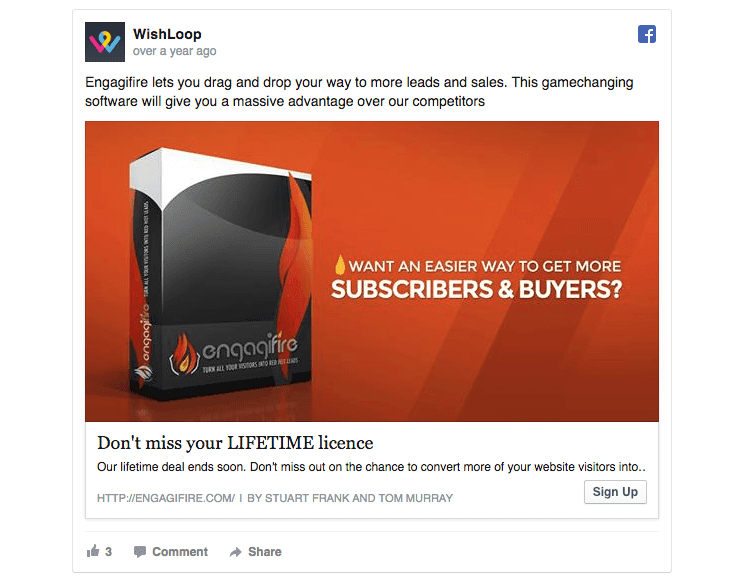 WishLoop goes hard for a sense of loss aversion with this ad. You have the chance for a lifetime license, but only if you sign up soon. It doesn't give you much of a sense of how their software works, and the image might be better used to give you an idea of their dashboard in action. But the sense that this is a limited time deal will still get some people to click through and learn more.
Do you feel inspired now? Let us know!