The News Feed isn't what it used to be.
And that's a good thing, if you know what you're doing.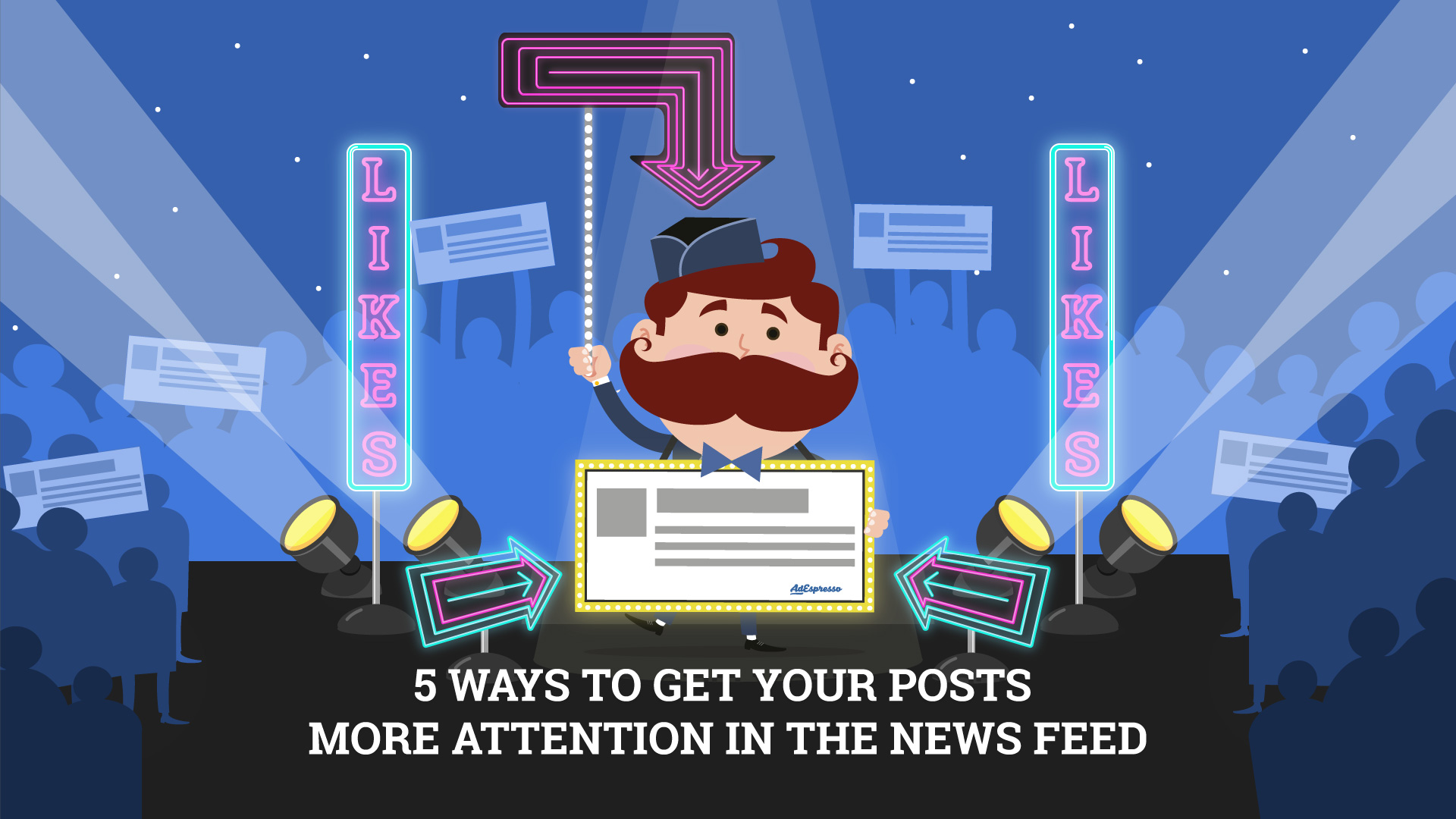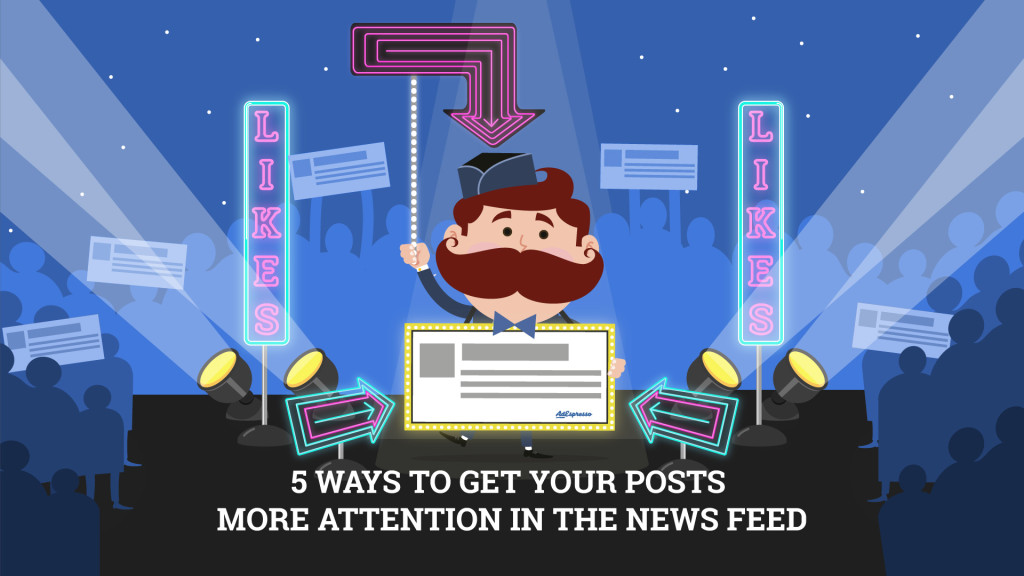 If you spend a lot of time marketing on Facebook, you'll notice that there are different kinds of posts. Some may annoy audience and some may engage them. Some may not even reach the audience because of the changes Facebook made to the News Feed over the years.
Typically, Facebook ensures that the following stories don't appear prominently in the News Feed:
Like-baiting posts: Posts that ask News Feed readers to comment on, like, or share to get more attention that they would normally drive.
Bait-and-switch posts: These are posts that utilize inaccurate formatting or language to get people to click on the link inside the post. However, the link redirects to something different than what is displayed to the audience.
Frequently circulated posts: These are posts containing videos and photos that get posted in the News Feed regularly. Facebook says its users find instances of repeated posts less relevant, and are likely to click on 'I don't want to see this' before complaining about the brands posting them.
These are the kind of posts you should strictly avoid.
Coming back to the main subject, your posts should offer something of value to your target audience. We've put together 5 tips that will help your posts stand out in the News Feed and attain premium visibility results:
1. Post captivating videos
Facebook tweaked its News Feed algorithm in an attempt to provide better videos to its audience. The new video ranking system considers whether people actually see the video, and for how long, before deciding who else sees the video in their feed. In other words, it takes into account the relevancy of the content presented in the video, not the number of likes, shares and comments it receives.
For greater attention, brands need to post exclusive videos and include links to content such as their products/services. Facebook provides analytics for brands to see how their videos are performing; these also help in detecting what parts of the video can be improved upon. Videos that perform well are the ones that are timely and short, and grab audience attention from the start.
Foot Locker is an example of a brand that uses short videos really well: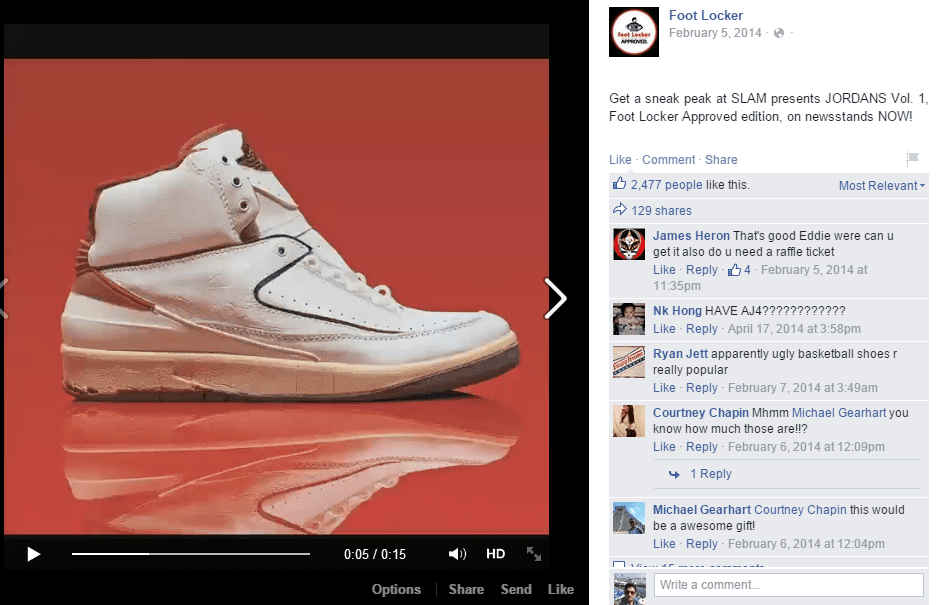 The company showcases upcoming products in hyper-lapse videos, and most of its video posts get a lot of attention from its audience, as well as those who haven't heard of the company before.
You can also utilize Facebook video ads to increase the reach of your video content.
2. Post at the right time
Do you know when your audience is online? After Facebook overhauled its analytics dashboard, you don't require a lot of monitoring or guesswork to figure out the most opportune time to post.
The tool 'When Your Fans Are Online' (available in the Facebook Insights dashboard) can be used by brands to see when their target audience is online. Since the News Feed algorithm has made it difficult for posts to gain more visibility in audiences' news feeds, posting when your audience is online can drive more attention to your posts.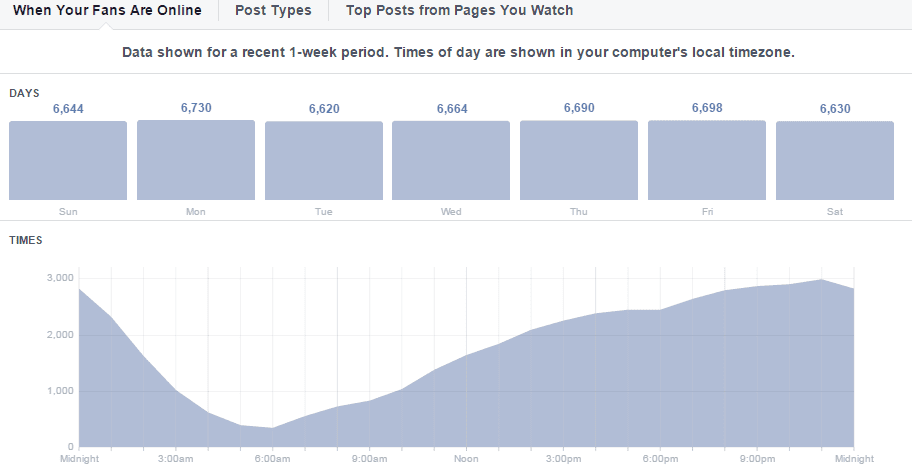 Facebook said that posts that people didn't scroll enough to discover can reappear in their news feeds if they are engaged with. As the algorithm awards most engaging posts, posting when your fans are online will give your post a chance for higher engagement, which can make it reappear in people's news feed days later, without any advertising.
3. Encourage conversation
The exposure you get in the News Feed depends on the value and weight of your posts. Because conversations are valued on Facebook, post thought-provoking questions that ultimately improve your content's weight.
By posting questions and asking for suggestions, you'll encourage audience to interact with your brand and be a part of a bigger conversation in the News Feed. The more responses, the more others would want to get involved, which would increase your post's value, giving it higher visibility in people's News Feed.
Inc. Magazine does this on its Facebook page: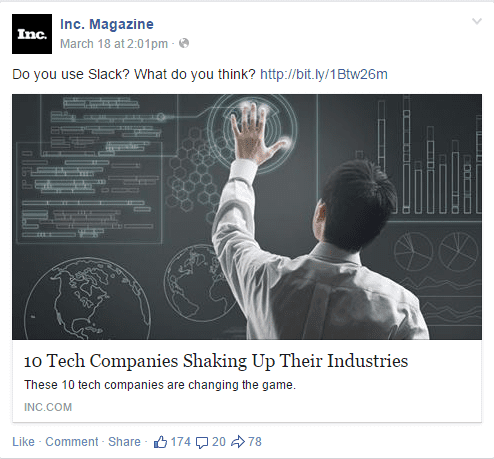 Even though the company targets entrepreneurs and businessmen, both of whom are short on time to login to their Facebook accounts and comment on brand pages, the magazine is able to generate decent conversation with such posts. It's a good idea to relate questions to the lifestyle of your target audience.
4. Don't be afraid to entertain
Your audience may not necessarily be in buying mode when they witness your brand on Facebook, and if 'being salesy' is the only impression you're able to deliver, they may unfollow your Facebook page, which would eliminate your posts from appearing in their News Feed.
As a result, try to add variety to your posts by posting content that isn't directly related to your brand, but incorporates some fun element like a challenge that your target audience would enjoy. This can result in significant engagement, driving greater attention to your posts.
Here's a post shared by ThinkGeek: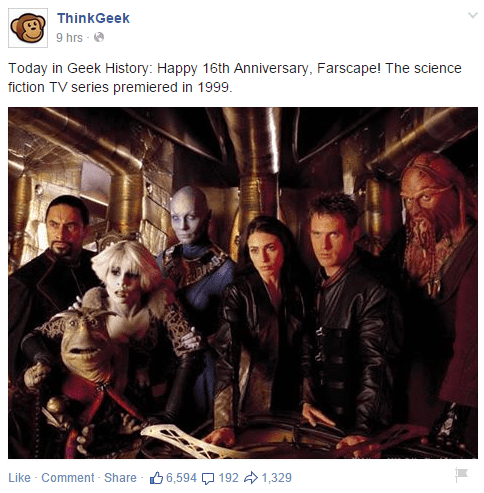 The brand talked about a sci-fi series that premiered in 1999. It didn't include any products ThinkGeek have in stock, but the post took the audience back in time, and generated a lot of buzz.
5. Post relevant offers
Offers are engaging because they provide value to your audience; this makes them more likely to appear in their News Feed as fans engage with posts related to offers. If your post receives a good response, it will gain a higher rank – which will result in more visibility down the road.
You can offer any incentive that serves a purpose. It could be something like an opportunity to download a free copy of a recipe book if you're in the food business. While creating an offer-based post, you have the option of using Custom Audiences to create News Feed ads to drive more interest towards the offer.
Here is an example from Robin Sharma's Facebook page: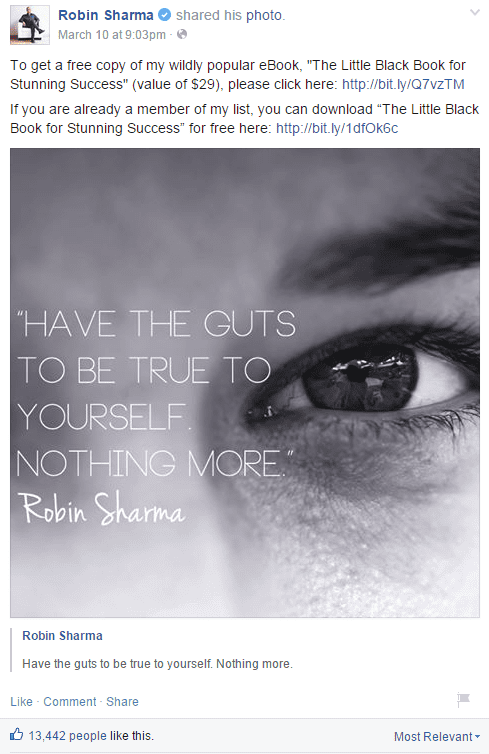 The free copy post received a lot of engagement in the form of likes and comments. The latter significantly increased the value of the post, increasing the attention it gets in the News Feed.
Final thoughts
There's no magic plan that drives audience attention to your posts in the News Feed. In essence, your success will rely on knowing your audience and finding ways to be insightful, entertaining, and relevant. Take the above-mentioned tips into account to create a plan that's right for you.
What are your thoughts? Have you used these tips before? What other ideas for increasing News Feed attention for Facebook posts can you share? Please leave your comments below.