It's no secret that many eBook publishers struggle with promotion.
A few hundred downloads in the first few months makes it easy for them to wear a mask, but that habit can be devastating.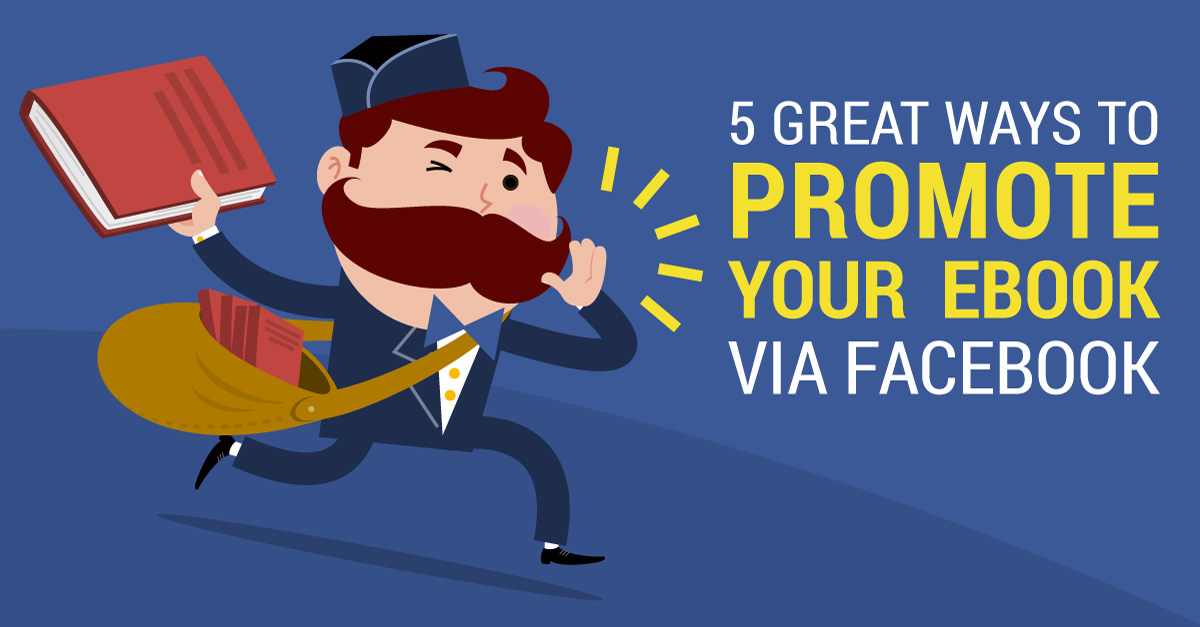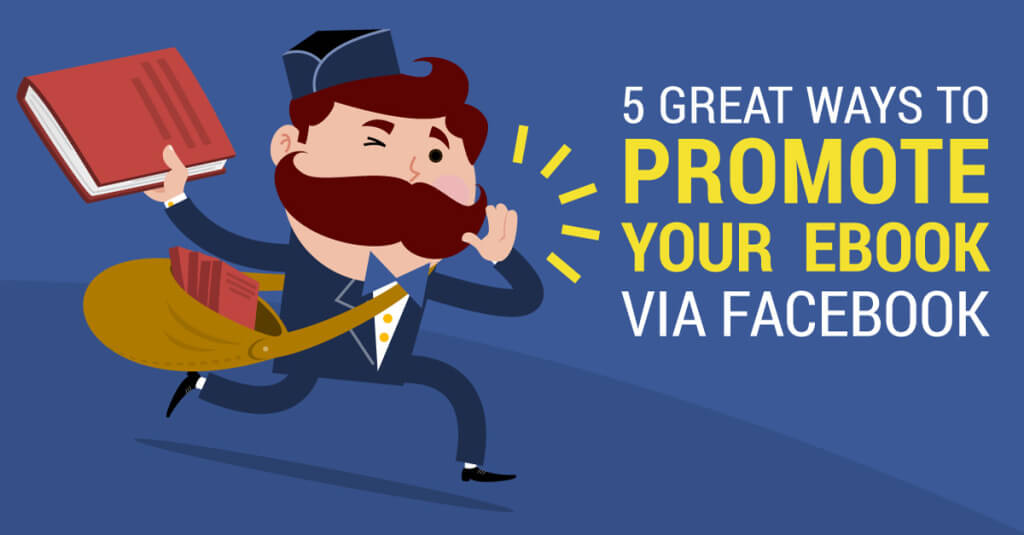 You see, authors of successful eBooks have extensive readership. They've worked hard to gain trust and respect, as well as make profits if their eBook had a price tag. And their success didn't come overnight; it was the result of constant eBook promotion.
So the question, how do you promote your eBook? A decade ago it was a job left to publishers, who did the promotion and distribution. Today, you're responsible for your own promotion.
The good news is that with the advent of social networks marketing an eBook is far easier and cost-effective than it used to be. In fact, you might be surprised to know that one of the best platforms to promote your eBook is your own Facebook page.
If your Facebook page is already providing great benefits to you as an individual or a business when it comes to engagement, why not use it to spread the word about your eBook? This alone can become the platform for long-term discoverability you desire.
Yet when it comes to Facebook, it's easy to get it wrong. The point to illustrate is that not many people are going to be interested in your eBook if you're just going to shout "Come check out my new eBook." Interruption marketing has failed to help many authors break through the noise.
In this post I share details on how to get Facebook eBook marketing right. The first thing you must have is a brand page dedicated to your eBook, which should include pertinent information about your book, including what the audience will learn from it. The description of the page should include a link to your website or the landing page that lists your eBook (you want to drive sales, after all).
After your page is up and running, you can implement these tips to attract followers who would want to read and buy your book.
1. Use giveaways
Giveaways on Facebook are a powerful way to gain exposure, and place your book in the hands of new audiences, who might even leave reviews. It is also an excellent opportunity to collect email information, which can be used to keep readers updated with promotional offers and other developments.
Seth Godin encourages promising authors to give away their first book for free. This approach is a great way to test your content with your readers without spending a lot on promotion. When using Facebook, tools like AgoraPluse make it easy to run sweepstake and giveaway campaigns.
To make your giveaway more effective, here are 5 things you should do:
List few entry steps (shorter is better)
Place a clear CTA (e.g. click here to win a free copy)
Include visual elements (a great eBook cover)
Promote the giveaway (on your website, to your email subscribers, etc.)
Contact winners (through a personal message/tagging them in comments)
Here's an example of an eBook giveaway by AirTurn: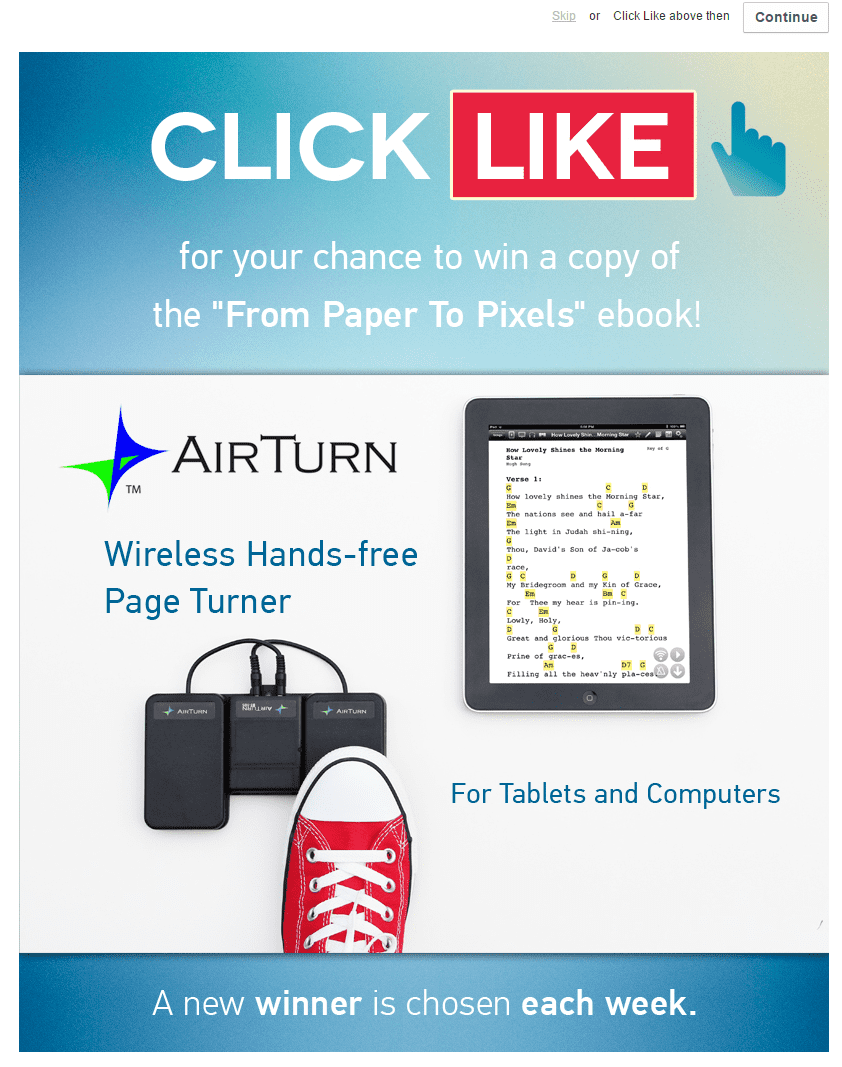 It includes a clear CTA and visual elements to attract audiences.
2. Place a tab on your page
'The first impression is the last impression' is a saying that even applies to Facebook pages. You should create a tab for your eBook to give your fans an idea of who you are as an author and what your book has to offer.
These tabs appear below the Facebook cover photo and fans can expand them by clicking 'More' on the right. They let users navigate your Facebook page and discover all the content it has to offer.
Tools like Pagemodo not only make it easy to showcase your eBook, but make it easier for your target audience to become loyal readers. You can integrate links to your landing page and watch your reader base and book sales grow. And if you are familiar with HTML coding, you can create your own HTML tabs or add an HTML code to existing themes for further customization.
Here's what an eBook tab looks like:

Hubspot has done a smart thing by including their free marketing eBook in the 4th tab; it's likely to catch attention of fans coming to the page.
3. Use Facebook Ads
Facebook Ads are a great way to promote your eBook to a specific audience, such as those who would be interested in the content of your book. You can create News Feed, sidebar, or mobile ads aimed at your exact demographic. You decide on the budget, and then your ad is exposed to a number of people based on the selected number of leads.
While creating Facebook ads, you can be even more specific with targeting by using Custom and Lookalike audiences. Also, it is important to optimize the visuals, content and CTA of your ad to get more conversions.
eBook authors also have AdEspresso and other ad optimization tools available at their disposal. These can be used to optimize advertising campaigns and save money on ads that never covert into sales. A customizable dashboard allows you to focus on your key data and remove underperforming ads.
Here's an eBook ad by ReachLocal: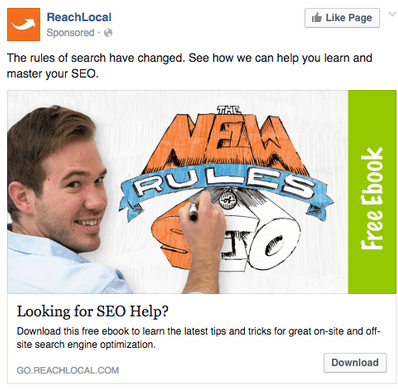 Facebook ads can get you social traction for your book in a short amount of time. We often use advertising for our Facebook Ads eBooks and we usually manage to pay less than $1 for each download!
4. Use Facebook Videos
Many authors neglect this aspect of Facebook marketing, but videos can be a great way to drive attention to your book. Facebook has also introduced short video ads that play for 15 seconds and include an auto-play feature.
As an eBook author, you can create a short video ad that features you talking about the book and how those who consume its content will benefit from it. Such videos communicate your eBook's story in a better way than videos that are created for direct sales.
Here's a video from Harlan Coben's Facebook page: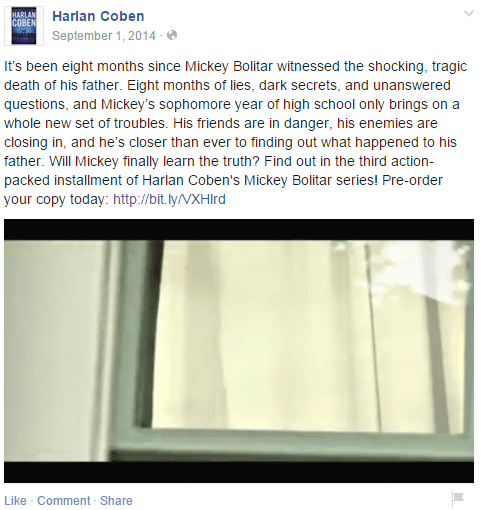 While it takes time to reach such heights as an author, video ads can generate more interest towards your book.
5. Create offers
If you're promoting more than a single eBook and all of them have a price tag, you can use Facebook offers to promote them simultaneously. For example, you can offer the second book at a 50 percent discount if customers purchase the first book within a specific time frame.
One of the best tactics to promote your offers is to make it easy to claim an offer. This is where you can use dark posts and call-to-actions to make the offer exclusive to your fans, or you can use general Facebook ads to promote the offer to a larger audience.
Here's an example: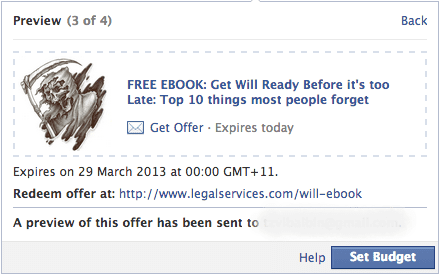 Offers are a great way to create a buzz around your eBook.
Final thoughts
Promoting an eBook via Facebook not only generates sales, it also leaves you with a large pool of audience who will be interested in subsequent books you publish, giving you opportunities to write sequels, and take your publishing endeavors to new heights.
Have you used Facebook for promoting a digital product? Can you suggest additional ways to promote an eBook on social media? We'd love to hear your thoughts.