It's easy to hear the phrase "native advertising" and think, "Psh."
Native advertising can sometimes get a bad reputation, especially when advertisers (or publishers) make big mistakes with how and what kind of content they present.
Case in point: The Atlantic being forced to eat crow and repent after publishing an editorial that appeared like it was written by the Atlantic editorial team, but in reality came from the Church of Scientology.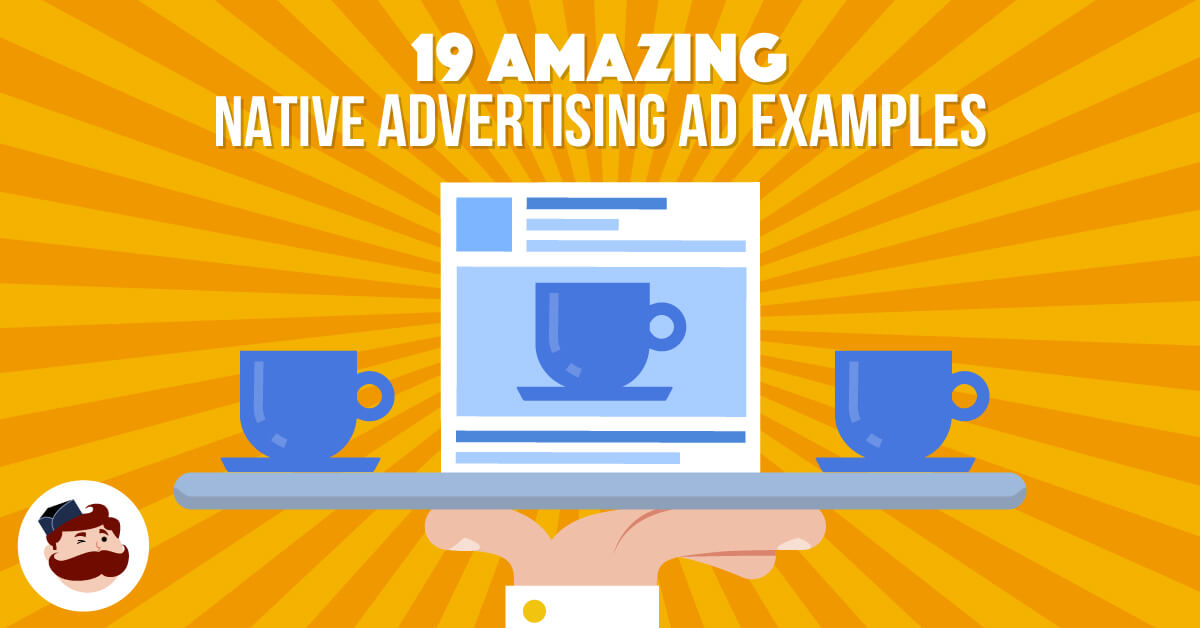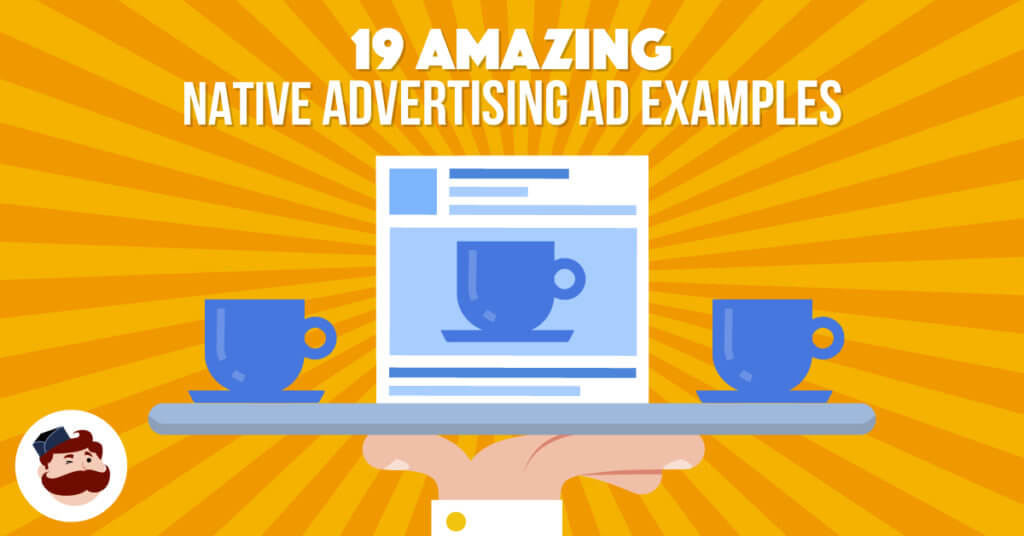 Certainly bad PR, but it did inspire some good spinoffs.
Now there are reports that the FTC plans to force publishers to explicitly signpost when native advertisements exist alongside normal content. #FakeNews is the mantra of the day.
Despite this, there's still one very good reason to not give up on native ads.
Why people are wrong about native advertisements
One of the big criticisms of native ads hinges on the fact that they "look" like normal content and trick users into believing they're "real." That's just not true—when's the last time you were actually fooled by a piece of native advertising? It just doesn't happen.
The key to the success of native ads isn't that they trick users but that they express themselves as exactly what they are. Buzzfeed and other content masterminds have shown that people will eagerly click on native ads even when they're labeled "sponsored." Why?
Because a native ad doesn't require you to abandon the experience you're currently in. You don't get redirected to another site and have to figure out how to get back later—you just keep flowing through what Cody Brown calls the content buffet:
So don't fret if FTC regulations force a little more explicit signaling about the native ads out there, a little more honesty on the part of publishers—the strength of native advertising is not how well they hide. It's how well they can stand out.
Successful native advertising is brash, it's colorful, and it stands out amidst the rest of the content around it. Studying it can tell you a lot about how to do advertising in general—especially advertising on Facebook.
1. Adobe (New York Times T Brand Studio)
The New York Times' "T Brand Studio" deftly combines subtle native advertising with high-quality in-house content marketing befitting of the Gray Lady. This well-researched Adobe piece on the future of shopping provides valuable insights and statistics regarding shopping trends in a VR-centric future, but does so without appearing too salesy.
More info on T Brand Studio: Beyond native: How the NY Times plans to turn T Brand Studio into a full-fledged agency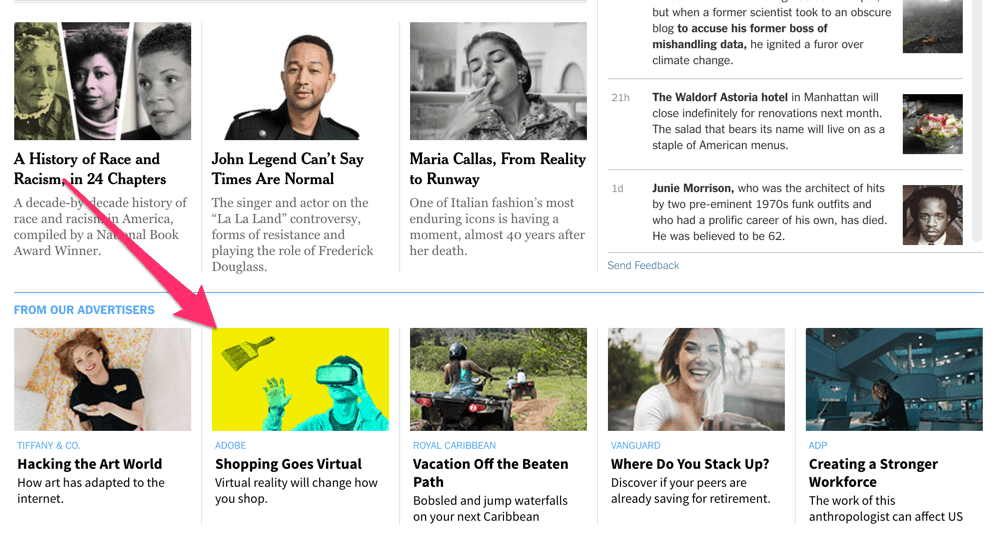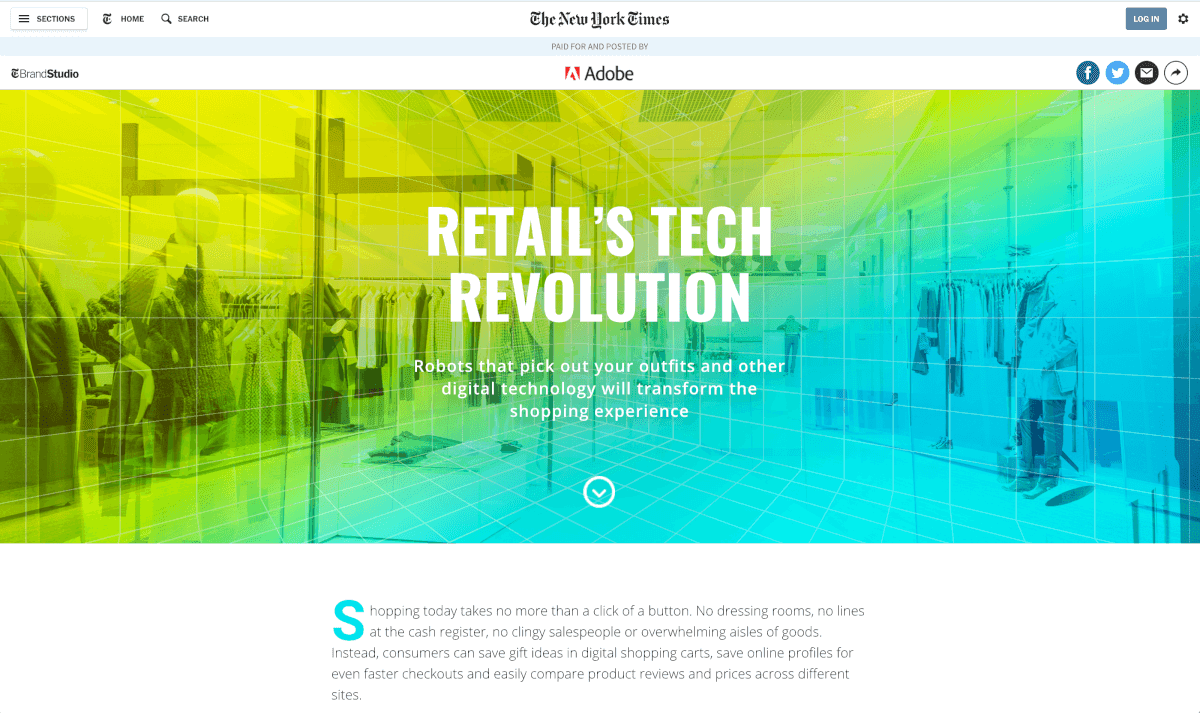 Takeaway: Just because it's advertising doesn't mean you have to let your editorial standards drop. Thoughtful, long-form content, even when it's part of your marketing, can be a powerful way to get your name out there and create a beneficial brand association.
For International Margarita Day (February 22nd), Patrón took to Twitter with a promoted hashtag #MargaritaoftheYear and tweet prompting users to help vote for one of 7 innovative cocktail recipes.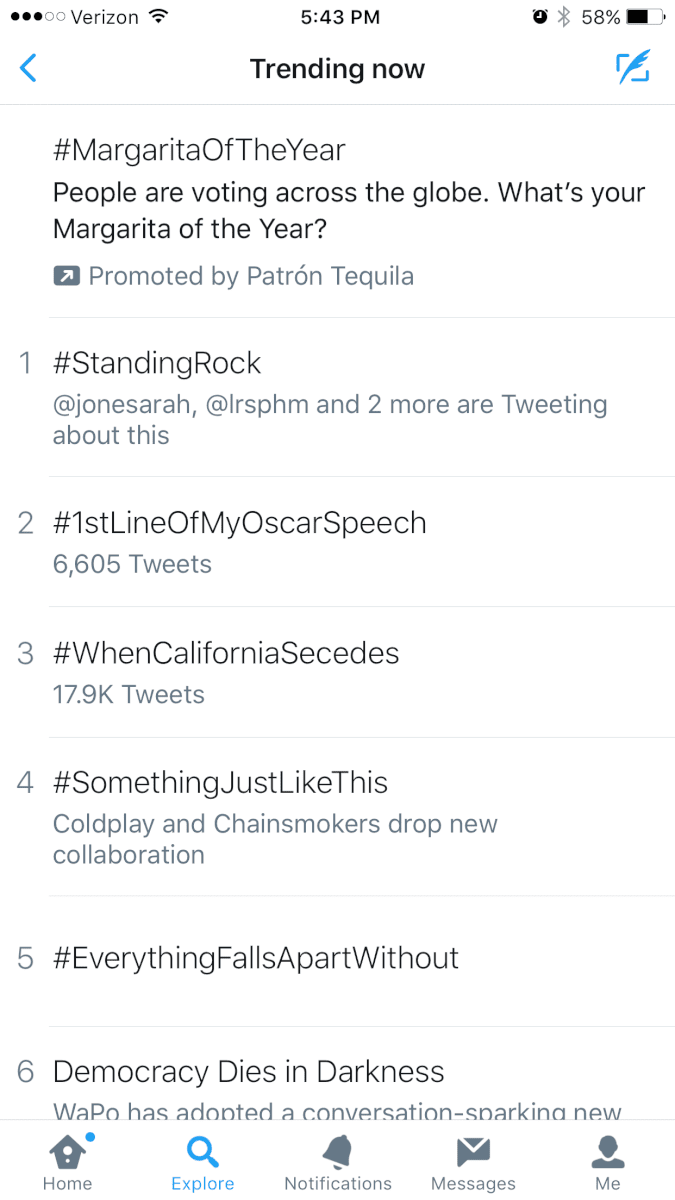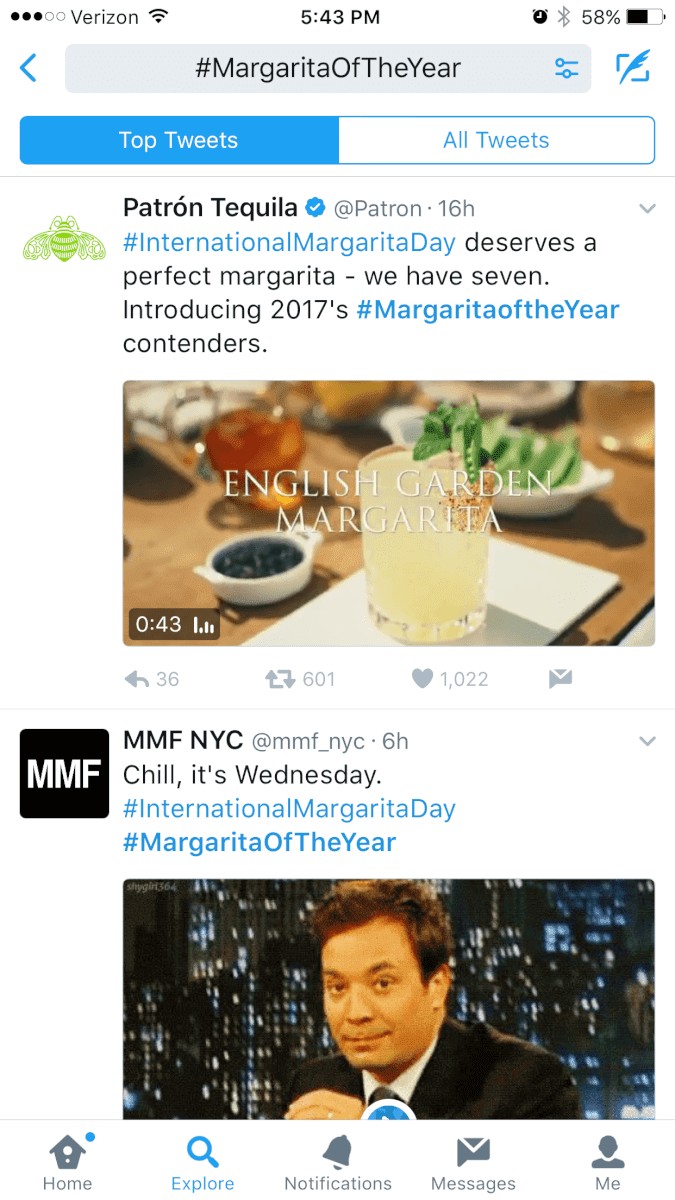 Takeaway: When you're on a social network like Facebook, you need to look for ways to integrate a social experience into your ads. You want people to be tagging their friends, commenting and sharing the things that your company puts out there, so you need to engage with your audience on a casual, informal level.
While the BBC is thought of as a public service broadcaster, they do have substantial native ad channels such as BBC Capital, BBC Travel, and BBC Future for non-UK audiences. This content marketing is subtly included towards the bottom of the BBC News homepage, with no indication that the article is sponsored. Iceland is certainly in vogue at the moment, so coupled with the authority of the BBC, Morgan Stanley scored a big win with this profile on the gorgeous island nation.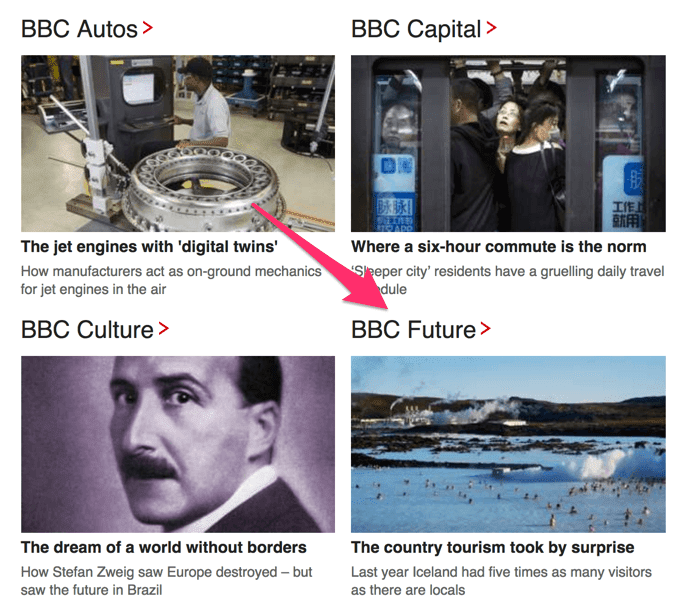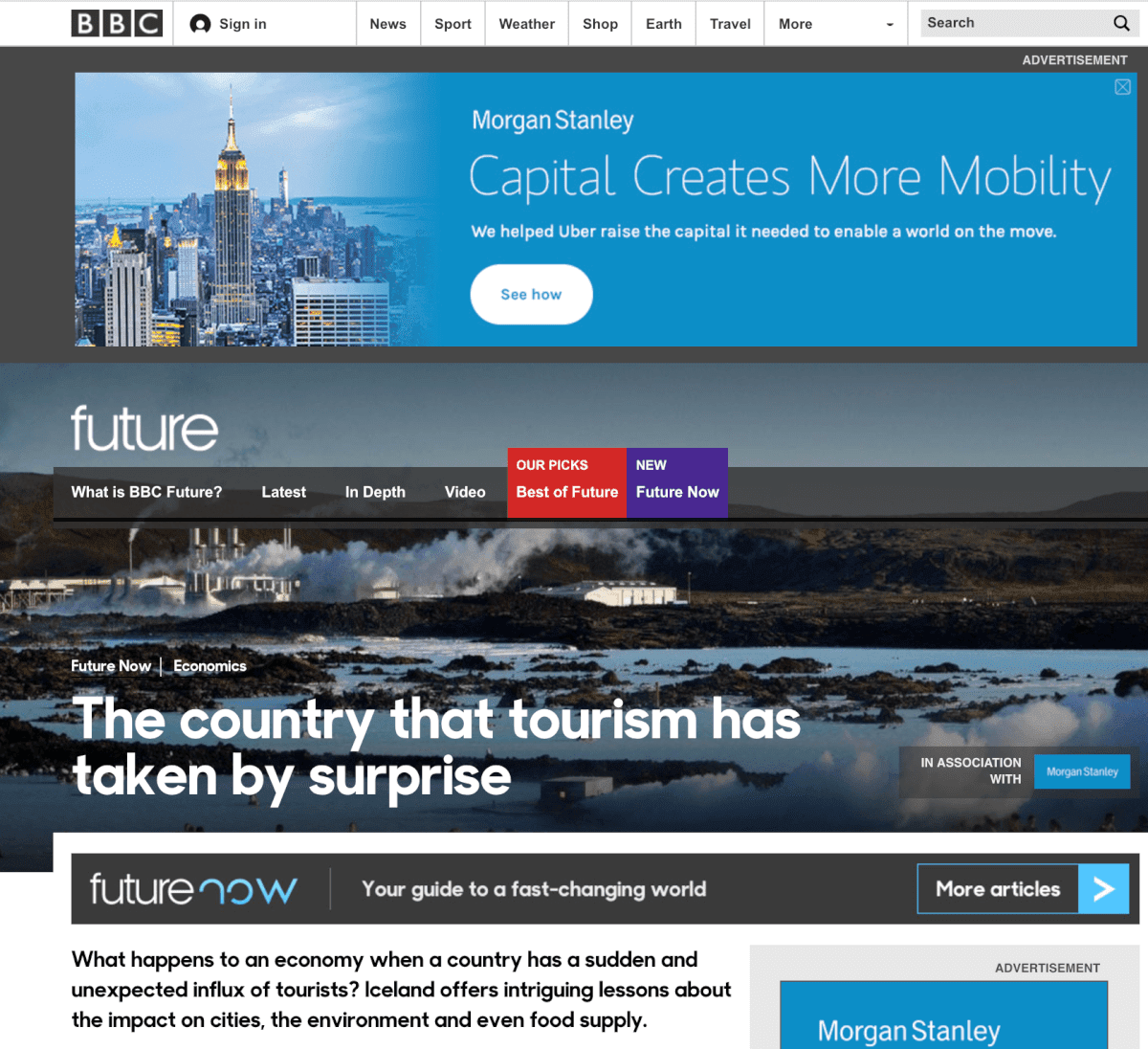 Takeaway: When it comes to advertising, the value that you're delivering to your audience is what matters, not the fact that the content is hyper-relevant to your brand or your company. Especially when you're competing with lots of other content for attention (e.g. Facebook's Newsfeed), you're going to need to produce something that people actually want to read if you want them to voluntarily check out your branded content.
GE's 8-week long podcast series "The Message" explores aspects of sound technology through a sci-fi narrative about a rookie podcaster and a group of cryptographers decoding an ominous message from space. The podcast achieved broad media acclaim and won the 2016 Webby Award for Best Use of Native Advertising.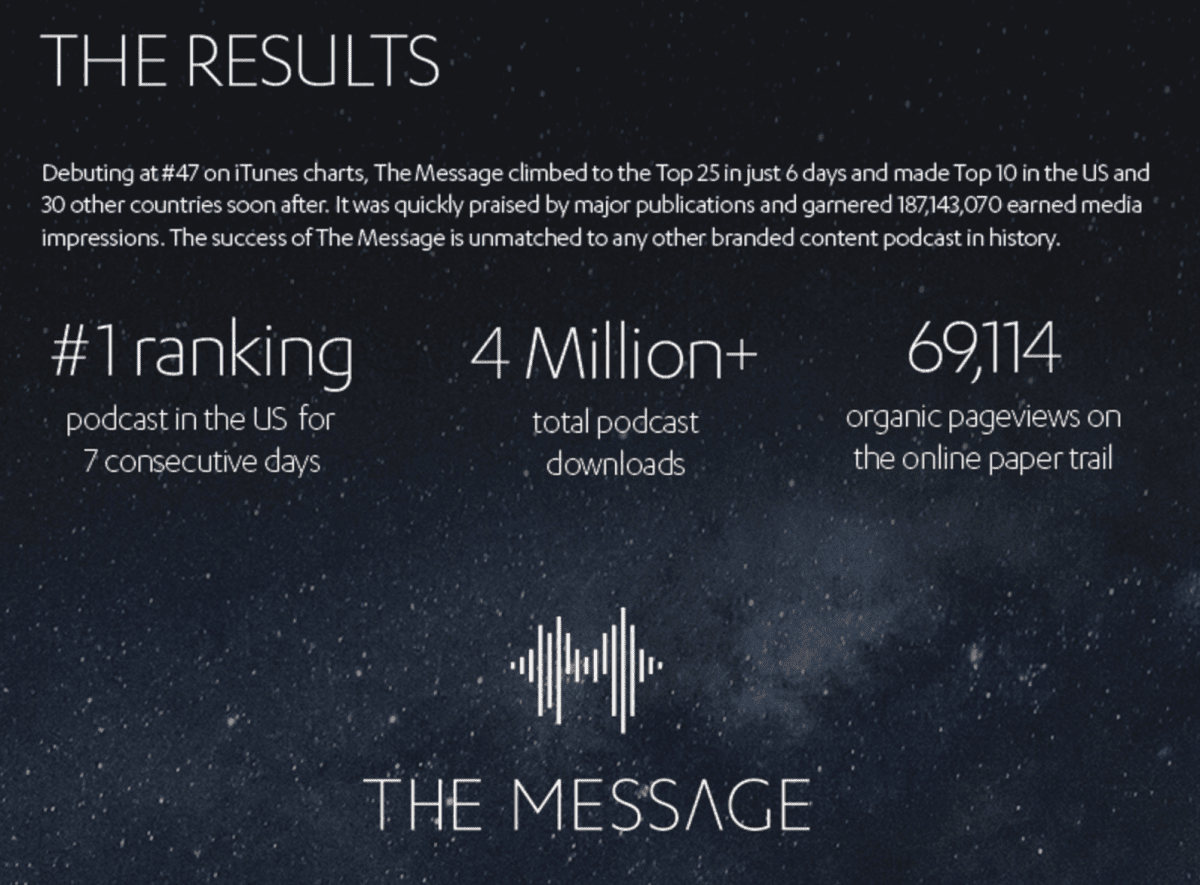 And that's not all—it also featured a viral, interactive game and inspired a subreddit where people traded theories and discussed questions they had about the program.
Takeaway: While The Message came about well after Serial had popularized podcasting, GE challenged themselves to work with the medium in a way that no one had before. That's key here—you can look at what others are doing in the world of advertising, and even hop on the bandwagon, but if you want to really make an impact, look for a way to go beyond and do things a little differently.
To increase interest in the record $1.58 billion Powerball jackpot in 2016, the New York Lottery decided to literally drum up sales by hiring 211 drummers across New York State to stand outside of bodegas and convenience stores for twelve hours straight. This stunt led to news coverage across the state, amounting to an estimated $4.5 million in earned media. It was nominated for the 2016 Webby Award for Best Use of Native Advertising.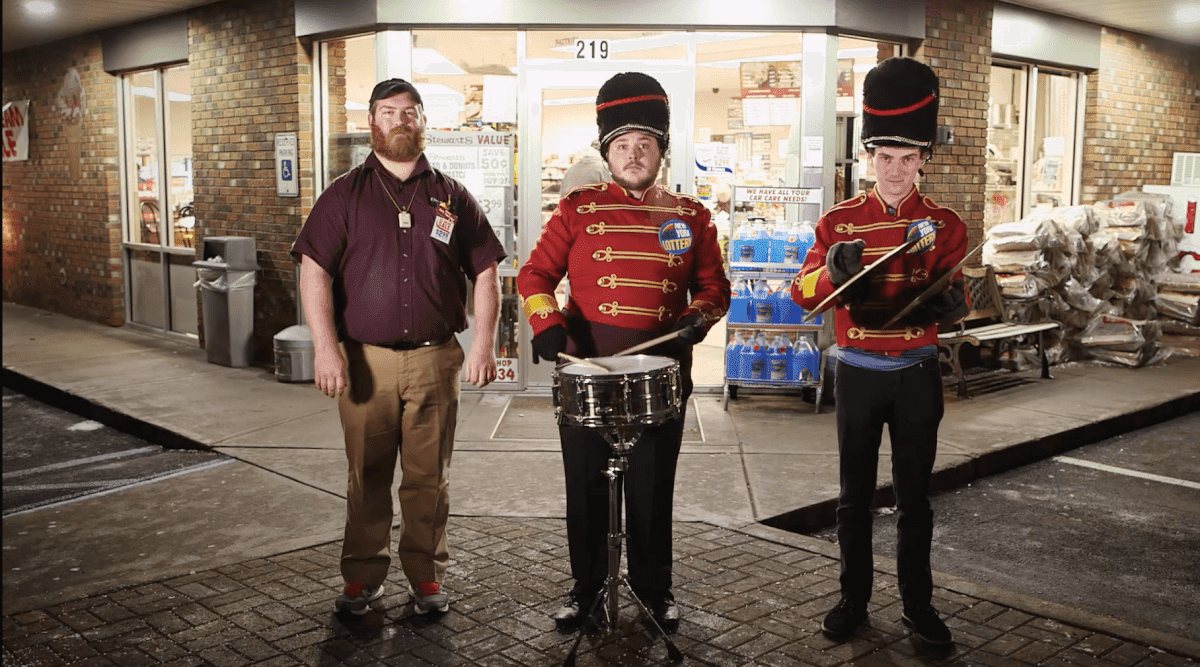 Takeaway: This may seem like a crazy stunt, but guerrilla marketing pretty often involves physical stunts of this kind. Salesforce founder Marc Benioff was famous for doing things like showing up to protest competitors conferences back in the early 2000s. If you're looking for a way to set yourself apart from the pack, it's an option!
Famed Ohio theme park Cedar Point decided to promote its Halloween offerings by inviting users to screenshot a fleeting image of a ghost on their Snapchat story, in exchange for a coupon/prize. This encouraged repeat viewings, as the task was difficult, but it also spoke to their targeted teen demographic. It increased engagement on their Snapstory by 233% and 144k unique users. Also, since this was not formatted as an interrupting paid ad, but rather a seamless part of Cedar Point's social media presence, it positioned the brand as a valuable content producer.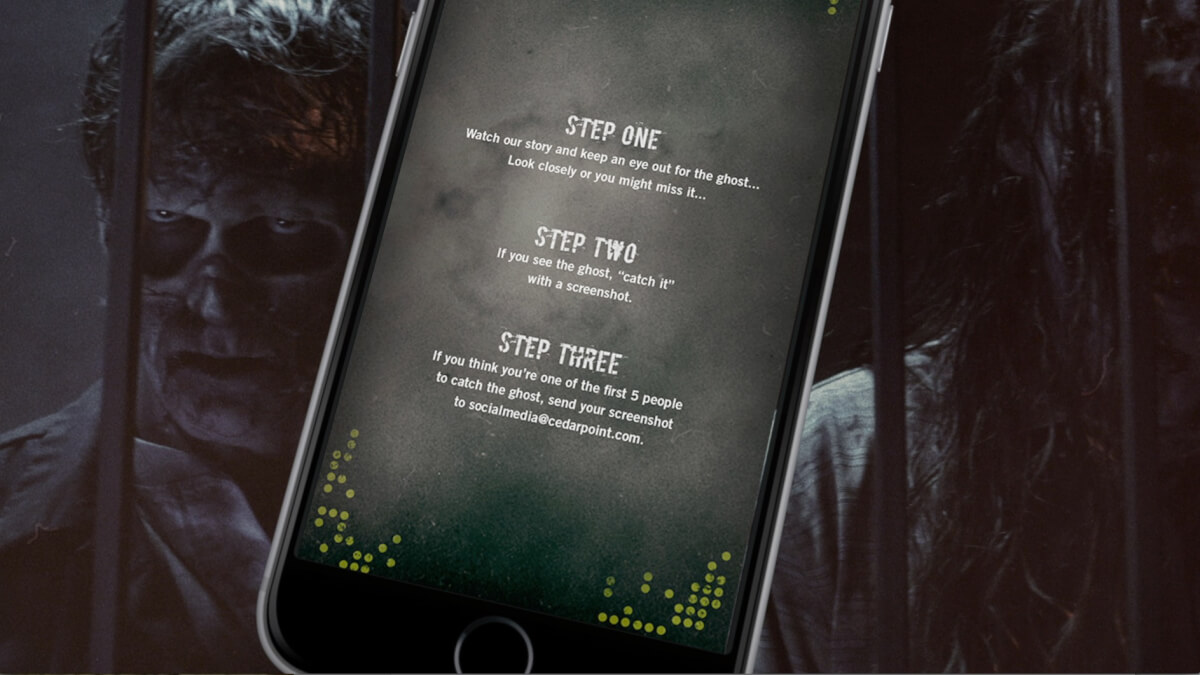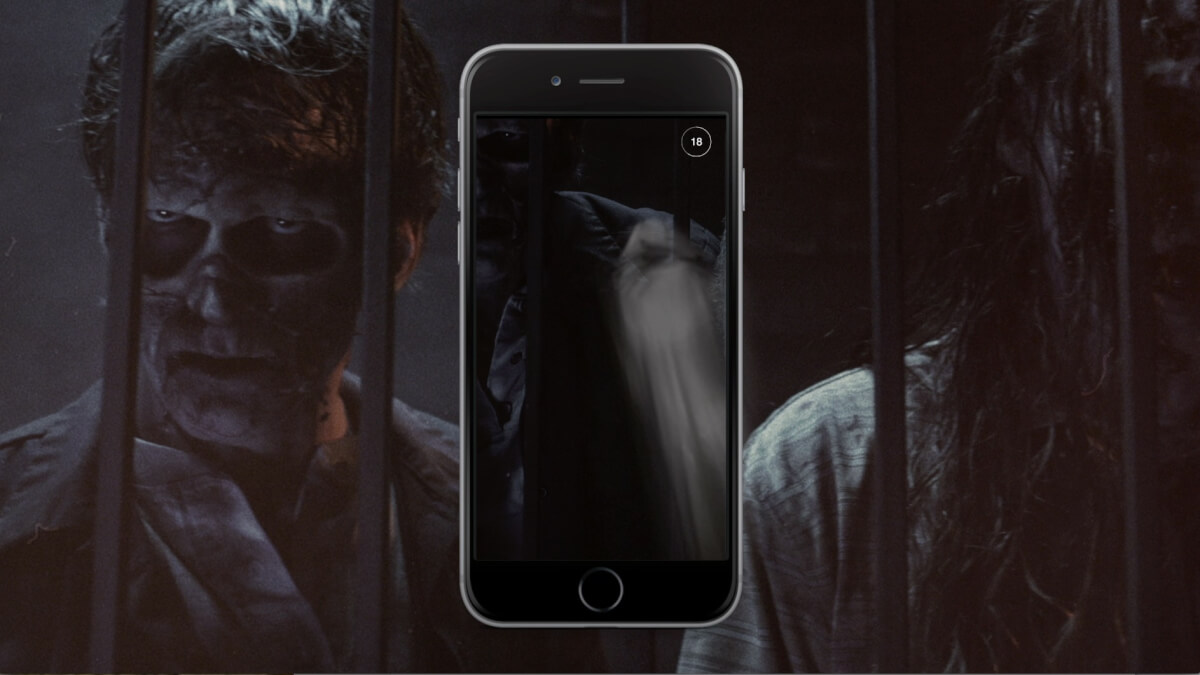 Takeaway: Contests are a powerful tool for drumming up audience interest on social media. In order to create a sustainable content strategy and not just a flash in the pan, however, you want to make sure that the contest leads users to sign up or subscribe to your channels. Otherwise, you could acquire a ton of users—but only temporarily.
Taco Bell's sponsored Snapchat Lens for Cinco De Mayo 2016 was a record-breaker, garnering over 224 million views in a single day.
That was a huge success, though perhaps not that feasible for most of us, as these custom lenses can cost up to $750,000 for a primetime spot. Taco Bell was, however, also one of the very first marketers to buy into Snapchat's on-demand geo-filter program.
Prices for these start as low as $5—a worthy investment if you're thinking about Snapchat as a potential advertising channel.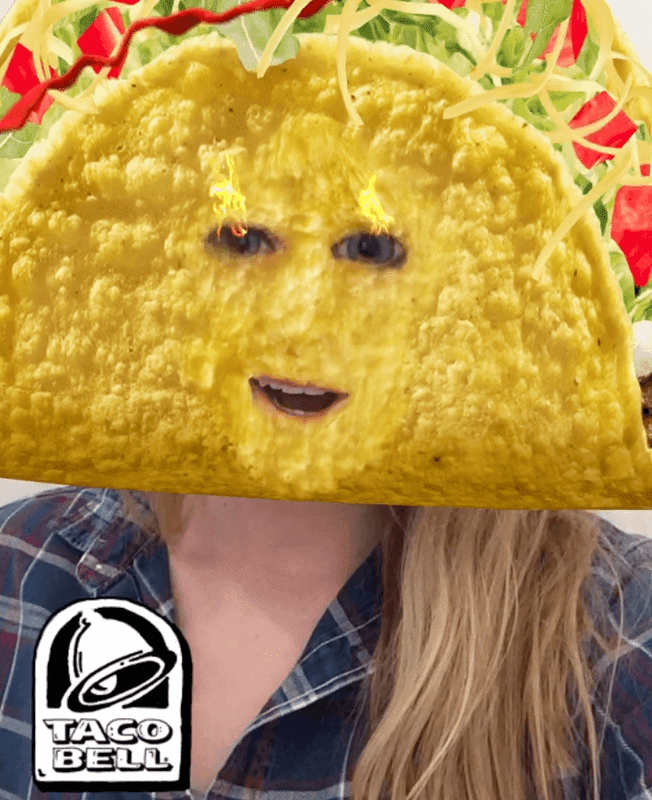 Takeaway: Sometimes big brands pull off marketing campaigns that no small or medium-sized company has the resources to follow. That doesn't mean, however, that you don't ever have a way to do something similar. There are plenty of ways that your SMB can use Snapchat in your advertising, for instance, even if you don't have hundreds of thousands of dollars to put towards it!
This portal on Vice Media's Thump Channel invites users to explore South London as curated by DJ and producer Artwork. The portal includes videos, several original articles, and an explorable map of points of interest. This subtly nods to Airbnb as being the best way to explore South London, but the branding isn't overbearing, and the content has clear standalone value.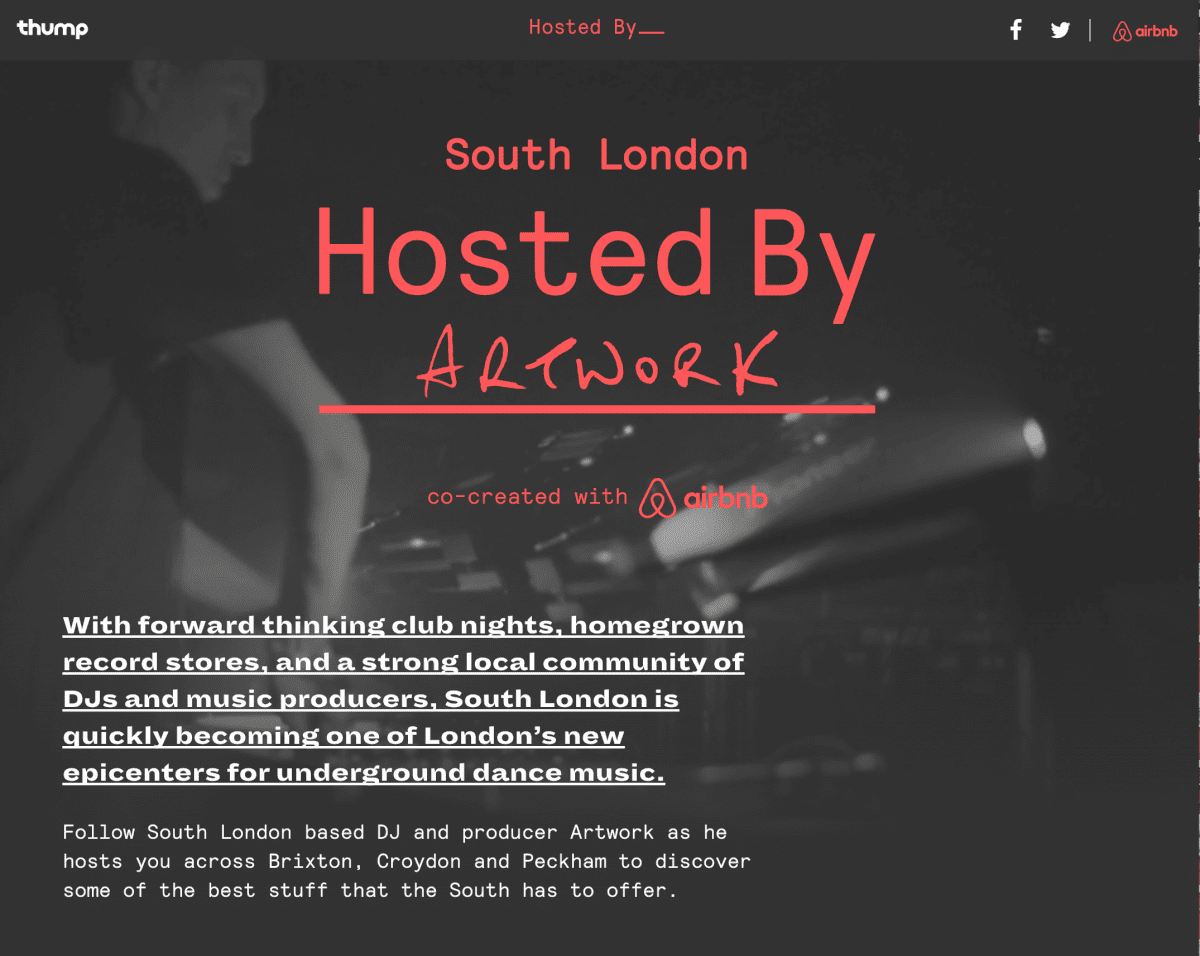 To promote its show Narcos, Netflix collaborated with the Wall Street Journal to create an interactive portal exploring the history of the international drug trade, and its nexus in Medellín, Colombia.
Featuring well-designed maps, timelines, articles, and even a quiz, this is a great example of native advertising generating interest and value.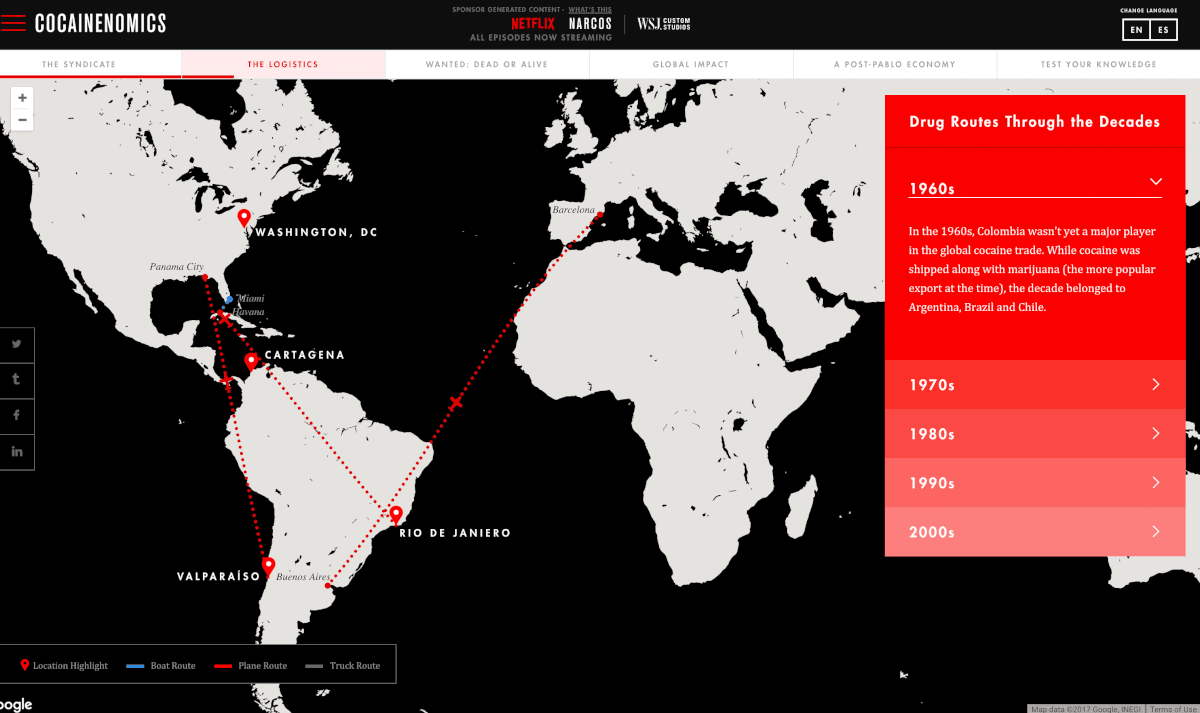 Takeaway: Partnerships can be an incredibly powerful way to take your advertising in directions that would not have been possible otherwise. Other kinds of businesses bring different kinds of value to their audiences—and have different kinds of reputations—so the right kind of partnership can create very powerful effects both with regards to capturing new customers and delighting the ones you already have.
10. Newcastle Brown Ale (Gizmodo)
Newcastle embraced the snark of the then-Gawker affiliate Gizmodo in this 2014 paid article entitled "We've Disguised This Newcastle Ad as an Article to Get You to Click It." The article explains how Newcastle purchased ad space from Gizmodo so they could embed a video about a focus group discussing a Super Bowl ad that Newcastle couldn't afford to make.
Certainly a meta-approach to advertising, but the wry tone and radical honestly of this piece will cement Newcastle as a self-aware presence in the minds of the Gizmodo/Gawker crowd.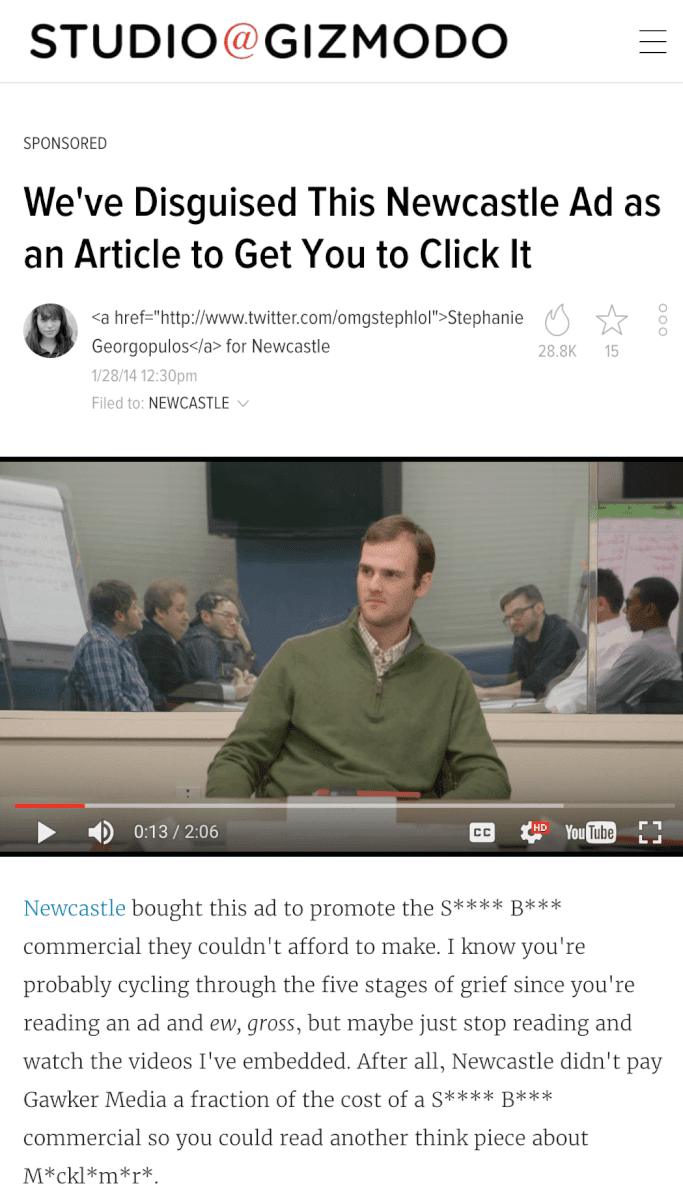 Takeaway: The amount of noise in the advertising/marketing world has grown exponentially over the last decade. One surefire way to make sure that you stand out amongst the crowd is to take a self-aware stance in your advertising. It can also work out for publishers, who have an opportunity to be honest about why they're putting native advertising in front of their readers—because it costs money to create good content!
Leading British health supplement company Seven Seas utilized a unique native advertising approach by sponsoring a curated page of positive and uplifting news in The Telegraph. You barely notice the Seven Seas branding if you're not looking for it. Mostly you see a litany of articles having to do with well-being, human interest stories, and the like:
"Scientists reverse ageing in mammals"
"Boy donates hair"
"Man takes terminally ill dog on farewell cross-country road trip"
Although these topics have nothing to do with cod liver oil whatsoever, one leaves the page with a small psychological bias to view Seven Seas in a more positive light. It's simply association.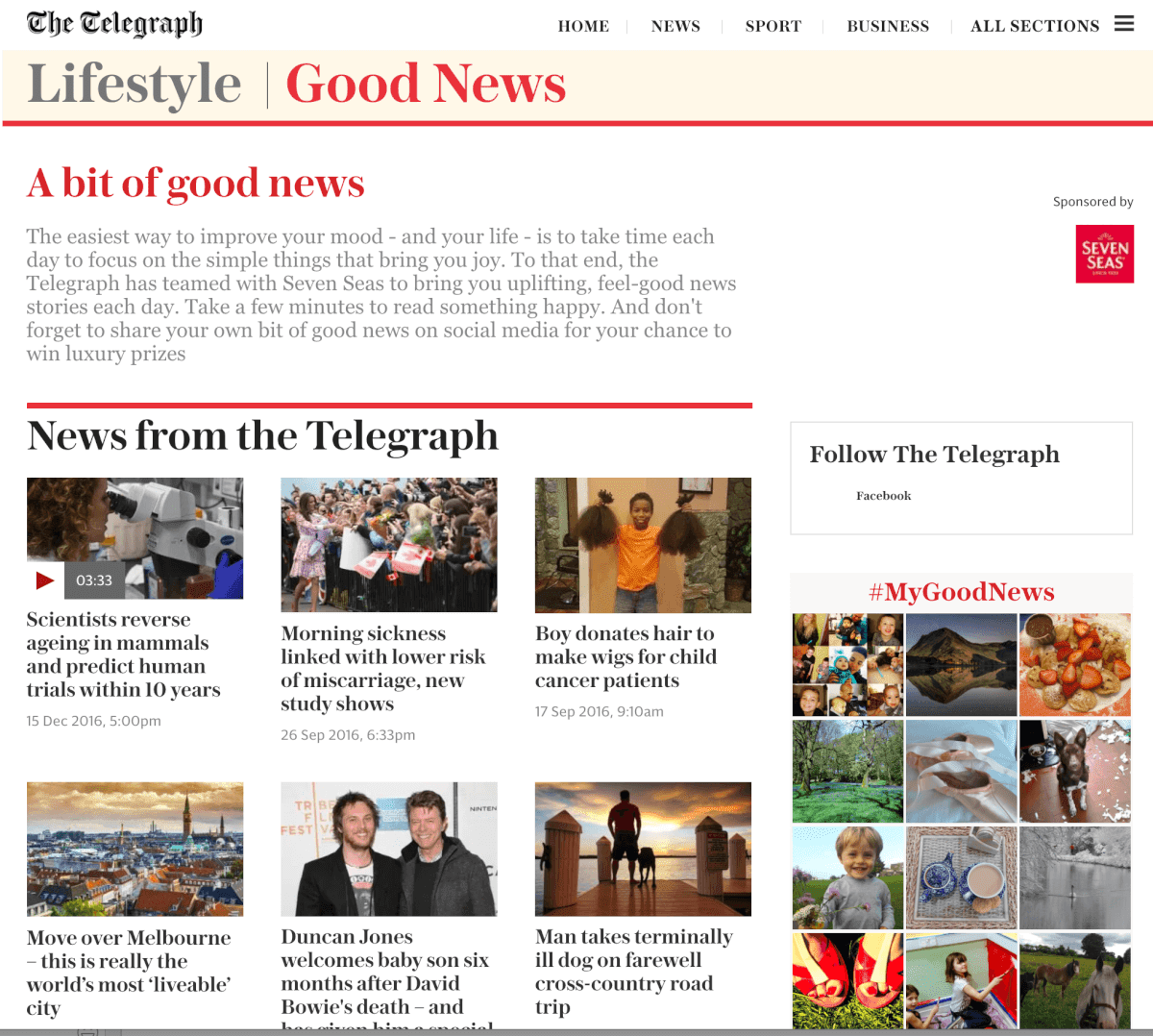 Takeaway: The content on this Telegraph sponsored page has nothing to do with cod liver oil. That goes to show that you don't need to be self-promotional for your advertising to work—all you need is a brand an idea of the kind of content you should produce to make a statement.
Denny's is known for its surreal Twitter, aiming to produce content aligned with the Dada-eqsue end of the meme spectrum. These aren't paid ads, Denny's is counting on Twitter users to be interested enough in their content to actually follow their account. Clearly targeting a millenial demographic, Denny's embraces odd haikus and egg-based non-sequiturs to build brand awareness and street cred in a demographic not typically interested in casual dining chains.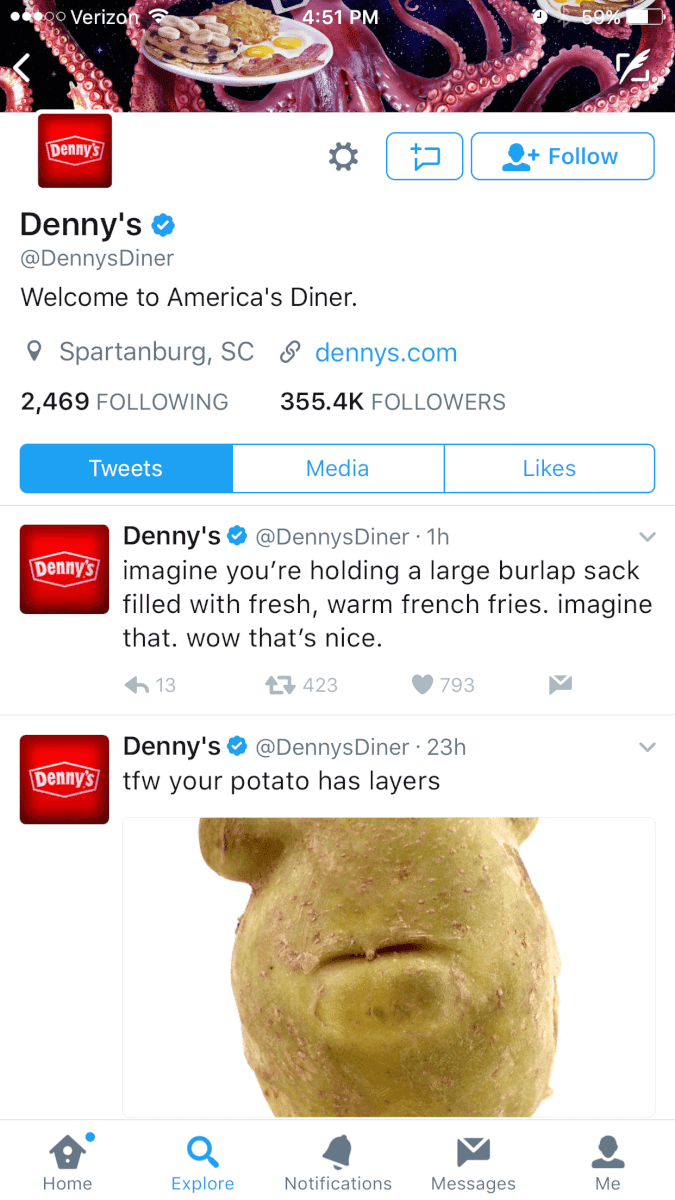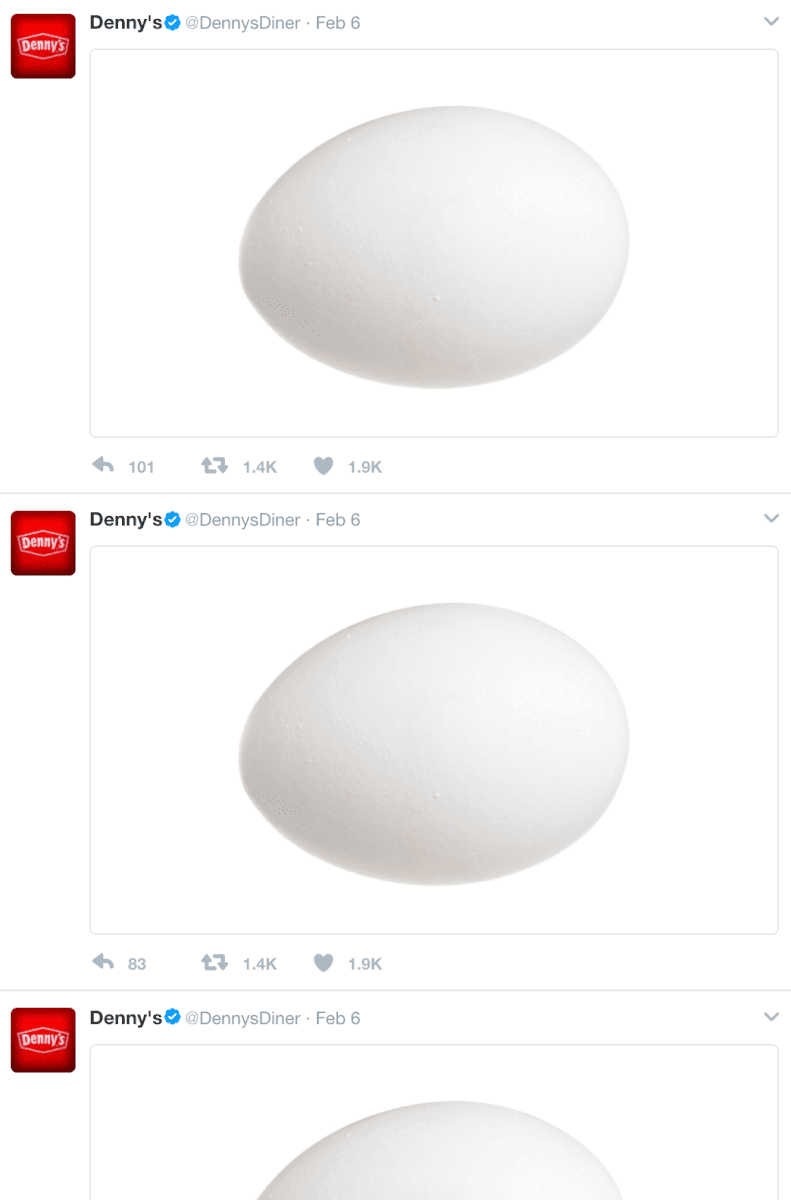 Takeaway: No one says you have to adopt the Brand Marketing Voice to have a proper social presence. Denny's has 355.4k followers and whoever runs their Twitter sounds like a 14-year old with a highly active Tumblr. Feel free to experiment.
Xerox and The Atlantic collaborated to develop a portal for readers interested in seeing the latest ideas in the realm of productivity and growth hacking. Featuring articles by leading experts and a free e-book, the well designed page is also interactive.
Based on the problems you're having with your business, such as alignment, productivity, or agility—you can choose to receive different kinds of information.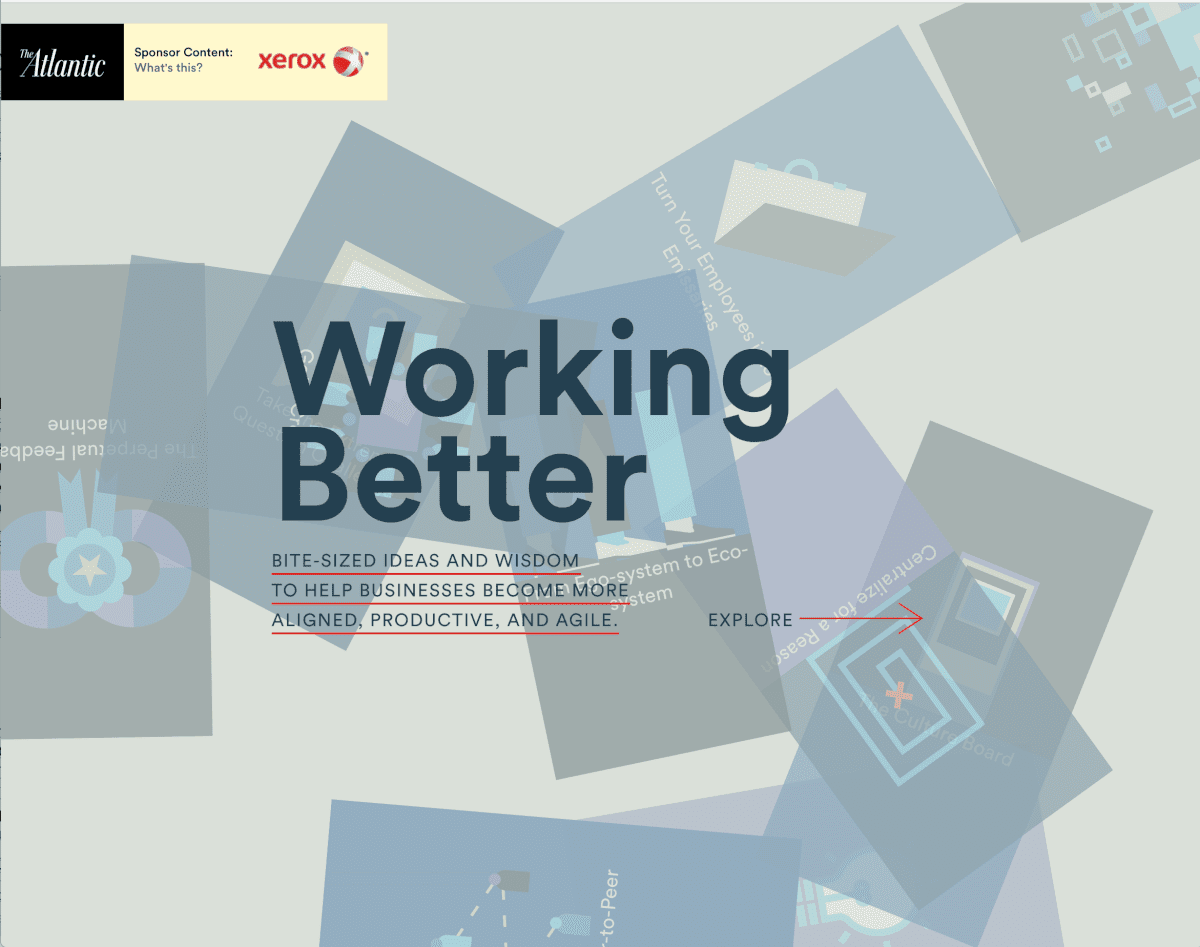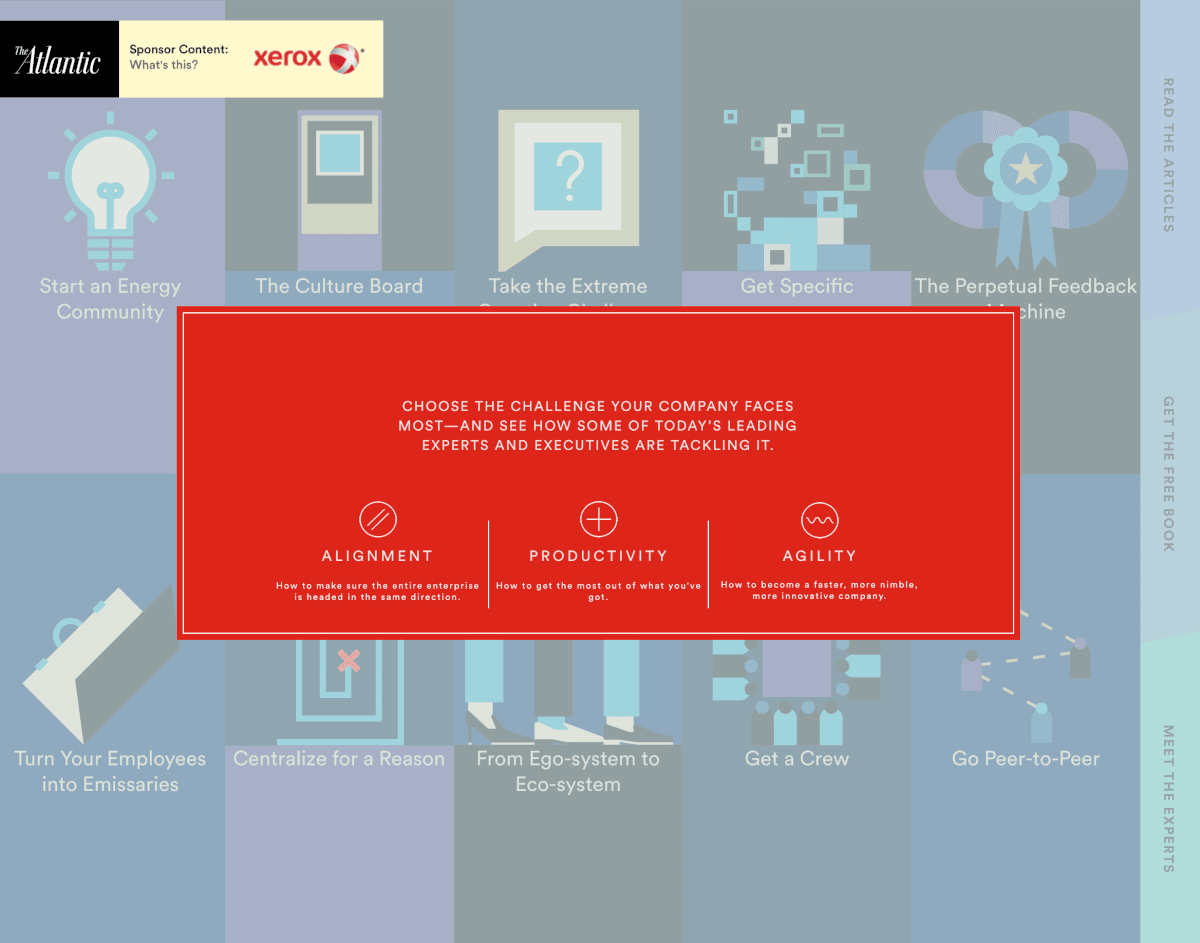 Takeaway: Most of the examples in this post concern consumer-facing content. But B2B customers are just as human and just as interested in reading native content. We're big fans of this technique—read our guide to marketing and promoting your free eBook here.
The Telegraph scores again with a quirky A-Z quiz from Ikea that provides readers with tips on how to get a good night's sleep. Like other native ads, this campaign shies away from selling a specific product, but instead aims to strengthen Ikea's brand association as a quirky yet accessible organization.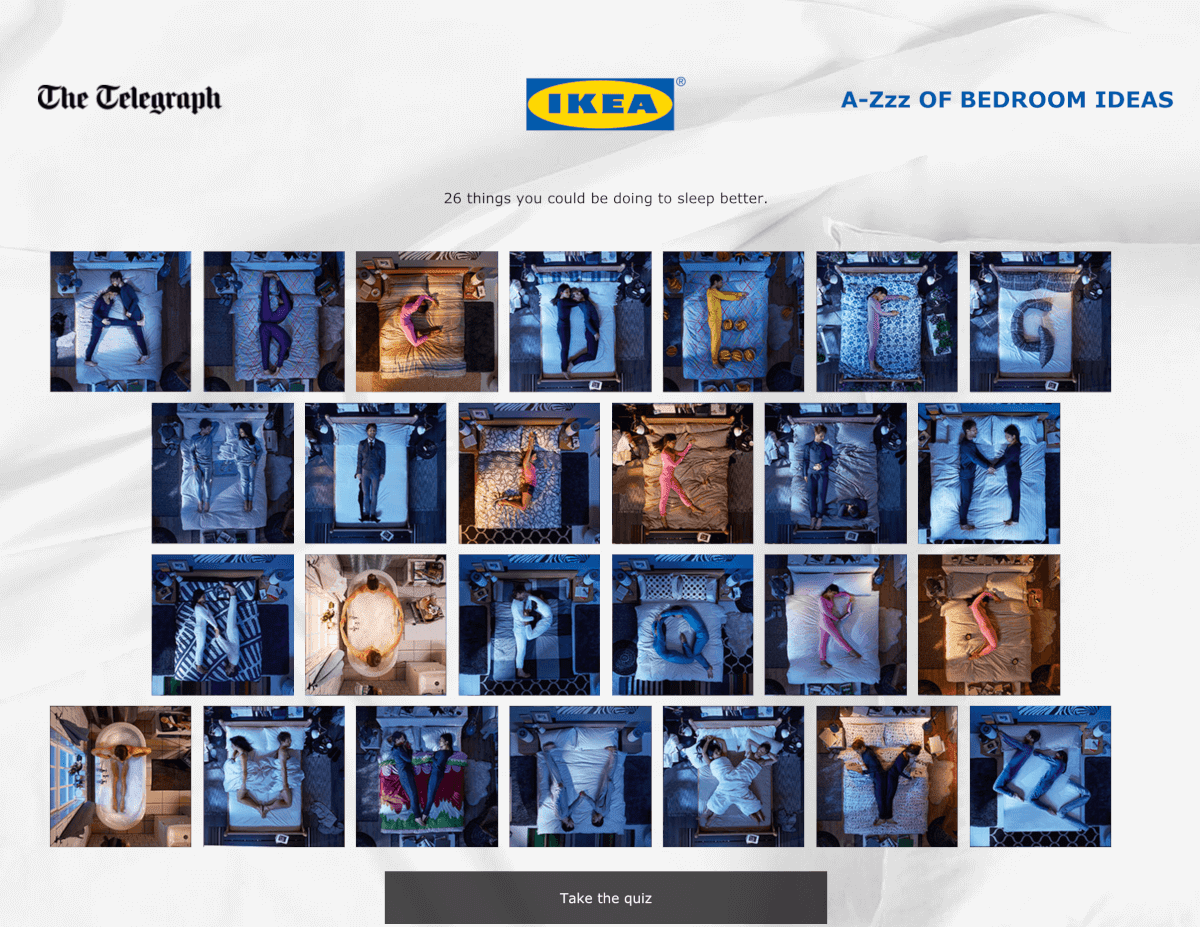 Takeaway: The good old-fashioned quiz, brought back into style (mostly) by Buzzfeed, is a cost-effective and fresh format for native advertising. It fits into the same vein as content like eBooks—you want to take the knowledge and expertise that your company has and use it to help others diagnose issues with their life, business, sleep (above), or other facets of their life.
This New York Times/T Brand Studio collaboration with Airbnb tells the story of Ellis Island and immigration in New York, by exploring specific family histories through narration, maps, and archival photos. Although subtle, this native ad focuses on aspects of hospitality and homebuilding that newcomers may experience in New York, a well-aligned sentiment for a short-term housing platform like Airbnb.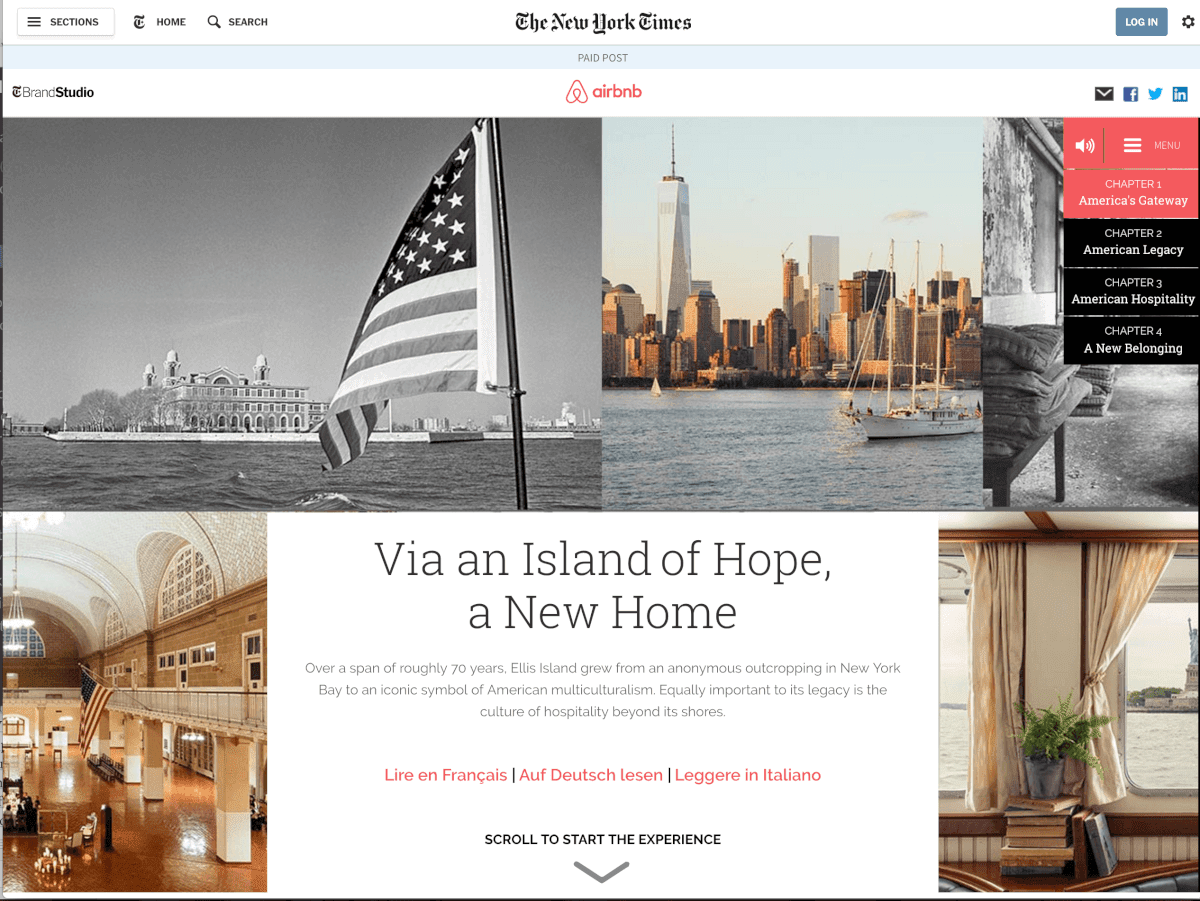 Takeaway: Even if your advertising isn't going to be directly about your product or your company, it can still try to fulfill the mission that your company represents. Airbnb's brand is all about hospitality, so this piece of content about the legacy of Ellis Island and how it has welcomed immigrants for centuries makes perfect sense for them to post.
Engineering consultancy Leidos appeals to the Beltway set through "Hacker Avenue," an interactive exploration of the vulnerabilities our society faces as we become increasingly reliant on the Internet of Things. Using smart infographics, a mini-game that leads you to important facts and statistics, and a robust piece of accompanying content, Leidos scored a big win on a platform not typically thought of as being aligned with native advertising.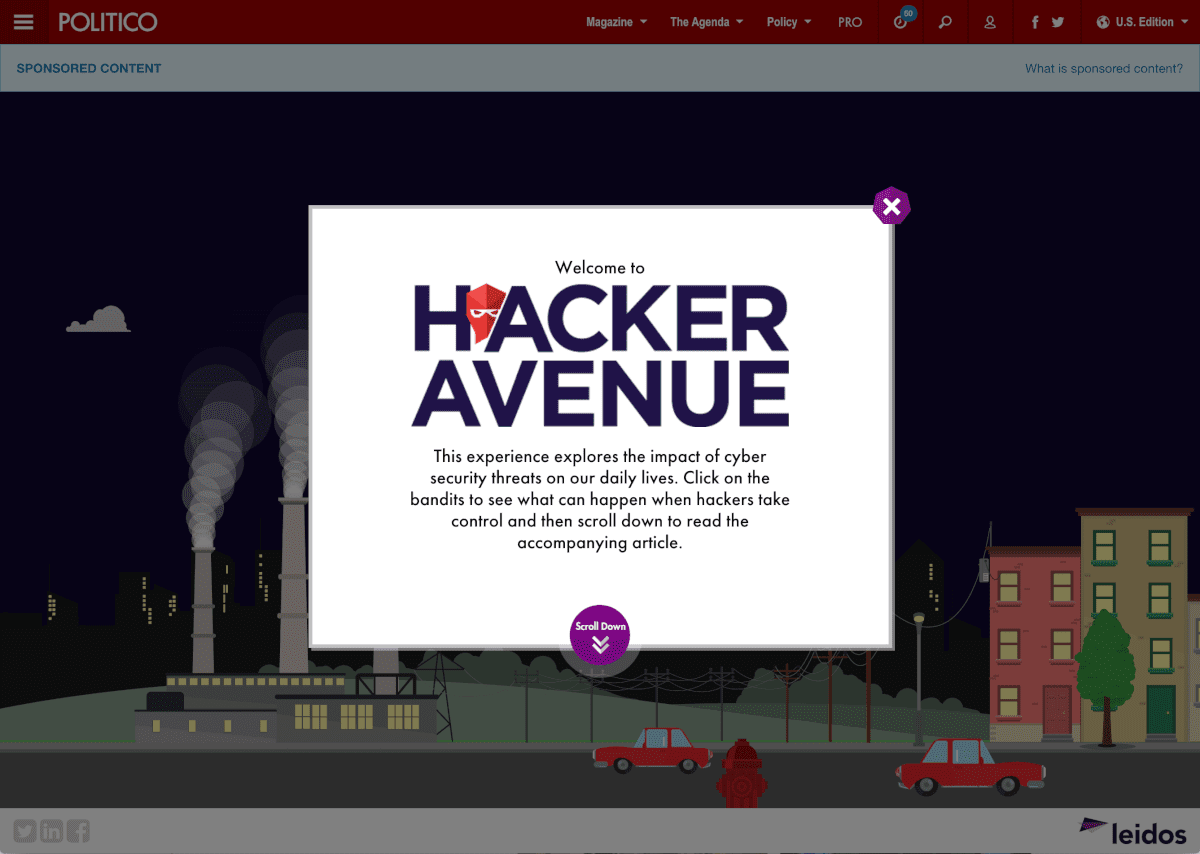 Takeaway: Infographics are hands-down one of the best ways to create content that's inherently shareable. Combine a great infographic with a great marketing campaign, and you can see your content spread across the internet like wildfire. For more on how to create sharable infographics, check out our piece on the 6 things all viral infographics have in common.
To drum up interest in YouTube's new e-commerce integrations, a campaign was launched to leverage YouTube's top talent in the gadget and fashion spheres. iJustine and Lewis Hilsenteger of Unbox Therapy were just two of the YouTubers brought together to celebrate what wound up being called "Awesome Stuff Week," a curated celebration of unboxings and makeup demos. It's a natural medium for the message that you can now buy items straight from within YouTube videos.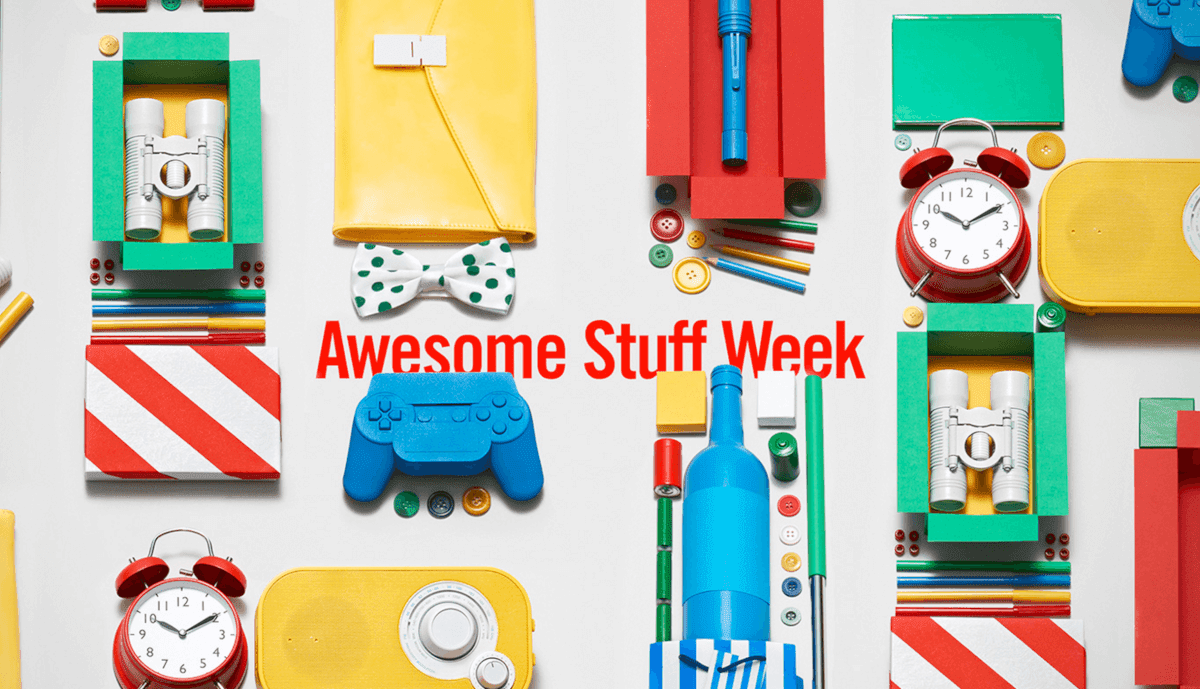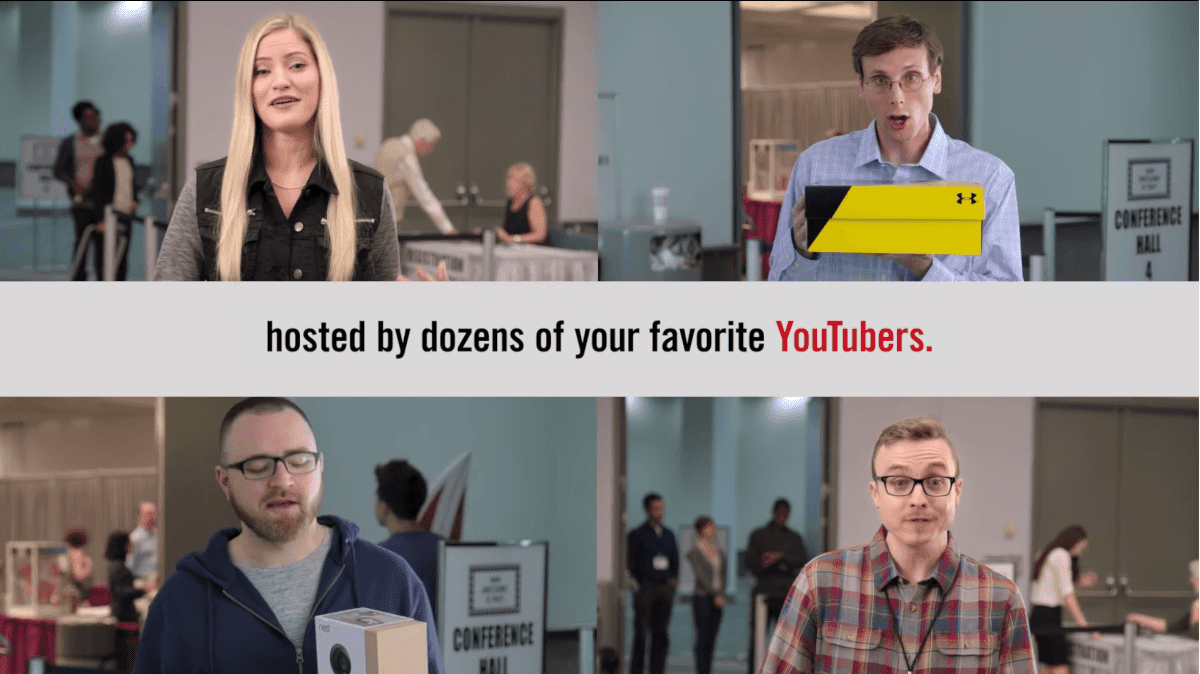 Takeaway: If you're trying to tell users about a new service or release a new product, it always helps to build your marketing campaign on the back of something people already know—like influencers. On Instagram, contacting influencers and working with them to increase your exposure can be an easy way to get your brand's name out there fast.
To promote its "Batman vs. Superman" film, Warner Brothers decided to sponsor a native advertising interview with villain Lex Luther Jr, under the guise of sponsorship by "LexCorp." This is a great way to acknowledge the pitfalls of native advertising (such as the non-discreet sponsorship branding), while also helping maintain suspension of disbelief, for a tycoon like Luther probably would sponsor native advertising in a magazine like Fortune.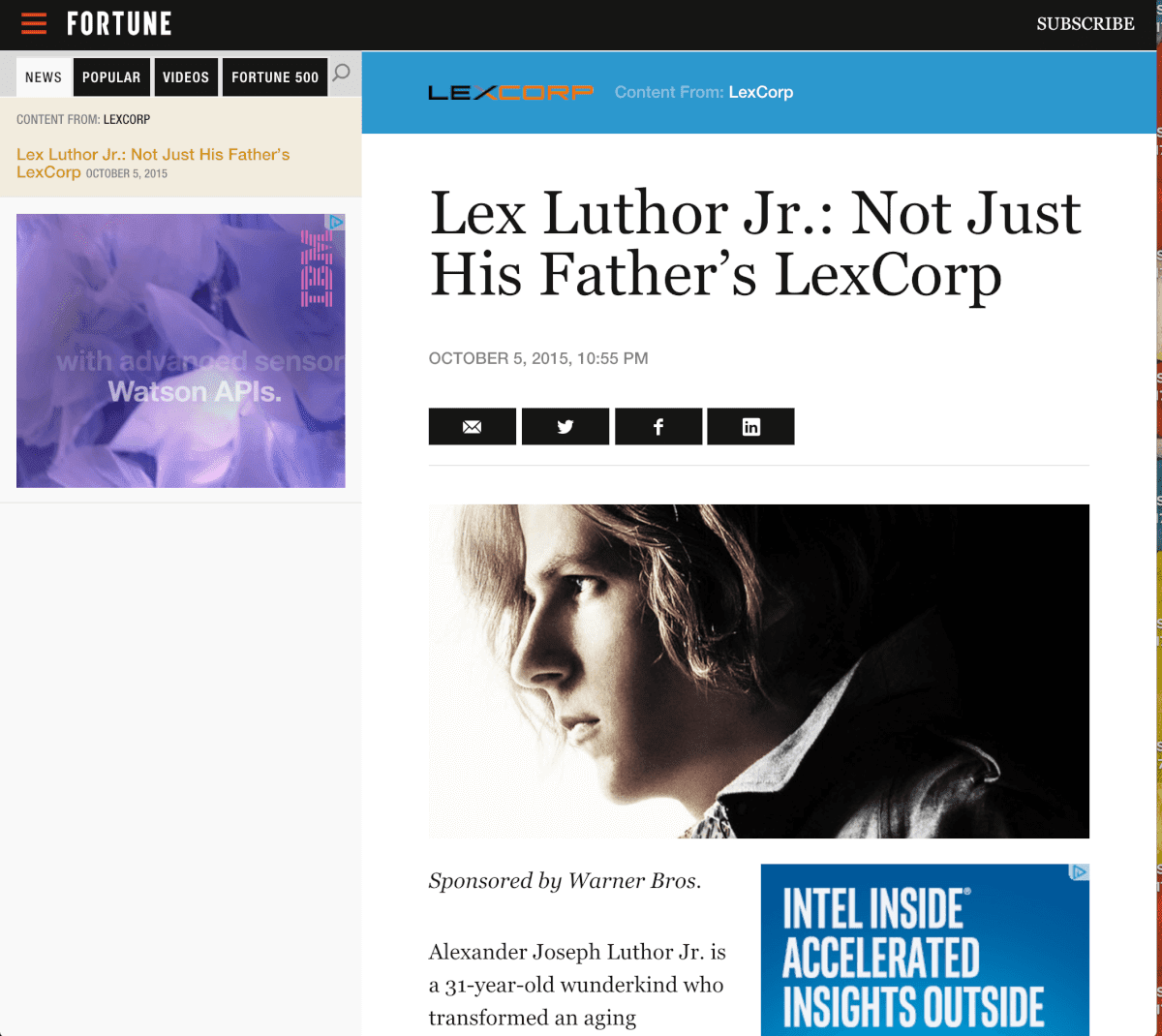 Takeaway: You can have some fun with the standard formats of advertising—for instance, there's no reason you can't have an interview with a fictional figure appear in the pages of Forbes!
The Atlantic proves again that it is at the forefront of developing high-quality and engaging sponsored content, this time for IBM. In this 4 part series, "Blood, Sweat, and Data" new innovations in sports medicine, equipment, and cloud solutions are analyzed alongside accessible infographics and shareable statistics.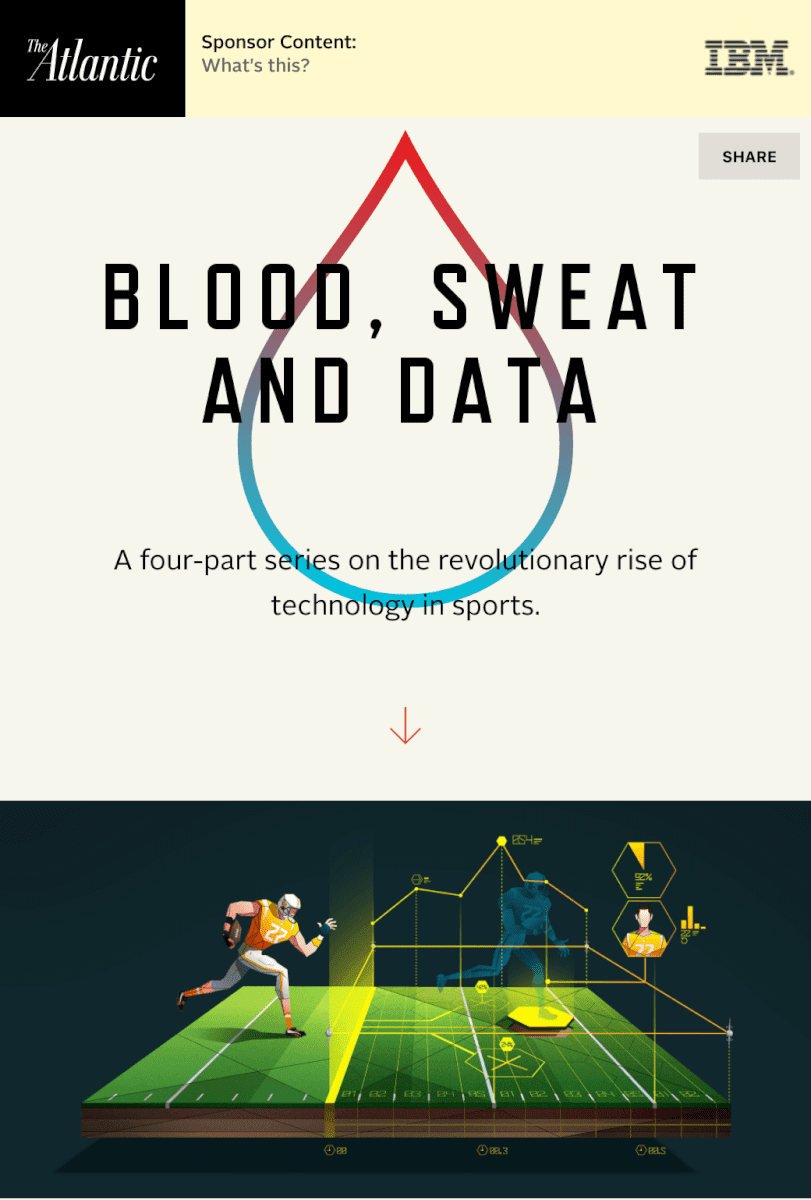 Takeaway: Whenever you're trying to produce engaging content for marketing purposes, you want to identify opportunities you have that will be 1) the least effort for you, and 2) the most entertaining for your audience. Data is a place where you often get this opportunity—you have a lot of it, and when put into the right kind of narrative, it will enthrall your audience.