Instagram and Facebook Stories have become an integral part of both platforms, and if you're not using them regularly, you're missing a valuable opportunity to engage your audience. 
Since when Instagram started stories (in August 2016) the feature took on a life of its own, and was so wildly successful that Facebook added their own duplicate feature soon after.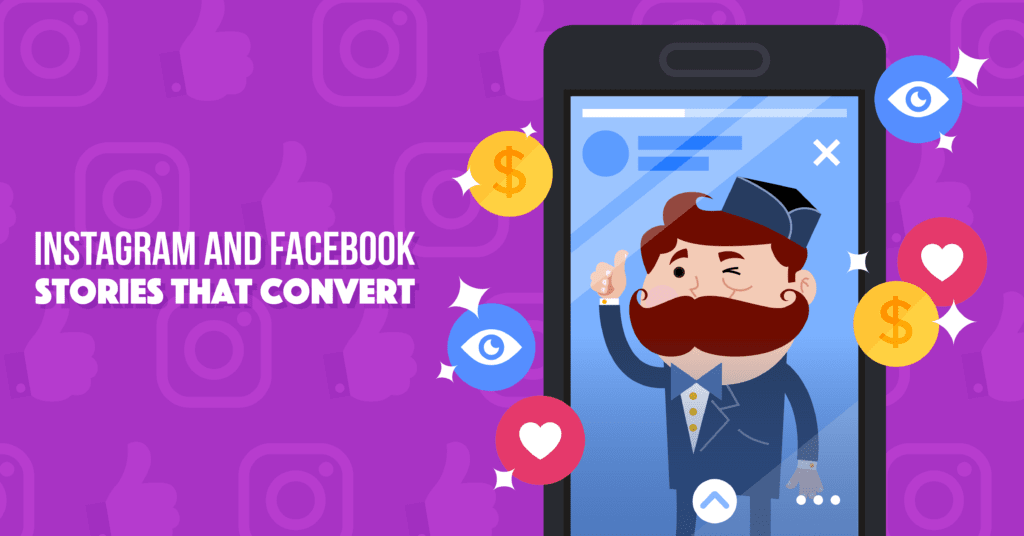 Now, Stories have expanded with capabilities ranging from adding background music to your for free to having shoppable stickers that can encourage on-platform sales with just a few clicks.
In this post, we're going to take a look at what you need to start using Facebook and Instagram Stories from a sales perspective, and what various best practices look like in 17 amazing examples of Facebook and Instagram Stories that convert. 
Plenty of brands are leveraging Stories to accomplish a number of different goals as a result, most often focusing on building brand awareness but also looking at increasing engagement, promoting events, going Live, and driving views to their in-feed posts, too. 
Stories are good for more than just brand awareness, though.
When you're using the right strategies, features, and content in your Stories, there's enormous potential for them to be high-converting, too; you just need to take a slightly different approach. 
Wondering exactly what this looks like? Just keep on reading then!
Why You Need Facebook and Instagram Stories 
Facebook and Instagram Stories are insanely popular features, which consistently see regular and enthusiastic usage from diverse audiences. These audiences make up more than 500 million users every day.
Perhaps even more exciting than that number is the fact that one-third of the most-viewed Stories are being created by businesses on the platform. 
It doesn't hurt, either, that Stories aren't impacted negatively by organic reach like in-feed posts are.
While Instagram still offers solid organic reach for business accounts as long as your followers are regularly engaging with your content (which can be a challenge in and of itself), we all know that Facebook is another story. 
The auto-play and mobile-first aspects of Stories are great, too.
Not only are your Stories not impacted by algorithms, but they're also going to be auto-played as long as users are watching Stories, period. They have to actively decide to leave the Stories feature, and since everything is interesting and dynamic and taking up their full attention for 15 seconds or less, people are a little more likely to stay tuned.
And, of course, there's another obvious reason: People like watching Stories content, which means that they're pretty much giving you a new platform (or mini-platform, I guess) in order to reach your audience on.
The more content your followers see that you're putting out, the better.
9 Best Practices to Create High-Converting Social Stories 
When you're looking to create Stories that do more than just drive brand awareness and have the potential to actually increase and inspire conversions, there are 8 best practices you should keep in mind:
Increase the longevity of your Stories with Highlights. 
When you add Stories to a dedicated Highlight on Instagram, you're extending their lifespan significantly, taking them well beyond the 24-hour constraints. When people see your Story later on, they may very well be encouraged to convert then, increasing the life of your post and its effectiveness.
Always use that Swipe Up feature. 
The Swipe Up feature is available to accounts with 10,000 followers or more, so make great use of it if you have it. This allows you to add a link directly to the Story itself, which is a powerful advantage. The easier it is for users to get where you want them to go, the more likely it is that they'll actually get there and then convert.
Include stoppable posts whenever possible. 
Instagram now allows brands who are using the native Shopping features to tag products in Stories themselves. When users click a product tag on a Story, they can see additional details about it, including the item's name, description, and price. If they choose to, they can click again to be taken to the page where they can purchase the item directly. It goes without saying that this can be an enormous sales driver from the convenience factor alone; people no longer have to go hunting on your site to find what they want.
Use CTAs to your advantage.
A call-to-action tells users what action you want them to take. "Sign up for our webinar today" or "Get notifications for our upcoming product launch," for example, both work well. If you want users to Swipe Up, let them know why they're doing so.
Use conversion-oriented stickers. 
Set up Shoppable campaigns, tagging products and hopefully driving immediate sales. You should also consider checking out the new product launch reminder stickers, which allow you to give product debuts a whole lot of extra attention in a way that can actually drive sales.
Incorporate UGC into your campaigns. 
User-generated content is shared frequently in Stories, so get the customer's permission and then share it again in yours. Tag the user and at the very least mention the product, and incorporate a Swipe Up link that takes viewers directly to the product being featured. Even if the picture you're sharing isn't as high resolution or artfully-staged as one your brand would take, remember that this isn't the point; people love seeing that other people love your brand, making it an exceptionally powerful driving force.
Showcase the benefit of what you're selling. 
If you really want to drive conversions, you want to make a case for why people should purchase / sign up/ register for whatever it is that you want to hold their attention. Don't just say you're holding a webinar; highlight what you'll go over and why it's valuable to your audience, and list specific features and benefits of the products at hand.
Offer seasonal discounts, talk about flash sales, and mention whenever you have a limited supply of something in stock. Urgency can drive conversions like no other, especially since plenty of people who may otherwise be interested just think "oh, cool, I'll check it out later" and forget within ten minutes.
Consider using ad campaigns. 
This obviously isn't an organic tip and it will require you to cough up some of your ad spend, but when you want to expand your reach and connect your target audience on a much larger scale, these are a good way to go. If you're worried about spending money on these campaigns, considering testing Stories organically, and then running ads featuring the highest-performing ones.
17 Amazing Examples of Facebook and Instagram Stories That Convert 
Wondering what actual, real-life examples of Facebook and Instagram Stories that convert look like?
We took the time to find 17 outstanding examples from large and small brands alike to show you how many different creative options you have when it comes to creating high-converting Instagram Stories and Facebook Stories.
These were all sourced from Instagram, which does have a few more selling features than Facebook does currently, but the basic strategies apply to both. 
1. Athleta 
Athleta is a major brand, so it's no surprise that their Instagram Stories are typically on point.
They regularly make use of the "Shoppable Posts" feature in their Stories, which allow users to see a product tag, click it, and be taken right to the product's page online for purchase.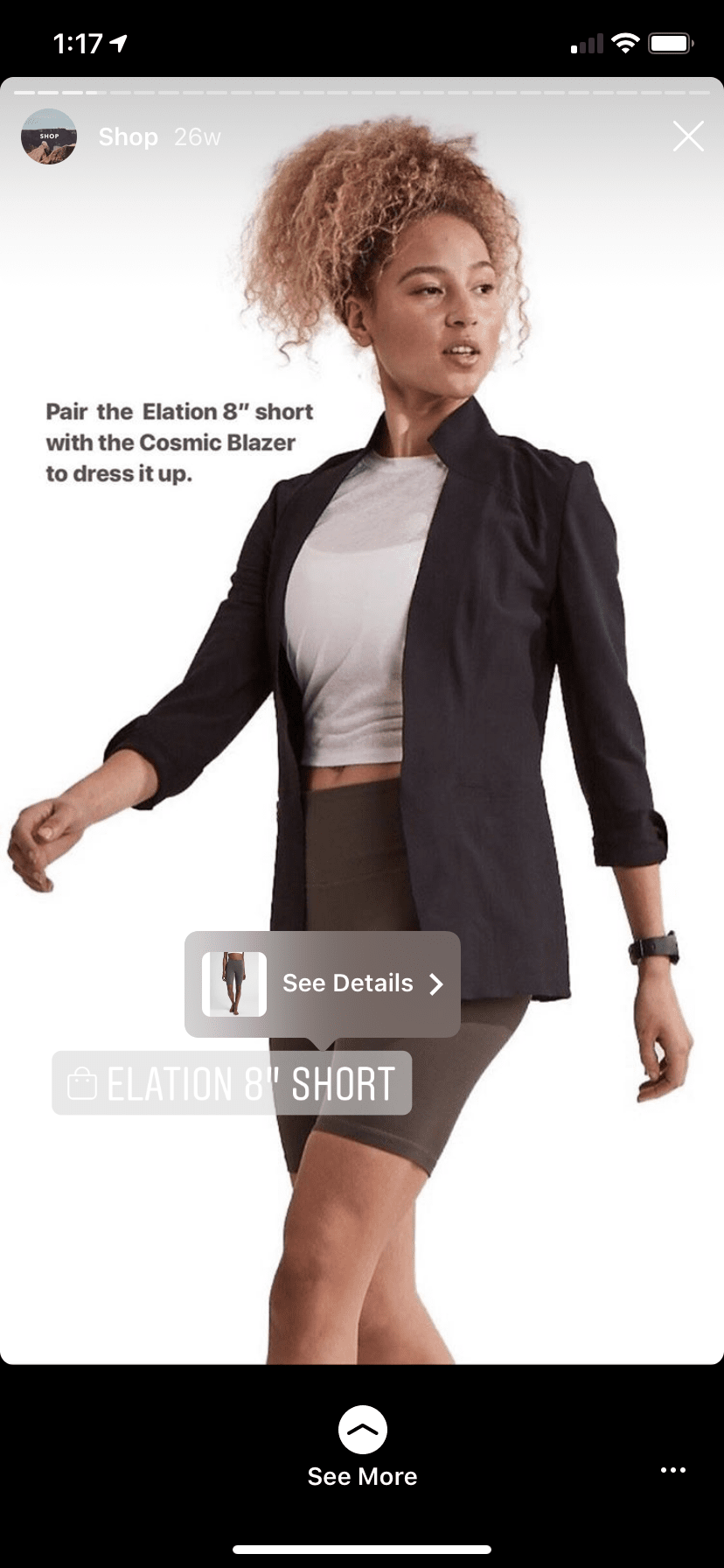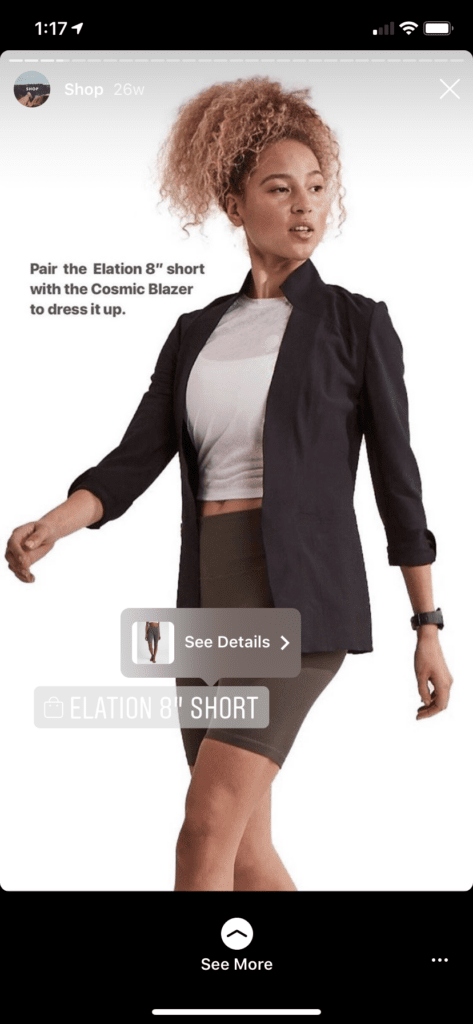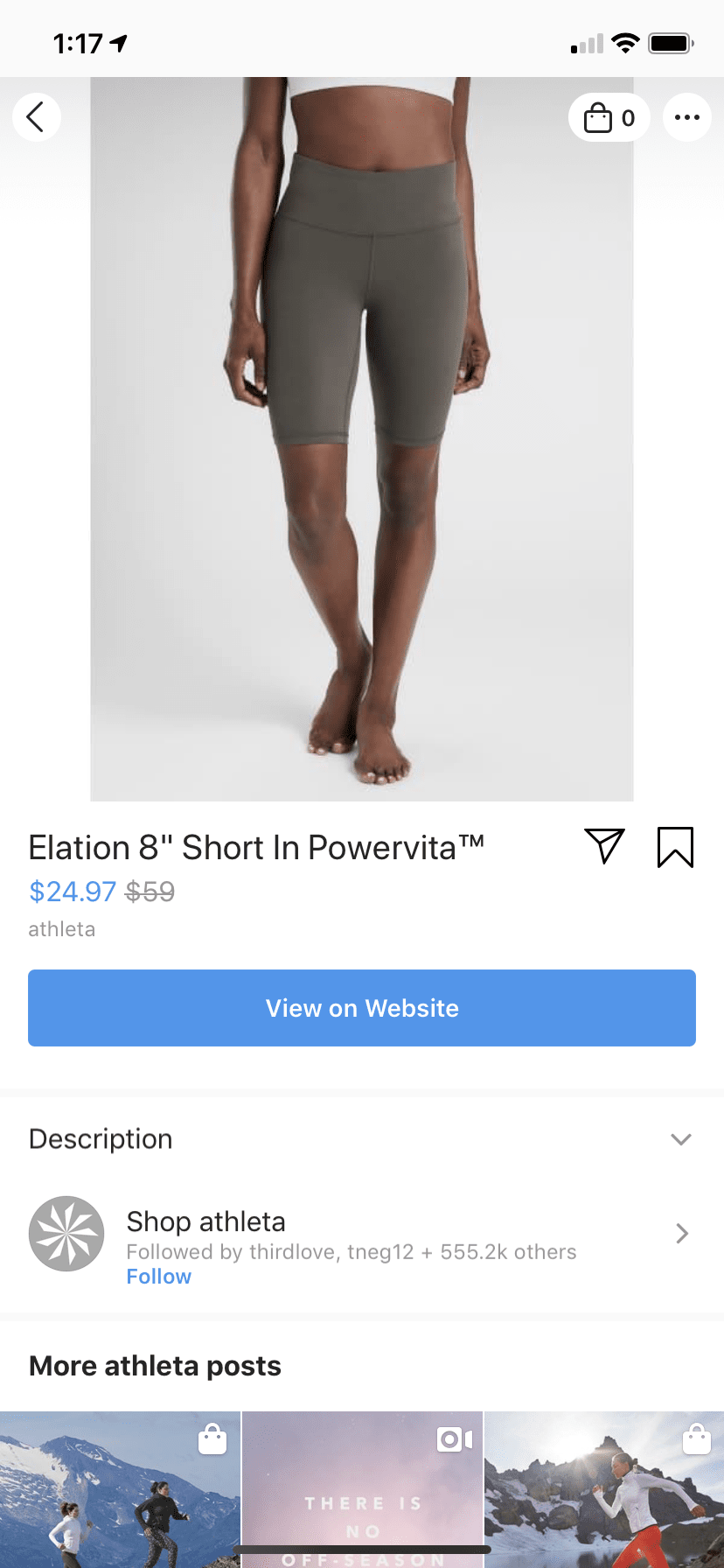 One thing that we want to highlight here, though, is that they're not just letting the image speak for itself. They're also showing how you can style the shorts, showcasing their value and versatility and increasing the likelihood that people could picture themselves wearing them.
2. Purple 
Purple knows that Stories are a great place to feature sales, because they're fleeting (capitalizing on that urgency) and they're frequently watched.
This Story is clearly designed to drive conversions quickly, leveraging a sale and urgency by explaining what the sale is, why it's happening, and exactly when it's ending.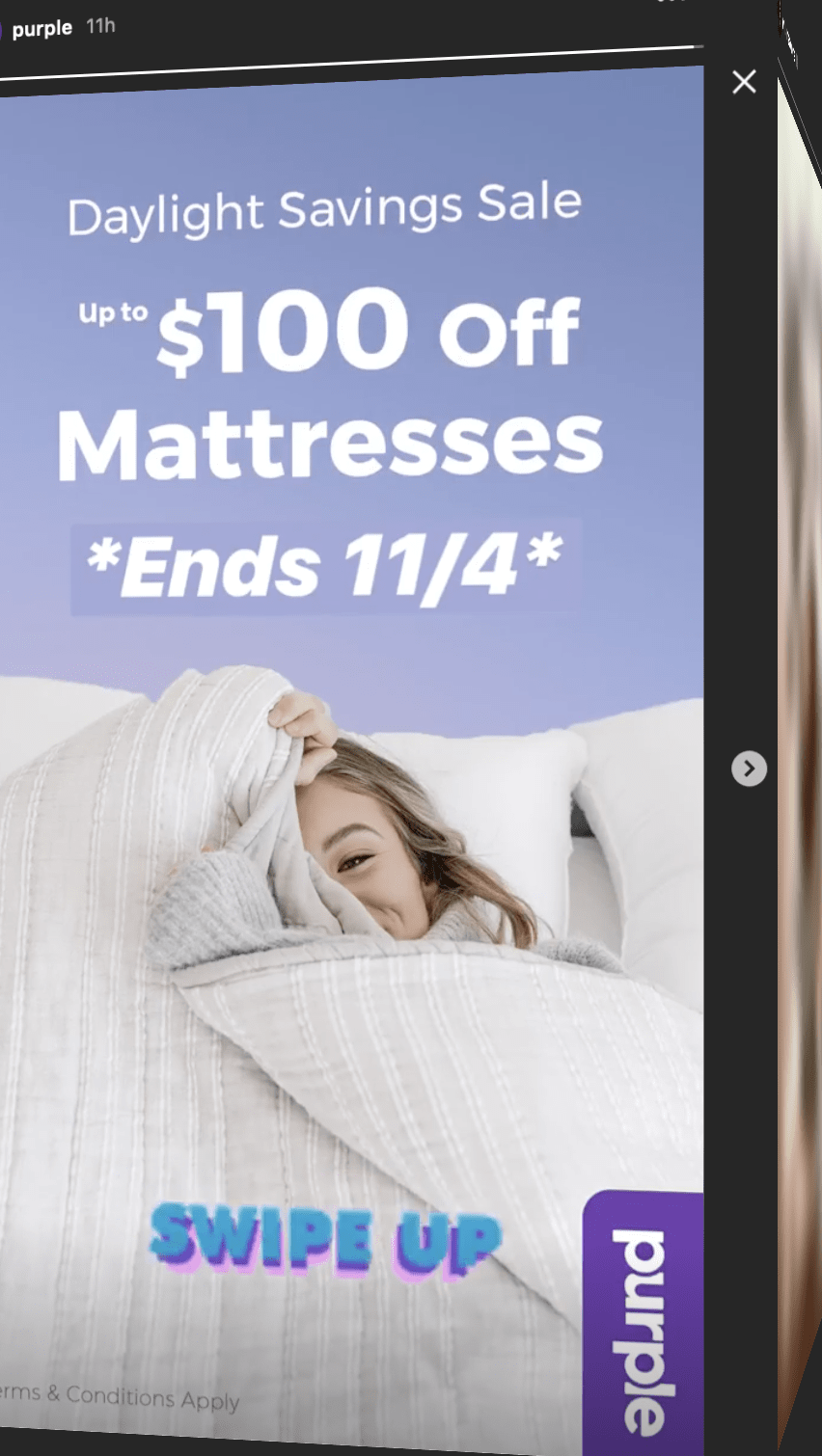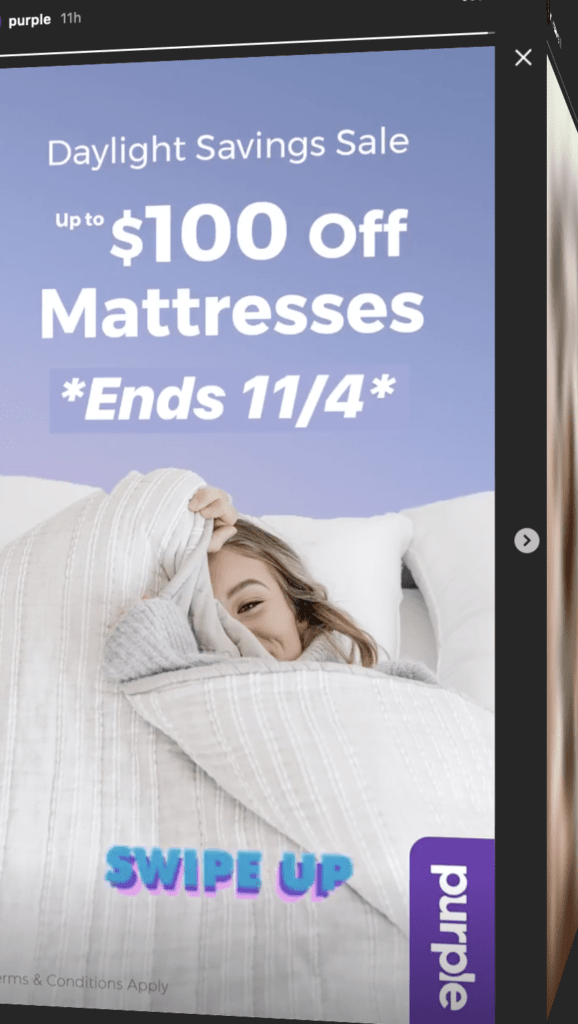 3. The Bouqs Co 
Sometimes the best way to drive conversions is to let someone else carry that burden for you.
The Bouqs Co's Instagram just shared a Story that was created by someone else, running their hands over the gorgeous wreath, talking about how seasonal it felt, and mentioning that it smelled incredible. This is enough to make someone else want to purchase, especially because it's a third-party vouching for the product.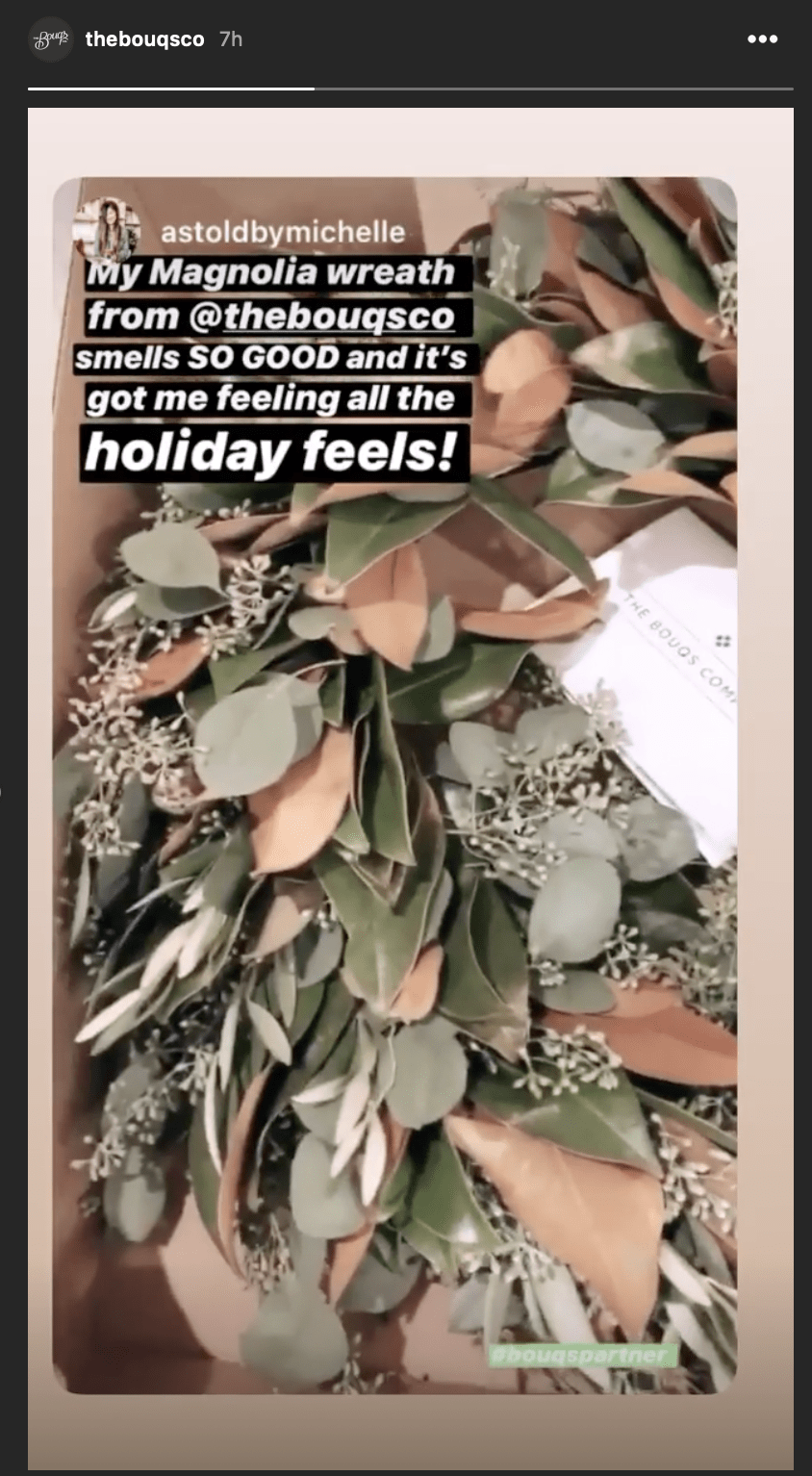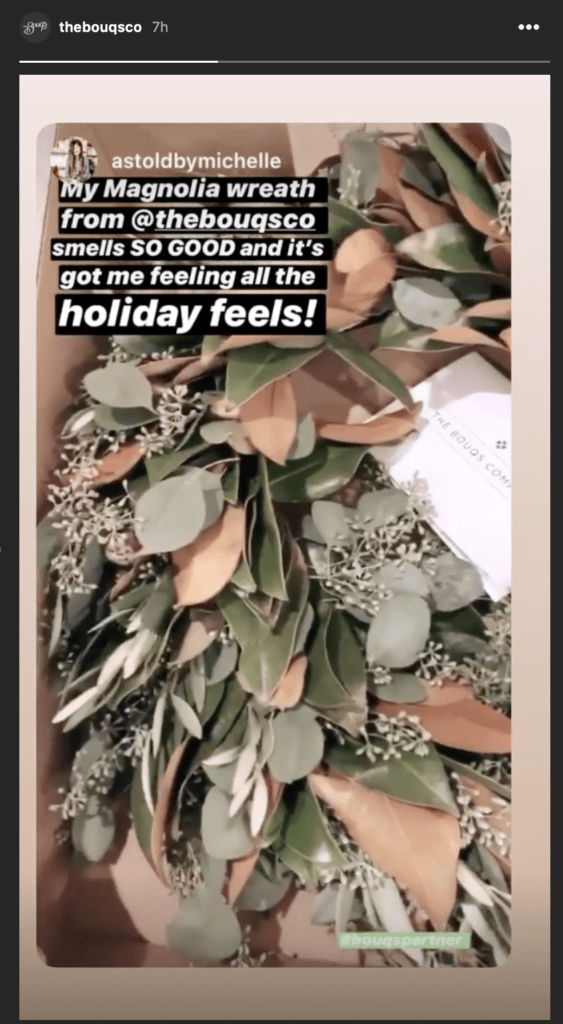 4. Holy Clothing
Another look at how to use UGC (and, in some cases, a little influencer marketing) to attract your target audience and drive conversions.
Here, we've got a share of an influencer post that's also tagged with a Shoppable sticker, giving it incredible power to motivate users to purchase quickly.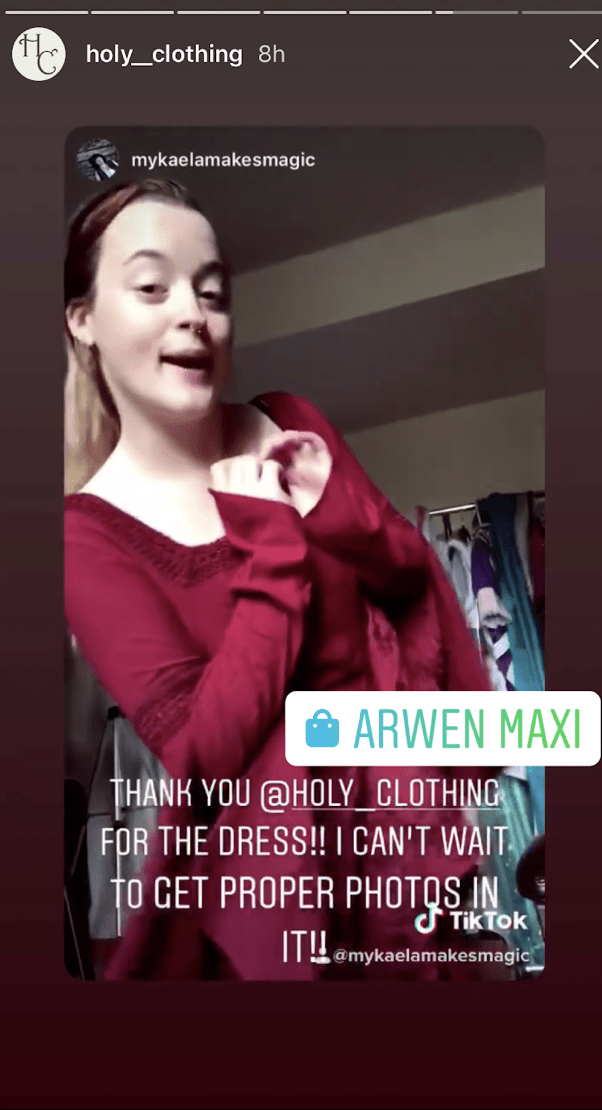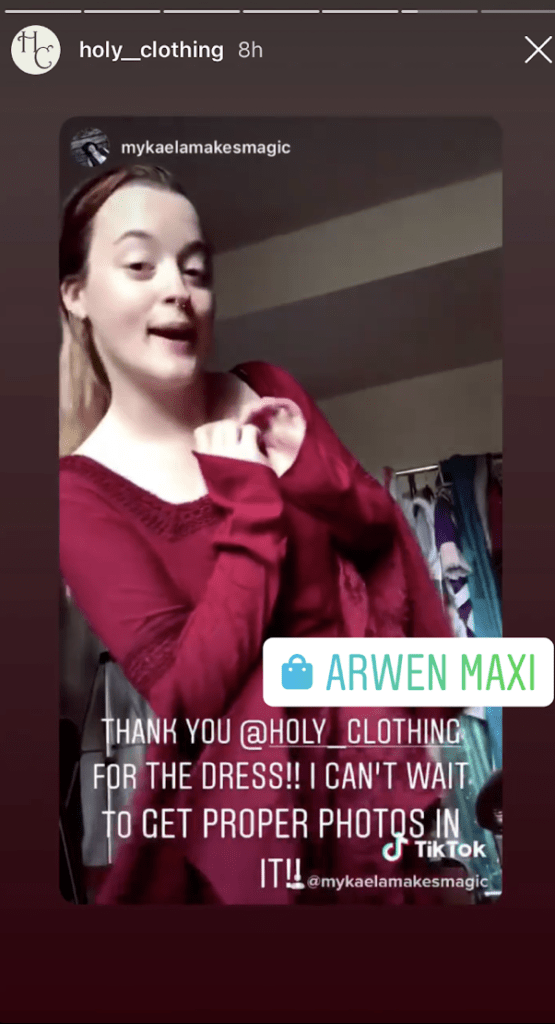 5. Michael Hyatt 
This is a Story Ad, but it's a great example so we still wanted to include it from a design standpoint.
This image is a pretty high-quality one, and they're using lots of white to contrast with the background to help move the eye from the explanation of the value of the webinar to the CTA encouraging people to sign-up.
This is simple, but they also use a strong value proposition: Learn the easiest way to make income from your platform, whatever that may be.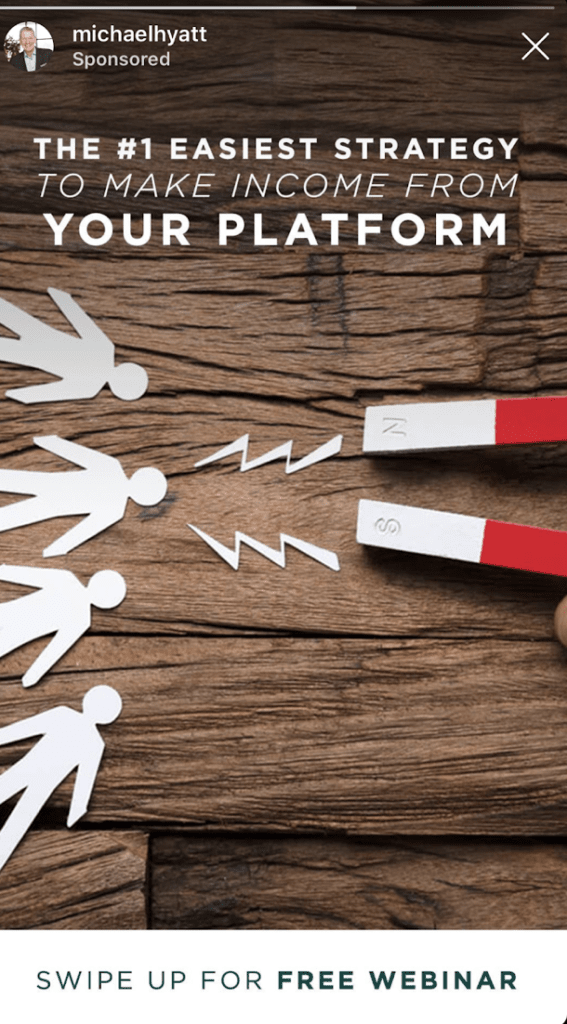 6. Julia Kelly Schmitz 
This Story is coming from a smaller brand, and it works well for that exact reason. It feels personalized, like she's reaching out directly to you, the viewer, and no one else.
"There's a spot waiting for you," the Story promises, and they even share their email account directly with you. It starts with a message or an email, after all, and sometimes driving messages is the fastest way to drive conversions.
This is a creative approach and while it likely wouldn't work for large businesses, it's a cool one to test for smaller brands.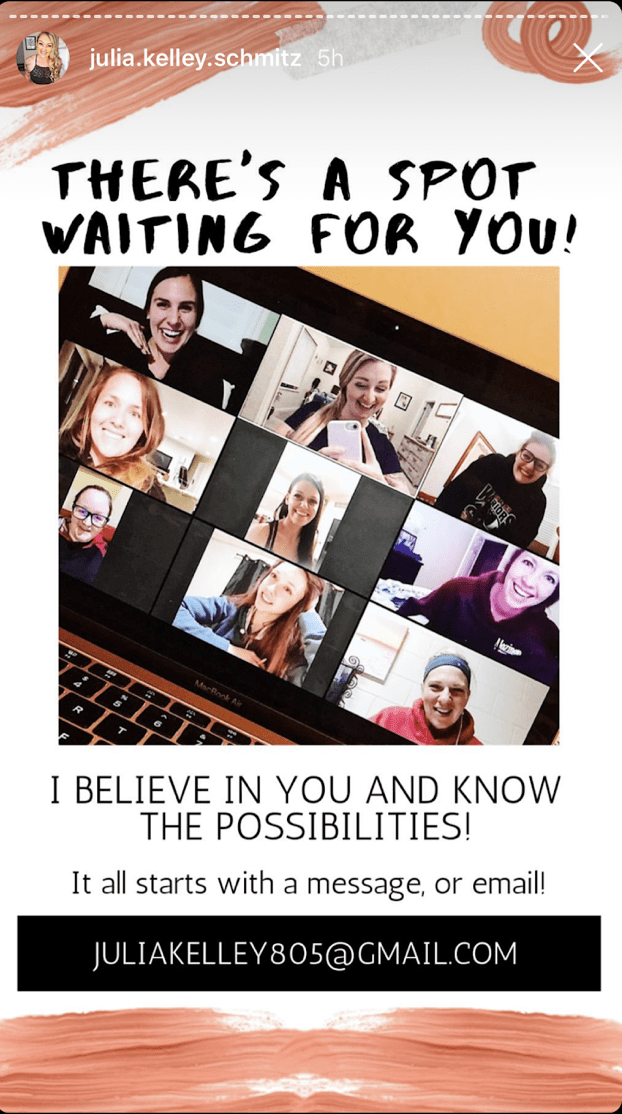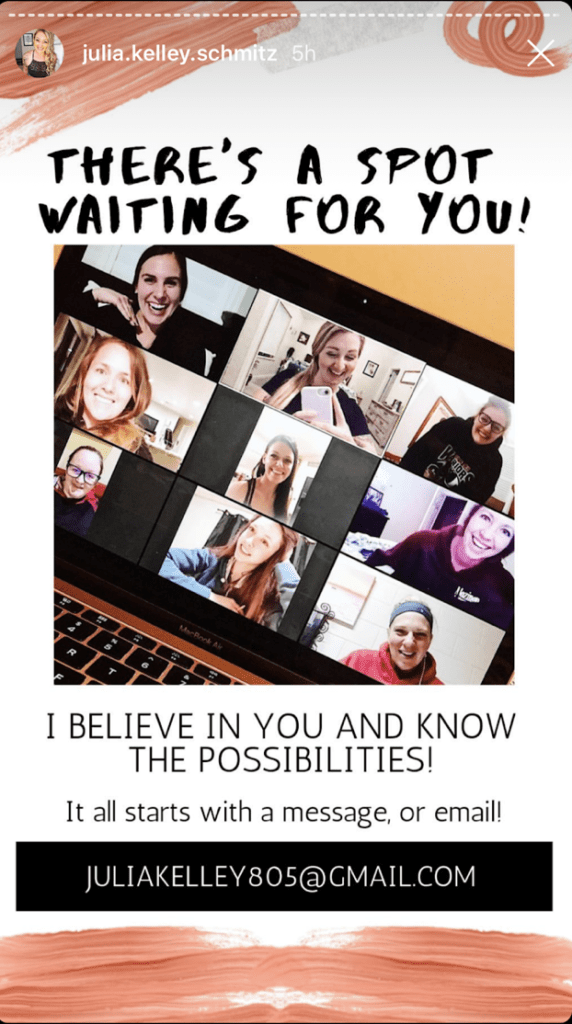 7. Pat Flynn 
This one comes down to knowing your audience and leveraging scarcity.
He mentions "a whole new conference experience for entrepreneurs," which works well for this audience because they're all about new, cutting-edge, and the latest and greatest.
His CTA also leverages scarcity: "Swipe up to get in while you can."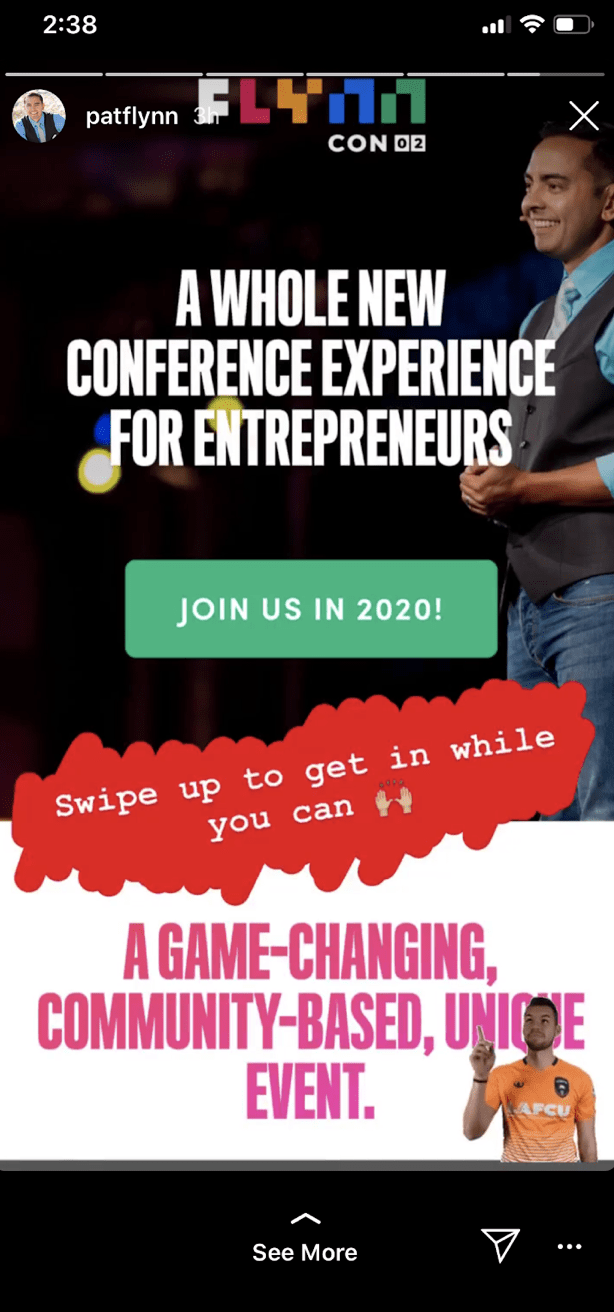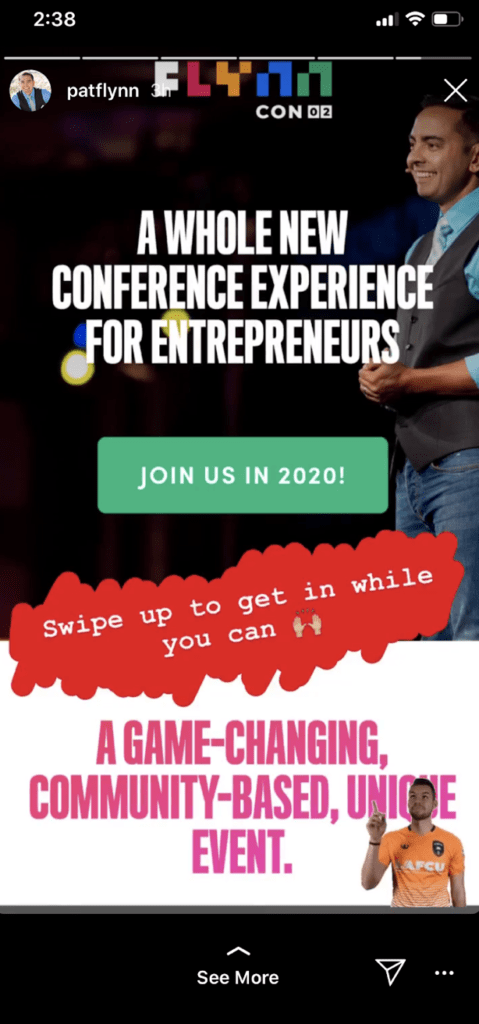 8. Banana Republic 
In this Story, Banana Republic uses timeliness by talking about "nude necessities for fall" and exciting language like "it's here!" to capture attention.
Even though nude accessories like shoes and camis are always in style, they're telling users but you need them now, and we have them new RIGHT NOW! to convince them to purchase quickly.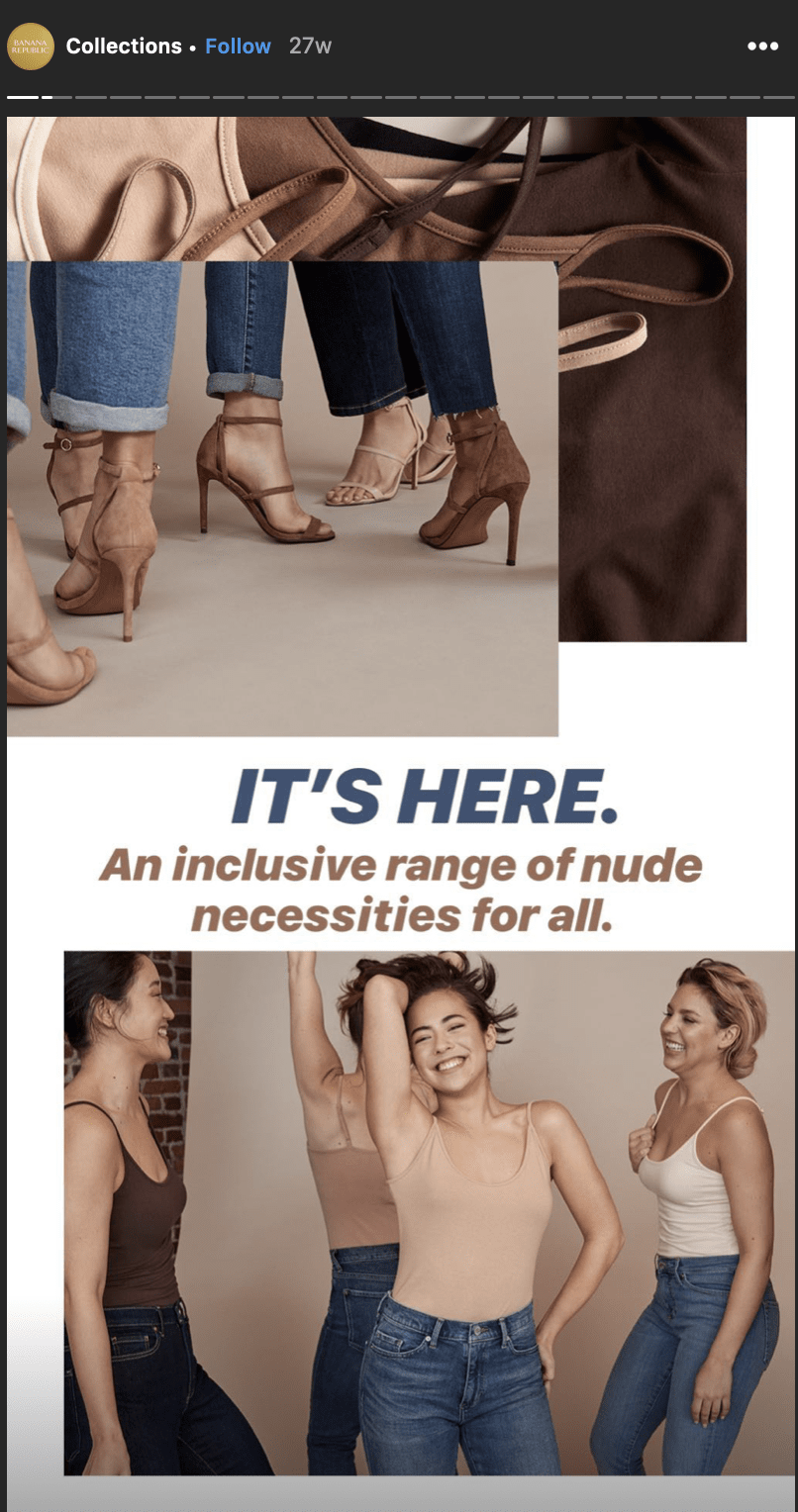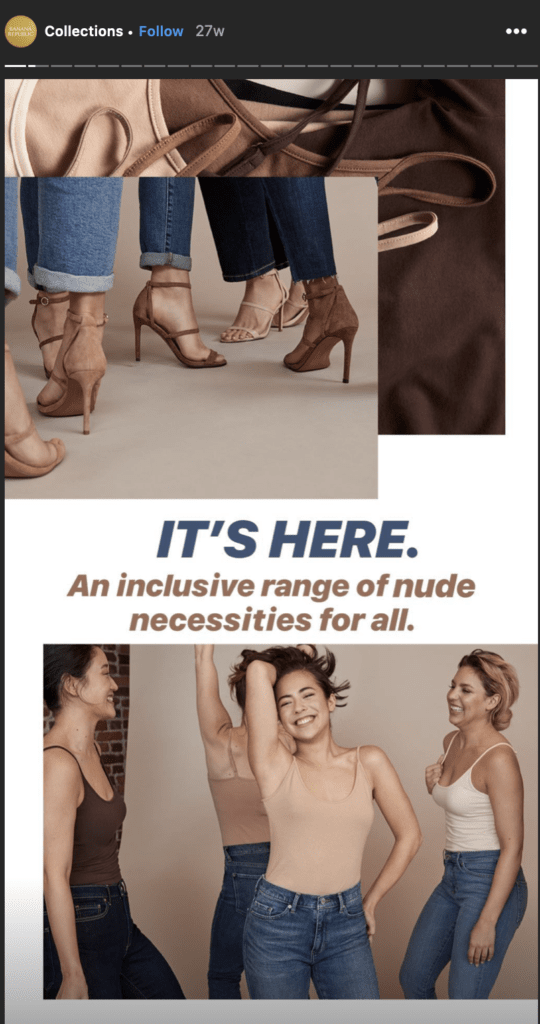 9. Athleta (Again)
I know, we're using the same brand again, but they're still doing something I haven't seen anywhere else.
They're using their Story Highlights to capture users interested in purchasing with their "Shop" Highlight, which archives all their Shoppable Stories that are still active.
This allows them to capture a high-intent audience quickly.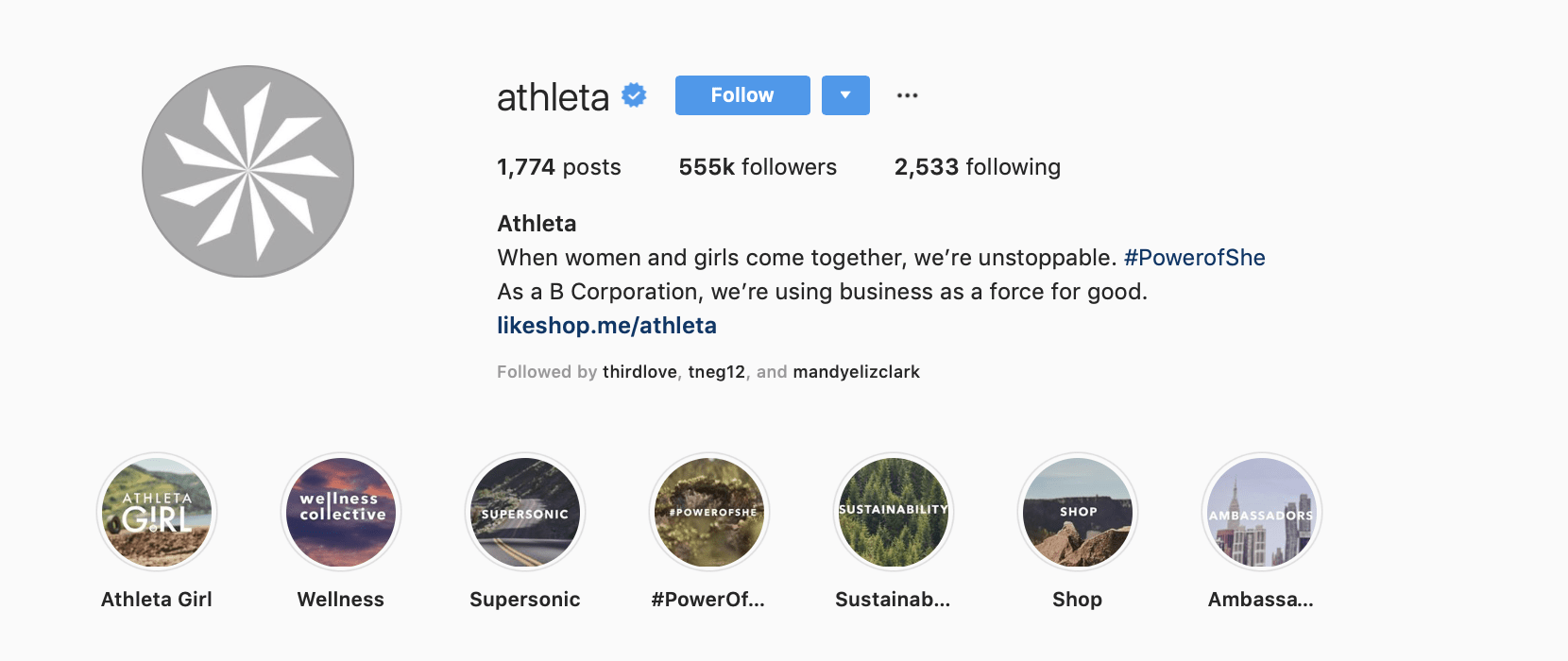 10. Farmgirl Flowers 
Here we have another great example of sharing UGC to remind users that they want to purchase from you, too.
And most importantly, while they're tagging their partner (who creates the vases) and the user who submitted the content, they still have a Swipe-Up link that takes users to the product pictured here.
This is all about leveraging momentum from UGC and moving it forward to conversion.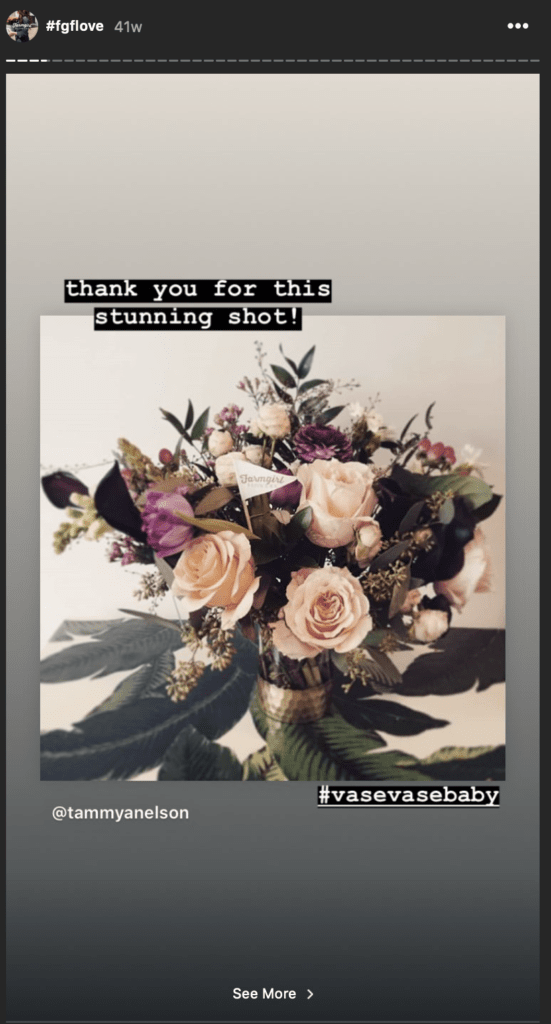 11. Pampered Chef 
Pampered Chef takes a little more of an indirect approach to driving conversions, focusing on educating users on how to use their cooking tools to showcase value and encourage purchasing.
They regularly host Instagram and Facebook Lives that show how to execute tantalizingly-delicious recipes from beginning to end, and they always use at least one of their products with shoutouts about where to purchase them.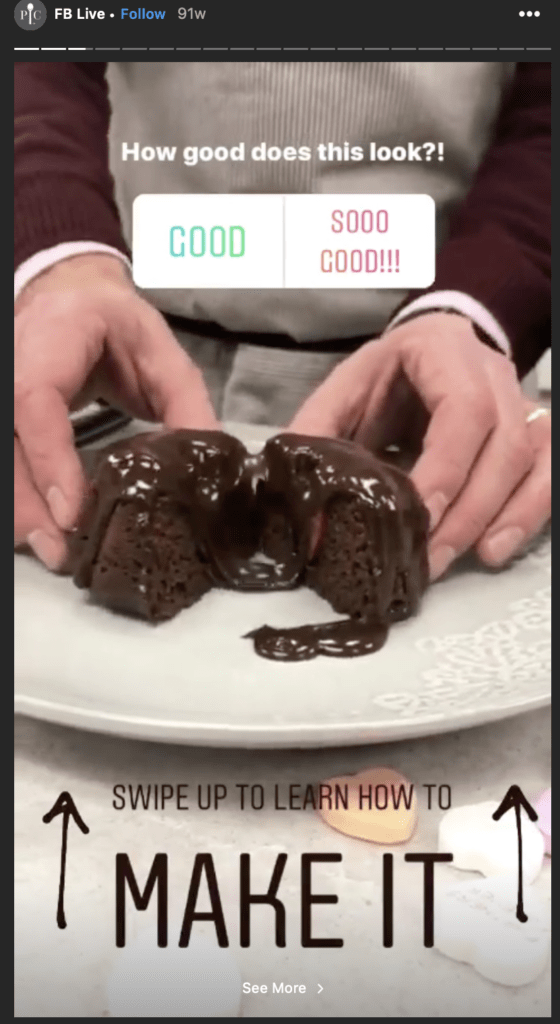 12. Stitch Fix 
Sometimes, one of the best ways to get people to purchase is to get them really, really excited about what you're selling. You're selling an emotion, after all, not just a product.
Stitch Fix does this here by sharing an influencer's "unboxing" video, getting customers wanting to sign up for their own Fix, too.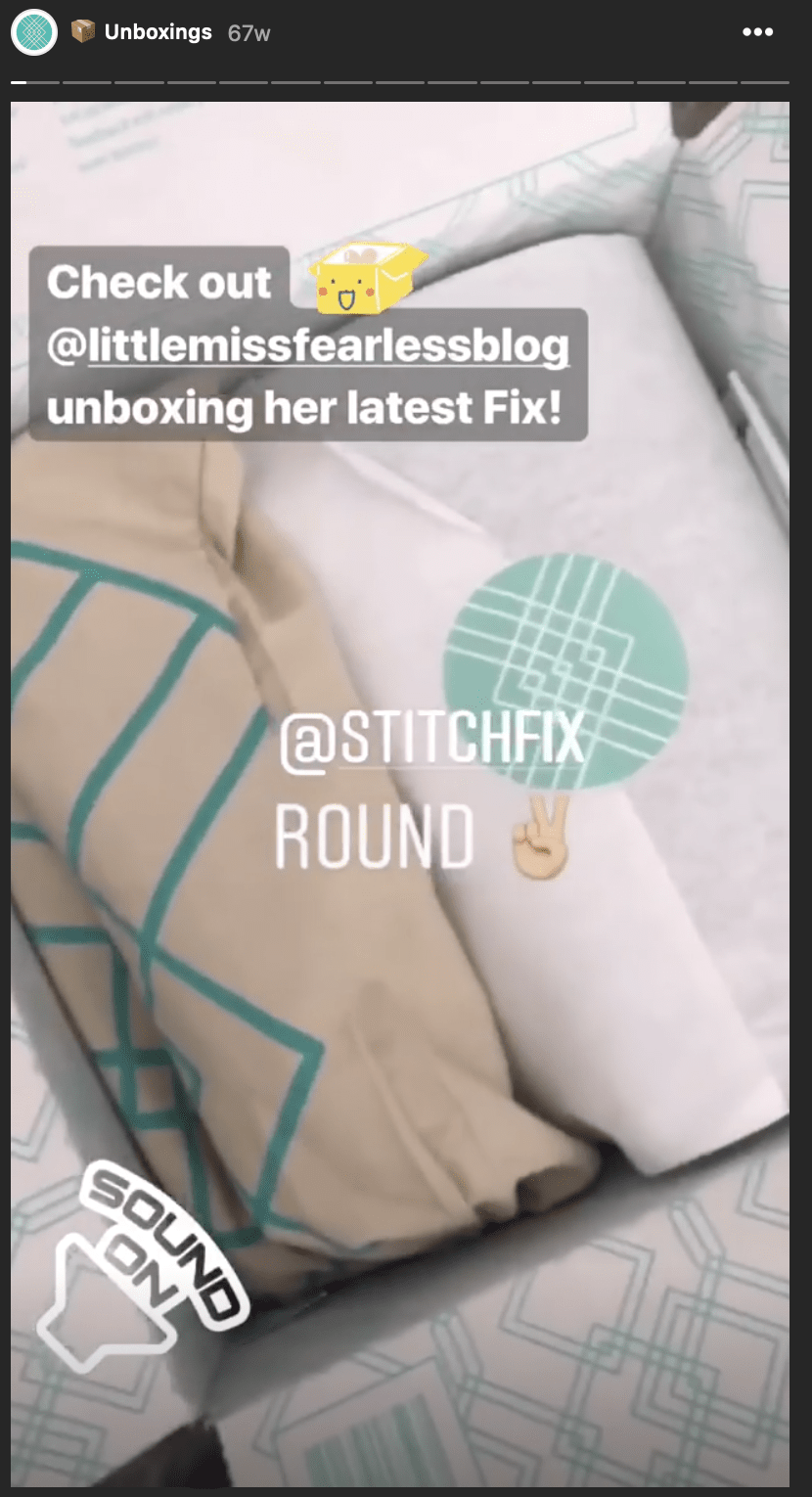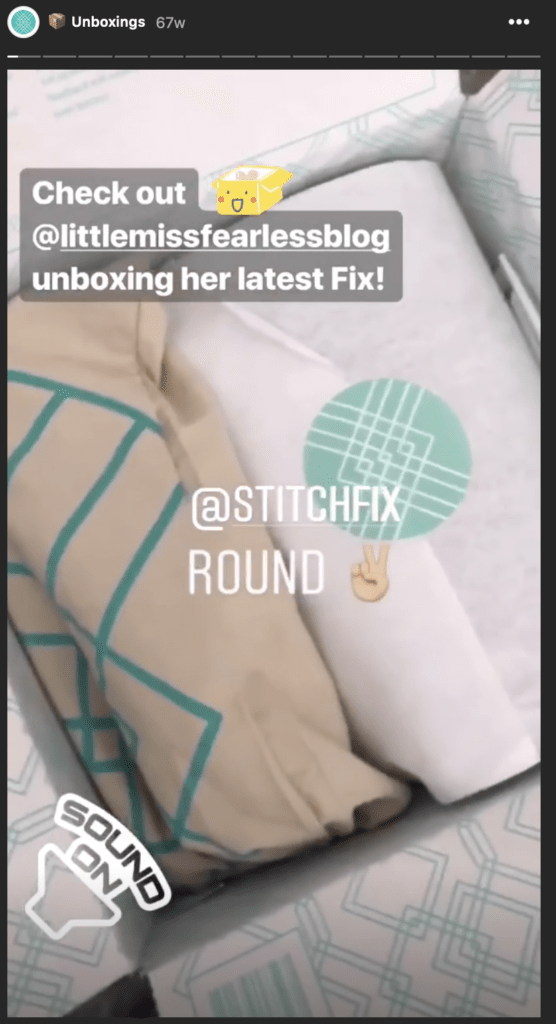 13. Litographs 
Litographs has temporary tattoos that allow customers to adorn their body with snippets of their favorite text.
Online, it's hard to showcase exactly what this will look like, but here they're sharing UGC that not only shows the product, but that will also appeal to other enthusiastic readers.
Here, the user is sharing the picture while holding a bell, which is key to the quote at hand.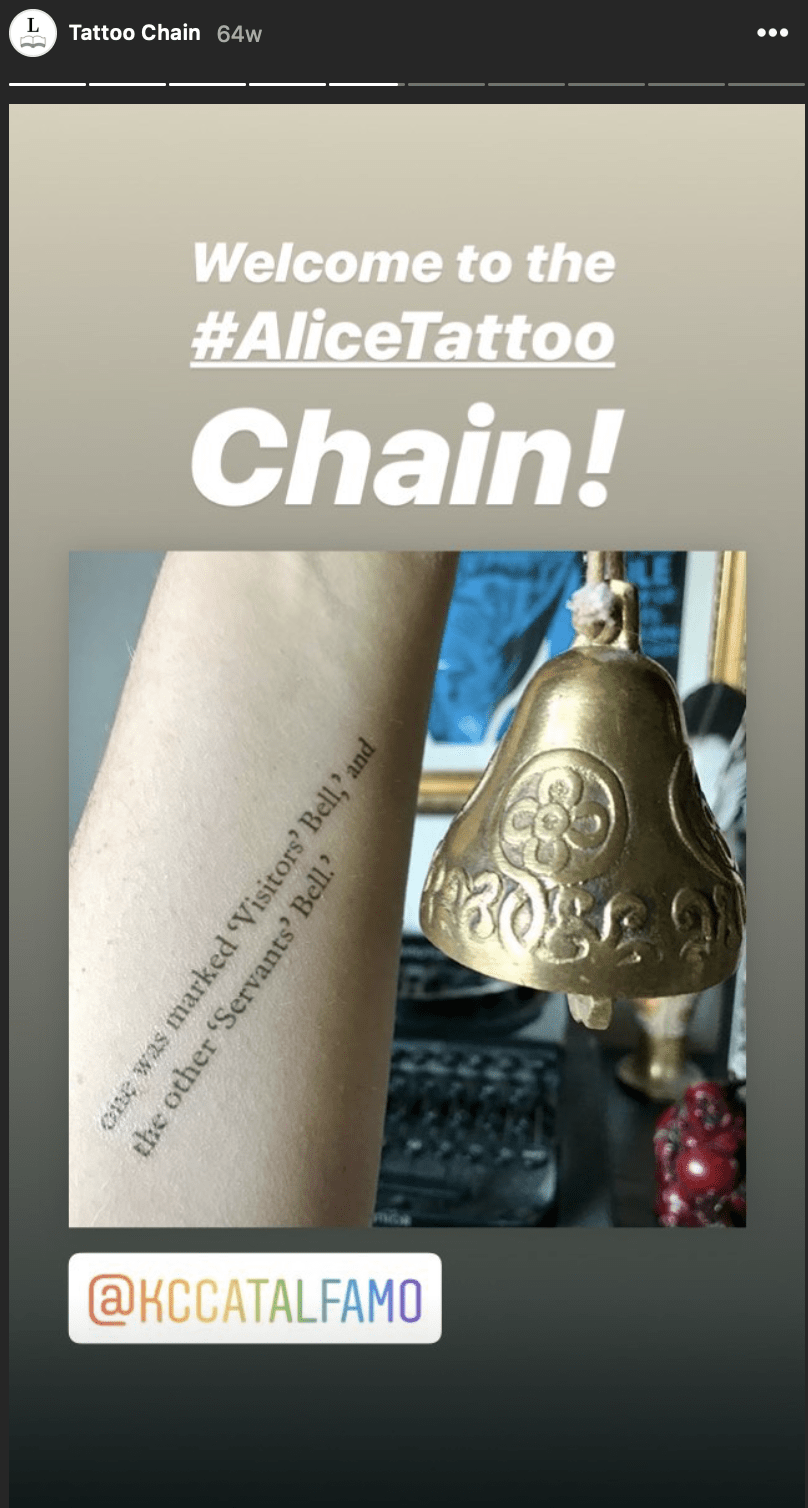 14. The Freelance CFO 
The Freelance CFO is selling slots to their high-value Mastermind Course.
Her Story does an incredible job taking users through exactly what's included, why it's valuable, and why you need it.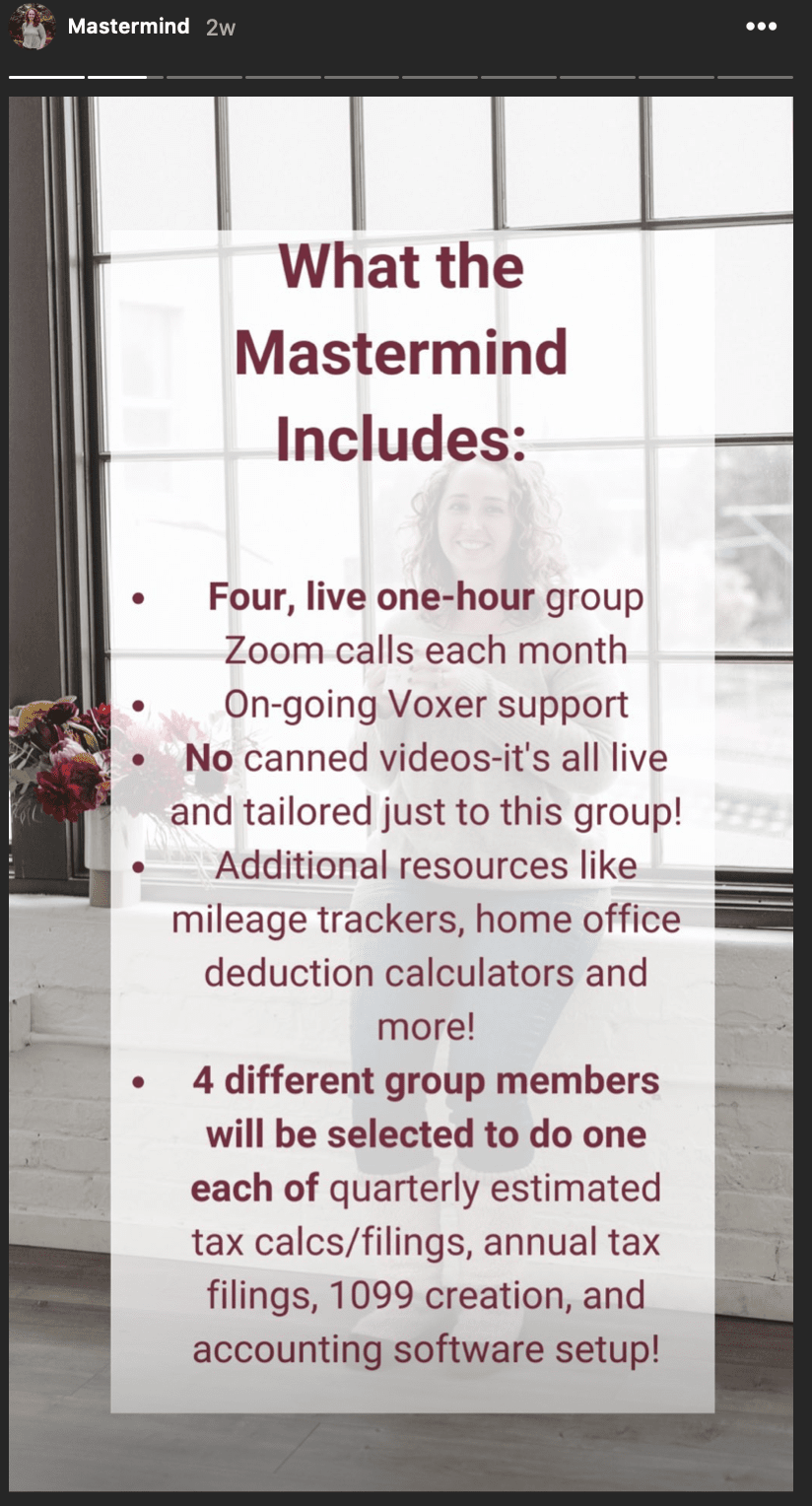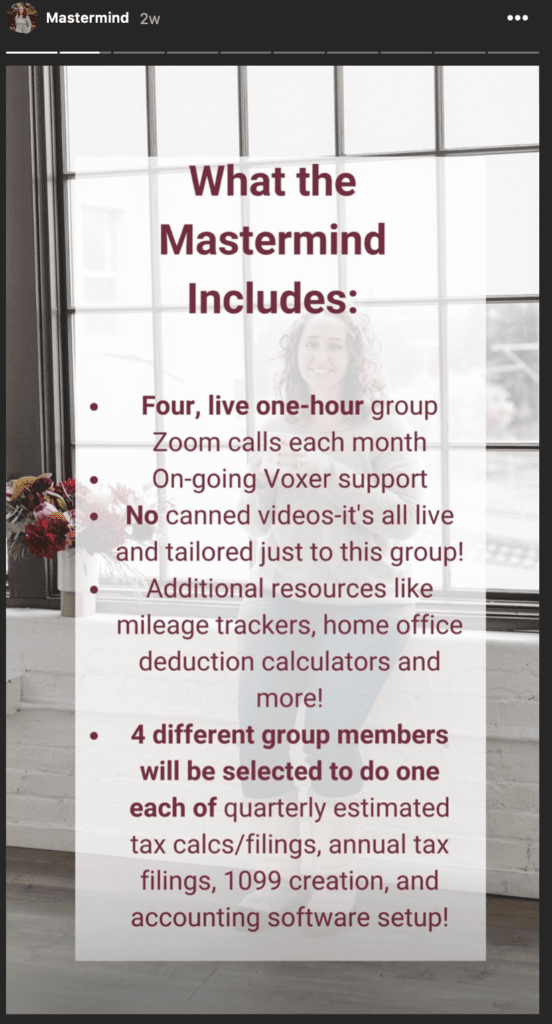 She immediately follows it up with a note capitalizing on scarcity, reminding people that there are only 4 spots left.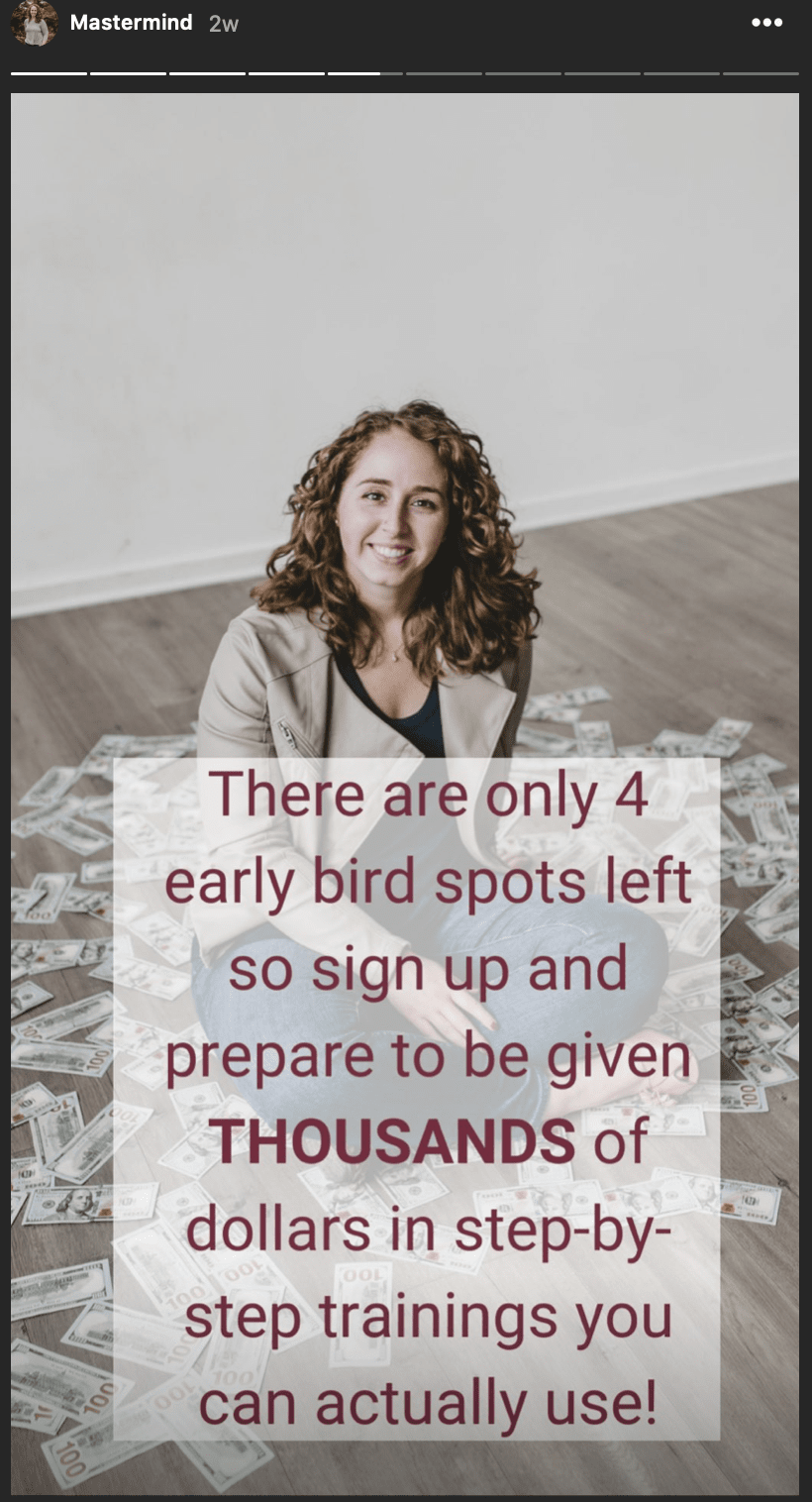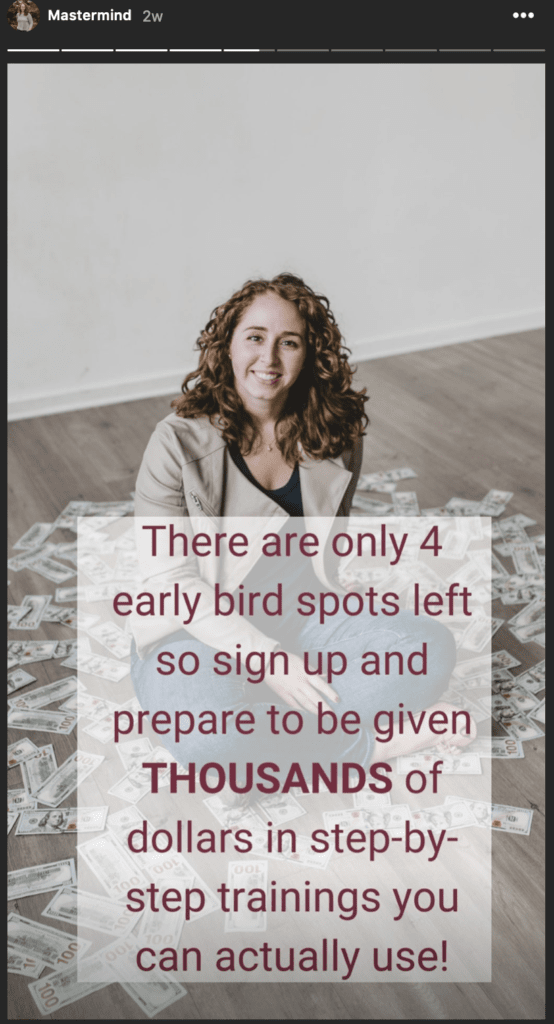 15. Vuori 
I see a pair of joggers online, and I write them off. I have enough, who cares? But then I'm promised "the softest jogger you'll ever own," and you've got my attention.
Vuori's Story is going hard on the value and benefits they can offer and that make their product different, which is a key part of selling to the customer.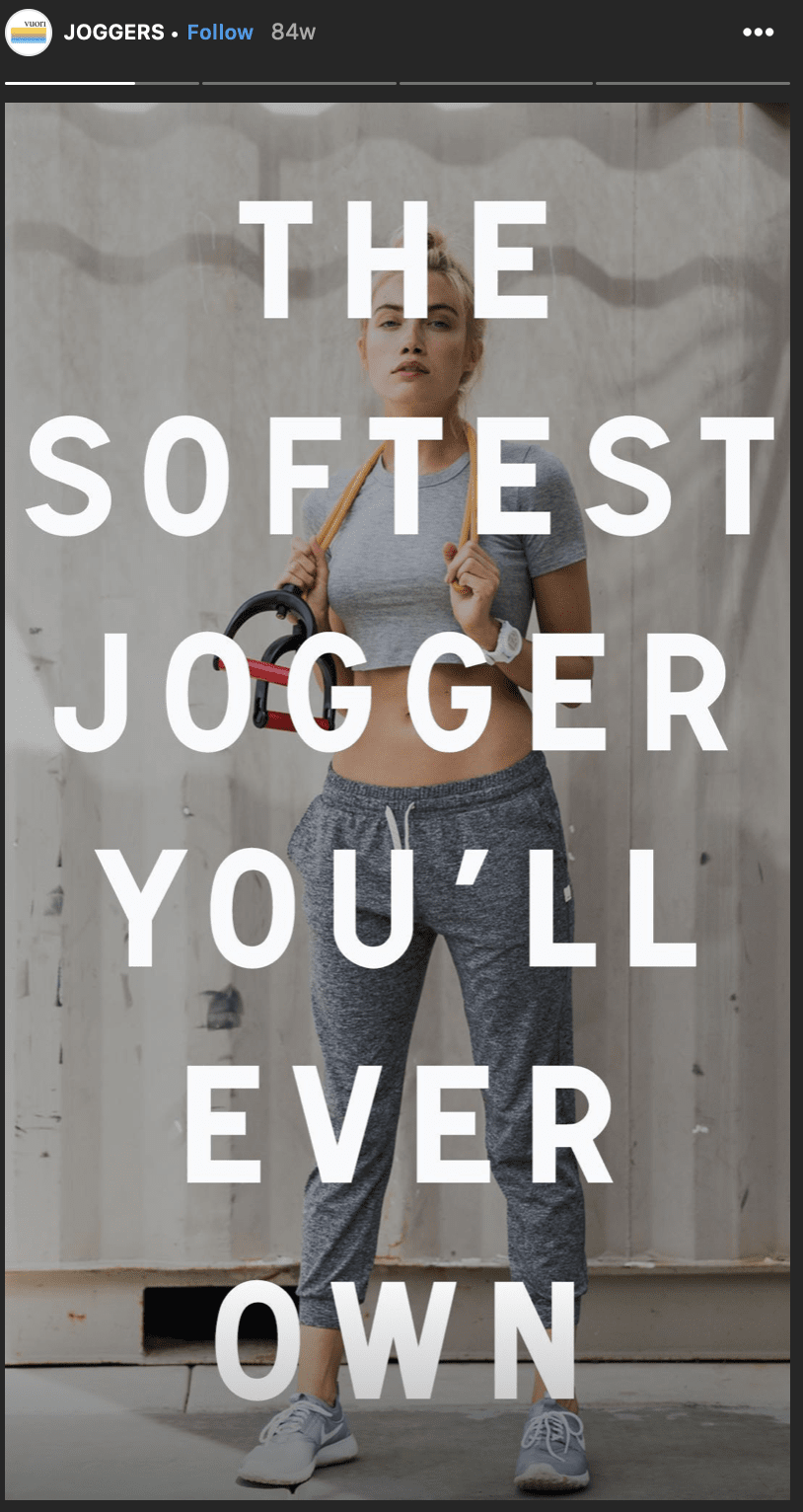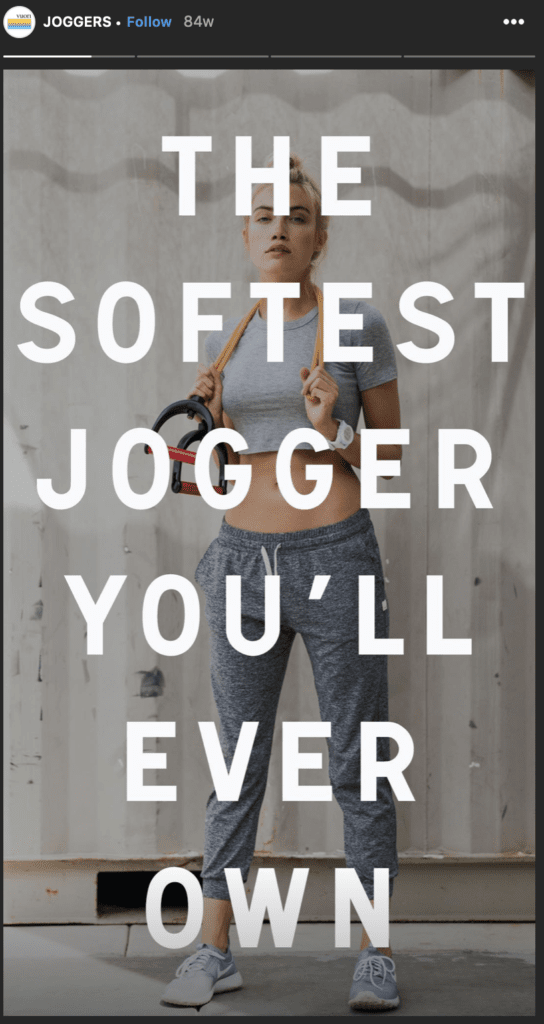 16. Wedding Chicks 
Sometimes the best way to drive conversions is to generate leads, first. This is particularly common for B2B and service-based businesses.
The wedding planners Wedding Chicks use free printable downloads (which they promote in their Stories, showcasing the gorgeous visual products but with text overlay, so no one can just snapshot them) to drive lead generation.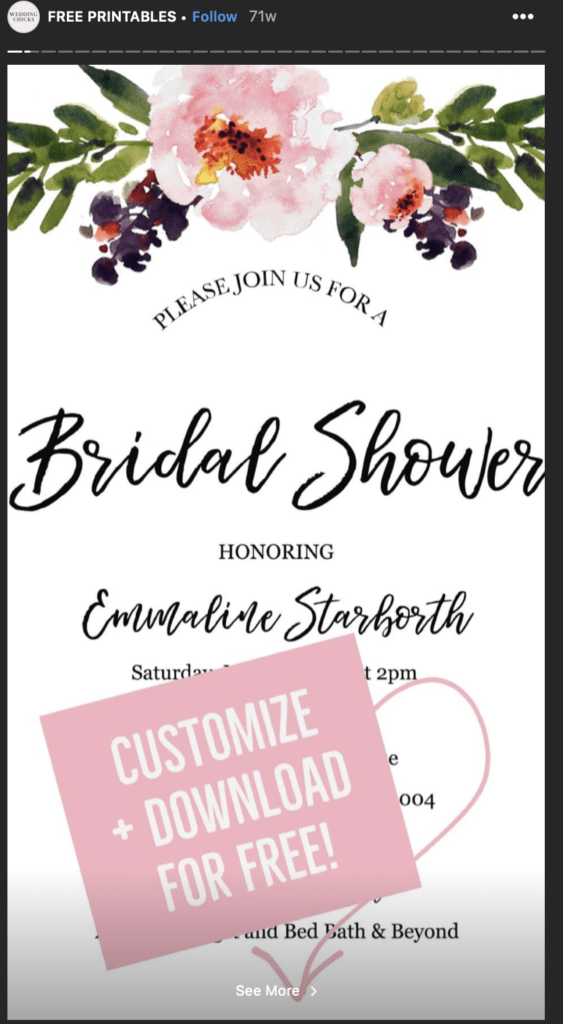 17. James Allen 
James Allen is doing something pretty cool here, combining UGC and a CTA that leads users to a unique feature. They offer customized rings, but they'll show users the identical ring and a similar diamond on their site in a full 360 view.
Promising to let users see what this looks like up close and personal counteracts the slightly-lower-than-average quality than typically comes with UGC while still taking advantage of the powerful testimonials.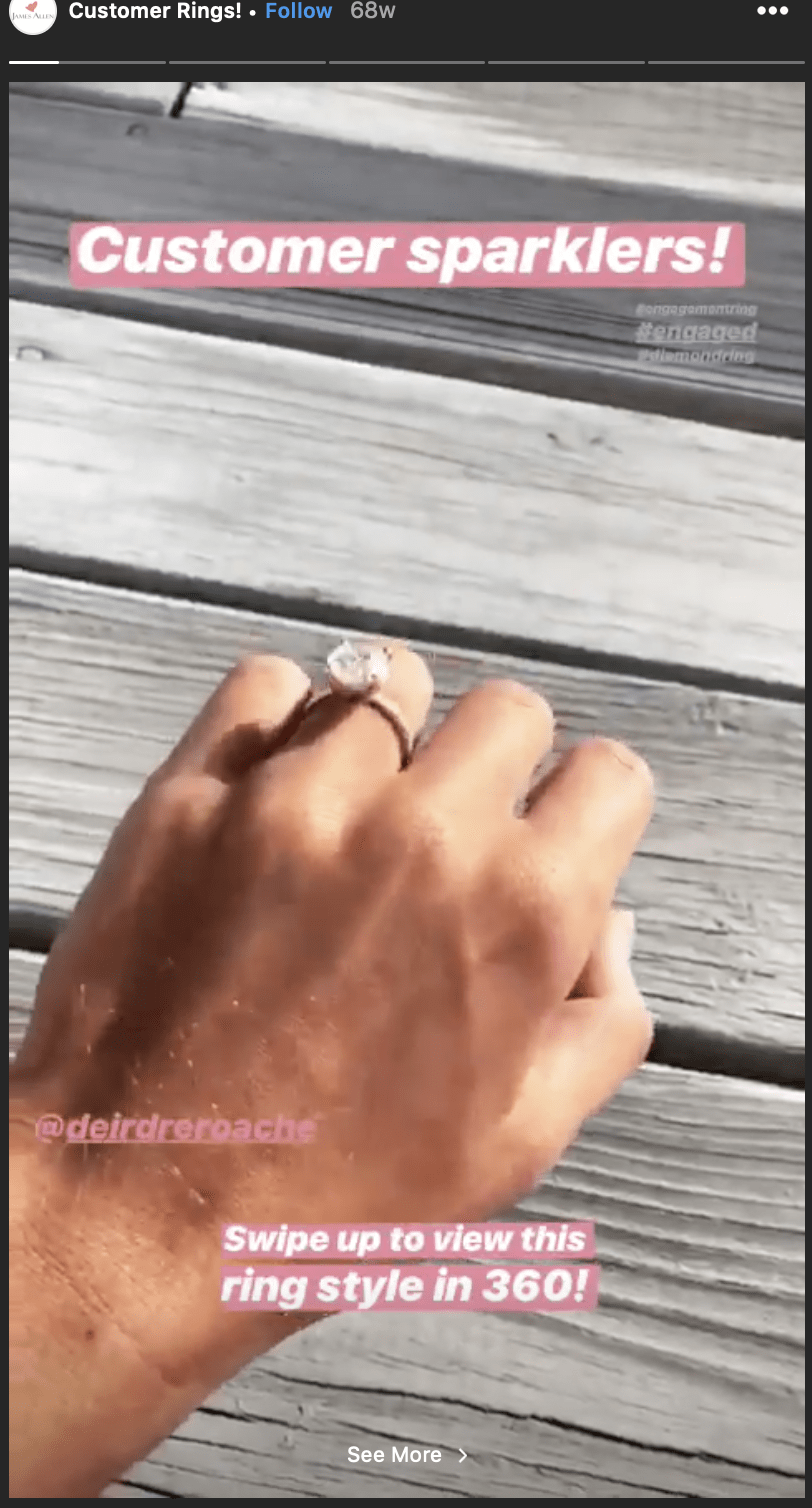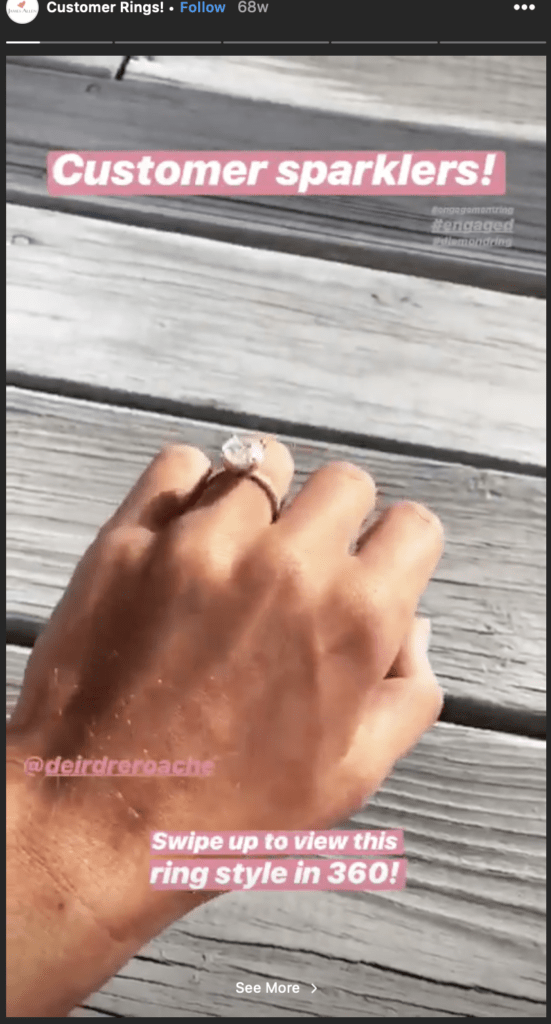 Final Thoughts 
Even though most Stories content focusing on promoting events, driving brand awareness, and hopefully directing users towards interesting content, plenty of brands forget about trying to optimize for conversions.
This is a shame, because both Facebook and Instagram Stories can be high-converting when you're using the right strategies, Stories features, and content. 
As you're mapping out your Stories content with the intention of driving conversions, remember to keep your particular target audience members in mind.
Think about what types of content they'll be most receptive to, and how you can convey value for specific products in those 15-second-or-less intervals.
Social marketing is always much more effective when it's created with your target buyer personas in mind, so keep their needs, pain points, and use cases at the center of your focus. 
What do you think? How do you drive conversions with Facebook and Instagram Stories? Which strategies are most effective for you? Share your thoughts and questions in the comments below!