How many times have you been addicted to a console or PC game in the past?
Let's face it, most of us love to play games. They're motivating, challenging and, of course, a lot of fun.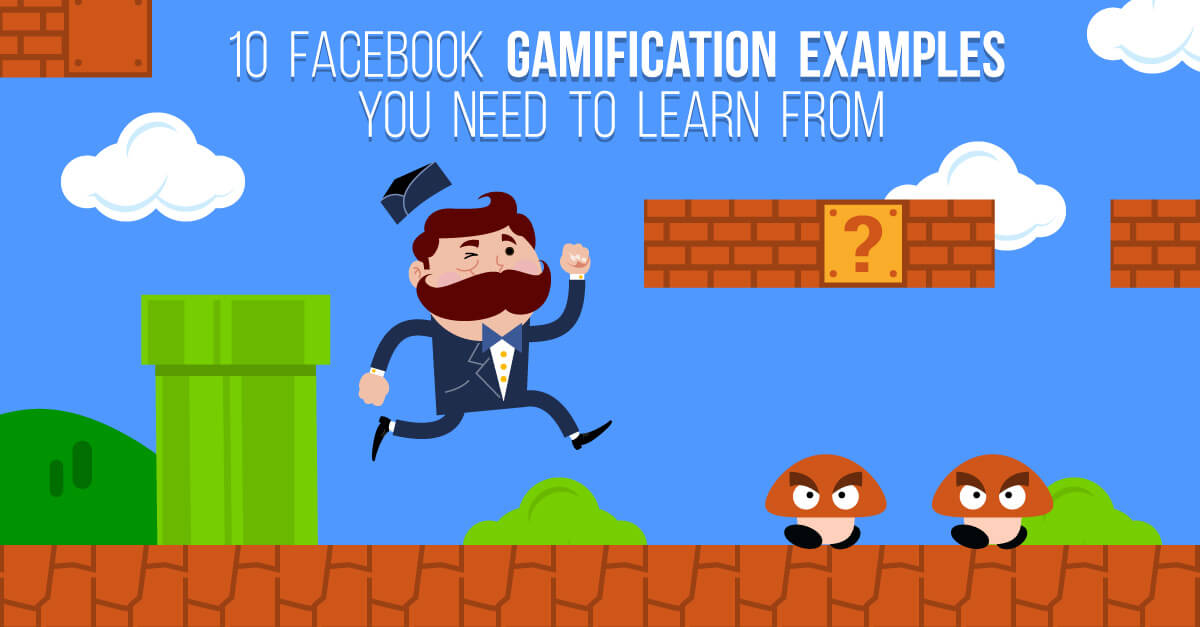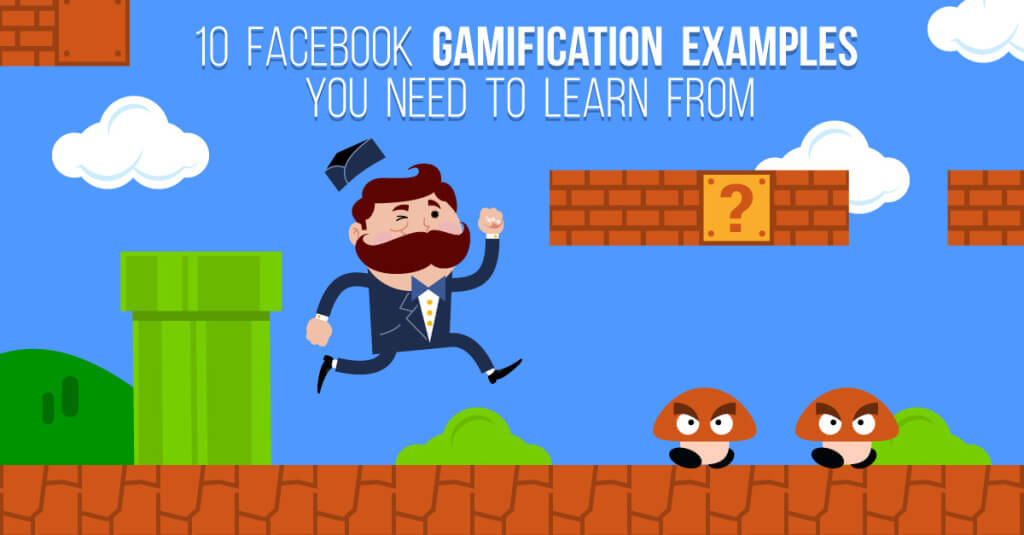 A lot of studies have been conducted to discover what it is about games that makes us want to play them, but a lot is apparent in the things we do on social media. Clash of Clans, anyone?
A solid game will tempt you to continue playing it – to unlock new players, to receive rewards, to get ahead of your room mate.
In the world of marketing, the technique 'Gamification' is used by brands to incentivize objective completion; typically to make unappealing offers seem fun or make an audience stick to something they're already fond of. It's also used to form an emotional connection with the audience and spark engagement as opposed to simple awareness.
Check out the thoughts of these influencers on gamification:
With marketing gamification, if it becomes viral, you're able to reach millions of users. However, when people discuss it, they don't discuss the brand but the gamified campaign itself
Yu-kai Chou
Play is not the opposite of work. Instead think of play as the root of gamification and when executed well, the audience can engage in playful activities and still do business simultaneously
Dr. Stuart Brown
Video game makers have spent decades perfecting the art of creating addictive products. Now brands are using gamification techniques to build loyalty for their sites and social media pages
Douglas MacMillan
And this video by Gabe Zicherman further breaks down the importance of gamification on the social web:
Intriguing, isn't it?
Coming over to the role of gamification in social media marketing, Facebook gamification has become a major trend in the past few years and it is providing great value for brands. If you think it's just another fleeting strategy, you're in for a surprise.
In this post, I'll run the gamut on practical Facebook gamification examples – so you can see what a successful gamification strategy looks like, what kind of results it can achieve, and what you can learn from it.
Listed below, in no particular order of importance, are 10 brilliant examples of gamification on Facebook to get your creative juices flowing towards ways to put the fun back in your campaign.
1. Eye-spy pretzel by M&M's
M&M's introduced this game as a part of its Pretzel marketing campaign. It was based on the eye-spy logic, where users on Facebook were given scattered M&M's in a large image and were asked to detect one small pretzel inside.
The design and thought-process of the game was inexpensive, but it quickly went viral and brought great results for the company in terms of engagement, shares, and willingness of people to buy the Pretzel brand.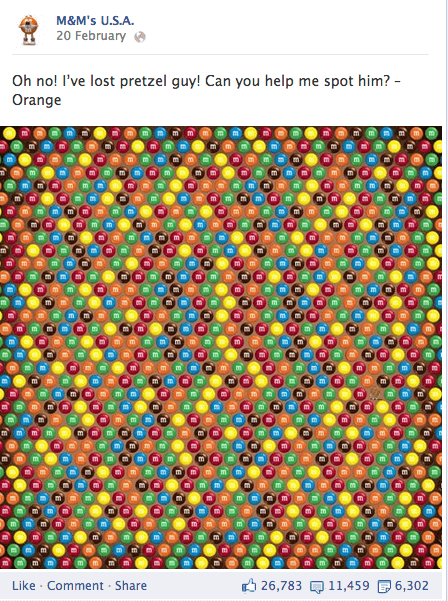 Result: Over 26,000 likes, 6200 shares and 11,000 comments. Not bad for something this simple. The campaign also received praise from all over.
Learning outcome
The design of the content could be simple, but the gamified context should motivate consumers to participate
Use images in your campaign that function as a game
Keep the game related to your product/brand, as well as relevant to your target audience
2. Doritos Roulette Challenge by Doritos
Roulette (in this case) is a bag of chips by Doritos with a lot of spice inside. Doritos gamified the campaign for this brand of chips in North America by asking consumers to try the new bag of chips if they dared to snack away (and risk landing on the one with a lot of spice).
The response was great and the brand received plenty of videos of consumers playing roulette. The idea wasn't new, but the fact that it was geared towards a market that loves chip flavors made it successful. Canadians also loved the challenging aspect of it.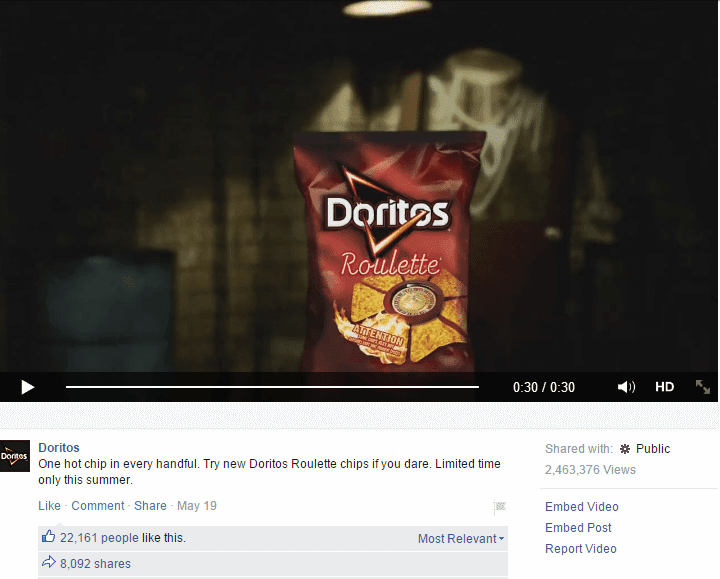 Result: Over 22,000 likes, 8000 shares and 1500 comments on just the announcement of this campaign.
Learning outcome
Create something that gives your audience a chance to show off their potential
Align the campaign with your core mission (bringing happiness, creating optimism about new flavors, etc.)
Research your target market and find out its opinion about gamified strategies before implementing one
3. Are You Our Biggest Fan by RealEstate.com
The company used gamification in a way where users were rewarded with points when they performed specific actions. The leaderboard was determined after the target audience performed 3 actions, and iPad 3 was the giveaway for the individual who was at the top of the leaderboard.
As can be seen from the image below, players were challenged to get ahead of each other by simply contributing to the Facebook page of the brand. However, points are determined by the quality of the contribution, rather than quantity.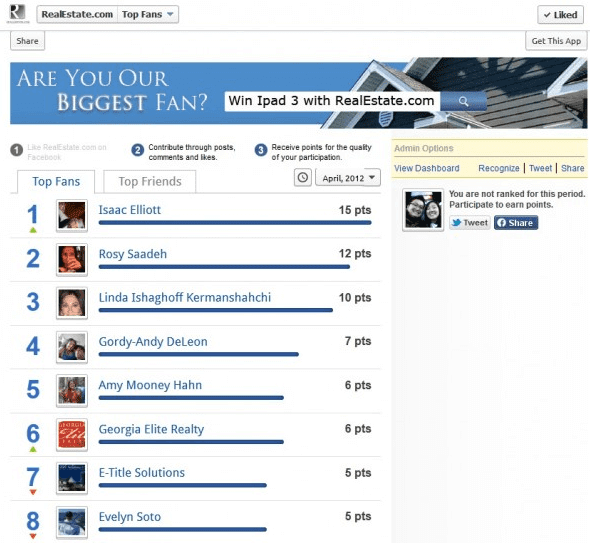 Result: Not available via Facebook app
Learning outcome
Use social points to make participants feel empowered and generate leads
Offer something valuable in return when they accomplish something (doesn't have to be monetary always)
Use tactics like leaderboard points to showcase how they are performing against each other. This will help your post/campaign gain traction
4. Hallmark Social Calendar by Hallmark
Facebook Credits is the virtual currency used by players to play popular social games. Brands, beyond the traditional social game mechanics, are using Facebook Credits in their approach to make users interact with gamified content. An example is Hallmark's Social Calendar application.
Players were awarded Facebook Credits and other social rewards based on the completion of actions they were asked to perform. Those receiving Facebook Credits could use them to get coins to buy premium gifts.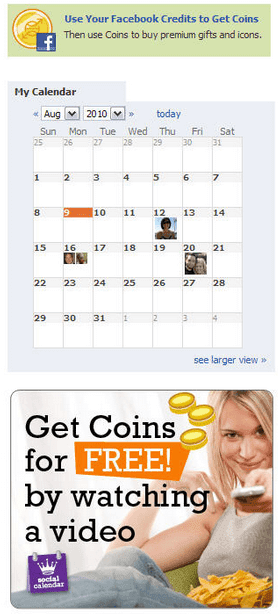 Result: Not available via Facebook app
Learning outcome
Virtual currencies and gifts can be offered as a part of gamification strategy
Tie the content/application to the user's real life (at some point people get bored of Candy Crush Saga, but as long as there are social connections the game could go on)
Link social points to actions that increase conversions, not just the follower count
5. Are You Sitting Pretty Sofa Quiz by Macy's
One of the easiest ways to implement gamification in your Facebook campaign content is to use quizzes. It's a pretty basic style of gamification, but something almost everyone is familiar with. Setting up this type of content takes just a few clicks.
Macy's sofa quiz is one of the examples. Content related to this product has low engagement in general, but the brand introduced a quiz that reinvented the concept of 'getting the right sofa for your needs', which made it all more interesting for the participants. Such Facebook gamification examples are an inspiration for brands that don't have much appeal for the products they sell.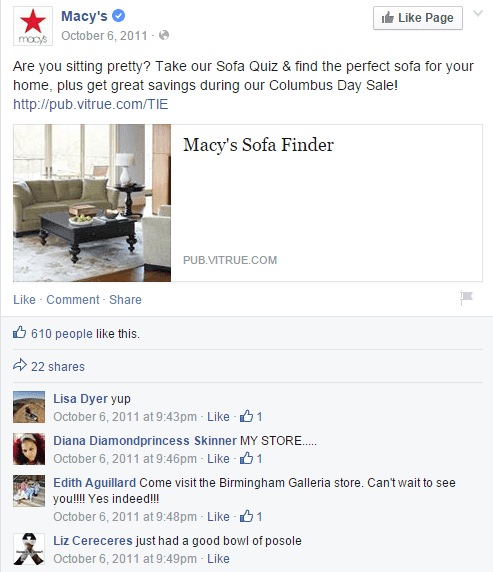 Result: Over 600 likes, 20 shares and 15 comments, which is not bad for this kind of a product.
Learning outcome
6. Beat The Clock Discount by Sambo Kojin
Beat the Clock is a tactic that creates a sense of urgency among social media users, and research has shown that such a strategy prompts people to take action, as they feel such offers are not worth missing out on.
Sambo Kojin used this gamification method for its restaurant offer and asked customers to beat the clock if they wanted to pay less. Consumers were given two different options: to pay less before lunch time or to pay less before dinner time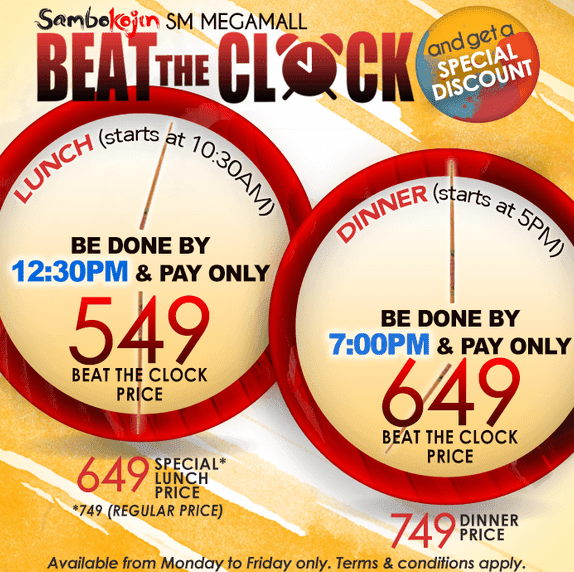 Result: Over 300 likes, 100 comments, and 60 shares. This is a local business, so the result is quite decent.
Learning outcome
Use sense of urgency to drive impulsive purchases
Include different CTAs to target different time frames
Empower people with sense of achievement by offering something they'd love to have
7. The Six Week Holiday Challenge by Joel Fuhrman, M.D.
Attendance was open to everyone, but only those who became members were eligible for the prizes. The participants could also see their progress and compare it against other members, so it was a great way to boost memberships and attendance via Facebook gamification.
This strategy was applied to increase event attendance and create awareness about healthy nutrition at the same time. A registration link was also posted to drive memberships through a separate landing page.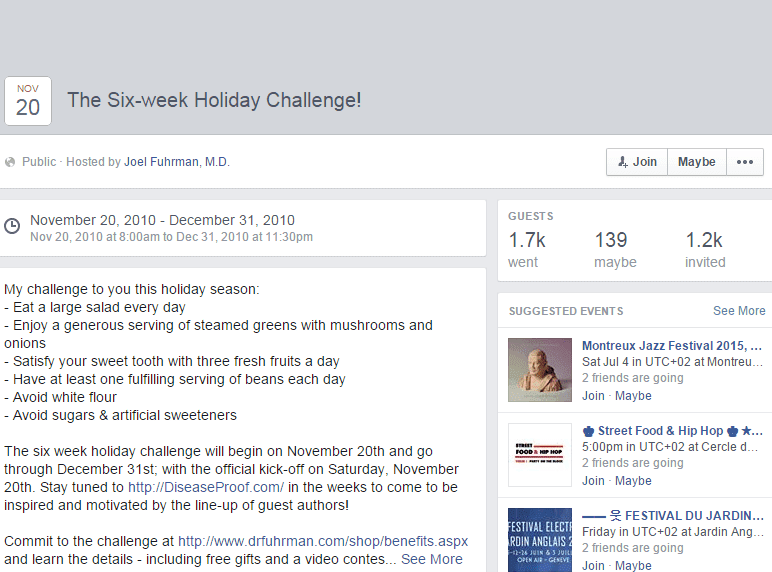 Result: 1000 were people invited, 1700 people showed up.
Learning outcome
Facebook Events can be used to promote gamified content/campaign
Gamification can be used to boost memberships
When people see others taking up a challenge, they are motivated to join
8. Flavor Creator by Vitamin Water
This was a simple campaign that got attention from all over just because of its gamified approach. Vitamin Water asked its Facebook audience to help the company select the next flavor of the upcoming drink. They essentially crowd sourced the process.
The campaign received some serious backing from fans and even celebrities like 50 Cent and Steve Nash. Users also got to play easy games that tested their mental state, physical health, and potential earning power.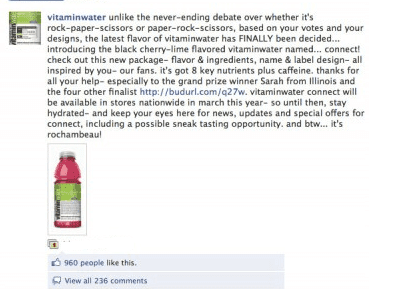 Result: Over 900 likes and 250 comments over a new flavor announcement
Learning outcome
Make your audience a part of your brand's creation
Challenge them with skill-testing games
Use games to crowdsource idea generation
9. Ford Explorer Reveal by Ford
With several cars launched each year, car manufacturers have a difficult time getting coverage, and Ford was no exception. To stand out, the company came up with the unique concept of promoting their launch of Ford Explorer via Facebook.
Various clues were left around social profiles and the reveal was streamed live on Facebook. Fans searching for the clues were the main reason why this reveal got so much social traction and attention from every single website around.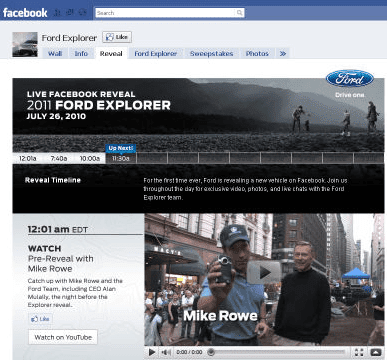 Result: Over 30,000 fans before the revelation according to a source.
Learning outcome
The launch of a new product can be presented as an online play via Facebook
Visual storytelling should be a part of gamified content
Real-time interaction should be used to encourage further participation (live chats, Q&As, etc.)
10. Social Shopping by Fiorelli
Fiorelli is one of the few brands that demonstrated that a luxury brand can take advantage of social media gamification as well. On its Facebook page, Fiorelli introduced a new social shopping experience, where fans could superimpose a photo of their bag selection on the profiles of their friends.
Currently, fans can also send the photo of their preferred bag directly as a private message to their friends. The brand has increased interaction around its products by gamifying the actual purchase journey of the customer.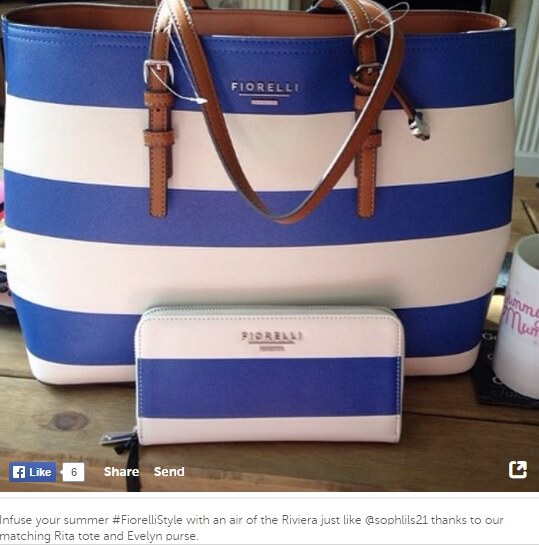 Result: Data not available via Facebook page
Learning outcome
Opinions left by others could have an impact on the final purchase decision
As a result, gamification should grant users the ability to gather insights from their social circles
Collective decision making processes make people happy and create further awareness for a brand
Final thoughts
Whether you have a small or large presence on Facebook, gamification can help drive conversions by making everything fun and interesting. However, audience research should be carried out before the experience is planned. Also, the overall design and idea should match audience expectations in order to be successful.
Do you know of any other successful Facebook gamification examples? Feel free to interact in the comments section below.