Up until recently, there have been three key pillars of digital marketing used to amplify content: Google Ads for search, Facebook and Instagram newsfeed ads to create awareness, Email drip sequences and newsletters to deepen relationships
This is a simplification, of course, there are other places to serve ads such as Twitter, LinkedIn, Snapchat and Pinterest.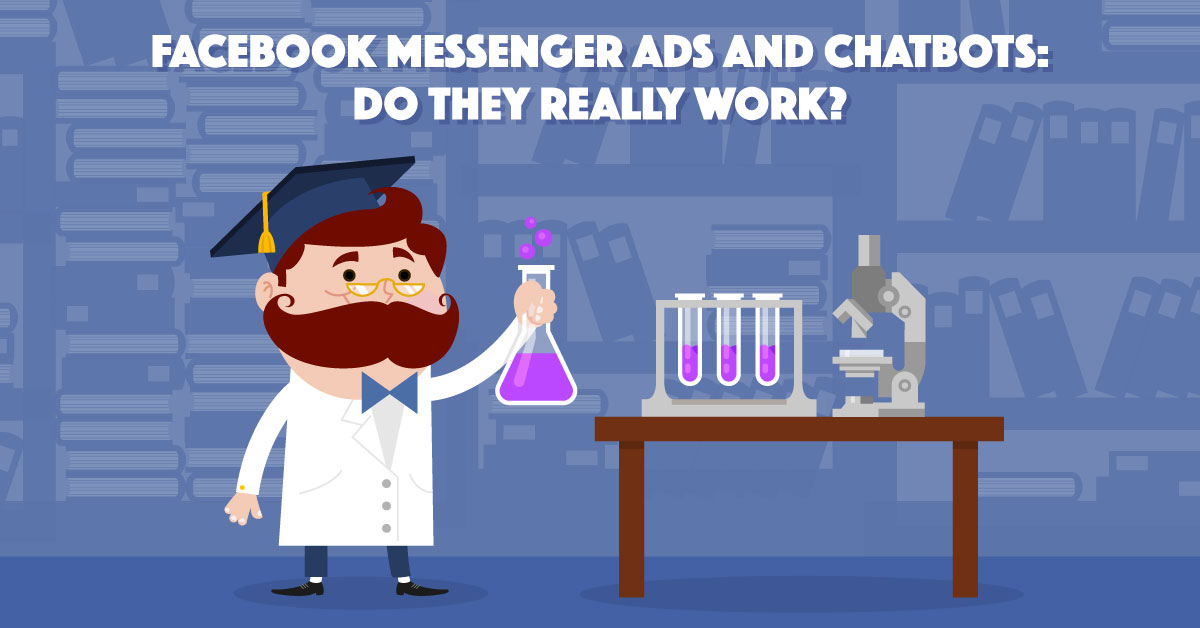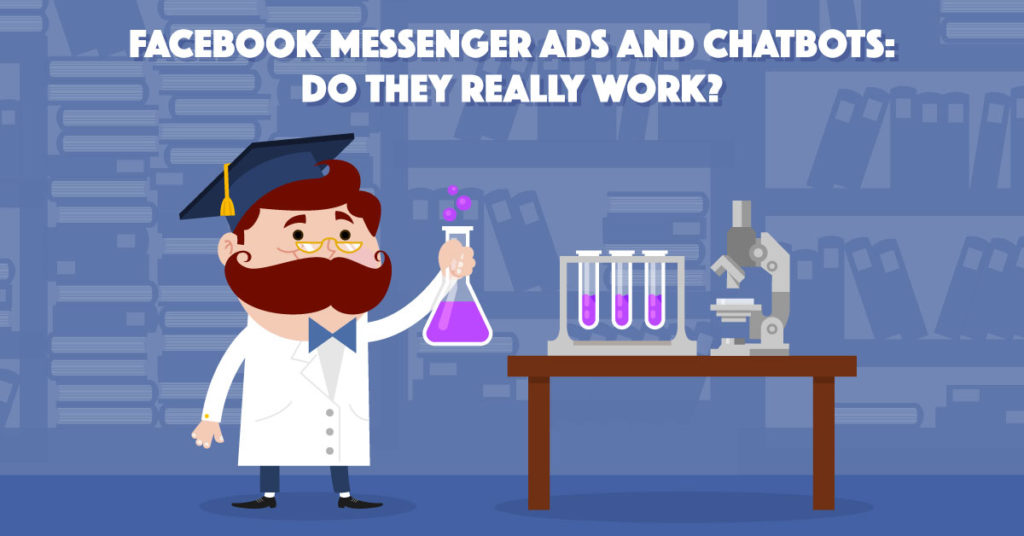 However, unless you have a large marketing department the "Big 3" are a great way to move the needle for your marketing without spreading yourself too thin.
Hold on though, there's one platform that we've missed: Facebook Messenger.
As Mark Zuckerberg recently said in his vision for the future of Facebook:
I believe a privacy-focused communications platform will become even more important than today's open platforms."
That's right, the CEO of Facebook thinks that tools such as Facebook Messenger are going to be a key part of the social media landscape going forward.
As a marketer, that creates an opportunity but also a challenge, as it's impossible to reply to every message one by one.
That's where chatbots with automated sequences come into play.
Why Use A Chatbot?
Messenger has 1.3 billion users sending 8 billion messages between businesses and people every month.
The Messenger app itself is always one of the most downloaded apps, so it has particularly strong usage on mobile.
Engagement is good as well, Neil Patel saw an 88% open rate and 56% click-through rate for a messenger marketing campaign, those figures are unheard of for email marketing where a 20-30% open rate is standard.
Overall there are three key reasons for running messenger ads rather than a normal Facebook newsfeed ad that takes people to a website:
Reason#1: The user might have a "sales objection", which is a question they need answering before they are willing to purchase.
A lot of people won't pick up the phone and ask the question these days and so will just abandon the sale. Messenger is an informal way to start a conversation and overcome the objection to purchasing.
Reason #2: Once a user interacts with your bot they are counted as a messenger subscriber, it's similar to getting an email lead.
The advantage of messenger marketing isn't just initiating more conversations and using informal and innovate sequences, the main aim is to get a subscriber for future marketing, just as capturing an email allows you to send a regular newsletter not just the lead magnet.
Reason #3: Messenger bots can be fun and a different way of marketing.
For example, DogBot sends daily photos of cute puppies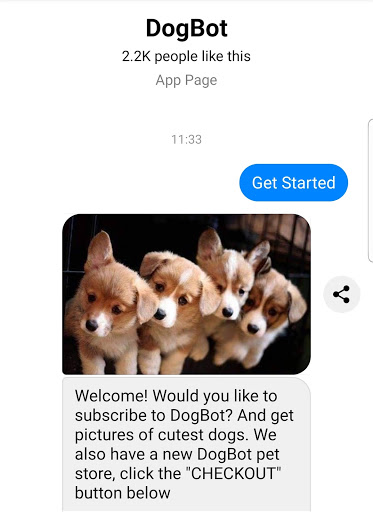 Several Chatbot options exist with popular choices including Chatfuel which claims 46% of messenger bots use it, ManyChat and MobileMonkey.
In this experiment, we've partnered with MobileMonkey and would like to thank Larry Kim and his team for all their support.
Facebook Messenger Ads and Chatbots: the Beginner Guide
To set up a Facebook ad that integrates with a messenger bot there are 3 steps:
Step 1: Set up the dialogues in the chatbot.
These are the automated sequences that are used once someone starts interacting with the ad. This is an example of the first step in a dialogue for a quiz: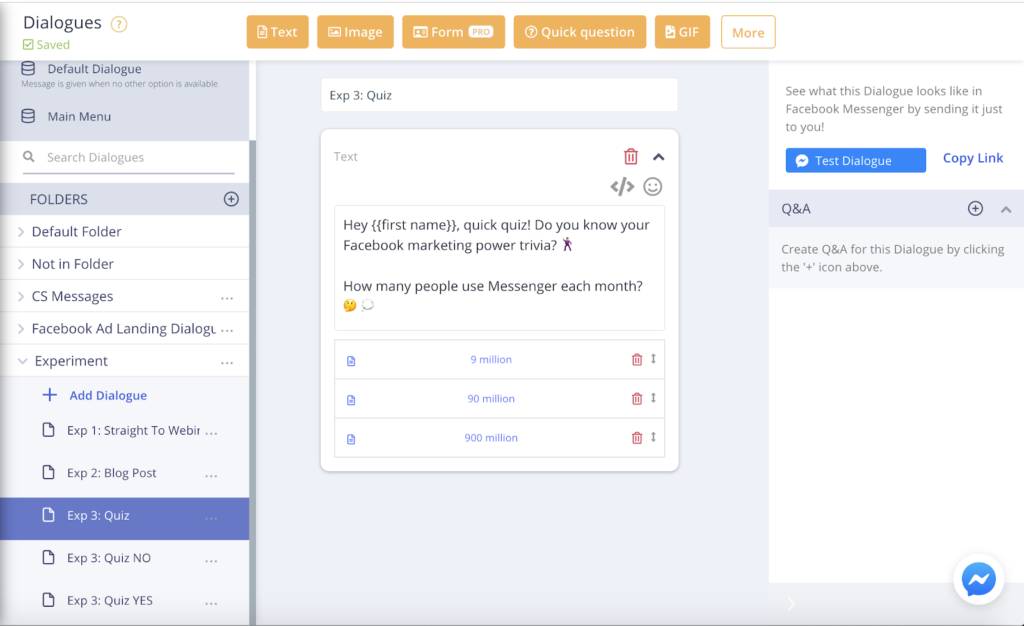 In this case, there are 3 buttons for 3 possible answers, if the user selects a correct answer it takes them to the YES dialogue, and if they get it wrong it triggers the NO dialogue.
In this way, you can link several dialogues together to build a sequence depending on the user input.
Step 2: Create the message that is triggered when the ad is clicked on.
This consists of an image, a button with a link to the dialogue above, and then…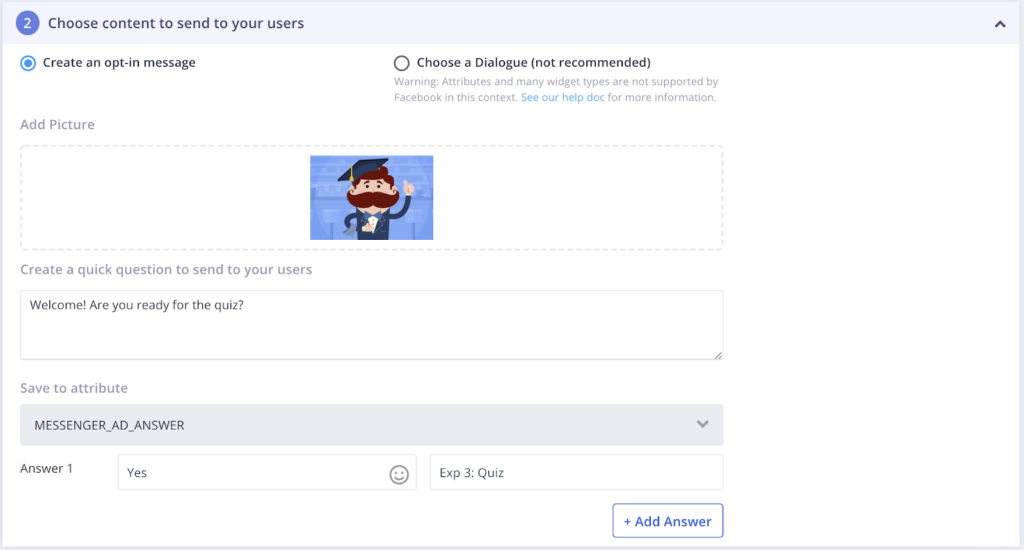 …a URL parameter and JSON code which we'll come to next.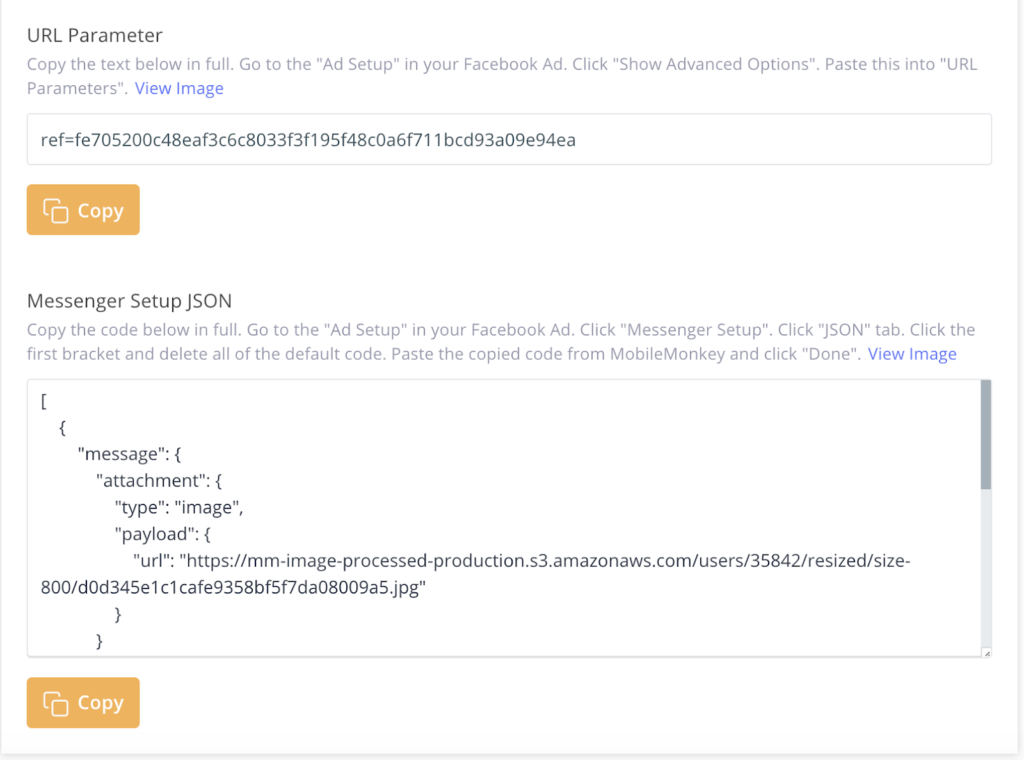 Step 3: Create the Messenger ad.
It's very similar to creating a traffic or conversion campaign…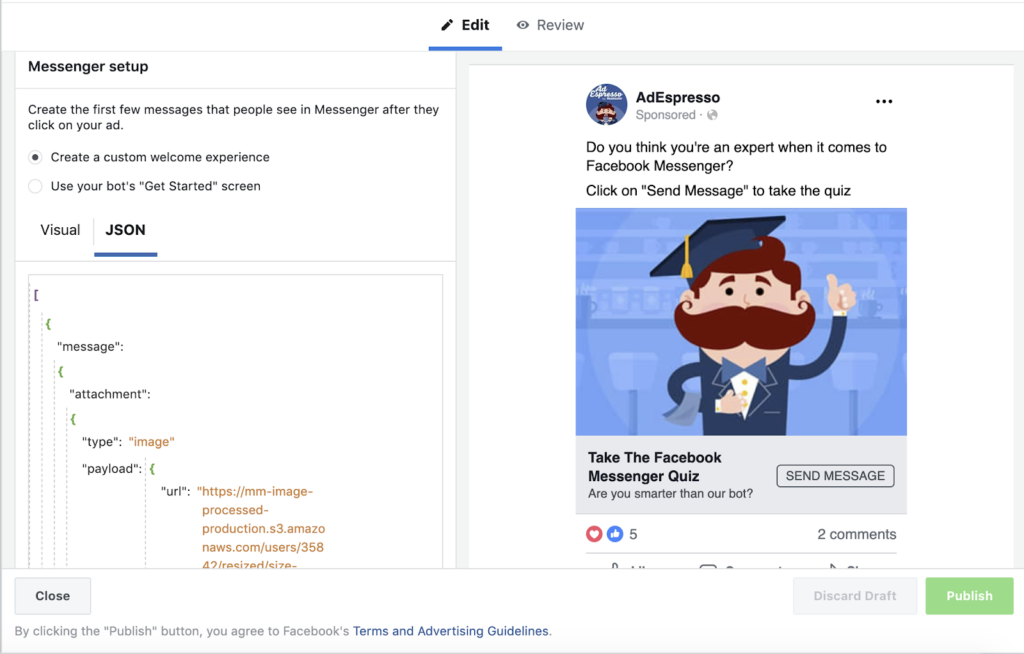 How to do it with AdEspresso
It's a similar process using AdEspresso:
First, select the Messenger campaign type and then paste in the JSON code: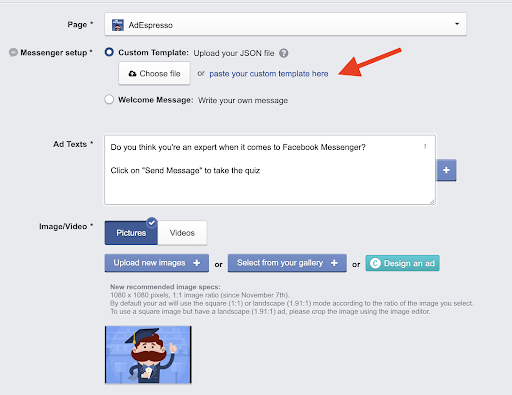 In summary:
Building dialogues takes a while to get used to but once you have a few sequences you can clone them and then build out new ones quickly.
Building out the messenger ad itself is then very quick if you've run any type of Facebook ads before, just remember to generate the URL parameters and JSON code and paste them in.
Facebook Messenger Ads and Chatbots: Experiment Setup
The goal that we were measuring in this experiment was the number of new webinar signups, so the main metric was Cost per Email Lead.
However, we also wanted to measure how many new messenger subscribers we got.
We tested 4 different approaches to see which one would work best.
Approach #1: A messenger ad directly promoting the webinar.
This one is straightforward, it promotes the webinar and then takes the user through a short sequence which describes the webinar and provides a link to the landing page for registration.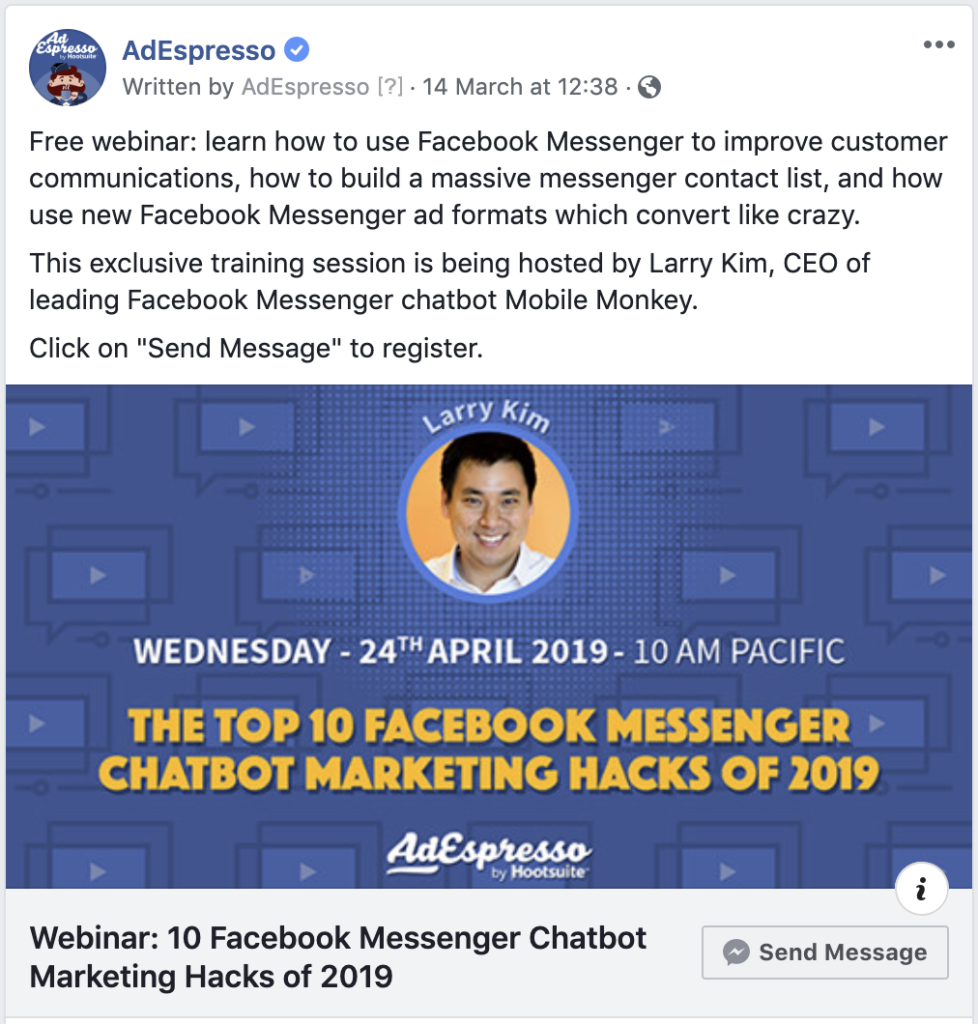 Approach #2: A messenger ad promoting a blog post.
The aim here is to warm up the audience with some engaging content before giving them a chance to discover more about the topic by signing up for the webinar.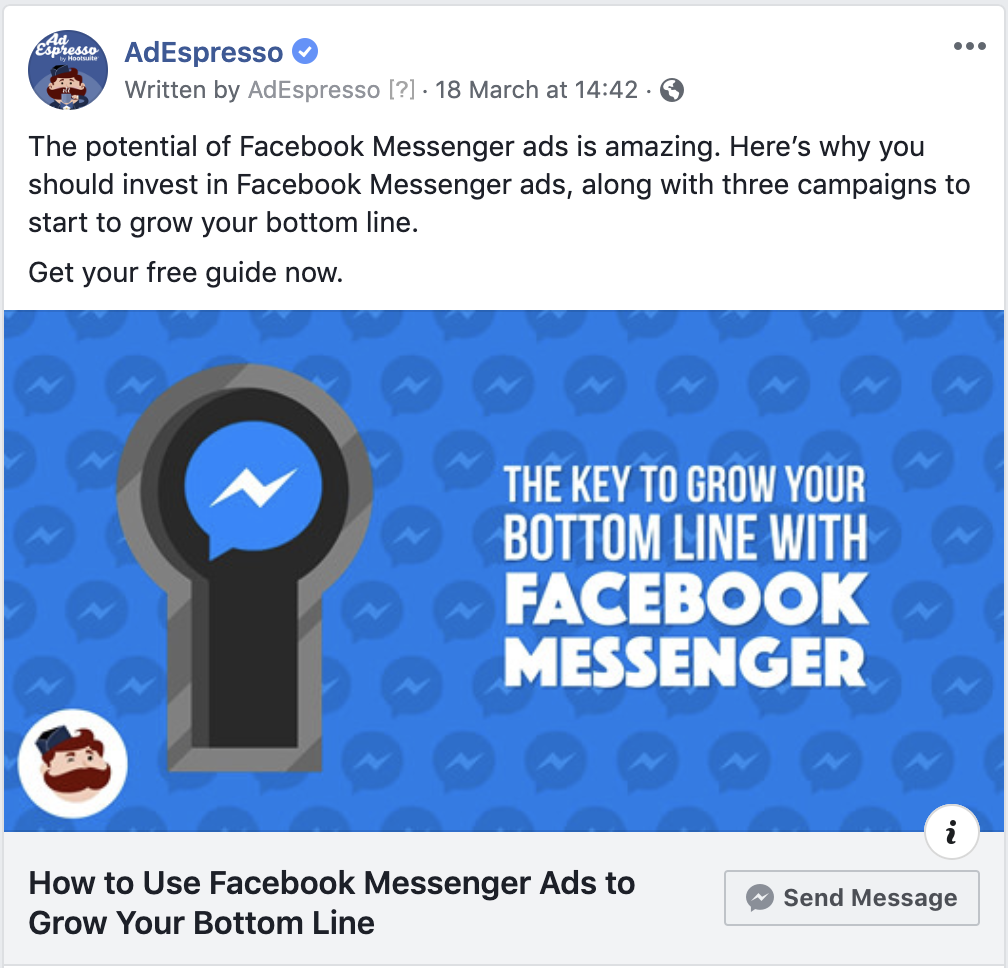 This asks the user a question about messenger ads and then offers them the chance to find out more by signing up for the webinar.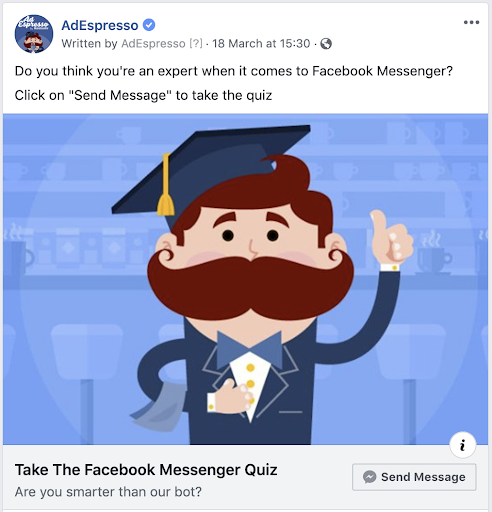 Approach #4: A Facebook Ad traffic campaign (not a Messenger ad)
The ad was taking people directly to the webinar registration page. This acted as the control.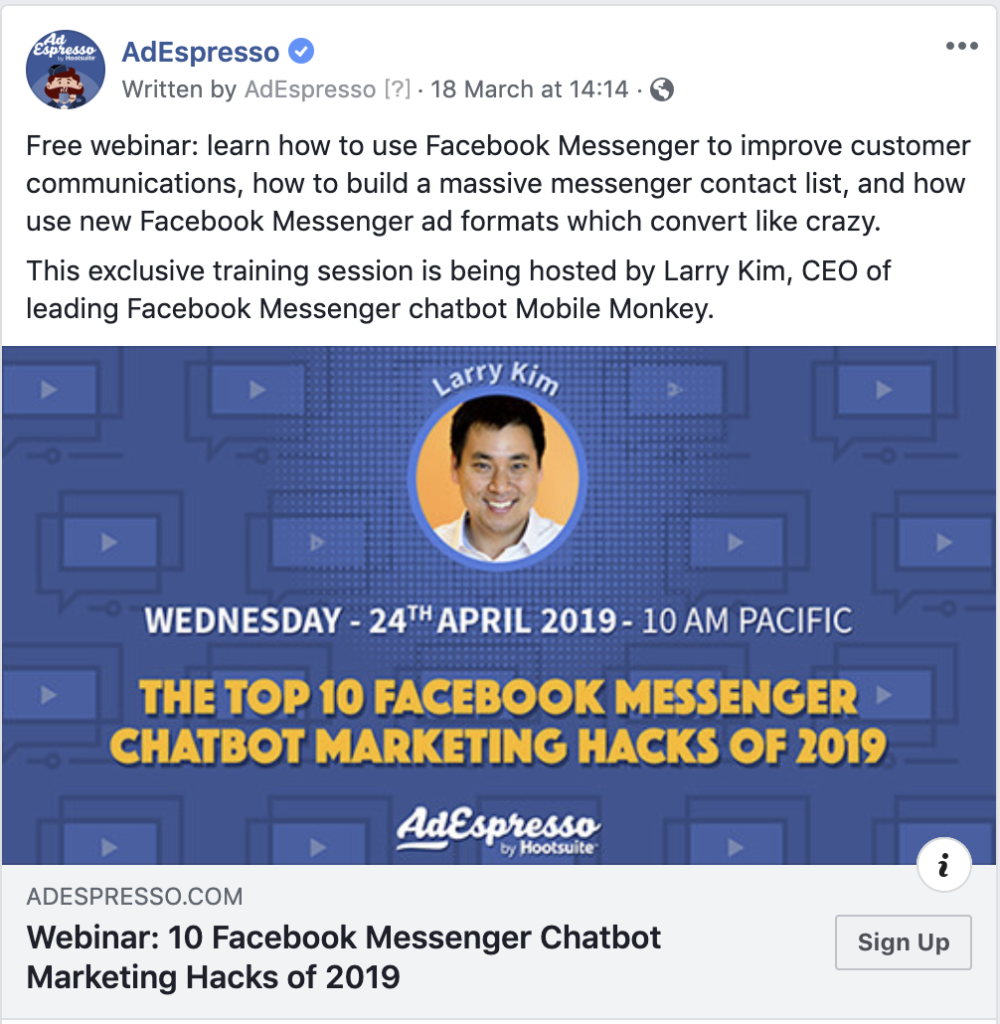 Other details of the setup:
US-based 2% lookalike audience based on purchasers of AdEspresso subscriptions, aged 18-65. Webinar signups were excluded, giving a total audience size of approximately 4.2 million.
$250 per ad, spread over 7 days
desktop and mobile newsfeed on Facebook
One ad per adset. This ensured each ad got the same budget, while there could be some audience overlap this should be minimal given the audience size compared to the budget
Lowest cost without cap
Messenger ads were optimized for replies, the control ad was optimized for landing page views.

Facebook Messenger Ads and Chatbots: Experiment Hypothesis
The aim with the experiment setup was to test some very different strategies, therefore they should give radically different results.
Our predictions were as follows:
Ad 1, promote webinar via messenger:
predicted to give a slightly higher cost per registration than Ad 4 but within a similar price range
Ad 2, promote blog post:
predicted a higher cost per registration than Ad 1 or Ad 4, perhaps double the cost
Ad 3: promote quiz:
predicted -again- a higher cost per registration than Ad 1 or Ad 4, perhaps double the cost
Ad 4: direct to webinar landing page, not via messenger:
predicted to give the most webinar signups, but of course no messenger subscribers
Facebook Messenger Ads and Chatbots: Experiment Results
Here are the results for our direct goal of getting webinar signups: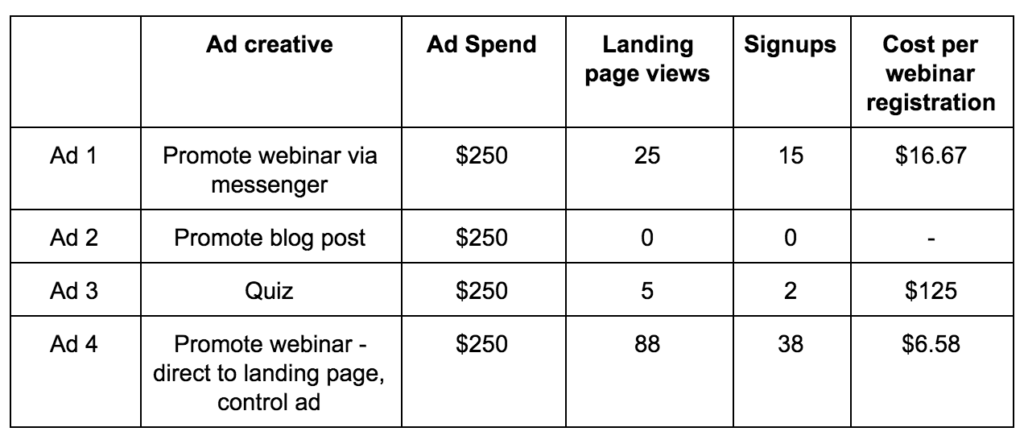 Below are the results for our secondary goal of getting more messenger subscribers: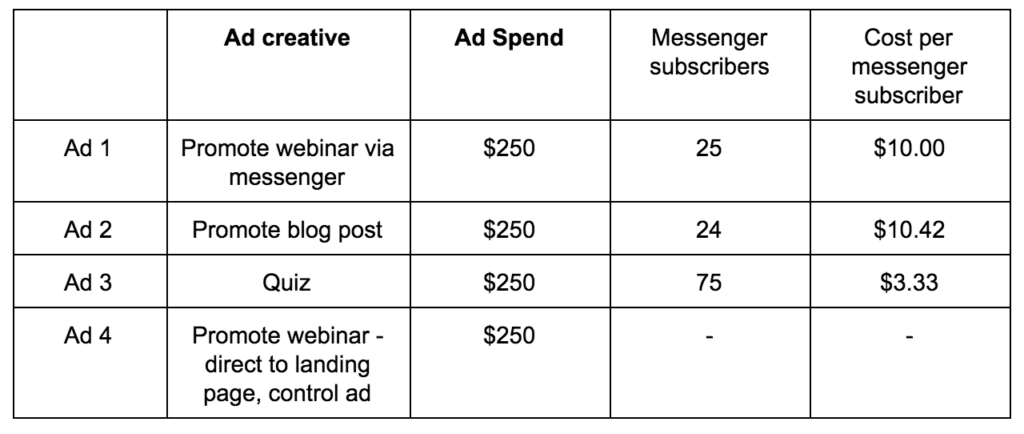 Facebook Messenger Ads and Chatbots: Experiment Conclusions
The first conclusion that stands out is that $3.33 for a messenger subscriber is approximately half the price of getting an email lead with a webinar ($6.58).
Even when using a lead magnet such as a PDF download instead of a webinar, our previous experiments have often resulted in $5 leads.
So, we can build up a messenger list cheaply and it gives us a new marketing channel to reach people in a different way as email marketing is becoming saturated.
This graph shows that our baseline messenger growth is approximately 0-5 people a day and when running ads we peaked at over 30 new subscribers a day:

The next conclusion we can draw is "you can't have your cake and eat it too", in this case meaning you can't get both email addresses and messenger subscribers cheaply at the same time.
As we saw with our Experiment on Facebook Campaign Optimization it's best to pick one goal and then optimize fully around that, as it's not possible to get good results for several different metrics at once.
Our hypothesis was incorrect for Ads 2 and 3, the cost per lead was far higher than expected for Ad 3 and Ad 2 didn't get any leads at all.
Finally, we can conclude that messenger marketing requires a new approach.
As we saw in this Experiment just trying to adapt traditional Facebook ads and funnels won't give the best results.
Instead, try a different way of engaging with your prospects in a fun and informal way such as a quiz.
Disclaimer
We couldn't end this Experiment without one very big disclaimer… we're not the world's most experienced bot builders so your results might be different from ours.
Factors that could influence the results include:
Using a longer quiz to warm up the audience, such as 5 questions instead of just one.
MobileMonkey has just released a Zapier integration, allowing you to capture email addresses and send them to your CRM. Getting webinar registrations within messenger instead of sending them to a landing page could have lowered the cost per registration.
A 30-minute delay after serving the blog post would have given the user time to read it before asking for the webinar registration, which might have reduced the cost per registration
There are so many possibilities with messenger marketing, and just as we wouldn't say "Instagram ads don't work" after running one just campaign, don't read too much into our exact cost per registration or subscriber as we only ran one round of tests.
The take-home message is testing different and innovative approaches using messenger bots can radically reduce your costs, so test, analyze, iterate and refine your campaigns each time, just as you would do with normal Facebook ads.
Chatbots need a lot of skill to set them up to give a good user experience, so if you don't see good results at first use all the available data to build new dialogues and funnels.
Final Thoughts
Getting up to speed with chatbots requires learning a whole new platform, and because of this a lot of brands don't use them and instead rely on established channels such as email marketing which are now getting saturated.
If you can go that extra mile and get to grips with chatbots there's huge potential to build a messenger subscriber list before the larger brands catch up.
There are so many advantages to bots as they can automate your customer service, give good marketing results and build a subscriber list all at the same time.
Most chatbots have free packages to help you test them out.
What do you think of chatbots? Do you use them? Which strategy have you found works best? Let us know in the comments.