The Beginner's Guide to Facebook Advertising

Chapter 3
Types of Facebook Ads
Ad Types for Each Objective
Before we create our first campaign, it's crucial to better understand the different Facebook ad types.
Throughout the years, Facebook has carefully adjusted its advertising offering to better suit the needs of its users. Whatever your campaign's objective is, there's a type of ad for it!
Traffic and Leads for Your Website
One of the most common purposes of Facebook Advertising is driving traffic to your website. This can be either to increase your site's overall reach or to send users to a dedicated landing page and have them buy your product, sign up for a newsletter, or participate in some other kind of lead generation. Here's a breakdown of which Facebook ad types best suit your specific needs.
Domain Ad
Supported placements: Right Column
Of the different types of Facebook ads, this one is the most simple. It can only be displayed on the right column, so there's no mobile support. You can choose a title, a short description, and the URL to be displayed. Nowadays, it usually underperforms in terms of its click-through rate (CTR), but its cost can be pretty cheap.
Page Post Link
Supported placements: Right Column Newsfeed Mobile
This is the most common of all the Facebook Ads types. Ideal to promote your external website. Page Post Link ads (aka Newsfeed Ads) feature a big image that's great to catch user attention. You can test both the post text and the link description so you can better explain your offer.
These ads perform really well and have the side benefit of generating Likes for your page. Just remember to check the comments and reply to them for a engagement boost!
Multi-product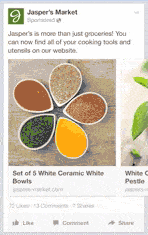 Supported placements: Newsfeed Mobile
(Updated 6/26/2014) In June 2014 Facebook released a new Ad Format called Multi-product ad which can be extremely useful for all the eCommerce advertisers looking to promote multiple products from their store.
The new ad type, available only in the Newsfeed, desktop and mobile, is very similar to the normal page post link ad but instead of featuring only one link, support up to three products and links showcased. This is a huge advantage for eCommerce store. With a single ad you can now promote three different products, each one with his own picture, link and title making a clicks on the ad much more likely.
Likes & Engagement for Your Page
All Facebook ad types are great for Facebook Marketing. You can use them to increase the number of Likes on your page and to increase the reach of the content you post there.
Due to recent updates, the usual post on your page will only organically reach an average of 2-6% of your fan base. Promoting your posts is a great way to be sure that all your fans see your message.
Page Like
Supported placements: Right Column Newsfeed Mobile
This is the go-to ad for increasing your page Likes. It can be displayed on all placements and will include a visible call to action for users to immediately Like your page. It's very important to pick the right image to achieve great performances.
When advertising for Likes, remember that it's not about getting the cheapest Likes, it's about picking the right audience that's interested in your page!
Page Post Photo
Supported placements: Right Column Newsfeed Mobile
Want to engage your page fans? This Facebook Ad Type has the most space to show your beautiful pictures! Pick the right image and you'll be flooded with comments and Likes. You could also insert a link in the text description of the post, but don't expect too much traffic from it.

Page Post Video
Supported placements: Right Column Newsfeed Mobile
Video Advertising is still pretty new on Facebook, so it's very likely to drive high engagement. The downside is that producing a good quality video is very time consuming and expensive. Big brands are most likely the perfect adopters of this ad unit, but small companies with a smart social strategy could get huge results from this format as well.

Page Post Text
Supported placements: Right Column Newsfeed Mobile
This ad format is focused on page engagement. However, there is very little reason to use it instead of the Page Post Photo ad – pictures simply perform better. If you can, avoid this type of format as it'll likely deliver lower engagement.
Installs for Mobile or Desktop Apps
Since the launch of its mobile application, Facebook has become one of the biggest players in the mobile advertising space. Mobile App Install ads present a unique opportunity to bring in new mobile app users on both Android and iOS.
Recently, Facebook also introduced a new Ad Type to drive usage to your Facebook App inside Facebook. If you're trying to promote your mobile app, these ad units are designed for that specific purpose.
Mobile App
Supported placements: Mobile
This is the perfect choice to drive more installs to your mobile app. This ad is displayed only on the mobile newsfeed. When users click the "Install" call to action, the App Store will immediately pop up. This delivers a great conversion rate.
When using this Facebook ad format, you'll have many additional targeting options to fine-tune your audience. For example, you'll be able to choose which iOS/Android version you want the user to have, if you only want to target mobile devices or also tablets, and if you want to target only users connected to a WiFi network.
Desktop App
Supported placements: Right Column Newsfeed
This ad unit is relatively new and allows you to drive users to your Facebook app. Since Facebook apps are not supported on mobile, you can only target either the desktop Newsfeed or the right column.
As you can see from the screenshot, your app's rating and usage is well visible below the picture, so be sure to have at least a good score or you may lose the effectiveness of the ad. Would you play a game with a one-star rating?
Visitors for Your Store or Event
Let's close our roundup of Facebook ad types with two units well suited to drive visitors to your physical event or store. It's always more complex to measure results for offline promotions, but if used correctly and targeted well, these ads can perform really well.
Event
Supported placements: Right Column Newsfeed Mobile
Facebook Events are a great way for event organizers to attract more visitors. If you want to boost the reach of your event, use this ad unit with the right targeting options.
According to the size and relevance of the event you're promoting, you may want to limit the geographical reach of the ad to people living in the same city or region as the event.
Offer
Supported placements: Right Column Newsfeed Mobile
This ad is perfect for brick and mortar store owners who want to attract people in their stores. To create an offer, you'll need your page to have at least 50 Likes.
Once your offer ad is live, any user who clicks on your ad and redeems the offer will receive an email containing the details and terms of the offer.
As you've seen, Facebook has a very broad offering of Ad Types that can fit every need. Whenever possible, we suggest you test different ad formats and see which ones perform better for you and deliver the best results at the lowest cost.
Now that you have a clear idea of what you can advertise on Facebook, let's move on the next chapter and create our first Facebook Ad campaign!