In Chapter 7, you'll learn about Facebook's campaign structure and how to set up your budgets. The nice thing about Facebook's campaign creation process is that it's super logical and straightforward. We'll walk you through all the settings and options in the order they appear in the Ads Manager.

After you complete reading this chapter, you'll know correct answers to questions like:
How does Facebook ad bidding work?
How big should my advertising budgets be?
How to setup manual bidding on Facebook?
What's the average cost of Facebook ads?
How to select the right ad delivery optimization method?
How to setup a custom ad delivery schedule?
These questions are only a tiny fraction of all the knowledge you're about to acquire!
And believe us, understanding the Facebook campaign structure and bidding system will become handy many times in the future!
Facebook Campaign Structure
Facebook's campaign structure has three levels:
A Facebook campaign can contain several Ad Sets and it has a unique campaign objective. Your campaign is basically just a container to help you better organize your advertising. The only attributes of the campaign is the objective you want to reach with it, and the campaign's name.
If you want to: 1) drive sales to your website and 2) increase the number of likes on your Facebook page, you'll have to create two campaigns, one for each objective.
A Facebook ad set can include multiple ads and it has a unique audience targeting, budget, schedule, bidding, and placement. Ad sets are also the best units to use for Facebook A/B testing – remember to always place all the variations inside different ad sets.
The Facebook ad (basically what we've been creating so far in this guide), is the smallest unit of your campaign. Ads can have different URLs, ad image, and ad copy. This is how your ad looks.
As you create your campaign, you will be prompted to set up your adset in the second step. This includes your budget, schedule, and your audience, and some other settings.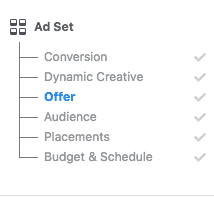 We're going to just focus on setting up your budget, which is the last part of adset creation.
How to Set Up Your Facebook Ad Campaign Budget
Picking the right budget for your campaign is critical to success. The first step of the "Budget & Schedule" setup is to assign a budget for your campaign.
Facebook gives you two budgeting options:
1. Daily budget –  Facebook will spend this sum on delivering your ads every day during your campaign. When you set your daily budget, you're telling Facebook to get you roughly your daily budget's worth of the results every day.
Some days, when Facebook spots high-potential opportunities, it may spend up to 25% more than your daily budget (and then lower the spend on the low-potential days). As you select the daily budget, your daily ad spend could look like a set of curves.
Don't worry, that's completely normal and means that Facebook's auto-optimizing your ad delivery (which is a good thing).
2. Lifetime budget – Facebook will divide the total campaign budget more or less evenly across the campaign dates. If you set a lifetime budget, Facebook will ask you for the campaign dates, so that it can calculate the average spend for each day.
We recommend that you set a daily budget and an unlimited campaign duration, so that you can later edit the size of your daily budgets and pause the campaign whenever you see fit.
Important!

You can't change an ad set's budget type after the ad set has been created. Make sure you make the right selection during the campaign setup.
Ad Delivery Optimization
After you've set up your ad campaign's budget, you can select the Ad Delivery Optimization method.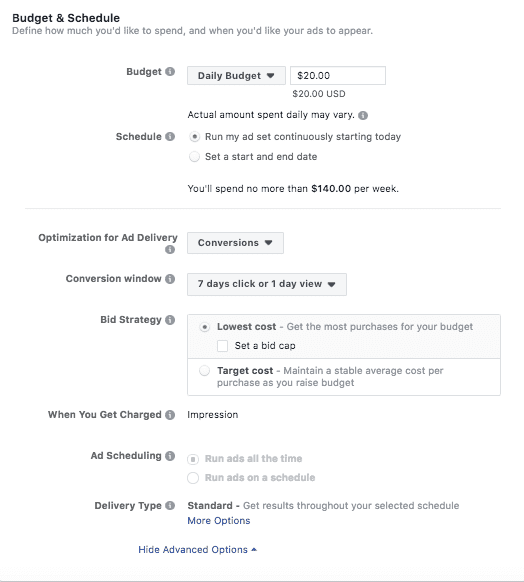 The Optimization for Ad Delivery tells Facebook what's the end goal you're most interested in. For example: If your goal is to drive traffic to your website, optimize your ad delivery for Link Clicks. A quick summary of optimization goals:
If your goal is to drive traffic to your website, optimize your ad delivery for Link Clicks, or Landing Page Views.
If you want people to convert on your website, choose the Conversions optimization goal.
If you want people to install your app, choose the App Install optimization goal.
Facebook Ads Bidding – How it Works
As you advertise on Facebook, you'll be competing with hundreds of thousands of advertisers, each wishing to reach their target audience. Facebook ad bidding works on an auction basis. Who's winning the bid? – The advertiser who has the best combination of best bid, relevance score, and "estimated action rates." Not sure what that means? You need the best bid, and have the ads that your audience wants to see. The more your audience positively engages with your ad and converts, the better the campaign will do.
Lowest Cost vs. Target Cost Bidding
Facebook now has lowest cost and target cost bidding. With Lowest cost bidding, Facebook will try to  get you the lowest cost results, based on your optimization goal while increasing the bid more as needed to spend your budget. You can set a bid cap if you want to make sure we don't bid more than a certain amount for any result. This bidding type is ideal for spending your budget efficiently, but keep in mind your costs may rise as you spend.
Target cost bidding works by telling Facebook your target cost, based on your optimization goal and they will bid to meet that cost on average.  This is ideal if you want to maintain stable average cost, even if you raise your budget and scale the campaign.
Keep in mind that you may not get the lowest cost, because Facebook is bidding to stay around your target.
If you want an in-depth overview of Facebook ads bidding, read our guides:
Facebook Ads Scheduling
Facebook also allows advertisers to set up custom ad delivery schedules, so that your ads will reach people at your chosen weekdays, at your chosen time of day.
We recommend that you use the "Run ads all the time" option for your first ad campaign. Later, as you can see from your ad reports what days and hours work best, you can use these insights to set up a custom schedule.
Facebook Ads Delivery Type
As you're setting up a Facebook campaign, the last selection in the Ad Set level is Delivery Type. Here, you can choose between:
Standard ad delivery – Facebook will deliver your ads with the optimal speed at the lowest cost
Accelerated ad delivery – Facebook will deliver your ads as quickly as possible, resulting in higher ad costs
We recommend that you leave the Delivery Type option set to "Standard." The accelerated ad delivery is mainly relevant to large advertisers with time-sensitive campaigns. Since accelerated delivery optimizes for speed, not value, you may end up with a higher cost per result.
Additional resources:
Publish!
Now that you've set up all your campaign elements such as the campaign objective, budgets, ad creatives, ad copy, URLs, etc. you're ready to click on the "Continue" button and publish your Facebook campaign.
If this is your first time creating a Facebook campaign, we hope the experience was much easier than you were anticipating! Advertising online is  a wonderful way to connect with your customers and potential customers and you should continue to foster these relationships through your campaigns.
In the last chapter of our Facebook Advertising Beginner's Guide, we'll show you how to measure and evaluate your Facebook ad campaign's results , and improve your ad performance.