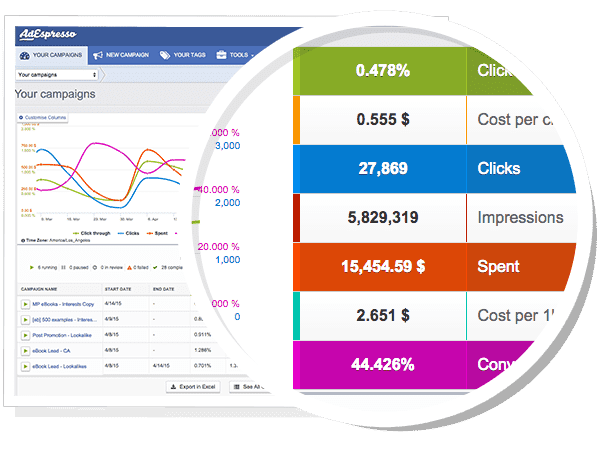 Super Simple Visual Analytics
Understanding how your campaign is performing is easy with AdEspresso. You can quickly obtain a snapshot of your campaign over time, displaying only few metrics that really matter for your success.
AdEspresso analytics are built to suit the needs of every kind of user, from the novice to the expert. Information is displayed in a clear, actionable way, making it simple to understand how your campaign is being optimized. If you want more in-depth information, you can still access every metric available on Facebook or those offered by AdEspresso.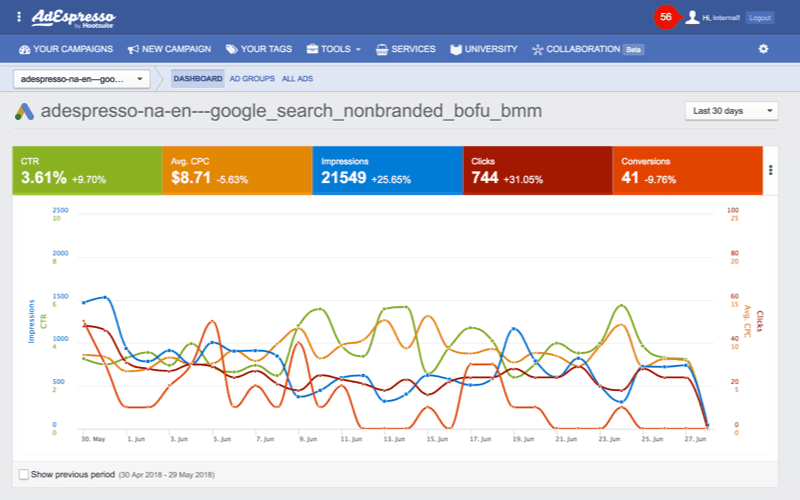 Analyzing Google Ads Campaigns
Struggling to understand how your Google Ads campaign is performing? Looking for clear insight on your ads and ad groups? We hear you!
With AdEspresso's powerful and effortless analytics now available to Google Ads, you'll be able to: customize what you want to see on your main graph and select the metrics that matter most to your campaign's results; choose your time range and compare your results to previous periods; and analyze your campaign's targeting option using AdEspresso's Inspector – keyword analysis included!
You'll also be able to see insights on how your ads and ad groups are performing, and quickly determine which ones have the best (and worst) conversion rate.
…and this is just the beginning, we've got a whole host of brand new features that will be released soon!