Are you up to date with all the latest and great changes that have recently come to Instagram?
Social media evolves so quickly, and both Facebook and Instagram roll out updates at a rapid-fire rate.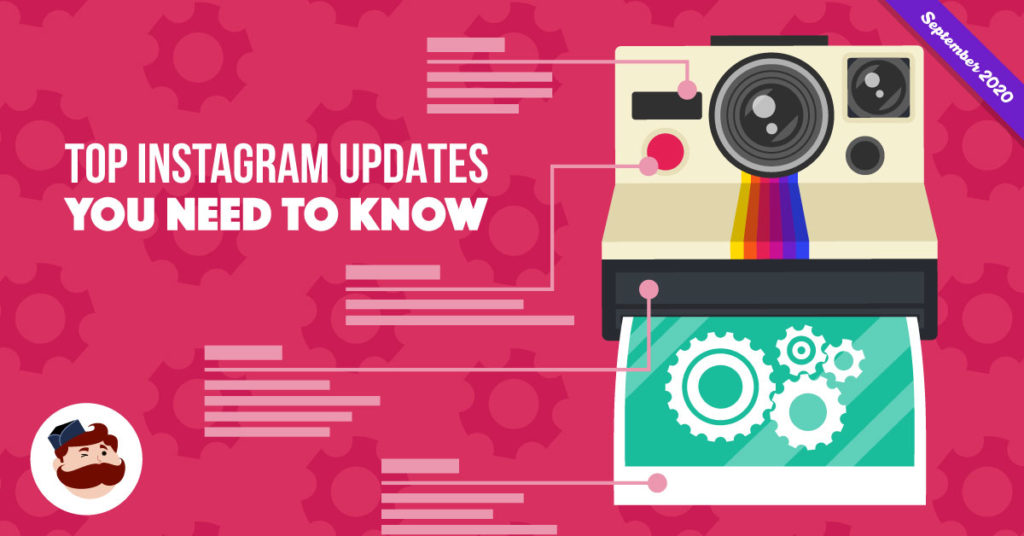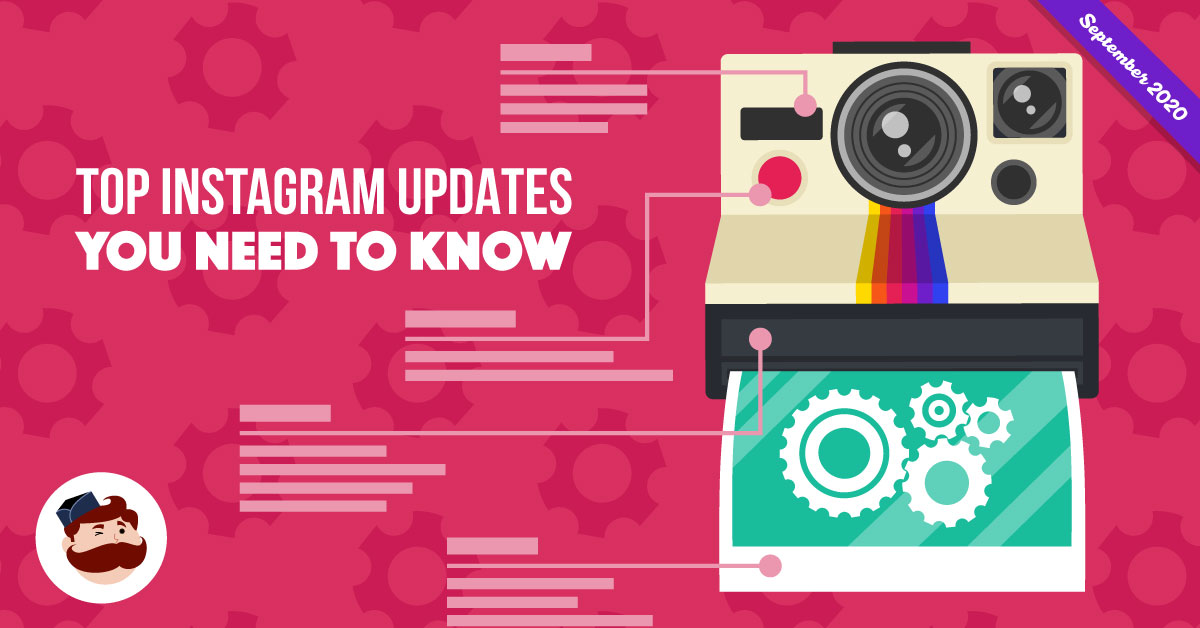 Keeping up with these changes is an important part of staying ahead of the competition and being able to meaningfully connect with your target audience.
This month, there are new features available and new tests happening that can impact how brands and users alike are benefiting from the platform.
In this post, we're going to take a look at all of the Instagram updates that happened in September 2020, so let's get started!
New Tools for Shops & Increased Checkout Rollout
Instagram is prioritizing its on-platform, in-app shopping features.
In the next few weeks, all eligible US businesses and creators with a shop will gain access to Instagram's new in-app checkout.
The checkout is streamlined and takes advantage of the secure and convenient Facebook PAy.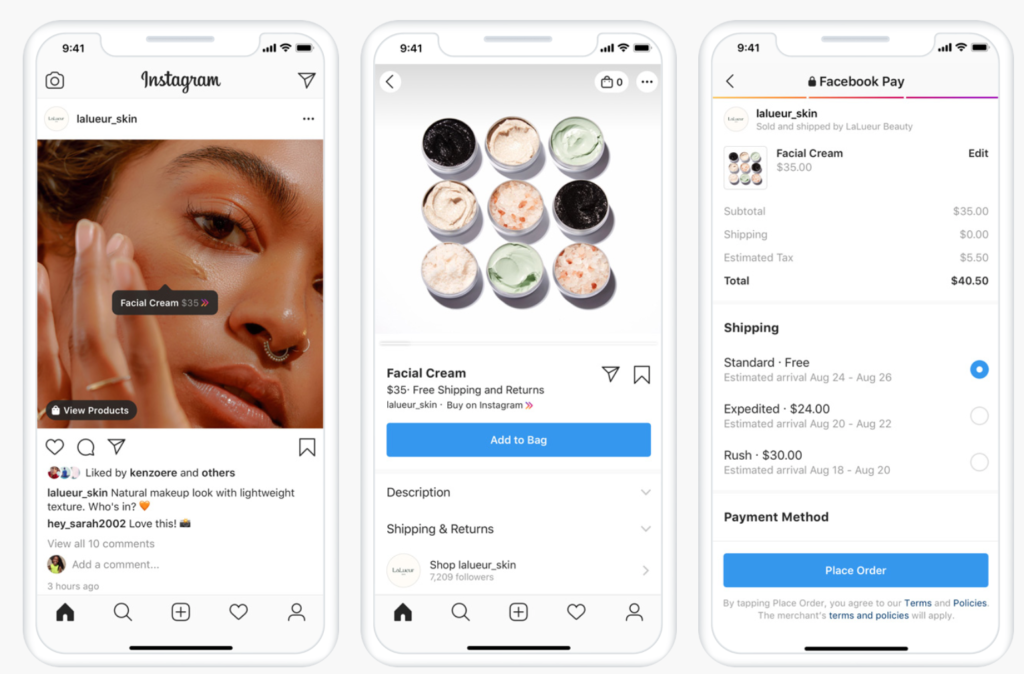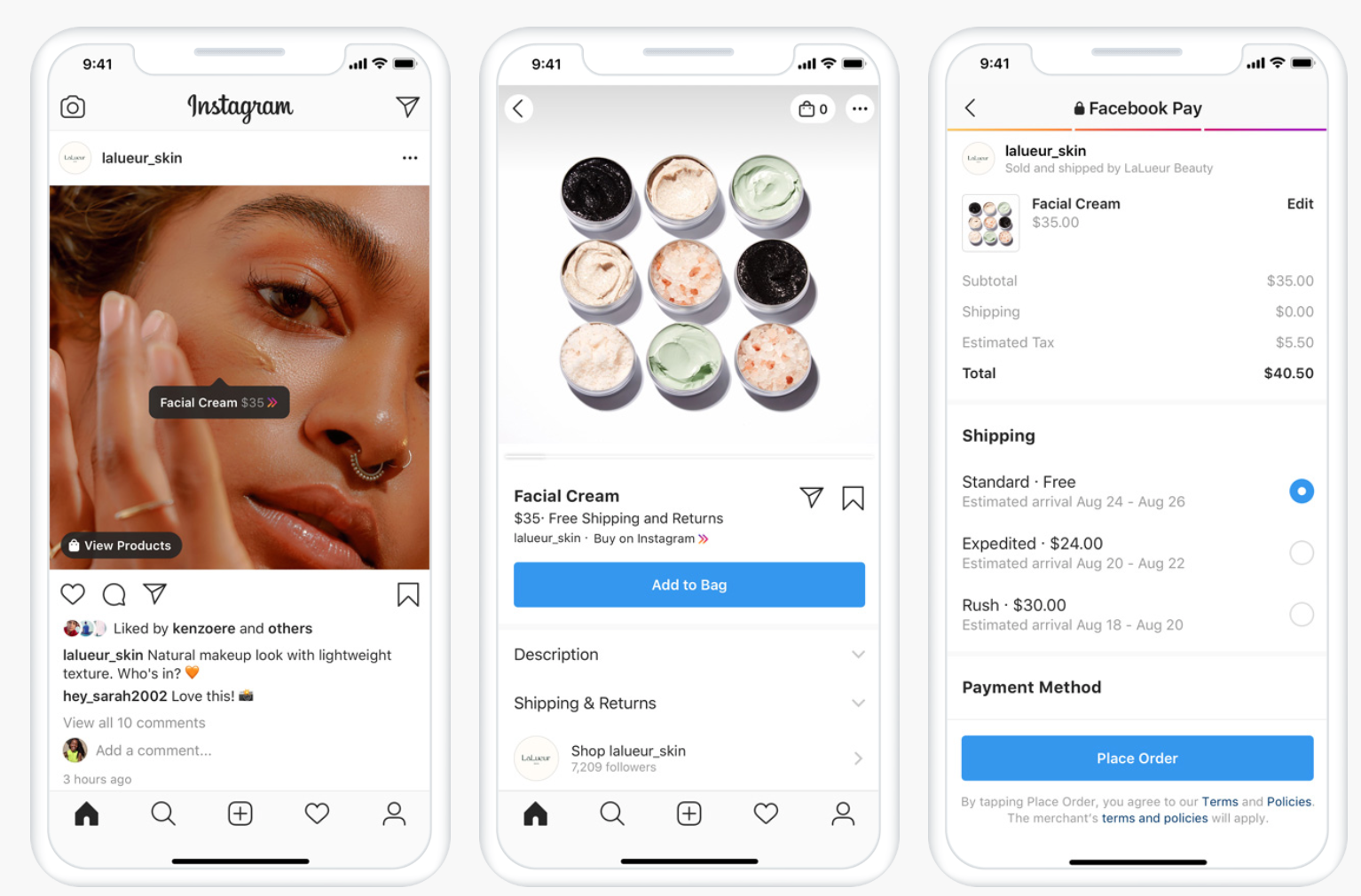 In addition to the wider native checkout roll out, there are a few new great features.
For starters, businesses can now easily open an Instagram Shop with checkout using the Commerce Manager or through an integration with partners like BigCommerce or Shopify.
This was designed to streamline the selling process on Instagram.
Creators can also tag your products in their posts to drive on-platform sales further.
And to help businesses with the rough economic climate, all selling fees through checkout on Instagram are waived through the end of the year.
You can also see more detailed analytics in the Commerce Manager.
Live Shopping is also now coming to Instagram, which allows people to purchase items that they're viewing from a Live in real time.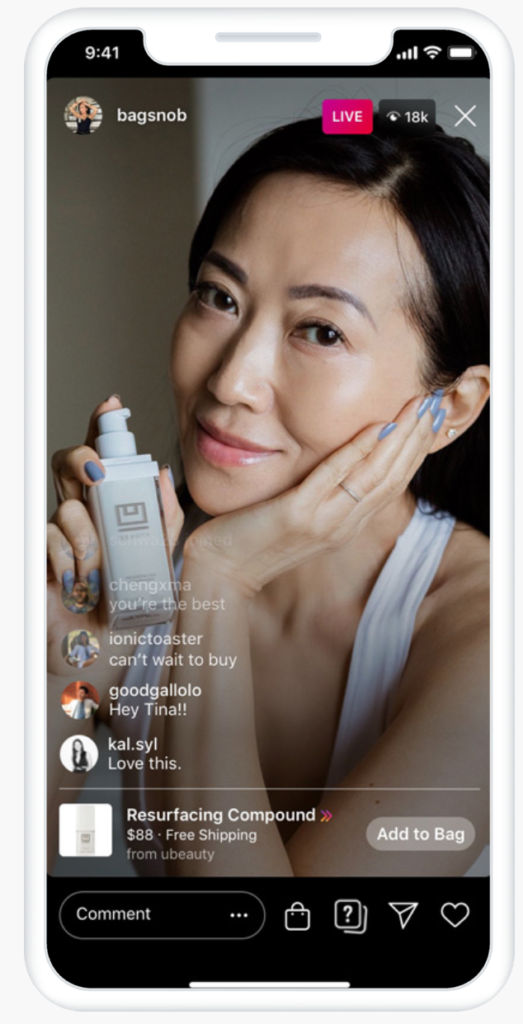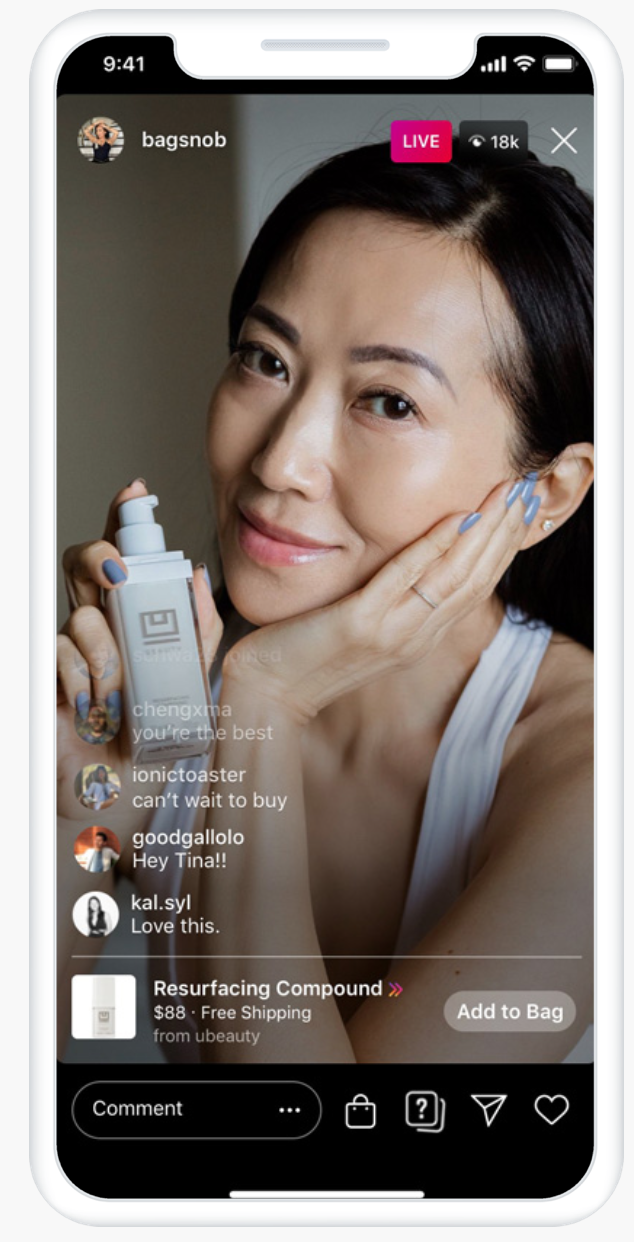 Finally, there are now new features to give businesses more control over the merchandising and branding of their shops, including new layouts and the preview of collections.
Instagram Will Pay Users to Deactivate Accounts Temporarily
Instagram and Facebook are currently running an in-depth test to assess their impact on elections in the United States, which has been heavily debated since the 2016 election.
While both platforms have been encouraging users to get registered to vote or to check their voting status, they've also reached out to certain users with a fascinating deal: If they'll deactivate their account up until the election, they'll be paid.
Facebook is offering $10 to $20 per week to do so, and users who participate in the study but don't deactivate may opt-in to see content unlike what they typically do.
Facebook is not paying the external researchers, and the goal is to see what impact social media has on voter tendencies.
So Facebook is now going to pay people to deactivate their IG and FB accounts before Election Day. It's part of the research experiment announced Monday but WOW. This notice went out this week. pic.twitter.com/tV7DAw8F5I

— Elizabeth Dwoskin (@lizzadwoskin) September 3, 2020
This is an exciting study that we personally can't wait to see the results of, especially as it may shape both Instagram's and Facebook's policies moving forward.
Automatic Closed Captions Coming for IGTV Videos
Closed captions are an incredible asset to social media videos (and marketing videos in general!). They allow you to connect with your target audience much more effectively.
Plenty of users choose to watch a video with the sound off, which is how it typically starts on auto-play. There are also plenty of users who are deaf or have hearing disabilities, and closed captions make the content accessible to them.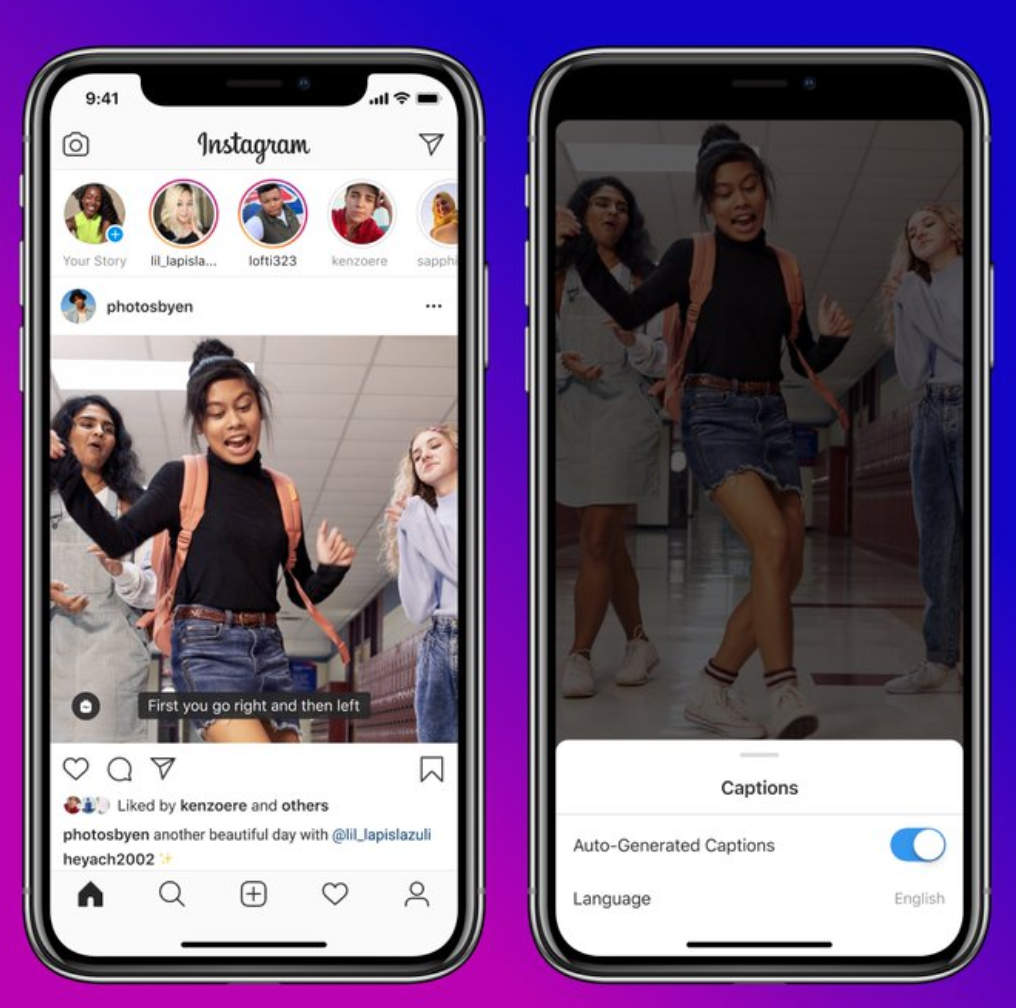 Now, automatic closed captions are going to IGTV videos. When you upload your video, you'll be able to choose to use "auto-generated captions" by enabling a toggle bar quickly.
Facebook's (and thus Instagram's) caption transcriber isn't going to be entirely, 100% accurate, but it's more accurate than other solutions out there, and it increases accessibility overall.
And in the meantime, if you're looking to make your Instagram content more accessible overall, don't forget to add alternative text to your image posts– these can be used by individuals with screen readers so that they can better use the platform, too.
The Rights Manager is Now Extended to Instagram
Facebook's Rights Manager is a tool that's designed to help you find any of your copyrighted images that you've submitted for protection on the platform and manage them accordingly.
Now, this is being extended to Instagram, too.
This tool uses visual search features to find any of the copyrighted images that you've submitted to Facebook, and then alerts the poster of the potential copyright infringement.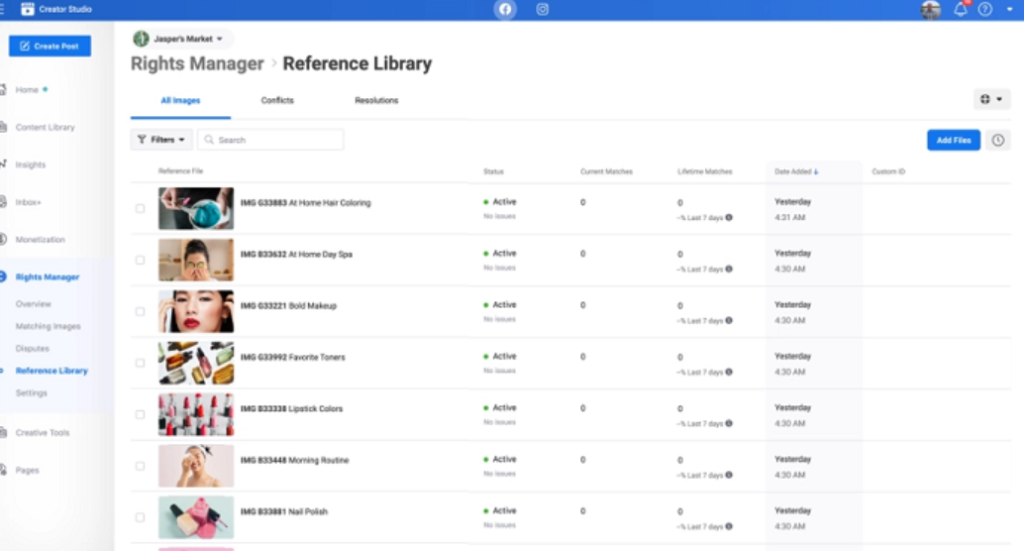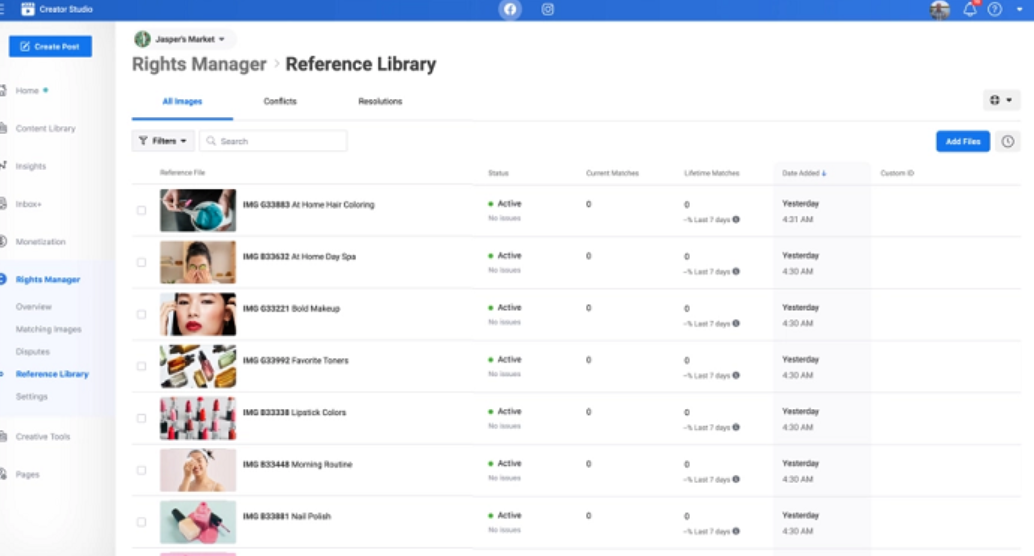 While anyone can take advantage of this, designers, photographers, food bloggers, and other creators are most likely to benefit from this, as they're typically among the first to have their images used by others without permission.
If you want to stay up to date with what you can and can't use for your social media marketing, check out our recent post here.
And if you want to learn about how to protect your own content with copyright, see here.
New Apple iOS 14 Update Could Impact Ad Targeting
Apple's proposed IDFA changes could be a big deal for advertisers- and not in a good way.
The changes will prompt users to opt-in to data tracking for each app, instead of allowing this to happen automatically or requiring users to proactively opt-out.
These new changes may be coming with Apple's iOS 14 update, and it greatly impacts advertisers using retargeting and tracking based on mobile devices.
This includes the Facebook Audience Network and SDK tracking.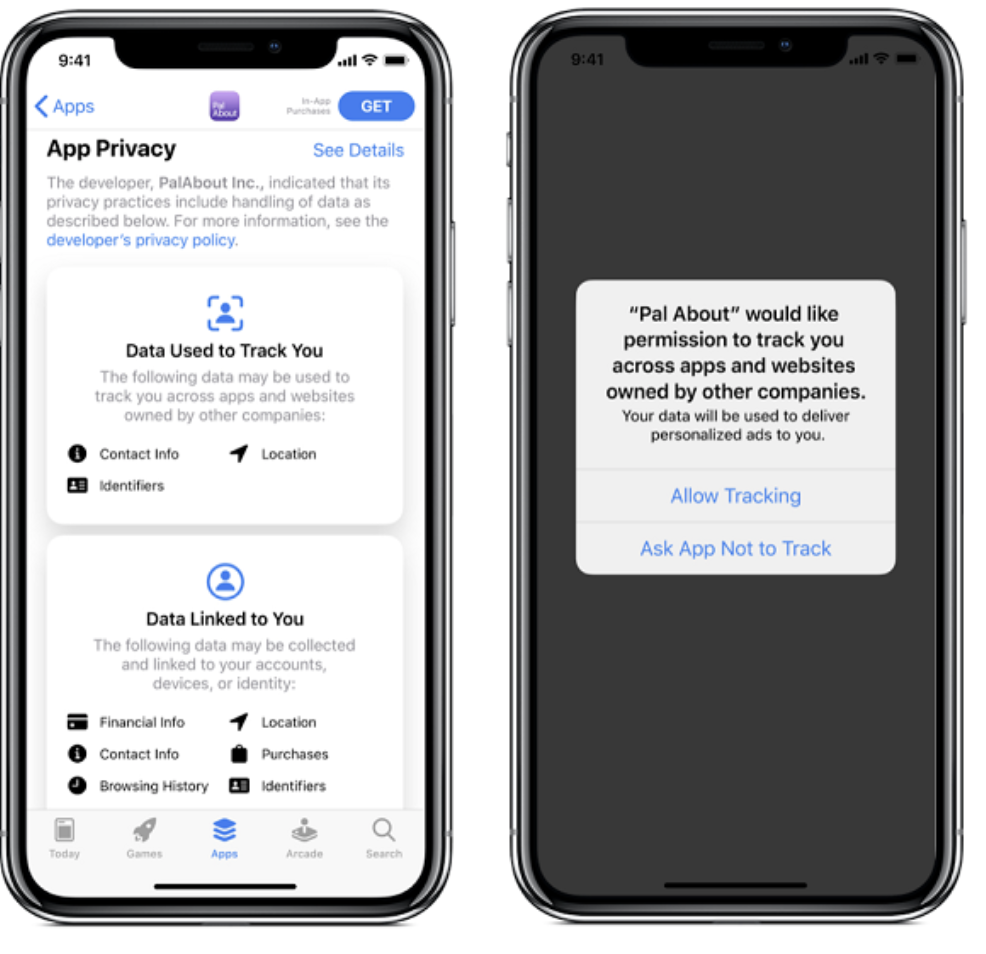 It goes without saying that if it's exceptionally easy for people to turn off data-tracking and if it's at the forefront of their mind, most will choose to do so.
This is particularly true now given major privacy concerns, especially considering many users don't understand exactly how pixel tracking works (and that it's relatively innocuous).
Watch your campaigns closely, and be prepared to adjust them as needed if things go sideways following a new iOS update release.
Final Thoughts
It's hard to believe that we're at the end of September, but we're most of the way through this bizarre year.
While 2020 has undoubtedly been stressful for everyone, to say the least, we can at least take solace in the exceptional advancement of our marketing platforms overall.
This has made it easier for businesses to connect with their audiences even when face-to-face contact wasn't possible or safe.
Make sure you stay tuned, and we'll let you know what's new on the platform next month!
What do you think? Which Instagram updates were you most excited by? What do you think will impact you most, and what do you want to see next? Share your thoughts and questions in the comments below! 
---
Top Instagram Updates – August 2020
This month, there are three key Instagram updates that all businesses and marketers should be aware of: the expanded roll out of Instagram Reels, a crackdown on bot accounts, and the testing of Stories being displayed all on one Page.
Let's take a look at each one.
Instagram Reels is Here
Last month, we let you know that Instagram reels was starting to roll out. Instagram reels is now here, and has rolled out to around 50 different regions. Instagram scaled the new feature up quickly, anticipating high demand for it.
As a quick reminder: Instagram Reels is their TikTok lookalike feature, which allows users to create short, fifteen-second long videos set to background music.
With some users growing wary of TikTok due to potential security issues, this could be a great way for Instagram to snag some extra usage.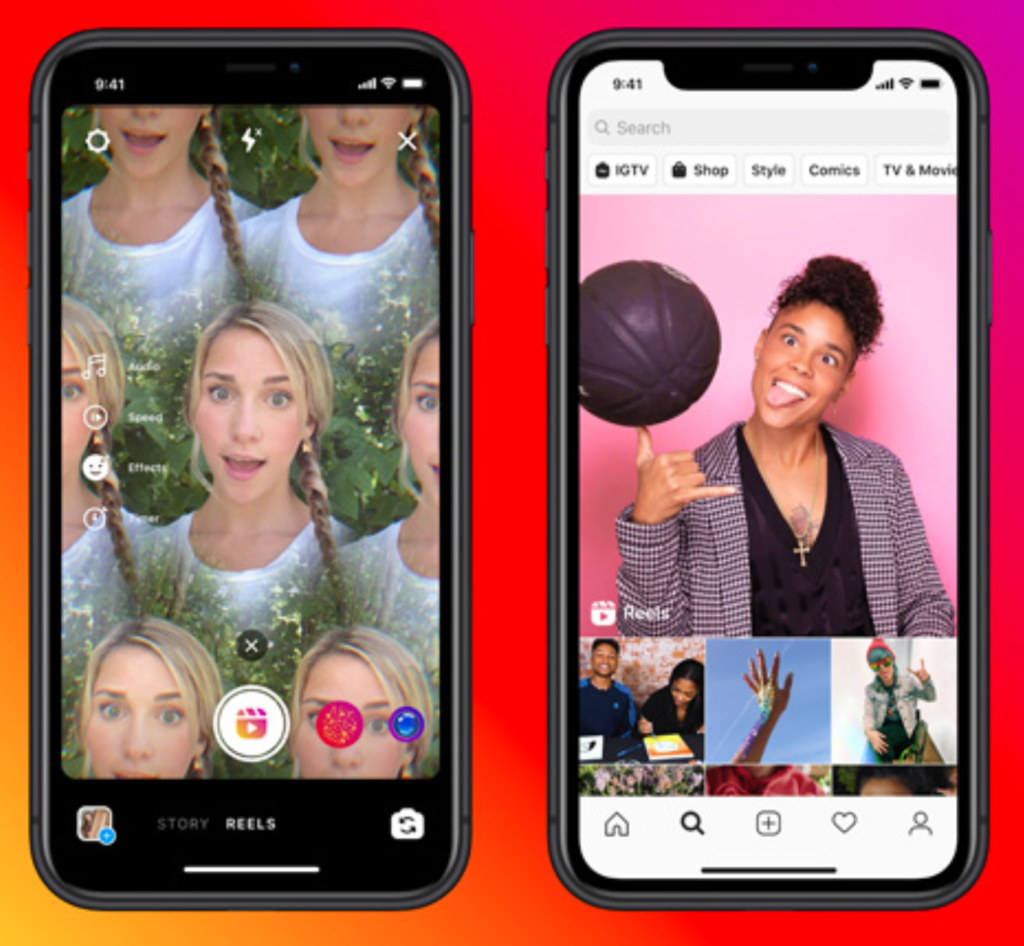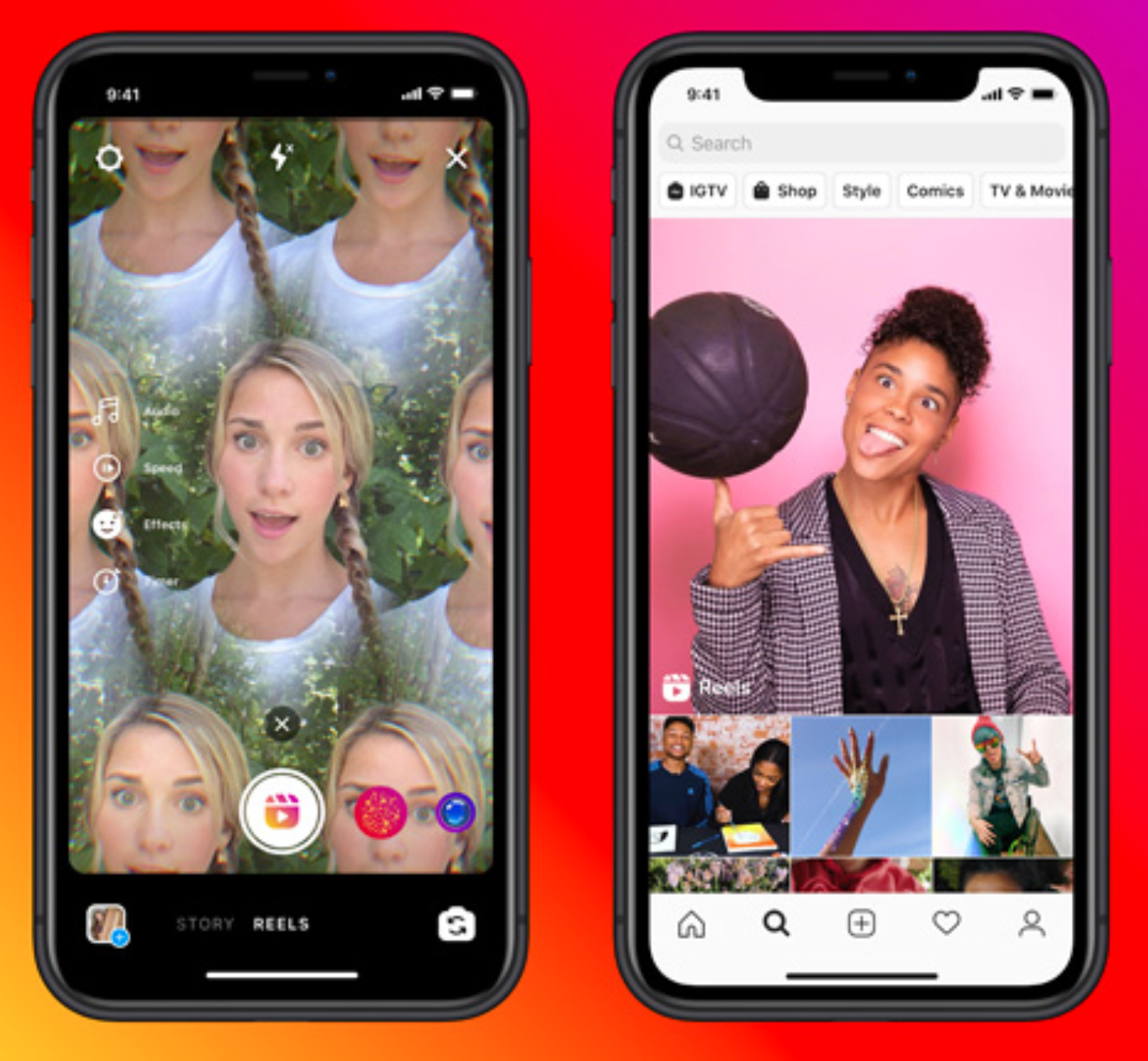 Brands should pay attention to this, and look for opportunities to use Reels, especially in fun Stories. This can give you a way to create new, quirky content that your audience will love.
And if you need any inspiration, simply turn to TikTok to see how brands are using the platform; that should give you all the inspiration needed here.
When in doubt, try to incorporate humor or an inspirational vibe. Picking the right music is everything!
To create Reels content, simply head to your native, in-app Instagram camera (aka through Stories). Search for a song through their database, which you can safely use free for commercial use in your on-platform content.
You can then add AR effects and filters, set up a timer and content down, and record! You can sync up previous clips and everything, and speed up or slow down the video as you see fit.
New Crackdown on Bots
Instagram and Facebook have both been looking to reduce and ideally shutdown fake accounts for awhile. Instagram has taken new steps to do this, preventing the further creation of bot accounts with a brand new review and ID process.
Here's what this means: If they detect a "pattern of potential inauthentic behavior," they'll be asking people to confirm the identity of their account.
The "pattern of potential inauthentic behavior" might include noticing that someone's followers are almost entirely in a different country than what their location is marked as, signs of automation, or the mass creation of accounts. "Coordinated inauthentic behavior" will also be flagged, which has been particularly common in political and hate group landscapes recently.
If an account is flagged, Instagram will ask the account holder to confirm who they are. Once this is verified with an ID, their account will resume as normal. ID images are deleted 30 days after the review is complete, and will not be shared on an individual's profile.
If accounts choose not to confirm their info, it may be disabled or end up getting hit with reduced reach.
While many of our readers here don't need to worry about creating fraudulent accounts themselves, but we want to reiterate again that you never want to purchase likes or followers on Instagram (or Facebook, for that matter). When you're buying followers, you're almost certainly getting follows from bot accounts.
Eventually, bot accounts are shut down, so you will have wasted your money, and Instagram has strict policies against it. And, in the midst of it all, it will have driven down your engagement rates and hurt your reach.
In Testing: All Stories on One In-App Page
Stories have become a massive feature on Instagram, and for some, it's the prime focus of the app. Most users and brands share more content on Stories than in their feed, which is pretty astonishing considering that Stories content can disappear after 24 hours unless saved as a highlight.
Likely because of the popularity of this feature, Instagram has been spotted testing a new format. This would show all Stories available to view in one, giant block.
We knew Stories was already a full-screen and immersive feature; this just seems to make it even more so.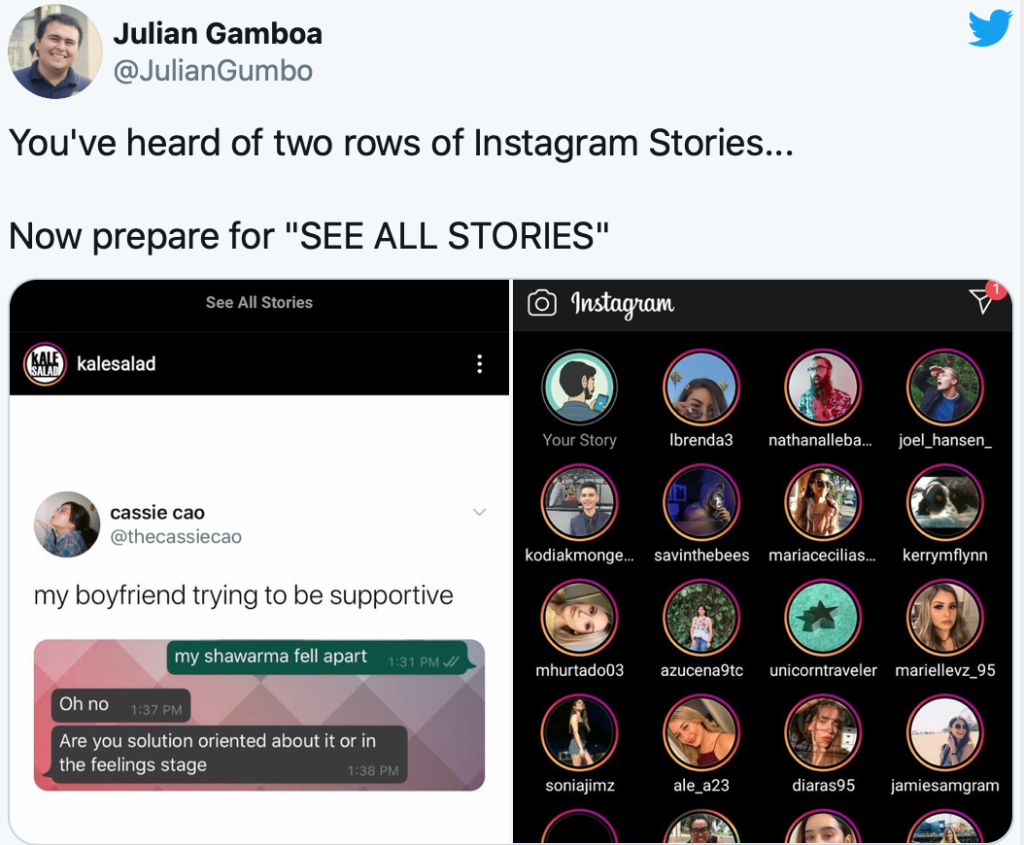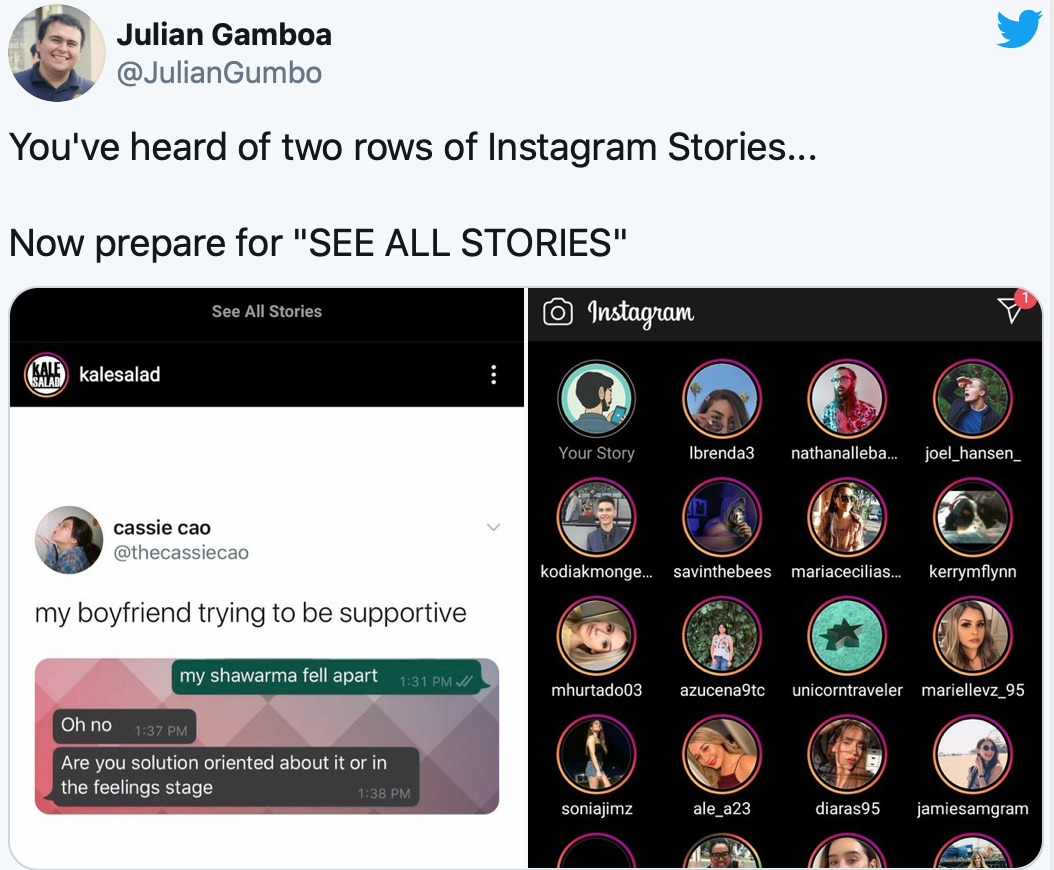 Instagram has confirmed to TechCrunch that this testing is only taking place on a small number of accounts right now, and that they're simply assessing user response.
If this tested format does eventually roll out to all users and not just on an "in-testing" basis, it only reinforces the importance for brands to continually create and share Stories that their audience will love.
Take plenty of time to factor this into your social content calendar and strategy, because it now matters more than ever.
Final Thoughts
Instagram marketing is still holding strong as a high-engaging and potentially high-selling platform. Even as TikTok climbs in popularity, Instagram should still be a core part of your social content strategy.
It offers more frequent reach to a wider audience base, as well as the opportunity to share more information and sell products at the same time.
Make sure that you aren't neglecting your Instagram marketing, especially now during COVID when plenty of users are online more while they're stuck at home.
In the meantime, enjoy creating some new Reels content for your followers, and stick with white-hat marketing practices.
We'll keep you updated on any more new exciting changes or features coming your way, so make sure you check back in next month!
What do you think? Which of these new Instagram updates and changes are you most excited about? Which do you think will impact the platform most? And what do you want to see next month? Share your thoughts and questions in the comments section below! 
---
Top Instagram Updates – July 2020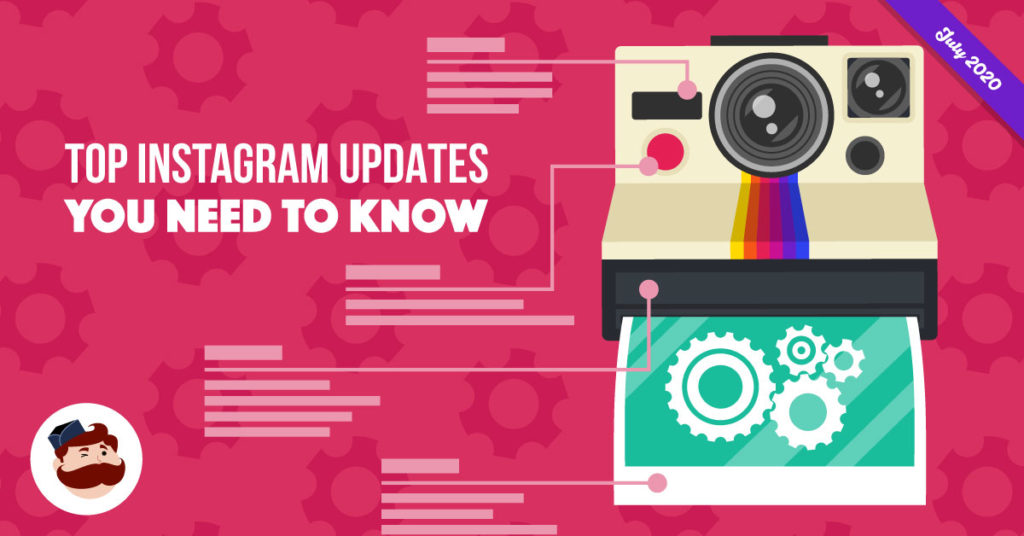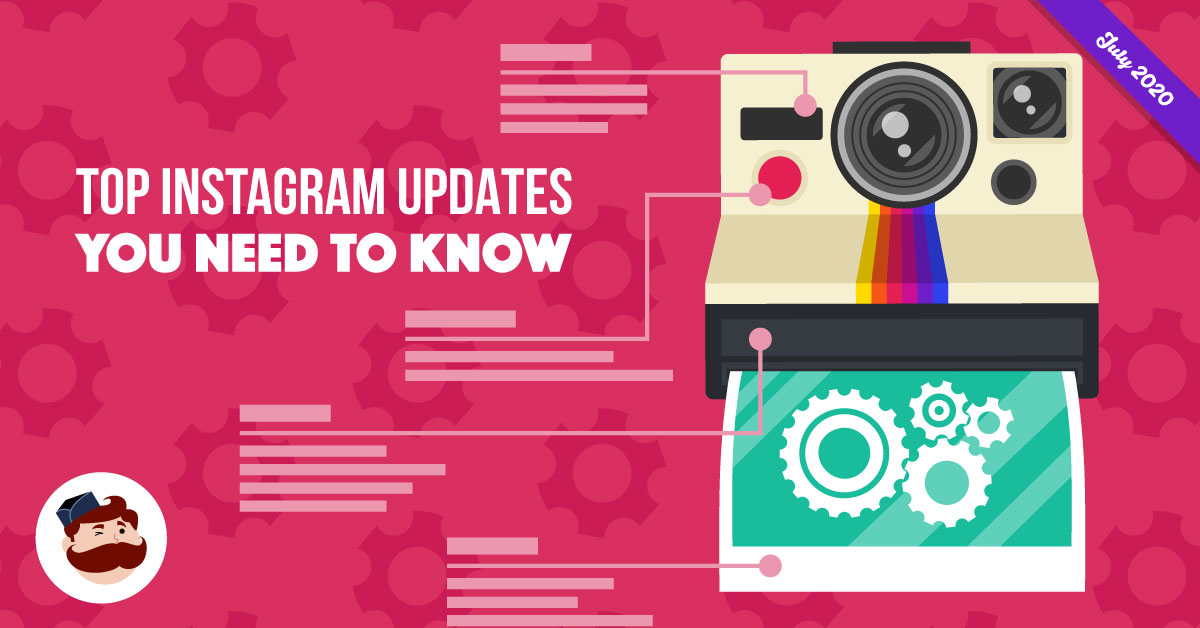 This month's Instagram updates are particularly exciting, especially since we're getting a few long-awaited features we've known about for a little while now.
Instagram has announced or rolled out five main new features that will impact brands and users alike.
The biggest focus is around Instagram's growing eCommerce features, but we've also got new fundraising and TikTok-like features rolling out as we speak.
All of these features can improve the user experience and give you new ways to market to (and sell to) your customers. So let's dive in and take a close look at each one.
Instagram Shop Is Now in Public Testing
Instagram Shop is a new tab on the mobile app, which is now being rolled out into public testing for the first time. Right now, the testing is only in the US, but it will be expanded globally within a few weeks.
Instagram has designed this page to help users discover products and brands on-platform.
Users can shop from different collections, which they can purchase in-app on Instagram without having to leave the app itself.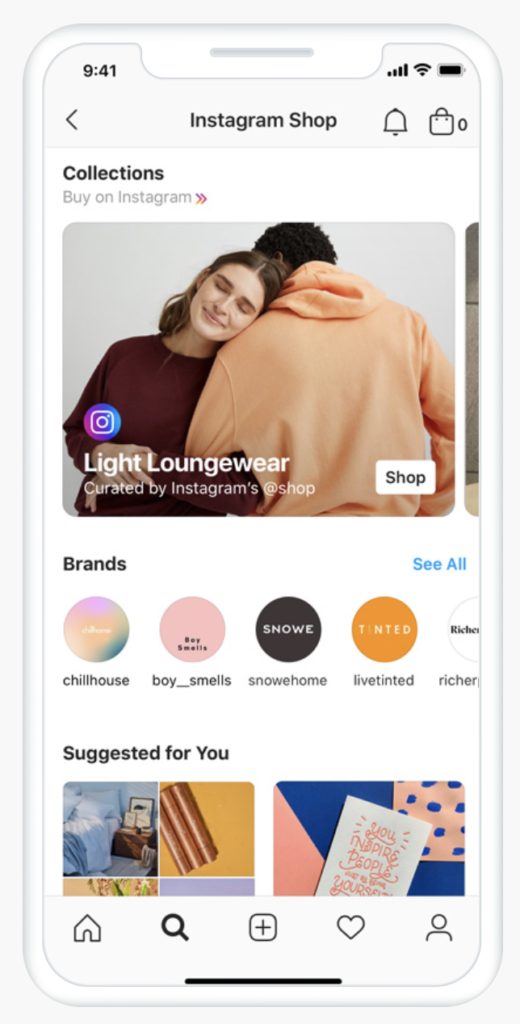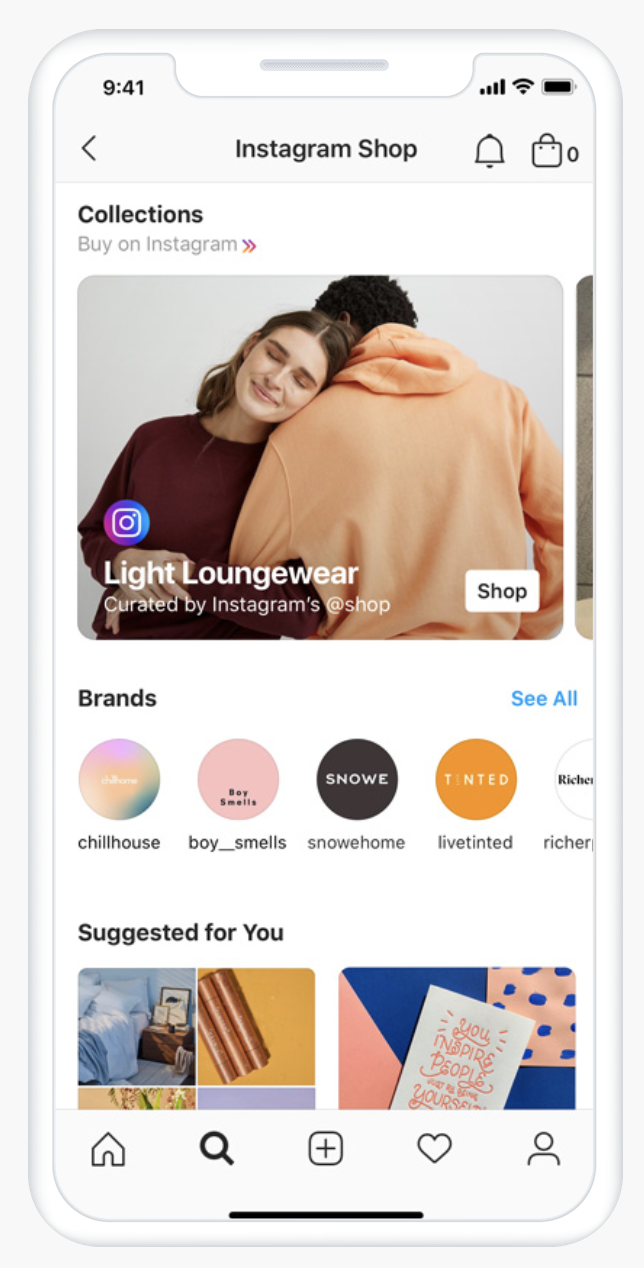 On this page, users will see personalized recommendations based on the brands that they currently follow. They'll also see collections that have been curated by Instagram's own shop team, which is designed to promote "emerging businesses and the creators behind them."
It will be interesting to see how this particular feature is monetized in the future with sponsored campaigns.
Businesses have a chance to be featured here organically, which is something that all brands selling eCommerce products should take note of.
Right now, there's no information on how to give themselves an edge against competitors aside from consistently tagging products in your content (it's partially a numbers game, after all!) and creating collections of products in your shop.
High-engagement on a product likely helps, so do what you can to tag products in high-engaging posts for best results.
Facebook Pay is Now Available
Facebook Pay was announced last year, but has started rolling out in the US over the past week or so.
Facebook Pay is designed to be an instant-pay option, similar to Amazon Pay or PayPal checkouts that some users are already familiar with.
It's a highly secure and seamless payment option, allowing users to make purchases and donations more easily within the Facebook app family.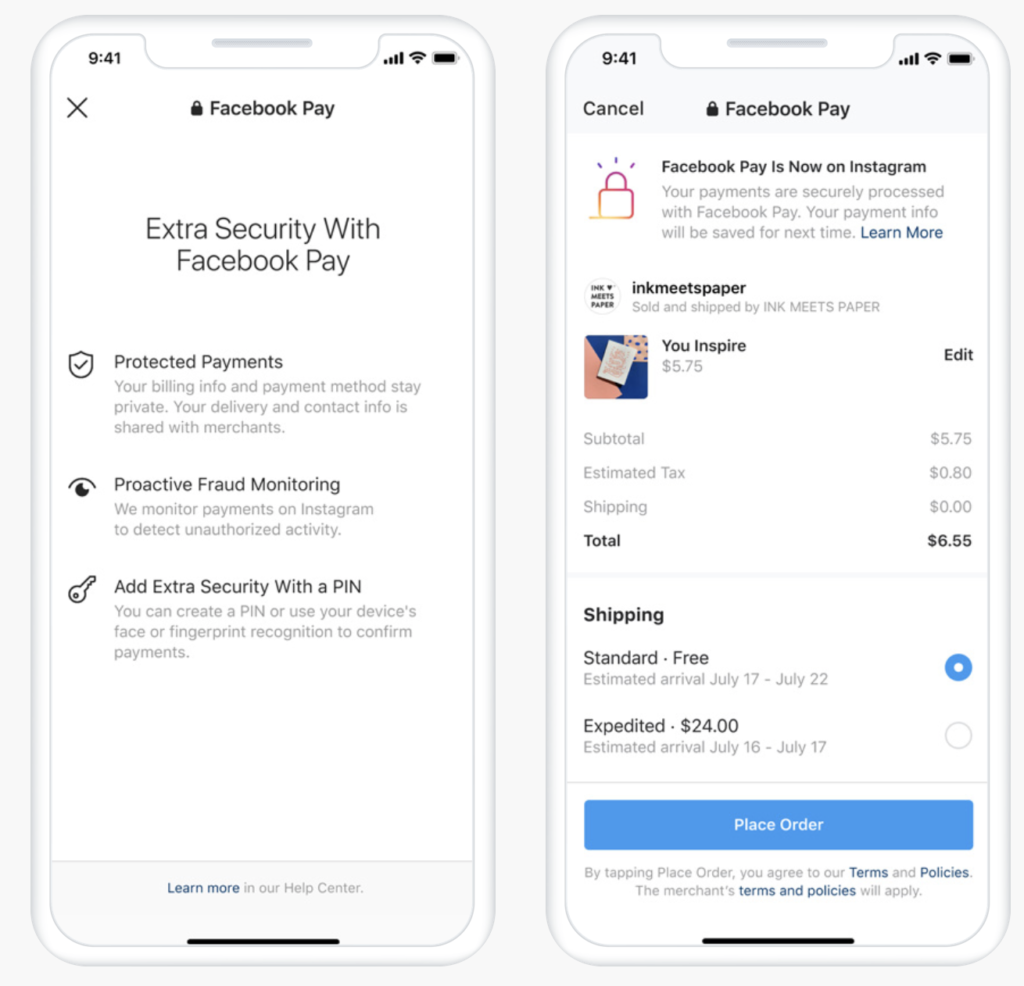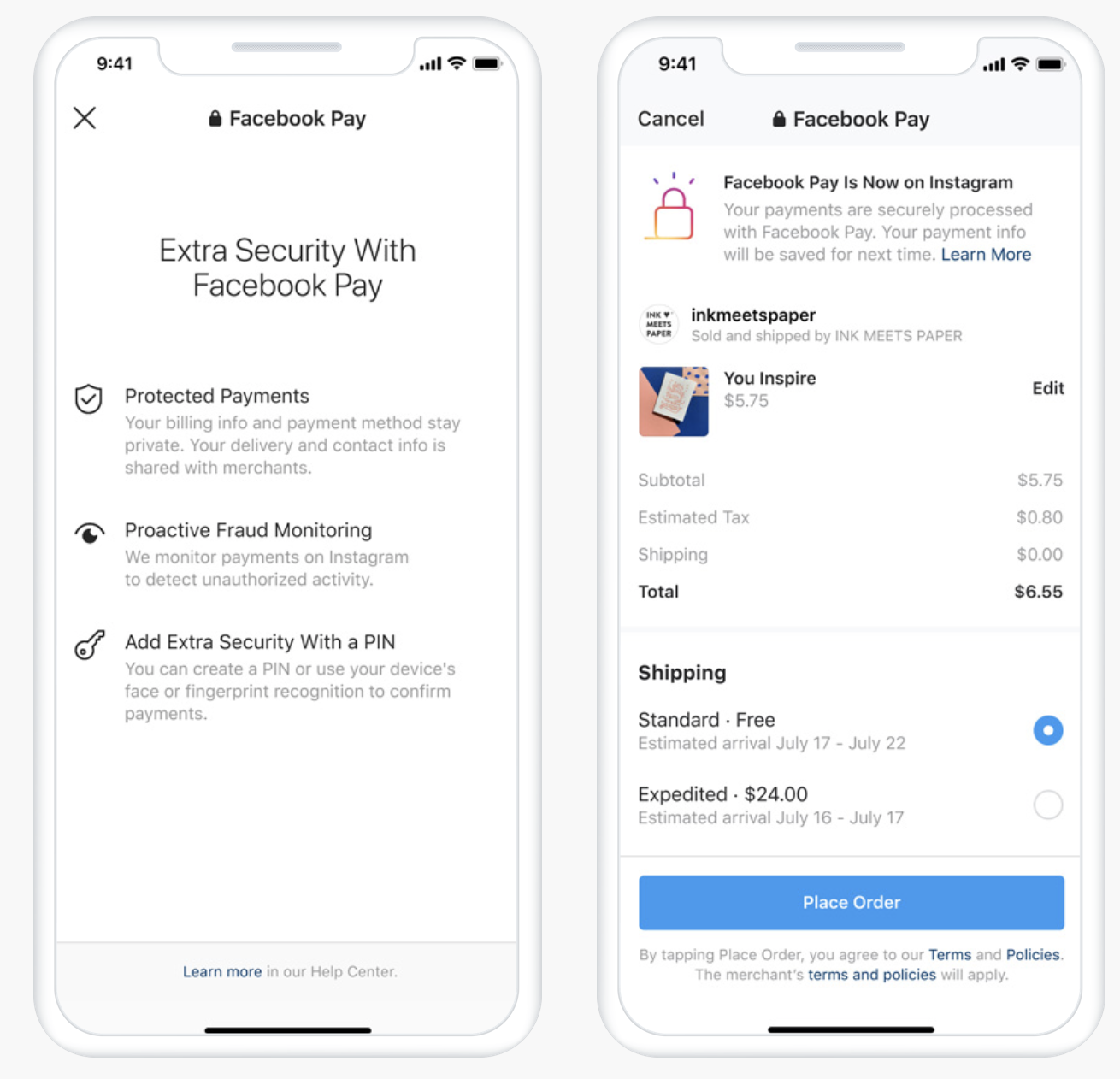 Facebook is assuring people that there is strong anti-fraud monitoring, and you can add either unique PINs or options like Touch or Face ID for increased security.
This is good news, because we want users to feel comfortable taking advantage of the convenience of Facebook Pay on Instagram, where users can now utilize this option to speed up the checkout process.
Customers are protected through Facebook Pay, too; all eligible products purchased through the Instagram checkout with Facebook Pay will provide Purchase Protection for customers. Purchase Protection grants refunds in cases of items not being received, damaged items, or items not appearing as promised.
Instagram Changes Commerce Eligibility Rules
Late last month, Instagram announced that there is an upcoming change in commerce eligibility requirements, which will grant access to Instagram Shopping to more types of businesses.
This will include creators (aka influencers) on the platform, so that they can better connect with shoppers and more in-app sales can take place. These changes took place on July 9th.
These requirements that grant eligibility are designed to increase transparency.
Businesses can only tag products on Instagram from a single website that they sell and own, which prevents users from "selling" products they don't actually own or have access to.
If a business is not approved for Instagram Shopping for whatever reason, they'll be given a specific reason so they can rectify it and reapply if they choose.
All existing Shopping businesses will receive an in-app notification over the next few weeks (if they haven't already) if any steps are needed for compliance.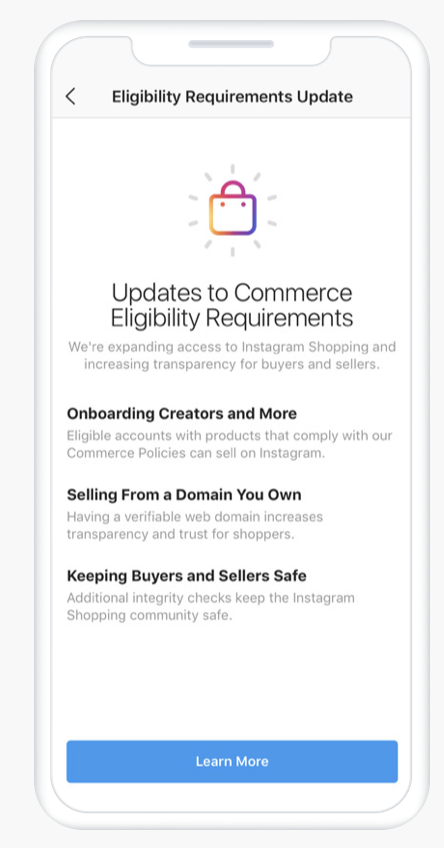 This is great news for small businesses branching out into eCommerce selling.
Even small businesses that are getting up and running (like those that you'd see on Etsy, for example) can now take advantage of the platform's increasing eCommerce features.
Combined with Instagram's strong organic reach and high engagement rates, this is a winning combination.
New Fundraising Options Available
Over the past few months, we've covered quite a few new fundraising features on Instagram. Most of them have been focused on driving sales to businesses during the coronavirus or to give to nonprofits.
Now, we've got something a little bit different: Users can fundraise for personal causes, too.
Yep, you read that right. Individual users can now fundraise for themselves. If you're looking to raise money to help a friend whose home burned down, you can do that.
Instagram has also mentioned that users are trying to raise money on their own to donate directly to COVID-impacted businesses and communities, underfunded teachers, and Black Lives Matter or allyship movements that could use the funding.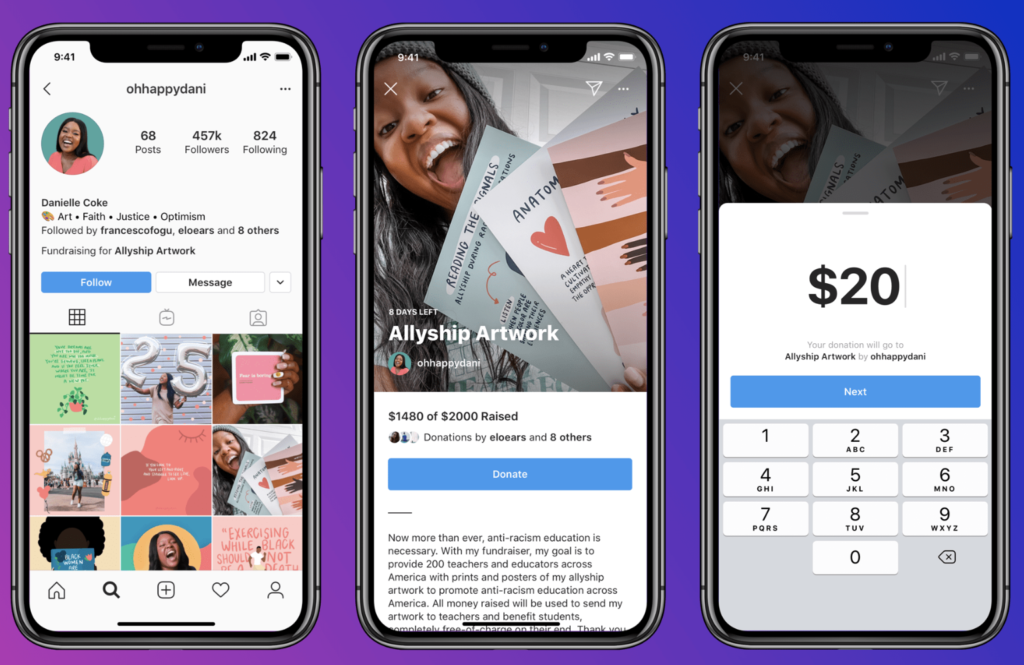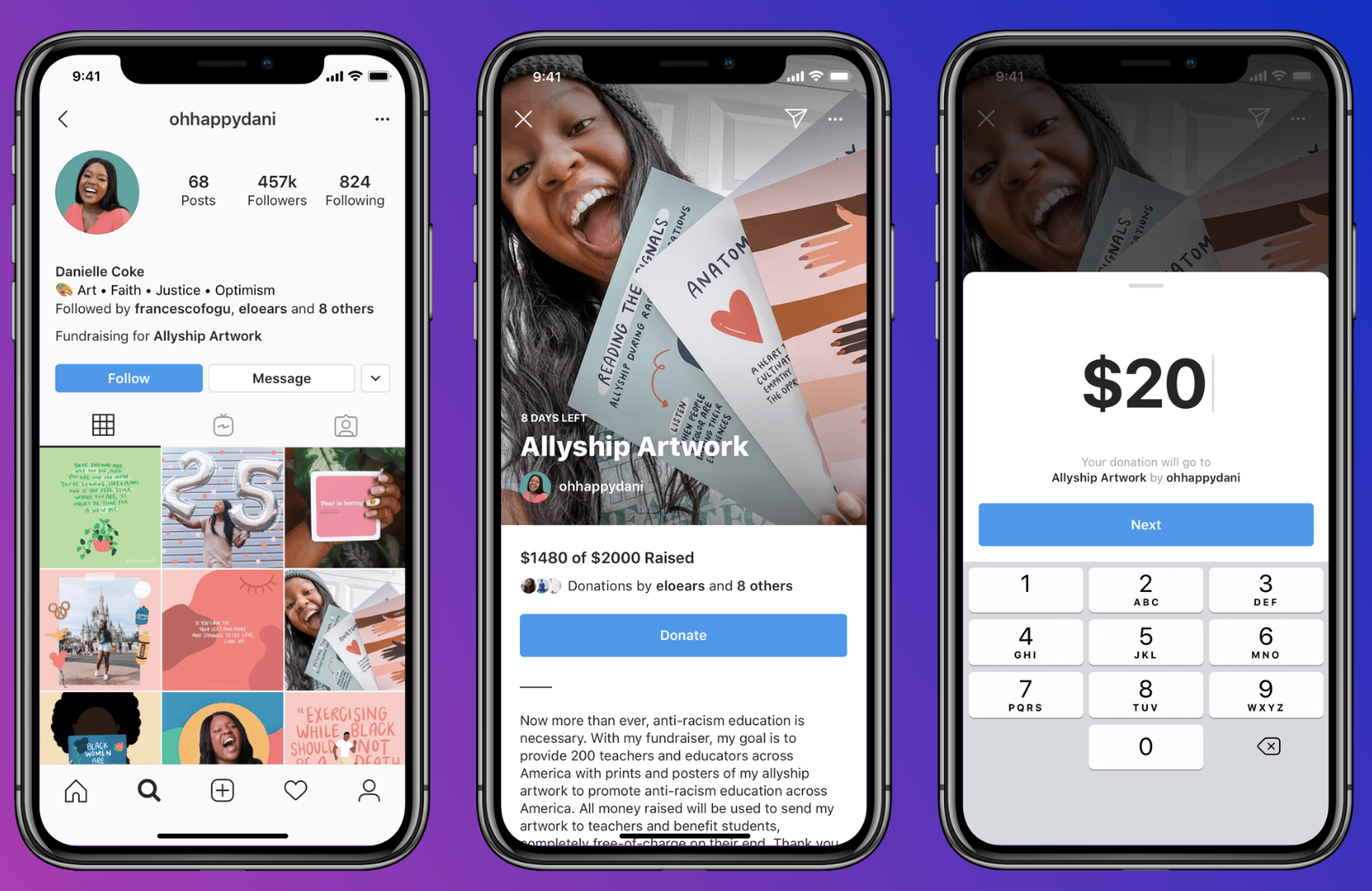 To create a Personal Fundraiser, you'll need to go to "Edit Profile." If you have the ability to do this, you'll see the option to "Raise Money."
You'll choose a photo for your fundraiser, choose a fundraiser category, and then tell your story for why you're hoping people will donate.
Enter your information for Stripe, which is the payment processor, and you're done+.
Instagram will review all fundraisers, ensuring that they're actually created for eligible causes, which are described as the following from Facebook:
Business. Examples include costs for established businesses whose operations are affected by the COVID-19 pandemic.
Community Projects and Groups. Examples include costs for improvement projects, volunteer activities and club activities.
Crisis Relief. Examples include costs for public crises and natural disasters.
Education. Examples include costs for tuition, books and classroom supplies.
Faith. Examples include costs for missions, community events and resources.
Family. Examples include childcare costs, costs for adoption and help for relatives.
Hobbies. Examples include costs for crafting equipment and supplies that support hobby or skill development.
Medical. Examples include costs for medical procedures, treatments and injuries.
Memorial and Loss. Examples include costs for funerals, living costs after losing a loved one.
Personal Emergency. Examples include costs for a house fire, theft or a car accident.
Pets and Animals. Examples include costs for veterinary bills, rescue and protection efforts.
Sports and Competitions. Examples include costs for sports equipment, pageants and travel expenses.
Travel. Examples include costs for school trips and emergency travel.
Volunteering. Examples include costs for service equipment and supplies and travel expenses.
Fundraisers will last for 30 days, and you can extend them more than once for additional 30-day increments. Note that you must be at least 18 years old to create a fundraiser. Once the fundraiser is over, funds will go straight into your designated bank account.
You'll be able to see everyone who donates and how much they're giving, but they can choose to keep their information and name hidden from everyone else if they want to.
Instagram's Reels Feature Launching Soon 
TikTok has been the talk of the town for a while with GenZ and Millennials, but now everyone is paying close attention.
Though the app has incredibly high usage and engagement, it's also been discovered that there are huge security risks associated with the app, including the fact that it may potentially be spying on users and be vulnerable to hackers.
Fortunately, Instagram is ready to save the day… kind of.
They've been working on a TikTok copycat feature for a few months now, which is called "Reels," and it looks like it will be rolling out soon.
This feature will allow users to create looping video clips lasting 15-seconds long. The video clips will be set to music, just like what you commonly saw in TikTok's beginning.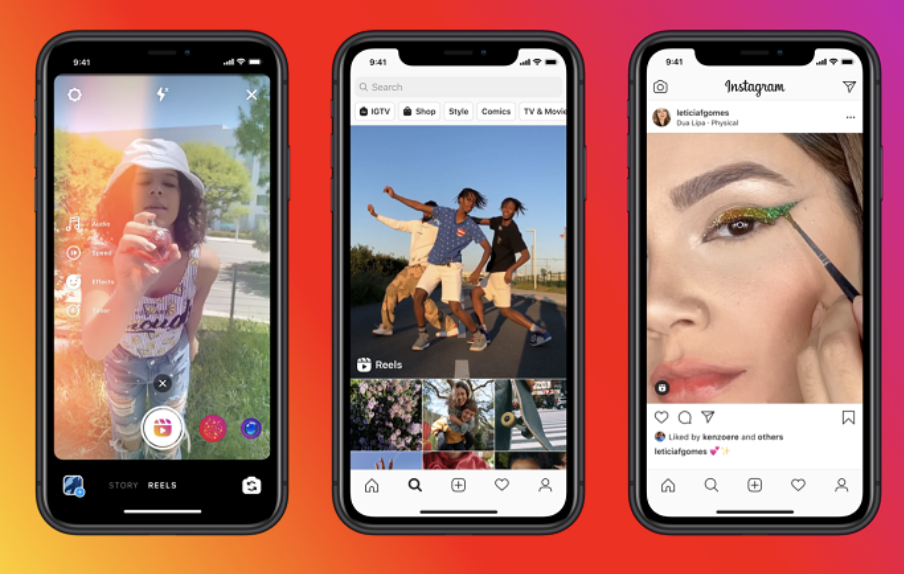 Reels will show up in a special space on user profiles, making the feature more distinct than a simple new Story lens and thus more interactive. They'll also have their own separate section in the Explore tab.
Instagram did this so that they could have a standalone feature within the app, preventing the need for an actual standalone app. This was likely done to increase engagement within the app, making the tool more appealing to users overall.
Businesses will be able to use this feature, too, as it rolls out to them. Think about new ways you can create Reels content that your users will love; Gen Z and Millennial users, in particular, will likely be responsive to this.
Conclusion
Even while the rest of the world feels a little like it's been permanently shut down for the last few months, social media is one thing that never quite stops moving.
The platforms are aware of this, knowing all too well that in order to keep users happy and engaged (and competitors at bay) that they need to step up their game and keep the new features coming.
Personally, we're really excited about all five of the new changes that Instagram has shared with us this month, and we hope you are, too!
Make sure you tune in next month to see what's new then.
What do you think? Which of these new features are you most excited about?  What do you want to see next? Share your thoughts and questions in the comments below! 
---
Top Instagram Updates – June 2020
Happy June, everyone! We're nearly halfway through a year that has brought us an enormous amount of new features and great Instagram updates.
This month, of course, is no different.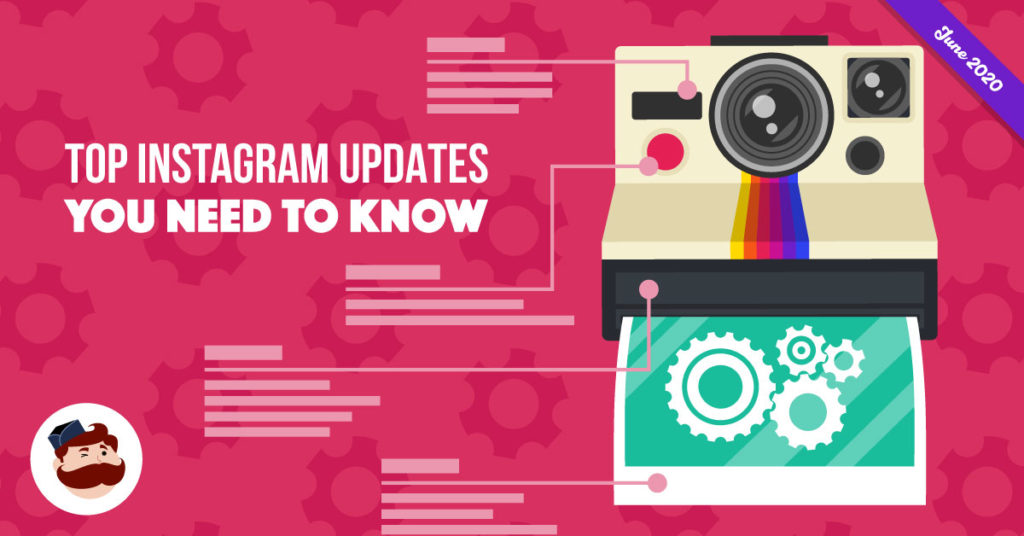 It's been a busy month for the developers over at Instagram. Even in spite of all the craziness happening in the world, they have delivered yet again with a handful of Instagram updates that advertisers, marketers, and creators can eagerly look forward to.
So let's dive in and see all the new features in-depth and discuss what they mean for you.
This month, we're getting a first look at monetizing IGTV ads, monetizing lives, a new test for shopping tags, a continued push to the Messenger and Direct integration, and some information about how Instagram will address racial inequality on the platform.
New Paid Badges for Creators' Lives
Instagram knows that influencers (aka "creators") on the platform carry an enormous amount of weight and are, in some ways, pretty central to the platform itself.
Users and brands love creators, and they can actually drive more users over to IGTV, which they're desperately hoping to do.
Because of this, Instagram is offering new ways for creators to make money on the platform, especially given the tough and uncertain economic times.
The last thing they want is to have their entire audience (influencers and all their audiences) to go flocking to TikTok instead.
One of the new features they're offering creators is "badges," which users can purchase during a creator's IGTV live. These badges will appear next to the user's name throughout the entire live.
They'll also get additional features, like having their comments stand out (and therefore making them more likely to catch the eye of the creator) and they'll gain access to the creator's list of badge holders.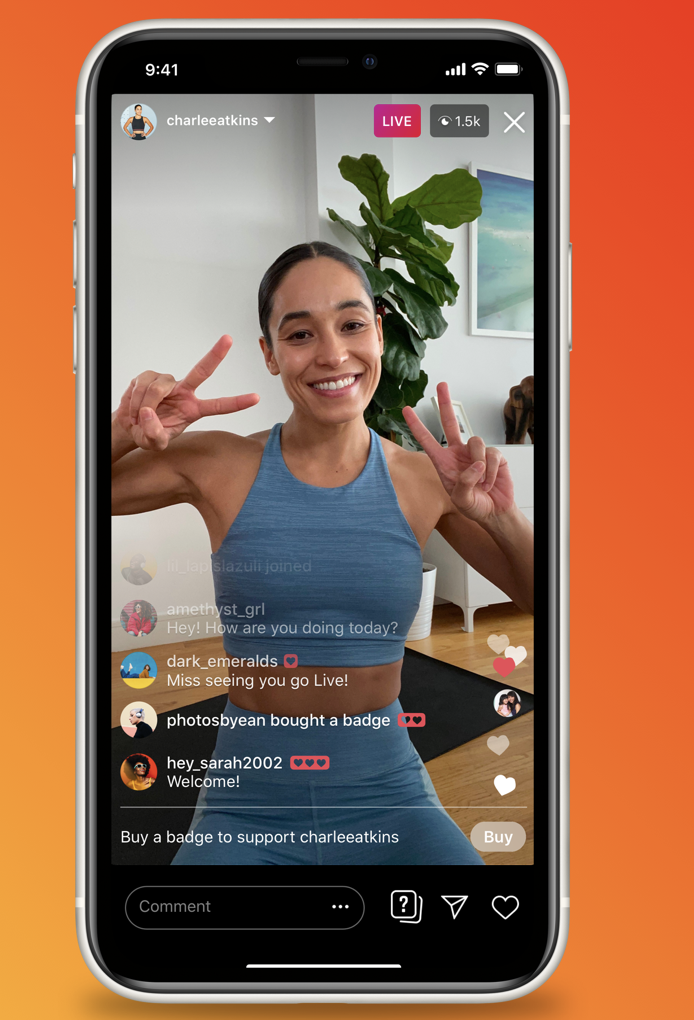 Testing for badges starts next month, and small beta-testing will take place before expanding to the US, Brazil, UK, Australia, France, Italy, Germany, Turkey, Spain, and Mexico in "the coming months."
To be considered for early access, you can sign up for the beta test here.
New IGTV Ads for Monetization
Big news! Ads are now coming to IGTV. Short video ads will appear when users click to watch someone's IGTV videos from the video's preview in their Instagram feed.
These ads will be mobile-friendly, using a vertical format and a maximum run time of fifteen seconds.
Creators who are using IGTV and working to send traffic that way can directly benefit from this, because when users click on their IGTV video preview and see an ad, the creator gets a share in the advertising revenue.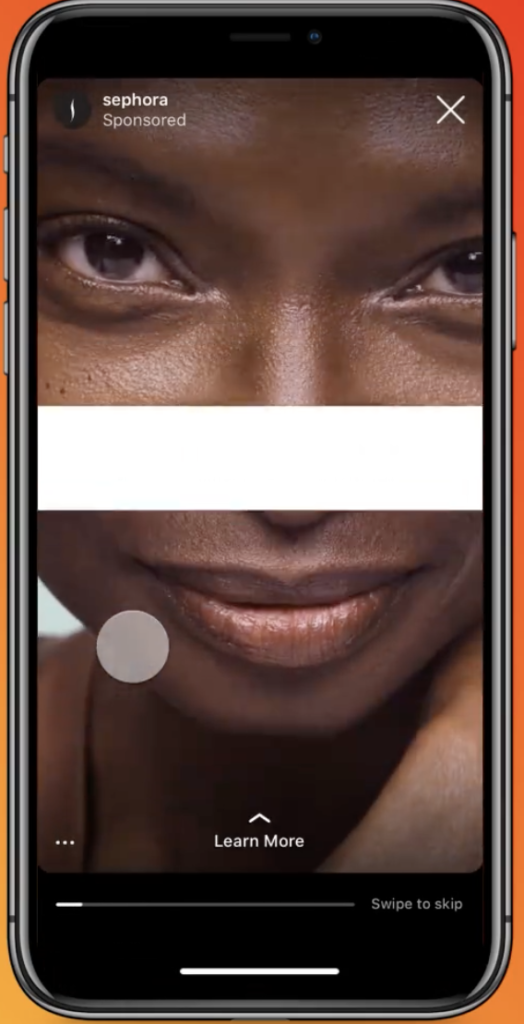 Because IGTV ads are brand new (and offer monetization for Instagram in addition to their creators), they'll be testing different ad "experiences" throughout the year to see what works best.
This may include the ability to skip an ad after a certain number of seconds, for example.
The goal is to find a solution that works well so that creators don't lose views, advertisers actually get successful results, and users are happy.
Personally, we've just been waiting for IGTV ads to roll out so Instagram and Facebook can have more mobile placements (and thus make more money).
This isn't a huge surprise, and since in-stream video ads work well for creators on Facebook now, this is a natural extension of that feature.
Instagram Testing Post Caption Shopping Tags
Instagram has made some big strides with on-platform shopping, and even just last month rolled out an updated version of Instagram shops for businesses. (Check out our update from last month at the bottom of this post for more about this).
Now, they're giving us something new.
As of right now, businesses can only tag their posts's images and Stories with clickable product tags.
Instagram, however, is currently looking to change that and is testing shopping tags that you can add to a post's caption.
Theoretically, brands will be able to use this, but influencers might be able to, too, particularly during sponsored campaigns.
This gives you a new way to talk about your product and drive clicks and hopefully conversions, and I have a hard time believing this won't be effective.
Continued Testing of Messenger & Direct Integration
We've known since the end of 2019 that Facebook had big plans to integrate Messenger, Direct messaging on Instagram, and WhatsApp to create one seamless, streamlined communication tool that can be accessed from all three apps.
They're taking new steps to continue along that path now.
Some early adopters noticed that there is a test going on offering select users the option to "Get Messenger on Instagram."
Instagram has confirmed that these tests are taking place and that this is the ultimate goal, but also stressed that they're very early in the testing process.
Ultimately, it will benefit users and marketers/brands alike to have a single, streamlined direct message option for multiple platforms.
It will make it easier for us to keep up with incoming messages from users, allowing us to respond quickly and to engage meaningfully.
It will be a little while still before we see a true, full integration, but this is exciting news.
Outlined Steps to Address Racial Inequality 
Recent events have pushed racial inequality into focus, demanding individuals, businesses, and society as a whole to address what's actually happening in our countries.
Many businesses are stepping up, committing to do what they can to do their part.
Instagram is one of them. The chief of Instagram Adam Mosseri posted an emotional video talking about how the platform has participated in the Black Lives Matter Movement, but also acknowledging where the platform could have done better.
In order to take ownership of this, Mosseri outlined steps the platform would be taking to address racial inequalities in the coming months.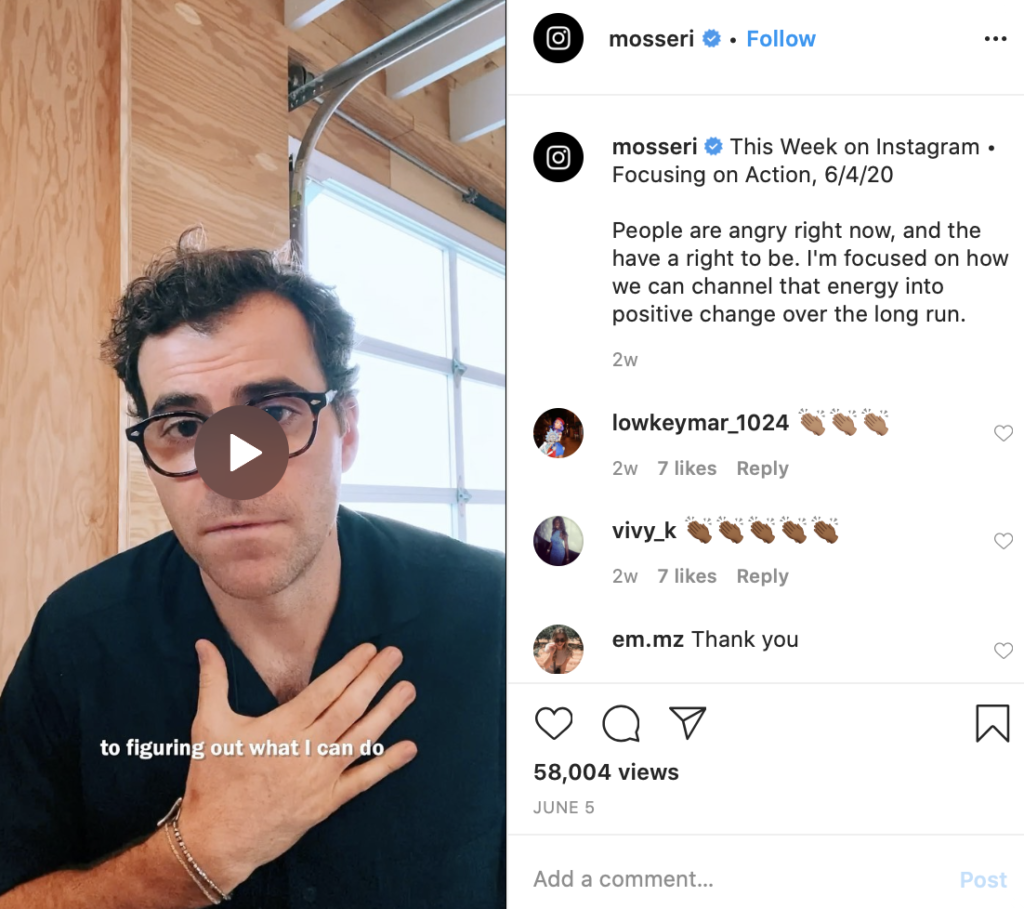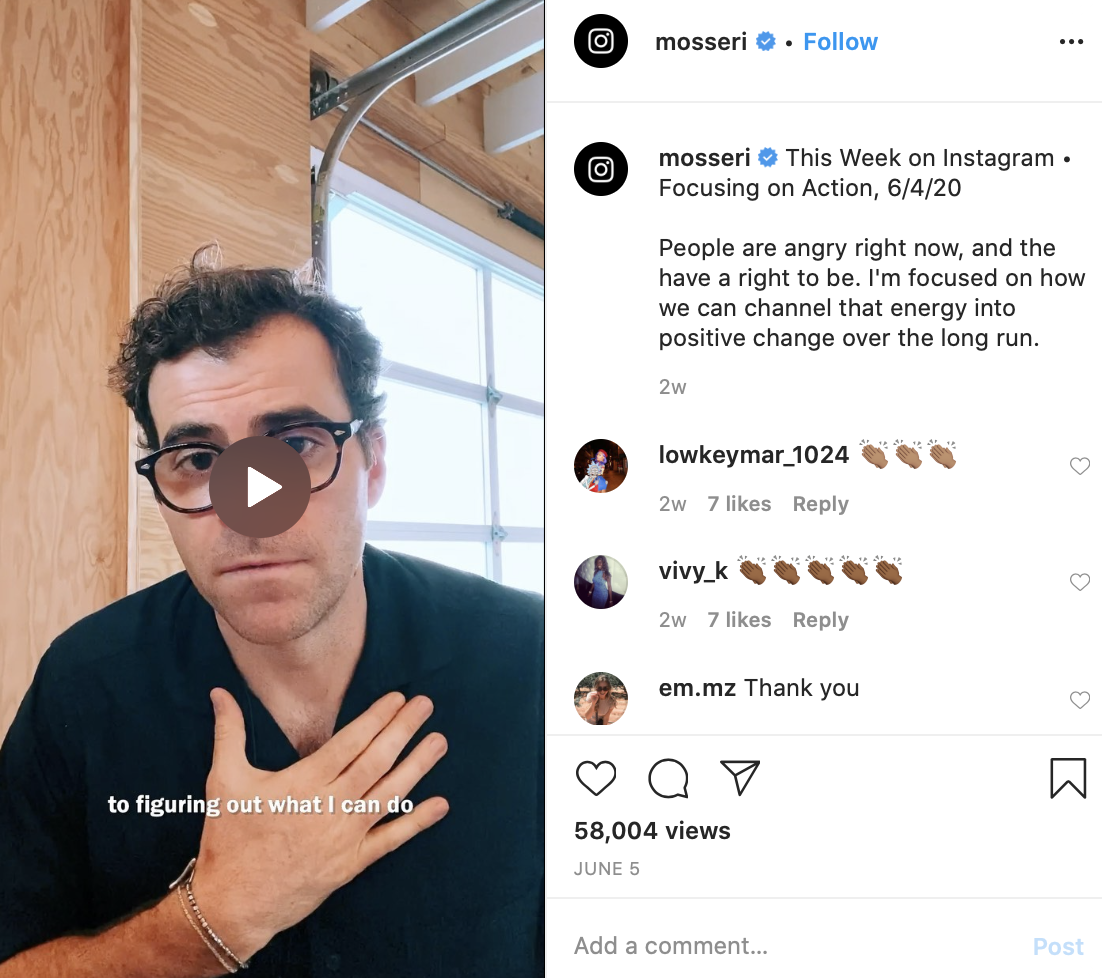 These include the following:
Looking to address any issues in their policies that can cause different groups to be exposed to more harassment or abuse.
Ensuring that there's no endemic bias in how verification is approved, preventing bias towards certain groups of people.
Checking to make sure that there's no bias in how content is selected for their Explore or Hashtag sections, including reviewing "shadowbanning."
Evaluating their algorithm, to ensure that there are no repeating patterns like racial bias that hurt certain brands or users.
It will take time for Instagram to thoroughly conduct this research and to offer solutions as needed, but this is still a great start.
Final Thoughts
The past few months, Instagram's new features have felt reactive; they're adjusting quickly to the new world that we're living in, offering new features that will benefit brands, creators, and users as quickly as possible.
This is good, and it shows an adaptability that will benefit the platform and its users for years to come.
What do you think? Which of these updates is your favorite? What are you most excited about? Share your thoughts and questions in the comments section below! 
---
Top Instagram Updates – May 2020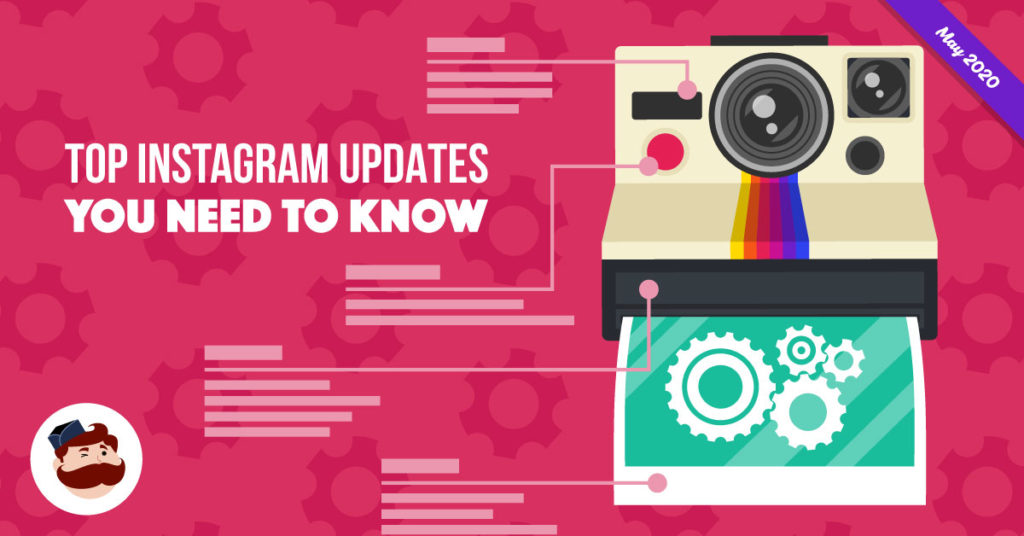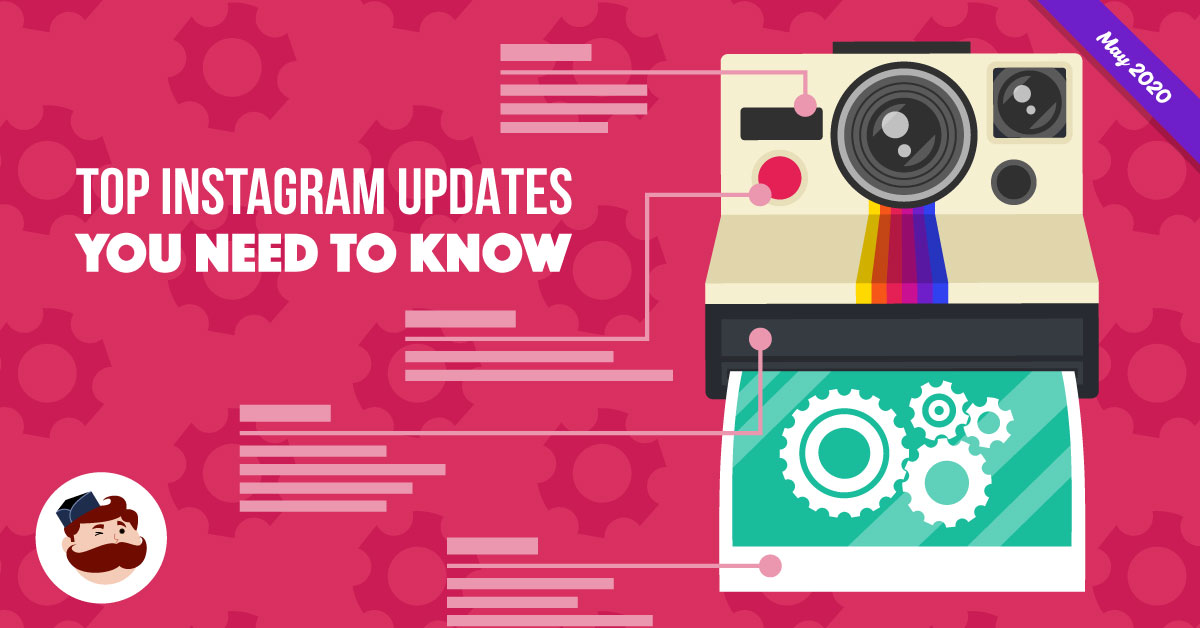 This past month, Instagram alone has given us some incredible new features (or at least a first look at them!).
Let's take a look at each of these changes and what they mean for you.
As we're nearing the end of May, it's hard to believe that we're almost halfway through 2020.
It's been a bizarre and difficult year for many, with plenty of businesses and users alike turning to social media to stay in touch with their friends, family, and the brands that they love most.
We mentioned it last month and we'll say it again now; staying on top of your social media marketing is more important now than ever before, allowing businesses to have open lines of communication and a way to stay relevant with your entire customer base who may very well be trapped at home.
While we're still in the middle of the COVID-19 crisis (and its economic impact), many small businesses are struggling. As a result, consumers everywhere are trying to find new ways to support their favorite small brands.
Instagram has now given users a way to do this with their "Support Small Business" sticker.
Support Small Business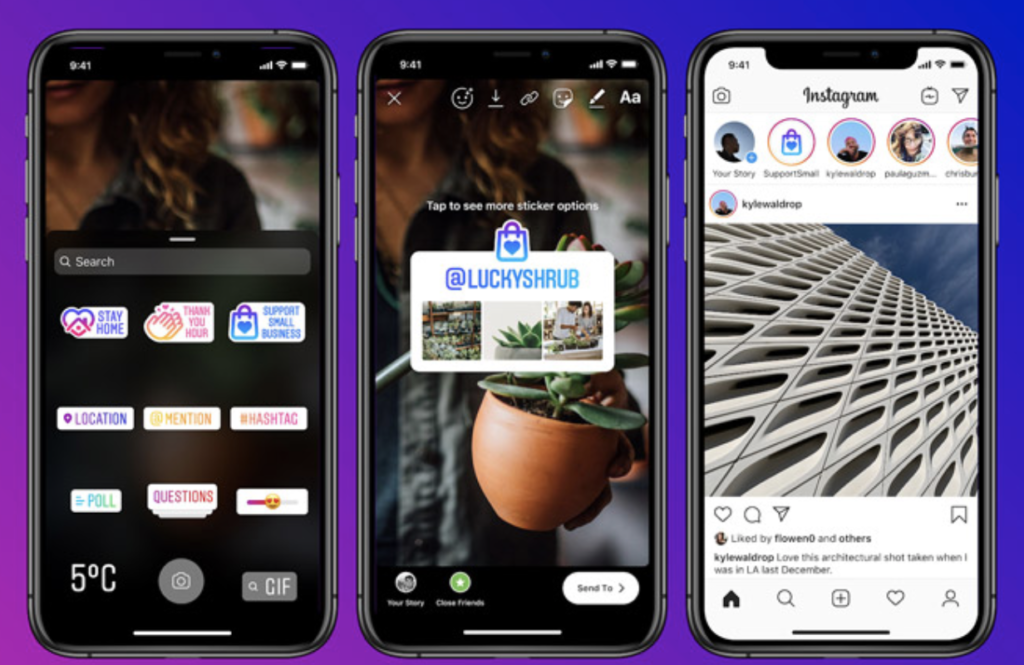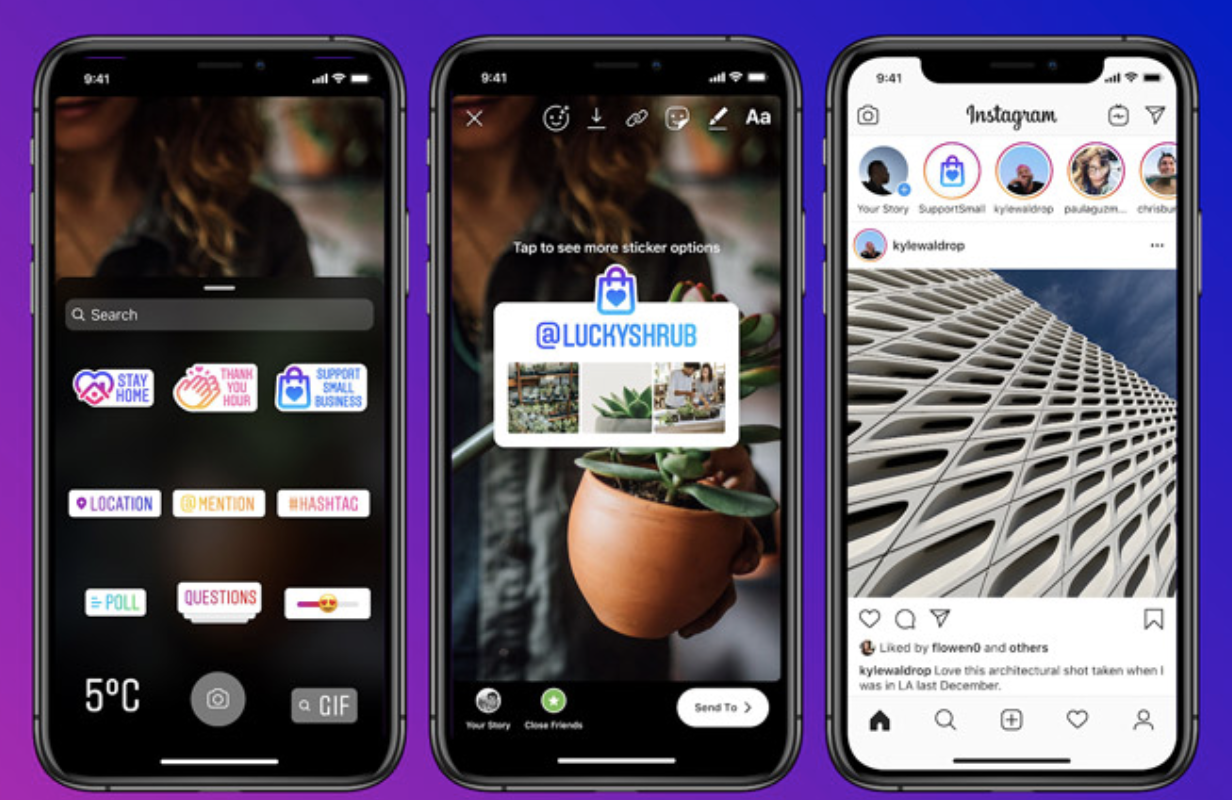 Users can add the "Support Small Business" sticker to their Stories, they can mention your brand directly.
This acts as a massive signal boost; not only will any of the people who view your story get a preview of your account (and a great incentivizing reason to click), but these Stories will all be added to a shared Story with other similar content promoting small businesses supported by those that they follow.
Right now, expanding your reach for free and thanks to efforts on the part of your clients sounds a little extra sweet.
Keep an eye out for these, and don't be afraid to promote your own small business partners with this tool, too.
Shops on Instagram
In hindsight, this next update feels a little inevitable, but it's exciting nonetheless.
Instagram has just announced a new native shopping experience on their platform: Instagram Shops.
These shops are immersive, fullscreen virtual storefronts that make it easy for you to sell products natively within the app.
Your shop can be linked to your Instagram profile (see the example below).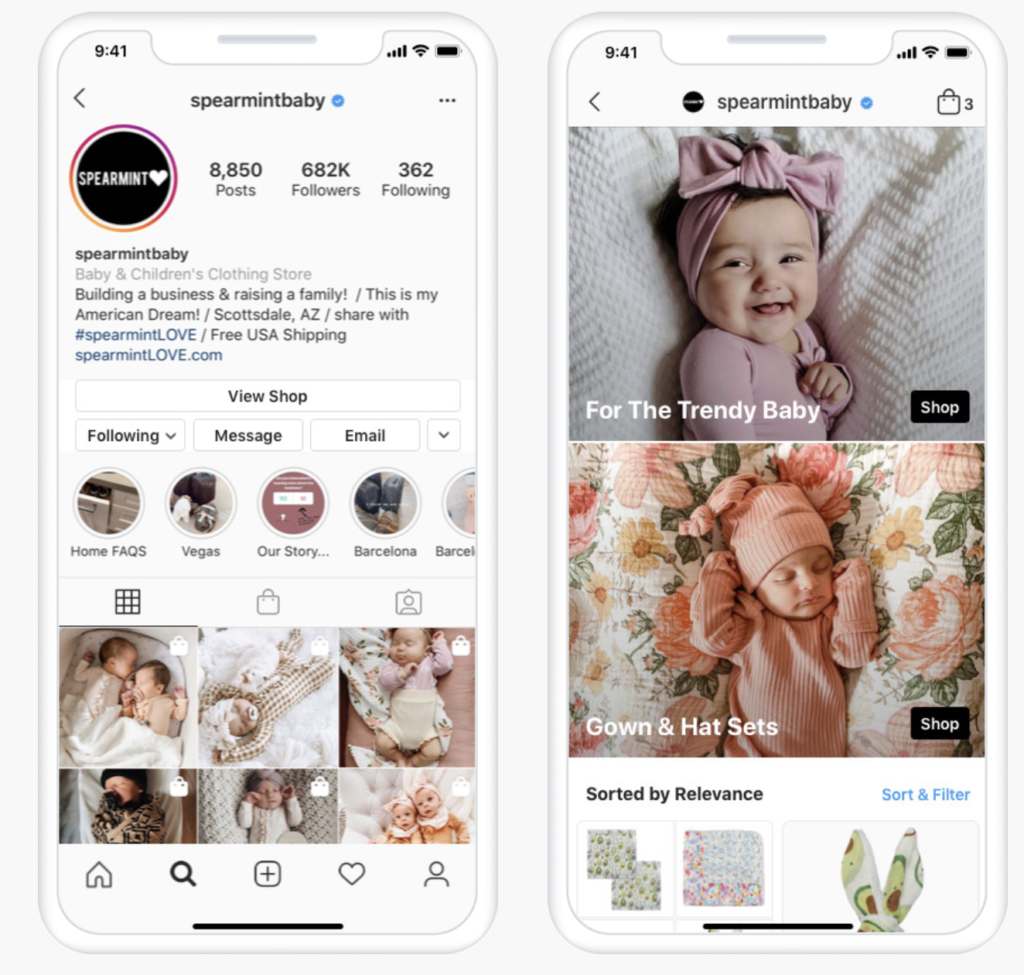 Shops can be found through your profile, users' feeds (including "discover" feeds), or in Stories they come across.
This is different from shoppable product tags, which would allow you to tag products in your content but ultimately drive users off-platform if they wanted more information or to purchase.
Users can browse products, including viewing entire collections of grouped, similar items just as they would on your site.
They can purchase through the in-app browser, so they're never even leaving the app. It's the ultimate convenience for customers and brands alike.
And here's the best part: Shops are free, and they're exceptionally easy to use. There's literally no catch.
If you haven't seen shops yet, that's okay: They only just started rolling out this week, and the feature will continue to have expanded access to more advertisers over the coming months.
All businesses that are currently using Facebook and Instagram shopping are eligible.
When you're able to set up shop (literally and figuratively), you'll get an email to let you know. Keep an eye out for that email in the meantime!
Creating a shop is free and simple.

Starting today, we will begin a phased rollout of shops to all businesses globally on Facebook and Instagram Shopping.

We will start with eligible businesses that use Instagram Profile Shops and will expand access over the next few months.

Eligible businesses will receive an email when their shop is ready to start customizing."
Share Live Videos to IGTV
I know this one might seem a little anticlimatic compared to the Shops update, but this is still a useful feature that you'll want to make use of nonetheless.
We're now able to share live videos directly to IGTV after they're done recording.
Previously, Lives could be uploaded as Stories, but they'd disappear after 24 hours and would be broken up into 15-second chunks.
This could be frustrating and result in low performance since users on Stories typically want fun, fast content, not a 20-minute live recording being hashed out in small chunks.
You could also download it to your camera roll, and then republish it on Facebook or IGTV later.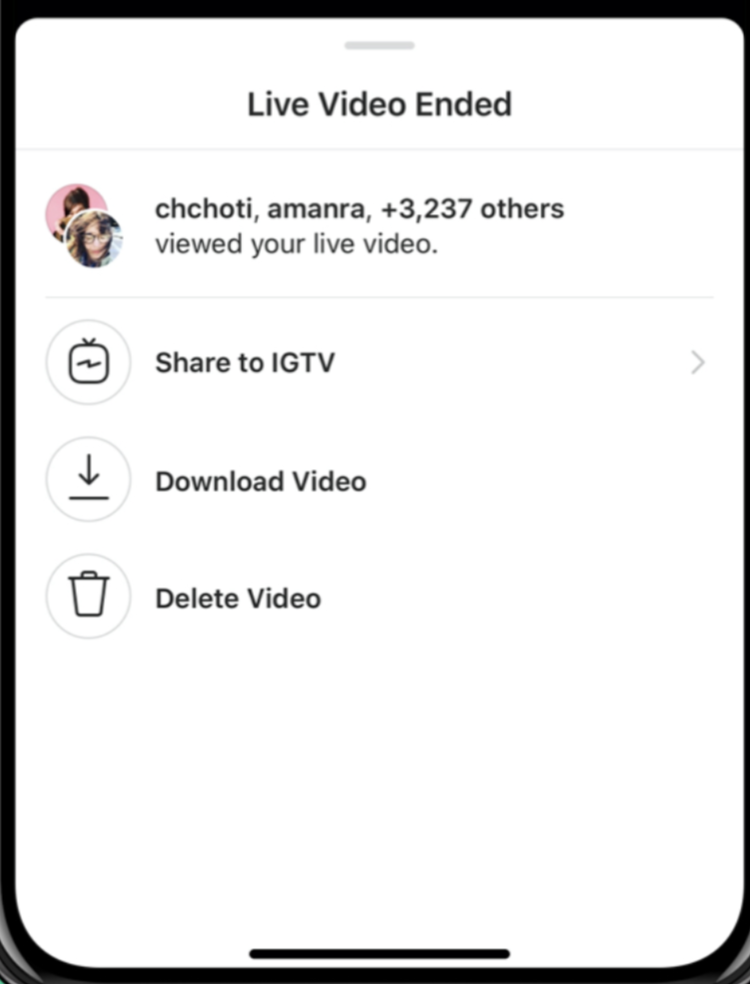 Now, though, you can share the video to IGTV immediately after the Live is over.
You can post a preview on your Instagram timeline to drive traffic there, but on IGTV the Live will be there permanently, or until you decide otherwise.
IGTV usage has slowly been increasing, and it's picking up steam. Take advantage of this, and make the most out of every Live you create, extending its life and boosting its reach and longevity at the same time.
More people can view it, and it gives you valuable content to keep on your profile to appeal to new viewers.
Final Thoughts
Even though we've only got three real, concrete updates this month, each one is significant in terms of functionality.
The new shop feature is obviously the most substantial and impactful; allowing brands to create native, on-platform shops that users can purchase from directly without ever leaving the app is exceptional.
Plenty of users fail to convert on mobile in general because it's not as convenient as desktop, so a native, in-app purchasing option will likely be incredibly effective at raising sale rates. There's a good chance that Shops on Instagram will be even more effective than Shoppable posts, which already held their own.
Both the "Support Small Business" sticker and the new IGTV update may not seem big by comparison, but both are adding great new features that can expand the reach of your profile and your content overall.
Take advantage of them whenever possible.
That's it for May, folks. We can't wait to see what June brings, though, so make sure you check back in next month and stay safe until then!
What do you think? Which of these three updates are you most excited about? Are you going to set up an Instagram Shop for your business? Share your thoughts and questions in the comments section below! 
---
Top Instagram Updates – April 2020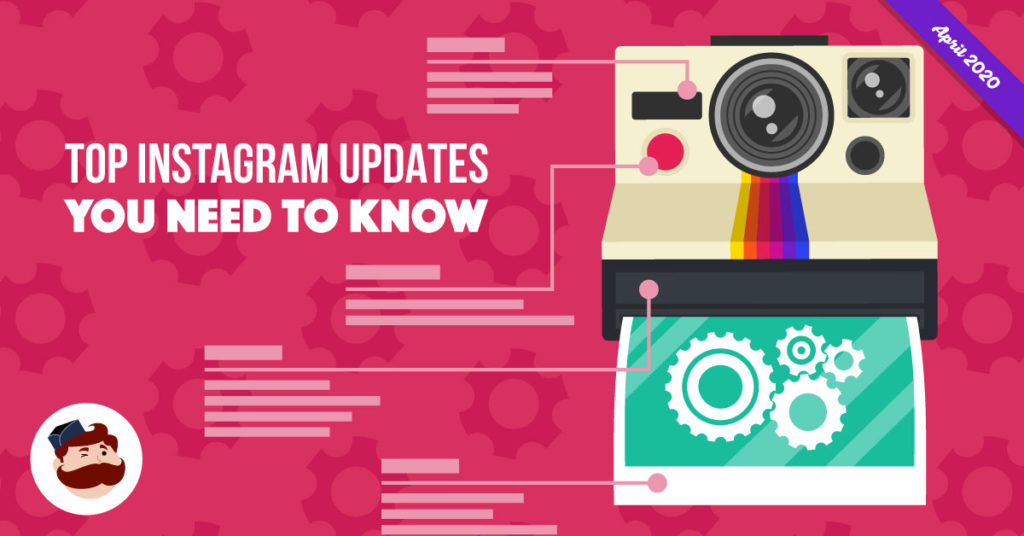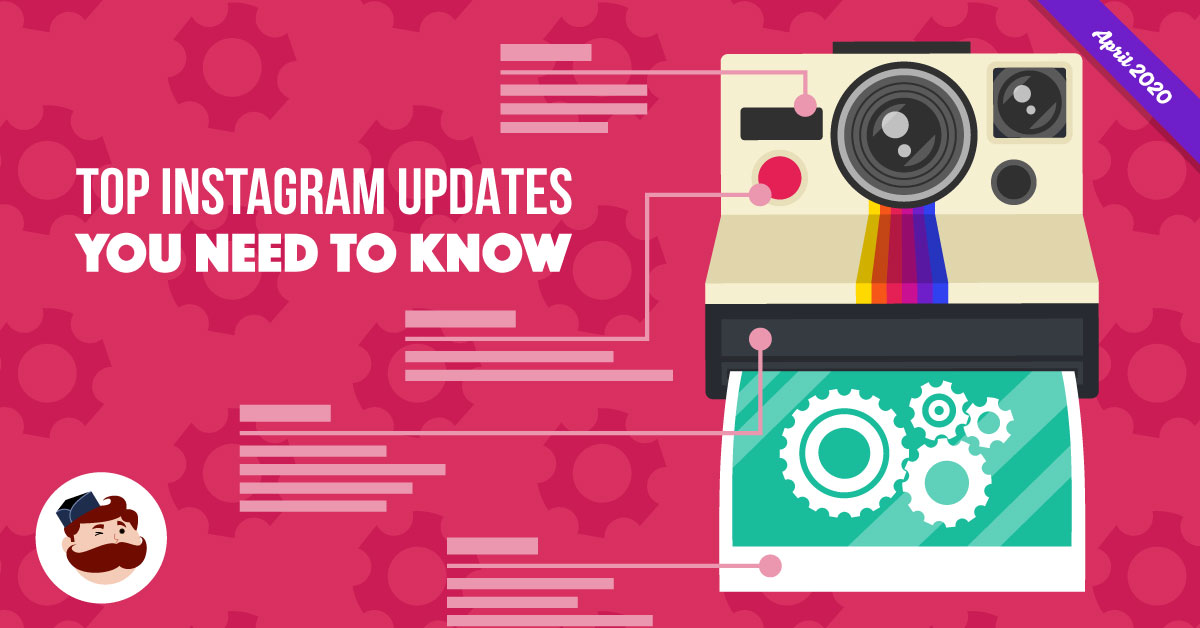 In order to keep your businesses going strong (even if you have to your doors shut temporarily), it's important to remember to continue building relationships with your target audience.
Instagram is an exceptional platform for this, of course, and they just rolled out some great new features to help you engage with your audience in new, meaningful, and profitable ways.
In this post, we're going to take a close look at all of April's Instagram updates, and remember that if you fell behind on a past month, keep reading; we've still got these detailed below the update, too!
New Select Partnerships Through Stories
Many businesses are struggling right now during the pandemic, and Instagram has released a few new features specifically designed to help with that.
One of these features is the ability to set-up with select partners and use their own Stories and interactive Stories Stickers to drive real, financial results.
You can share links to purchase options for things like gift cards, online ordering, or donations. The idea is to encourage your followers to buy more, even if they aren't able to purchase from you right now.
Right now, for example, customers are encouraged to purchase gift cards to support their favorite businesses right now, especially in service-based industries.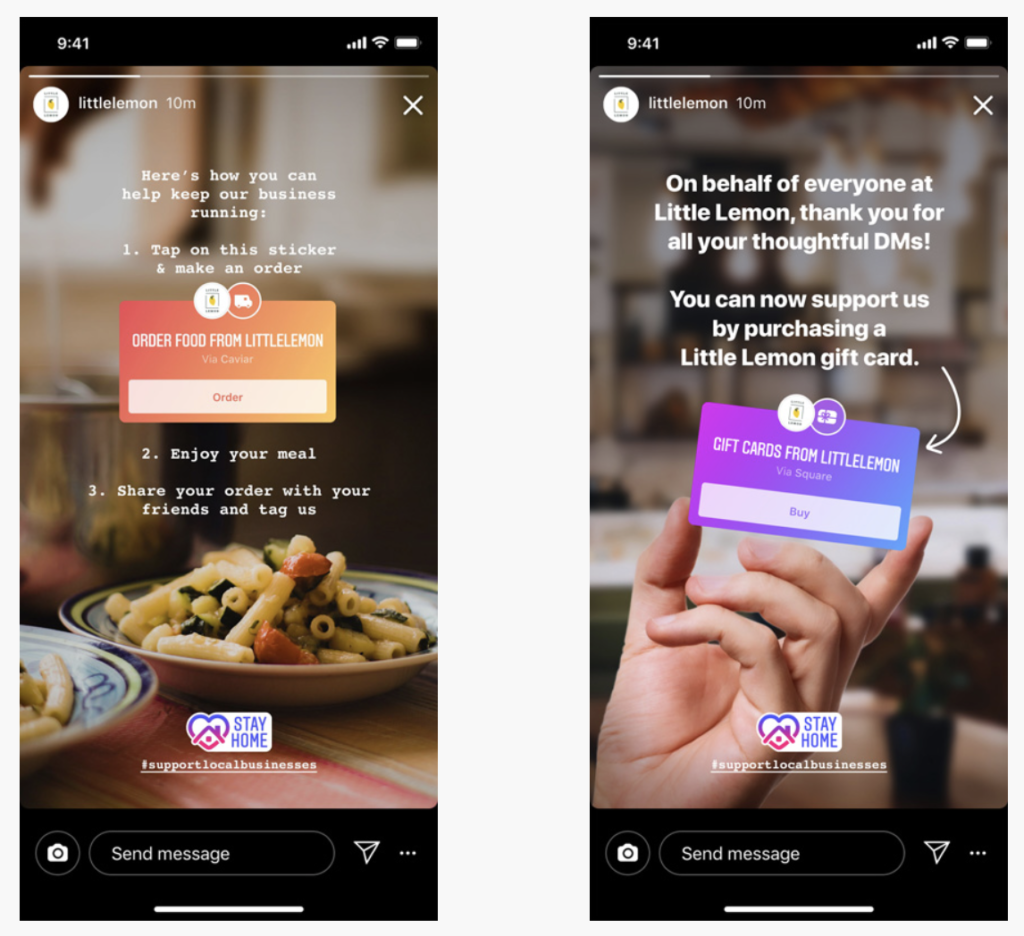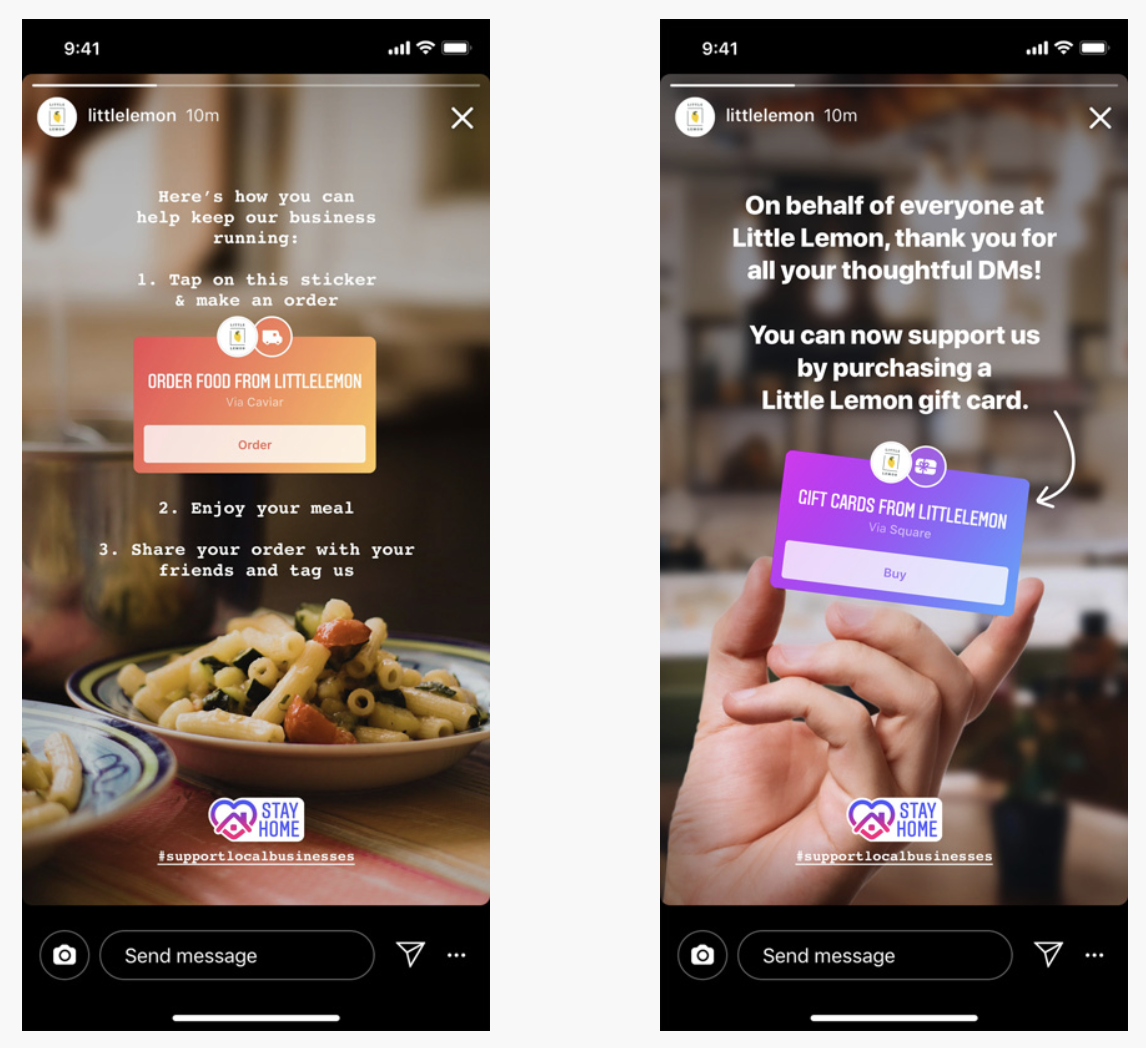 You can use "Gift Card" and "Food Orders" stickers to drive these actions, which are rolling out along with your standard interactive stickers that you're already familiar with.
As an added bonus, your followers and supporters will be able to reshare these stickers and your content in their own Stories to help spread the word and drive more results!
Businesses Can Add Support CTAs To Their Profile
In addition to adding those new CTAs to your Stories, you can also add CTAs for "Gift Cards," "Order Food," and "Donate" in the form of clickable buttons on your profile.
When users click, they'll be taken straight to your chosen platform so that they're able to complete their purchase.
These CTAs will appear next to current clickable options like "Contact" and "Message" on your profile.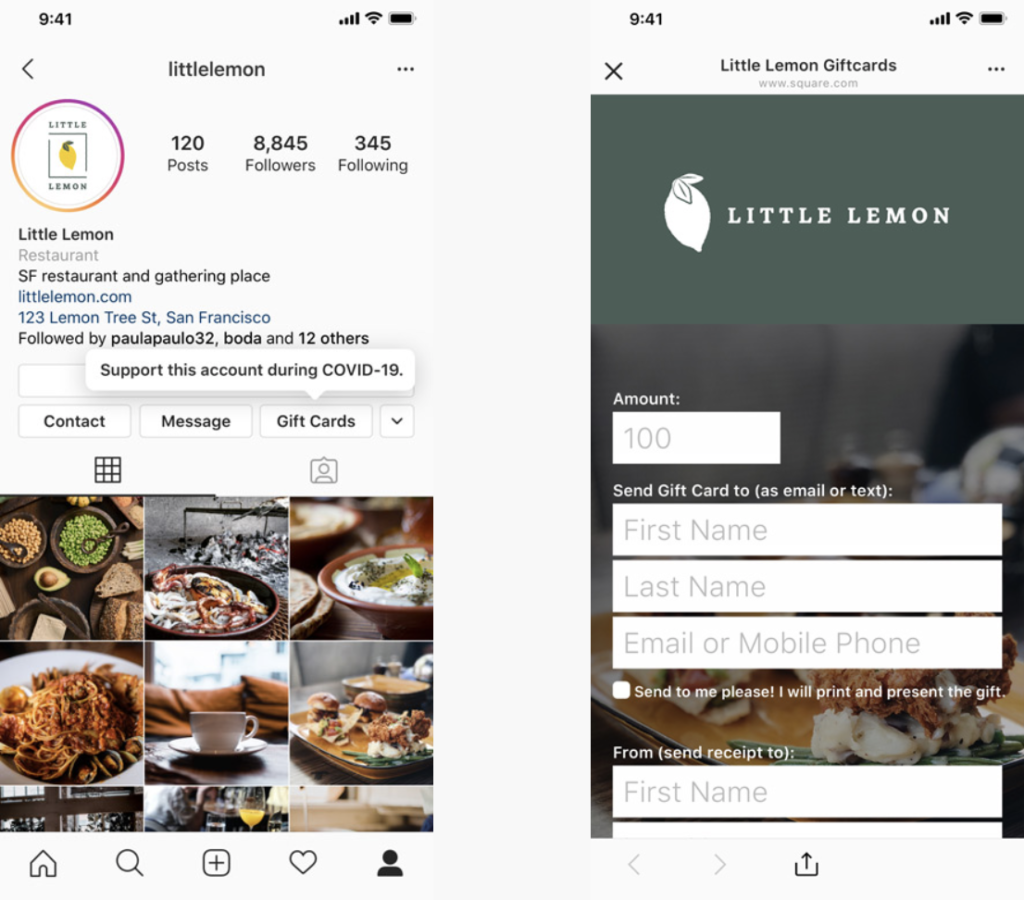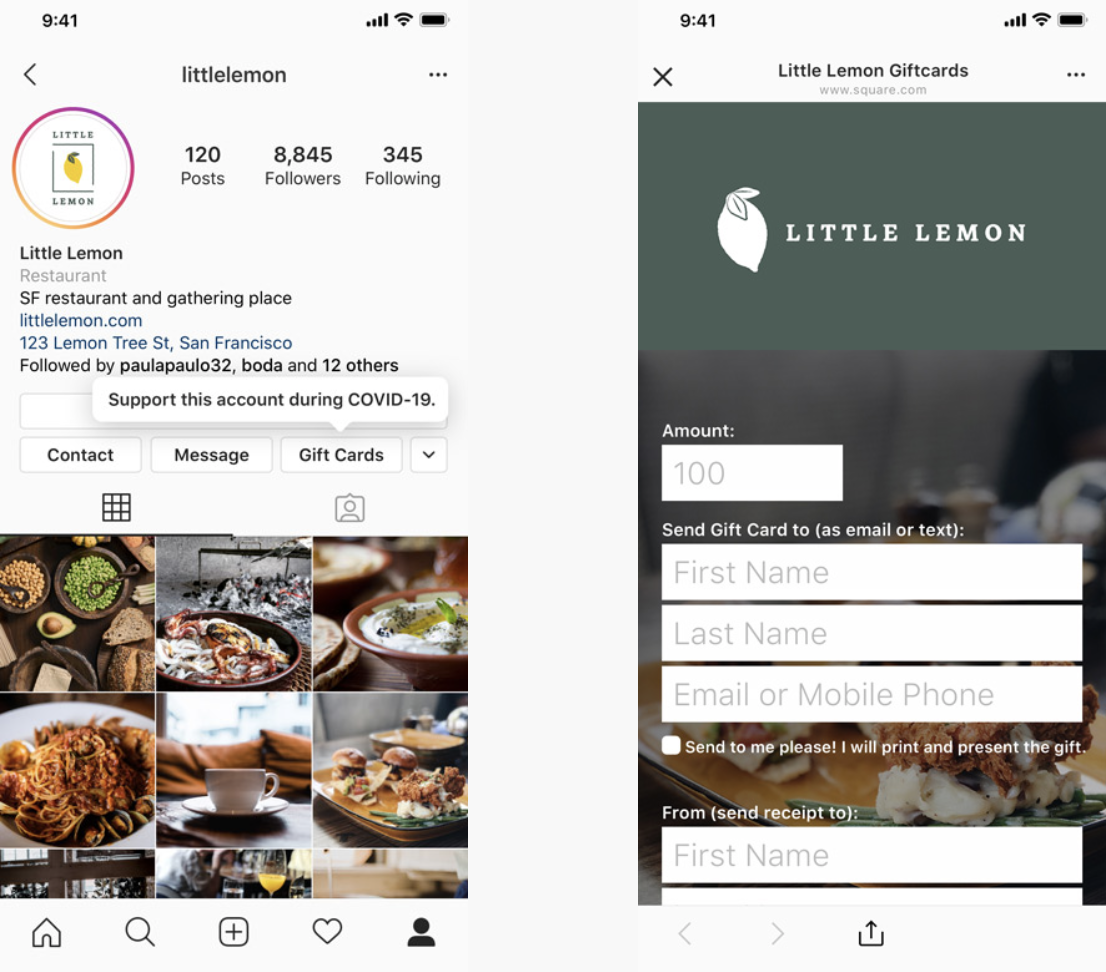 Brands who offer gift cards, the ability to order food, or who qualify to accept donations should absolutely be using these features.
It's a great way to remind customers that there are new ways to support you, and the ability to order gift cards not only for themselves but for someone else is appealing to many (especially since they can be sent digitally through email or text).
For best results, use Stories and in-feed posts to shoutout these new offers and let users know how convenient it is. And as always, thank them for their continued support.
Instagram Grants Access to Direct Messages Online
Instagram's direct messages (or "DMs" as the cool kids call them) are used more and more by users and brands alike.
Brands have been anxiously awaiting desktop access, as DMs were previously only available to read and respond to via the mobile app.
This is no longer the case.
Instagram has announced that they're rolling out access to DMs online through the desktop version of the site.
This is great news; we've known that this feature has been in beta testing since January of 2020, but it's still exciting to gain access to the feature.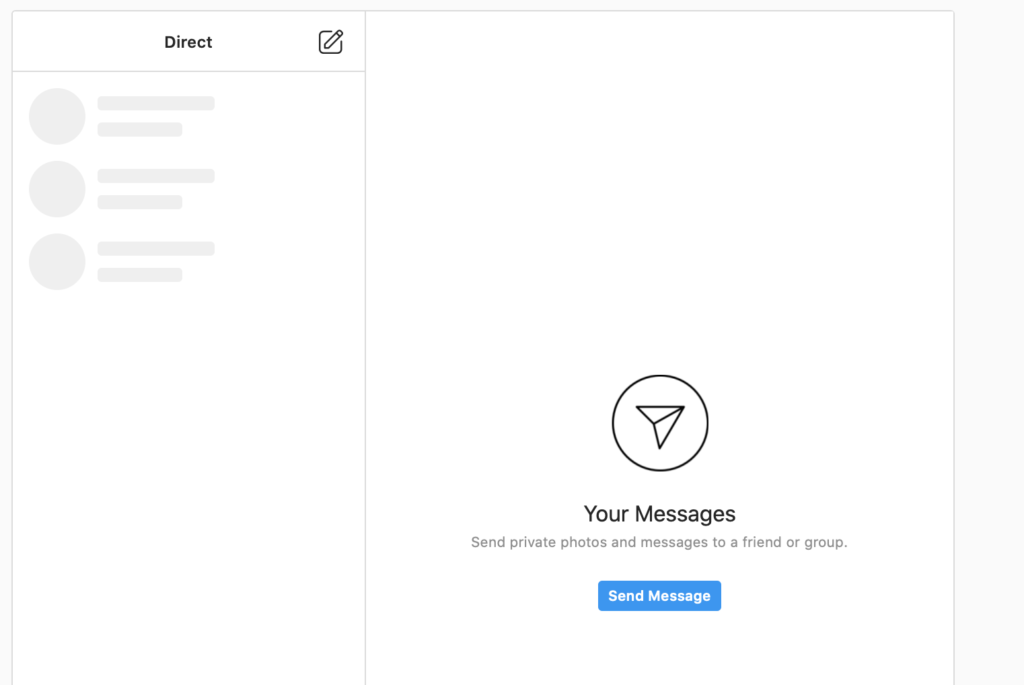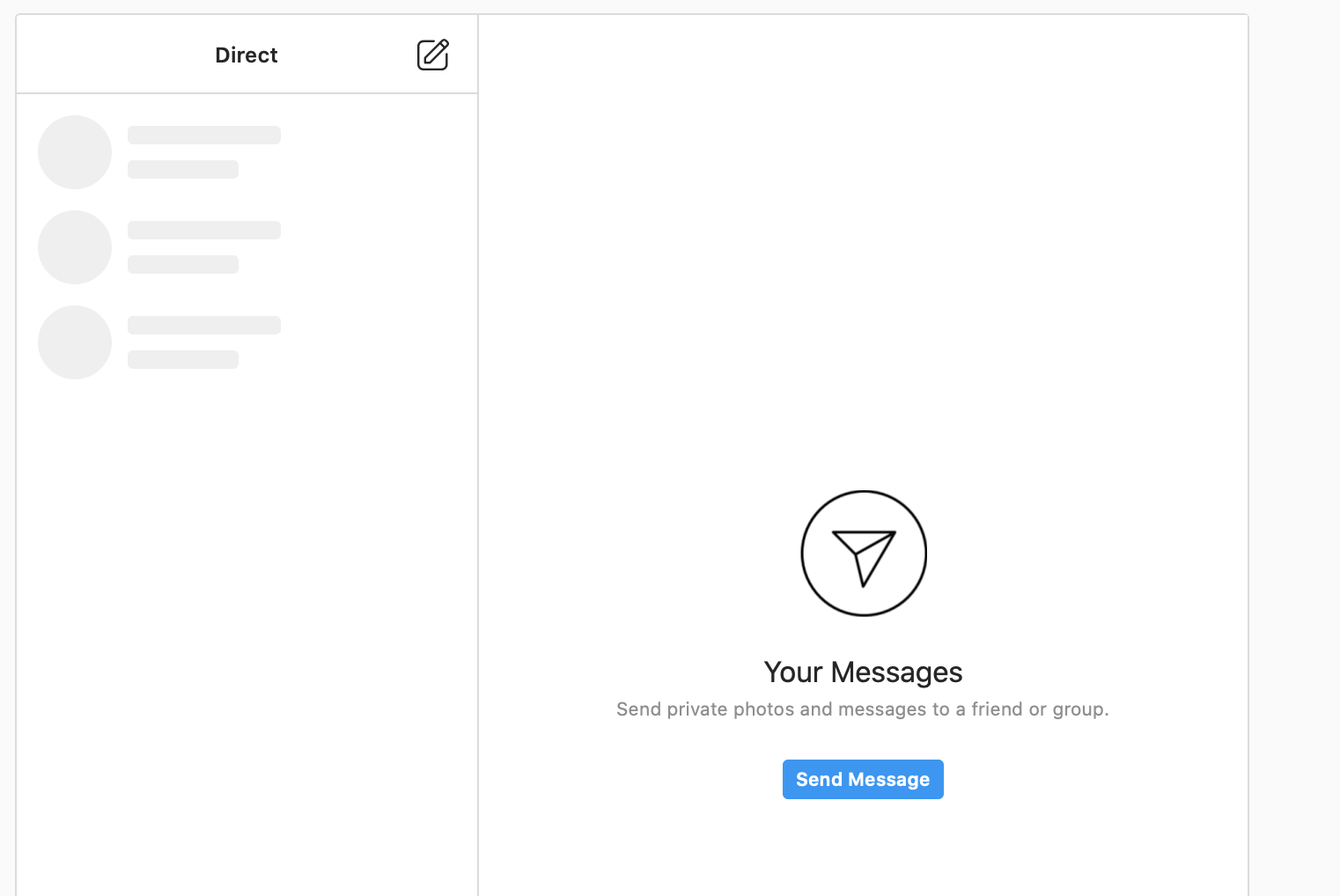 Desktop access is often easier for brands and account managers tackling their social profiles.
Typing is faster and easier on desktop (and typically more error-proof), and it's easier to take advantage of copying, pasting, and then customizing canned responses for individual users.
This will speed up customer relationship management, and improve customer service on Instagram significantly.
New Download Your Data Feature Rolled Out
On March 30th, Facebook announced that there would be new data access tools for both Facebook and Instagram.
Instagram's Download Your Data tool is available within your app, showing individuals how they've been using the site. These tools with inform you of what your interactions are (including profile updates, post likes, and comments that you've left).
It will also tell you what categories of content you're interested in, giving you insight into why you see certain content in your explore tab.
This data is designed to show users what they're doing on the platform and explain what information they're using to collect data that's used to serve better ads and more relevant organic content. It's coming as a result of a push for increased transparency.
While brands likely won't have a significant use for this information, it's good to know that this information is out there and that your audience will have access to it.
It doesn't hurt to take a look at your own data and see what Instagram has recorded about your activity to get a little more insight into how it all works; you may get new ideas for groups to target, too.
Conclusion
Even while the world has been brought to a bit of a standstill, it's been exciting to see Instagram rapidly develop new features that are designed to support businesses and brands during a tough economic time.
Even though many people are tight on funds, just as many want to support their favorite businesses so that we're all in the best shape possible once the pandemic is over.
The new CTAs are easily the most exciting features we've gotten this month, but taking advantage of the now-available-on-desktop DMs is pretty great, too.
As always, stay safe everybody, and we'll see you next month!
What do you think? Which of these updates do you think will impact you the most? What are you most excited to use, and what do you want to see next? Share your thoughts and questions in the comments section below! 
---
Top Instagram Updates – March 2020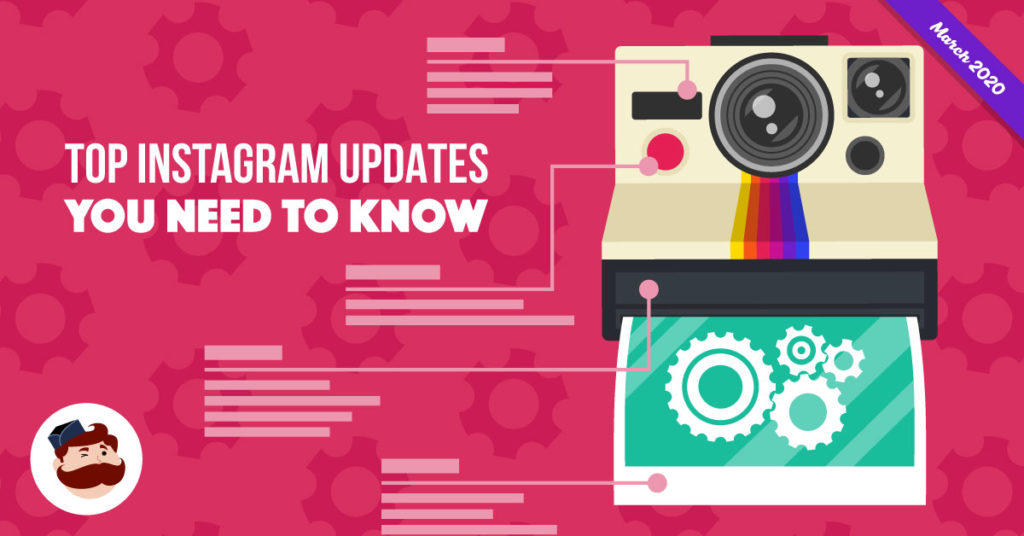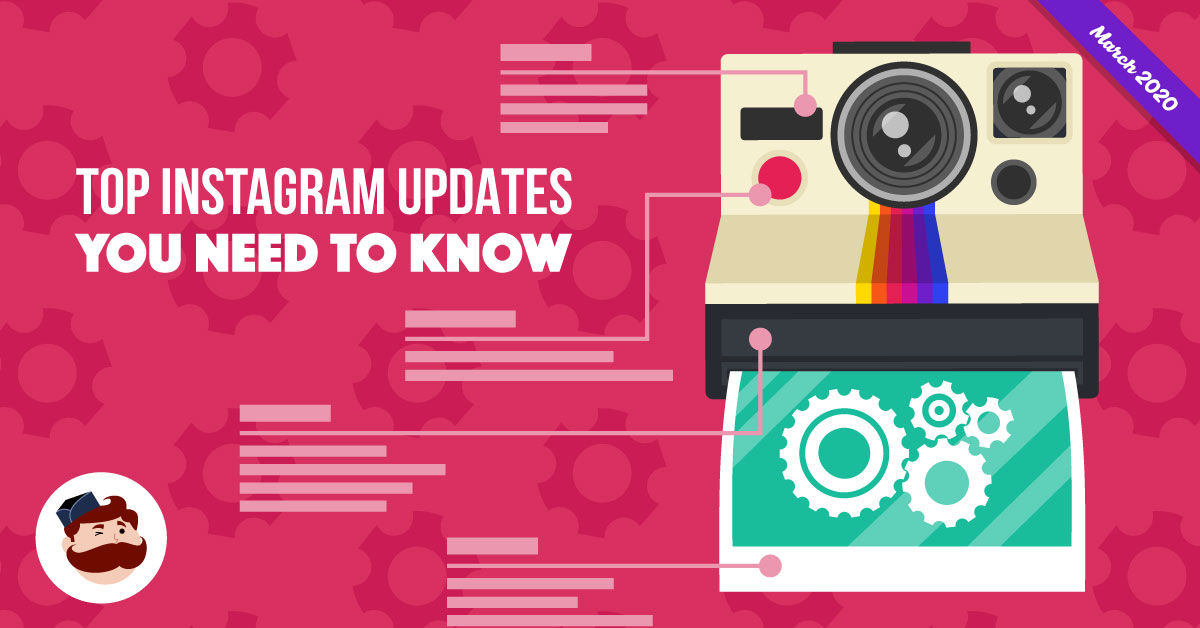 March was a relatively slow month for Instagram news, but the platform has already rolled out two big new changes since our last post, and has a few more currently in testing!
Excited to hear more? Let's take a look at all the latest Instagram updates and what they mean for you.
Improved Reporting Action from Instagram
Instagram takes their platform's terms of service and guidelines extremely seriously, and part of those guidelines include allowing users to report others and then potentially taking action as a result. This process can be hit or miss, with inconsistent punishments or lackluster regulation. Instagram is constantly working to improve how they respond to concerns from other users and how they're enforcing their own requirements.
They have several new features that can help with this, no matter what side of the issue you're on. First, they ave "Support Requests," which shows you the status of your currently submitted reports and your report history. This tells you what posts you've reported as being against Instagram's guidelines, and what (if any) actions have been taken.


If you've ever reported a post only to be told that it's fine when you know it's not, you'll be excited about this next snippet of news: Instagram now allows you to appeal decisions you agree with on the content you've reported with a quick "Request a Review" button. This will require the Instagram team to review hte post again and assess the situation once more. If you believe something has been missed, this is your chance to set it straight.
IGTV Monetization Comes to Select Channels
IGTV monetization is officially here, with monetization options rolling out to a very select number of channels at the beginning of this month.
In-stream ads are now running on a few of their top video creator's content. Bloomberg reported that creators in the program will receive a 55% share in the advertising profits on IGTV, which is exactly the same rate paid out by YouTube.
IGTV is slowly picking up steam, and the ability for creators and influencers to monetize the platform is important. This can encourage more creators to spend more time on the platform and trying to drive their userbases there. Since they're already able to generate revenue on both Facebook and YouTube, this levels the playing field and gives Instagram a fighting chance in this particular battle.
Instagram is still very much in the testing stages here, so we'll keep you updated when we know more about wider releases for creators and how these ads perform for marketers and advertisers, too.
Share Live Video Straight to IGTV
In addition to new monetization features, IGTV has more exciting news. Instagram is testing a feature that allows Insta users to share their live streams directly to IGTV as soon as the broadcast is over. These lives don't just have to live in Stories anymore. You can now share them effortlessly to IGTV and even organize them into distinct Series. Once on your site, you can then promote previews of the live back on Instagram to increase views and attention overall.
While this feature is only in testing and was spotted by the always-exceptional Jane Manchun Wong once again, it could be a simple way to beef up your IGTV channel without having to go out of your way to create more content. That's a nice perk, and it's a good way for cautious, stretched-to-the-max brands to get in on this newer platform.
"Latest Posts" Feature in Testing
Users aren't always the biggest fans of social media algorithms that show them content out of order, even if it means they're actually seeing content that ends up being most relevant to them. Brands aren't always the biggest fan either, especially if it means their content isn't ranking towards the top of users' feeds.
Instagram is trying to ensure that their users can stay up to date and never miss a post with yet another feature currently in testing and development and spotted by JMC, which is their "latest posts" feature. This is essentially a pop-up that will be displayed over a user's main feed, alerting them that there are new posts and giving them the option to "get caught up."
If your brand is struggling with engagement on Instagram and thus struggling to show up towards the top of users' feeds, this could be great news. When it rolls out, it will become even more important to post at peak posting times. Use the extra bump in visibility to promote engagement-oriented posts, which can give you a bump in the algorithm later on, too.
Instagram Not Coming to iPads Soon
This is kind of the opposite of an update, but it's still relevant news that we want our readers to have if they're curious!
Instagram has announced that there aren't enough people on their team to work on a stand-alone app that's designed specifically for iPads. Instead, users can download the app designed for Apple smartphones on the iPad, which is just blown up to scale. While this works fine and makes users happy enough, some are hoping for an app with more extensive features– particularly editing features.
The CEO recently stated that this hasn't been a priority yet, but that it's something they'd possibly be interested at some point. Right now, though, most business accounts are using the Creator's Studio and third-party social management tools to keep their content moving, so this isn't a big set back.
Final Thoughts
Instagram is an exceptional platform, and the updates will always continue to keep rolling in. This month the biggest emphasis seems to be on IGTV, which makes sense considering that they seem to be focused on increasing usage from brands, marketers, and users alike. The addition of monetization options– even if limited– will be interesting to watch, especially when reviewing how many creators they bring in larger droves to the platform.
Social media is always moving, so make sure you subscribe to our blog so you never miss a post, and check back in next month to see what's new in April!
What do you think? Which of these updates has you most excited about the future of Instagram? What updates will impact you most? Share your thoughts and questions in the comments section below! 
---
Top Instagram Updates – February 2020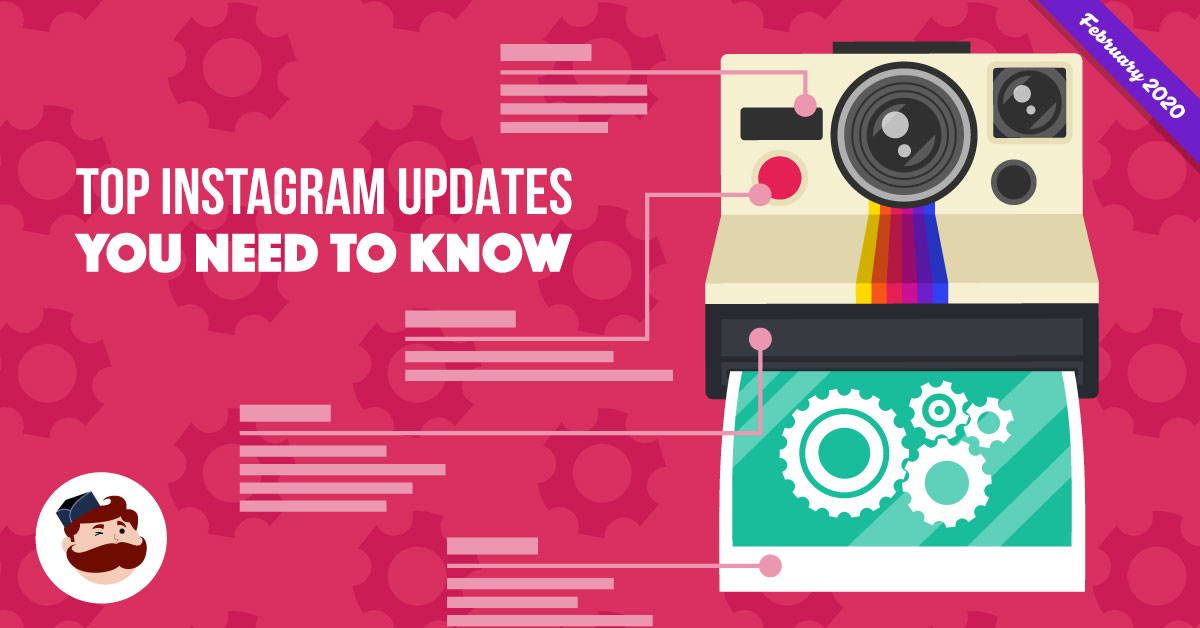 This month, we've got announcements of a few new features that are in development and in testing, shifts in regulation on influencer marketing, and even a big Instagram password leak that affected thousands of accounts.
Want to know how all these changes (and one scandal) can impact your campaigns? Let's take a close look at what February's Instagram Updates will mean for you and your brand.
Instagram Tests New Video Trimming Tool
It's been a little while since we've gotten a Stories feature, and this will likely be a useful one for small businesses who are uploading and creating Stories on the go.
Instagram is currently testing a new tool that will allow users to edit and trim videos for Stories within the app.
The tool uses a video slider, similar to video editing tools that you may have with iOS or Android devices.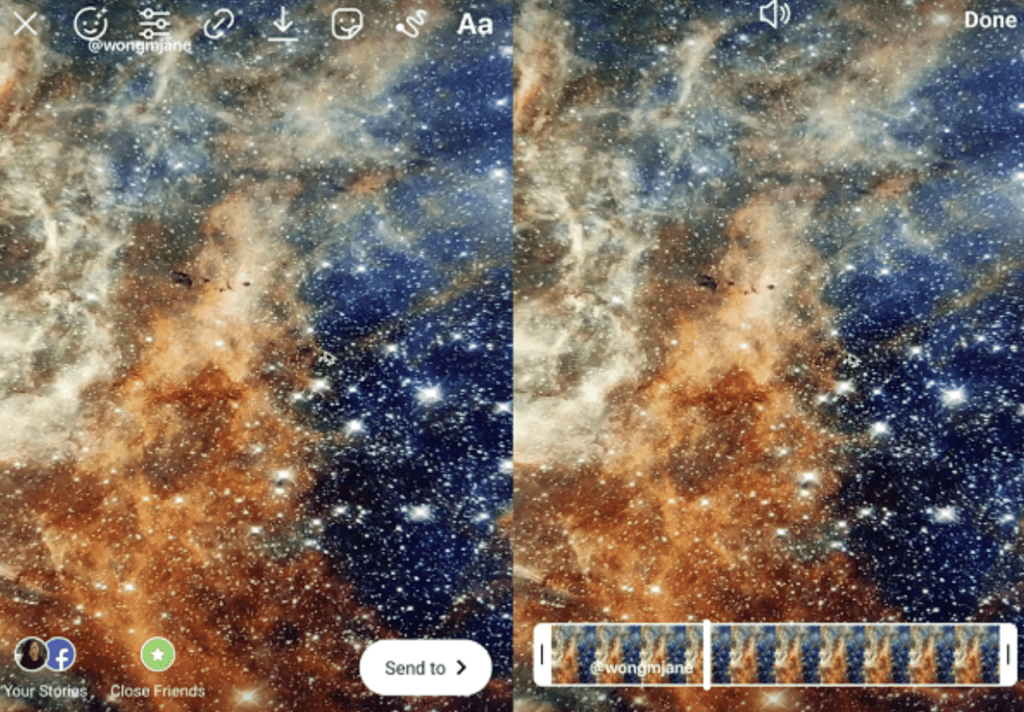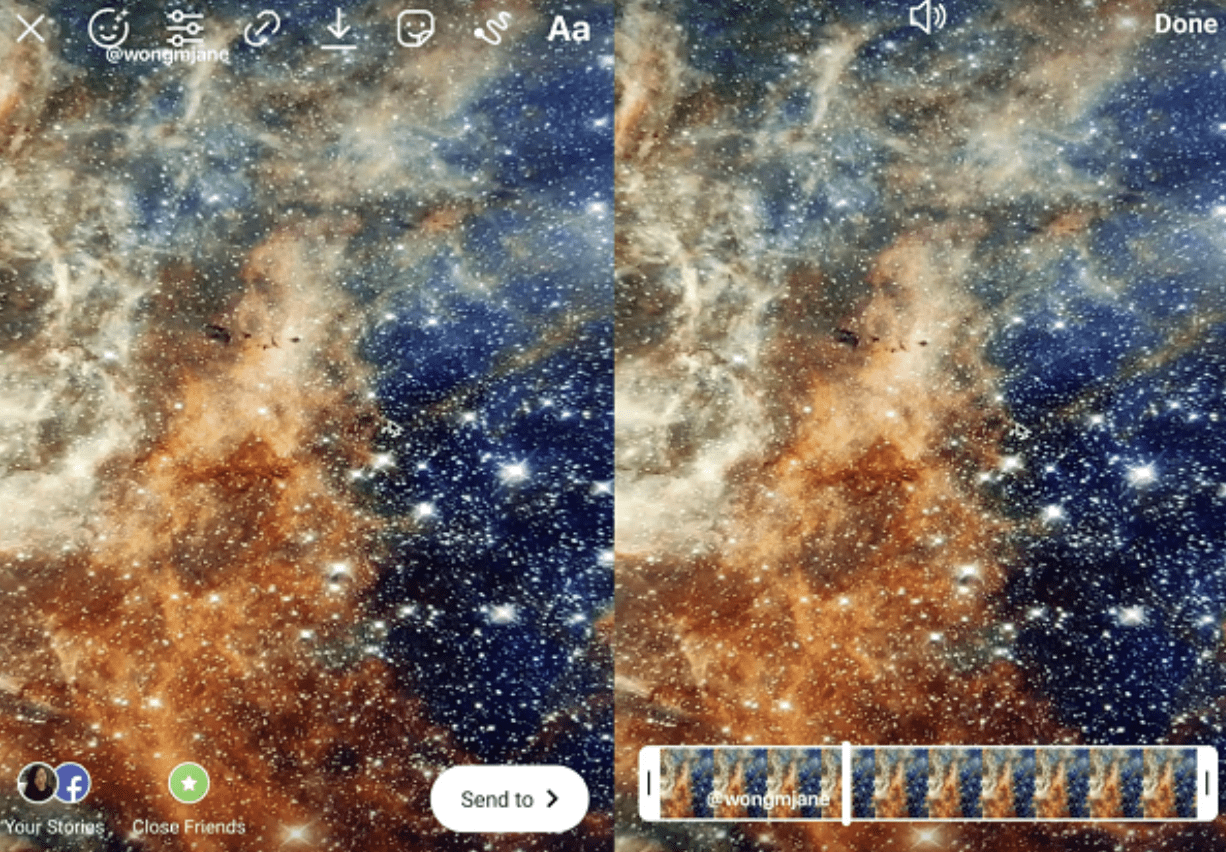 This feature was spotted by reverse-engineer Jane Manchun Wong, which means it's likely close to being rolled out relatively soon.
While some brands prefer to create and edit their Stories with other apps or even on desktop before they start uploading it to the platform, the editing tool is useful for those who prefer to edit within the native app.
FTC Cracks Down on Influencer Marketing
Influencer marketing has historically been relatively unregulated on social media, even though influencers are supposed to be following clear Federal Trade Commission (FTC) guidelines. That may start to change soon.
The FTC recently released a statement announcing that undisclosed influencer marketing posts on social could result in fees and financial penalties. They specifically mentioned Instagram and YouTube as the "major vehicles for influencer marketing campaigns" and as commonly-used platforms where violations occur.
Currently, influencers and brands are required to disclose all sponsored content, and doing so requires more than simply adding a "#sponsored" somewhere deep in the middle of 25 hashtags and buried below the fold.
You should be using "sponsored" tags to identify paid relationships between a business and an influencer, increasing transparency for users.
Want to make sure that you're following influencer marketing regulations on Instagram? Learn more here.
IGTV Working Towards Monetization
IGTV hasn't exactly been the overwhelming success that Instagram was likely hoping for, but it's holding its own, particularly as an extension of Instagram.
Now that the mobile-only, long-form video platform is gaining some traction, it only makes sense that IGTV is working on a monetization feature that would benefit multiple parties.
This particular monetization feature will benefit certain creators, who can apply to be part of the "Instagram Partner Program." These individual creators can opt in to showing ads alongside their video content on IGTV. If they do, they could earn revenue, similar to publishers in the Audience Network or Google's Display Network.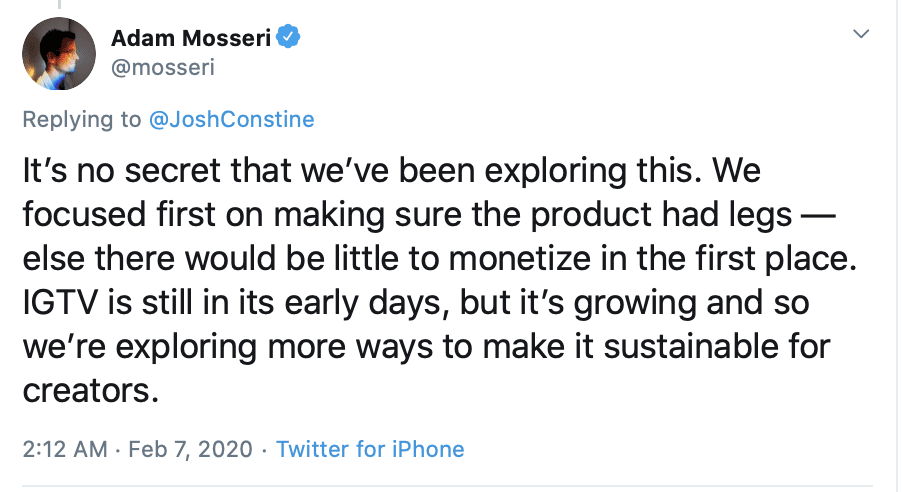 It's strikingly similar to creators who are able to earn revenue on Facebook Watch when users watch ads during the video breaks. In these cases, creators can actually earn a 55% share of the ad revenue generated from those views, giving them a steady supply of passive income.
It will be interesting to see how this feature works once it's actually fully developed.
It may encourage more creators to focus on sharing content specifically made for IGTV while spending more time trying to drive their audiences there. This could potentially result in more users coming to the platform, following their favorite creators.
Instagram Rolled Out New Following Categories
Instagram just recently rolled out two new categories within the "Following" tab on your accounts.
Users are now able to see which accounts they've interacted with during the past 90 days, and which have shown up most frequently thanks to Instagram's algorithms.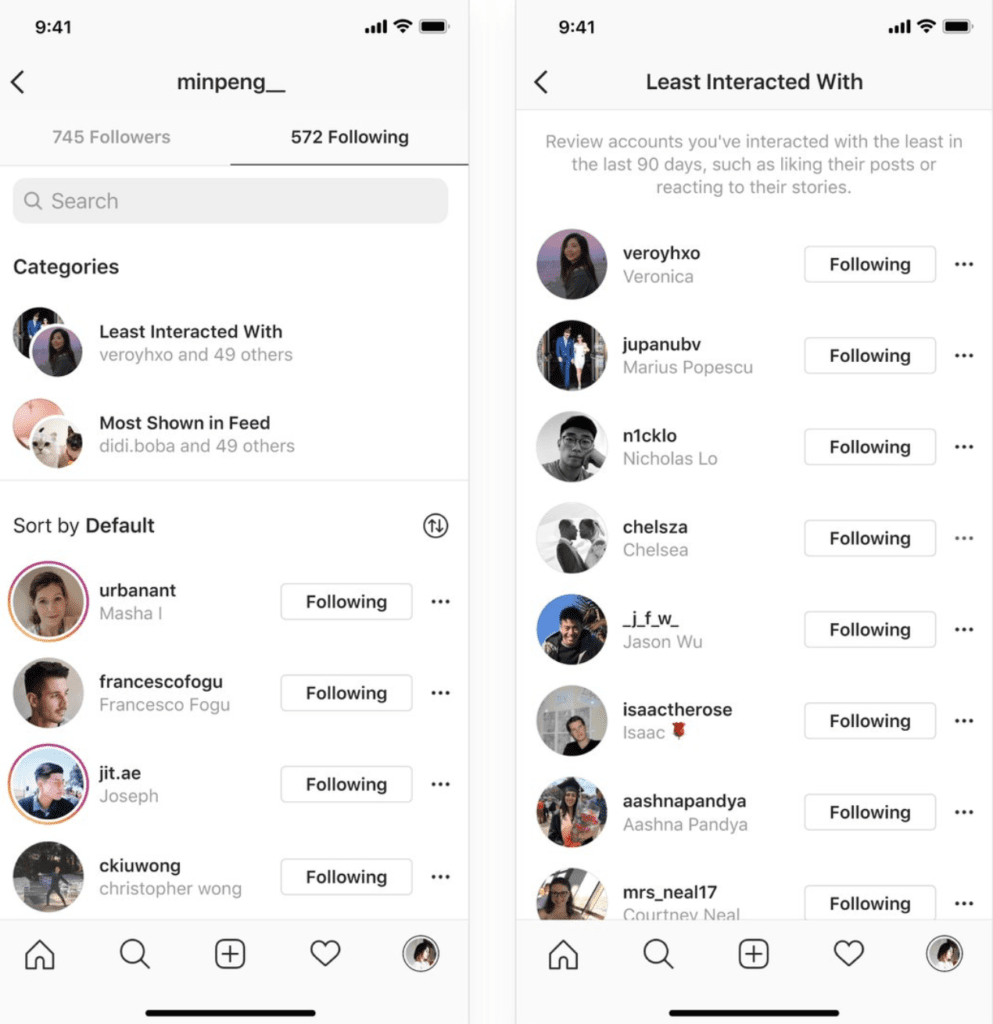 You can use this for strategic analytic purposes on your business account. Take a look at which users are interacting with your content most, and see what you can discover about them.
This can help you identify audience niches that you may not have known that you had, or solidify current buyer personas that you already have.
You should also review which accounts are showing up most often in your feed thanks to the Instagram algorithm.
You can gain insight into what content performs well, and try to share more of it on your own profile to see how it does for you.
Startup Results In Massive Password Leak
This isn't an update, but it is important Instagram news that we wanted to make sure you didn't miss.
In January, social tech startup Social Captain fell prey to a data breach. The tool– which was created to help users increase their followers on Instagram– put any user who linked up their Instagram account with the platform at risk, and thousands of Instagram passwords were made visible in plain, unencrypted text.
Any Social Captain user could view the page source code on their profile, and there was a bug that allowed anyone access to any profile, even without having to log in. All they had to do was enter in a user's account ID (which is public) into the web address, and they could see the login credentials.
While Social Captain has confirmed to TechCrunch that it has fixed the issue and prevented direct access to users' profiles, it may be best to look elsewhere for follower-boosting help. Instagram has since stated that the service breached its terms of service by storing login credentials improperly.
If you have an account with Social Captain, we'd recommend changing your password and enabling two-step verification (though we recommend doing the latter no matter what anyway).
Final Thoughts
This month was another relatively slow month for Instagram, though that may be tied to the fact that they're hard on work on major features (including integration with WhatsApp and Facebook for a seamless direct messaging system).
The biggest thing to consider is to ensure that your influencer marketing campaigns are all up to date and meeting the FTC's guidelines for ethical advertising on social media.
While they'll likely go after big fish, it's good to follow basic transparency regulations; your audience will notice and it will benefit you significantly and prevent you from losing their trust.
As always, make sure you subscribe to our blog so you never miss a post, including next month's Instagram updates! We'll see you in March!
How do you feel about all of February's Instagram updates, news, and changes? What are you most excited about and surprised by? How do you feel about the password leak? Share your thoughts and questions in the comments section below! 
---
Top Instagram Updates – January 2020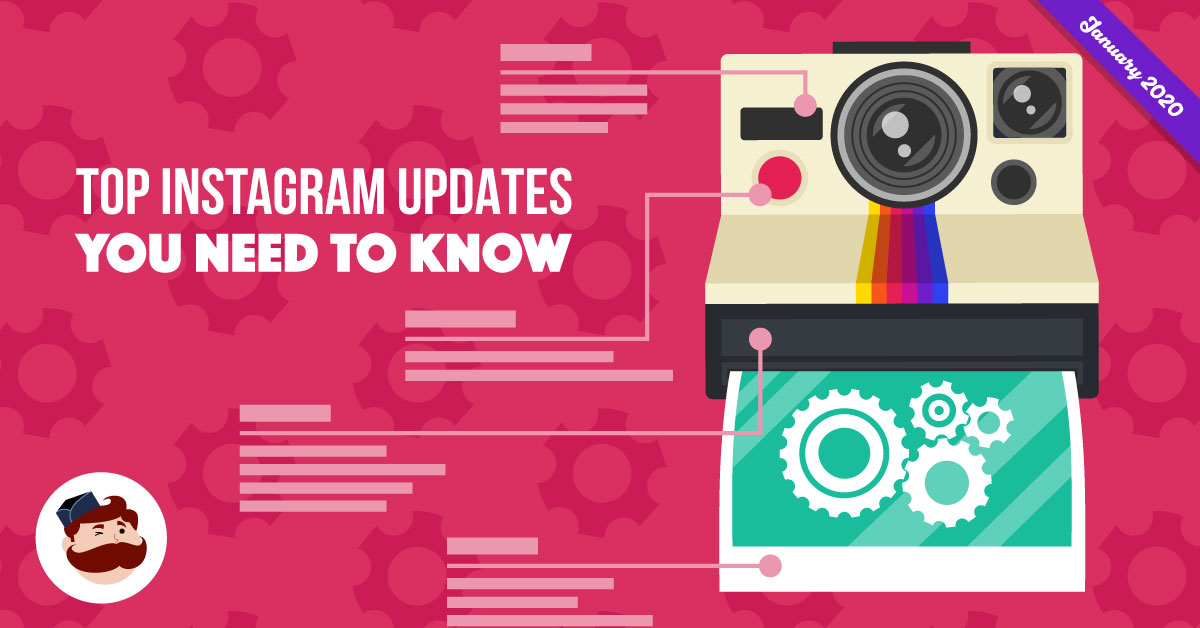 As we move further into the new year, we're likely going to see a few things, including improved insights for brands and creators (including influencers), features focused on transparency and security, and a whole lot of new engagement-oriented features, including those for Stories.
I say likely, because these are our personal best guesses based on Instagram's past trends and where we think they'll go in the future.
That being said, we've got some brand new features already, no speculation required, and some of them even follow the trends mentioned! Let's take a look at all the new features that Instagram has released since our last update and see what they mean for you.
New Growth Analytics in Instagram Insights
Instagram's Insights platform offers pretty detailed analytics, and it's one of the better native analytics options out there already.
Their new Growth Insights section on the analytics is another step in the right direction.
This new analytics section will show you which posts and Stories are helping you to generate the most followers, which is a metric we haven't really seen yet.
We've got detailed analytics for each individual post, including reach and engagement, but having an algorithm identify which posts are helping you grow your follower count is a huge asset.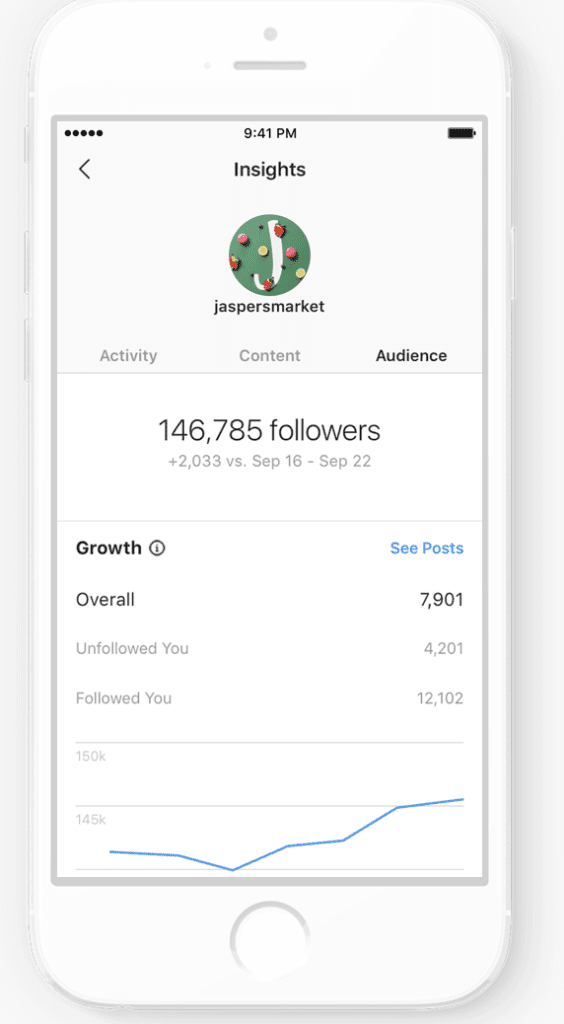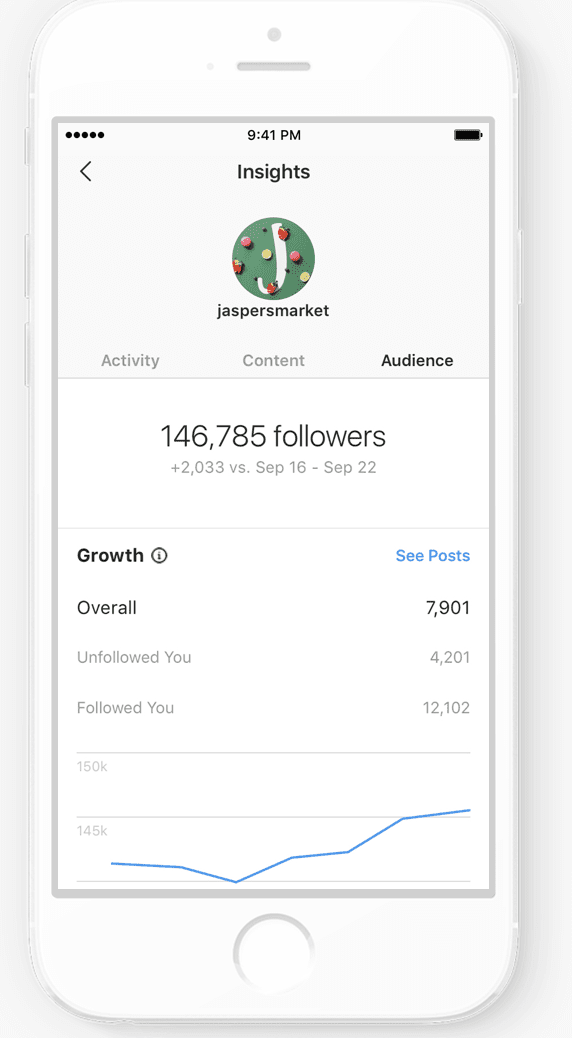 In addition, showing you which content is tied to an increase in followers, this tab will also show you how your follower count has changed over the past 24 hours or the past week.
Want to know how many new people followed you, how many people unfollowed you, and what the overall net total was? Now you can do so at a quick glance.
See Aggregated Stories Mentioning Your Brand
It's good to be aware of content that mentions your brand for a number of reasons. You want to know what people are saying about you, of course, and seeing the content can give you the chance to share it yourself and capitalize on some of that powerful UGC.
Now, Instagram has released a new feature that will show you a list of the Stories that have mentioned your account within the past 24 hours. You'll find this aggregated list at the top of the Activity tab.


There is new functionality here, too.
If you follow the account that tagged you, the Story can automatically be added to your "About You" story reel, giving you UGC (user-generated content) quicker and easier than ever before.
Either way, you can still choose to manually share any Stories that have mentioned you, and for best results, make sure you tag the original creator in yours to thank them.
Set Age Limits for Who Can See Your Account
Facebook and Instagram have strict policies in place for who you can advertise to, especially if you're in a "restricted" field, like alcoholic beverages. Historically, we've only been able to restrict our ad campaigns, but now we can set age limits for our Instagram accounts, too. This is called "age-gating" and it can be useful for brands trying to reasonably restrict access to their channels.
Public business accounts can now choose to limit who can view their Instagram profile based on age.
You can set a minimum age limit for your account, and either set up a global minimum age, or opt for country-specific minimum ages. The latter is useful if you are marketing something like alcohol, which has different age restrictions in different countries.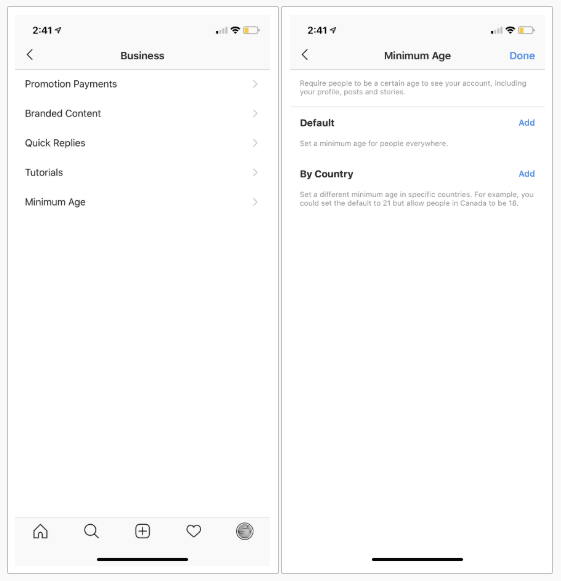 To set up age gating, go to your profile's Settings, and then choose either "Business" or "Creator" (depending on the kind of account you have). Then click Minimum Age, and then set up any age restrictions you'd like to have. You can change these at any point.
Flexible Profile Formatting for Business Pages
Previously, Instagram profiles had one set look to them. They had a listed business category to help users know what type of brand they were interacting with, and any contact information added was clearly displayed for easy access. It looked like this: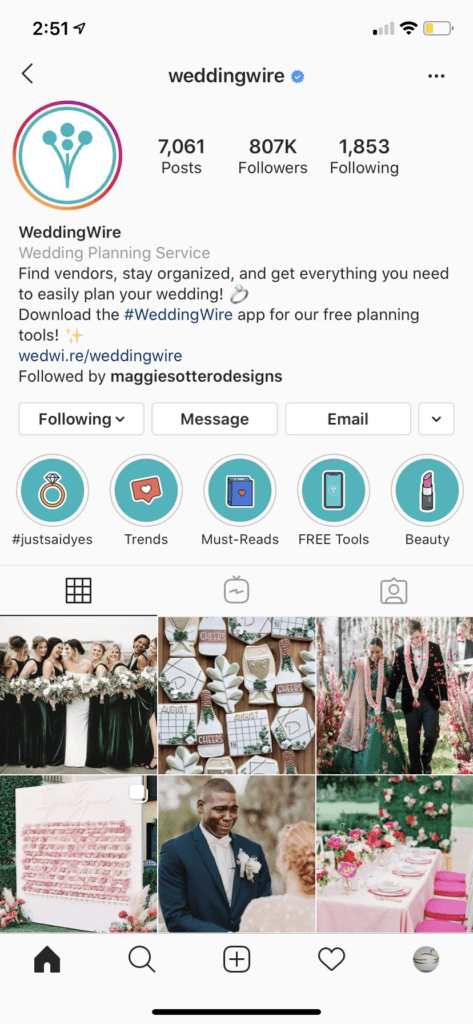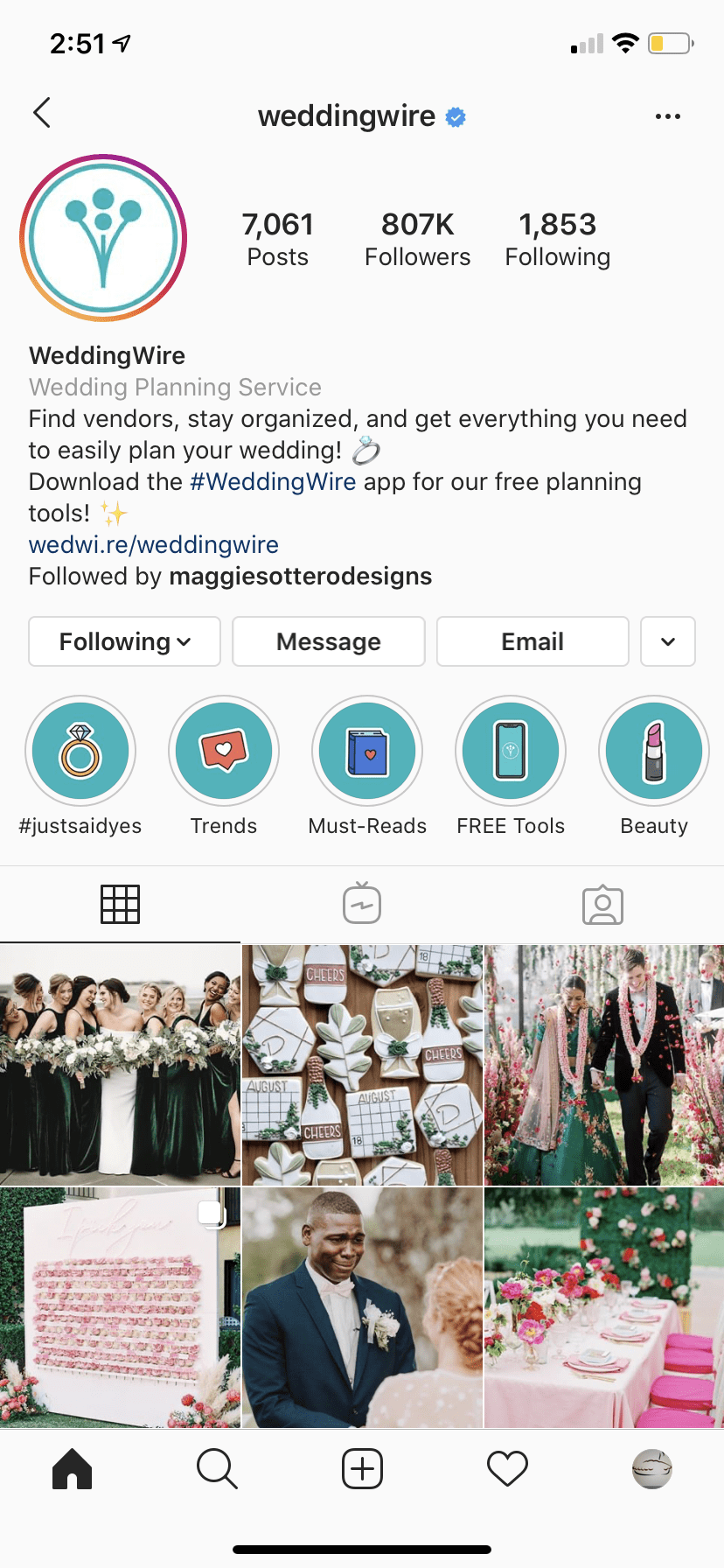 Now, brands have the option to hide both the business category and/or contact information from their Instagram business profile.
There's flexibility in how you want your profile to appear, which gives you more control over how users are interacting with your profile and your business.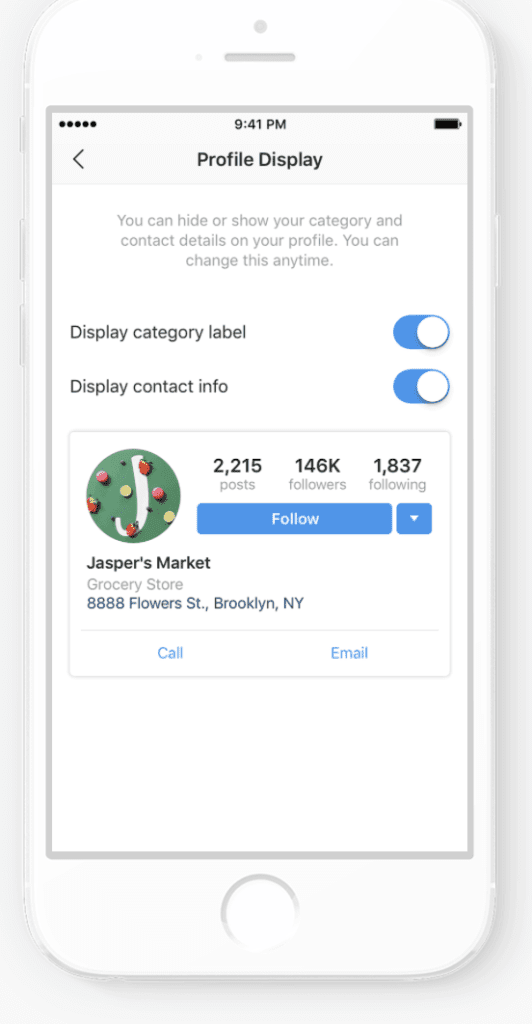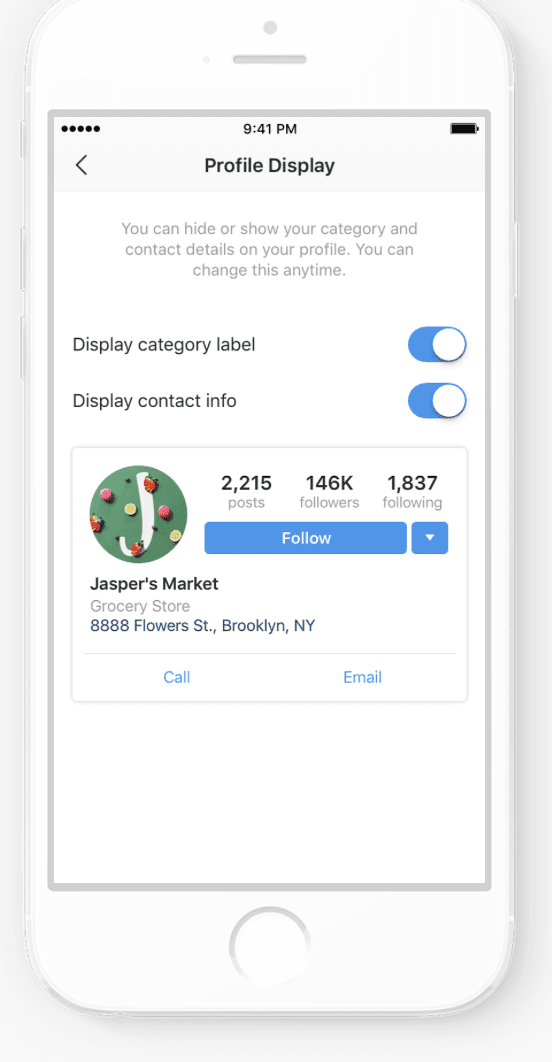 Keep in mind that if you do decide to hide this information, it may make it more difficult for users to get in touch. It's best to hide contact information if you'd rather customers reach out through your site or direct message instead.
New Inbox Organization
Last but definitely not least for our newest Instagram updates: New inbox organization options.
You can now break your inbox down into two different tabs: your "Primary" and "General" tabs, which allows you to sort messages based on their priority and importance.
You can swipe on a message to sort them accordingly, moving them from one to another.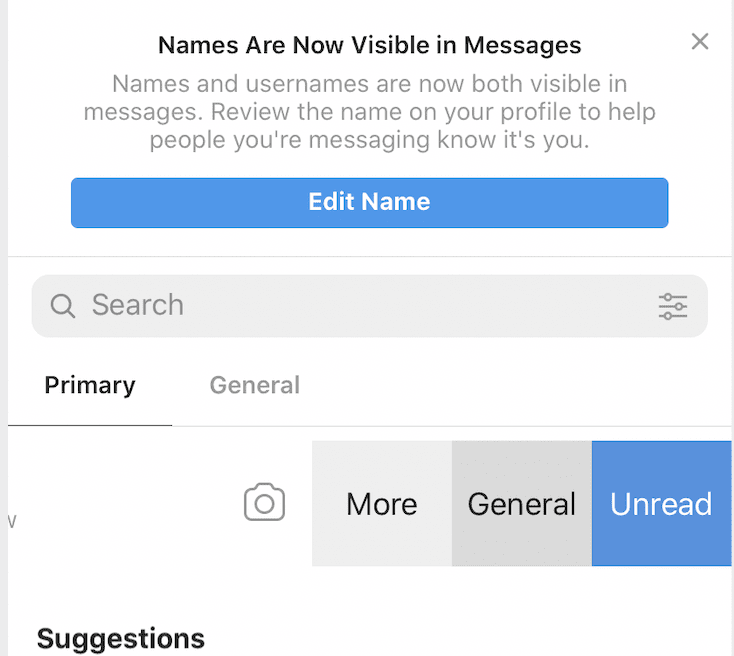 Messages in your "Primary" tab will naturally be those that you see first, and notifications for messages that appear in the Primary tab are automatically enabled, letting you know whenever you get a response.
The "General" tab, however, is best suited for messages that don't require responses or immediate engagement, and won't have notifications enabled automatically (though you can change these notification settings manually).
As more users are increasingly turning to Instagram's direct message, you can use this to keep track of messages that you need to respond to and those that you don't. It will make your life simpler in the meantime.
Final Thoughts
This year, despite our best predictions, there's no telling what Instagram has up their sleeve.
It will be interesting to see if Facebook's search ads take off, and if so, how they impact Instagram advertising if at all.
We're almost certain to see new features specific to the "Shopping" functionalities on the platform, but aside from that, there's no telling what incredible features they'll come up with this year.
All we know is that they're off to a great start, and we'll be here to cover all the latest and greatest of Instagram's updates as soon as they roll out!
What do you think?  What Instagram updates do you think we'll see in 2020, and what new features do you hope we'll get this year? Which of these features are you most excited about? Share our thought and questions in the comments below! 
---
Top Instagram Updates in November/December 2019
2019 has brought us some unbelievable new features, including desktop publishing access, incredible Stories and Shopping features, and even the testing of augmented reality for shopping. all!),
But the year isn't done just yet and Instagram still has some aces up its sleeve! We've got a few new features to go over just in time for your New Years' Eve toasts! Excited to see what's coming our way soon? We're even more excited to show you. Let's jump in.
Instagram Tries to Increase Engagement on IGTV
It's no secret that IGTV hasn't really taken off the way Instagram has hoped.
Usage has been pretty consistently underwhelming considering Instagram's overall success, but the platform is taking steps to change that by making more user-friendly changes that will help creators drive more engagement.
One of the biggest new features we're getting for IGTV is the ability for fans to turn on alerts that inform them when new episodes in a series they're following are available for viewing.
This alone is a great asset, because while IGTV is integrated with Instagram, it is still a standalone app and creators are struggling to generate traffic.
Having a built-in, interested audience be notified of new content is a step in the right direction.
Instagram Tests New Display Layout for IGTV
Instagram is currently testing a new format for IGTV that will hopefully make it a little more appealing to users, both visually and functionally.
Our favorite Jane Manchun Wong has given us images of what these in-testing displays look like.
This display will be vertical, resembling the increasingly-popular-with-Gen-Z users Tik Tok, and will show users more content at once instead of using the "TV channel" approach they're currently going with.
First: Users are going to see larger, scrollable titles, making it easier for them to see what a video is all about and helping them decide whether or not to watch it.
Second: Users are now getting "categories" that will allow them to view more relevant content quickly and easily, even without having to search for it.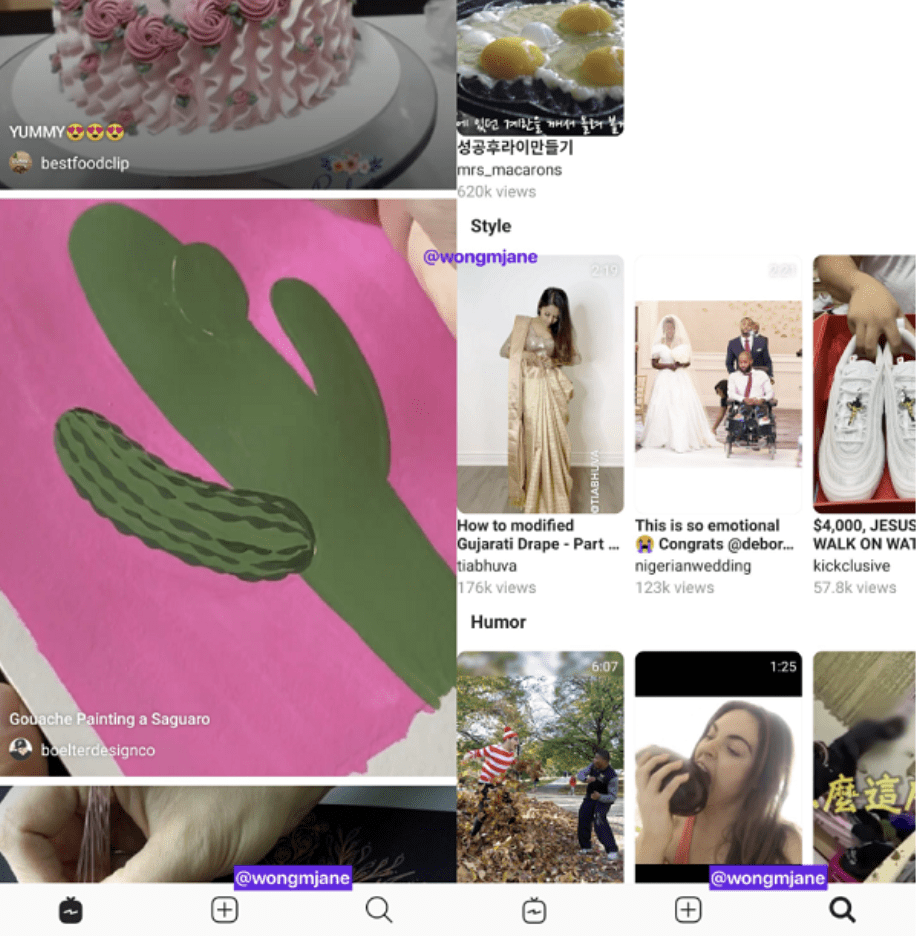 For what it's worth, we're torn on IGTV.
YouTube has proven that there is a big audience for long-form content, and that there's even an audience for long-form content on mobile, but shorter video content is what typically does well on most social platforms.
Stories– which have taken off like no other– are an excellent example of this. For best results moving into 2020, we strongly recommend mixing up your video types.
Go heavy on the Stories, include standard-length video content that will show up in the main feed, but also test out some IGTV content.
When you do create IGTV content, though, make sure you're heavily promoting it both in your Stories and in-feed posts on Instagram, since getting traffic to the app to watch it is the biggest challenge right now.
Instagram Is Now Hiding Likes in the US
We've known for a while that Instagram has been moving from country to country, testing the removal of the public like counters along the way.
Now it's coming to US markets.
With persistent and consistently-more-widespread testing, there's a good chance that this will become a permanent change relatively soon.
In case you've missed the news…
Here's what's been happening on Instagram.
In an effort to decrease online bullying and put the focus back on the content itself instead of social reactions to it, Instagram has been testing what happens when they remove the option for users to see "likes" on another user's post.
People can still like content, and the owner of the post can see how many people are liking it and who they are, but no one else can.
Brands shouldn't panic. While a loss of social proof is never something to be excited about, it's also not world-ending.
You'll still have comments that can act as social proof, so you'll want to use all the best engagement-boosting tools in your arsenal.
Consider running a few giveaways every so often, always respond to every comment to boost your comment count, and focus on engagement-driving content, like asking people their opinion.
Influencers may take a hit, unfortunately, since likes are a massive deal to them, but brands shouldn't worry much.
We want to note, too, that likes will still be valuable in their own right.
You can still use them to gauge how relevant your content is to your audience, because they'll likely still hit that little heart button, and they'll still help bump you up in the algorithm (and thus the feed), so don't discount them entirely.
Instagram Releases TikTok-Inspired "Reels" Mode
As we mentioned above, TikTok is an enormously popular app amongst Gen Z users (and some Millennials) that allows users to create and share short, Vine-like videos.
Instagram has always been great at spotting a competitor and putting their own twist on their key features (see: Snapchat and Stories), and they're doing the same thing now with their new "Reels" feature.
The "Reels" mode, which works within Instagram's Stories, pretty much replicates all of the main elements of TikTok; short videos can be created, uploaded, and remixed using this new feature, just like on TikTok, before it's shared with your followers.
There's a range of editing features included with "Reels" mode, including adding a music library, having variable playback speed, and "ghosting" (the seamless scene transitions kind, not the not-responding-to-texts-after-a-date kind).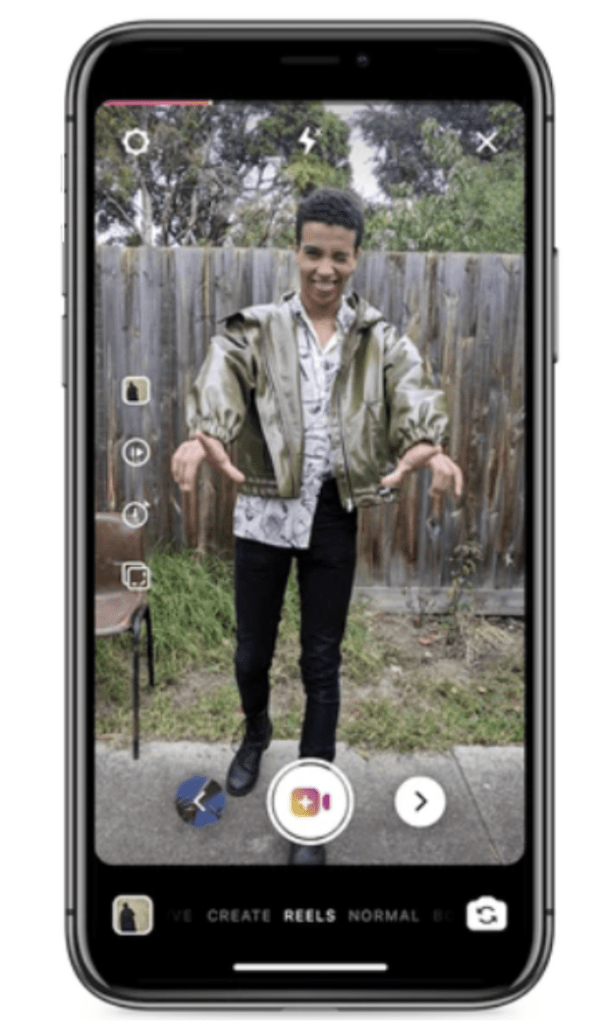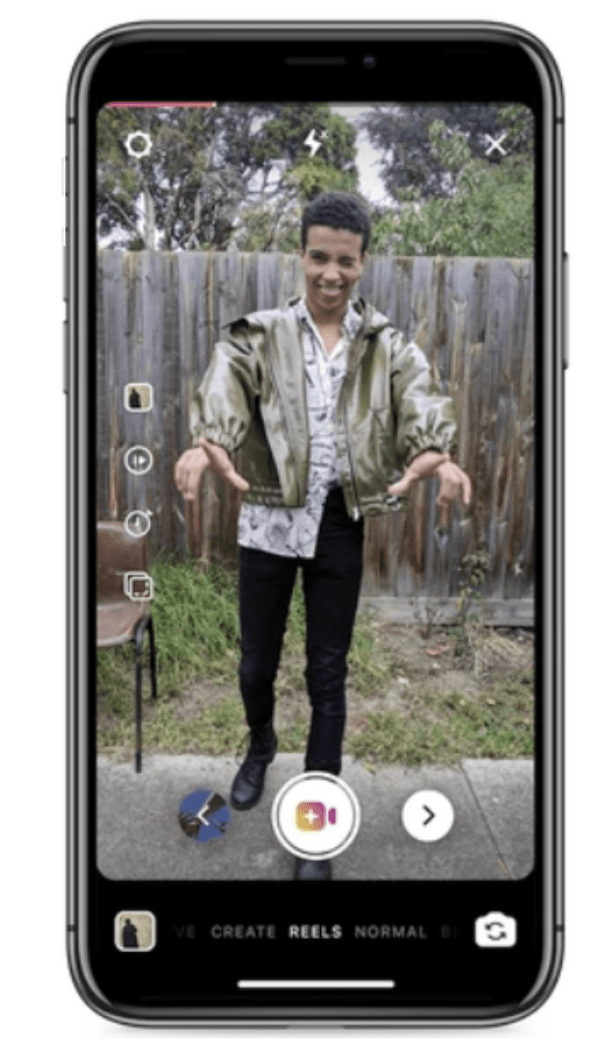 This new feature will give brands some really cool new creative options, especially if they're editing their content within Stories instead of a third-party app.
Right now the feature is only going to be available to users in Brazil, but keep an eye out, because it probably won't be long before it starts spreading to other regions, too.
Final Thoughts
With these four changes–two of which are in testing– we're getting close to wrapping up the year.
We may see a few more changes show up in December, but this time of year it's not uncommon to see everything start to slow down; social platforms are ramping up for the new year, too, after all!
And we don't know about you, but with all the incredible features we've gotten this year, we're dying to see what we get in 2020.
See you next year then, with our next update!
What do you think? Which of these features are you most excited to get your hands on? What features do you hope to see in 2020? Share your thoughts and questions in the comments below! 
---
Top Instagram Updates in October 2019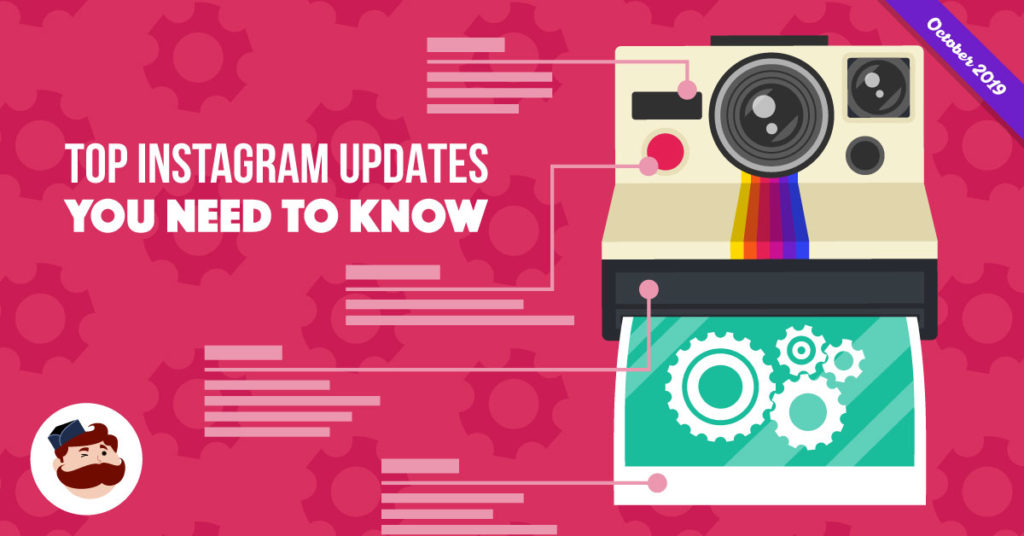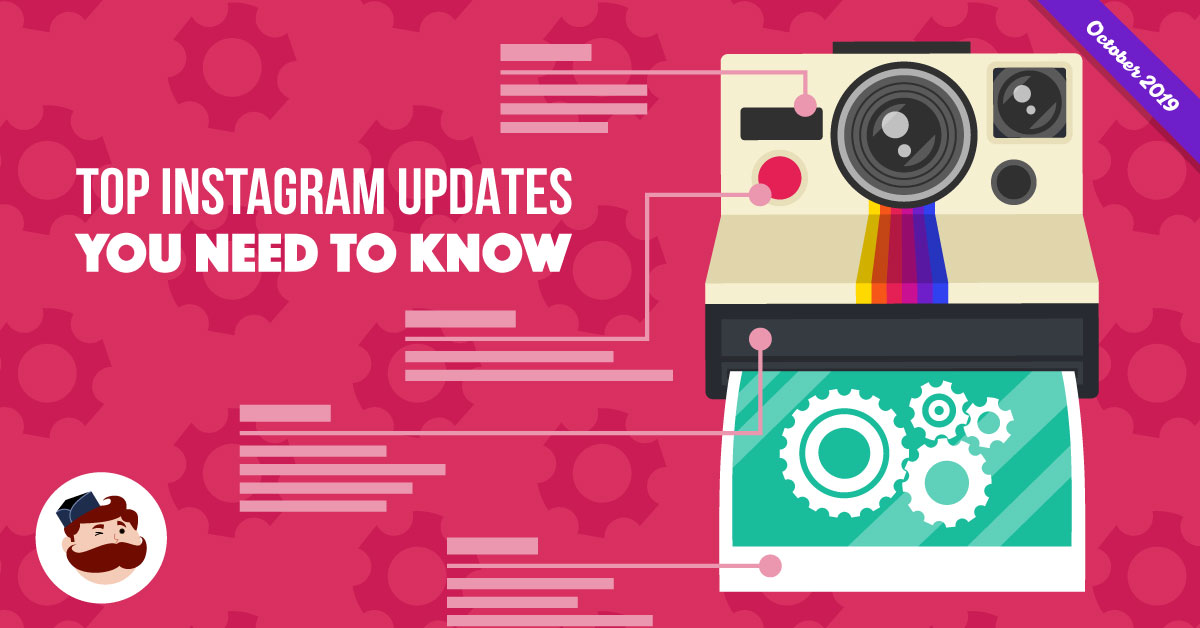 There are only a few Instagram updates this month, but they're big ones! We can (finally!) get our hands on the new standalone direct messaging app Threads!
Several of the other big features we're going to look at are actively being tested and they're a big deal for marketers and brands using Instagram to sell or promote eCommerce products.
If you're not excited yet, you will be when you read these two words: Augmented Reality. Ready to find out more?
Let's take a look at everything we've learned about the present and future of Instagram marketing and how it will impact you.
Instagram Is Testing Augmented Reality
Augmented reality– which is almost like a type of virtual reality, but you're only augmenting one factor of reality instead of creating an entire landscape– offers enormous value in marketing.
It's why you see makeup companies have the technology for users to upload pictures of themselves and see how a certain hair color or lipstick would look, and why sites like Houzz have created apps that allow users to see new furniture in their home exactly to scale.
They're altering just one thing about the image or reality you're seeing, but they're doing so in a way that offers extremely valuable context that can aid in users making a buying decision.
Now, Instagram is actively testing an on-platform augmented reality shopping feature with select advertisers.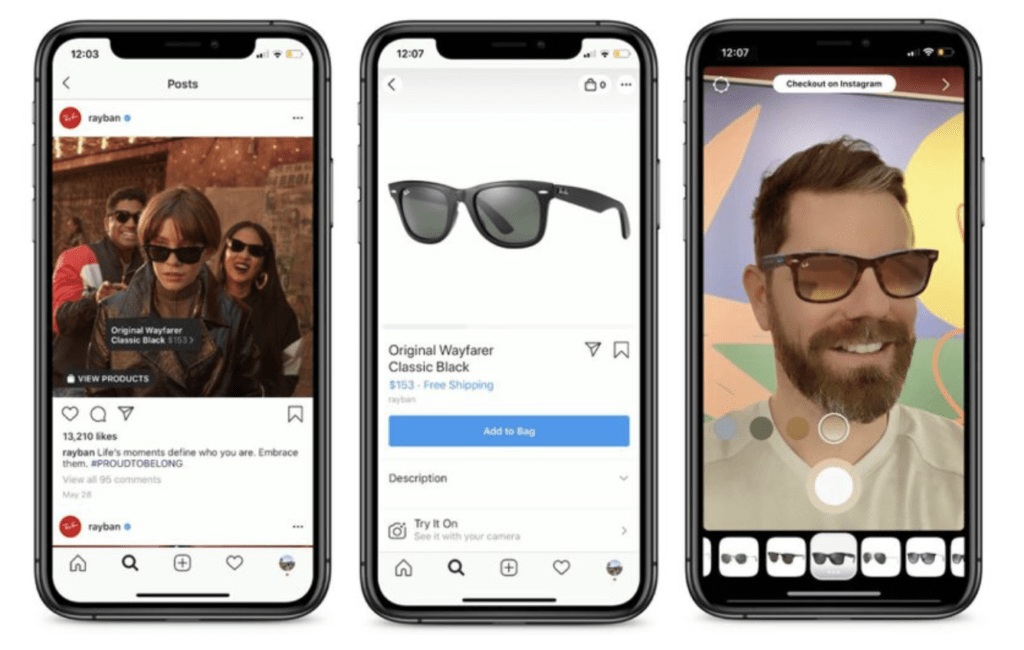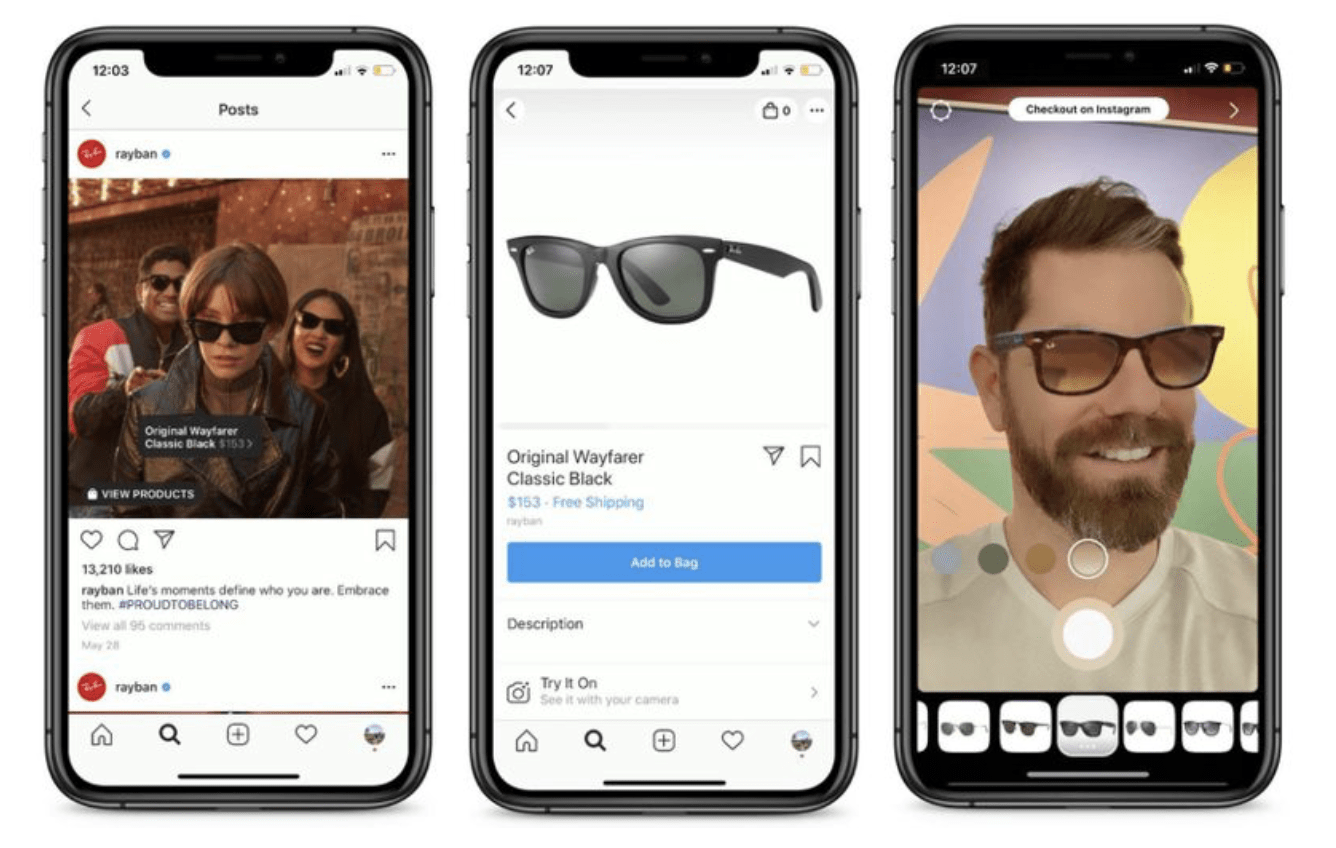 This is the first time we're seeing something like this on the social media platform, even though it's not necessarily a big jump in technology; it's really using the same tech used to create the VR-filters that can make you look like a unicorn that's puking up rainbows or that give you a mohawk.
That being said, it is dead useful for this particular use case.
When users are looking at certain shoppable, tagged products, they'll see the option to "try it on" when viewing the product's information.
Users can try on sunglasses, lip colors, and so much much, all with the click of a button.
Right now, we don't have more information on when this feature may be more widely available or roll out to more brands, but we'll keep you in the loop.
Users love exciting, interactive features, and as someone who has used even simple AR tools to make buying decisions, I can confirm that this is likely to help brands sell more on the platform.
Direct Messaging App "Threads" Is Released
Last month, we shared that Instagram was working on its standalone direct messaging app, Threads, which was technically separate but still somewhat integrated with Instagram.
That app has since been released, and it's coming with a big list of new features.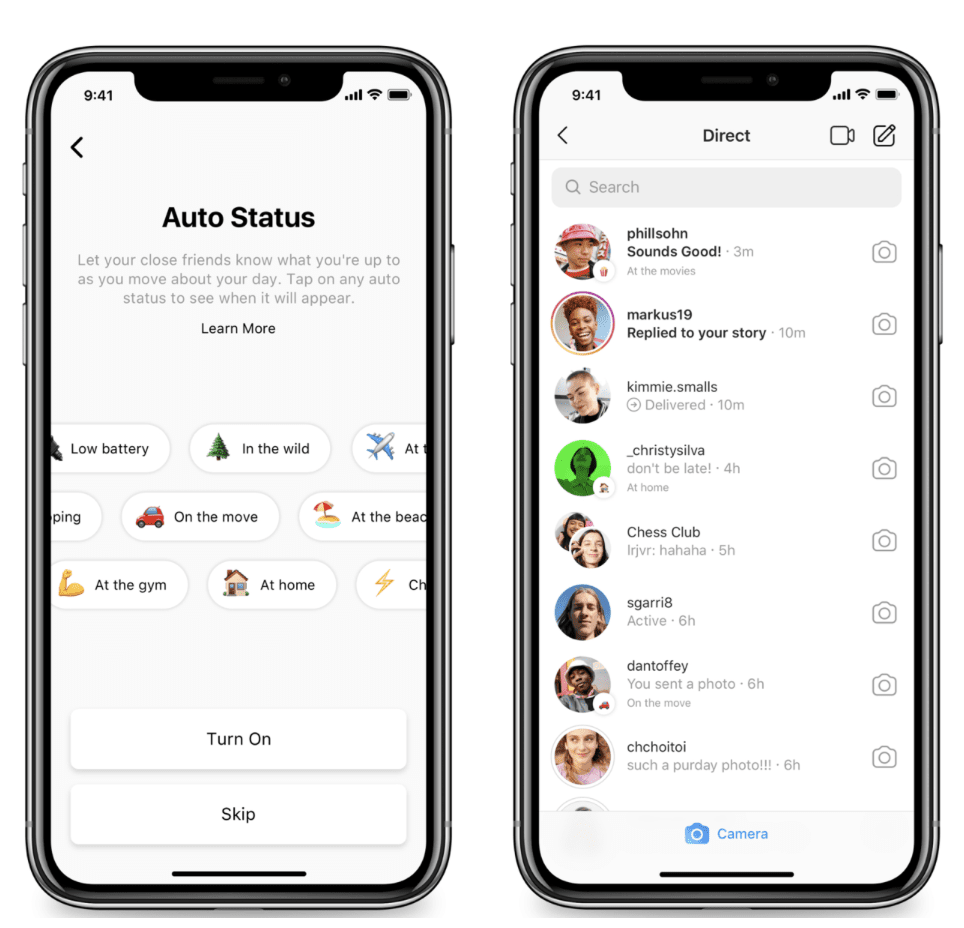 The app– which is technically called "Threads from Instagram"– is a "camera-first messaging app."
Think Stories meets DM, with full-screen, vertical images and videos that you can quickly send to your close friends' list for fast, personal sharing.
In addition to fast sharing with close friends, we've also got AIM-away-messages-styled "status updates" like "at the gym" or "on the move" so you can quickly share your status with your close friends list if you choose.
Right now, Threads is extremely user-focused.
Since most users are unlikely to add business accounts to their close friends' list right now, there will likely be limited interactions here for businesses and users.
That being said, all social media sites– Messenger included– all come up with ways to either monetize the app or allow marketers to use it organically in time, so stay tuned for updates in this regard.
Set Reminders for Product Launches
In addition to running live beta tests on augmented reality (which we will never not be excited about, for the record), Instagram is also running live testing on product launch reminders through the Instagram Shopping feature.
This is another feature that has enormous potential for commerce businesses that are selling physical goods through the Instagram shopping platform.
It allows businesses using the shopping platform to learn about and preview products that aren't even officially for sale yet.
You can add a sticker to your Story that lets people know exactly when the launch will be, which also gives them an option to set a reminder of the launch if they want to.
When the product goes live– which you can set in advance down to the hour– these users will see a push notification that takes them right back to the product on Instagram to purchase.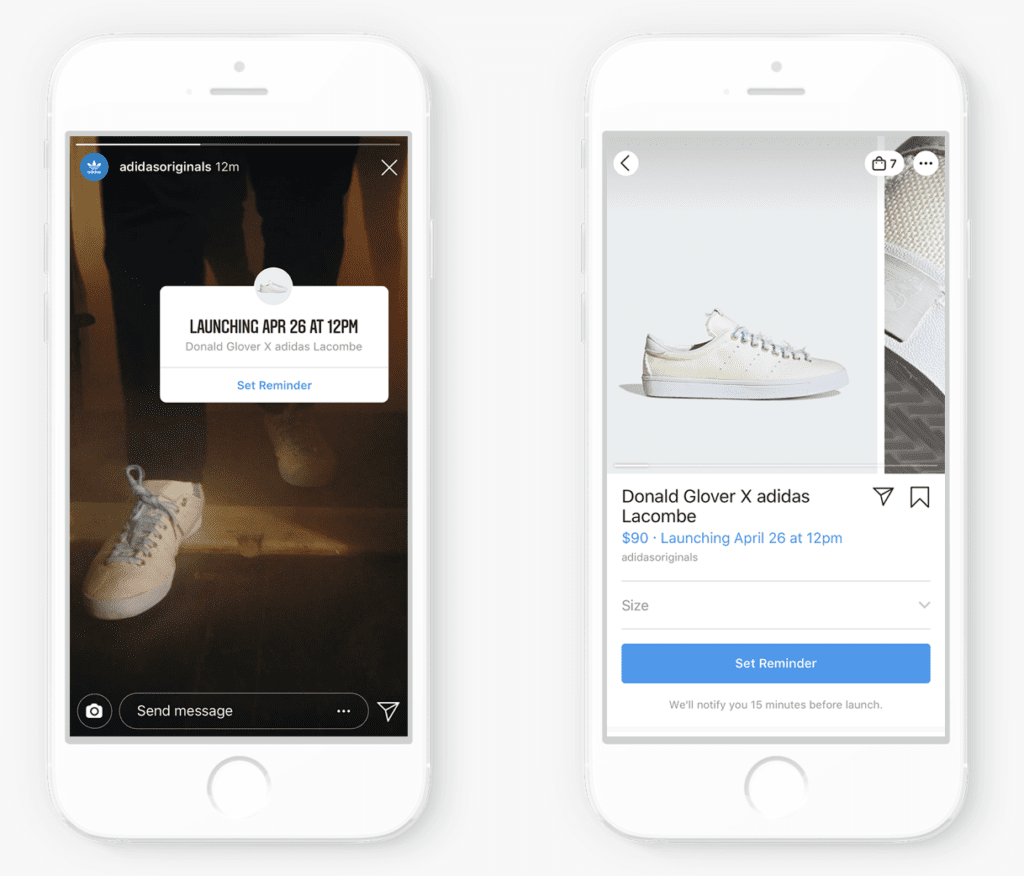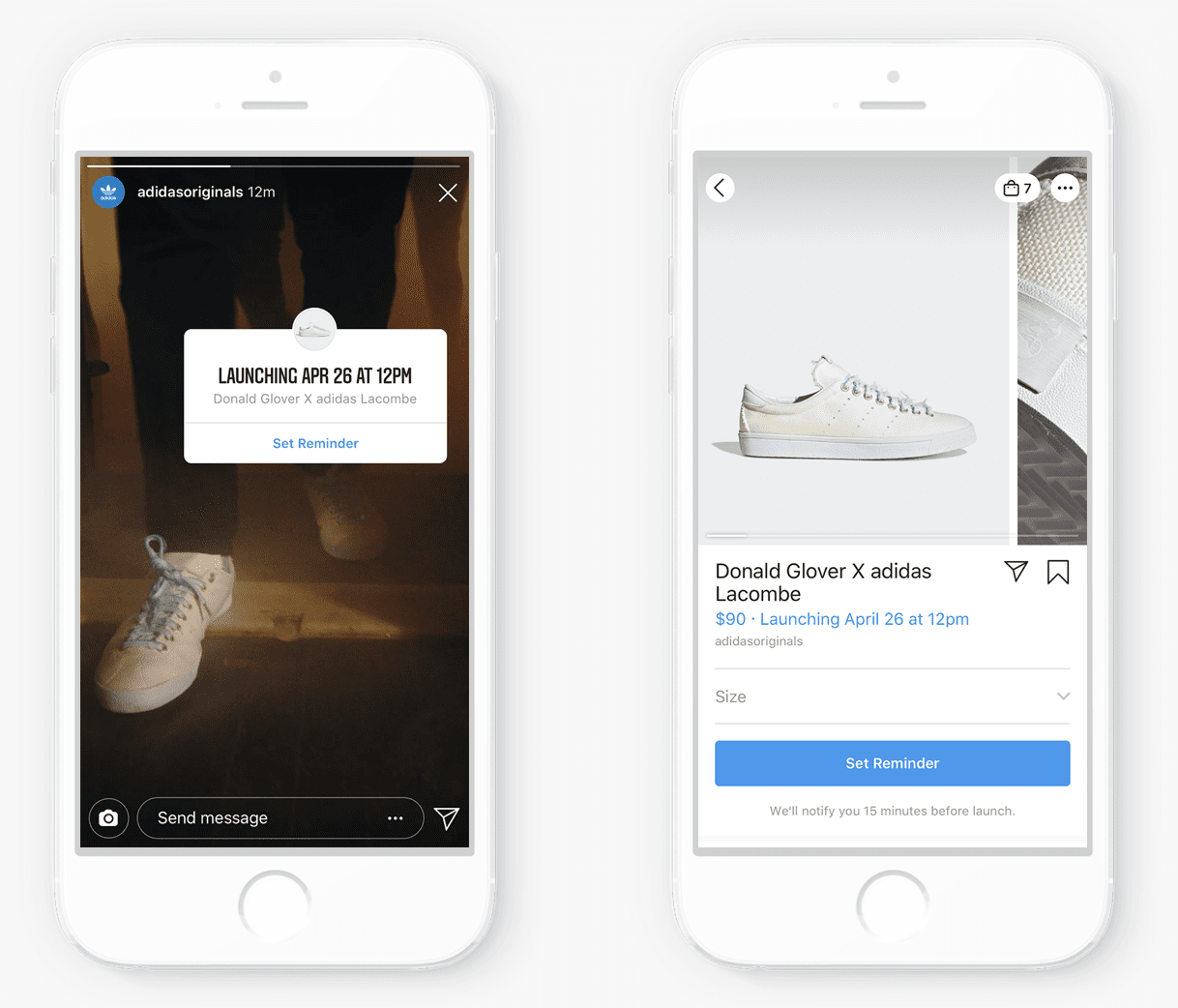 FOMO and creating anticipation are big parts of online marketing, but getting people excited about new product launches can be tricky.
Historically, if you posted too far in advance, the hype would possibly be worn off by the time users needed to purchase when it went live, but if there wasn't enough excitement, the launch could be overlooked.
This is an extremely happy medium, and it allows you to turn a simple release of new products into a huge event and boost initial launch sales along the way.
Right now, this feature is only in testing with select advertisers, but historically we've seen wider roll-outs not too long after that. In a few months or less, there's a good chance there will be a wider release of this tool.
Conclusion
While seeing only three new updates can seem a little slow compared to the big long lists we sometimes see from platforms like Instagram and Facebook, we're getting major updates.
Quality over quantity in this case definitely holds true, especially with the product launch reminders and the augmented reality capabilities.
They're only in testing, but they're actively being tested by major brands with US audiences, which is a great sign for everyone anxiously awaiting their turn, too.
And while Threads won't hold a ton of potential for marketers right off the bat, there's a good chance we could see that change long term.
All in all, we're excited about this month and can't wait to see what November brings. Are you?
What do you think? Which of these three new updates are you most excited about? Share your thoughts and questions in the comments below!   
---
Top Instagram Updates in September 2019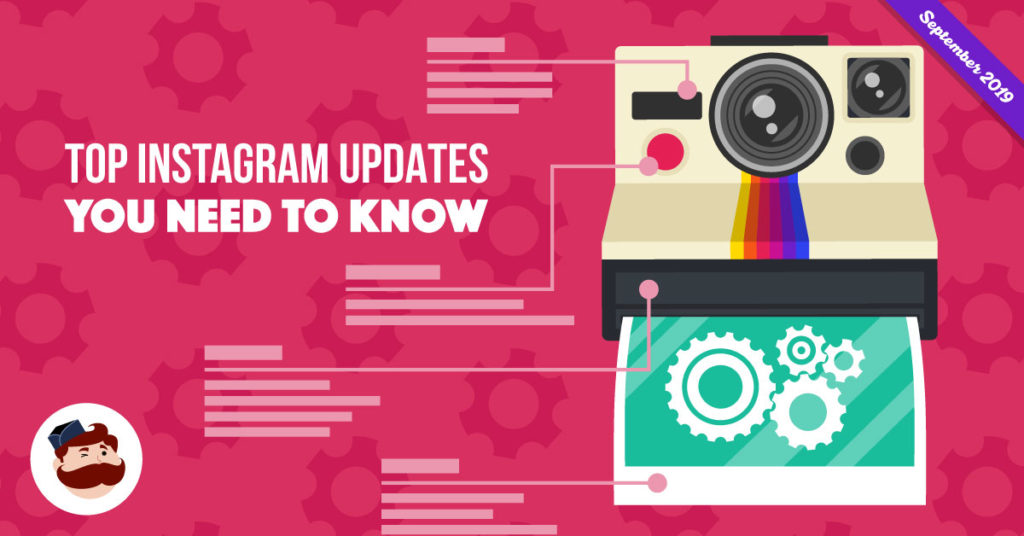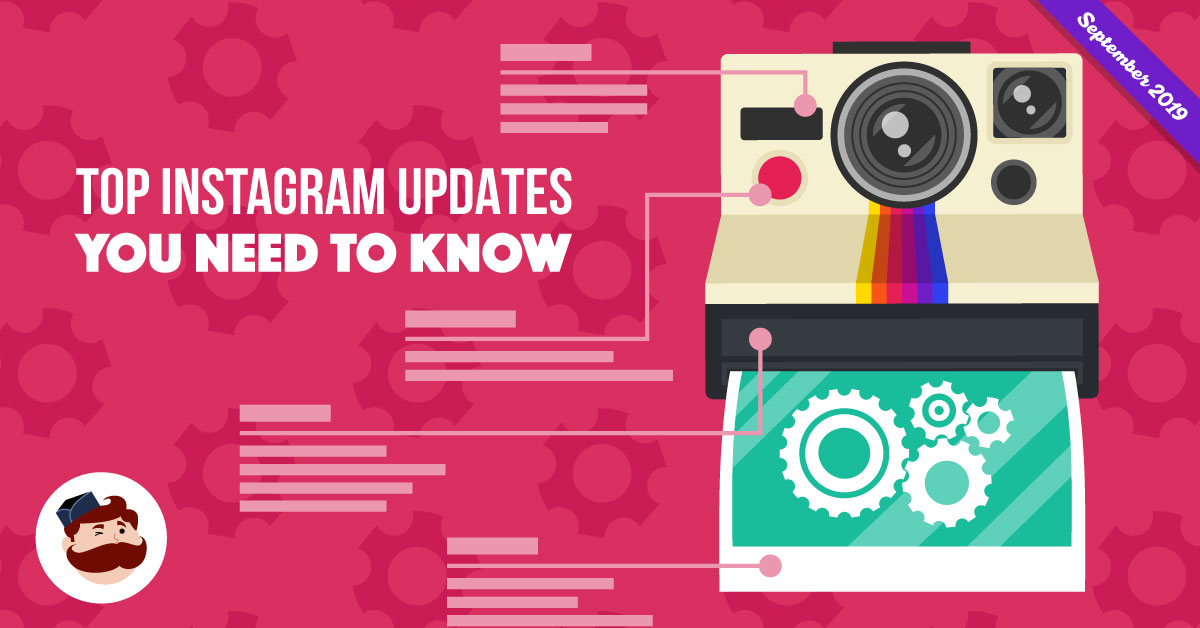 It's finally happened, marketers!! We've had 30 days with no new major features rolling out on a wide-scale basis on Instagram.
This in and of itself somehow feels like an impressive milestone, but don't tune out just yet, because that's far from the only news we have!
Just because Instagram hasn't actually released anything new yet this month doesn't mean that they're not currently in the middle of developing several new features that could impact marketers and businesses across the globe.
The platform is currently actively developing and testing several, in fact, that are well worth examining and keeping our eyes on.
In this version of our Instagram Updates post, therefore, we're going to take a look at everything that's potentially up-and-coming on Instagram so that you can start to prepare for The Next Big Thing right now.
Shopping Posts Are Being Tested as Ads
The biggest and most exciting update that we have news about this month is that Shopping Posts are currently being tested as ads.
That's right: Soon, you'll likely be able to turn those clickable, shoppable posts into ad campaigns to show users more products and hopefully drive purchases faster than ever before.
With over 130 million accounts currently having Shopping posts up and running on their account, this could be a major development, especially since the feature works so well as it stands now as an organic-only feature.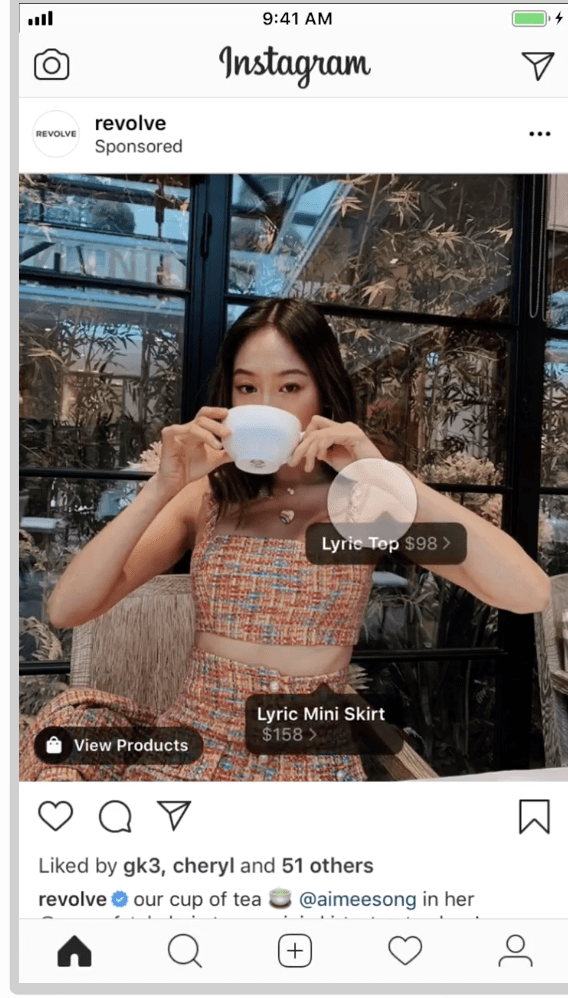 The user experience will be the same; users are going to be able to see an image, click to see product tags, view a landing page, and then click to the site to purchase.
The only real difference will be the "Sponsored" tag showing up at the top of the post and the likely massive increase in reach the ad system could deliver.
Right now, the ads testing is in early stages, so it's likely we won't see a wide release for a little while, but this is still exciting nonetheless.
A Tik-Tok Copy-Cat Feature May Be In Development
Instagram did it with Snapchat's Stories, and now they're at it again, up to their good ole' copy-cat tricks. This time, though, Tik-Tok is the target.
If you're unfamiliar, Tik-Tok is the app that allows users (primarily teens and tweens) to create amateur music videos and share them with their audiences.
Blogger and reverse engineering expert Jane Manchun Wong has uncovered evidence that Instagram is currently engineering a Tik-Tok feature called "Clips" that will allow users to record segments of video into a single Story, overlaying it with music while adjusting the speed and timer of the clips themselves.
Some businesses may be able to use this to their advantage, especially those with "fun" brands who could see themselves making fun music videos to entertain their followers.
We'll let you know more about this feature as it rolls out.
New Messaging App Called "Threads" Is Being Developed
Instagram direct messaging has increased in usage overall over the past few years, and with the platform semi-regularly rolling out sister apps like IGTV or Layouts, it's perhaps no surprise they're developing a new standalone messaging app.
According to The Verge, this new app called "Threads" will focus on creating more regular conversations between smaller groups of people, with a big emphasis on sharing content.
Think like Snapchat (again, copy-cats), but with more functionality.
Some of the sharing options, however, may be more concerning to some users, actually sharing automatic updates about what you're doing like being "on the move" and between locations. Many users are deeply concerned over privacy issues right now, and automatic location sharing even with groups of friends you choose feels like a bit much.
It will be interesting to see what exactly happens with this app, because so far what we know about it seems to be working against Instagram's favor instead of for it.
We'll also need to see exactly how it fits into Instagram's framework and usage, especially since Direct messaging is going to be folded into the three-platform integration of Facebook Messenger, Instagram, and WhatsApp that's likely rolling out later this year or early next year.
Instagram Officially Debunks a Hoax About Photo Re-Use Rule Change
There's recently apparently been a viral hoax going around "informing" people that Instagram is going to suddenly make everything you've ever posted public.
This goes for accounts set on private and even private messages, too.
And then, to cap it all off, they'd go so far as to use your pictures for their own gain, too! That's shameless! Or is it?
It goes without saying that this isn't happening, but since we've had a few clients reach out, we wanted to address this here since the hoax is making its rounds again.
Instagram can't suddenly make everything public; it would actually not be legal as the platform's terms of service stand now, and it would have required a major change in rules that you would have needed to explicitly agreed to. It would also clearly make major headlines.
Something else worth pointing out: When you're publishing content online, including images on your Instagram that you've taken or created, you're protected (at least legally) by copyright law.
Thanks to the DMCA act, all content published online (including images, videos, and copy) is protected by copyright law. Legally, someone can't take their pictures and claim them as their own, including Instagram. (Practically, unfortunately, people do this all the time, but that's another matter for another day.)
Final Thoughts
While there is some disappointment that we don't have anything shiny and new to play with right now, that's ok.
Instagram has spent a lot of time this year making some big changes to the platform, and with news from last month about how they're testing removing public likes in more countries, they're still considering how to continue reshaping their app.
The shopping posts as ads is easily the biggest development we know about right now, and it's one that we hope to see soon, though it will be interesting to see how the potential messaging app is used and how it fits into the Messenger-Instagram Direct-WhatsApp integration currently in the works.
Right now, there's some waiting and seeing that needs to be done, and we're on it.
Check back next month and we'll let you know what we've learned and we'll share what else is new on the platform!
What do you think? How do you feel about the in-testing developments? Which are you most excited to get your hands on? Share your thoughts and questions in the comments below: We can't wait to read them!  
---
Top Instagram Updates in August 2019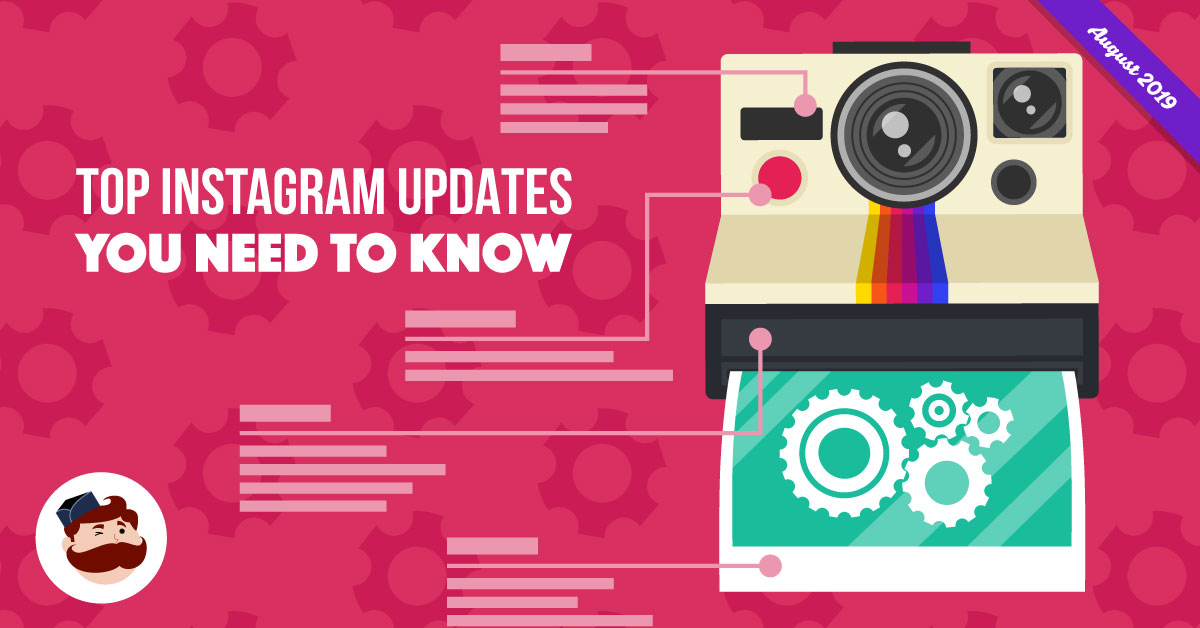 We've only got one big update (though it's a good one) in August, and multiple news stories that absolutely impact how marketers need to approach the platform moving forward.
Interested to see what this month had in store for all of us? Let's get started.
Instagram and IGTV Get Desktop Publishing Access
Instagram and IGTV have historically required mobile-heavy usage. Scheduling content and even creating content all from desktop wasn't possible unless you were using third-party apps like Hootsuite, and even then some level of mobile involvement was necessary for publication until only recently.
Now, however, all of this has changed. Instagram and IGTV are now supported in Facebook's Creator Studio. After you link your Instagram account to your Facebook Page, you'll be able to create, upload, and schedule content on your desktop for publication on Instagram and IGTV.  You can pull images and videos from your existing library or upload new ones.

In addition to publication access, Instagram direct messages will now be supported through the Creator Studio, allowing businesses to manage incoming and outgoing direct messages on desktop natively.
With many busy brands and marketers heavily preferring to work through desktop instead of using the slightly-more-time-consuming mobile, this is a huge advantage, especially if the businesses didn't want to utilize third party apps for whatever reason. Most third-party tools don't even have access for IGTV publishing, giving the Creator Studio a unique edge here.
Instagram Gets a Minor Rebranding
We've all known that Facebook owns Instagram and the messaging app WhatsApp for a while (read: since both companies were first acquired by the social media juggernaut), but now it seems like Facebook really wants to make it obvious for anyone who didn't get the memo. This has resulted in a minor rebranding, with Instagram now being terms "Instagram From Facebook" on the homepage, even though it's showing up in fine print.
Facebook has confirmed that they're making the change to be clear about the services and apps that are part of the Facebook family.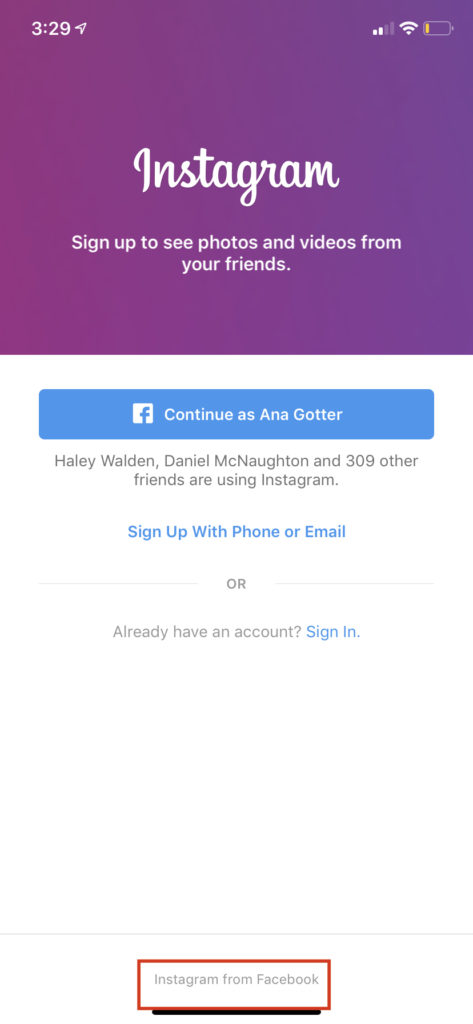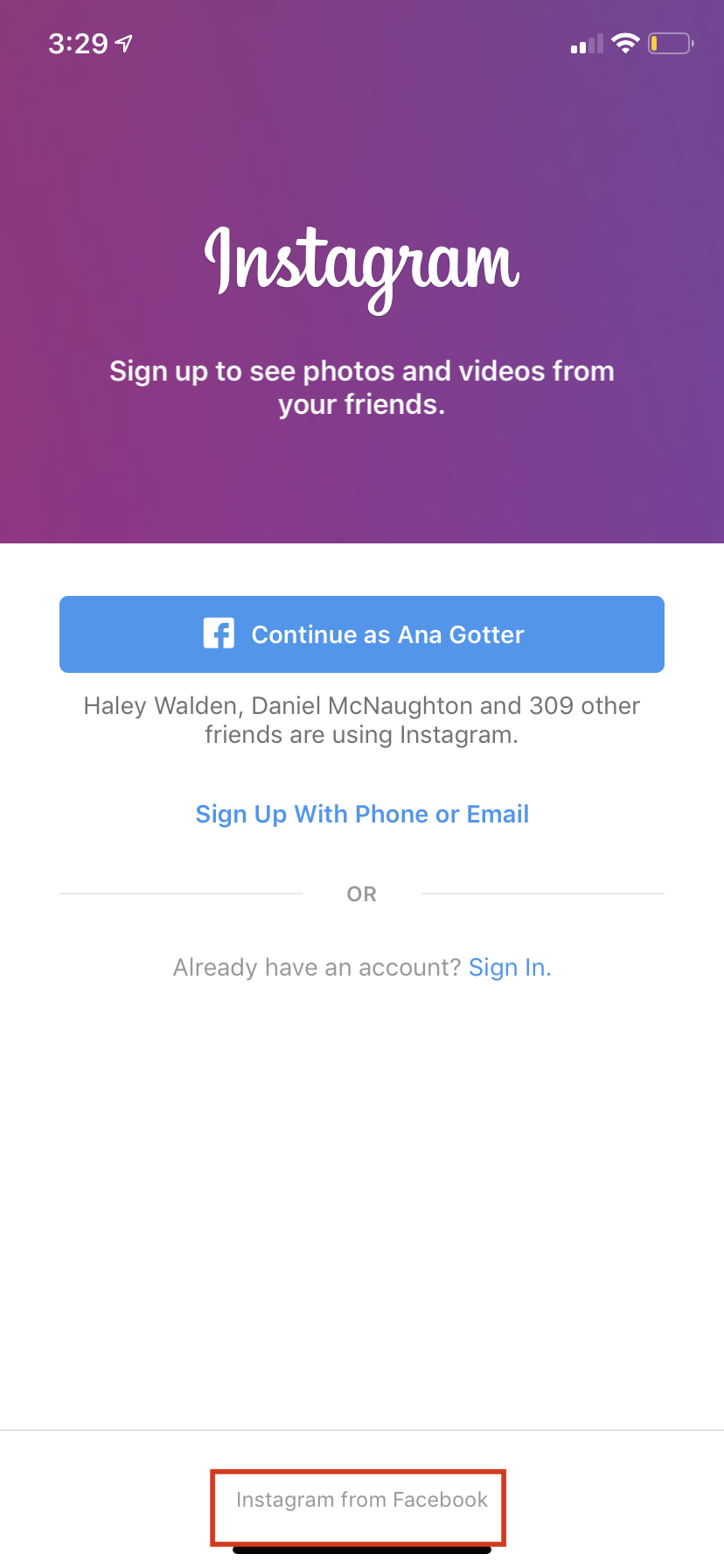 This is a minor change, but it's still noteworthy. This is likely happening for two reasons: 1) All the transparency issues surrounding Facebook and 2) The upcoming integration of the messaging platforms.
We've known for a little while now that Facebook is restructuring each platforms' chat features so that soonish (likely by early next year), all three chat platforms will be integrated. Users will be able to read and respond to messages from friends seamlessly across Messenger, Instagram Direct, and WhatsApp. This will make direct communication easier for brands who are trying to manage multiple channels, but it will be interesting to see how users respond.
Instagram Purges Memes Then Sets Up Partnership
Instagram recently went and purged an enormous number of meme accounts on their platform, resulting in a large number of accounts with huge followings to be suspended or banned entirely. Some of the accounts had hundreds of thousands or millions of followers, and the account owners lost income that came from selling promotional spots in their post.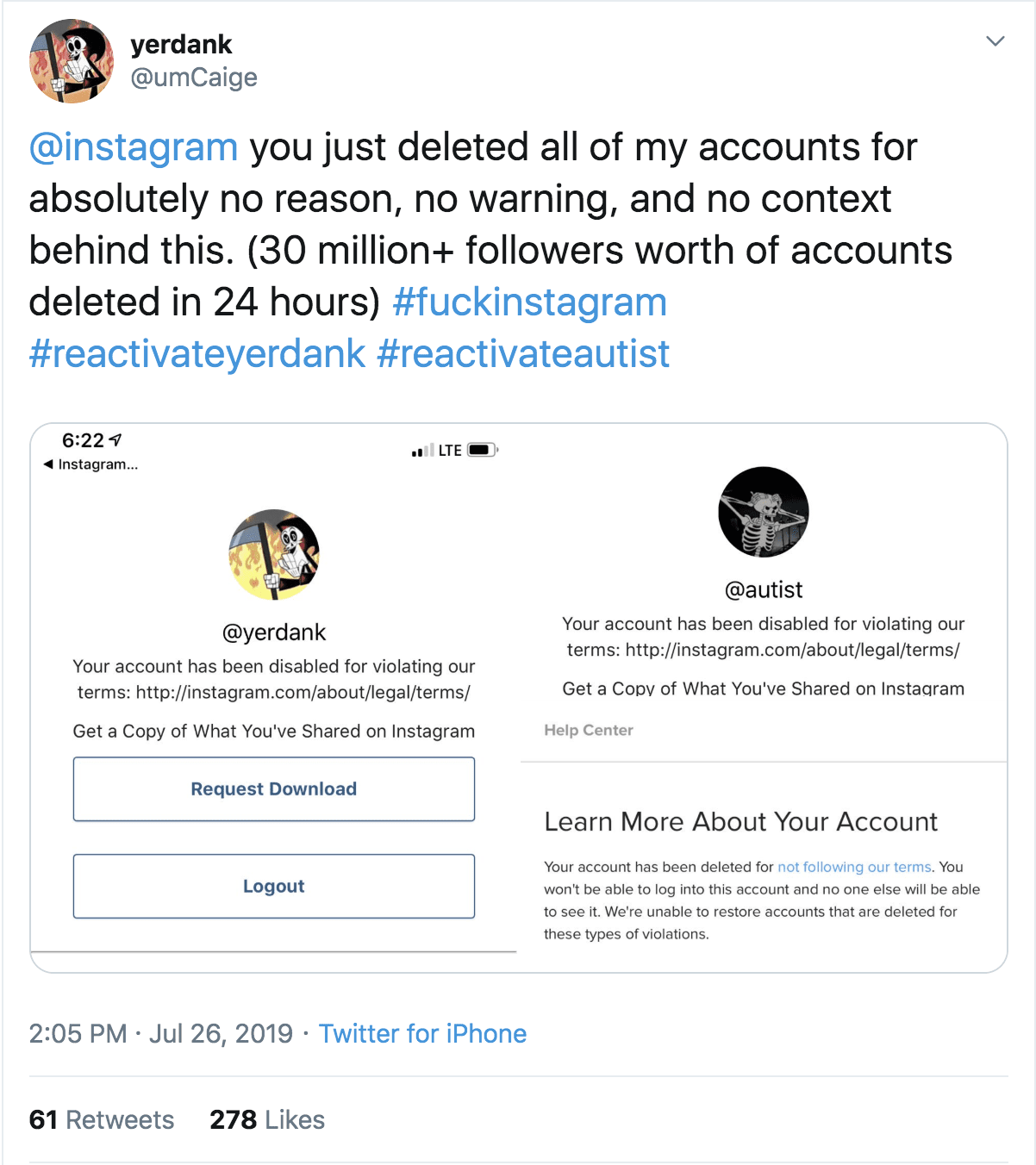 After the public outcry from both account owners and the users who followed them, Instagram is trying to set up a partnerships manager to focus exclusively on managing meme accounts and dealing with digital publishers. This individual would ideally identify new formats while connecting with and serving "memers" already on the platform.
Instagram originally announced that the purge happened because the accounts violated terms of service, which likely has more to do with the fact that many are essentially stealing content instead of creating their own.
The lesson we're learning here: Instagram is open to working with what their user-base wants, but a sheer number of followers won't protect you. Make sure you're abiding by Instagram's terms of service.
Instagram Claims Growth Hackers Are Behind Fake Stories Views
Recently, users and brands have noticed a surge of strangers watching their Stories in the past few months. Many brands were getting excited that their activity was picking up, but noticed that many of the accounts seemed to be fake and/or from Russia.
Instagram has released a statement saying that growth hackers are currently behind the surge of Stories Views, and confirms that the views are from fake accounts. A tell-tale sign is that the accounts don't follow you and don't have much activity on them. Growth hackers are trying to pay third parties to like, comment, and share their content. This is nothing new, but the Stories views on unsuspecting accounts is a little different.
Instagram has also confirmed that they're working on cracking down on the fake views and the growth hackers causing them. They've also expressed that in the coming months, we'll get new features that can help reduce the activity, but we don't know anymore about this just yet. In the meantime, the only solution is to change your account to private, which is the last thing most businesses should be doing. You can block accounts if any become problematic, but otherwise just be wary of surges in Story viewing.
Instagram's Ad Partner Tracked Users' Locations and Stories
Alright, this is a big one, especially when we've been hunkered down in a battle over privacy concerns.
A trusted marketing partner of Facebook and Instagram called Hyp3r has been secretly collecting and storing data on millions of users against the policies of both social networks, including their locations and their Stories content. This has been happening over the period of multiple years, with the partner secretly and intentionally collecting the data to create detailed personal profiles.
Instagram has since issued a cease and desist against the company and kicked them off the platform. That being said, it's hard to understand exactly why it took so long for Instagram to catch on. This was a Facebook marketing partner, and the company was pretty clear about the fact that they were fleshing out detailed personal profiles. Instagram has acknowledged the issues and said that they've made changes to the platform to prevent this from happening again, but they haven't specified exactly what those are.
Hyp3r did only scrape public information, but that's still not ok, especially right now with so many transparency concerns. We may see an increased crackdown, particularly on the API in the coming months. We'll keep an eye on how this will affect marketers, businesses, and advertisers.
Final Thoughts
There's a lot of Instagram news that we've been hit with in the past month.
While the Creator Studio addition was certainly incredibly exciting and dead useful, it's important to pay attention to all the news surrounding the platform in the past month, too.
Increasingly visible integrations with Facebook and a focus on security issues is now impacting Instagram more than before, so it will be key to watch this moving forward.
It could result in changes on the platform, impact metrics, or even shift consumer behavior.
We'll keep an eye on it and let you know what's happening as it all unfolds, so make sure to check back here next month!
What do you think? How do you feel about the news that came with this month's Instagram updates? What surprises you most? Share your thoughts and questions in the comments below! 
---
Top Instagram Updates in July 2019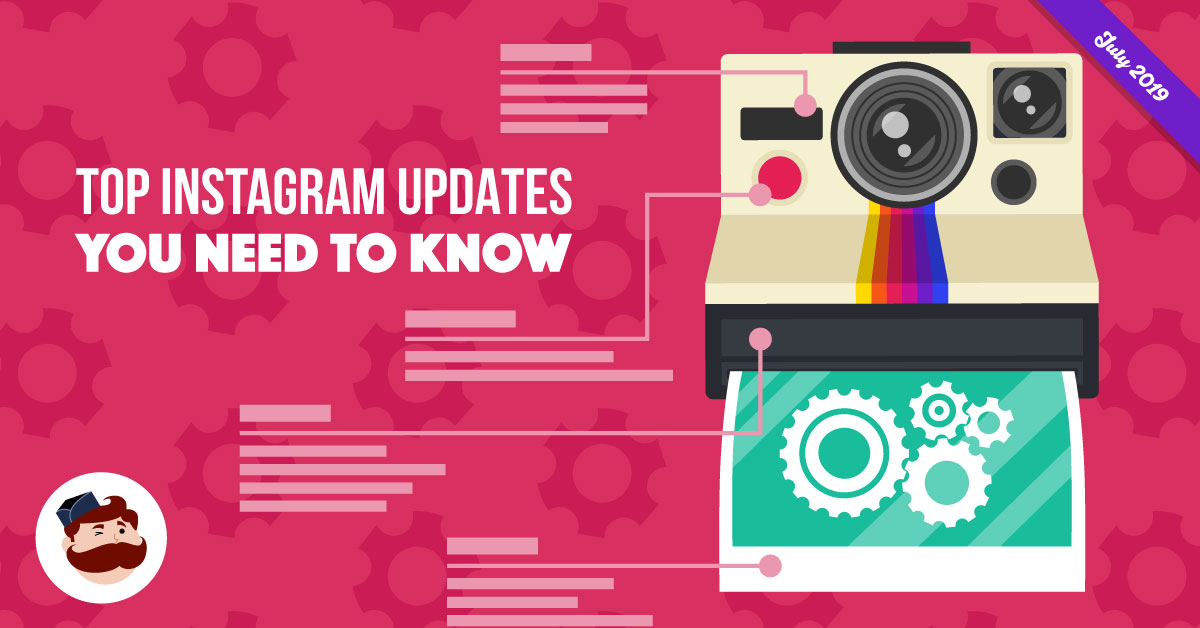 Instagram is consistently keeping up with the fast pace they've set for their platform's own evolution, constantly rolling out new features that are small and large alike.
Keep reading if you want to know more about the launch of ad placements in the Explore section, the Like Removal testing, the updated Ban Policies, and much more!
New Chat Stickers Roll Out
Over the past year, we've gotten almost one new Story feature per month with only a few exceptions, and this month we got the Chat Sticker! 
Here's how they work: Users add the "Chat" sticker to their Story, which essentially invites followers to request to join a new group chat in Direct based on that Story. When users click, they can request to join said group, and the account holder can approve these requests as they see fit.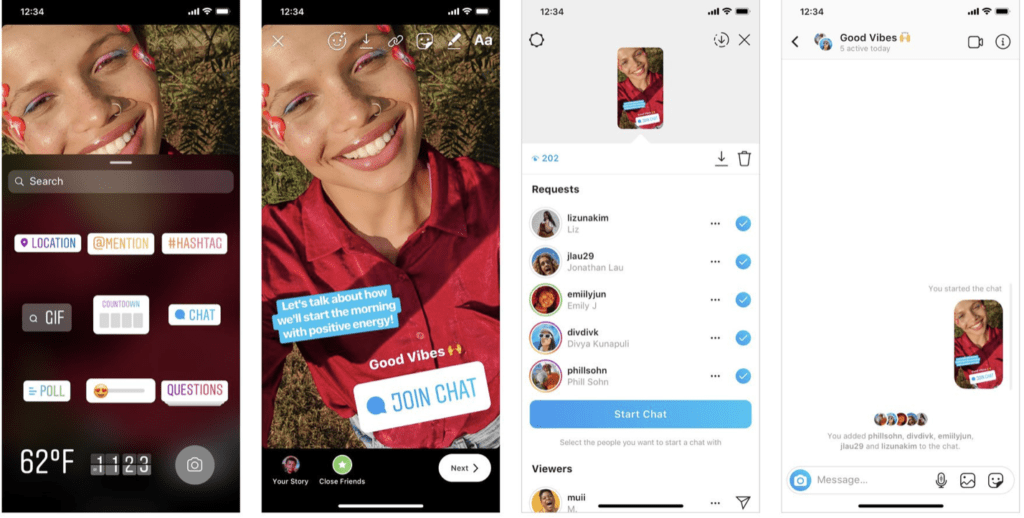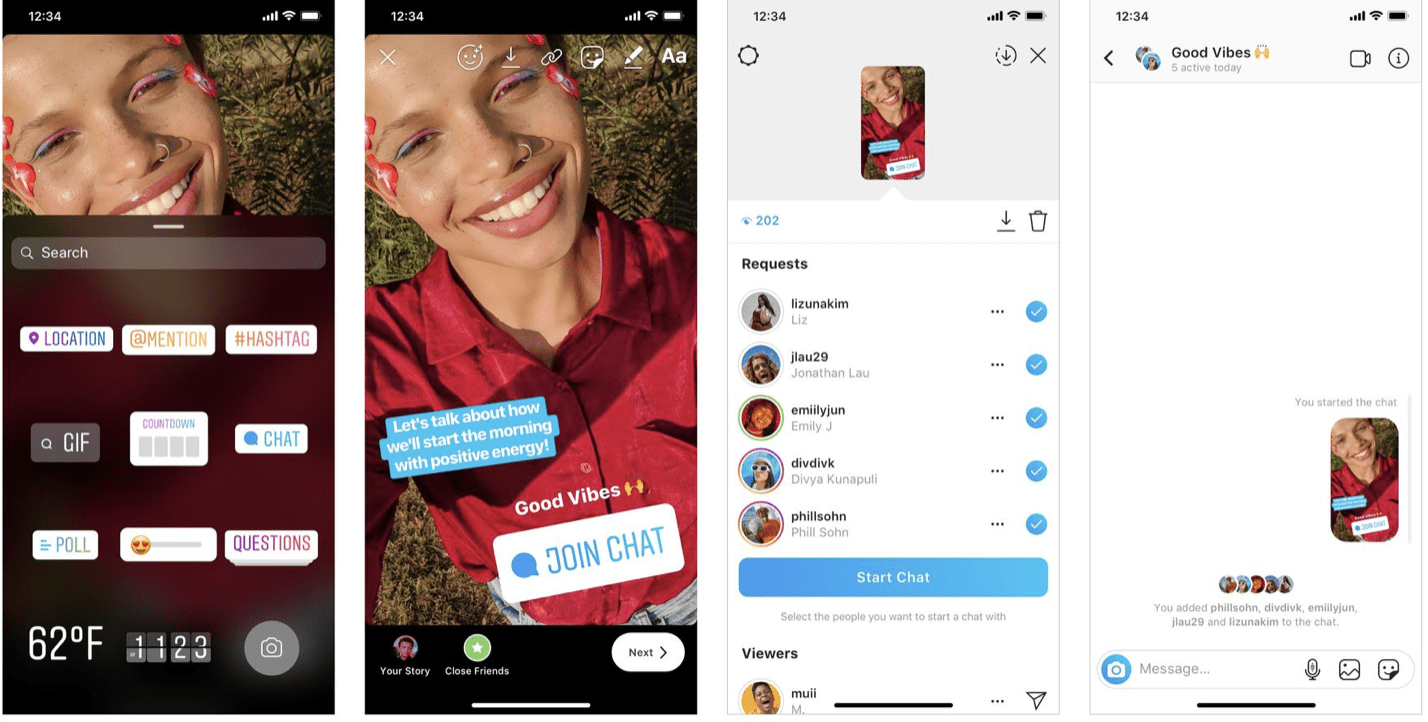 Right now, Instagram is positioning this as a way to start a massive group chat if a large number of people wanted to make plans or talk about something in common. This sticker can be a little tricky though; accounts with large audiences may end up swamped with requests, and chats that are too busy for anyone to really interact can lose a little value.
For marketers, a good option here may be to show a story to a small, segmented audience. This could be members of an exclusive group associated with your brand, high-value customers, or those who participate in specific programs or services. The group would then have something in common, whether you're offering them access to beta-test something, an exclusive sale, or even just for their opinion.
Overall, this won't be a sticker than marketers and brands will rely heavily on, but it's a cool feature that could have interesting uses, especially for smaller brands nurturing tight-knit communities.
Ad Placements Open in Explore Section
Instagram has announced the addition ad placements in the Explore section of the app.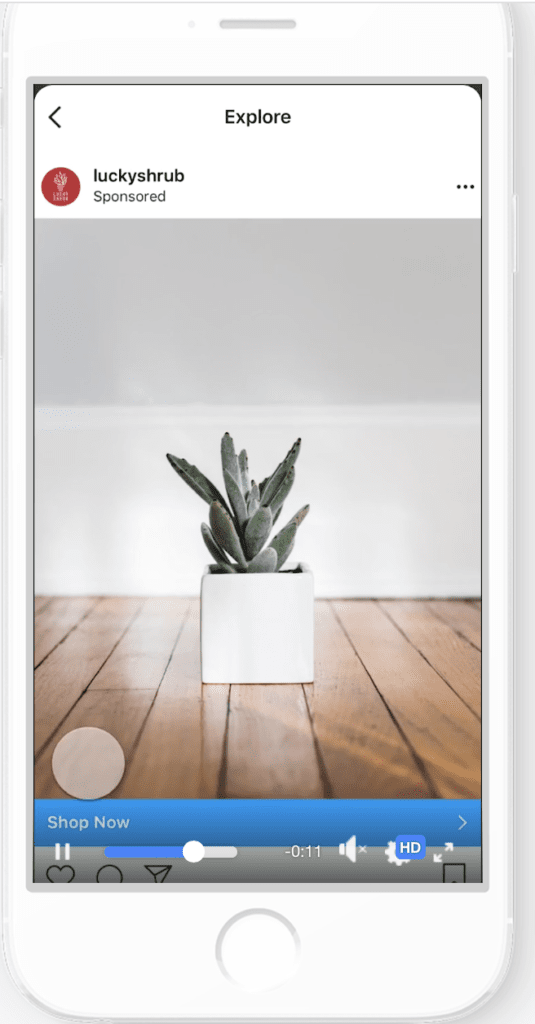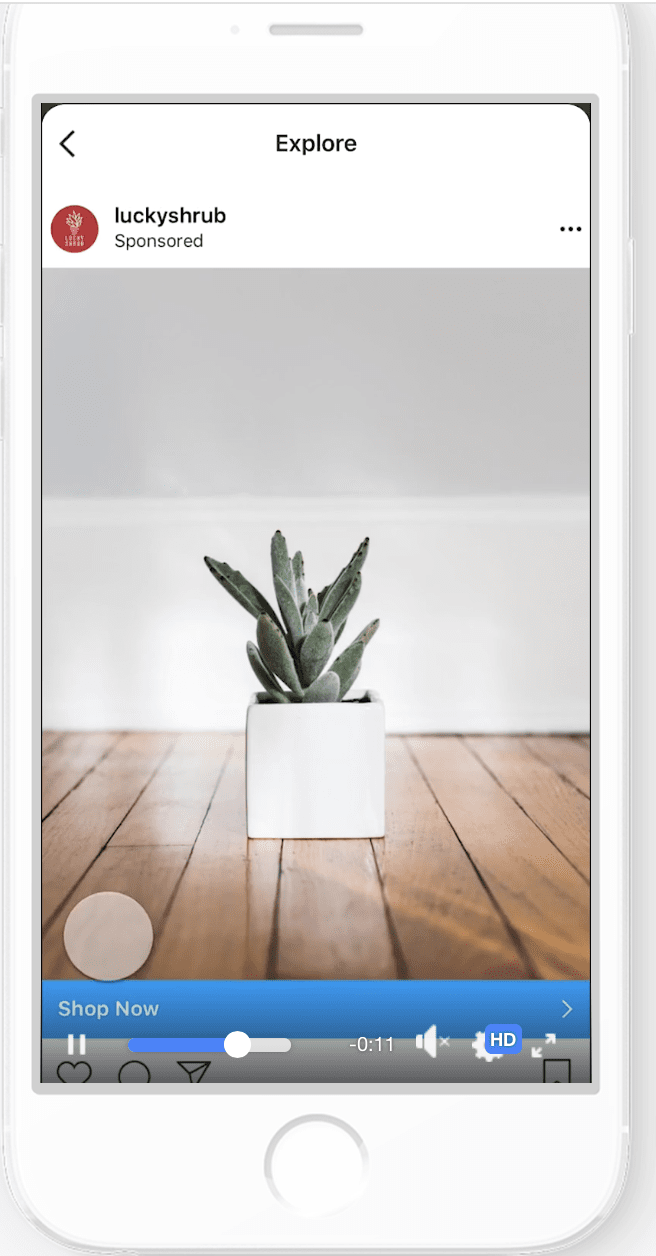 When users are scrolling through the Explore section of their app, they can click on a post and then scroll through a feed of similar posts compiled by Instagram that the algorithm thinks the specific user would like to see. Users typically peruse this section to discover new brands and accounts to follow. Now, when someone is scrolling through the feed generated by Instagram, they can see ads here just like in their normal feed.
More ad placements on Instagram is great news. More placements mean that ad costs may be stabilized a bit, because more supply can counteract the increasing demand (thanks, economics 101!). It definitely means that there's a chance for more impressions overall, which is a plus, and it will be interesting to see how well this new ad placement performs.
The new adds will be "slowly" rolling out over the next few months, but IGTV's explore ads are already up and running now.
Stories Camera is Storing Content Longer
The Instagram Stories camera has historically held true to the nature of Stories themselves, and would only store a picture or video taken with its camera for a mere 24 hours– even if you didn't post it. Brands who used the native in-app Stories camera had to clammer to use the content on time or risk losing it. The latter happened to me more than once, especially when you've got to get the timing exactly right.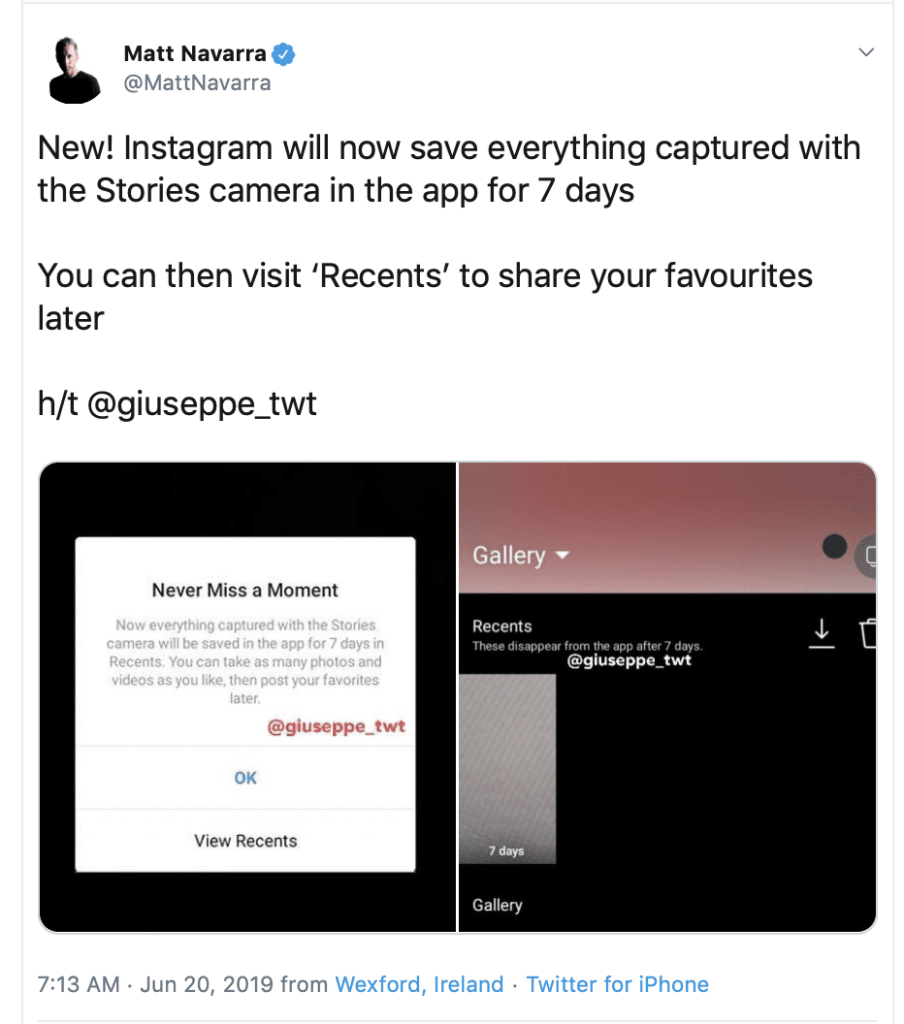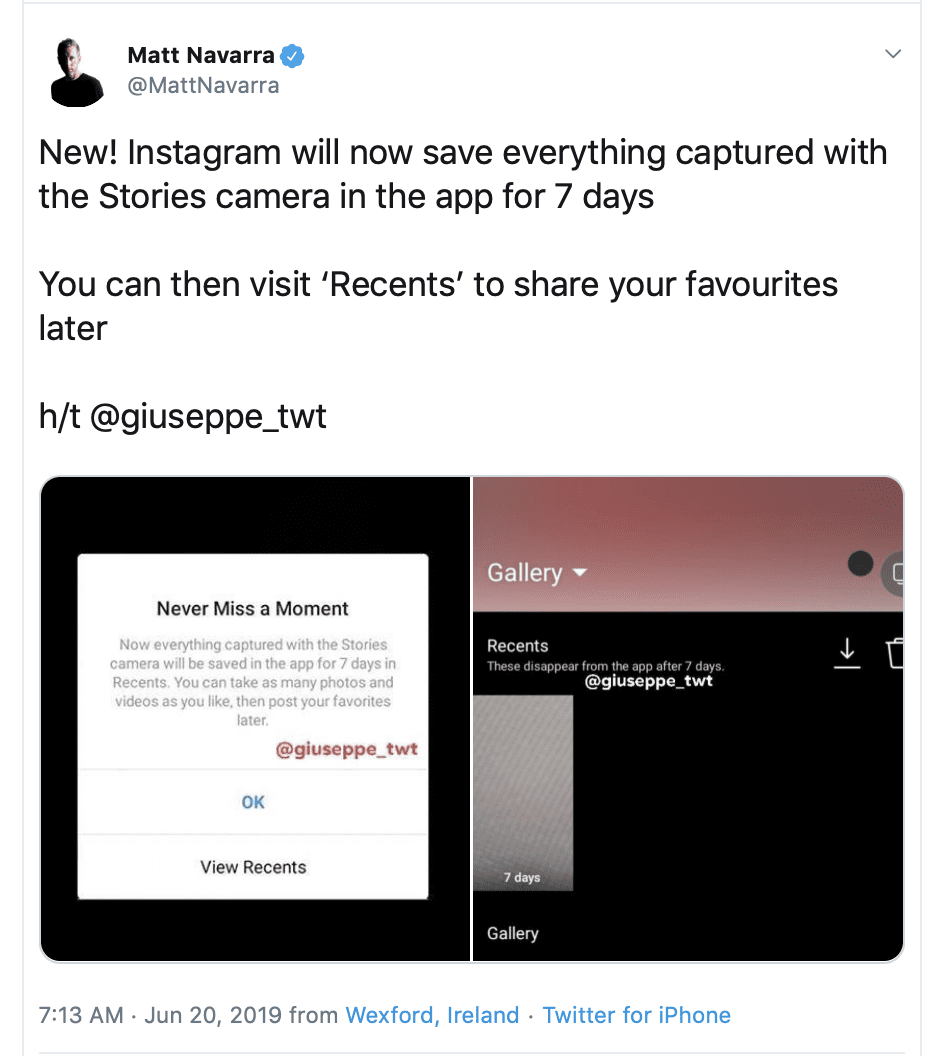 Instagram will soon be rolling out a small adjustment that will allow Stories cameras to save content for 7 full days. This is essentially just a tiny tweak, but it's a big deal for brands and advertisers using those native cameras to shoot Story content. Now, you can create more content in advance, making the social management and creation process a tiny bit easier.
Instagram is Still Testing Like Removal
In May, we reported that Instagram seemed to be testing a version of the app that removed the public like counter on users' posts. The owner of the post could still see how many likes the post accrued and who left them, but they would be invisible to everyone else; all that an accounts' followers would see would be any comments that were left.
Instagram didn't say much originally, but this month they confirmed the test and announced that it was being rolled out to 6 more regions. Both likes and video views will be hidden in these tests, which have expanded to some users in Australia, Brazil, Canada, Ireland, Italy, Japan, and New Zealand.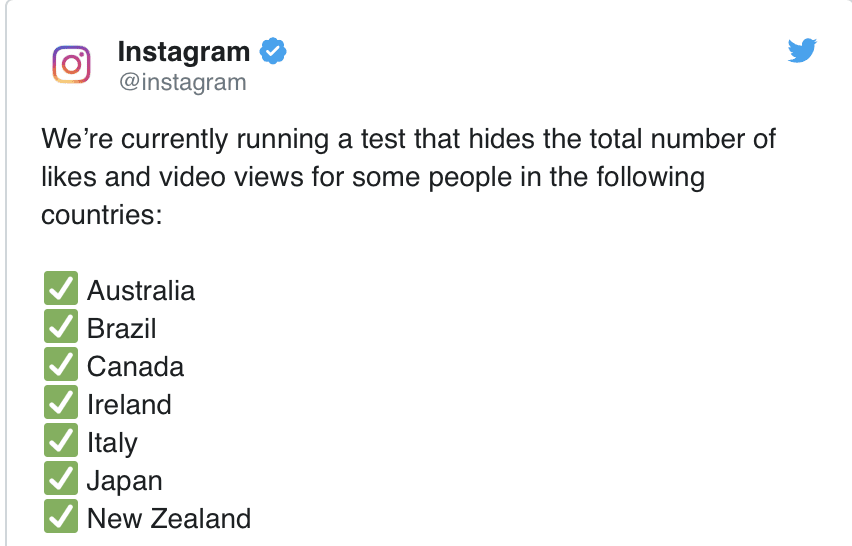 Instagram likes and video views will still be part of the platform, and both metrics will still be used to assess quality and relevance. Posts with more video views and likes, therefore, will still be gaining priority in the algorithms. The social proof that is currently available as a result of public video views and like counters, however, will disappear completely.
Right now, if you see a post with thousands of video views or likes, it can catch your interest just a little more. Soon, if the tests go well and Instagram releases this on a wide scale, the only social proof you'll have to go on is comments. This is a big deal, because users are much more likely to hit that little heart button than they are to comment, so social proof can take a big nosedive. Comments will be more important than ever before for this purpose, so try to start coming up with strategies and ideas for how to generate discussion in your posts (including responding to every comment possible!).
These tests are just that– tests– but the fact that they're rolling out on to more regions is something to take note of. We'll let you know when we know more.
Updated Ban Policies and Pre-Ban Warnings
Instagram has made some changes to their account disable policies that are designed to improve the user experience and better warn individual accounts when they're getting a little too close to landing themselves in hot water.
Instagram currently disables accounts that have a certain percentage of content that violates their community guidelines. Unfortunately, this is easy for troublesome accounts to get around, especially if they're producing massive amounts of content. Moving forward, there will also be a policy in place that allows Instagram to shutdown accounts that have a set number of violations within specific windows of time. There's no getting around that one, and allows them to hold accounts to higher standards than before.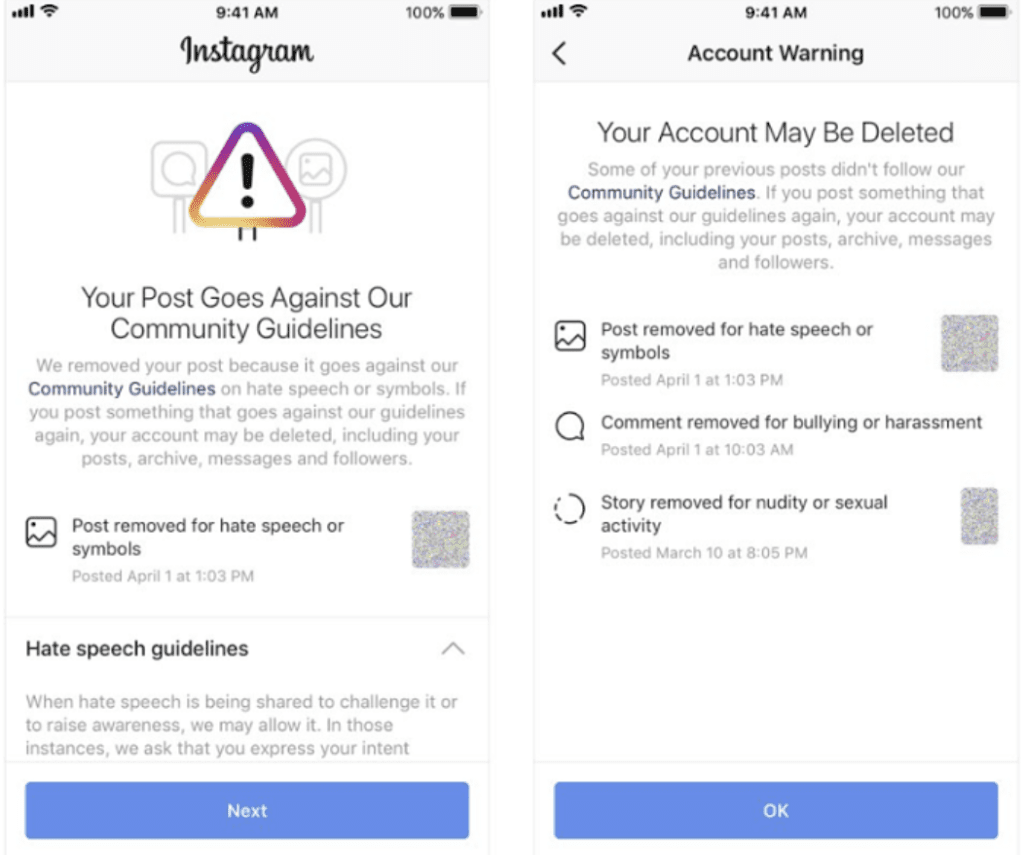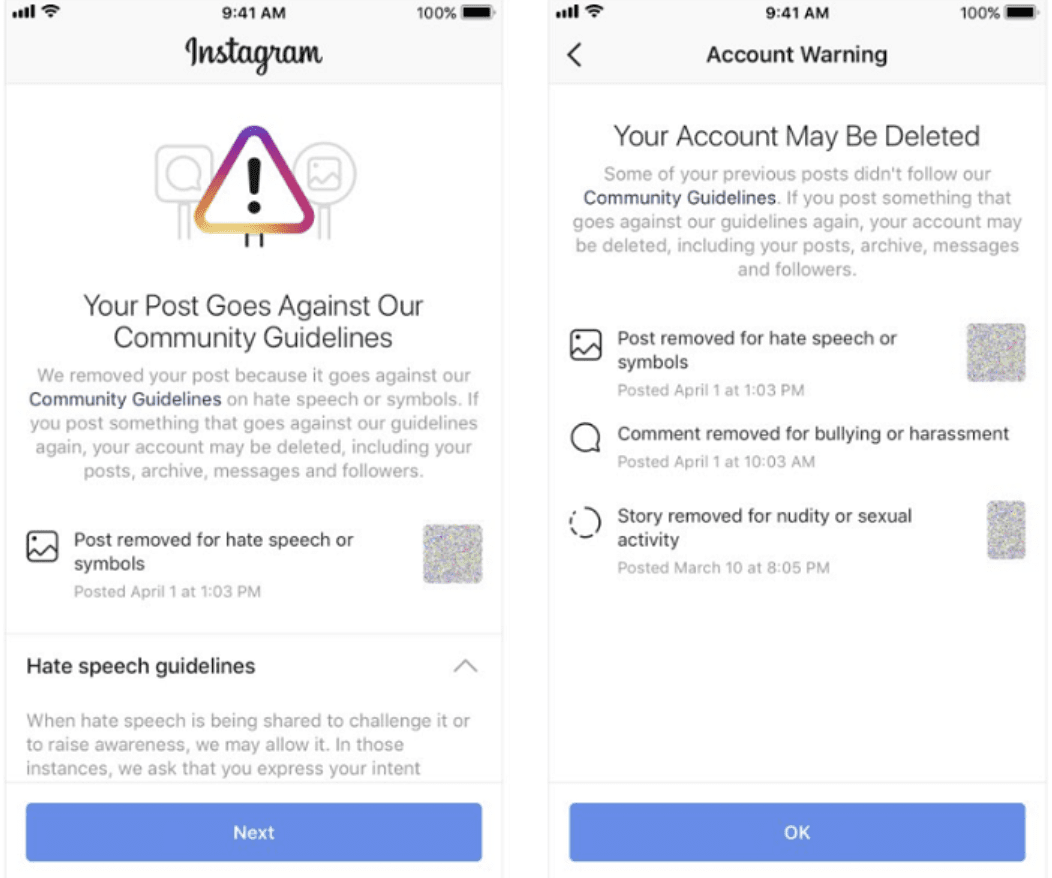 In order to let brands know that they're toeing the line, Instagram has introduced a new pre-ban warning, sending these accounts notifications if they're at risk for being shut down. The warnings (pictured above) explain what the community violation is, what recent violations have been made, and what the guidelines you should be following include. These notifications are clear and to the point, and will make it easier for accounts to understand where they're going wrong and how to fix it (if they want to).
This is in line with a lot of changes that both Instagram and Facebook have made over the last few months, increasing transparency and trying to create a safer and more supportive space for all users. I think we can expect more updates like this to appear down the line, making it easier for Instagram to remove the offending content and their associated accounts as needed.
Final Thoughts
This month we didn't get any major upheavals in terms of new changes on the platform, but that's okay– we've had a lot of those recently.
The biggest news is the official opening up of ad placements in the Explore section, if only to add more opportunities to reach new users and hopefully stabilize the ad marketplace just a tiny bit more.
The other features, though, are still welcome, whether they're adding new functionality (chat stickers), making it easier for marketers to do our job (camera storage), or improving the user experience overall by making the platform a better place to be (warnings).
Slow and steady wins the race, after all, and with so many changes made to continually tweak and evolve the platform, I think we can count on it being a top performer for marketers for a long time to come.
What do you think? Which update are you most excited about? What do you hope Instagram rolls out next? How do you feel about the potential like counter removal option? Share your thoughts and questions in the comments below! 
---
Top Instagram Updates in June 2019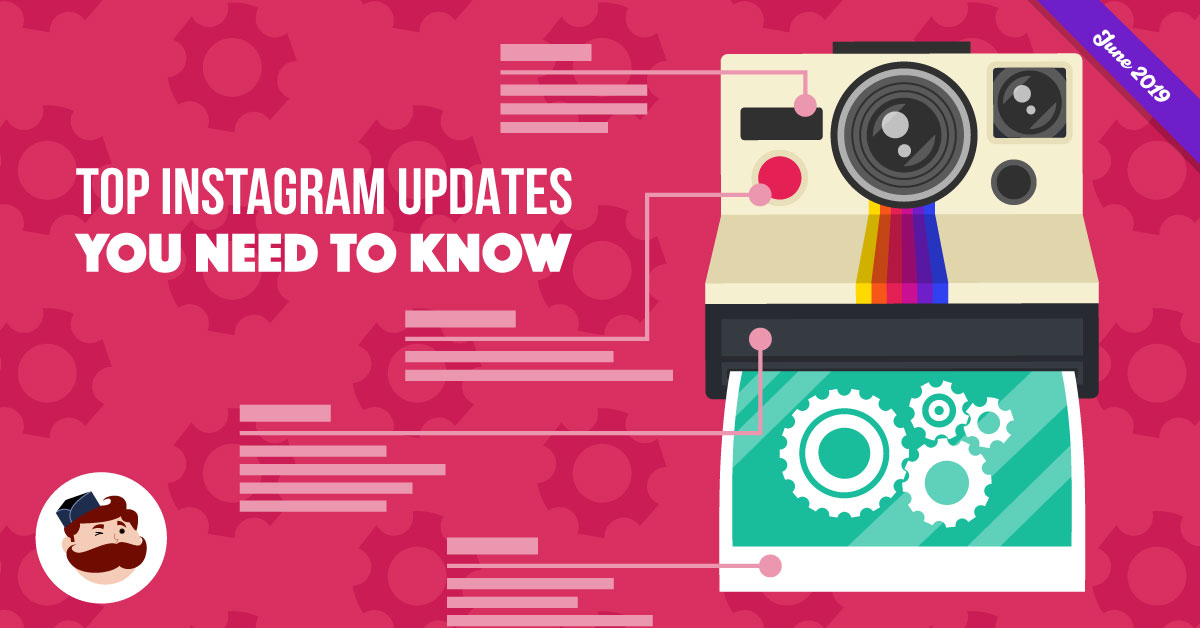 This month, we have one update that comes directly as a result of a change happening on Facebook, and two that offer entirely new features that Facebook hasn't really seen.
And we're going to go over all of them right now, discussing what these new changes mean for marketers and businesses everywhere and how you can be ready for them.
Clear History Tool: Rumors Confirmed
Instagram Ads belongs to the Facebook Ad empire, so we need to take a look at a big Facebook update that's about to change the ad game.
We've known about Facebook's pending "clear history" tool for more than a year now, which is a long-awaited feature that will allow users to wipe away all of the information that Facebook has stored regarding their personal activity. In terms of all the transparency and privacy concerns, this is good news for users, but it's not necessarily such great news for advertisers.
Facebook just recently confirmed our suspicions that the clear history tool could have a big impact on how effectively advertisers are able to reach audiences with certain types of targeting criteria.
This will likely include retargeting capabilities for users who are disconnecting their off-Facebook activity, meaning that advertisers won't be able to reach those users with custom audiences built from website visits or app activity.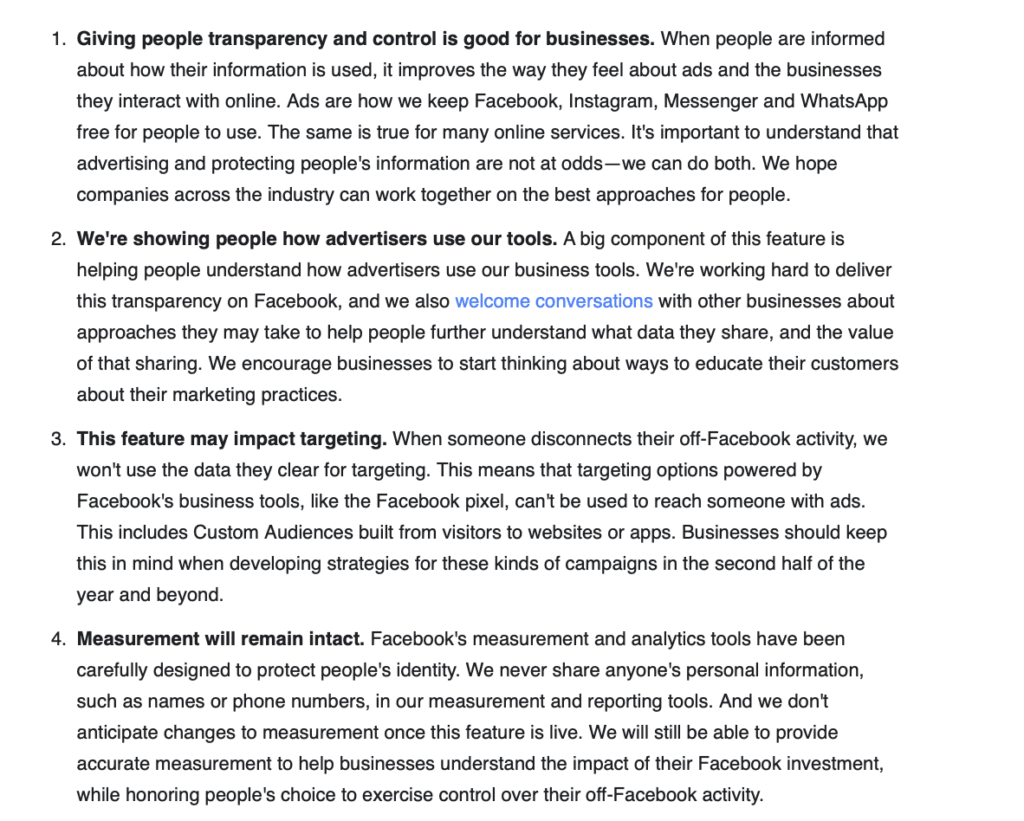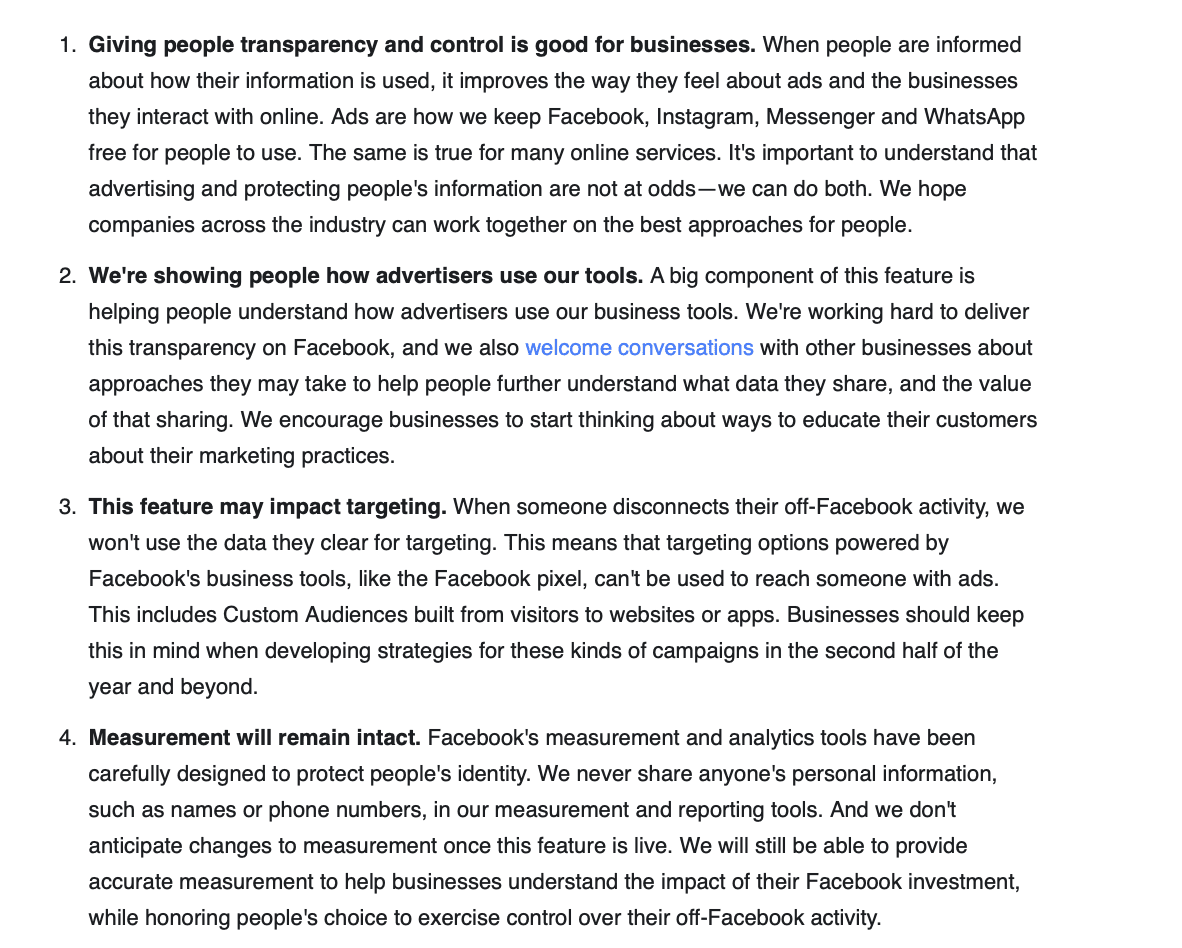 While Facebook's analytic system won't be impacted because it's currently anonymous (which we're grateful for), the retargeting potential is a big hit.
If users start wiping on-app activity, that could significantly impact behavior and interest targeting, too, but losing triggered retargeting campaigns might hurt most of all.
A large number of advertisers have justifiably made these campaigns a central part of their overall ad portfolio because the ability to show ads to interested users right when they're most relevant is undeniably effective.
We don't know exactly when Facebook's clear history tool is coming, but we do know for sure that it's coming and it will likely be later this year. "Later this year," however, is getting closer by the day, so we need to start preparing our Facebook and Instagram Ads (which is why this is in our Instagram update) and the strategies we're using now. 
Take advantage of the retargeting through Instagram Ads as long as we have access to it, but be prepared to use other targeting strategies as necessary. 
Consider more funnels with video ads, retargeting based on viewing activity, and adding in more lead ads to the mix so that you can retarget to warm leads who have filled out (or even opened) the form. Having lists of specific users to target will also be helpful.
Horizontal Video Comes to IGTV
Alright, onto the truly original Instagram updates: horizontal video is now available on IGTV!
Previously, IGTV has only supported full-screen vertical video, which takes up a users' entire mobile device. Now, horizontal video can be used on the long-form video platform that's integrated with Instagram.
Traditional landscape videos– which often have aspect ratios of 16:9– of up to 60 minutes long can be uploaded to IGTV.
Users can watch the video in landscape mode, but they also have the option to turn their screen sideways, displaying the video in full-screen mode once again. This landscape-to-full-screen change can happen whenever users turn their phone sideways both in IGTV and in Instagram's main app.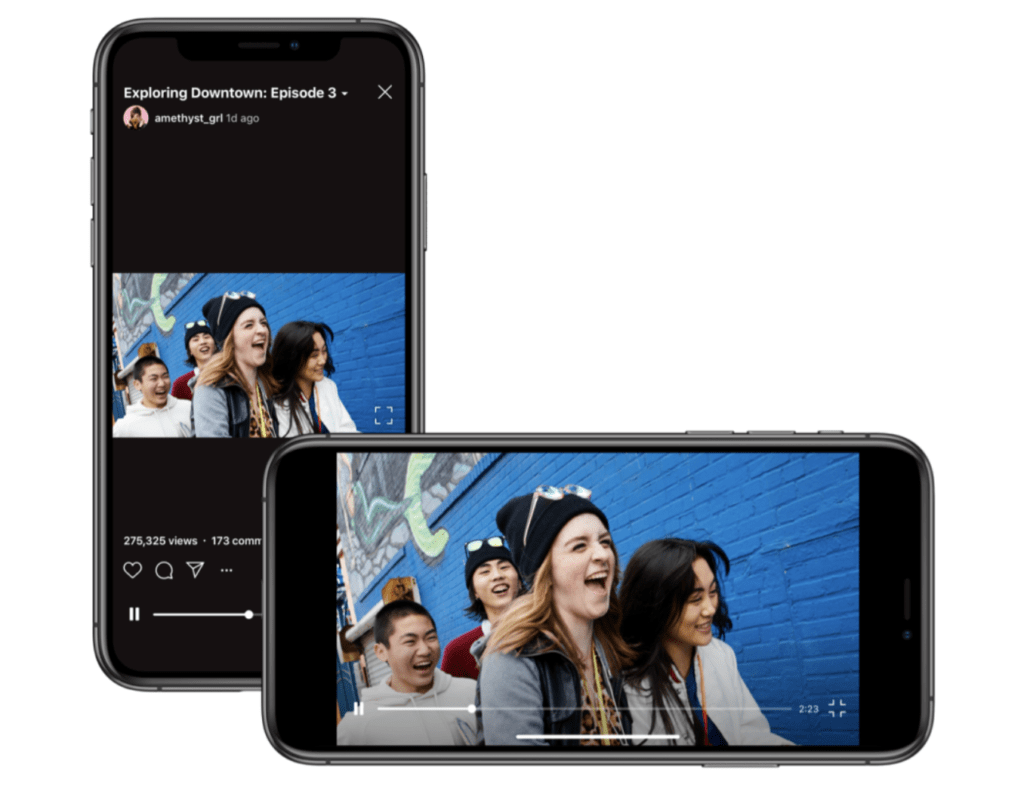 This doesn't seem like a big deal, but it's a great feature to have.
Plenty of video works better in landscape mode as opposed to vertical viewing. Imagine, for example, an interview where you're trying to fit more than a single person on the screen, or a real estate agent showing off a house.
Wide-screen views can give viewers a much bigger view and appreciation of the environment around you, while vertical is typically best for close-up shots in the majority of cases.
IGTV hasn't quite picked up steam like Instagram likely hoped, but the continual integrations between the two apps is definitely helping with that. IGTV content is now showing up more prominently in Instagram's Explore section, so consider testing out different IGTV video formats and see what helps draw in users both in the IGTV app and within Instagram's discovery tools.
Branded Content Ads Roll Out
Influencers– or, as Instagram is calling them in their announcement post, "creators"– have played a big role in marketing on the platform for a while now.
Instagram is now taking that one step further with their release of branded content ads, which allow businesses to run ad campaigns from partnered creators to help them reach new audiences in new ways.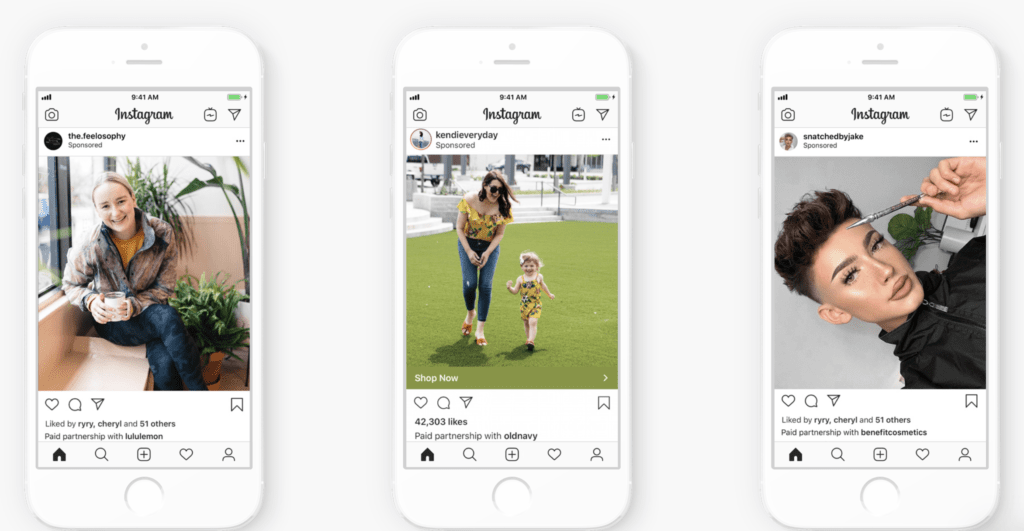 Here's the gist of how it works.
Business profiles on Instagram can establish partnerships with specific creators, which can be done under Instagram's "Advanced Settings." Brand creators can then enable their business partners to promote their organic posts as part of an ad campaign.
Once they do this, the brand will see the posts in the Ads Manager under the "Existing Post" option, and can then promote it like they would as if it was their own.
The ad campaign will be shown from the creator's account, but a "paid partnership with (brand name here" will be attached underneath the image below the social proof. This will help capture the attention of users who are already familiar with certain influencers, and may be more effective than if the brand's name was the one featured at the top of the ad, even though the brand is the one paying.
This is a great system, because it allows brands to be the ones promoting ad campaigns from creators, so they get to control and manage the ad spend, targeting, and other crucial details that impact campaign success.
They'll also get to see what content from which influencers are helping their businesses most with careful split testing, helping them make better financial investments with creators on the platform moving forward.
Conclusion
In some ways, it feels like Facebook has been caught in scandal after scandal, starting with transparency issues and extending all the way to inflated video view counts (up to a whopping 900%).
Though Instagram has been impacted in some ways by the changes Facebook has been forced to make, they've also continued to grow in their own direction, too. The branded content ads are a great example of this, giving us something new, and the horizontal capabilities for IGTV may mean that even more great things are heading that way, too.
Right now, we're bracing ourselves for more changes, too, which could significantly shift how we're using Instagram to market.
We discussed last month that Instagram was spotted testing an app format that hides like and view counts, which could shift the social proof of organic marketing, and we know that Facebook's clear history tool could have an enormous impact on Instagram Ads' retargeting ability.
Make sure you check back in for next month's Instagram update to see if we have more info on these changes yet, along with all the other new features that we'll get our hands on soon.
What do you think? Which of these updates do you think will have the most significant impact on you? How do you think these changes will affect how you advertise on the platform? Share your thoughts and questions in the comments below! 
---
Top Instagram Updates in May 2019
This month's updates come with several new features for Shopping on Instagram and Stories, giving them even more functionality that businesses can better use to connect with and market to their target audience.
That's not all, though– we've also got news about indications of a beta test that could eliminate the display of vanity metrics, which could send social proof spiraling out of control in a not-great way for brands.
All of these updates– in testing and otherwise– can affect your marketing campaigns, so we'll discuss each one and what it means for you.
Are you ready to see what's new on Instagram this month?
Creators Will Be Able to Tag Products
Instagram is currently beta-testing an in-app checkout, and the brands participating in these test also have access to another great feature that's currently being evaluated: product tagging from "Creators."
This will essentially give "influencers" the ability to tag the products that they're wearing or using on Instagram, just like brands can currently tag their own with Shoppable Posts. This will send users to the tagged product's in-app product page, and users will be able to checkout directly within the app.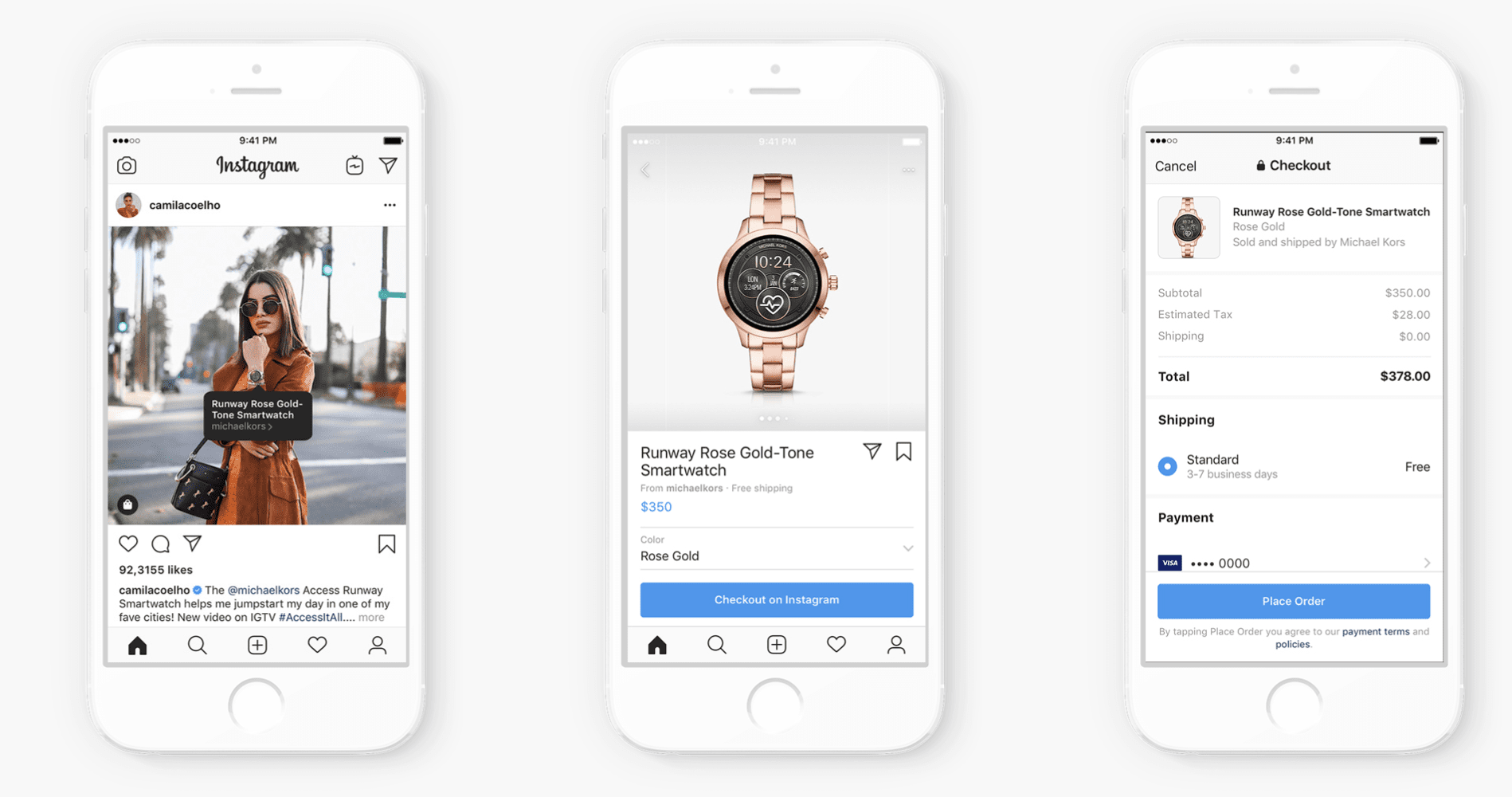 Influencers carry a lot of weight on Instagram, whether they're micro-influencers or big-name celebrities, and thus can drive massive sales for brands. The ability to hire an influencer for a sponsored post who will then not only tag your brand and hope that users connect the dots themselves but actually tag the product for a near-instant checkout (if the customers want that) is a massive opportunity.
Right now, this is in the early stages of public testing, but this could be a big game-changer for brands working with influencers to drive sales and get on the map. We'll keep you updated as this gets closer to a wider release.
Quiz Stickers for Stories Released
Quiz stickers are the latest addition to the Stories feature, which allows brands and businesses to ask their followers multiple choice questions and provide answers.
Users can choose an answer and see if they're right or wrong, and the brands can see the responses in real-time.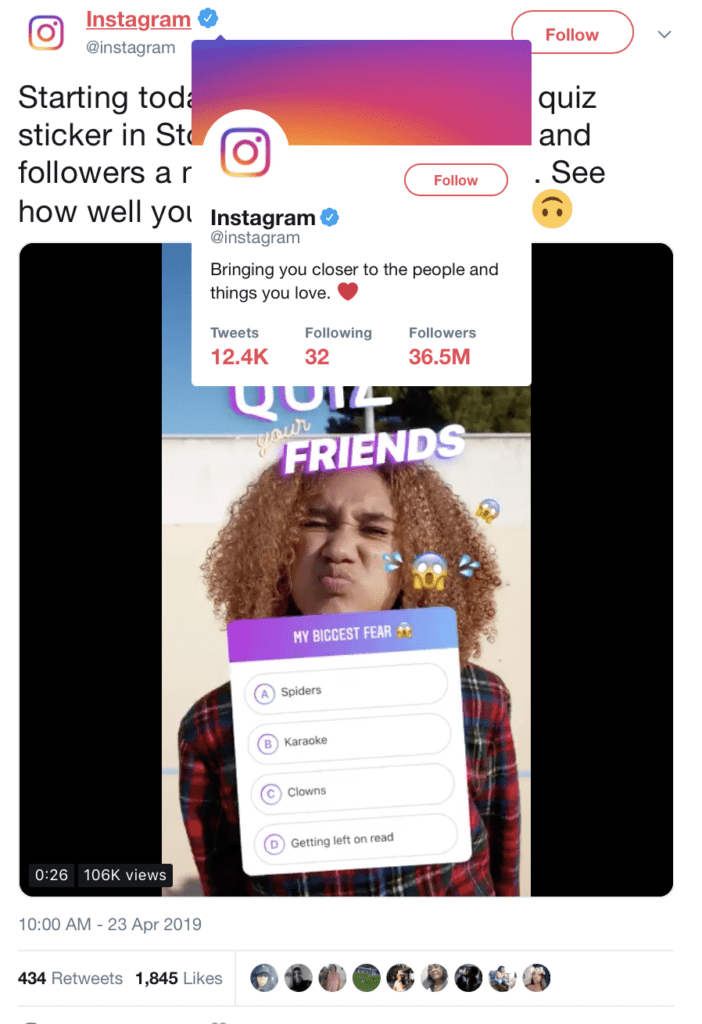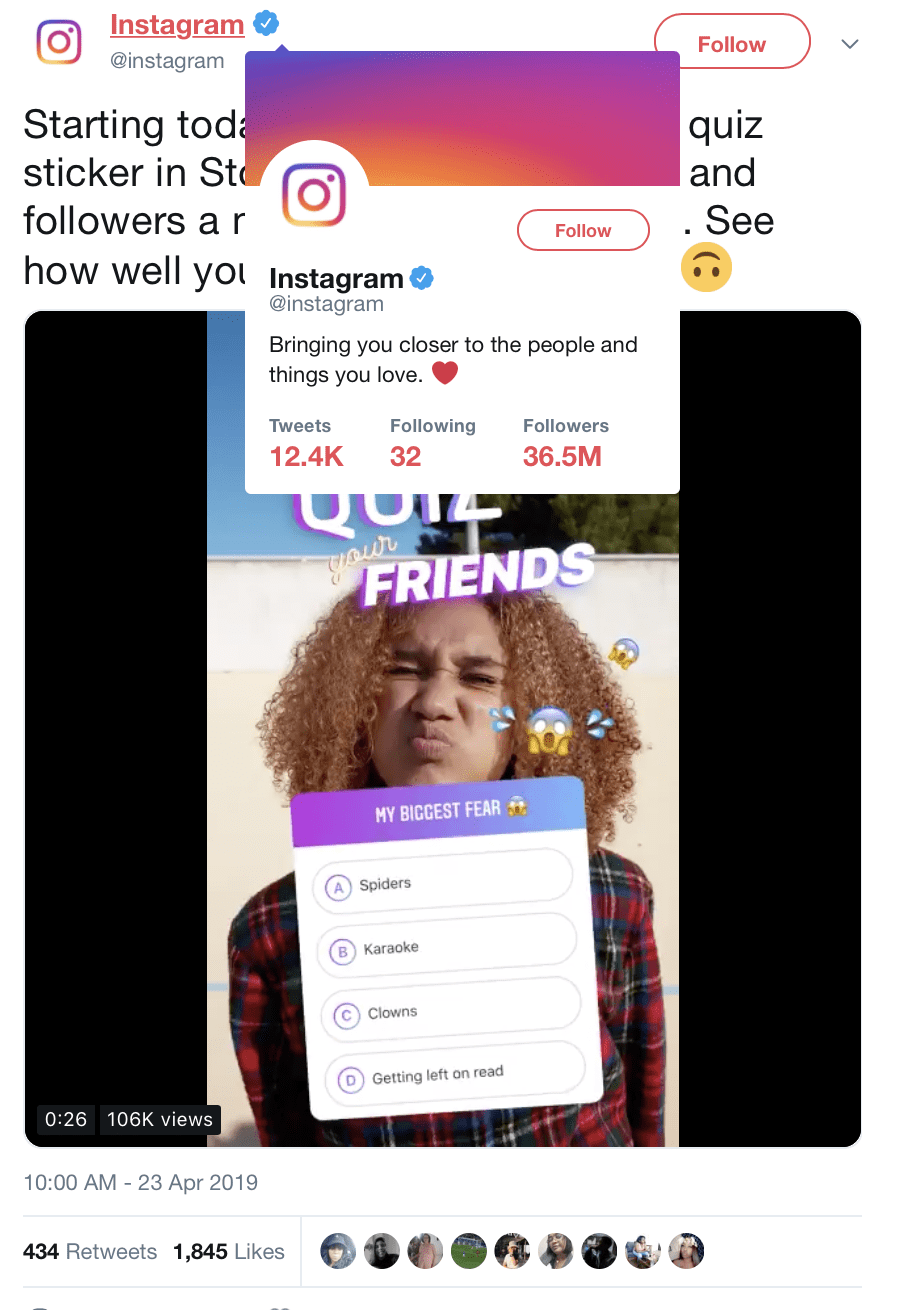 All of the examples Instagram featured, of course, showed questions like "What's My Biggest Fear" or "What's My Favorite Flavor of Ice Cream."
You can use these features, however, to generate interest and awareness in your products and drive engagement from your customers.
A health-oriented brand, for example, might pose questions like "Which fruit has the most potassium" or "what should you eat after a workout to avoid cramps?" These quizzes can be used to share information with your audience and offer value, making them more likely to engage, care, and remember the experience afterwards.
Since these appear in Stories, follow the story featuring the quiz sticker with one explaining the answer for maximum impact. Explain why those bananas are so great at relieving muscle cramps and how they're good for the heart. This will keep that content relevant and memorable.
Donation Stickers for Stories Rolling Out
It's a double sticker month for Stories! This month, Instagram users in the US are now able to raise money for nonprofits with donation stickers. Users can add these stickers to their profile and find accredited, verified nonprofits to tag and raise money for. People who are interested can click on the stickers to donate to said charity in a few simple steps.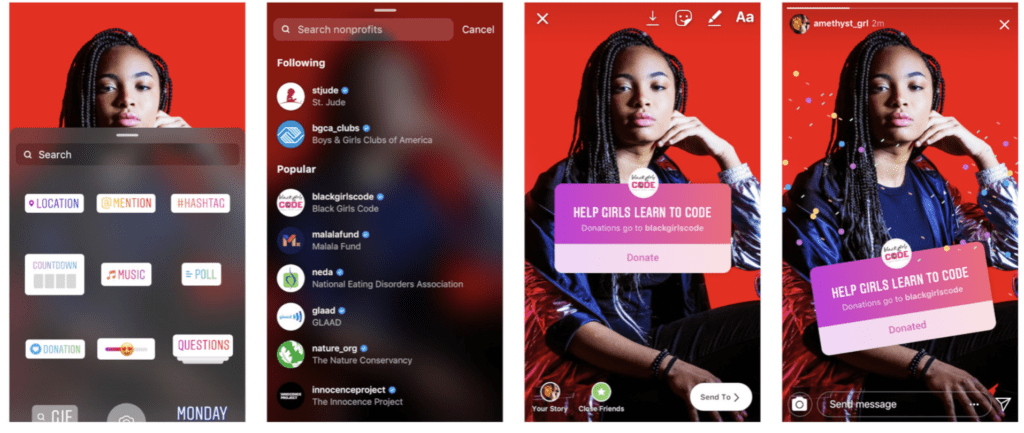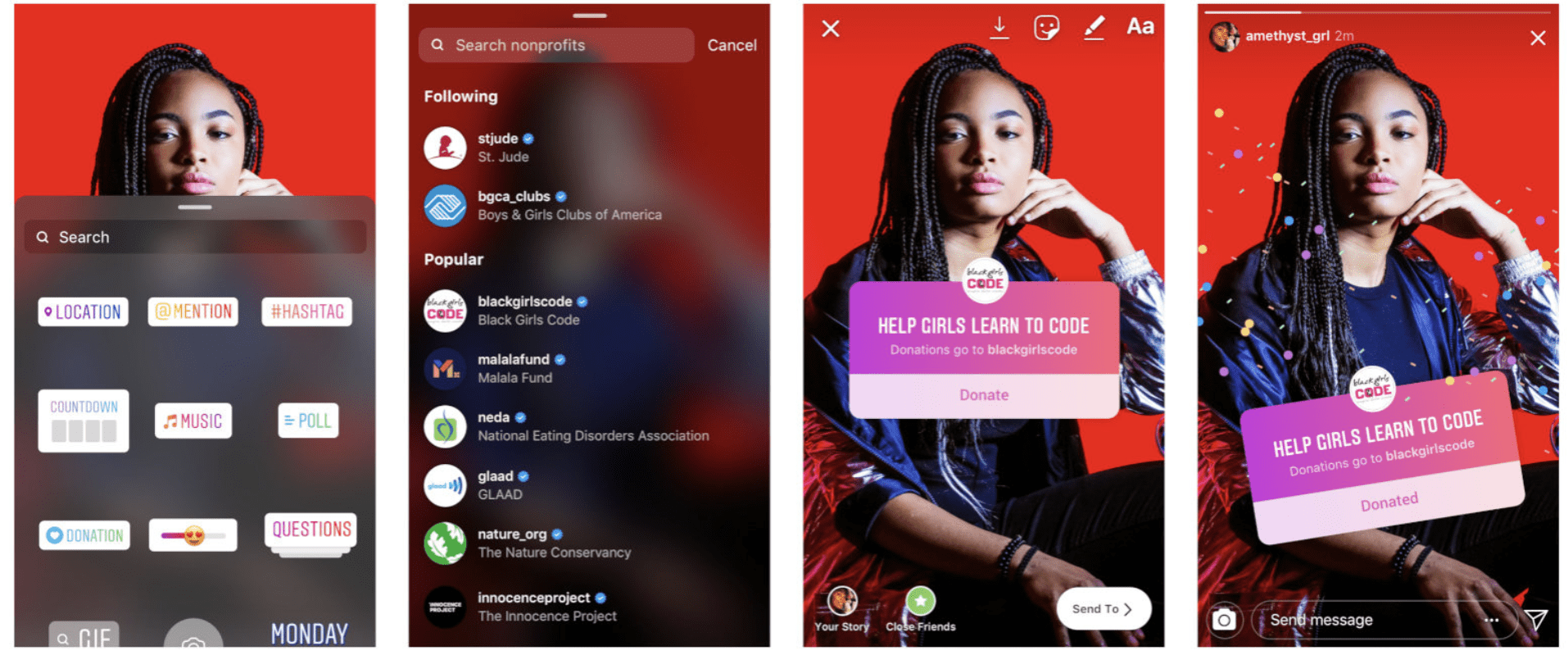 Brands can use this feature to draw attention to charities they're supporting and even host entirely digital fundraisers. This obviously does good for the community, but it also can semi-selfishly help with brand-building purposes, too; people love brands who do good and who care.
For nonprofits who can be tagged through the platform, this is also outstanding, as it could help them gain more donations and more visibility as users and brands alike take up their cause.
Note that it's only possible to add donation stickers to registered nonprofits, so influencers can't leverage this to try to manipulate users or funnel money their way.
In Beta Testing: Instagram May Hide Vanity Metrics
Our favorite coder Jane Manchun Wong recently found evidence that Instagram is testing a version of the app that hides "vanity metrics" (aka likes) on posts from everyone except the person who shared it.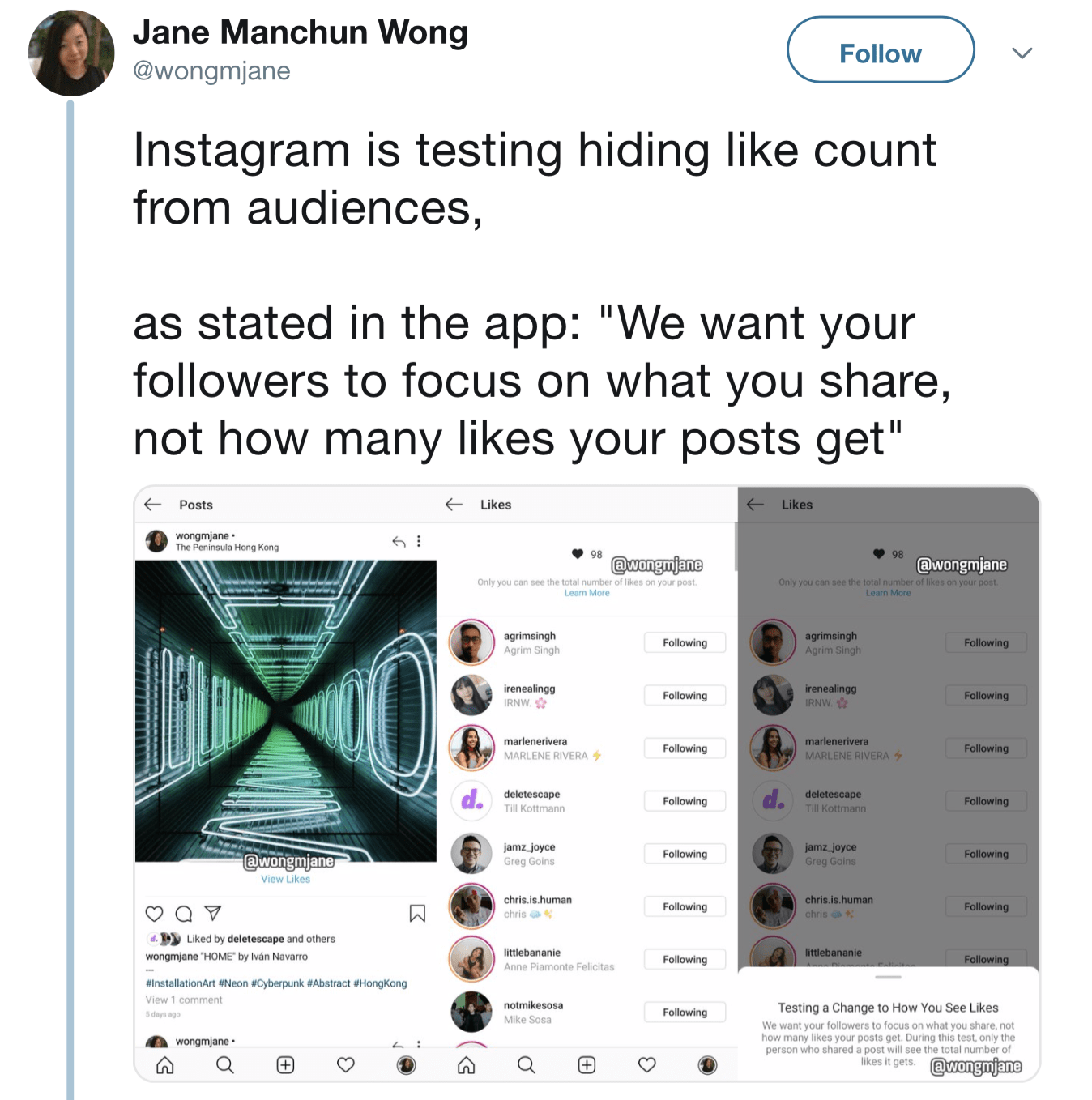 If this update rolls out, it could potentially be a game-changer for brands trying to leverage social proof– and not in a good way. Right now, users are most likely to pay attention to content that, all else being equal, has strong social proof. It's got strong psychological ties; not only do we see a post with 600 likes and see it as a potential indication of trustworthiness or high quality, but it's also easy to get a little #FOMO and think "well I want to know what that's about, too."
It's also possible that likes disappearing could sometimes discourage other users from liking the content, too, because social proof can have a chain reaction effect.
We'll have to see if this ever rolls out or comes to fruition. If so, it's definitely not the Instagram; comments are still excellent social proof, after all, and Instagram is still an incredibly high-engaging platform; we just hope that most of those likes will stay visible anyways.
Conclusion
This month brought some great features our way, and as someone who works in social media strategy, I'm excited about a lot of them. New Stories features are always welcome; the new quiz sticker may be one of the more immersive options we've gotten so far, and the donations sticker will be huge for nonprofits. I'm most excited about the new product tagging for influencers, especially considering influencers' power on the platform and seeing how it can drive even more meaningful results for brands than their content already is.
As always, stay tuned– we'll let you know about all the upcoming changes as they're rolling out!
What do you think? How do you feel about the latest and greatest in Instagram news? How will these new updates impact your marketing strategy? Share your thoughts and questions in the comments below! 
---
Top Instagram Updates in April 2019
This month, Instagram has rolled out new interactive features for Story Ads, which may take brand awareness to a whole new level. They're also testing features that could add to other types of interactivity on the platform, along with improving the overall user experience.
Have we piqued your interest yet? If so, keep reading to see what the new Instagram updates have in store for us this month.
Polling Available for Sponsored Stories
Instagram Story stickers have easily been one of the best developments the feature has had since it was released a few years back. And consider the number of updates and developments Stories have gotten since they've gone live, that's impressive.
What I'm going to call "sticker effects" have now come to Instagram's Story Ads, bringing interactivity to an ad format that previously really only was limited to "click here" as an option.
When creating a Story Ad, advertisers will be able to add a polling question to the image or video they're using during the Creatives portion of the creation process. You can ask users a question, and give them two choices to choose between.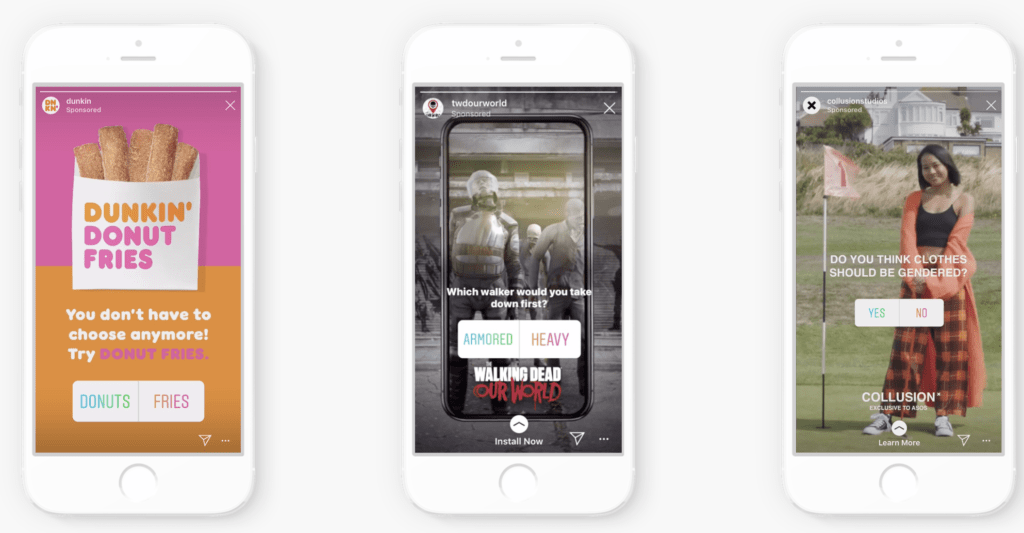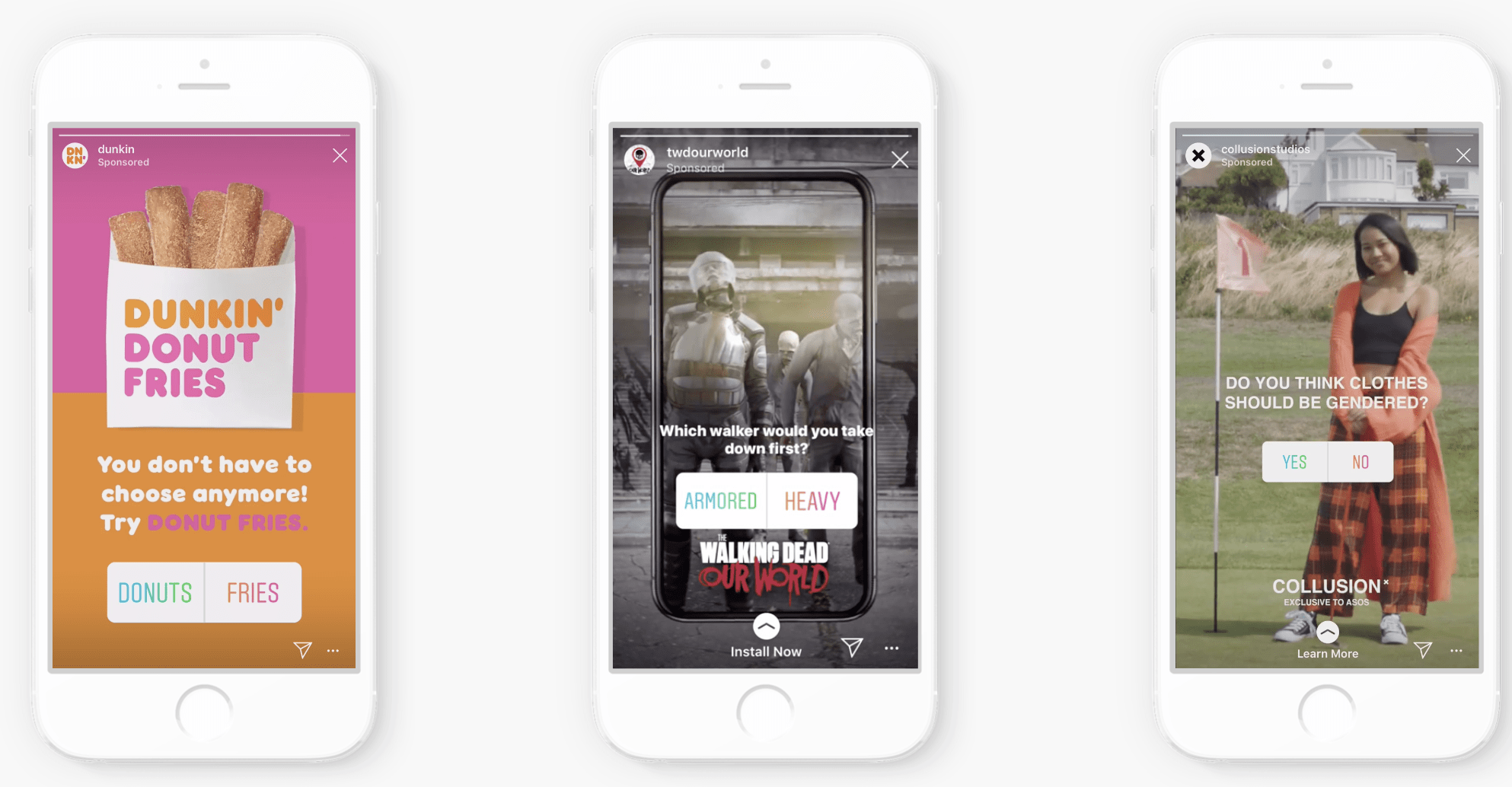 If you're running Story Ads, take advantage of this feature. Users are now familiar with the polling feature from native Stories, and speaking from experience, many who watch are happy to engage. I've had up to 70% response rates from the audience who viewed each Story, which is a pretty high engagement rate for almost anything on social media.
This is a great way, therefore, to start to build new relationships with your audience and grab their attention right off the bat. They may not work quite as well for conversion-focused ads, but they'd be great for brand awareness purposes.
In Testing: Lockout on Old Usernames
Developer Jane Manchun Wong is lightning-fast when it comes to catching new changes and in-testing features on Instagram, and she's caught an interesting one this month.
She noticed that Instagram is appearing to test an experimental feature that will put a hold on your older name for 14-days after you change it. If you decide to revert your name back within the grace period, you can do so with no concern that someone else will have claimed it.
This feature is likely a direct response to username grabberbots, which have become an increasingly prevalent issue on the platform, particularly amongst high profile accounts.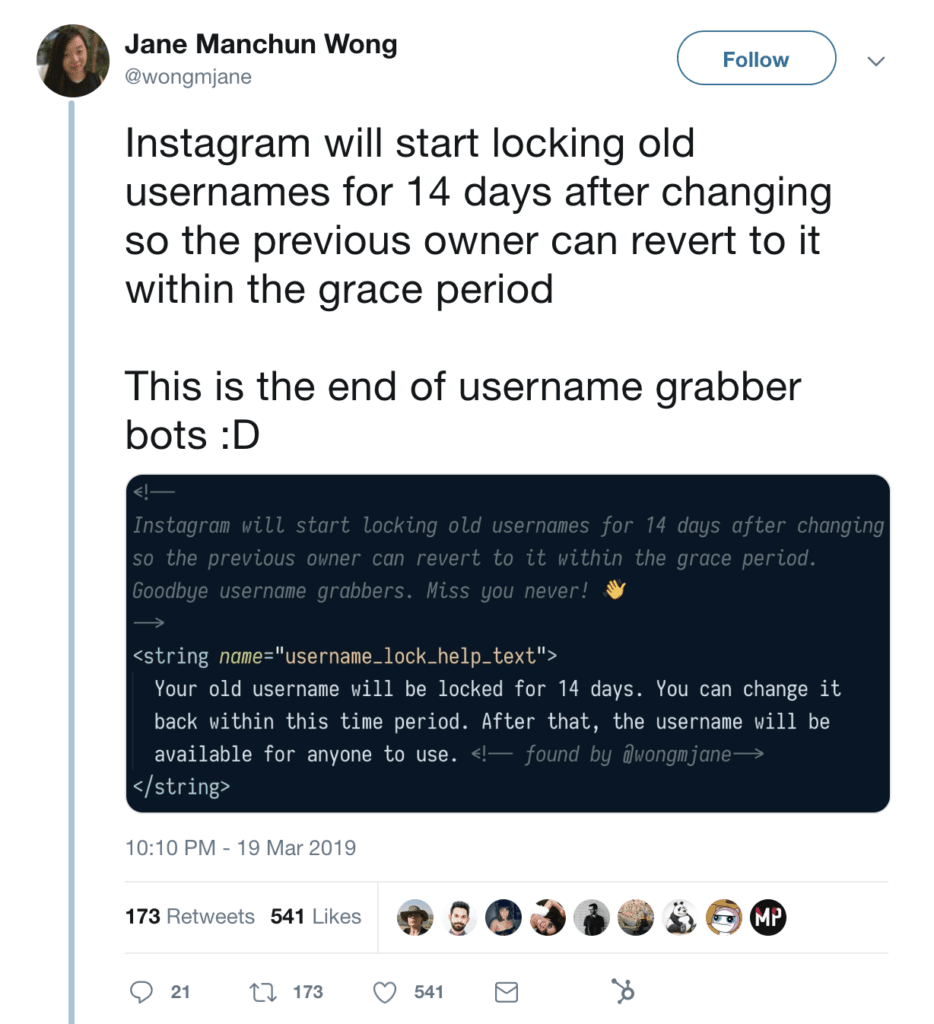 This is a great call. While it's not as common that may affect all businesses, if you're ever in the position of a rebranding or needing to update your social profiles, you absolutely want to be able to hold on to your current name if a sudden change happens within that two week time period.
I once knew someone who had experienced this firsthand; they had just rebranded, and were distributing 10,000 postcards to reach cold audiences, but had their old Instagram ID attached. By the time they noticed the mistake, only a few days after the name change, someone else had claimed their generic but high-traffic name. They had to reprint all the postcards.
Ideally, try to double check everything before you change those names, but since mistakes happen or you may get cold feet for whatever reason, this is a great option to have.
In Testing: Co-Watching Video Tool
Both Facebook and Instagram seem to be putting a lot of effort into encouraging users to interact more and in new ways on their platforms, and Instagram seems to be testing another new feature along these lines (also spotted by the wonderful JMW, who took the following screenshots).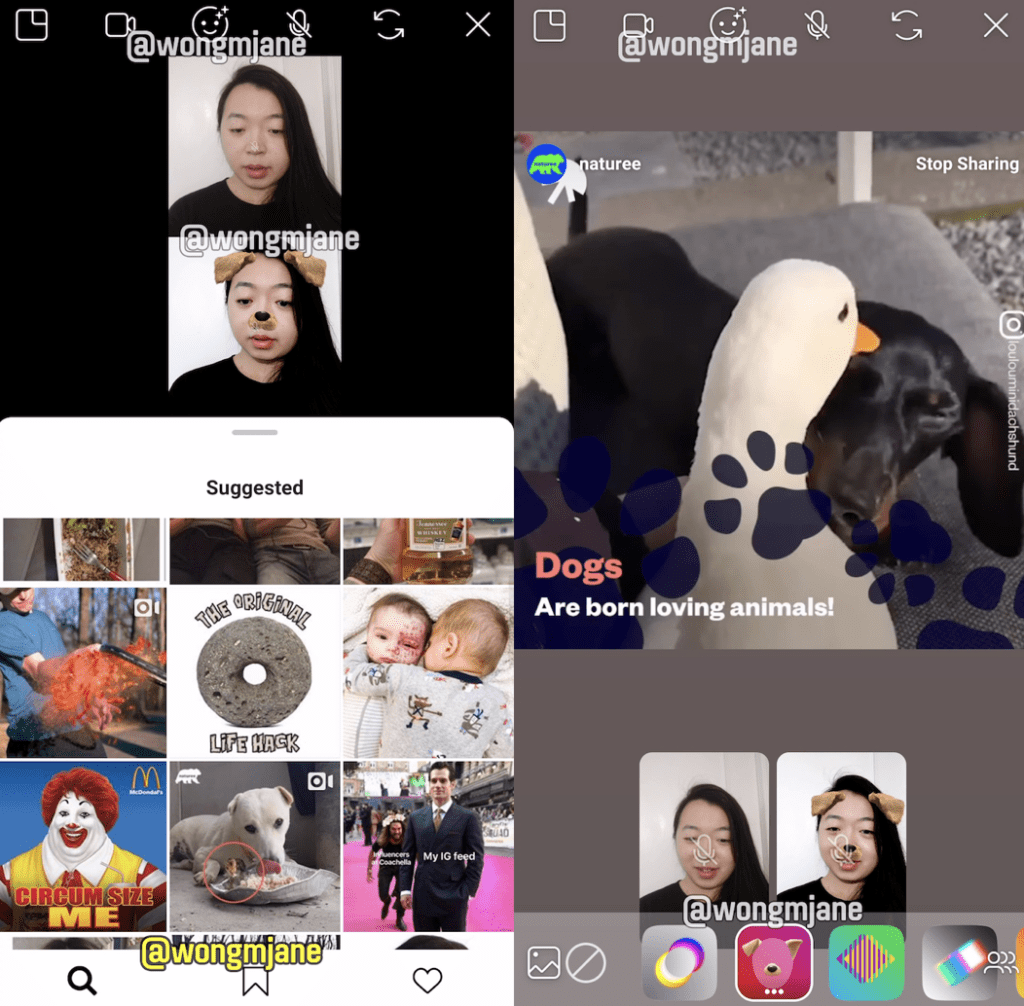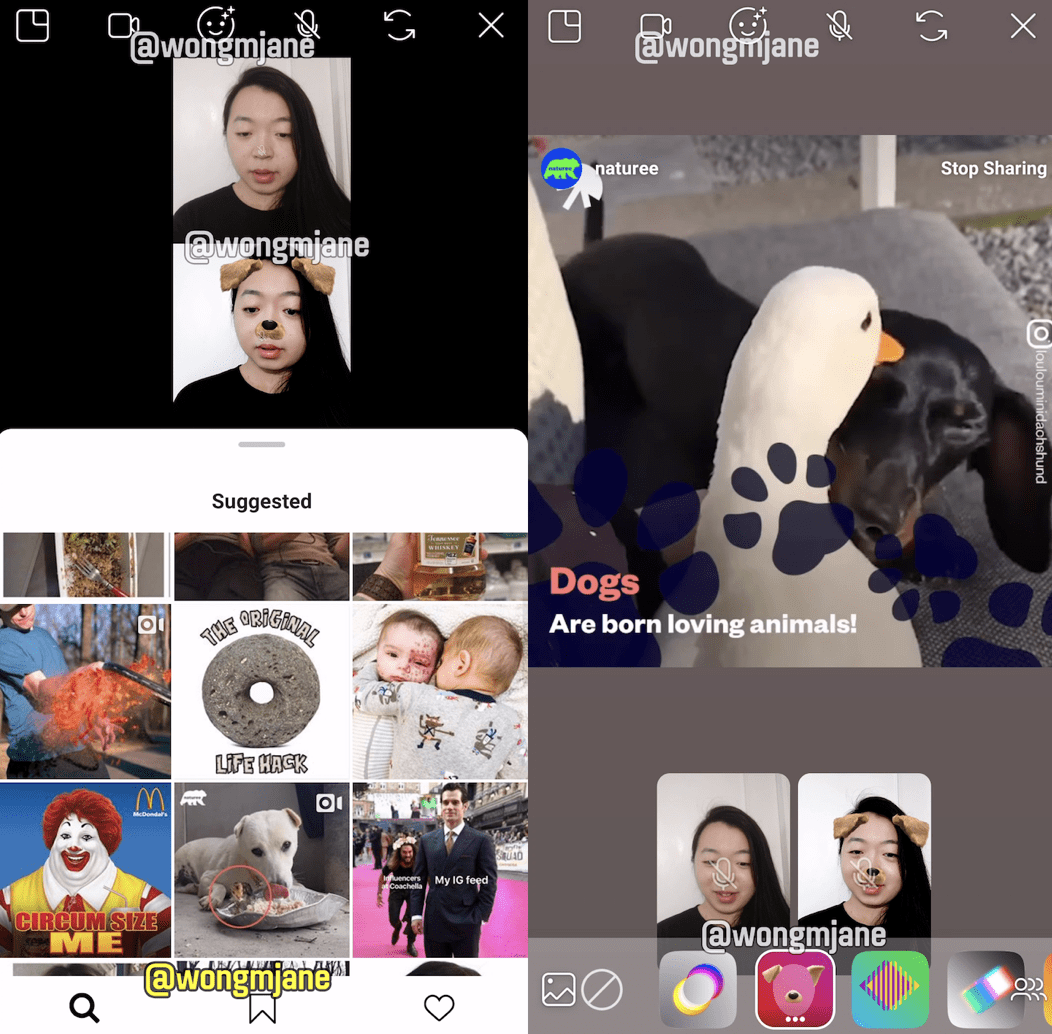 Similar to what Facebook's Watch Party currently offers, Instagram users may be able to co-watch videos synonymously within Direct Messaging.
This will be private (direct messaging) instead of the public or group-based Watch Parties on public, but it's the same basic idea and encourages users to engage together on the platform.
This feature could be used for brands offering exclusive content to small, exclusive groups. Coaching businesses, for example, may have good results with this if they break their clients down into smaller groups on Instagram. That being said, it may not be quite as useful as Watch Party on Facebook, especially since they can be held in Groups that are already niched down and exclusive, but we'll keep an eye on this and let you know more when we do.
In-Testing: Scrubbing Option
We've got one more in-testing feature, which was again spotted by Jane M Wong (who is pretty much my personal hero at this point).
Instagram is apparently testing a native scrubbing option, which will allow users to scroll through to the point of the video that they want to watch.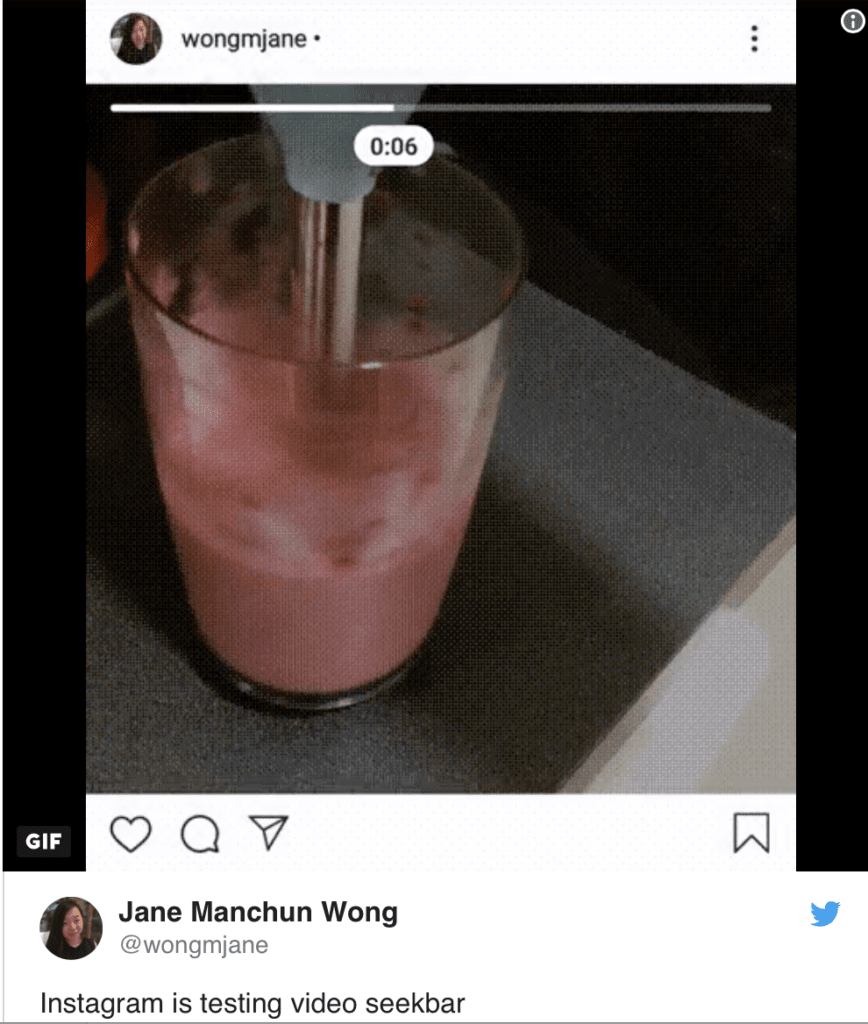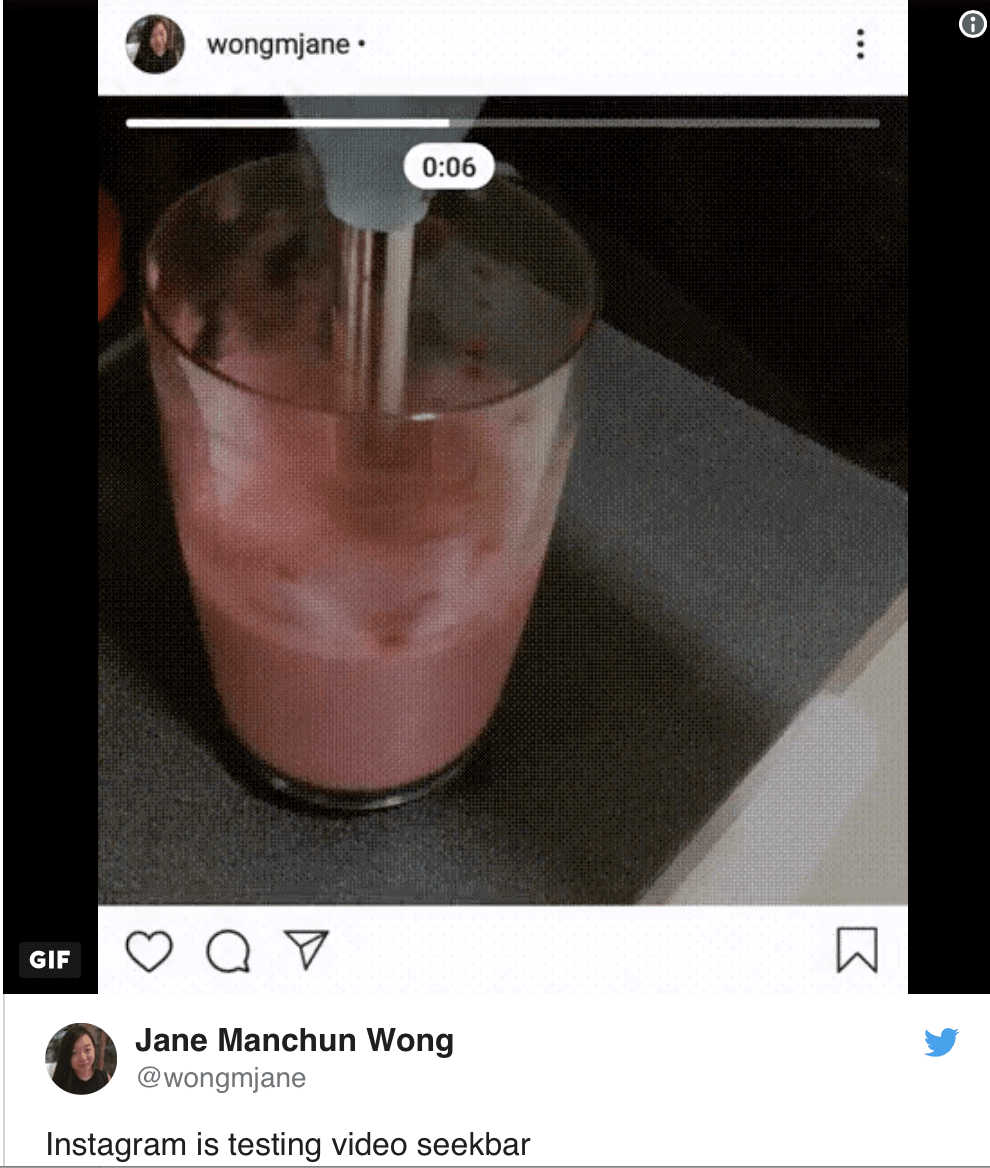 This feature in and of itself isn't overwhelmingly groundbreaking. It's already offered on most native platforms, including Instagram's own IGTV, which makes this new addition feel a little late.
Still, better late than never; if users are able to move forward or backwards in your videos to find what they need to see, they may be more likely to take action overall, helping you make every video on the platform just a tiny bit more effective.
Conclusion
Instagram's updates recently have been focused on community building and security for users and marketer alike, and these changes have really stayed the course.
More interactivity between both brands and users seems to be key here, and Instagram likely knows that the stronger the community they can build, the more valuable its platform will become to users.
It's interesting to see what they'll come out with next, so stay tuned and keep an eye out for next month's edition to see what's new then.
What do you think? How do you feel about the new updates and in-testing features? What are you most excited to get first? Share your thoughts and questions in the comments section below! 
---
Top Instagram Updates in March 2019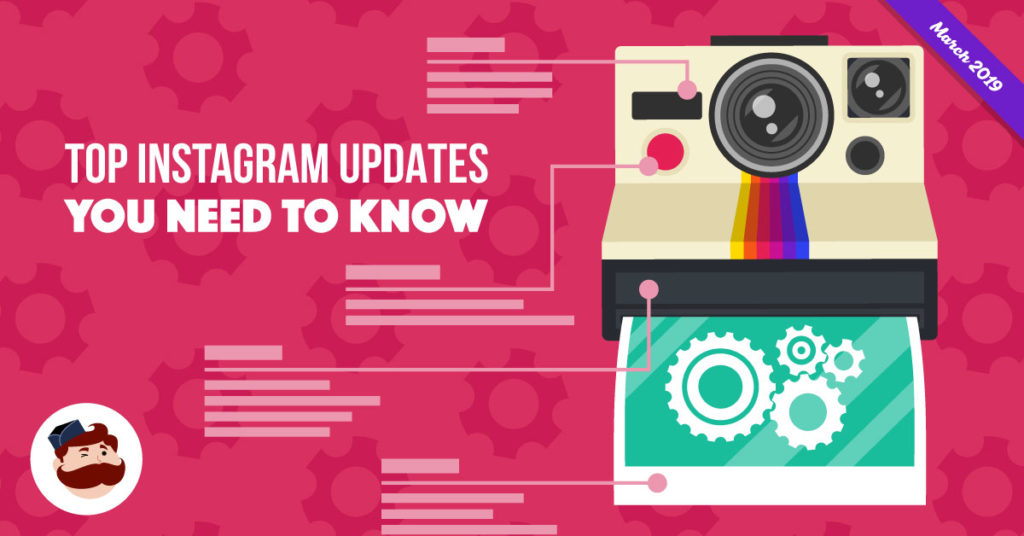 In this month's Instagram update, we're going to give you sneak peeks at all the upcoming features we're waiting on, including an Insta-checkout and new, great tools for influencer campaigns.
Intrigued yet? Let's dive in.
New Native Insta-Checkout
Instagram's Shopping posts have been a huge asset to businesses, allowing them to tag products in their pictures, which can then send users to the product's page on your website to purchase.
Now, they've taken this a step further, taking a leaf out of Pinterest's book, and have released a native checkout feature.
Users can actually checkout right from Instagram without ever leaving the app to a web browser.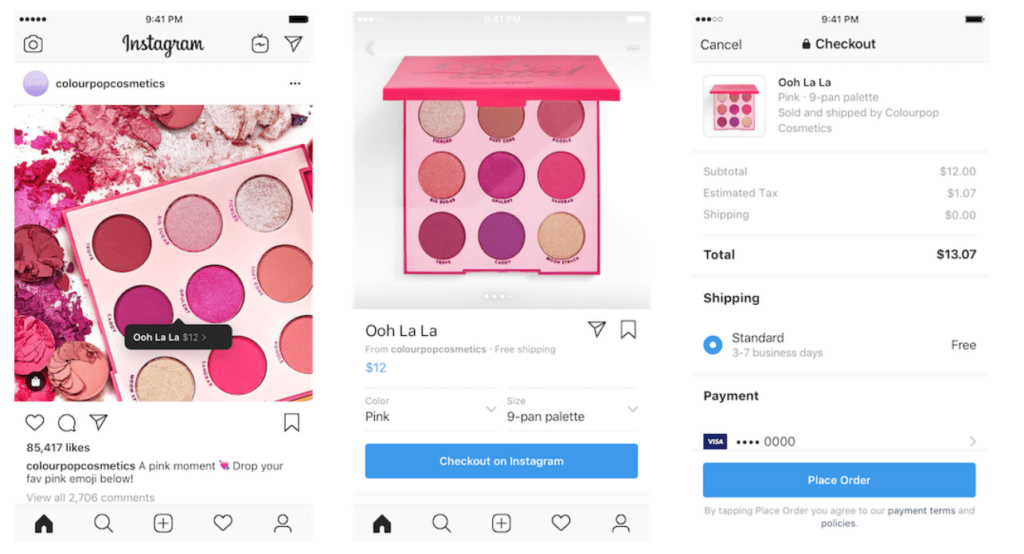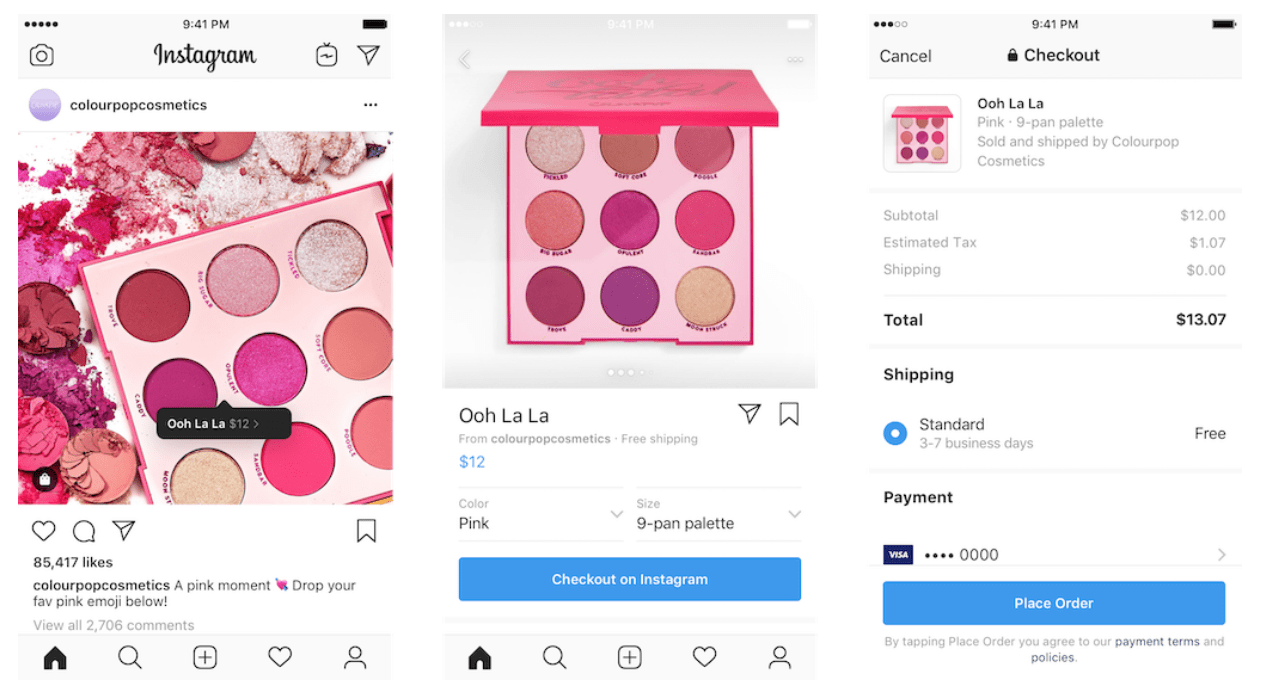 This will be a huge advantage; the easier it is for customers to purchase, the more likely they are to do so.
And since users inherently trust Instagram more than businesses they're not incredibly familiar with, this could help to make people more likely to purchase who may have been wary otherwise.
This feature is only in beta testing and available to a small number of retailers, but Instagram historically has progressed from these tests to a more widespread launch very quickly. More brands will likely be seeing this very, very soon.
New Title Option for Instagram Live
Are you using Instagram lives to keep your audience engaged and establish real-time interaction with your followers? If so, you'll have to keep an eye out for the new title option.
Instagram is currently testing a new feature that will allow users to add titles to their live videos.
These titles are a valuable asset. Users coming into your live, after all, are otherwise typically left a little lost and confused when they first arrive; unlike other live platforms, there are no descriptions or titles. Having a title will tell people what the broadcast is about, bringing them up to speed a lot faster.
Right now, this feature is only in testing, and we don't have more information about a wider rollout just yet, but we'll keep an eye out and let you know when it's here. If you happen to see it pop up, take advantage of it to increase your live engagement and viewer retention.
Expansion to Influencer Campaigns
There are reports that Instagram is working hard to improve their campaign options for influencers and the brands they work with, and there's now news from AdAge that Instagram is working on developing "Branded content ads."
These ads will allow brands to sponsor posts that are created by celebrities and partnerships, then promoting them as they would their own posts or ads. It's essentially an extension of their current branded content tagging system, which works with the "Paid Partnership" tags.
This is partially due to Instagram's work to make the platform more authentic and transparent, while also more friendly to businesses. If brands are able to take advantage of transparent influencer marketing and promote it further, that's only a good thing.
We don't have news about when this new feature will emerge, but since it was announced at a conference and not spotted "natively" or by code hackers, there's a good chance we won't have this one for a little while still.
New Updates for IGTV
IGTV hasn't quite taken off the way that Instagram likely hoped, with usage sticking more to their super-short, still-disappearing Stories as opposed to heading to the third-party app for more long-form content.
Even with this in mind, Instagram isn't abandoning IGTV, and instead is doubling down to make it more appealing to users.
A few users have seen that Instagram has started rolling out a new layout for IGTV and increased search functionality.
IGTV's main page now looks similar to Snapchat's Discover page, putting more of a focus on finding content that users are interested in instead of just watching whatever pops up on the screen.
This will hopefully give brands some extra visibility, getting them spotted by interested users, and people will hopefully stay on the channel longer instead of just losing interest right away.
This news is coming on the heels of Instagram allowing profiles to share previews of their IGTV videos onto Instagram directly, which can then transport interested users to the secondary app to watch more. If you want to get more views on your long-form content, that feature is still the best one to rely on.
Conclusion
Instagram is typically fast with the updates, so this is one of the first months where we don't have multiple new features to get our hands on and play with first hand.
That's ok, though, because we just had a ton in January and February, and the features currently in testing are pretty big and could have a great impact on our native, on-platform marketing.
Watch out for these, and hopefully, next month's update will be able to feature some tutorials showing you how to use them, along with whatever is coming next!
What do you think? Which of these new updates are you most excited to test out for your business? Which of the latest Instagram updates has been most useful to you? Share your thoughts and questions in the comments below! 
---
Top Instagram Updates in February 2019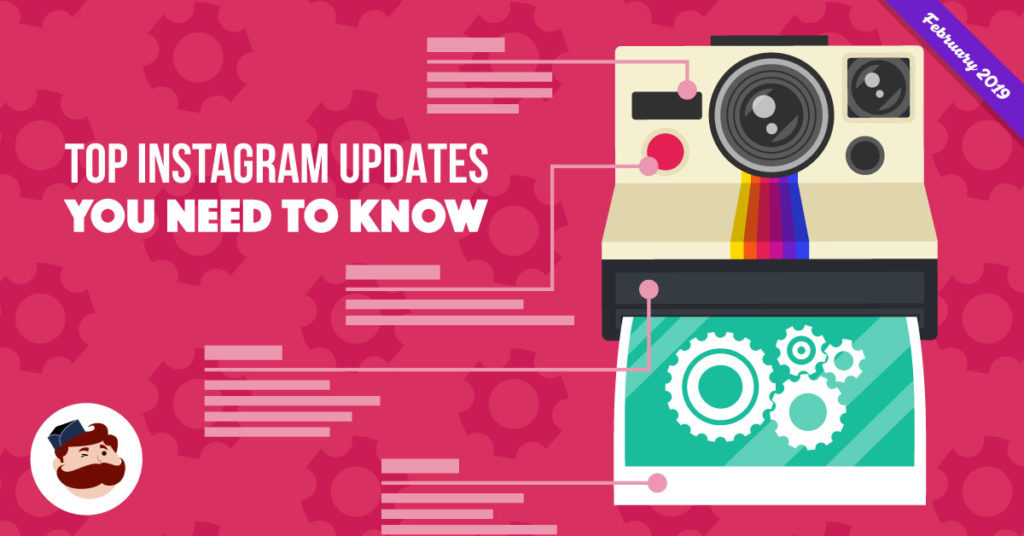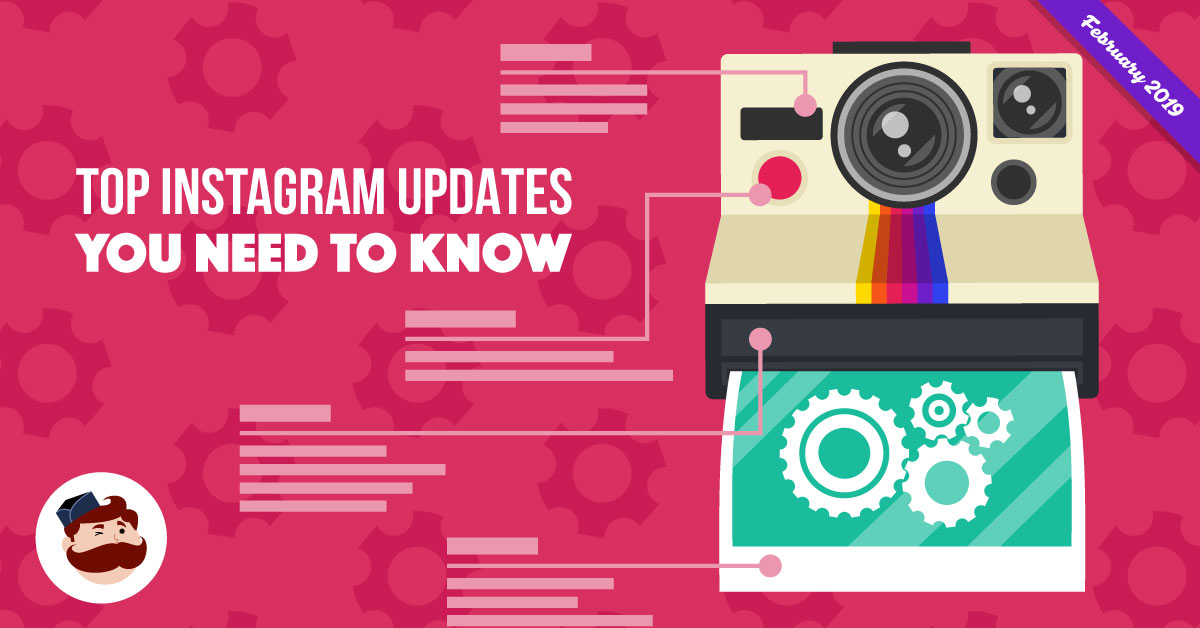 Yep, you guessed it– we have a handful of new, great updates to discuss from the month of February.
We only have been given full access to two of the new Instagram features, but we've got close looks at several exciting innovations that are currently in testing and hopefully coming our way soon.
First on the list is a big one: a new integration for IGTV and Instagram.
Let's get started.
Instagram Releases IGTV Previews In Main Feed
Quick recap: IGTV is a standalone app that allows users to upload long-form, vertical video content that takes up the full screen.
The idea is that there are different user "channels," and like on television, something is constantly playing while you go from channel to channel.
Though it's a standalone app, there is an integration with the main platform, and your followers on Instagram will be notified if you share new content on IGTV.
This integration was just taken a step further, allowing users to share previews of their IGTV videos in the main Instagram newsfeed.
Since Instagram has higher engagement and viewing rates, this provides an effective way to drive more relevant traffic over to watch the rest of your content.
Want to maximize the visibility of your content? You can share a one-minute preview of your IGTV video when you upload it. Users will clearly see the prompt to "Watch Full Video," allowing them to click and be taken directly to the full content.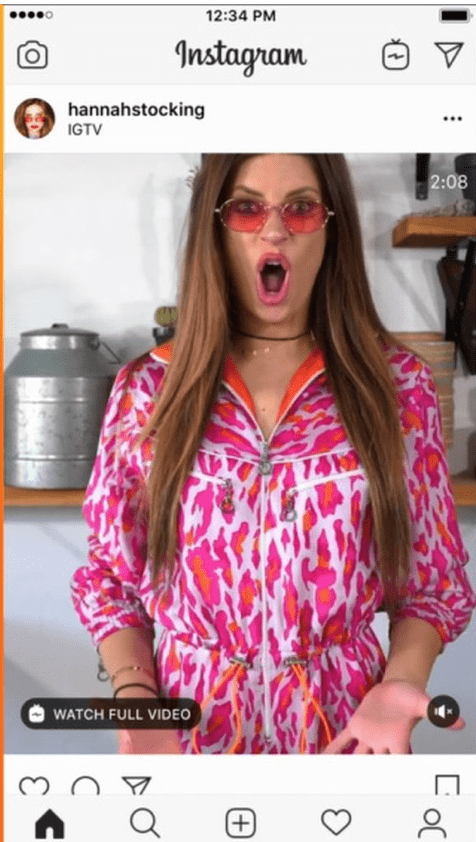 If you're using IGTV as a marketing platform, take advantage of this to get as many views on your video content as possible.
Instagram Rolls Out Creative Tools for Black History Month
In the U.S., February is Black History Month, and Instagram responded with new creative tools and a promotion to showcase relevant creators on their platform that featured content on the official Instagram account.
The creative tools included camera effects and stickers that were designed by black designers.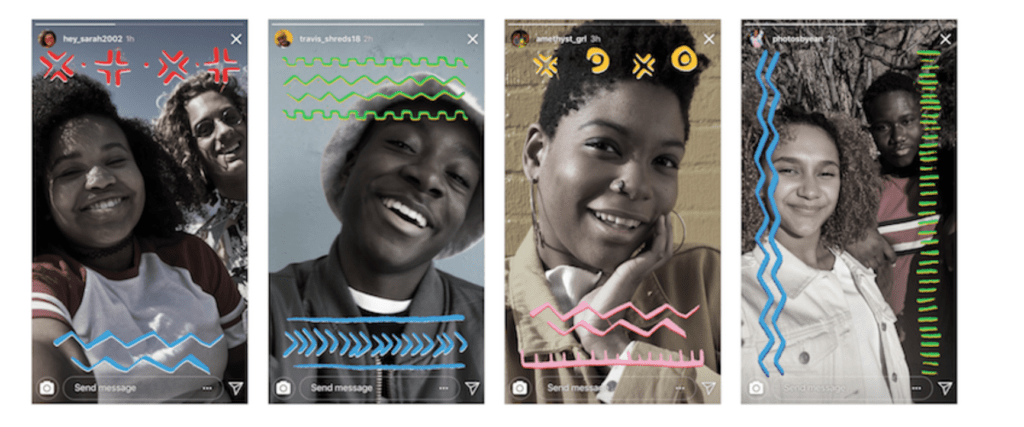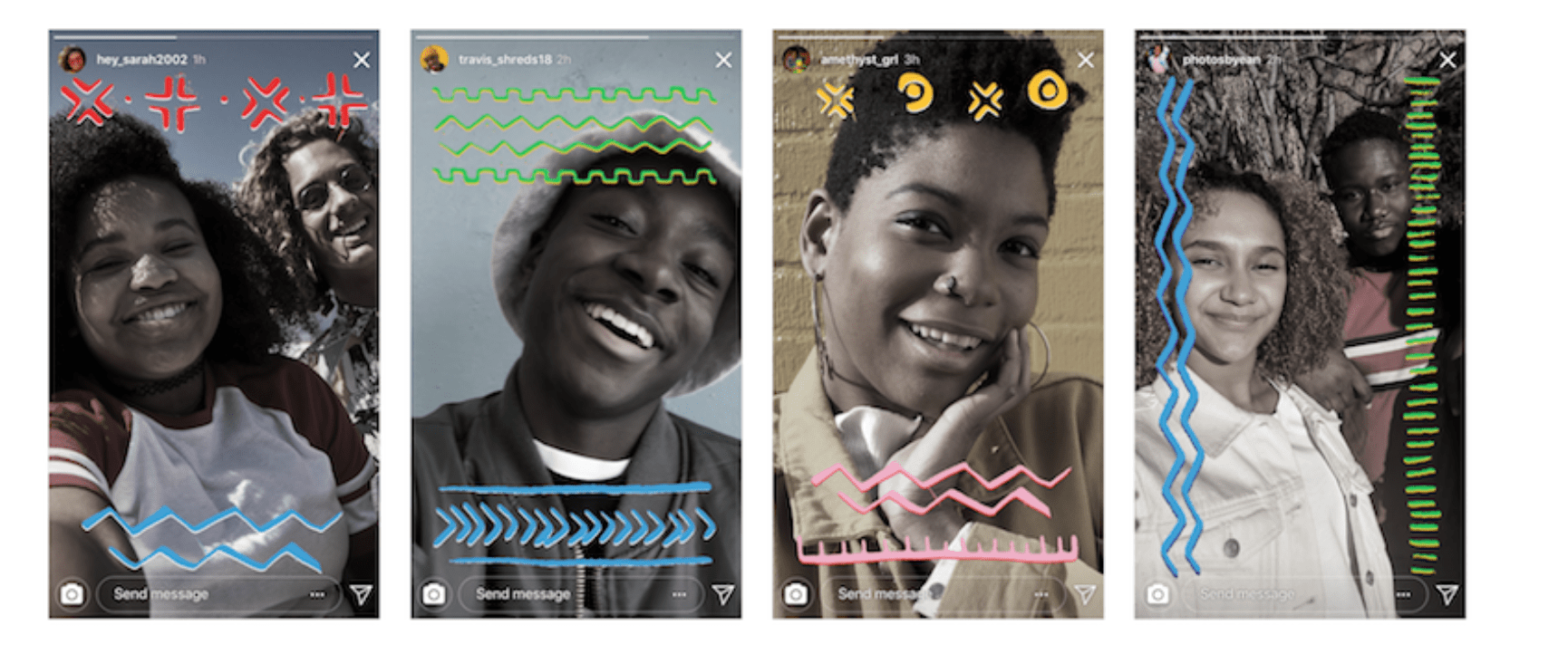 In addition to being a great thing on its own, this also marks a big step that could indicate campaigns Instagram runs in the future.
This is a relatively socially-oriented campaign, and we may see more features (creative or otherwise) in the future for different events, holidays, or causes.
Instagram Removes Self-Harm Images
Instagram just announced that they'll be removing any images that violate their new self-harm regulations, with the goal of protecting vulnerable users from seeing and being affected by the images.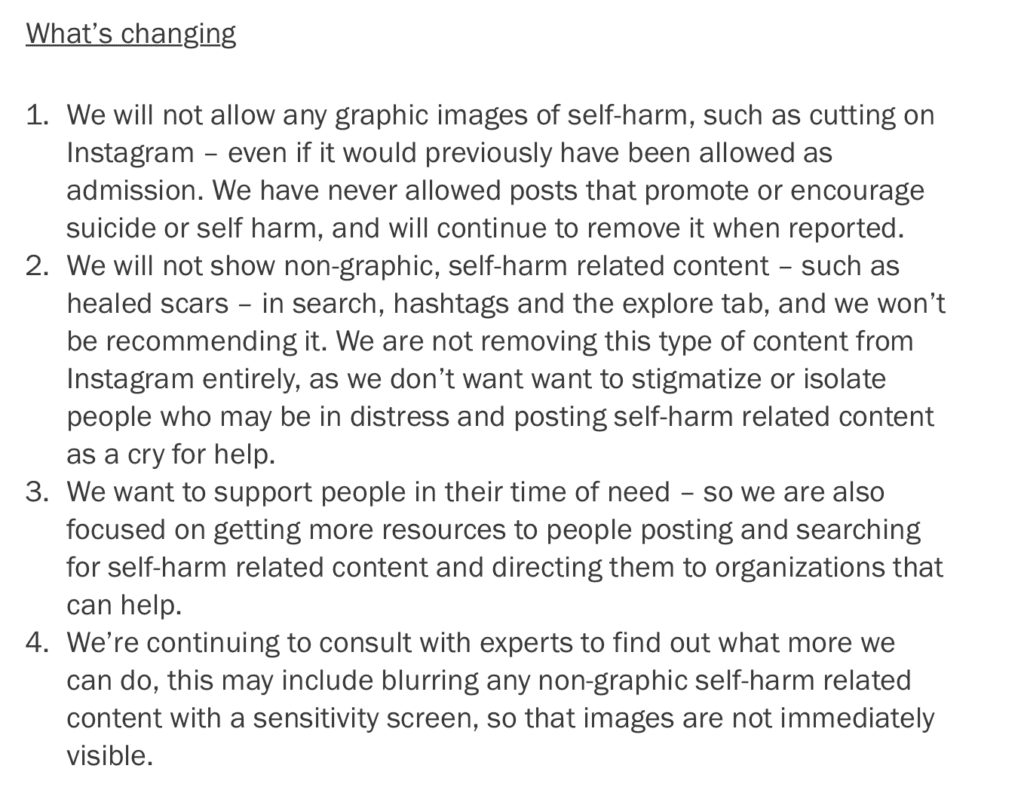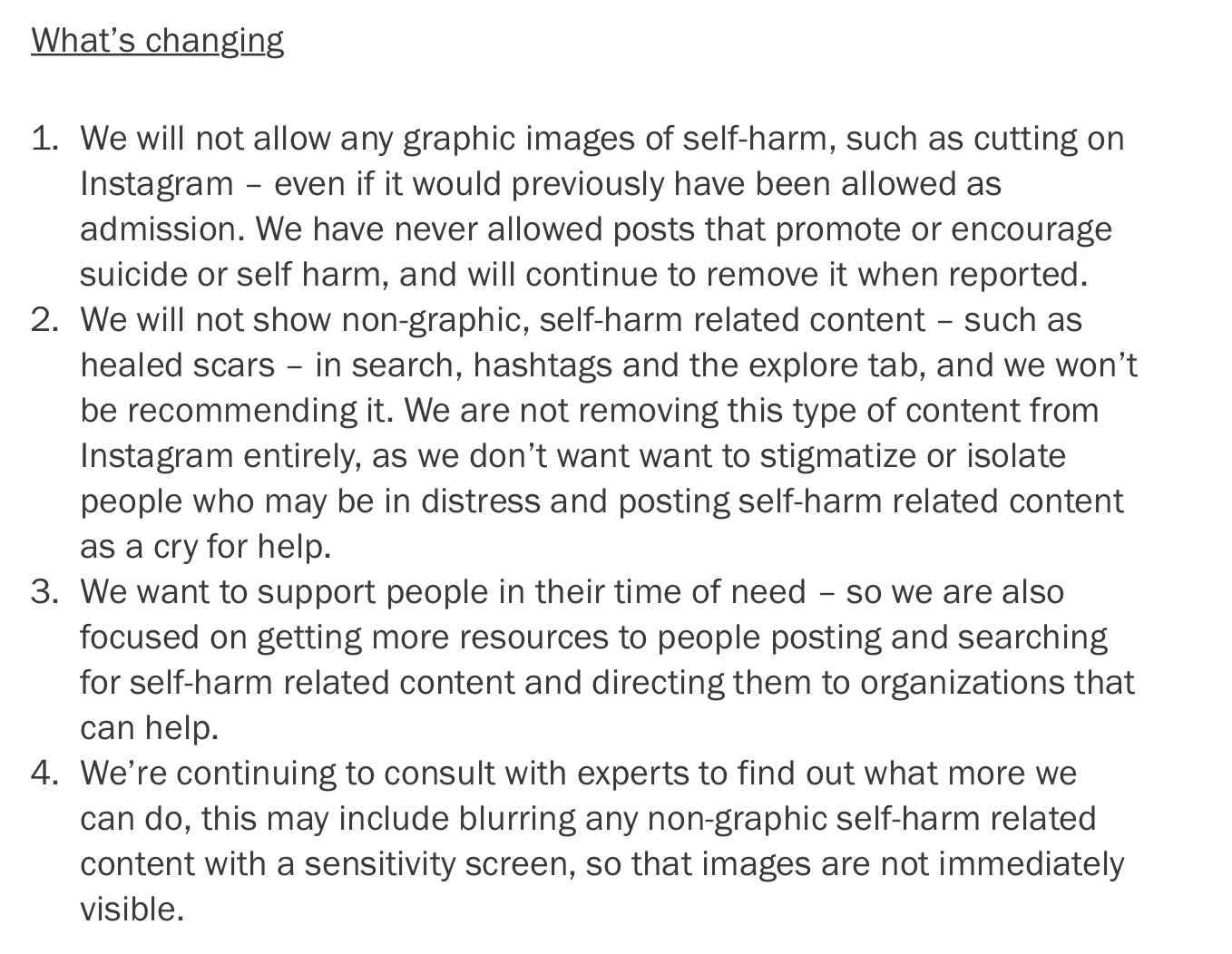 Most brands won't be heavily affected by this, and likely (read: hopefully) aren't using any sort of images or captions that would make light of any sort of self-harm, but sometimes edgier brands can take things right up to the line and should take note.
Please note that this does include healed scars from self-harm or suicide attempts, so if you're sharing an inspirational story, be careful here. 
Again, this is good on its own, but it also indicates that Instagram is becoming more socially aware of how their platform impacts users and they want to make it safer and improve the user experience.
This falls in line with the ban against content that glorifies eating disorders a few months ago.
In Testing: Direct Messaging Online
Last month we saw an announcement sharing that Facebook may eventually merge their WhatsApp, Messenger, and Instagram direct messaging platforms into one integrated system, allowing users to potentially connect cross-platform. This won't be rolling out (if it does happen) until end of the year at the absolute latest, but it looks like we may be seeing one step towards it very soon.
Instagram is reportedly testing direct messaging online, which was a feature previously only accessible through the mobile app.
They confirmed to TechCrunch that the product isn't available for public testing, so it's likely in early stages. But it's still a big deal.
Instagram has been slowly shifting to a desktop-friendly experience over the past year, and as direct messaging is available to users, it will create one more direct interface that brands will need to respond to.
Hopefully, in the process, the API will be released so that third-party tools like Hootsuite will be able to add private messaging to their dashboards to make this a little easier for brands.
It's good news, and I feel we'll learn more soon.
In Testing: Donation Stickers
Facebook has had a big fundraising push in the past year, and it looks like Instagram might just be following suit soon.
This aligns with the social-oriented awareness they've shown with a few other updates, and it's taking the form of the currently-in-testing donation stickers for Stories.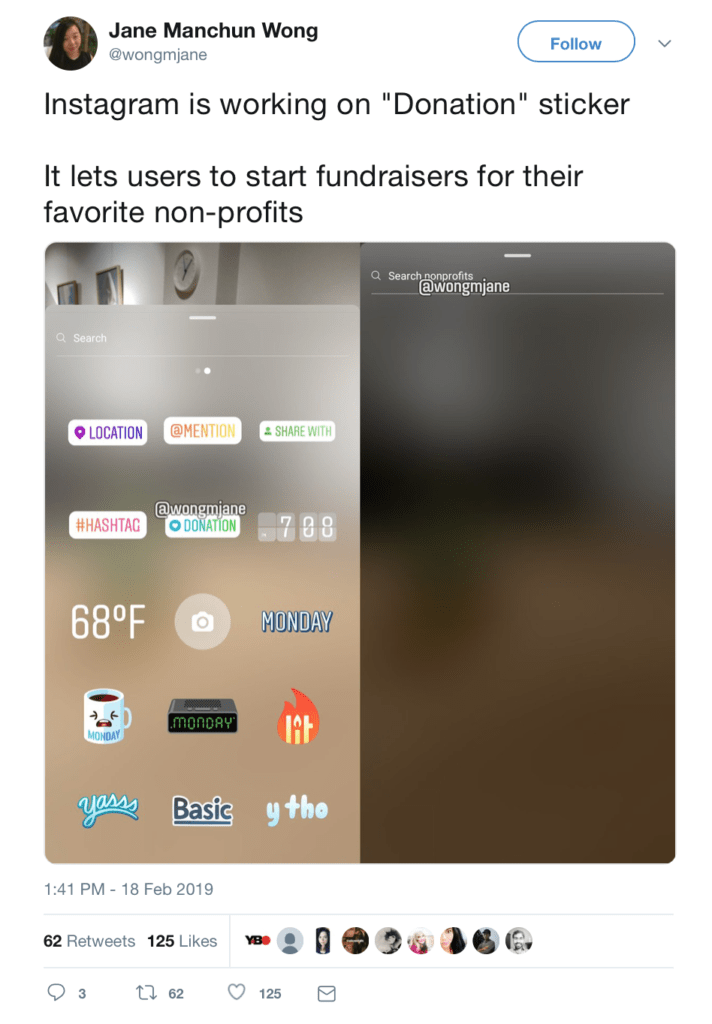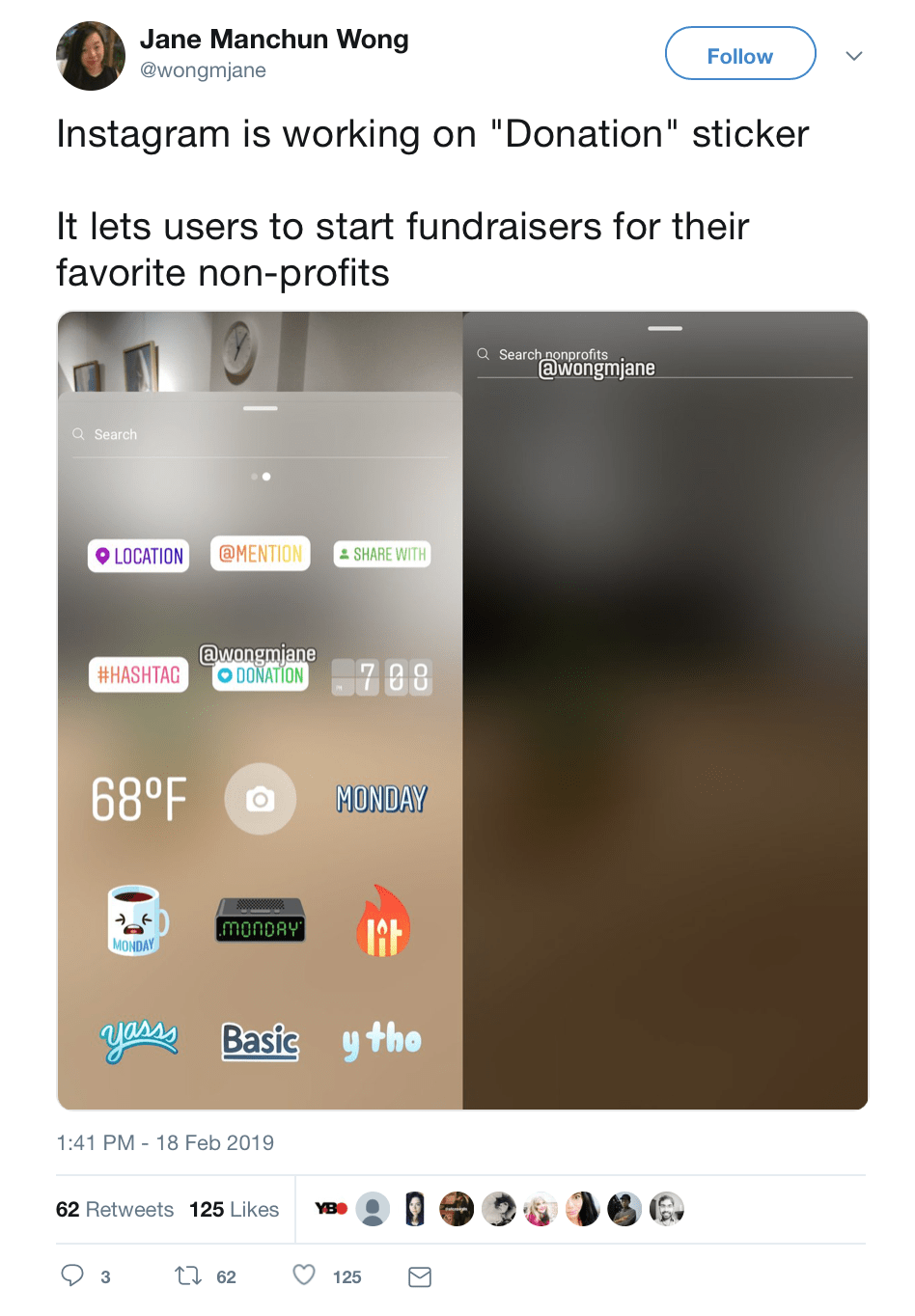 Jane Manchun Wong spotted this feature. It will seemingly allow users to search for non-profits or select from one they already follow on Instagram, and then use the donation sticker to encourage other users to contribute.
Ideally, this would happen on-platform, which can increase user trust and the effectiveness of campaigns.
Brands who are involved in charity work should take note of this one, as should nonprofits.
We'll keep you updated when we learn more.
Conclusion
We only got access to three updates this month, and only two that we could actually use (even though users will benefit from each one).
The IGTV previews are easily the biggest development this month, but the knowledge we have of new features like the coming-to-desktop direct messaging are incredibly exciting.  
We're getting new hints at where Instagram may be going in 2019, and so far, it's looking great.
What do you think? How do you feel about the updates we saw this month? Which is your favorite? What do you most hope to see this year? Share your thoughts in the comments below! 
---
Top Instagram Updates in January 2019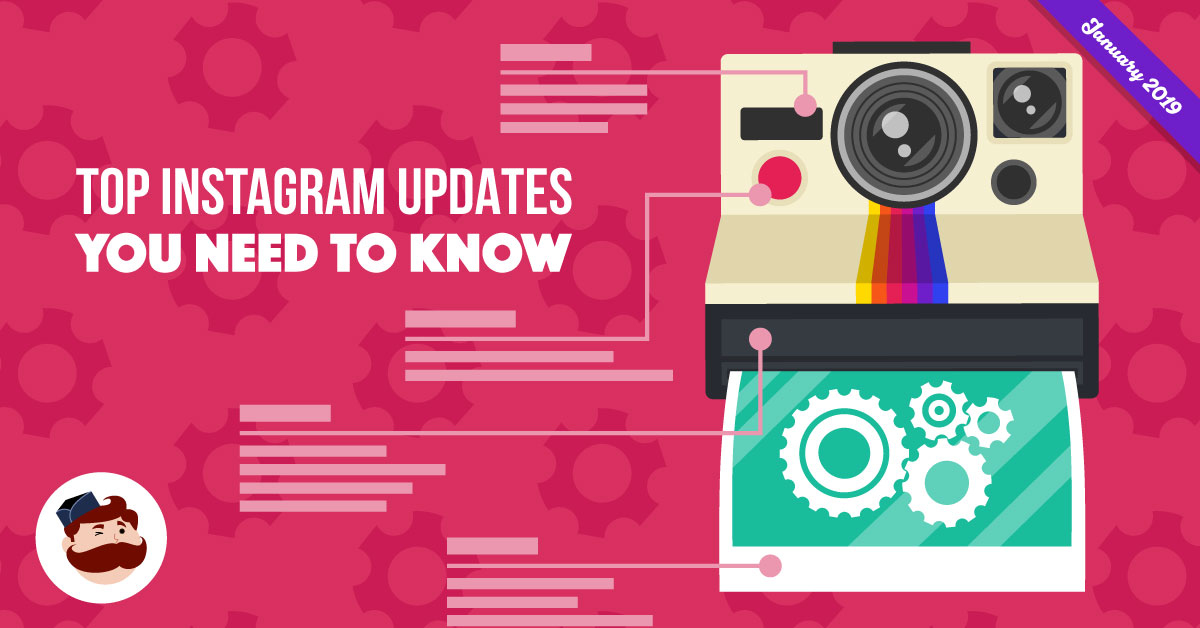 In this month's post, we're going to take a look at all the changes that have happened in the past month, stretching over that crucial Christmas break period where things are easier to miss.
There were some big changes on Instagram in the past few weeks, including the ability to schedule videos, share posts to multiple accounts, and new Stories stickers, along with a few new great features in testing.
There's a lot to cover, so let's get started.
There Are No Changes To the Instagram Algorithm
Our first update is technically a non-update, but there have been a lot of rumors going around, and algorithm news is always a good place to start.
A post went around claiming that Instagram's algorithm must have changed and was only showing content to about 7% of any profile's followers. This, supposedly, was the reason why so many engagement-oriented strategies were being used.
Instagram took to Twitter to debunk this. They've said that the algorithm has not changed, and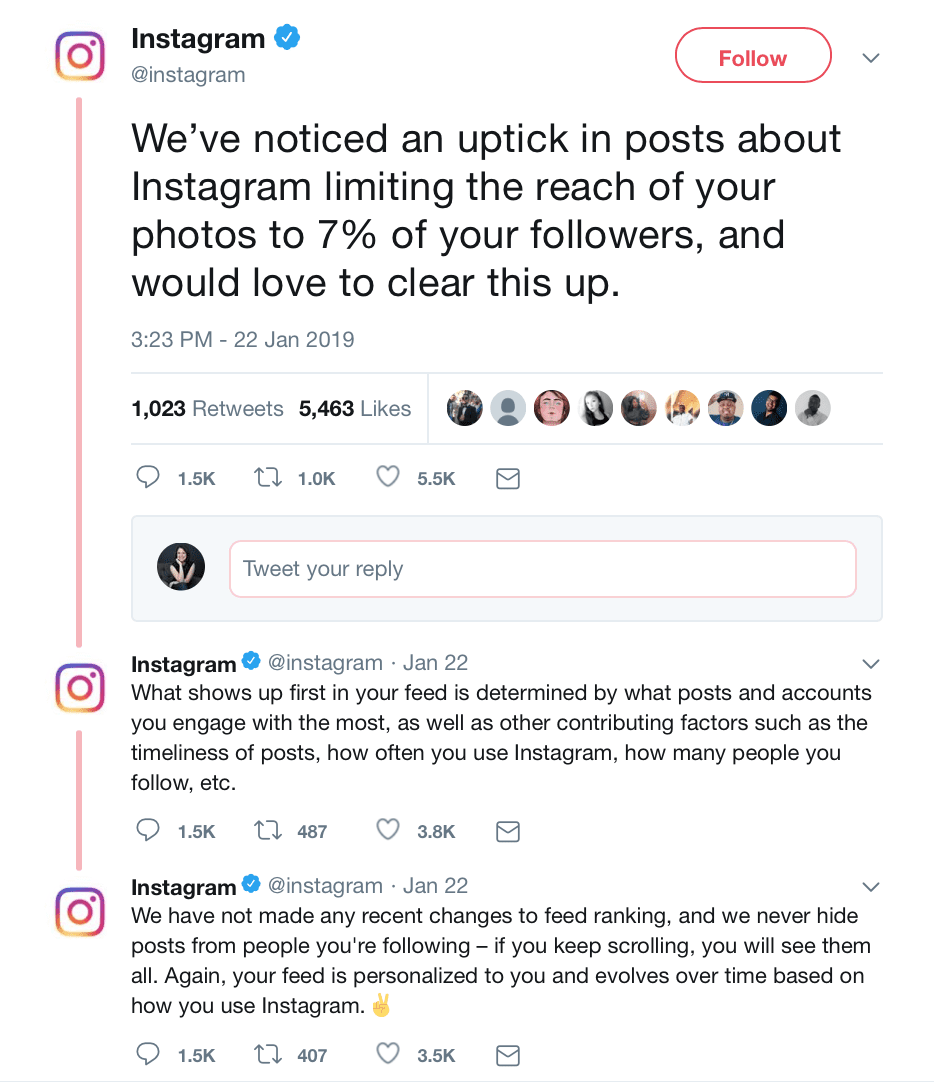 They've confirmed that the algorithm is still based on factors that include relevance, timeliness, frequency in posting, and the number of people following you.
This is the same algorithm that's been in place for a while now, and as far as social platforms go, they've been transparent about what affects your ranking within it.
Posts with a lot of engagement will help you in the algorithm, as they always have, so keep creating high-quality, engagement-oriented content in the feed and you'll be just fine.
Now on to the actual updates that have really happened!
Instagram Video Scheduling
Instagram post scheduling has been a huge asset, and one of my favorite features of social media publishing software like Hootsuite. It allows you to upload and create content from both a mobile app or a desktop (I seriously prefer the latter) which creating a cohesive content schedule that will help you reach your goals.
At the tail end of last year, Instagram quietly updated its API, allowing third-party social media management tools like Hootsuite to offer video scheduling, too.
This is a game changer for a lot of businesses and social media marketers, especially since video is such an important and effective part of most marketing strategies.
Now, you can make sure that your video is fitted into time slots that align with your social calendar and are posted at peaking posting times, helping you to maximize reach and the results it can drive.
Instagram Allows Sharing to Multiple Accounts
It's a little funny; several months ago, Twitter forbid exactly this on their platform, and now Instagram has rolled out a new feature to make it possible on theirs.
Over the last month, they've slowly rolled out a new feature that allows users (including personal accounts) to share a single post to multiple of their linked accounts at the same time.
This feature is exclusively for feed posts, not for Stories… at least not yet.
Ideally, it's typically a good idea to create unique content for each account you're sharing, but if you have sister accounts for some reason that benefit from overlapping content, this can benefit you.
Examples of this would include an account that has a sister company, like Banana Republic's separate men's and women's accounts, or if you're doing marketing for a franchise and each location has its own profile.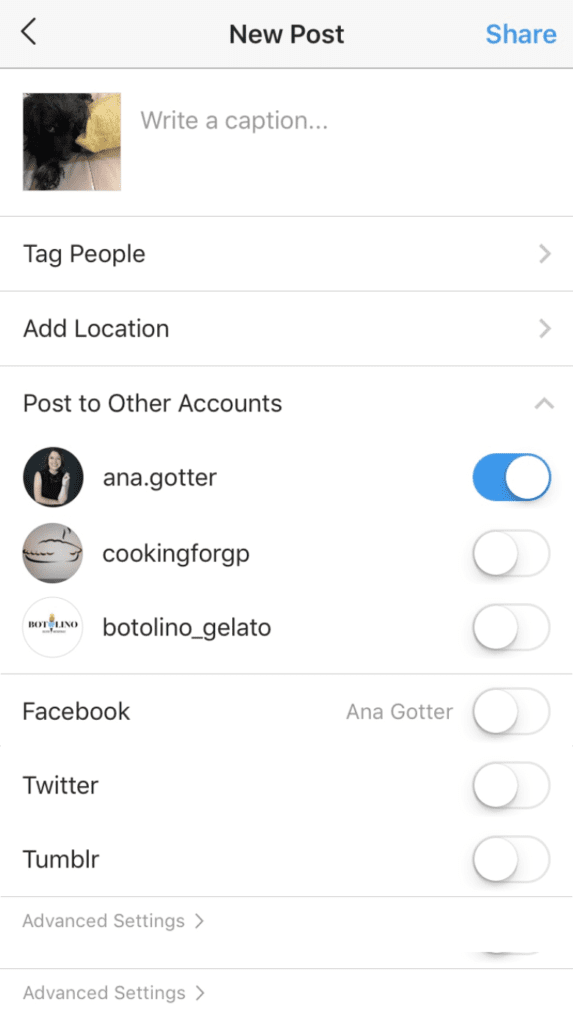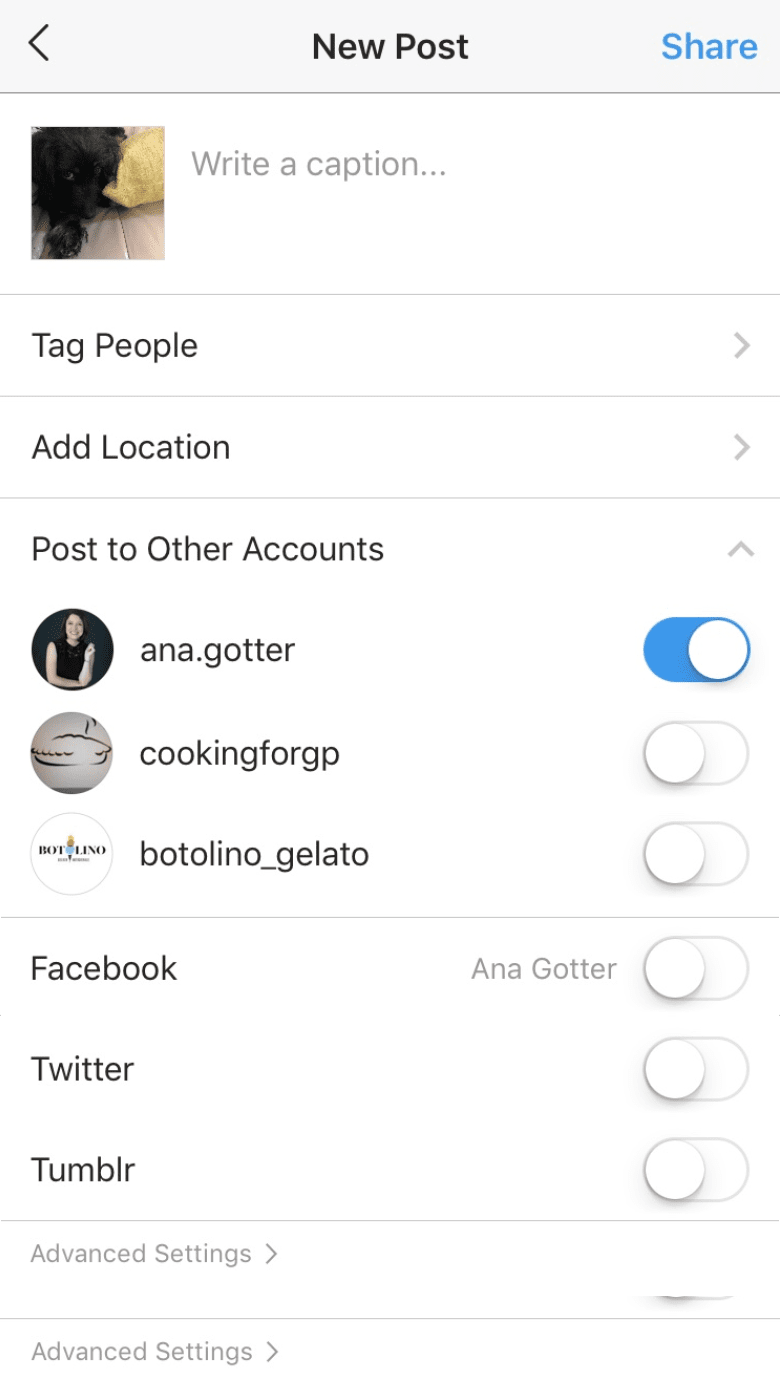 It's worth pointing out that this feature isn't anything too groundbreaking– social media management software has already made this possible, allowing a single account manager to publish the same update not only to different accounts but to different platforms, too. Still, if you're keeping it small or don't have the budget for the software, this can be a perk as long as it's used sparingly.
This feature is currently only available for iOS devices, and there isn't currently any word about when it will be available for Android. Typically the cross-device rollouts follow soon after, so keep an eye out for it, Android users.
New Sticker Features Available
Last year, we saw a ton of new, interactive stickers being made available for Stories, making them even more dynamic and engaging. At the very end of last year, they kept that trend going strong, and we got two big developments along the same lines: an update for the Questions Sticker, and a new Countdown Sticker.
The Question Sticker rolled out at the end of last year, and it allows you to place a sticker on your Story that encourages people to ask you questions. They can respond right there on the sticker, and you'll see what they're asking. You can then respond publicly to the ones you want to share.
The new update allows Question Stickers to be available for live usage, making the question-and-answer session more immediate, more urgent, and more engaging.
This is an excellent way to make those Q&A lives more interesting for viewers while also making them easier to manage; trying to keep up with all the live comments can be difficult and overwhelming, but this will make it easier to sort and you can even show the question on the screen while you're answering the question, keeping everyone up to speed even if they're joining you halfway through.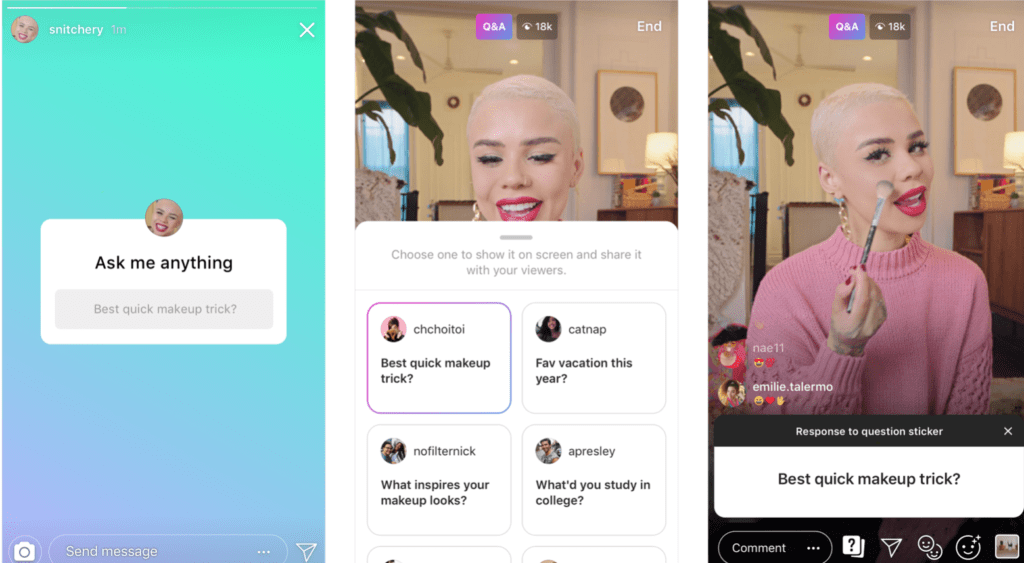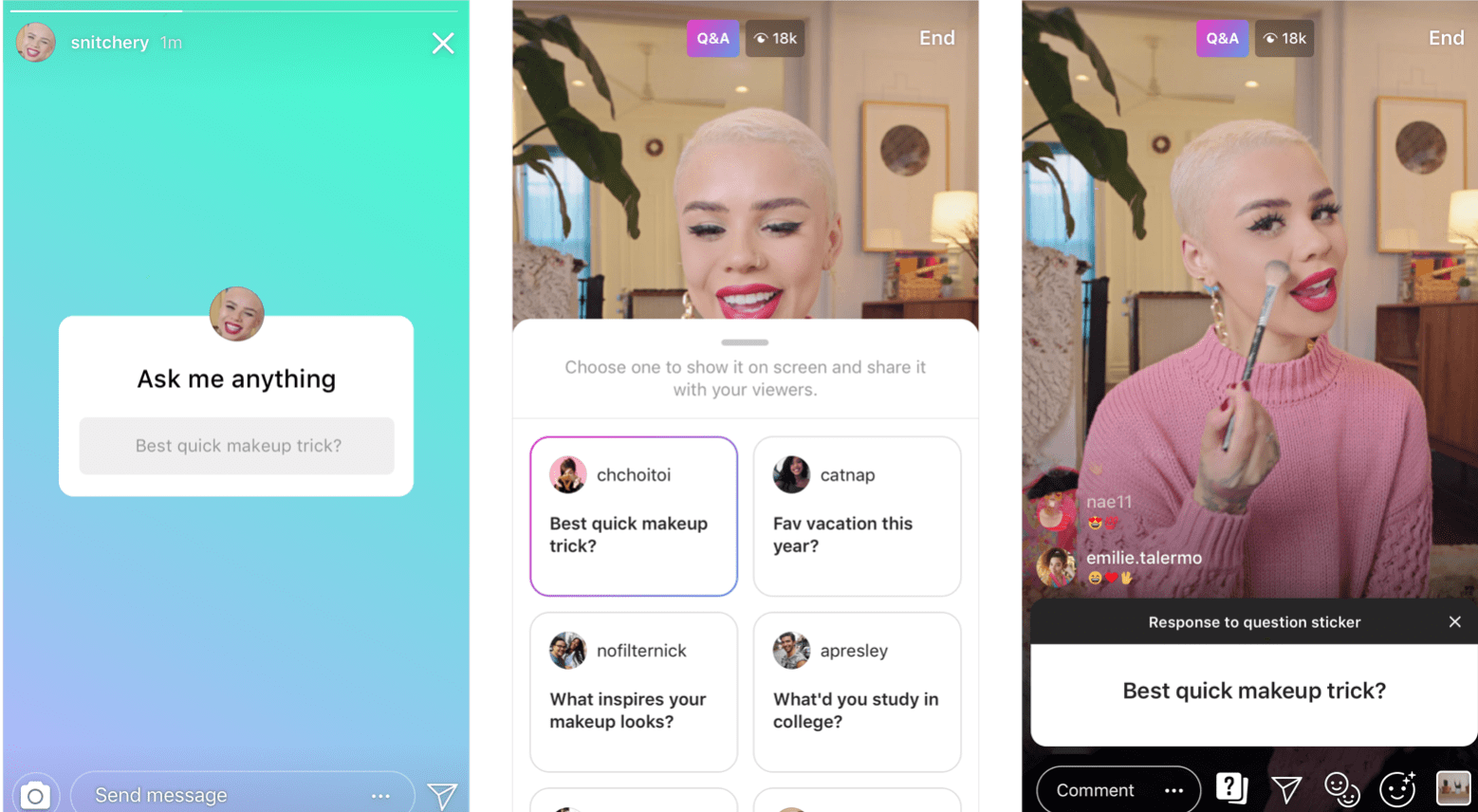 The Countdown Clock Sticker, on the other hand, is brand new but just as exciting.
You can create the date and time you want to be counting down to, add it to the sticker, customize it with text, emojis, and color schemes, and watch a live countdown clock form on your Story. Every time someone watches it, they'll see a live countdown in real time.
This will be an outstanding way to use Instagram stories to promote events, including online specials like flash sales or new product releases.


Conclusion
Instagram is starting the new year off with a bang and a whole lot of changes, so make sure you've taken some time to look at the new features and see what they mean for you.
The biggest news is easily the video publishing abilities, but the new Stories stickers are excellent developments, too, and we'll likely see a lot more of them as we move through the year if 2018 was any indication.
We'll also keep an eye out for those exclusive in-testing influencer accounts we discussed last month and let you know when more info is available on that front.
What do you think? Which update are you most excited to get your hands on? Where do you think the platform will go in 2019? What are you most hoping we'll see this year? Share your thoughts and questions in the comments below! 
---
Top Instagram Updates – December 2018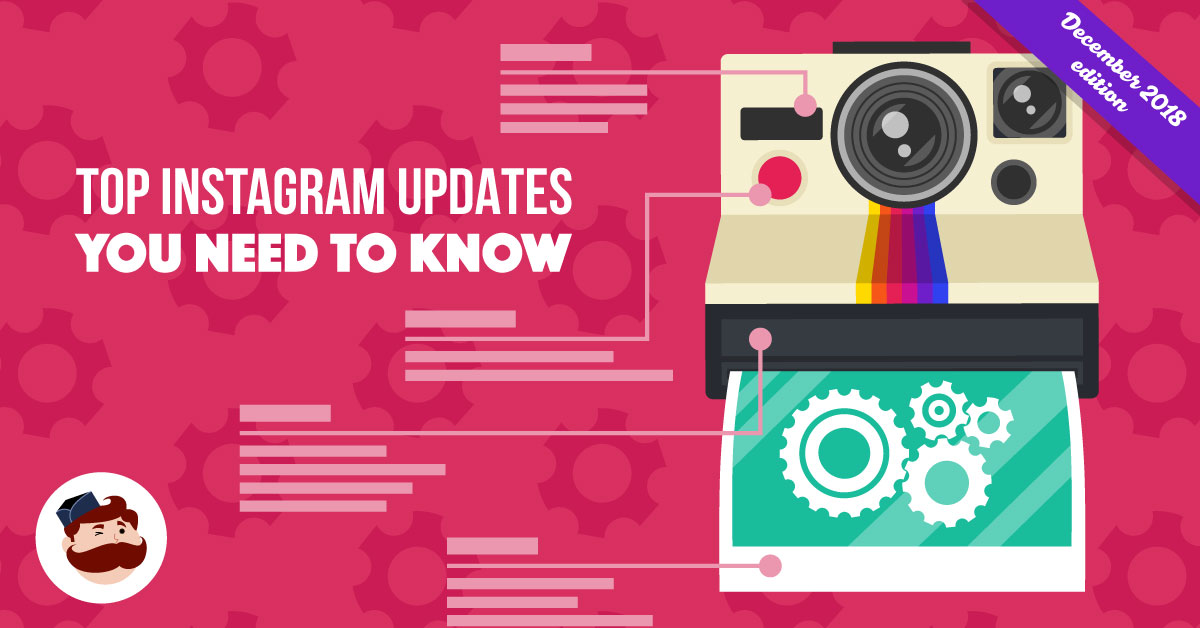 Last month, Instagram rolled out a whole lot of selling features just in time for the holiday shopping rush, and this month they're giving us new ways to better connect with our target audience.
This makes sense; we saw the big selling features in time to use them, and now we're getting features focusing on relationship-building that you can start to implement now and in the new year.
And remember, that's what social media is really about– establishing communities and relationships with your audience.
Have I caught your interest yet? Maybe a little?
Let's go ahead and say I did, and start taking a look at the Instagram updates that have been released and how they impact marketers and brands.
Instagram Releases Alternative Text Descriptions
Anyone familiar with blogging, site design, or SEO is already going to know what alternative text descriptions are, and yep, they're pretty much the same thing here.
Alternative text descriptions are exactly what they sound like: you place a description of what's happening in the image or video in a designated place.
Users with screen readers will have the text read out loud to them, giving them the context of the image even if they have trouble reading it.
Instagram's alternative text descriptions are making the visual platform more accessible to visually impaired users, and it comes with two options:
You can rely on automatic alternative text, which uses pretty impressive object recognition technology to create audio descriptions on their own.
While this is undoubtedly efficient, remember that technology does have its limitations. This is available when users are seeing photos in feeds, Explore, and on individual profiles.
You can manually create your own custom text-based descriptions when users click on the photo or scroll through.
This takes more time, but it's the better option, because it allows you to ensure that the description is accurate and that it highlights specific things you want to showcase.
Right now, it doesn't seem like there is a big search benefit (which is one of the biggest reasons many bloggers use the alt image text so religiously), but the accessibility features alone are more than enough reason to take some time and use these features.
Connecting with every audience member possible is definitely worth the work.
Instagram Announces Profile Changes
Right after our November update, Instagram announced that there were going to be a few changes to both personal and business profiles.
These are all cosmetic interface changes, with new icons, buttons, and tabs.
One example is the new "mutual followers" option, which allows you to see which followers you have in common with any given account (just like you do with friends on Facebook).
Fun tip: can also see what the "Shop" tab will look like (if you don't have it yet) in the third picture all the way to the right, which lets users look at a feed of only shoppable posts.
The look of Instagram business and personal profiles are also changing a bit, with updated layouts.
Users will be able to see which of their friends follow a certain profile; this feature will be a fantastic addition for marketers and brands, as it gives you the opportunity to leverage social proof.
It's one thing to think that a brand looks cool and another to see that three of your friends follow it, too.
We don't have all the information on what these changes are going to be yet, because Instagram is still testing them and figuring all that. Keep an eye out for the changes, and remember that we'll let you know what they are exactly when we know more.
New Voice Messaging in DMs
This feature has been rumored to be in the works since it was spotted in testing earlier this year, and now it's official.
Voice messaging is rolling out on a wider basis for use in direct messaging.
Voice messages can be sent in one-on-one chats and in group chats, and they can be up to a minute long.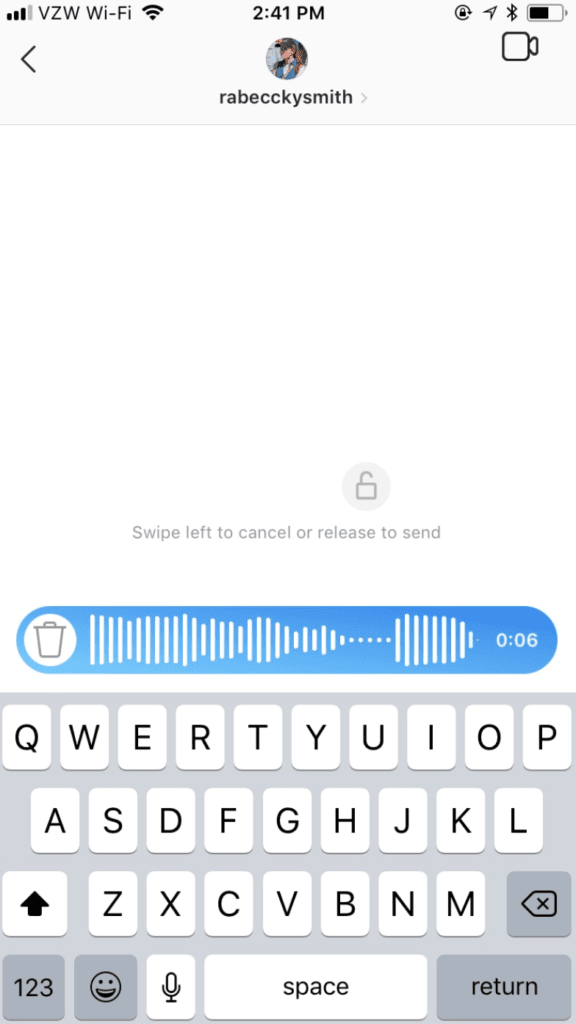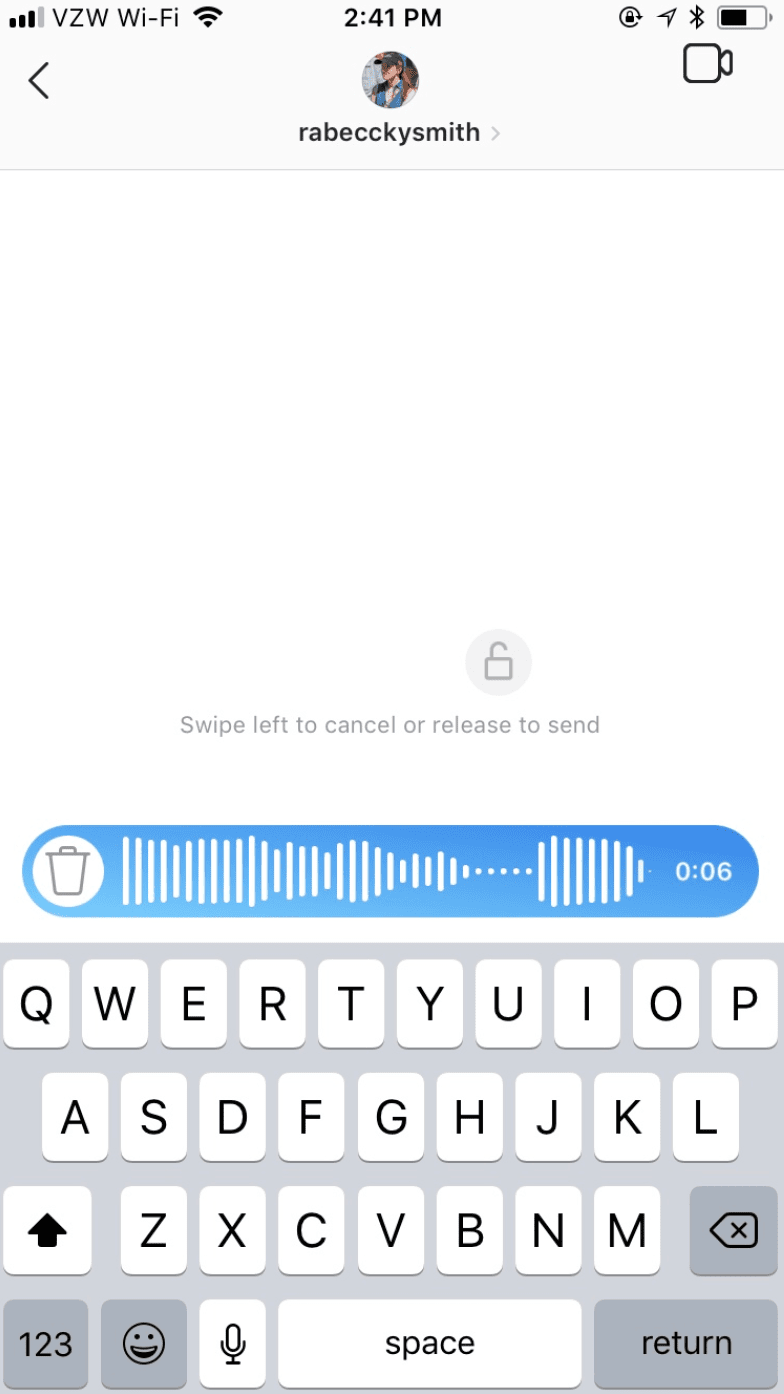 Unlike other direct messages in Instagram, voice messages are going to stay; instead of disappearing like other content, they'll stick around permanently.
Take this into consideration if you're using disappearing DMs as part of a strategy to create urgency for sales, discounts, or events with your customers.
While this feature will likely be used mostly for personal use since text is more efficient and video is more personal (and we already have both features), this is a feature that we can keep our eye on to look for interesting, innovative use cases.
That being said, this feature may develop into something even more impactful over time; we're seeing Facebook focus more on the voice market, especially with the big push towards Portal.
Close Friends List for Stories
If you want to create segmented lists of users to show certain Stories, now you have your chance. You can actually create "cost friends lists" on Stories, ensuring that the only people who can view it are those that you've chosen to see it.
Good news: business profiles have this ability, so you can actually create a single group of "close friends" to show exclusive content to.
While you have to be careful with this because you don't want anyone to be excluded, one potential use case for this is to create a close friend group of your top-tier, platinum level, loyalty, and rewards member customers.
Show them exclusive offers like "early access sale to gold members with code GOLDNOW," and make sure that you mention in the story that it's exclusive.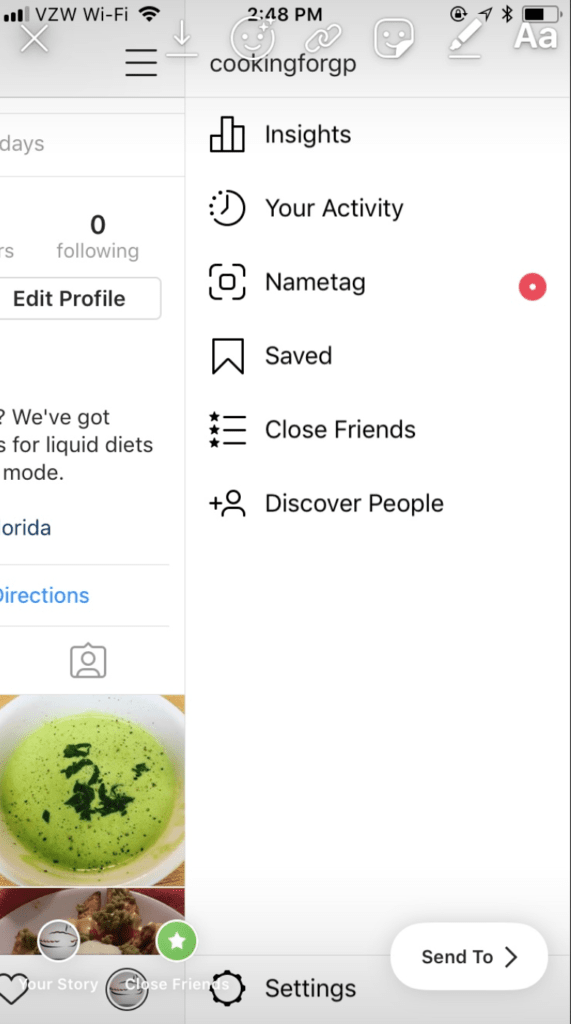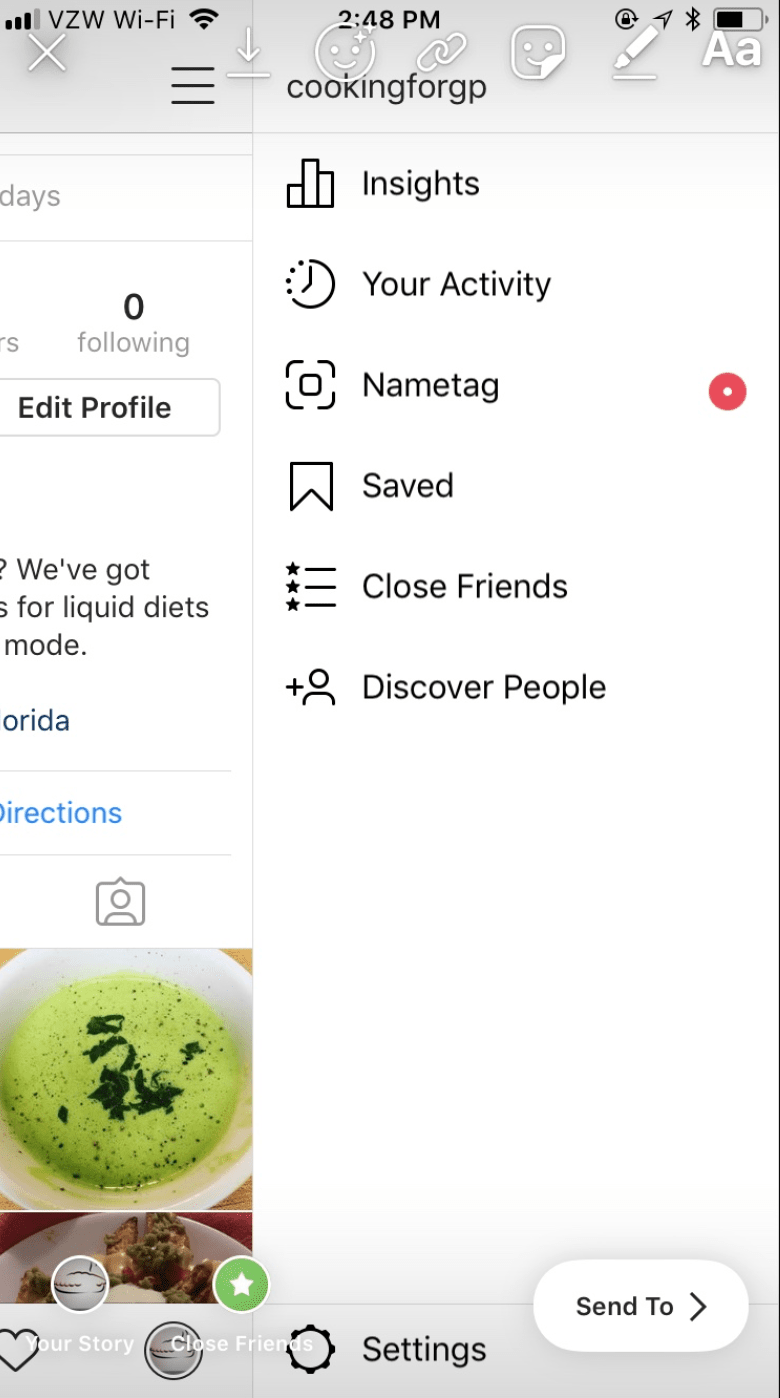 You can create your "close friends" group under your settings, and then just select them when publishing your Story.
Restrictions on Eating Disorder Searches
This may not affect many brands, but it's a good move by the platform so we're covering it! Starting in 2012, Instagram started making certain phrases and hashtags "unsearchable," meaning they wouldn't yield search results.
This included terms that seemed to promote eating disorders, but a recent study from BBC trending found that this had somehow missed hashtags promoting bulimia, including offering 38 alternative spelling suggestions for a single term.
Since then, Instagram has updated to the list to include bulimia-related searches.
You can learn more about banned Instagram hashtags (which is often how users search) here.
In-Testing Features to Watch 
These are all the updates that have been confirmed, but there are two investing that we want to keep our eye on:
and
Side-scrolling feed views.
Let's look at both.
Side-Scrolling Feed Views
According to WABetaInfo,  Instagram is currently testing a side-scrolling format for feed viewing that's similar to the Stories format, instead of the traditional up-and-down feed similar to Facebook.
We don't have a lot of information about this just yet, but it could impact Instagram usage; people may be less willing to swipe to see each post, or we could find that the act of swiping and seeing one post at a time keeps them more engaged.
If this format does roll out for good, it will be particularly important to create high-engaging posts so that you stay at the very top of the algorithm.
New Influencer Features
There are rumors that Instagram is testing a new kind of profile called "creator account" profiles that will offer additional analytics or features for influential, high-profile users.
This is likely to keep these users engaged on the platform and to help them get better results with their audiences.
Right now we don't know who would qualify for these accounts or what new features would roll out that business accounts don't already have, but we'll keep you updated.
Conclusion
It's been an enormous year for Instagram– so big that we have full-length posts every month detailing all the new things the platform is doing.
This month's biggest additions are easily the alternative text and roll out of the voice messaging, which will offer new functionality to users and give brands and marketers new ways to connect with them.
If I had to put money down on what I think we're going to see more of in 2019, my guesses would be:
More tools to manage influencer/brand relationships or sponsored content in general,
Big continued developments to Shoppable Instagram tools,
New Stories features.
These are in line with where Instagram has been going this year, and allows marketers and brands to sell more in authentic and engaging ways.
But those are just my guesses. You'll have to check back in January to find out!
What do you think? What was the biggest change that impacted you on Instagram so far? Which changes are you most excited about? What do you most want to see going into 2019 from Instagram? Share your thoughts and questions in the comments below!