Influencer marketing, which involves businesses working with content creators (or influencers), is a powerful way to help brands expand their reach on social media. And it's becoming increasingly more popular — data shows that nearly three-quarters (72.5%) of U.S. marketers will use influencer marketing in 2022 (up from 67.9% of marketers in 2021).
There is no one-size-fits-all approach to influencer marketing campaigns — a lot depends on your niche, your goals, and the pool of influencers your audience follows online. But with the right research and strategy, every business can benefit from influencer marketing.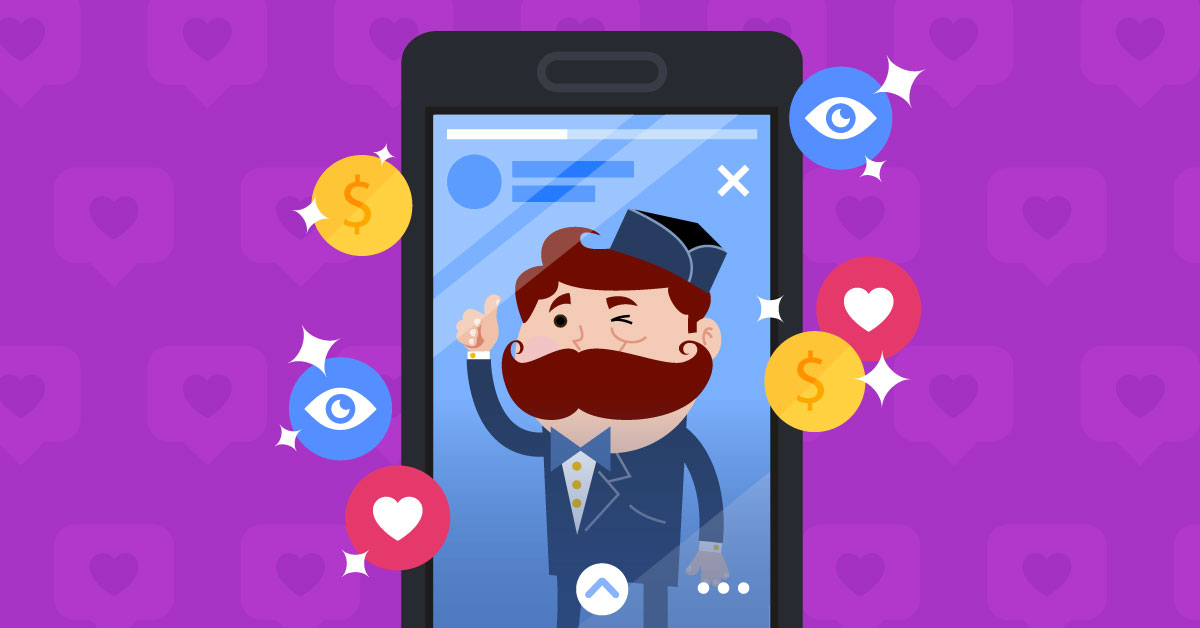 In this article, we'll show you what influencer marketing is all about and how to successfully run an influencer campaign.
What is influencer marketing?
Influencer marketing is a subcategory of social media marketing that involves partnering with content creators or influencers to promote a product, service or a brand. The influencer produces and publishes content about the brand or product, and the brand pays them with cash, free products or, sometimes, both. Influencer marketing KPIs most often include reach, traffic, engagement and conversions.
Celebrity endorsements were the earliest form of influencer marketing. Now, social media content creators with very engaged niche audiences can offer brands more value than celebrities with broad but generic audiences. This is because followers find content creators relatable, trust their recommendations, and are dedicated to showing their support.
Want proof that influencer marketing can drive actual results?
61% of consumers trust recommendations made by influencers.
Instagram remains the #1 hub for influencers. 93% of U.S. marketers regard Instagram as the most important channel for their influencer marketing campaigns. But TikTok is blowing up fast, so keep an eye on that.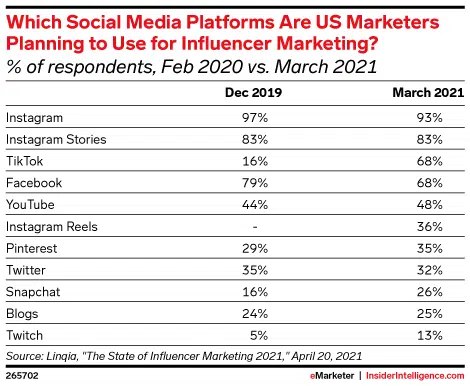 Image source: eMarketer
Types of influencers
When someone says "influencer", what pops into your head? Is it the Kardashian-Jenner clan or is it the folks who make 30-second dancing and lip-syncing videos on TikTok?
If it is, then you're not too far off. While the Kardashian-Jenner sisters are some of the most famous social media influencers, not all influencers are celebrities.
Many brands have seen more success with using influencers that have a smaller, but more engaged, follower base. In fact, influencers with 15,000 followers have insane engagement rates on all social platforms. Plus, the cost of hiring them can be much cheaper.
Let's look at different kinds of Instagram influencers based on the number of followers they have.
Nano-influencers
10,000 followers or lower, like self-care blogger and YouTuber Jen Lauren (4.3K followers)
View this post on Instagram
Micro-influencers
Between 10,000 and 100,000 followers, like fashion blogger Nana Agyeman (48.7K followers)
View this post on Instagram
Macro-influencers
Between 100,000 and 1 million followers, like beauty content creator Arnell Armon (722K followers)
View this post on Instagram
Mega-influencers
Over 1 million followers, like lifestyle blogger Alexa Collins (2.1M followers)
View this post on Instagram
How much does influencer marketing cost?
Influencers with massive reach need to be paid for their efforts. While free products alone might work with nano-influencers, you need to have a budget to run a large-scale influencer campaign.
For million-dollar brands working with celebrity influencers, their budget can be quite huge. In fact, U.S. brands are set to spend $4 billion in influencer marketing in 2022.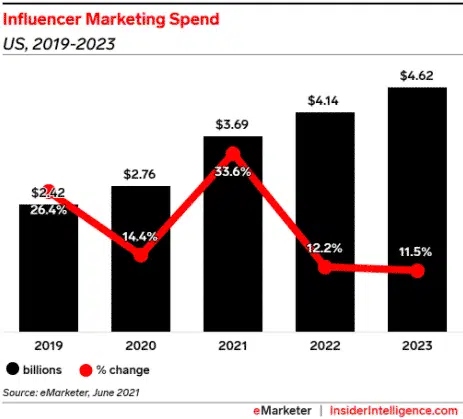 Image source: eMarketer
To determine how much to pay for an influencer campaign, think about the payment system that fits your goals and pocket. But you should also consider the influencer's needs too. For instance, you may replace (or reduce) a flat fee by offering the influencer an affiliate structure.
In fact, 9.3% of U.S. influencers said that affiliate links and promo codes were their top source of income.
That being said, the most common pricing formula (baseline) for influencer posts on Instagram is: $100 x 10,000 followers + extras = total rates.
Wondering what "extras" are? Check out this Hootsuite post on influencer pricing to find out.
Note: Nano-influencers and micro-influencers generally accept more flexible payment terms.
How to create an influencer marketing strategy
Here are the 9 steps to setting up a successful influencer program for your brand.
1. Determine your goals
As with any good marketing strategy, the number one thing is to outline your goals. Defining what you want to accomplish in your influencer marketing will help you craft a smart strategy throughout your campaign. It will also help you know the metrics you should track to measure your campaign's success.
Some goals you may consider for your influencer marketing strategy include:
Building brand awareness
Increasing your follower base
Getting more engagement on your content
Generating leads
Getting sales and conversions
Increasing brand loyalty
Building links for SEO
With influencer marketing, the foremost goal is usually to reach new potential customers. This makes sense because an influencer campaign helps you reach said influencer's followers.
Notice how the number one goal isn't to make new sales. Driving sales is actually the 3rd most common goal of influencer marketing.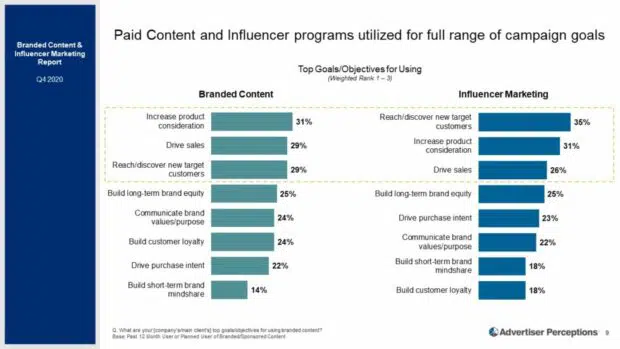 Image source: Advertiser Perceptions
To set the best goals, think about how influencer marketing can contribute to your entire social media marketing strategy. When you know what you want to accomplish, make the goals SMART.
Our friends over at Hootsuite wrote a whole article on how to set goals to get you started.
2. Know who you're trying to reach
To run a successful influencer marketing campaign, you need to reach the right people at the right time using the right tools and the right influencers. Sounds pretty exact, doesn't it?
To understand who you're trying to reach with your campaign, you need to develop audience personas. Outline specific details about your ideal audience, including:
Their age
Their ideal budget (if you want to drive sales with your campaign)
Their interests
Their geographic location
The times they're online, etc.
When you know your target audience, it will be easier to identify the right influencers to reach them.
3. Understand the rules
Before you execute an influencer marketing strategy, you need to understand the rules. In the United States, the Federal Trade Commission makes those rules.
Disclosure is very important to the FTC. So as you make your agreements with influencers, have disclosure guidelines.
Influencers must also identify sponsored posts. Many times, they don't do that. Or when they do, they make the disclosure subtle and somewhat hidden.
The specific rules for advertising vary slightly by country, so make sure to check the most current requirements where you're based. But mostly, you need to be transparent and upfront so that viewers can understand when an influencer is paid to make a post.
Below are some important points from the FTC:
Use hashtags #ad or #sponsored for disclosure. Instead of putting them in between or at the end of a long string of hashtags, put them upfront on the post where the audience can easily see them.
Video reviews must include both written and verbal disclosure of the brand partnership/collaboration. Don't limit the disclosure to just the video description—include it in the video itself.
Any branded content on Instagram must use the Branded Content tag to show that the content was the result of a partnership. This tag adds the text "Paid partnership with [brand]" in the post header.
Influencers: If "#ad" is mixed in with links or other hashtags at the end of a post, some readers may just skip over it. Be sure to place "#ad," or "#Sponsored," or another easily understood disclosure where it easily noticed and understood. Learn more: https://t.co/oDk34TTSxb pic.twitter.com/dB9kj5qlzO

— FTC (@FTC) November 23, 2020
4. Consider the 3 Rs of influence
Influence is measured by these three elements:
Relevance
Reach
Resonance
Relevance
The right influencer for your campaign is one that posts content that is relevant to your industry and brand. Their audience needs to match your target audience.
Reach
Reach is the number of people that could potentially see your content through the influencer's audience base.
Note: A large follower base doesn't necessarily mean you'd have more reach. A small audience could even prove more effective for your goals, but you need to make sure the influencer has enough followers to match your goals.
Resonance
Resonance refers to the potential level of engagement the influencer can get with an audience that aligns with your brand.
As mentioned earlier, bigger ≠ better (not always, at least). A huge follower base means nothing if those followers don't care about your offer.
Niche influencers, on the other hand, have smaller follower counts but those followers are usually engaged and dedicated.
5. Shortlist influencers
The key to a seamless partnership with influencers is trust. Whoever you choose to partner with must have the trust and respect of your audience. Without trust, the results you get likely won't have a tangible impact on your business.
The surest way to know if a potential influencer is trusted is when they have engagement. Check to see if your target audience likes, views, comments, and shares the influencer's Instagram content.
A good engagement rate means that the influencer has a loyal follower base, instead of a follower count inflated by bots and fraudulent accounts. You need to find someone whose content aesthetic and tone match what you want to present to your audience.
There might be many influencers that match these requirements, so you can create a shortlist of potential partners and choose from the list.
6. Do your research
Your research doesn't end once you have your shortlist. There's still more to do.
First, check how often your potential influencers are posting sponsored content. If they're sharing tons of paid content, their engagement rate might be superficial. So look for loads of non-paid content and see if they have similar levels of engagement on those.
Keep the influencers' posting schedule in mind when thinking about the posts you'll ask the influencer to share. Telling them to share too many sponsored posts in a short time will cause the influencer to reject your offer, even if you'll pay them well for the job.
When you approach an influencer, you need to show them that you've taken the time to learn what their accounts are about, who their audience is, and how they handle paid content.
7. Reach out privately (and personally)
Barging into a potential influencer's DMs out of the blue and asking them for a partnership might not be the best way to start a relationship. Don't get me wrong—it works sometimes, but there are better ways to communicate.
Start by interacting organically with the influencer's posts. Like, comment, and share their content. After some time, you can slide into their DMs (or inbox, if you find their email).
In your message, try to be personal. Don't send a generic DM or worse, a mass email. It might take more time to write a personal message to each influencer, especially if your list is long, but a personalized message shows that you're serious about partnering with them. This increases the chances of them accepting your offer.
Tell the influencer as much as you can about your brand. Tell them what you want to accomplish from a potential partnership. And, more importantly, tell them how they will benefit from working with your brand (beyond the paycheck, that is).
P.S.: During this process, try not to refer to the potential partner as an "influencer". It's a bit insulting and generally has a negative rap in the media. Call them content creators instead. At the core, what they actually do is create.
8. Develop effective content with your influencer
A social media influencer who has worked hard to establish their brand will not accept an offer that can jeopardize their authenticity. So it's best that you provide some rules/guidelines about what you need, but leave them to the actual content creation process.
Don't attempt to micromanage the whole campaign.
9. Measure your results
When you launch your influencer marketing campaign, you might feel a bit overwhelmed by the number of likes and comments your branded content gets, especially if your influencer has a very large following. But likes and comments are vanity metrics–they don't do much for your brand.
To measure how effective the campaign is, you need to measure your actual return on investment (ROI).
UTM parameters are a good way to track the visitors that come to your website through the influencer's content. They can also help you measure your campaign's engagement level. When you give each social influencer their own special link with UTM codes, you'll be able to see your results clearly and calculate the impact on your business.
You can also give influencers a unique discount code to track how many sales you make through the sponsored content.
If you use sponsored content tools on Facebook and Instagram for your influencer marketing campaign, you'll have access to analytics for both feed and Stories content. You can find these insights through Facebook Business Manager.
If none of these are viable options, you can ask the influencer to send you detailed reports on the reach and engagement levels their posts got.
Influencer marketing tools
Now that you're ready to get started with influencer marketing, here are some tools to make it easier.
Hootsuite Search Streams helps you find influencers by monitoring online conversations about your industry/niche across many social media platforms.
Once you have a shortlist of influencers, add them to a stream to monitor the content they share and the accounts they engage with. This will help you determine if the influencers are relevant to your audience (while highlighting other potential influencers).
Trufan helps brands sort through their (and their competitors') followers and audience. This helps them activate these fan bases for influencer marketing campaigns. With Trufan, brands can review data on public profiles so that they can vet potential brand ambassadors and partner with content creators that have an engaged audience.
Insense is an influencer marketing platform that connects brands with a network of 35,000+ influencers to produce branded content. You can use Insense's AI video editor to divide content into multiple videos, optimize content for IG Stories, and promote content through paid ads on social platforms like Facebook and Instagram.
Right Relevance Pro sweeps through social media platforms to identify and highlight potential influencers based on the quality of the content they post. This app ranks authoritative content shared by influencers and thought leaders based on topic and location.
Fourstarzz leverages extensive data analysis to give you access to over 800,000 influencer profiles. The app also predicts estimated reach, engagement, and other results and helps you create the best campaign proposals to send to your chosen influencers.
Brand Collabs Manager is a free tool from Facebook that helps brands connect with vetted influencers on Facebook and Instagram.