Since we first founded AdEspresso, we've always aimed to be more than just a software solution (even if it is a really, really great one).
As our customer base picked up and we wanted to offer more, we established our Academy and University to provide articles, guides, and webinars on how to get the most out of your digital advertising.
One of our aims for 2018 was to take that to the next level and put everything together into a complete Facebook Ads Mastery course that could turn even a beginner into a Facebook ads expert.
As we had never run a full course before, our aim was to get 20 paying customers to cover the cost of the time it took to develop and deliver it.
To our surprise, by using the 10 techniques below we ended up with 200 participants, allowing us to expand the course with bonus content with the extra revenue.
Want to know how we did it?
If you're wondering how to run an online course, you don't have to look far.
There are already many comprehensive "courses on how to create a course" out there (how very meta, right?)
In this blog, we're not going to cover every element of creating an online course.
Instead, we'll give you something you can't easily find elsewhere by focusing on 10 key things you need to do to make your online course a success.
We're using our own course in this case study, (for a bit of background on our first Facebook Ads Mastery Course, you can check out the landing page here), so take advantage of what we've learned, and apply it to your next course.
1) Stand Out
Just about every major online learning portal has a Facebook marketing course. Udemy alone lists 923 results when searching for courses on "Facebook Ads," many of which cost just around $17. Clearly, there wasn't going to be any demand for just another general Facebook Ads course.
Instead, we went for a unique angle. Ours would be the first ever course explicitly designed for AdEspresso users.
Every course currently available uses Facebook Ads Manager as the ad creation platform, which neglects the many different and powerful options available only to AdEspresso customers.
Although on paper tailoring your course to a particular group of users looks like it restricts your audience, the chances are it will allow your course to stand out and sell more places.
Not only was this course not offered by anyone else, but it also gave us a built-in, highly interested niche audience.
Tip: By going for a specific niche, it allowed us to stand out from the crowd.
2) Just Do It
How long does it take to write a course?
As Hofstadter's law explains when it comes to completing any project, "It always takes longer than you expect, even when you take into account Hofstadter's Law."
That means you'll never complete a project unless there's a hard deadline, so a course will never get launched if you wait for it to feel completed first.
Instead of taking it slow, we opened the doors for registration in February and then ran it through March, allowing us to complete one of our major objectives for the year just in time for the end of Q1.
Tip: 

Don't get too caught up in the technicality of everything. Once you have your basic information ready, get started.
3) The Best Time Of Year To Run A Course
If you're wondering how to run an online course, you've asked one important question. Now it's time to ask the crucial one: when should you run your online course?
Most online courses run in the first quarter of the year, and we followed this pattern for a perfect reason.
The holiday season (Thanksgiving to Christmas) is far too busy for Facebook marketers to dedicate time to taking training courses, and it also made sense to avoid June onwards, as that coincides with vacation season for the US and Europe.
The key thing we learned from running our Facebook Ads Mastery course is to avoid clashing with the shift to daylight savings.
The US adjusts the daylight savings hour at a different time to the rest of the world, so during the fourth week of the course, the schedule was shifting at different times for different countries. In retrospect, we discovered this is why so many courses run in January and February.
Tip:

If you have a global audience, avoid March when all the time shifts take place to avoid confusion for everyone.
4) The Best Time Of Day To Host Each Webinar
As soon as registration opened, questions started coming in about the time of day the sessions would be run. A common theme from the feedback was that a lot of AdEspresso users were fed up with so many online courses and webinars always being based on US time zones. This is especially tricky for customers in the APAC (Asia-Pacific) region.
For a global audience, there is no one perfect time that is going to work for everybody so we decided to run every session twice!
⚠️ Caution: Running each course live twice did cause some confusion as this type of agenda is rare. Be sure to communicate the schedule clearly with your participants before each webinar. ⚠️
As the majority of the AdEspresso marketing team is based in Europe, we could run one session at midnight Pacific (9am in Europe) and another the next day at 10am Pacific (7pm in Europe), which meant most people around the world could attend a live session. This kept us from excluding or isolating anyone, and everyone felt catered to.
Tip 1: Running sessions at "unconventional" times and adapting to the requirements of your customers is another way to make your course stand out and attract more sales. It shows dedication to customer satisfaction, which is a great way to get people coming back for more.

Tip 2: The session designed for US time zones attracted two-thirds of the participants, so we ran the session designed for Europe and APAC first as it was quieter and allowed us to refine our presentation before the busier session.
5) Know Your Tools
Your course can't be successful, after all, if you don't actually know how to run an online course on the technical side.
The focal point of our Facebook Ads Mastery course was a series of webinars. These happened once a week for four weeks. We used Keynote for the presentations, and at 90-100 slides a week, we clocked in at nearly 400 slides in total.
We used GoToWebinar to broadcast the webinar series, and taking their free courses helped to ensure the presentations ran smoothly.
Similarly, taking some advanced Keynote courses at Lynda.com (LinkedIn's training portal) allowed us to create more polished presentations and saved a significant amount of time.
Tip: Dual monitors don't just help when running a webinar, they're essential. A second screen allows Keynote to include a presenter display showing a timer, the current slide, the upcoming slide and presenter notes. The layout can be customized to leave room for the webinar admin panel and Q&A module as well.
6) It Takes A Team
Writing and presenting a course along with answering questions from the 200 participants in the Facebook group was very time-consuming. Meanwhile, long-term clients still need looking after as regular contracts can't be put on hold for over a month.
A team was essential to handle all the admin chores, which took up nearly as much time as running the course itself.
A task-force composed by the AdEspresso graphic designers, web developers, and customer success team was created to handle course promotion, answer emails, process payments and look after the Facebook group.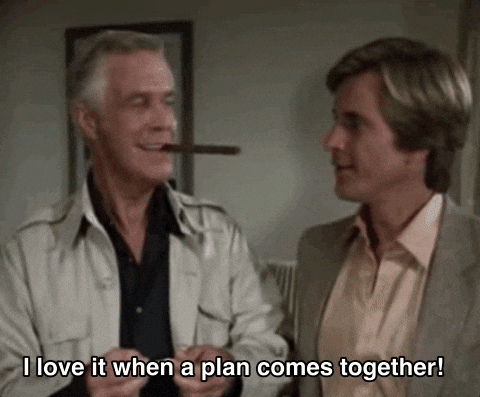 Tip: A key component of a successful webinar is to have a co-host. They can take care of any tech issues that pop up during the presentation, and then help out with the Q&A at the end. The main presenter can focus purely on delivering the content, creating a better the experience will be for attendees.
7) Get Signups First, Then Write The Course
Facebook advertising can be used by just about any type of business, and each unique business all has different objectives and budgets.
Add to this varying levels of experience, and creating a "one size fits all" course can be difficult.
We then surveyed the attendees through the course Facebook group to find out about their business and also invited them to take our Facebook quiz to assess their knowledge.
For example, we discovered that a group of friends all running cleaning businesses had bought 10 seats for the course; so we could tailor some of our case studies and ad examples around this.
By adjusting our content to our exact audience members and their businesses and pain points, they got more out of the course, and everyone walked away happy.
Tip: To customize the course to the attendees as much as possible, only the framework was written before registration opened.
8) Include Bonuses
Offering bonuses is a win-win strategy.
It's good for the attendees as they get more content, but it's also an advantage for the course organizers. It means there's less pressure on the core content to cover absolutely everything.
This is what we offered:
$100 Facebook advertising coupon for each registrant
30 minutes of Q&A after each webinar to answer any questions from that session
A private Facebook group, more on this later
Exclusive access to AdEspresso's actual ad account in the form of a video showing all the campaigns we run and the sales funnel we use
Informal homework assignments
Bonus 10-minute tutorial videos covering topics in more depth, these were created based on user feedback after each of the webinars.
Tip: Offering this additional content didn't pressure us to jam-pack the basic course material with too much, and instead, we were able to answer questions and offer information as it was needed along the way.
9) Offer Upgrades
A good way to maximize revenue is to offer upgrades to the core package.
We decided to offer a Team Plan with 5 seats for $999 instead of one seat for $499. In total 13 upgrades were sold including one company that purchased two packages.
To incentivize upgrades, we offered a $200 Facebook advertising coupon and a 45 minute 1-to-1 coaching call worth $199.
Not only did this increase revenue, but it also gave companies an incentive not to buy an individual package and then share content.
Tip: no matter what course software is used, people will find a way to share content if they are determined enough.
10) Open A Facebook Group
A private Facebook group wasn't just a nice bonus; it ended up being a core part of the course.
As we mentioned above,  we could use it to quiz participants on their knowledge before writing the course webinar.
We could then regroup after each session and produce bonus videos for anything that needed to be covered in more detail or had been missed out.
Students could also ask questions at any point, and get an almost immediate answer.
Over 200 posts were made in the group and nearly 1,000 comments with many questions answered along the way.
Tip: With the flexible approach that the Facebook group allowed, we finished with zero complaints as we could ensure everybody got what they wanted from the sessions.
Conclusion
If you've been wondering how to run an online course and make it a success for everyone involved, our case study can hopefully give you some great insight.
We learned a great deal in a short amount of time about how to create the course, how to offer students what they need, and the most effective way to maximize revenue without milking students for everything they work.
It's all about offering value in a way that the students can access and digest it, and we think we may have struck gold this time around.
What do you think? What have you learned about how to run an online course? Do you think there's anything we should have done differently? Share your thoughts, knowledge, and questions in the comments below!